Are you looking for some bear outline tattoos? Hey, check out the article that will provide you with ample examples of bear tattoo outline designs to amaze you.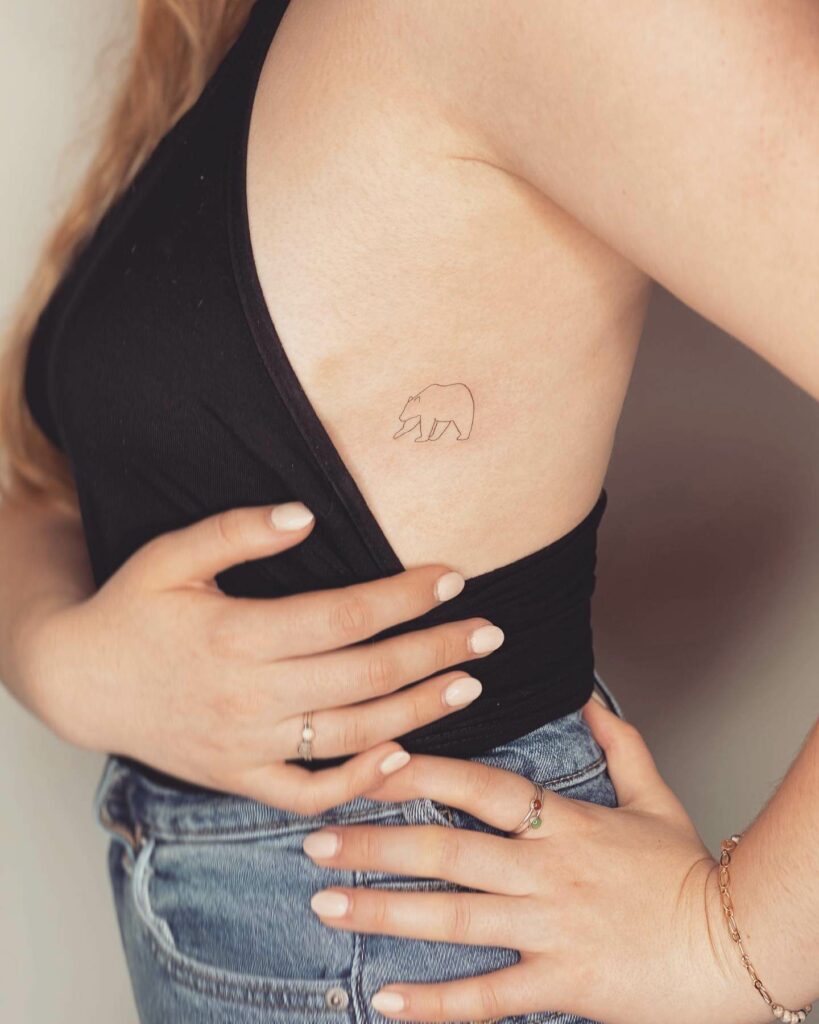 Out of several animal tattoos in the world, the bear tattoo has always been a favorite to most people and, over the years, has gained prominence among the lovers of this cute creature along with others as it comes with deeper meanings.
When it comes to a bear outline tattoo, it is important to shed light on the fact that there are plenty of them. It is worth jotting down that there are plenty of species of bears in nature that come in different sizes, shapes, and colors.
Bears are found almost in every corner of the world, and they come up with different sets of meanings. The bear tattoo shows courage as well as tenacity.
Do you know about Ursa Major? It is nothing but a constellation of stars that are located in the Northern sky and is associated with mythology. Dated back in prehistory, in Latin, it stands for Greater Bear. Juxtaposing, Ursa minor symbolizes a lesser bear.
People whose spirit animal is a bear can easily have a body art with some cute, inspirational bear tattoos.
Bear Outline Tattoo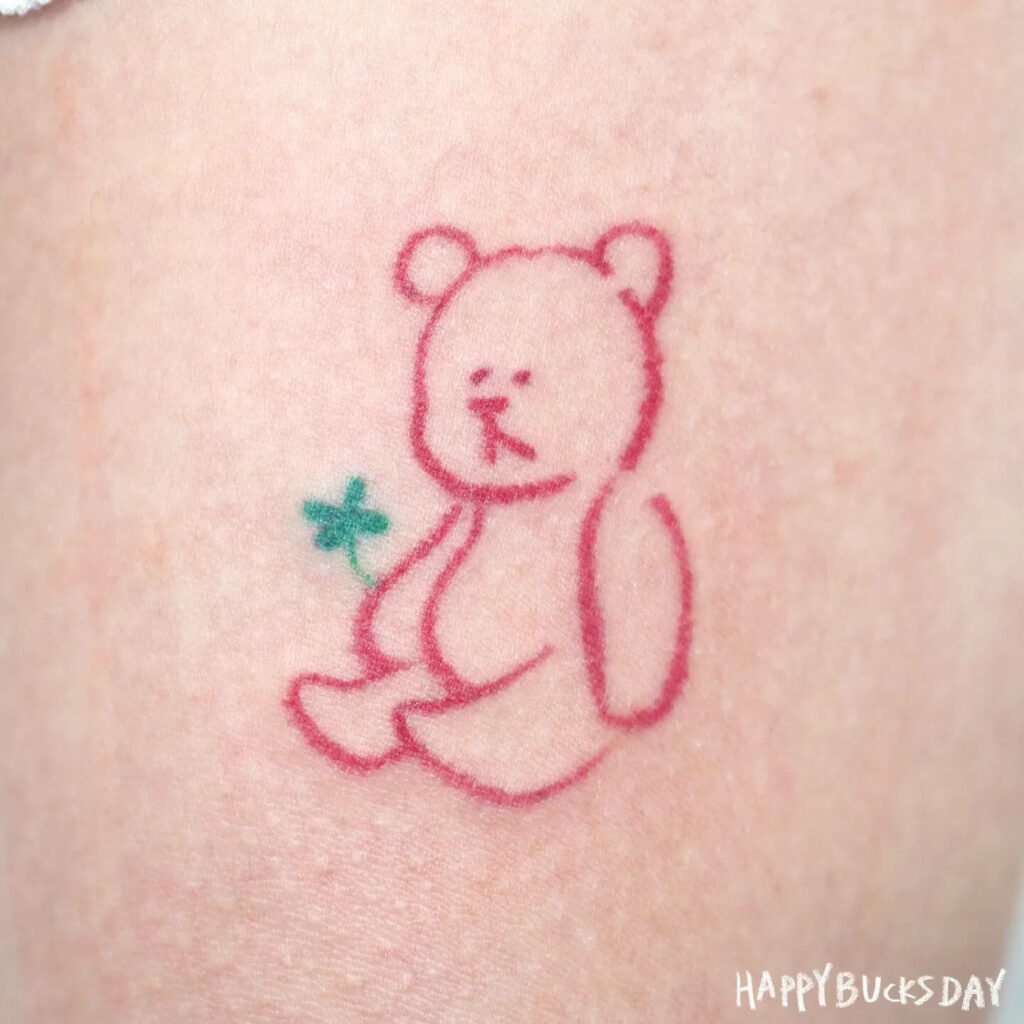 When it comes to teddy bears, it is one of the most popular gifts for children. Even when it comes to adults, teddy bears are adored by all. The tattoo design that has been used as a body by the person is not only beautiful but reminds one of their childhood. It allows for relieving childhood.
The red bear outline is quite enticing. Besides, the green leaf, in contrast to the red color, is a perfect suit that is not only making the tattoo more attractive but spectacular. Bear tattoos are filled with meaning. Teddy bears are symbolic of affection, sympathy and congratulations.
From the editor's desk, this particular bear tattoo has been selected that can easily be inked by you with the help of your tattoo artist, which will serve you inner peace.
Polar Bear Tattoo Ideas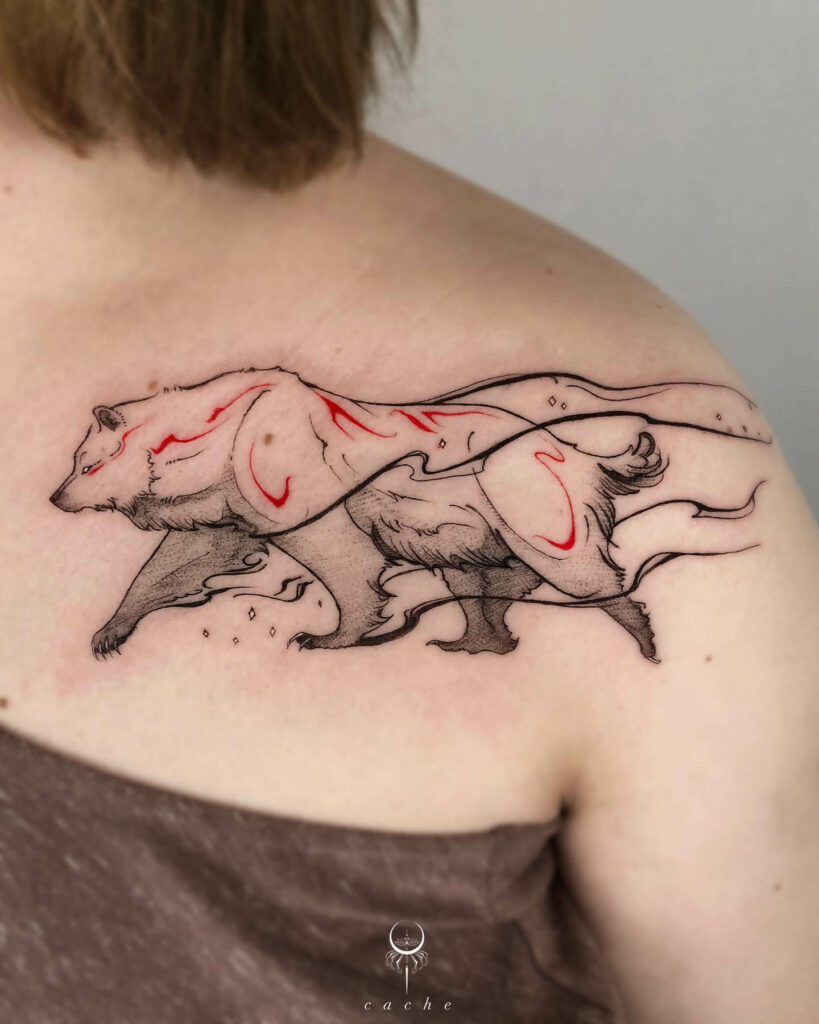 Bears are the friendliest of creatures among various other animals. Bears have different characteristics. They are also the symbol of courage. When it comes to polar bears they are a perfect sign of love. In addition to this, it is necessary to mention that polar bears are a symbol of protection.
Many people nowadays are fond of using polar bears as body art. Polar bears are the perfect embodiment of strength. It is also a spiritual symbol for the people residing in the arctic region. Polar bears reflect protection along with the skilled hunting capacity of the arctic people.
In addition to this, when it comes to the spirit animal that is a white polar bear, it also signifies the idea of independence along with the ability to trust individual strength and the person's skill in order to survive and overcome all the tough barriers.
White polar bear tattoo design is a sign of determination along with survival, and they are considered to be vulnerable species.
Creative Geometric Tattoos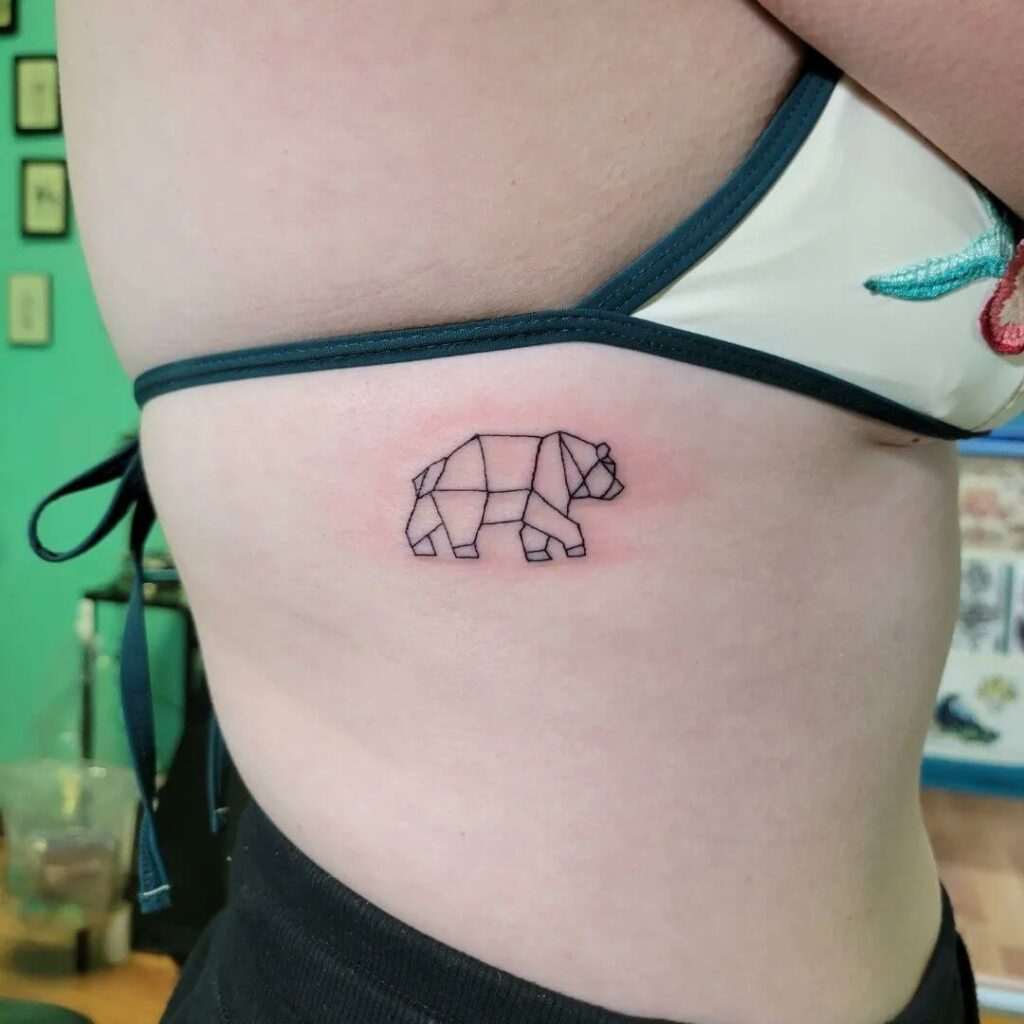 Among a number of bear tattoo designs that can be easily inked on any part of your body like the shoulder, neck, chest, or upper and lower arm, a geometric bear tattoo outline is a creative as well as a trending idea.
Geometric outlines not only dispose of the skills as well as the efficiency of the tattoo artist but also represent the symbolic meaning of the designs well. Bear tattoo is unique in themselves. It shows friendship. However, bears are connected with the ideas of power, courage, and strength in their nature of the search for honey and cherishing it makes amusing. This also reflects its power, majesty as well as dignity.
There is no wrong in tattooing an outline teddy bear tattoo, a grizzly bear tattoo, or a traditional bear tattoo popular among the native American culture all are perfect designs. You can be inspired by a plethora of tattoo designs available in this article and customize it according to your will.
Cute Outline Teddy Bear Tattoo
Bear tattoo is popular among folks all across the world. Teddy bears are a famous theme among lovers of animals. Bear tattoo meanings are vast. The particular tattoo that has been designed on the person shows his affection for music.
The person is a music lover. He is fond of playing the guitar. Besides, the person is also among the ones who are fond of teddy bears. Teddy bears are reminiscences of one's childhood. Teddy bear tattoos are a calming influence, and they offer unconditional love.
In addition to this, the teddy bear tattoo is also symbolic of companionship. Teddy bears are a childhood fancy for all. They can be a potent gift for all kids as well as adults.
They are a sign of congratulations and sympathy. You can always add a flower tattoo to a teddy bear tattoo. Teddy bears, when associated with musical instruments, are a perfect fit for music lovers.
You can easily customize this by changing its placement area. Moreover, you can also change the musical instrument and add your favorite instrument instead of a guitar. This will also show your phone is to music and your dedication to playing the musical instrument.
Teddy Bear Outline Tattoo
Children love teddy bears. Adults are also fond of teddy bears. You can easily select this particular tattoo idea to get yourself inked with.
The mama bear, along with the baby bear, shows the love and warmth that exists between the mother and cubs. Mama bear tattoo designs are a symbol of protection. Mama bears are an o symbol of protective mothers.
A mother bear is always protective of her cubs. The tattoo design also shows the bond of motherhood. It represents strength. Bears are well known for their protective nature towards their cubs. There are mother bears who are called mamma bears.
So, all the mammas, contact your tattoo artists and get some awesome mamma bear tattoo designs on your wrist or arms.
You can always give it a personalized notch by adding elements of your choice. You can change the ink color. From a black bear tattoo, you can easily change it into a red bear ink tattoo.
Black Bear Outline Tattoo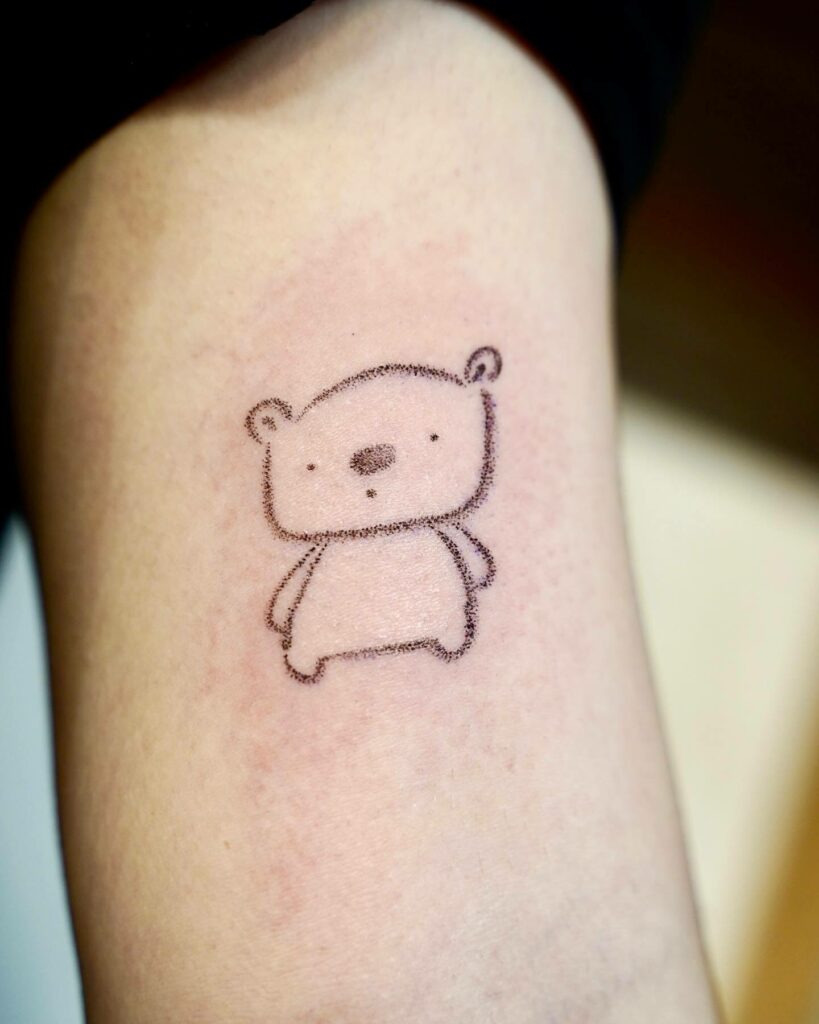 Adhering to American folklore, the black bears have their roots in medicine alongside healing.
Black bears are sings of solitude and transformation. Besides, relaxation is also symbolic of the image of black bears.
Bear Tattoo Designs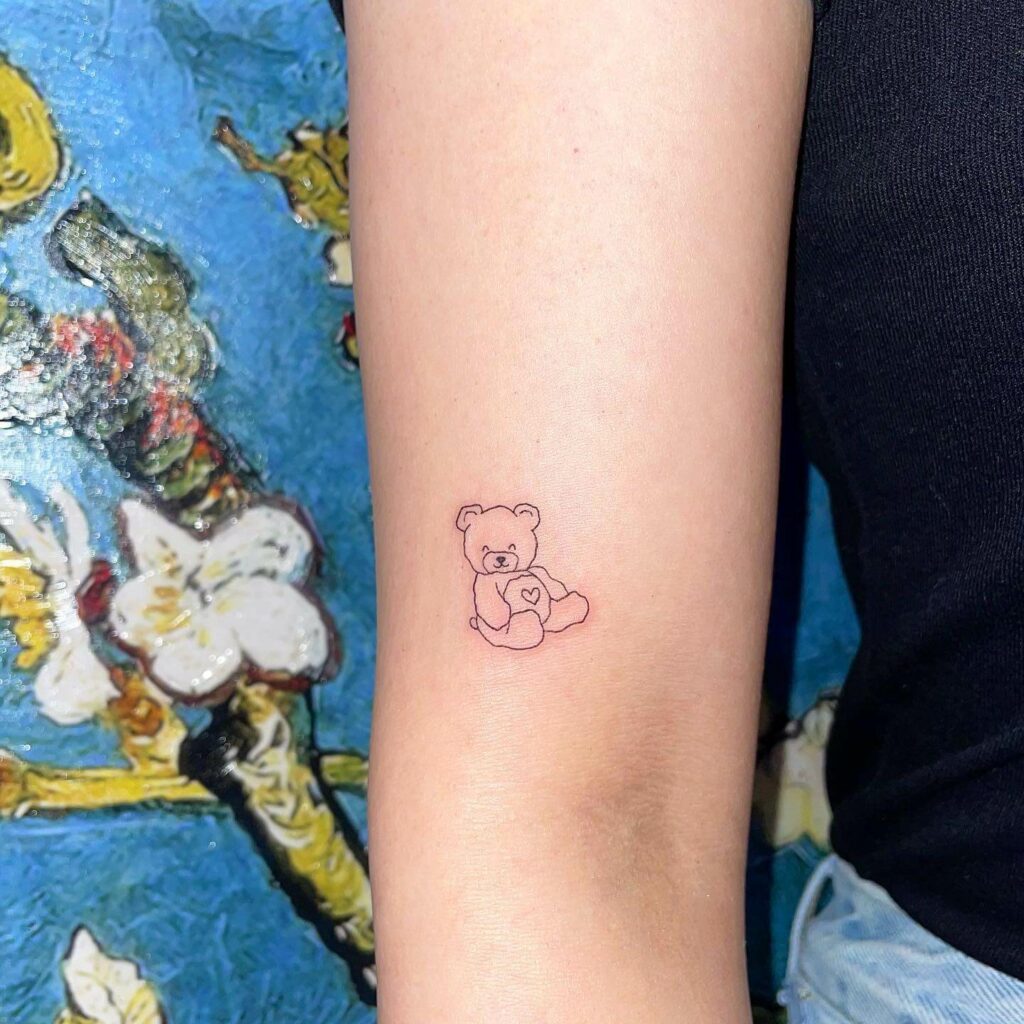 The teddy bear with a heart sign has been efficiently designed on the forearm of the person. The outline of the bear is cute enough to draw the attention of many.
The tattoo design is an embodiment of family and love. You can always have a panda bear tattoo and add a bear claw tattoo on your body to personalize it.
Cute Bear Tattoos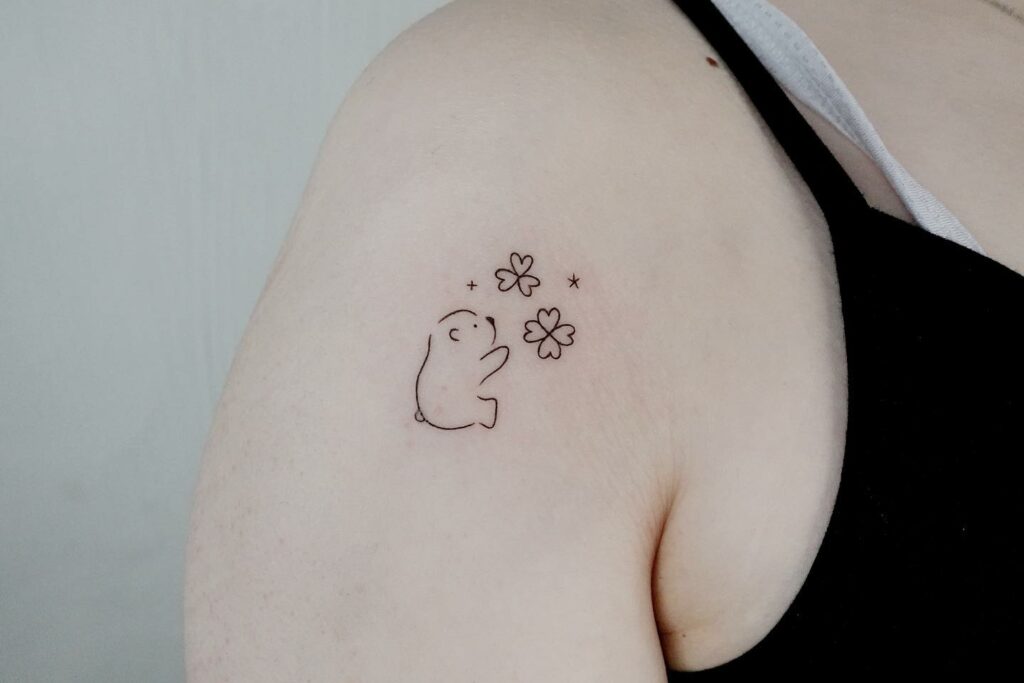 The image that has been inked by the person clearly shows a cute bear that is playing with leaves. This doesn't surprise all as it is known bears are natural creatures, and they are very much fond of natural elements.
The tattoo shows the intertwined relationship between bears, nature, and natural elements. Both men and women can always select this particular cute bear design to ink on their bodies.
Majestic Animals Tattoo Design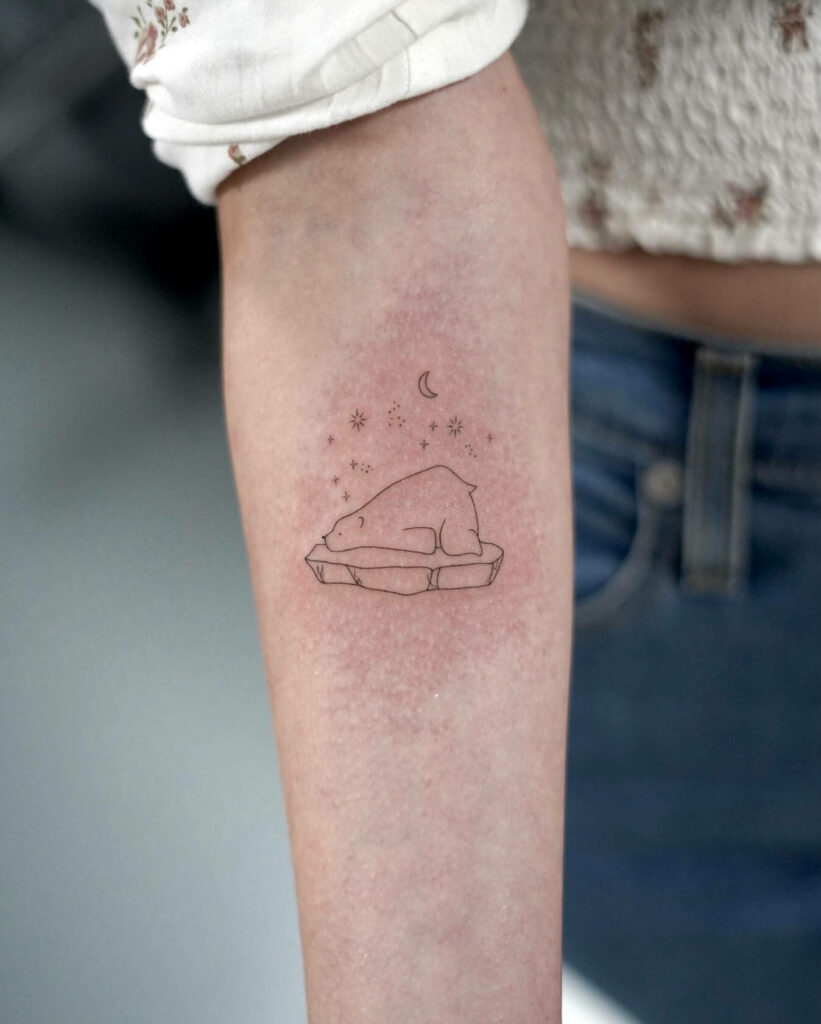 The Ursa major tattoo is linked with mythology. It is a perfect representation of Zuni Indians' beliefs. According to mythology, it is believed that the Ursa Major is the bad who gods the lands in the Western region from Northern frozen gods.
According to popular notion, it is said that when bears hibernate, the gods who are in charge of Northern frozen land blow their frosty breath. This, in return, hampers and destroys crops along with ravages lands.
This is among the most conspicuous among the northern constellation. This is located near the north pole and contains stars that form a big dipper. The Big Dipper, which is the line, also indicates the direction of the north star.
Awesome major complete full rotation in and around the north star at an interval of 24 hours. Therefore it can never be seen below the horizon. It is worth mentioning that this has been used in star clocks since the historical period.
Legends say Ursa Major is a beautiful Maiden by the name of Callisto with whom Zeus had an affair. According to the legend, in order to protect Callisto and Arcas, their son, from Hera, Zeus' jealous wife, he turned both into bears. After this, Zeus put the bears up by their sturdy tails, and into the sky, they threw them.
Panda Bear Tattoo Ideas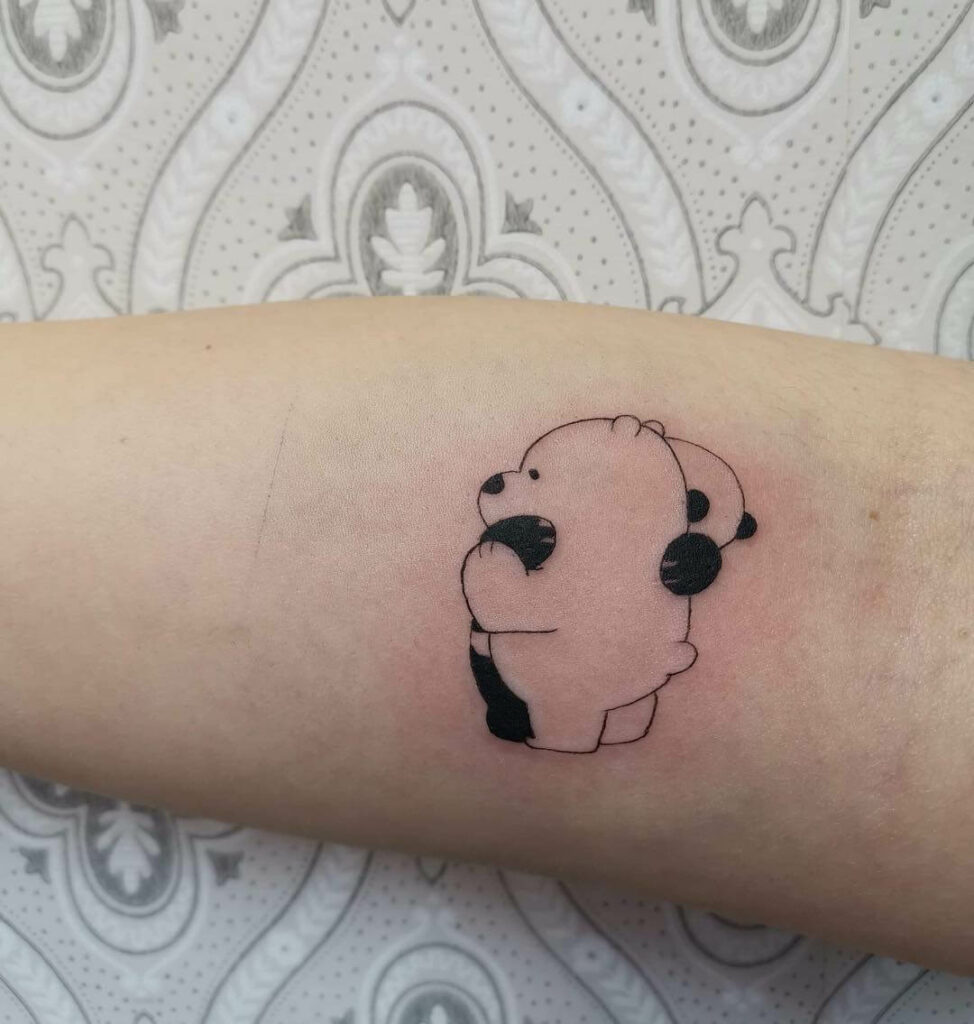 Panda's are always a favorite of both men and women as a symbol of peace, strength, and calmness. Pandas are peace-loving as well as fun-loving creatures. They are the perfect embodiment of good luck.
The tattoo design shows two Pandas hugging each other. This is a perfect symbol of love and friendship, the bond that exists between the two. You can also get some Kung Fu Panda tattoos on your body which has been a favorite American action comedy movie of many in their childhood.
Bears are cute, fun-loving, adorable creatures who are loved by all. Bear outline tattoos are one of the most prominent themes of tattoos when it comes to animal tattoos.
Feature Image from Pinterest – Want your tattoo to look brighter? Try "Tattoo Balm"