Are you keen to immortalize your love for your quirky, scaly pet on your skin? Perhaps it's time to consider the unconventional charm of a bearded dragon tattoo. As these friendly reptiles continue to win hearts as popular domestic pets, they're also becoming the talk of the town in the tattoo world, bringing an adorably unique twist to the classic dragon tattoo.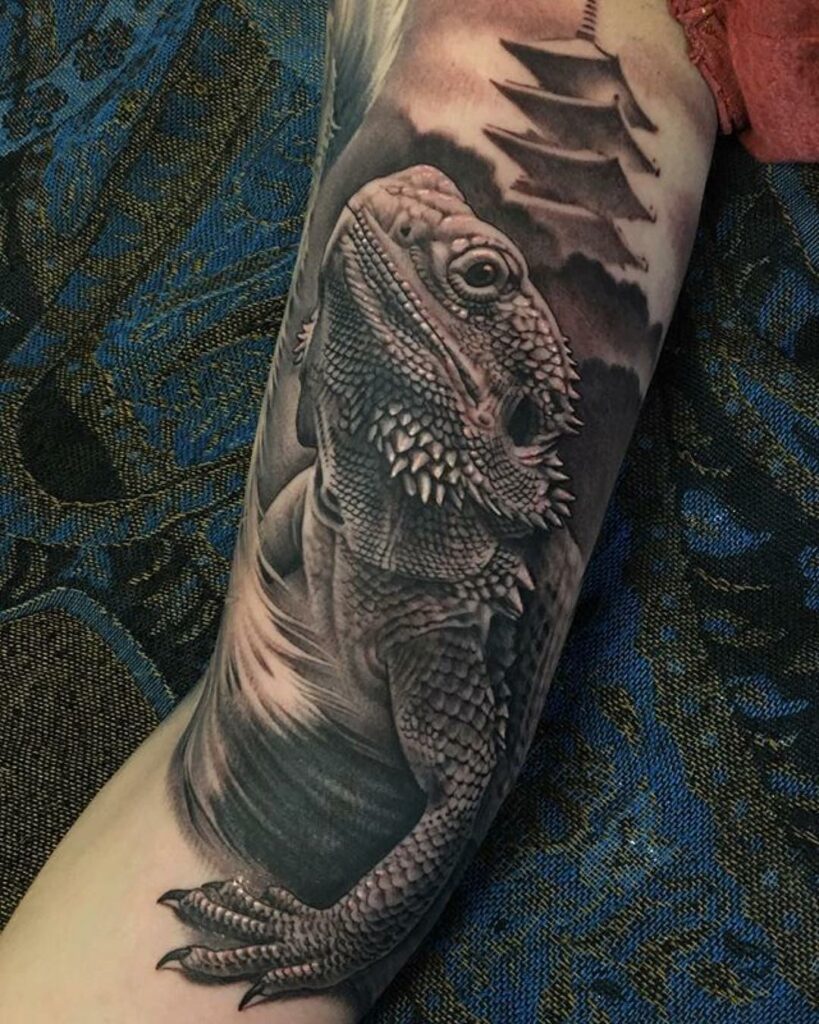 But first, let's clear up any confusion – these aren't your conventional fire-breathing fantasy dragons sporting whimsical beards. The name "bearded dragon" is endearingly bestowed upon the Pogona species, a treasured member of the reptile family. These creatures boast a distinctively spiky, loose-hanging throat that, when puffed out, resembles a beard – a look more charming than fearsome to those who've had the pleasure of their company.
As a tattoo subject, bearded dragons hold rich symbolic potential. They're often seen to represent transformation, rebirth, and regeneration, with some suggesting that they embody the concept of fiercely protecting what you hold dear while maintaining a gentle demeanor. Whether these meanings resonate with you or if you simply admire their unique beauty, one thing is clear: a bearded dragon tattoo can make a vibrant, conversation-starting addition to your body art collection. Read on, and let's explore some compelling ways to capture the distinct personality of these beloved reptiles in ink.
Traditional Bearded Dragon Tattoo
Harking back to the roots of American tattooing, the Traditional Bearded Dragon Tattoo takes its cue from the classic flash designs often seen adorning the walls of a tattoo parlour. Each element in this design is a homage to the symbology of ancient cultures, where every creature or object held a profound meaning and the act of inking them on the skin reflected their immense significance.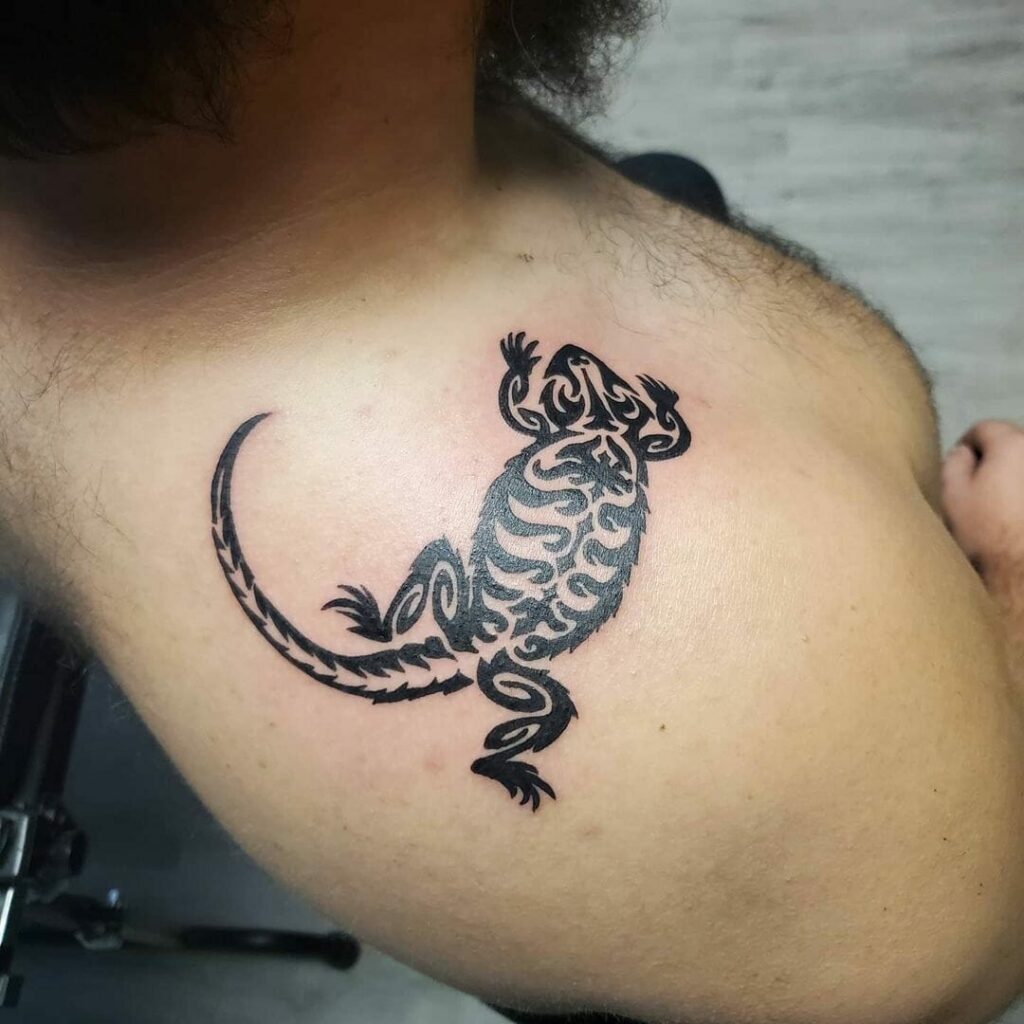 The approach in this design leans toward the Hawaiian tribal aesthetic, with bold black outlines and patterns that create a simple yet classic look. Remember, the option is always there to forgo the lines for a softer, less defined boundary.
Colourful Bearded Dragon Tattoo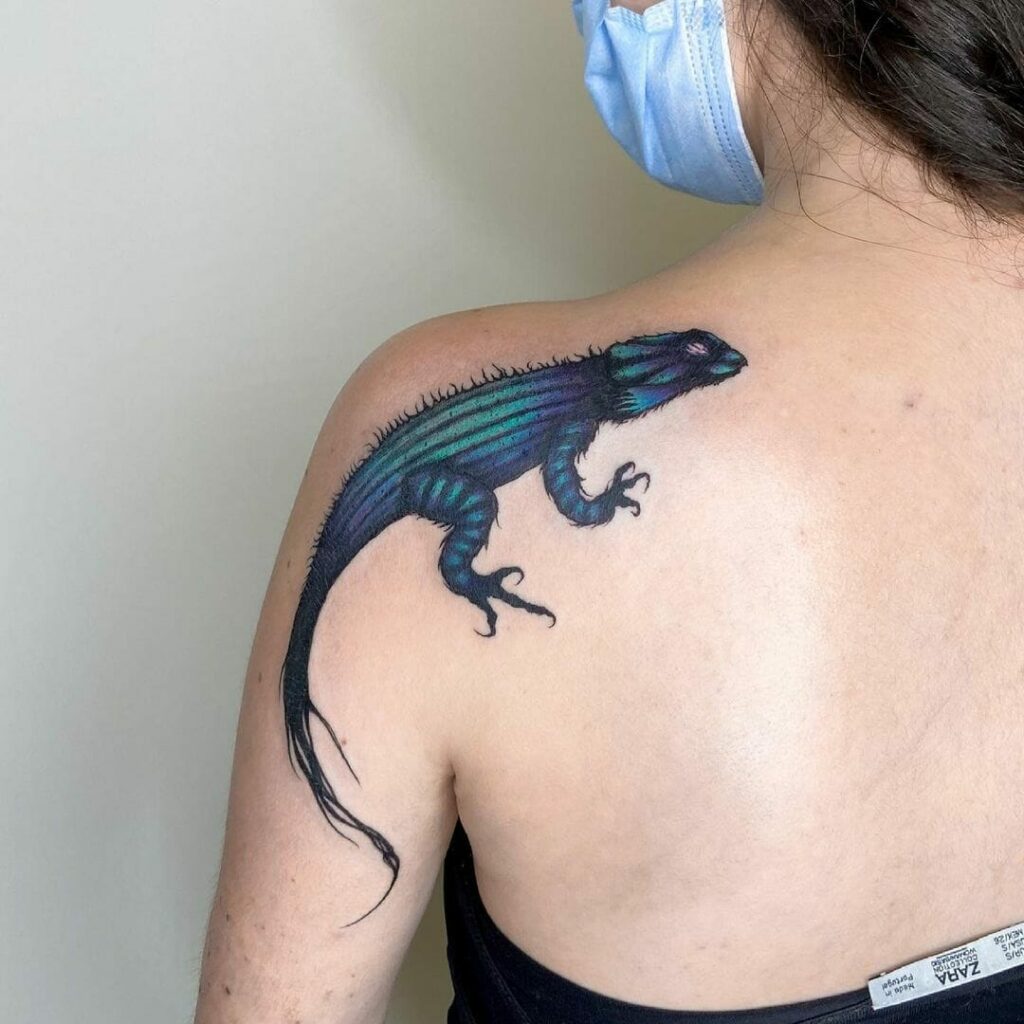 The Colourful Bearded Dragon Tattoo is a celebration of vibrant hues, a chance for the wearer to make a real visual statement. This particular design artfully blends three shades of blue to stunning effect. Its central design intricacies not only elevate its aesthetic quality but also tease out the storytelling aspect inherent in every tattoo.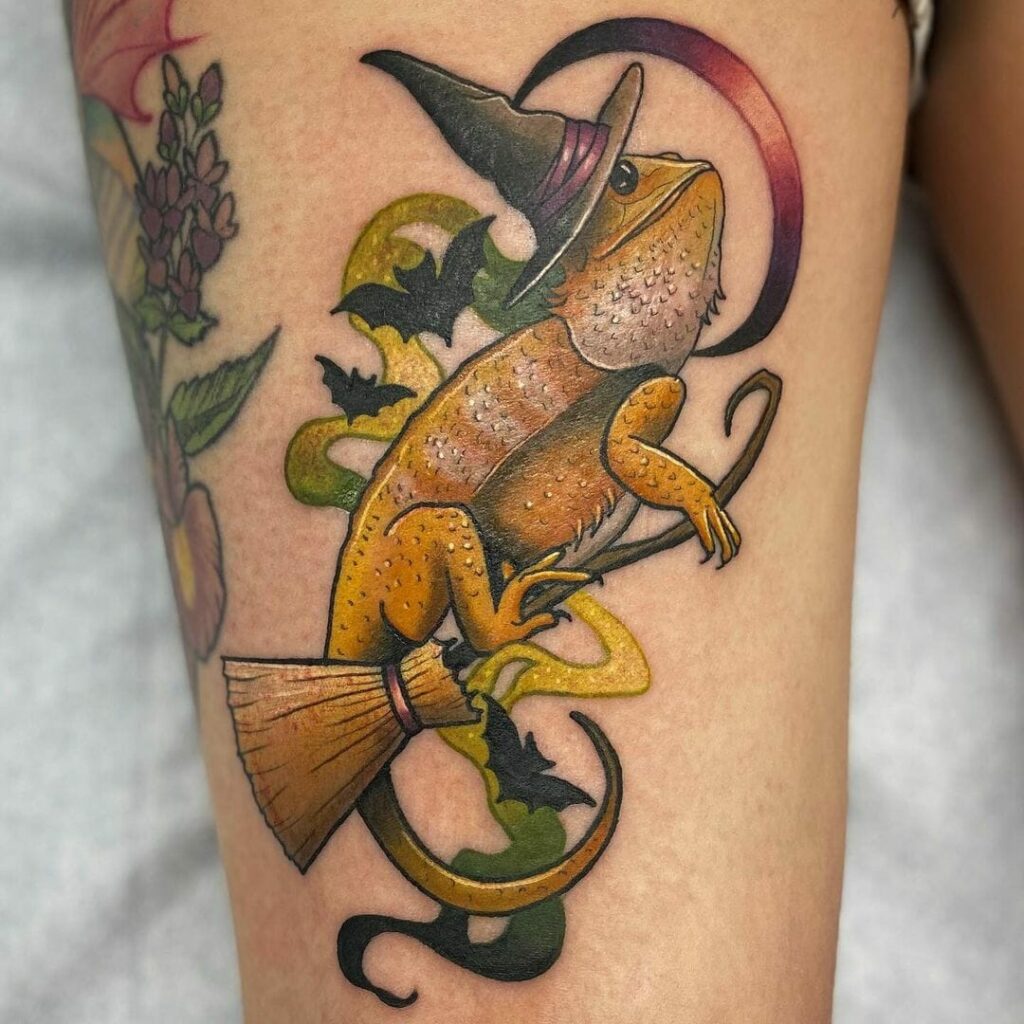 Encapsulating a playful, witchy vibe, this dragon revels in a world of broomsticks, bats, and crescent moons. If you find yourself drawn towards the whimsical, a design that infuses your personal eccentricities could be a delightful choice.
3D Bearded Dragon Tattoo Designs
For those who appreciate the illusion of depth, the 3D Bearded Dragon Tattoo Designs spring your reptilian companion to life. These designs use shadow and monochromatic tones to create a mesmerizing realism. If you find yourself partial to a splash of color, consider incorporating grainy shadows that add dimension and complement the dragon's dotted patterns.
Placement on more visible body parts, like your limbs, can enhance the dynamic feel of these designs.
Bearded Dragon Footprint Tattoo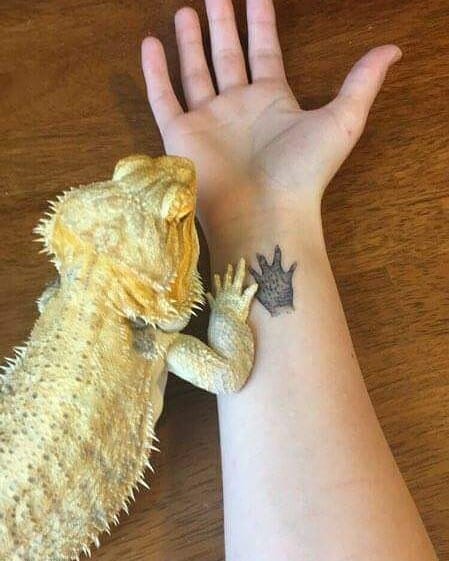 Minimalists will find solace in the Bearded Dragon Footprint Tattoo, a symbol of understated tribute to their cherished pet. Its simplistic footprint design, set within a grey border, is both unobtrusive and captivating. The beauty of these compact tattoos lies not just in their symbolism, but also in their short execution time under the needle.
Bearded Dragon's Skeletal Structure Tattoo
In the Bearded Dragon's Skeletal Structure Tattoo, the poignant emotion of pet loss is gracefully encapsulated. The large-scale design commemorates the dragon's life, using the distinct technique of dot work to outline its skeletal frame. The inclusion of flowers serves dual purposes – beautifying the design and subtly hinting at themes of rebirth and renewal amidst the somberness of death.
The Creative Bearded Dragon Tattoo Ideas push the boundaries of imagination. One design shows the dragon as a nurturing, life-affirming figure, its verdant back sprouting mushrooms as a nod to their positive symbolism. If humor tickles your fancy, consider adding whimsical elements like fishnets and red nails to your dragon – a cheeky nod to the creature's natural patterns.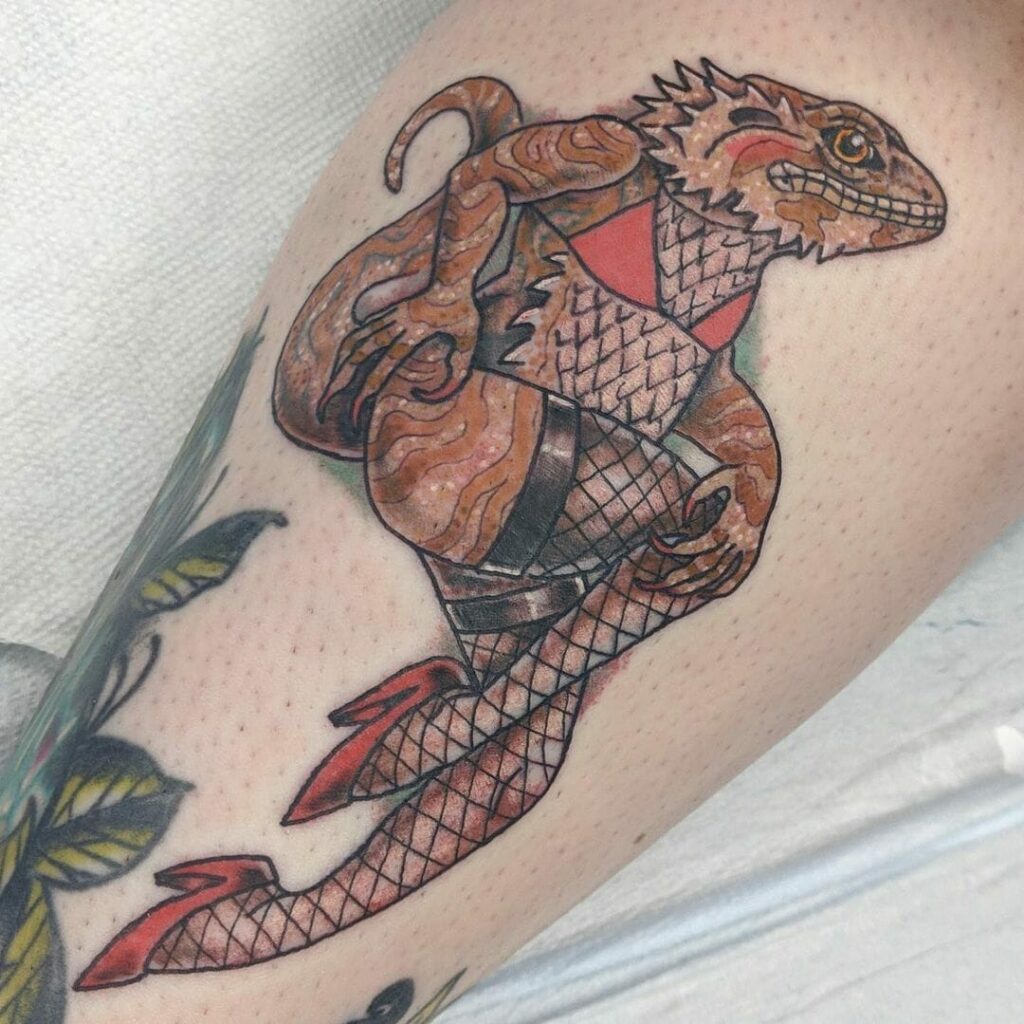 If humor tickles your fancy, consider adding whimsical elements like fishnets and red nails to your dragon – a cheeky nod to the creature's natural patterns.
Small Bearded Dragon Tattoo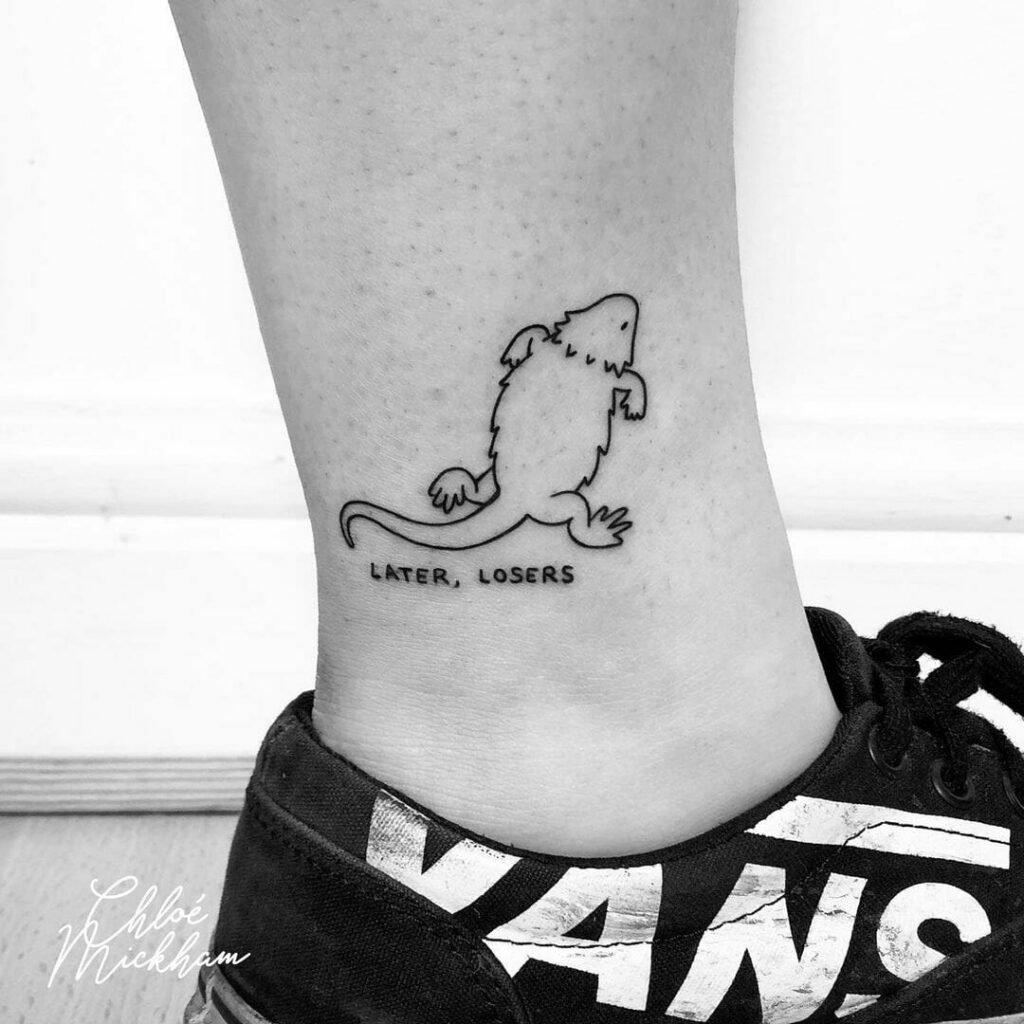 For those preferring less is more, the Small Bearded Dragon Tattoo is a neat and subtly playful homage to your scaly friend. With its flexible size, this design can adapt to any body part, its understated elegance warding off negative vibes while celebrating the inherent positivity of the dragon.
Bearded Dragon Tattoo Design On Arm
Arm tattoos often steal the limelight, and the Bearded Dragon Tattoo Design On Arm is no exception. A carefully detailed dragon is set against a wild backdrop of leaves, with a 3D branch seeming to merge with the wearer's skin, signifying the deep bond between human and pet.
Bearded Dragon Head Tattoo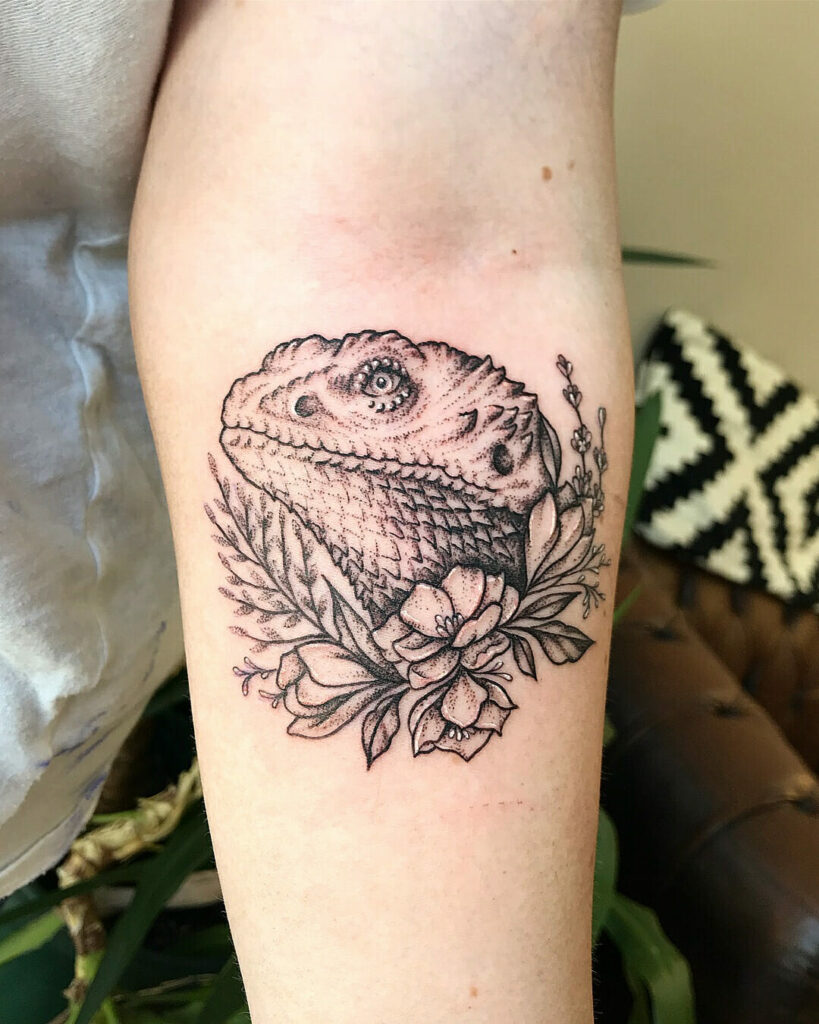 A Bearded Dragon Head Tattoo is a charming addition to any tattoo collection. Adorned with botanical elements, the design frames the creature's face in an appealingly delicate manner. For a more vibrant touch, consider adding color or other elements that resonate with your personal style.
Bearded Dragon Flowers Tattoo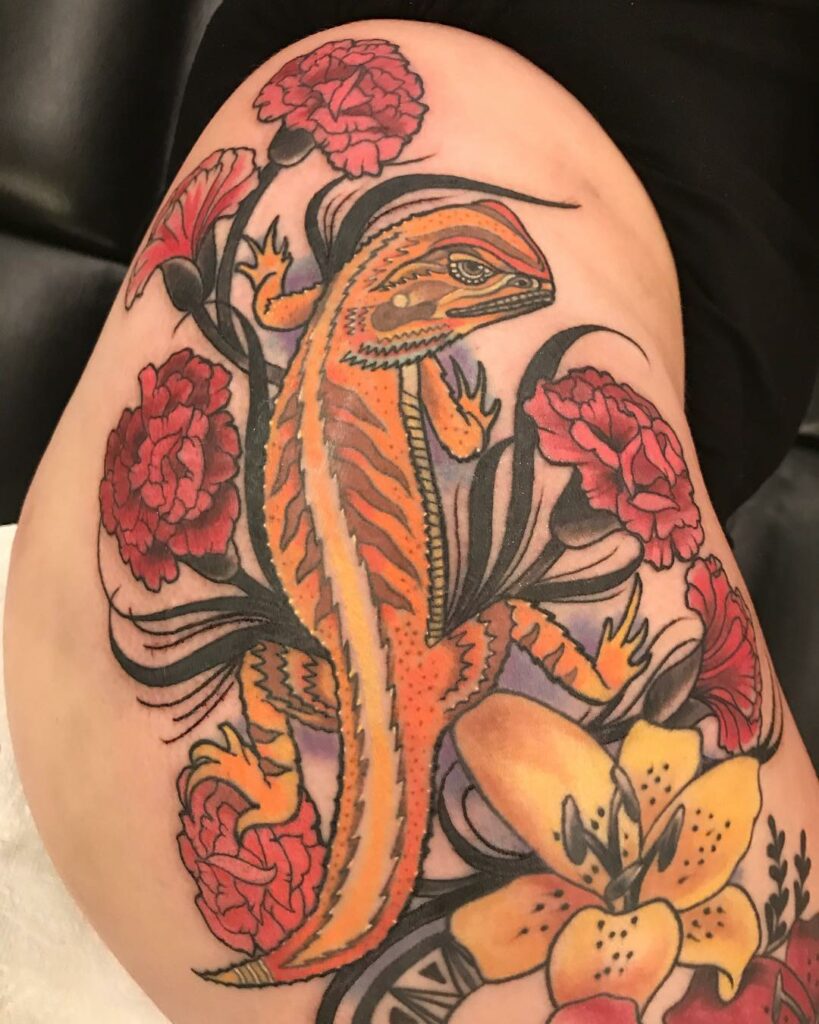 Lastly, the Bearded Dragon Flowers Tattoo elegantly marries the masculinity of the dragon with the femininity of florals. The serious tone of the dragon stands in contrast with the vibrant hues of the flowers, while
Conclusion
In the fascinating world of tattoos, where creativity and personal expression reign supreme, bearded dragon designs offer a unique blend of symbolism, emotion, and aesthetic appeal. Your chosen design and placement will depend on personal preference, as well as how visible or intimate you want your tattoo to be. Arms often make a popular canvas, given their visibility and ample space. For a more discreet tribute, consider smaller designs on the wrist or foot.
When it comes to cost, it's worth noting that tattoo pricing is typically dependent on size, complexity, and the artist's experience. As a rough guide, smaller designs could start around $100, while more intricate, larger pieces might run into the thousands. Always remember that a tattoo is an investment, not only in terms of finances but also in its permanence on your skin.
While tattoos have been normalized in today's society, it's crucial to acknowledge potential risks. As with any procedure breaking the skin's surface, there's a chance of infection if not properly cared for. Allergic reactions to ink, although rare, can occur. Moreover, the process of tattooing can be uncomfortable to painful, depending on the placement and your personal tolerance. That said, the key to a safe and satisfactory tattoo experience lies in diligent research—finding a professional, reputable artist, understanding the aftercare instructions, and taking the leap when you feel fully ready to express yourself through this beautiful form of body art.
Feature image from Pinterest