Are you a fan of insects and their incredible contributions to the world? Then the bee and honeycomb tattoo might be just the right choice for your next ink. Did you know that bees are close relatives of ants and wasps, belonging to the clade of Anthophila? There are around 16,000 different species of bees all around the world, some living in colonies while others are solitary creatures. Some of the most famous species include honey bees, bumblebees, mason bees, carpenter bees, and sweat bees. Bees create honeycombs made of wax that serve as their living colonies and also as storage for their honey, which is used by humans, bears, and honey badgers for consumption. Thanks to the unique hexagonal geometric design of honeycombs and the crucial role of honey bees in our lives, this tattoo design has become increasingly popular among tattoo enthusiasts.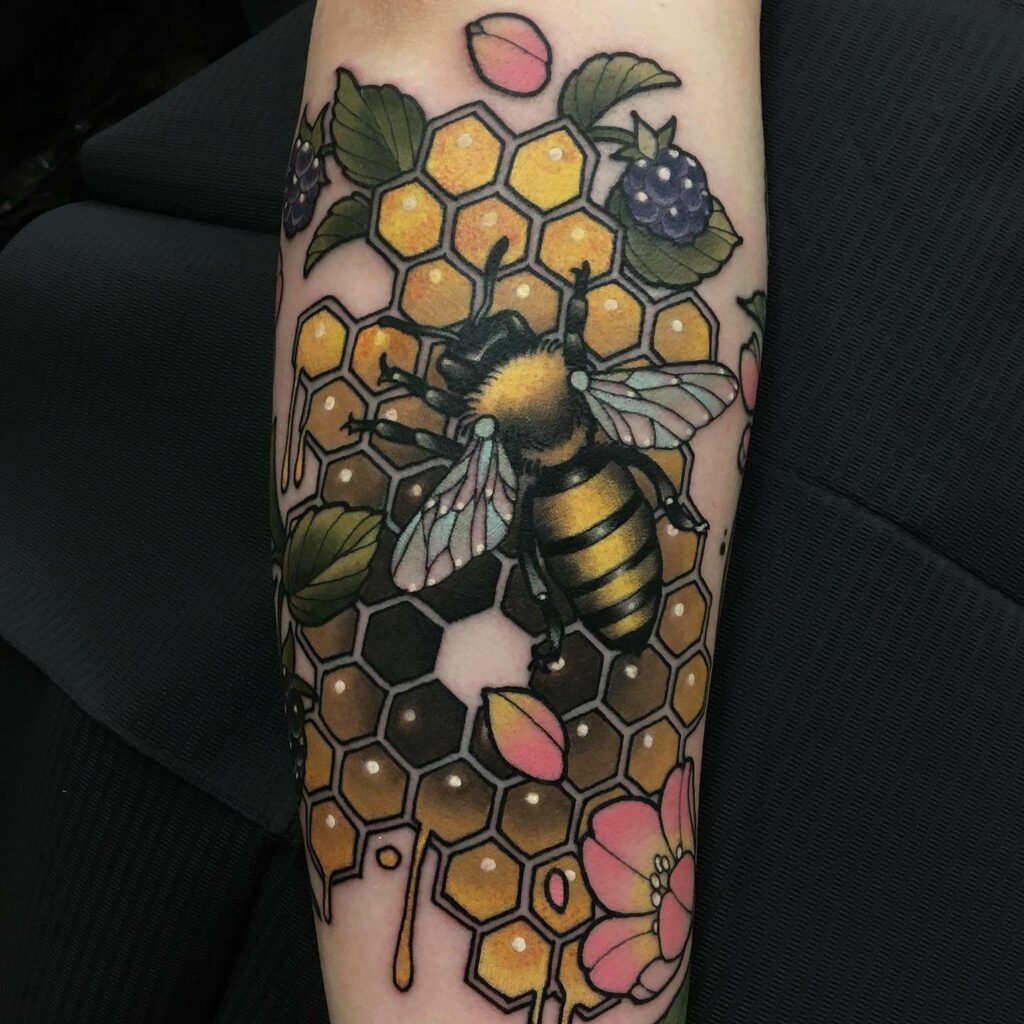 Simple Bee And Honeycomb Tattoo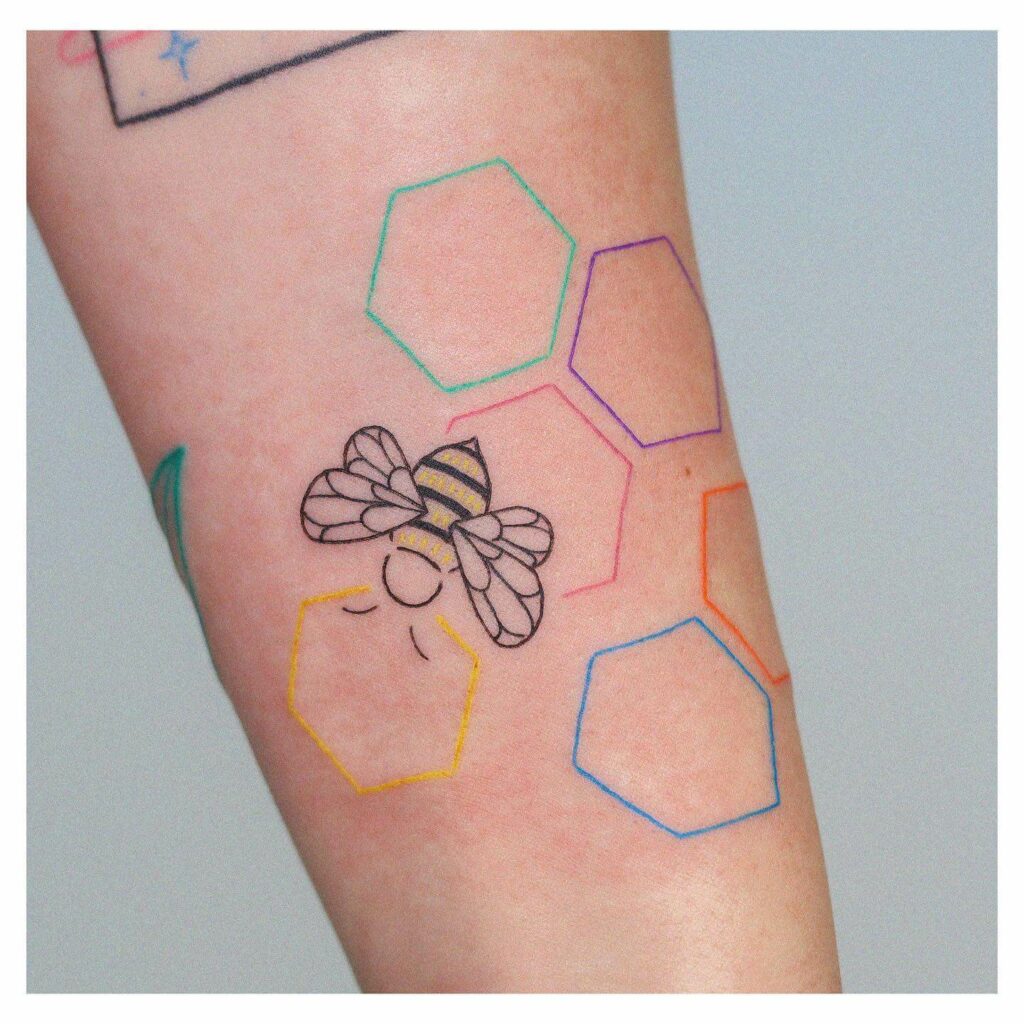 The honeycomb tattoo with a bee is a simple yet striking design that carries a lot of symbolic meaning. The hexagonal geometric pattern of the honeycomb represents warmth, kindness, and unity, while the bee represents loyalty and hard work. Together, these elements create a beautiful image that symbolizes loyalty and support for one's community. This tattoo looks stunning on various parts of the body, such as the forearm, thigh, wrist, shoulder, chest, and back. People often get this tattoo to showcase their devotion to their loved ones and their willingness to work hard for them, just like bees do for their hive. Whether you prefer traditional black ink or colorful designs, this tattoo is sure to make a statement.
Honeycomb And Tribal Bee Tattoo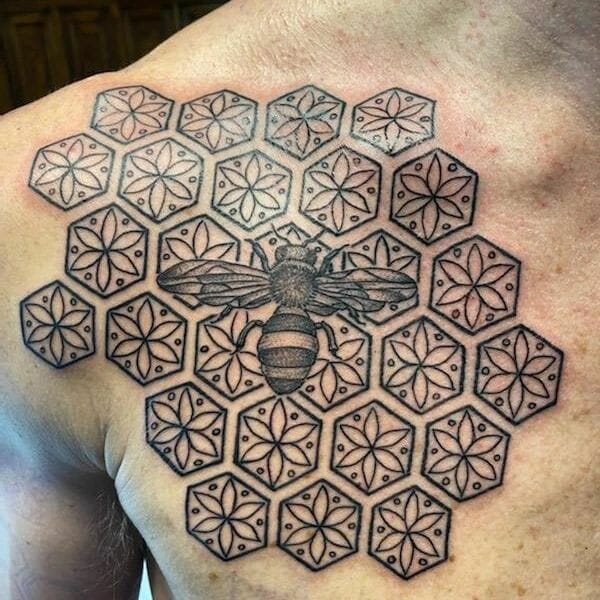 The art of beekeeping, also known as apiculture, has been a practice since ancient times. The role of bees in various cultures has been critical to their societies, and this has led to the development of bee tattoos with tribal elements. The design usually features a bee with spread-out wings inside the honeycomb. In ancient Egypt, bees were associated with royalty, while in Greece, they were linked to Potnia, the mother goddess. Tribal bee tattoos are popular among those who appreciate the history and significance of the bee. They are often done in black ink and look great on the chest, back, shin, calves, forearm, and bicep.
Queen Bee And Honeycomb Tattoo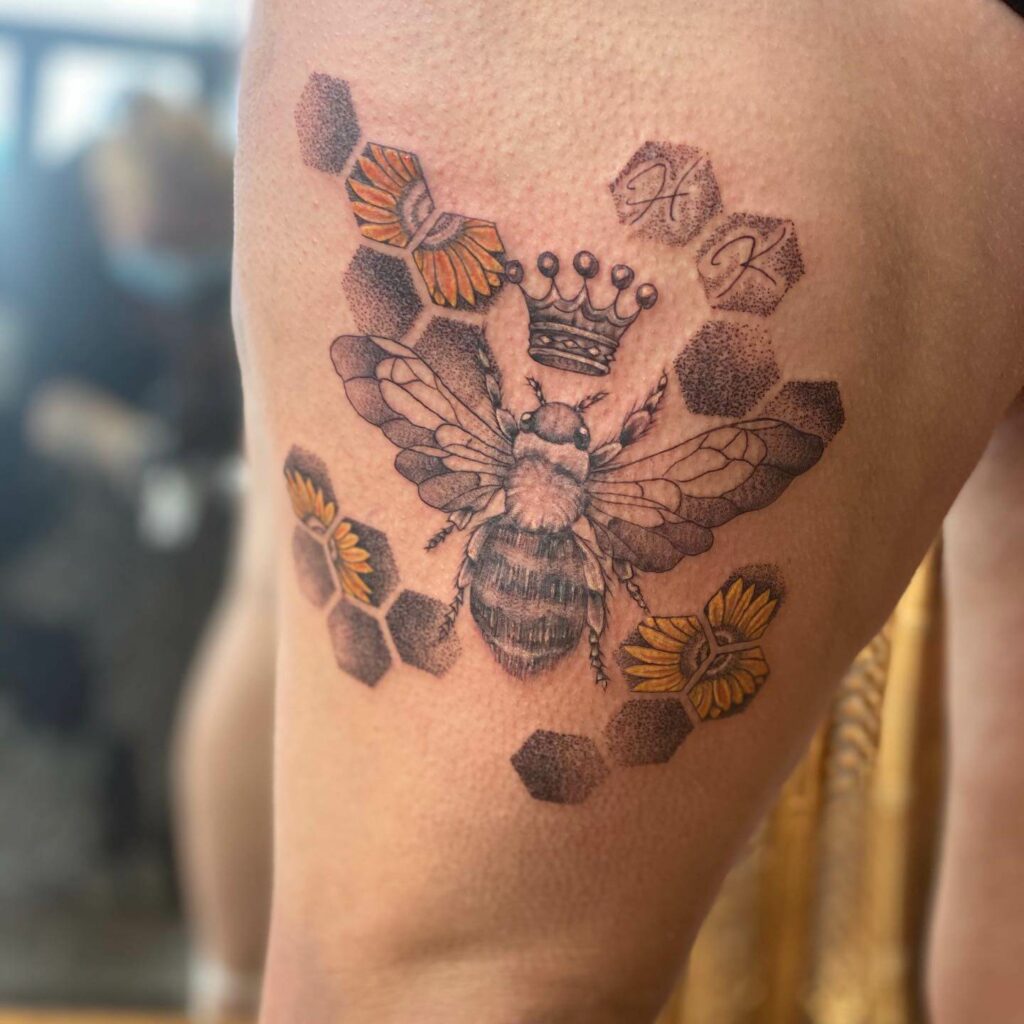 The honey bee tattoo design of the Queen is not only stylish but also packed with symbolism. The crown present on the head of the queen bee makes this tattoo instantly recognizable. The queen bee is unique because it is the only female bee with fully developed reproductive organs, which are responsible for regulating the unity of the community and producing chemical scents that help the queen lay a lot of eggs.
Women who see themselves as leaders are particularly drawn to these honeycomb and bee tattoos. This tattoo represents the appreciation and support they receive from their communities, just like the queen bee does from her workers. You can choose between black and yellow ink to get these tattoos, and they look amazing on the forearm, chest, back, shin, calves, and bicep.
Bee Geometric Honeycomb Tattoo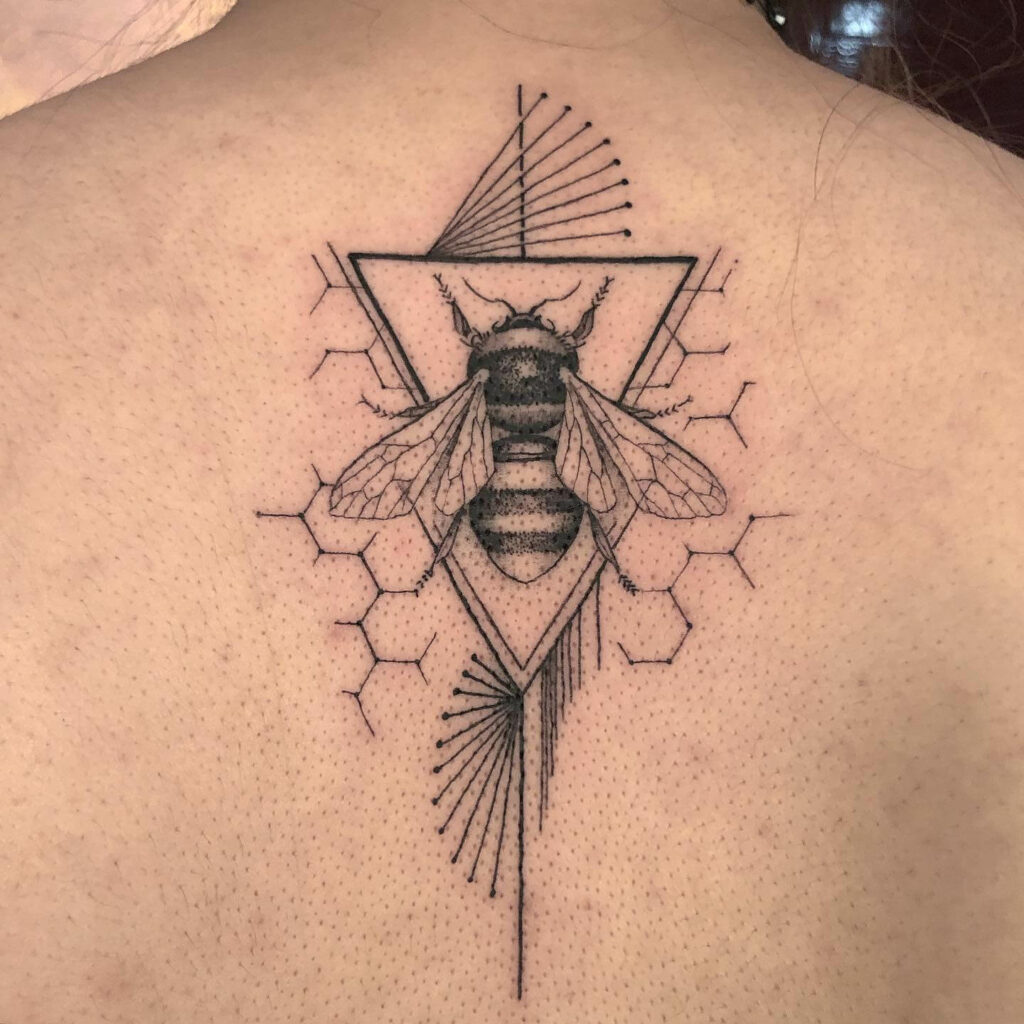 This design is known for its intricate details, with honeycomb walls perfectly crafted in precise hexagonal shapes, just like a tattoo artist would ink a perfectly geometric design on your skin. The ink color can be customized to your liking, with options ranging from classic black to vibrant yellow.
Not only is this design visually stunning, but it also holds deep symbolic meaning. The bee and honeycomb represent loyalty and fertility, while the addition of geometric shapes adds an extra layer of significance. The circle symbolizes the endless cycle of life, the triangle embodies strength, harmony, and creativity, and the square represents truthfulness.
If you're looking to get this tattoo, some great places to consider for placement include the back, chest, forearm, thigh, shin, and calves. So why not showcase your love for both geometry and nature with this unique and meaningful tattoo design?
Multiple Bees And Honeycomb Tattoo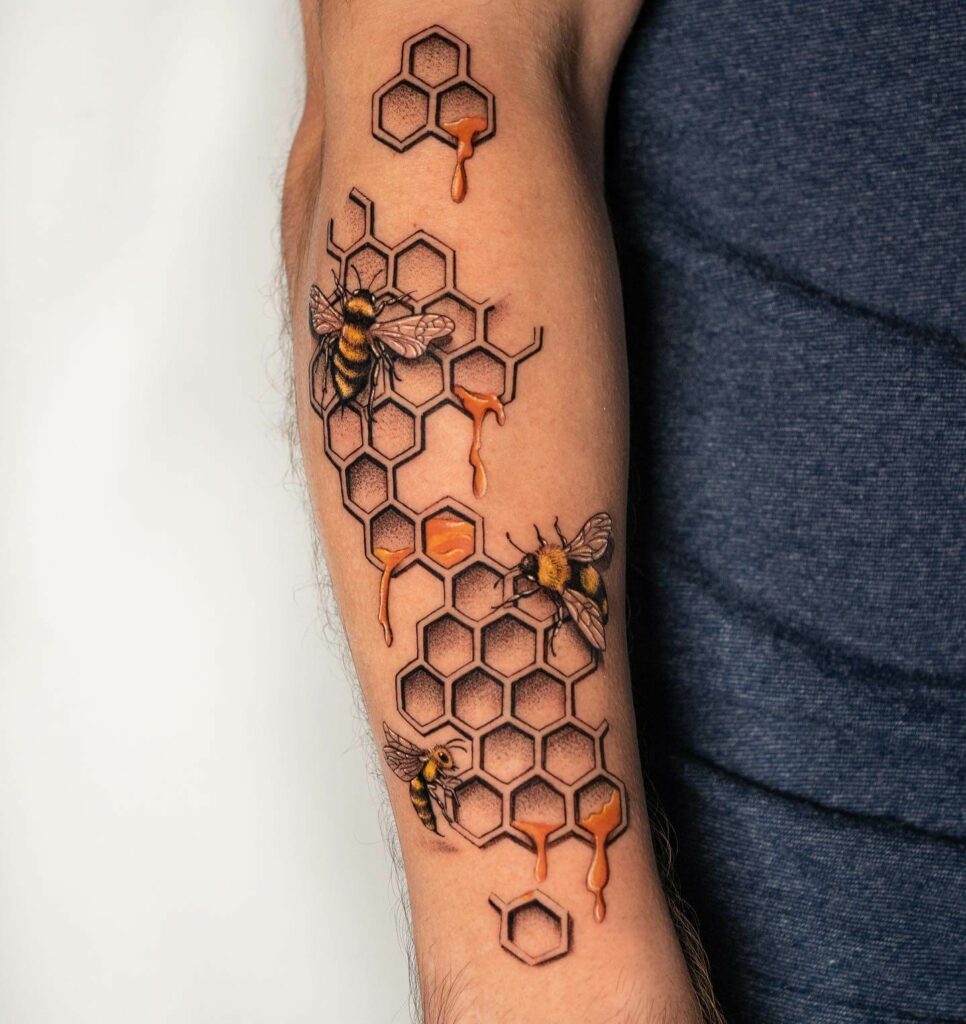 Bees are not only fascinating creatures, but they also hold a special significance in different cultures around the world. They are admired for their tireless work ethic and symbolize the importance of teamwork, unity, and loyalty. A multiple bees tattoo is a great way to showcase these qualities and express the importance of family and community.
This design can be done in traditional black ink or other colors like yellow and orange. The placement of the tattoo is crucial, and the best spots to put them are the shin, chest, calves, thigh, and back. Each worker bee plays a crucial role in the hive, and their hard work results in something greater than themselves, which is the perfect embodiment of teamwork and dedication. So, if you are looking for a tattoo that reflects these qualities, a multiple bees tattoo could be a great choice.
Bee, Honeycomb, And Flowers Tattoo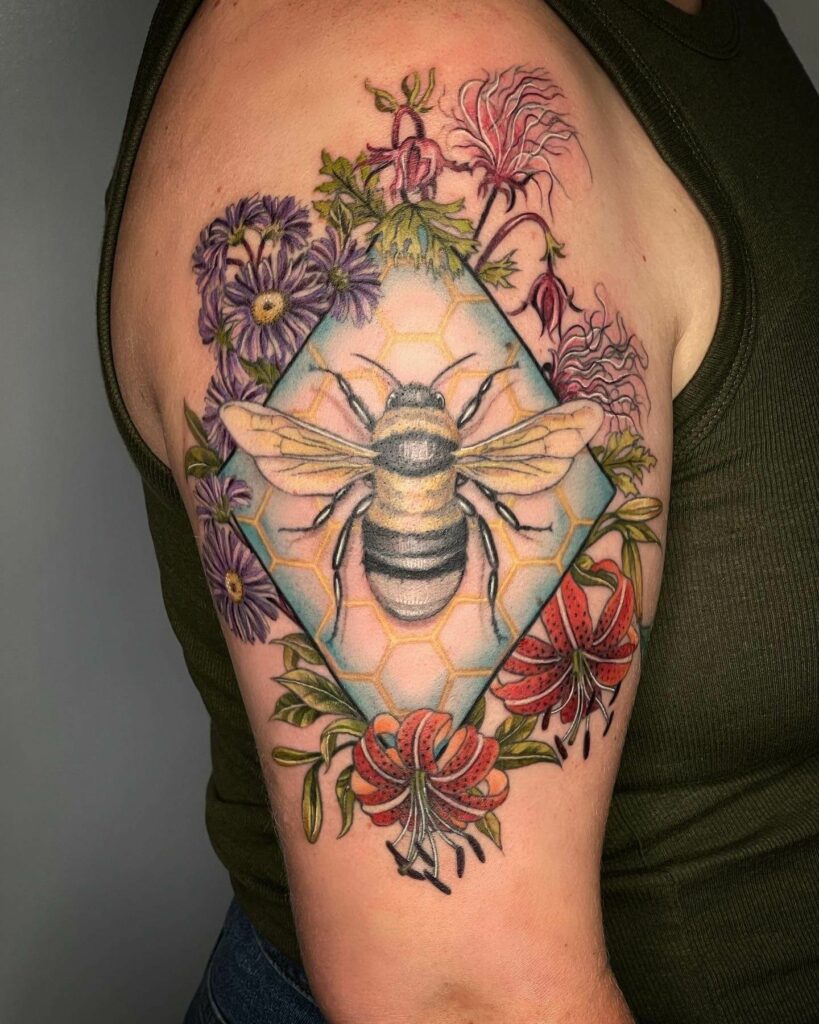 The bee and flowers tattoo design is a simple yet powerful way to exhibit the symbiotic relationship that exists between nature's elements. These tattoos often feature the intricate details of bees buzzing around beautifully crafted flowers, showcasing the perfect harmony of nature. The flowers provide the bees with sustenance while the bees, in turn, play a critical role in the pollination of plants. People who share a deep appreciation for nature often get these tattoos as a symbol of their connection to the environment. The vibrant colors of the ink are used to highlight the beauty of these tattoos, and the best placement for them is on the wrist, chest, forearm, shoulder, back, calves, and thighs.
Cartoon Style Honeycomb And Bee Tattoo
Bee tattoos can be the perfect choice for anyone who wants to show their love for these beautiful and hardworking insects. They are cute, simple, and can be inked using black ink or colorful inks like yellow and orange to make them more cheerful. These tattoos look great on the forearm, chest, wrist, shin, back, and shoulder.
If you're a fan of bee-themed cartoons, you can choose to get a tattoo inspired by characters from the Bee Movie (2007) or Maya the Bee (2014). Alternatively, you can even create your own unique bee character and get it inked by a professional tattoo artist. Having a bee tattoo is not only fun but also a great way to show your respect and appreciation for these amazing creatures.
Honeycomb And Bumblebee Tattoo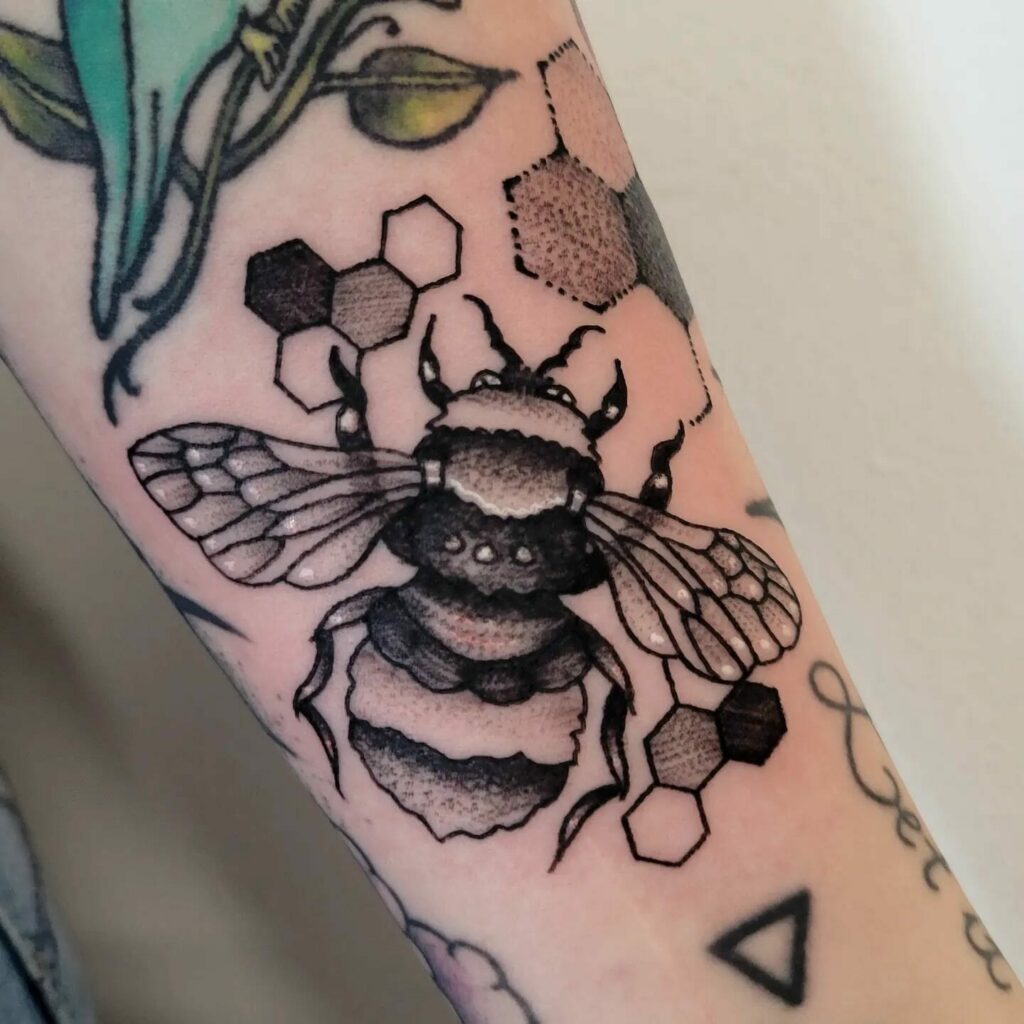 Bumblebees and honeybees, though belonging to the same species, have some stark differences in their traits and appearances. Honeybees are smaller and thinner, while bumblebees are fuzzier and rounder. Honeybees live in large groups in domesticated hives, while bumblebees prefer to live in the wild and nest.
If you're someone who prefers to go solo, a bumblebee tattoo design could be perfect for you. Bumblebees can sting multiple times, unlike honeybees that can only sting once before they die. This makes the bumblebee tattoo a warning not to mess with its owner! These tattoos are commonly placed on the chest, forearm, shin, calves, and back, and can be done in black ink or with a pop of color to make them stand out.
Realistic Honeycomb And Bee Tattoo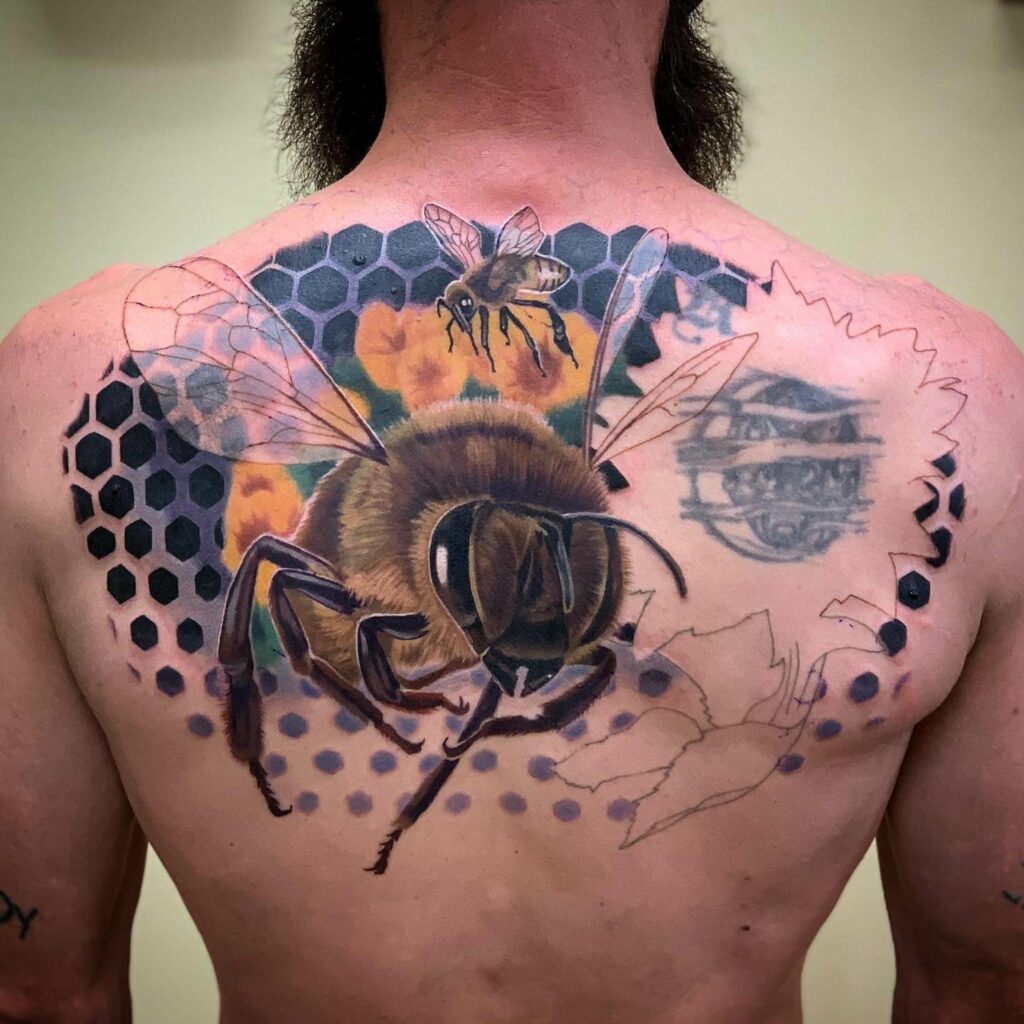 Bees have long been revered in various cultures around the world for their ability to work tirelessly and maintain a tight-knit community. To pay homage to this, many tattoo enthusiasts opt for bee and honeycomb designs that showcase the concept of regeneration and continuity. These tattoos are often done in the realistic style of art, which emerged in France in the mid-19th century and has since gained immense popularity worldwide.
The beauty of realistic bee and honeycomb tattoos lies in their ability to appear like actual photographs, thanks to the intricate detailing and use of colorful ink. These tattoos are best suited for the back, chest, forearm, shin, and thighs, and can be done using traditional black ink or other vibrant hues. If you're someone who appreciates the symbiotic relationship between bees and their hives, getting a realistic bee and honeycomb tattoo can be an excellent way to honor this magnificent insect.
Bee, Women, And Honeycomb Tattoo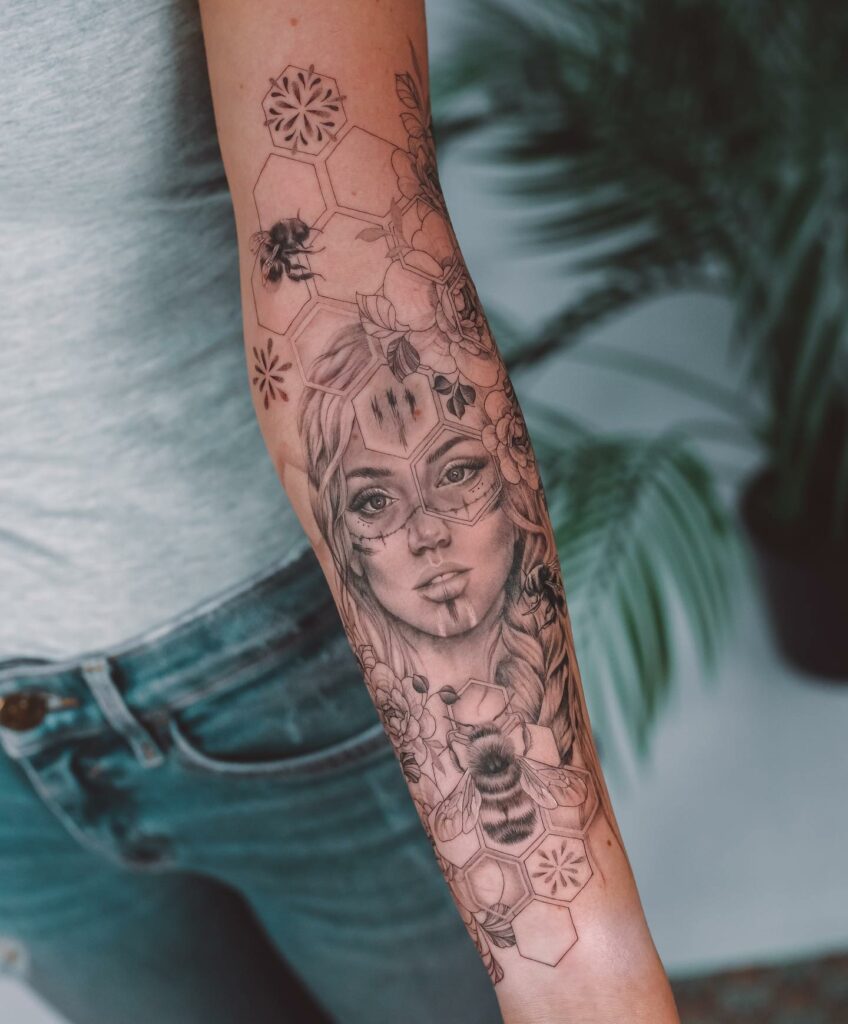 Bees are more than just insects; they are the backbone of our ecosystem. In bee hives, only the queen bee has matured reproductive organs and is considered the mother of all bees within the hive. Similarly, women are the only ones who can procreate in the animal kingdom. These bee and honeycomb tattoos are not only beautiful but also represent feminine strength.
These tattoos can be created using a variety of colors, or just black ink, and are popularly placed on the forearm, chest, thigh, and back. Along with feminine strength, these designs also symbolize loyalty, honor, and fertility. To make things more interesting, flowers, fruits, or geometric patterns are often added to this design.
It is important to note that bees play a crucial role in pollination and providing important medicinal products for mankind. Unfortunately, the population of bees is decreasing in some places due to environmental degradation. We must take the necessary initiatives to preserve the environment and protect these vital insects.
Feature Image from Pinterest – Want your tattoo to look brighter? Try "Tattoo Balm"