For those intrigued by body art that carries a weighty mix of patriotism and history, the compelling allure of Benjamin Franklin tattoos could be the perfect match for you.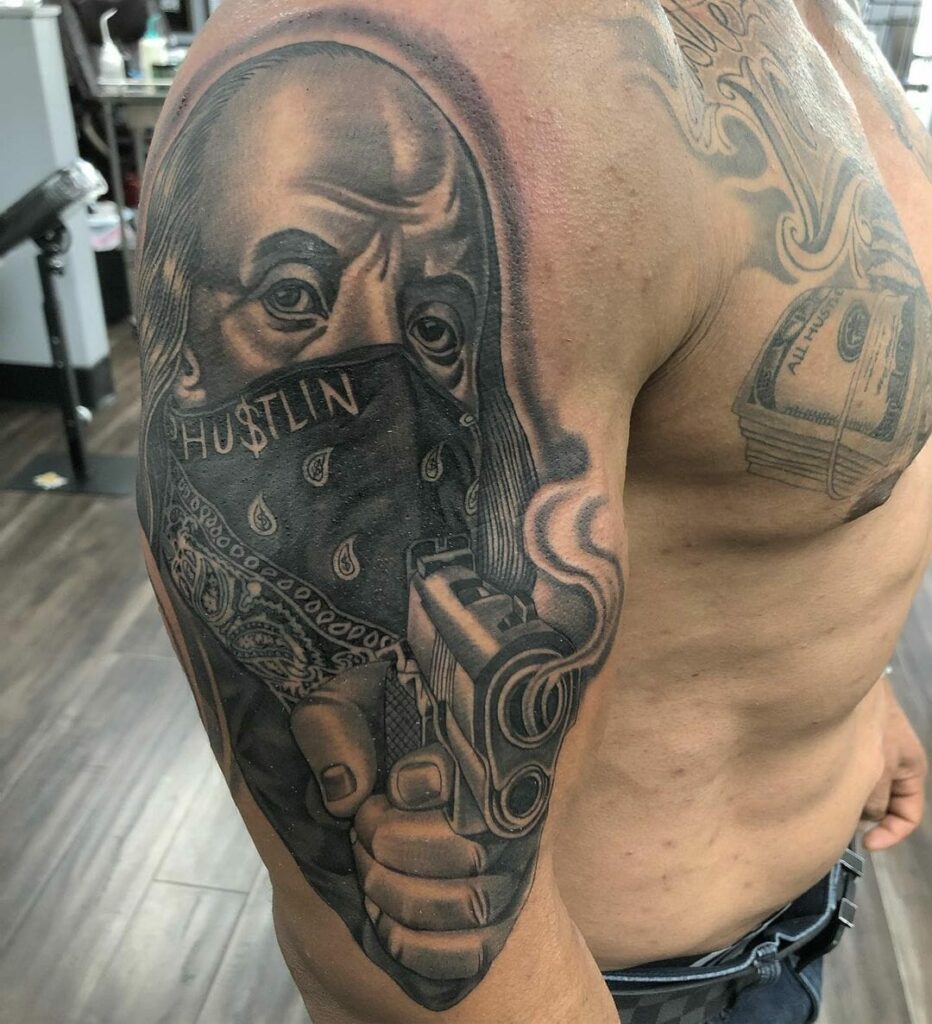 Patriotic ink, from national flags to military insignia, has been a lasting favorite among tattoo devotees across the ages. And what could be more fitting for American patriots or history enthusiasts than a tribute to the esteemed Benjamin Franklin, one of the very architects of the United States?
Born in Boston on January 17, 1706, Franklin was a man of myriad accomplishments, a true Renaissance figure. A revolutionary, philanthropist, politician, scientist, and entrepreneur, Franklin's achievements spanned diverse fields. He demonstrated that lightning was electric, devised theories on the spread of the common cold, charted the Gulf Stream, and invented the bifocal glasses and an efficient stove. As a philanthropist, his contributions ranged from local initiatives like organizing neighborhood watches and fundraising for Philadelphia's roads, to larger causes like establishing the University of Pennsylvania and advocating for widow's welfare and anti-slavery. Yet, his most celebrated role remains as a founding father of America, his name etched on the three critical documents that sealed America's independence – the American Constitution, the Treaty of Paris, and the Declaration of Independence.
So, what's the symbolism behind a Benjamin Franklin tattoo? It represents more than patriotic sentiment; it's a testament to a legacy that has shaped the course of history. If you're considering getting inked with a Benjamin Franklin tattoo, this curated selection of Benjamin Franklin tattoos is your essential guide.
Benjamin Franklin Gangster Tattoo
Consider the Benjamin Franklin gangster tattoo. Picture one of America's founding fathers embellished with a skull cap, gold chains, and face tattoos; a truly unorthodox but striking tattoo. This concept shines thanks to the rich detail applied by the tattoo artist, and the bold expression on Franklin's face.
Benjamin Franklin Tattoo Behind Ear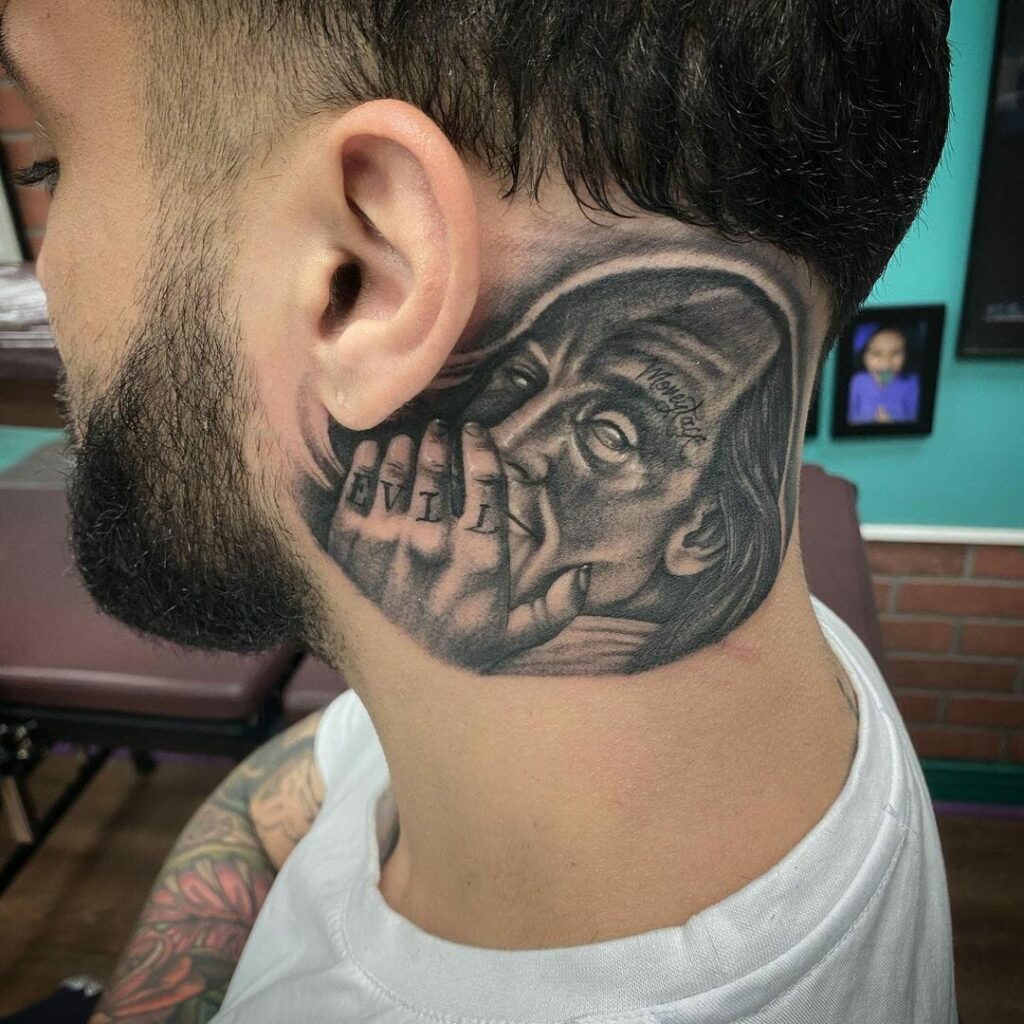 Then why not a Benjamin Franklin tattoo behind your ear, sporting the word 'evil' tattooed on his knuckles as if he's whispering into your ear? This is certainly one for those fascinated by the unexpected in tattoo design.
Joker Themed Benjamin Franklin Tattoo
Another thrilling juxtaposition is the Joker-themed Benjamin Franklin tattoo. Here, pop culture's infamous villain meets one of history's great minds in a chilling twist, as Franklin's face borrows the Joker's notorious grin. This concept asks, in a haunting echo of the Joker himself, "Why so serious?"
Benjamin Franklin Leg Sleeve Tattoo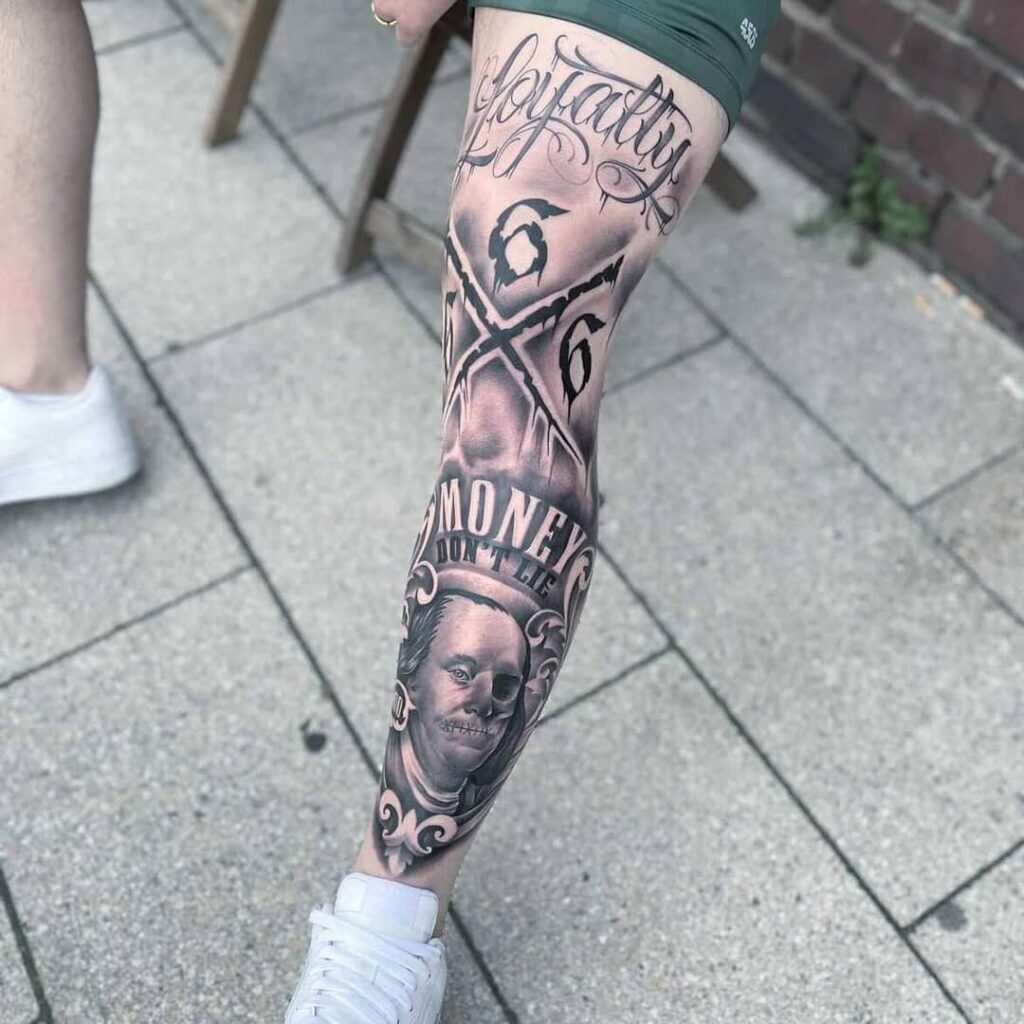 For seasoned tattoo aficionados, the detailed Benjamin Franklin leg sleeve tattoo might be just your speed. This design showcases meticulous detailing and shading, creating a grand spectacle of ink that is sure to win admirers in the tattoo community.
Benjamin Franklin Skull Tattoo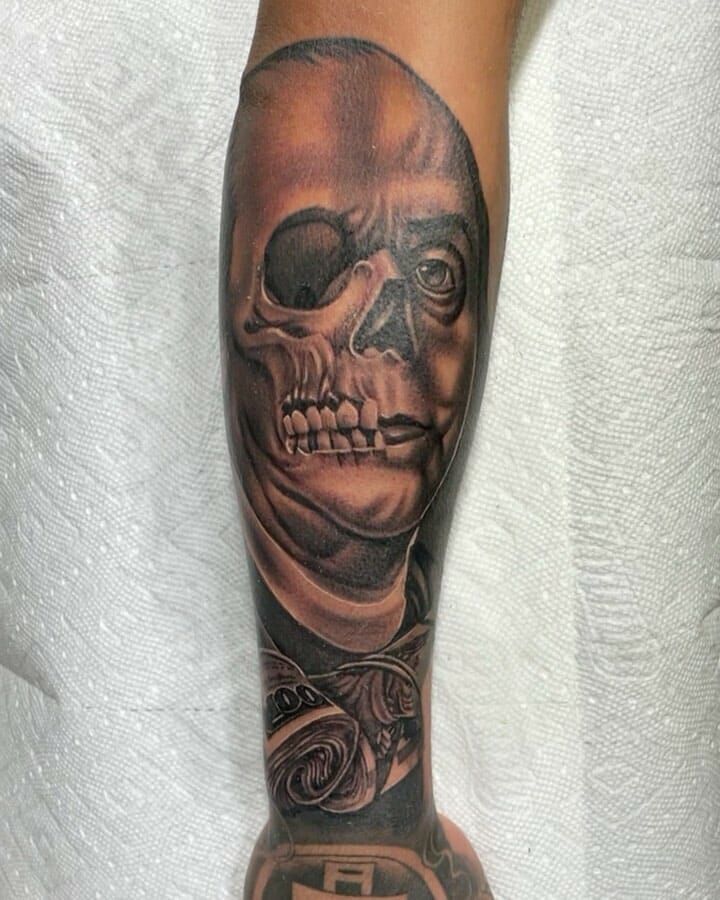 Fans of gothic aesthetic, fear not. There is the Benjamin Franklin skull tattoo that merges patriotic design with a macabre touch. Here, Franklin's visage takes on a hauntingly beautiful aspect, with rich brown and extensive shading adding a gothic edge.
Three-Eyed Benjamin Franklin Tattoo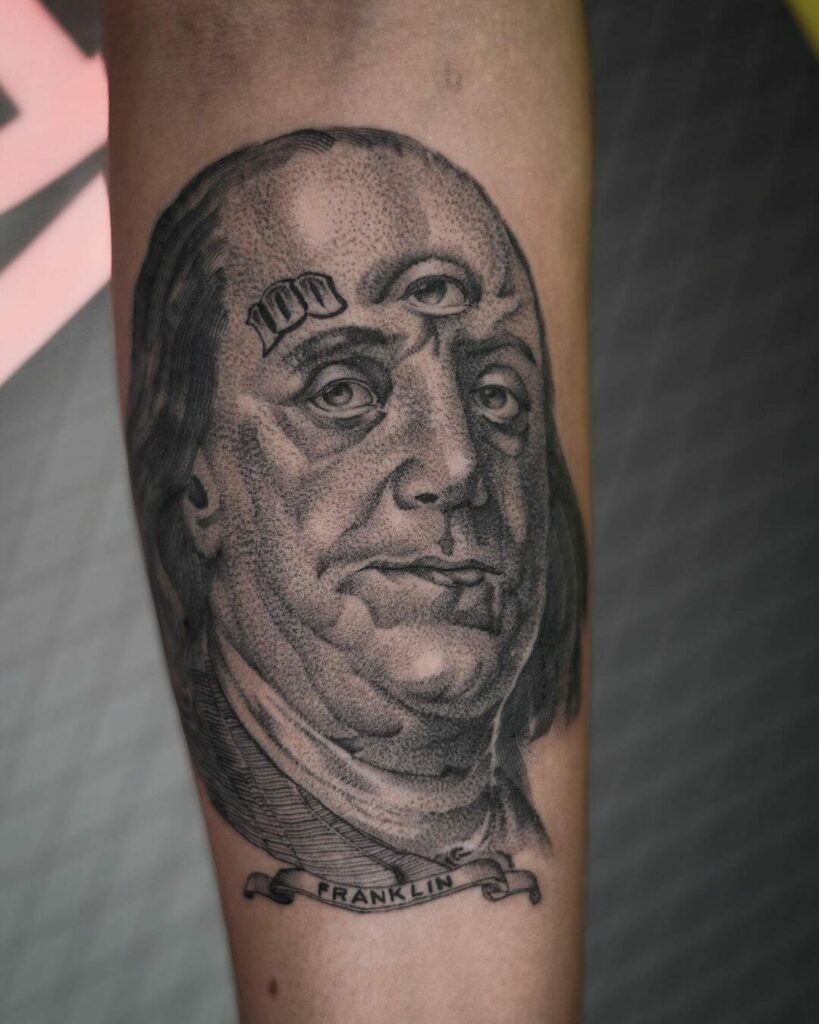 Then there's the intriguing three-eyed Benjamin Franklin tattoo, nodding to the conspiracy theories that link him to secret societies like the Illuminati. The additional third eye and careful dotwork give this design a mystic allure.
Benjamin Franklin Hand Tattoo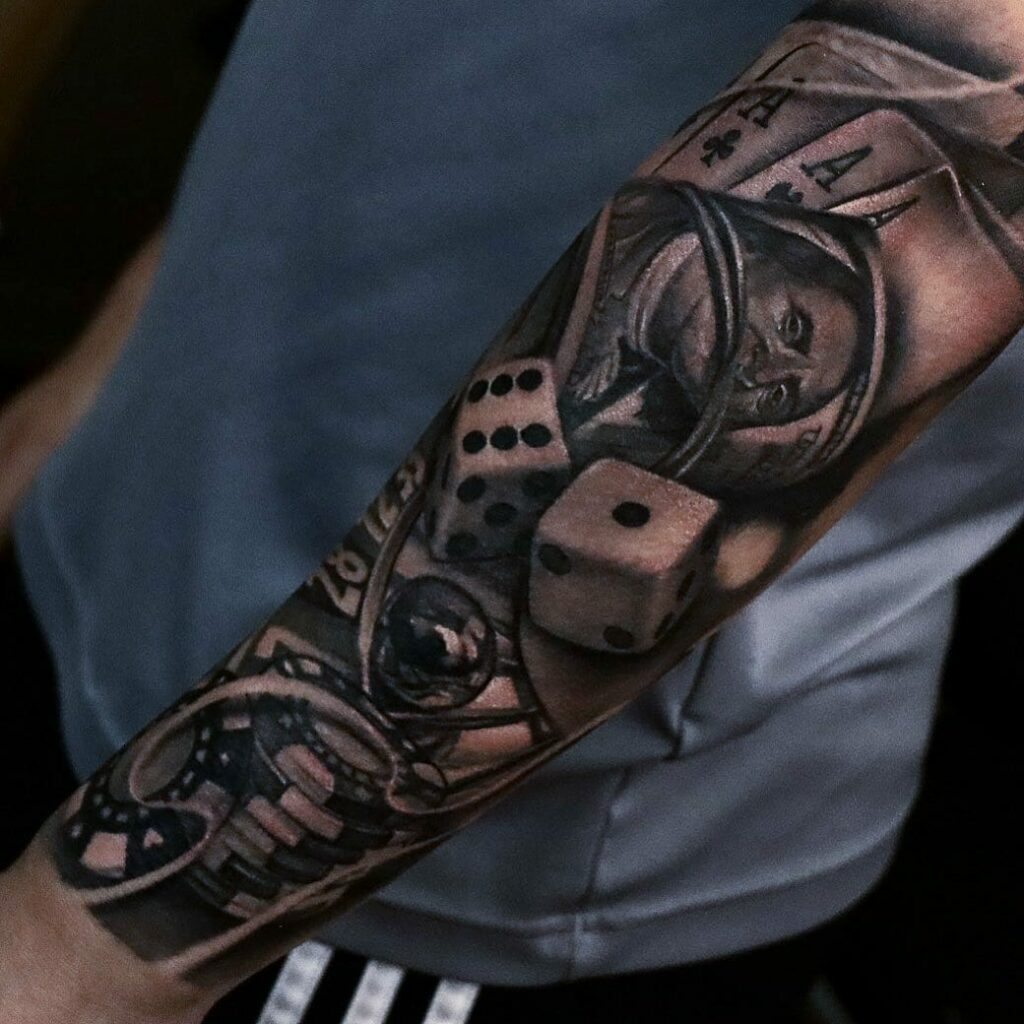 Money is synonymous with Benjamin Franklin's face on the hundred-dollar bill. For the risk-takers and high rollers, a Benjamin Franklin tattoo alongside gambling symbols, like dice and cards, could be your winning hand.
Grayscale Benjamin Franklin Tattoo
The grayscale Benjamin Franklin design, complete with intricate shading and enigmatic crosses on the eyes, is a timeless piece that highlights the enduring power of black and white ink.
Benjamin Franklin Portrait Tattoo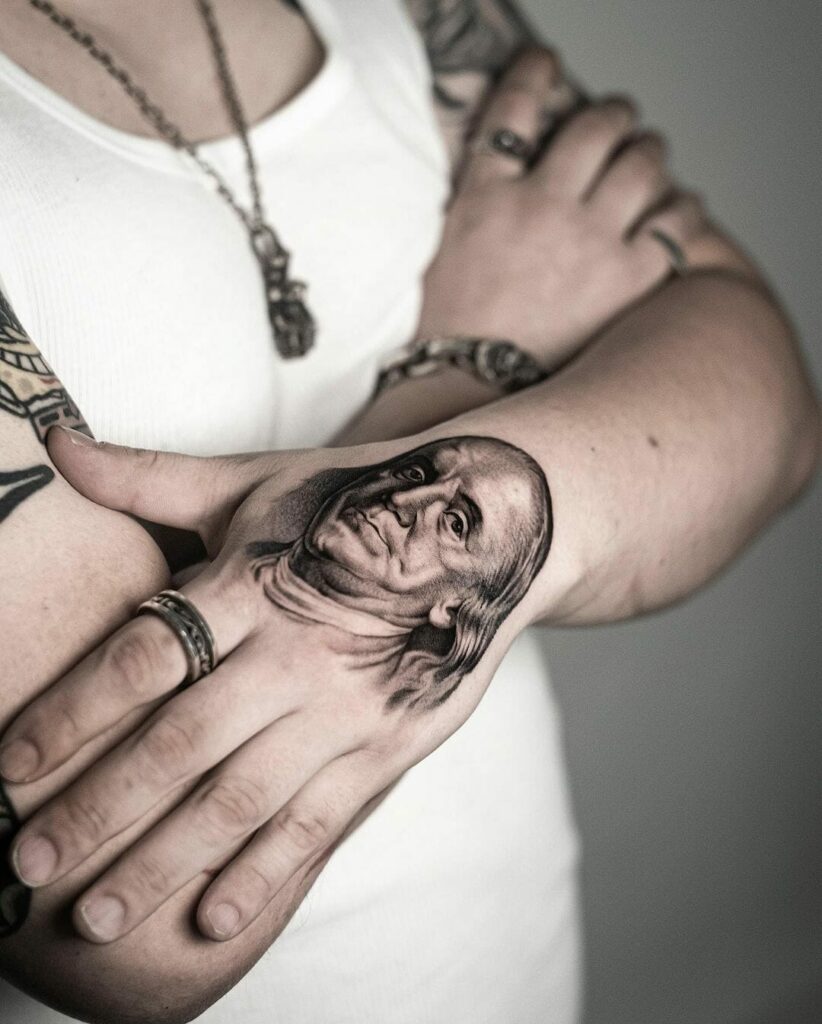 For those seeking to pay homage to the man himself, the Benjamin Franklin portrait tattoo offers a strikingly realistic representation of this historic figure. The delicate detailing and expert shading techniques make this a stunning, lifelike tribute.
American Flag And Benjamin Franklin Tattoo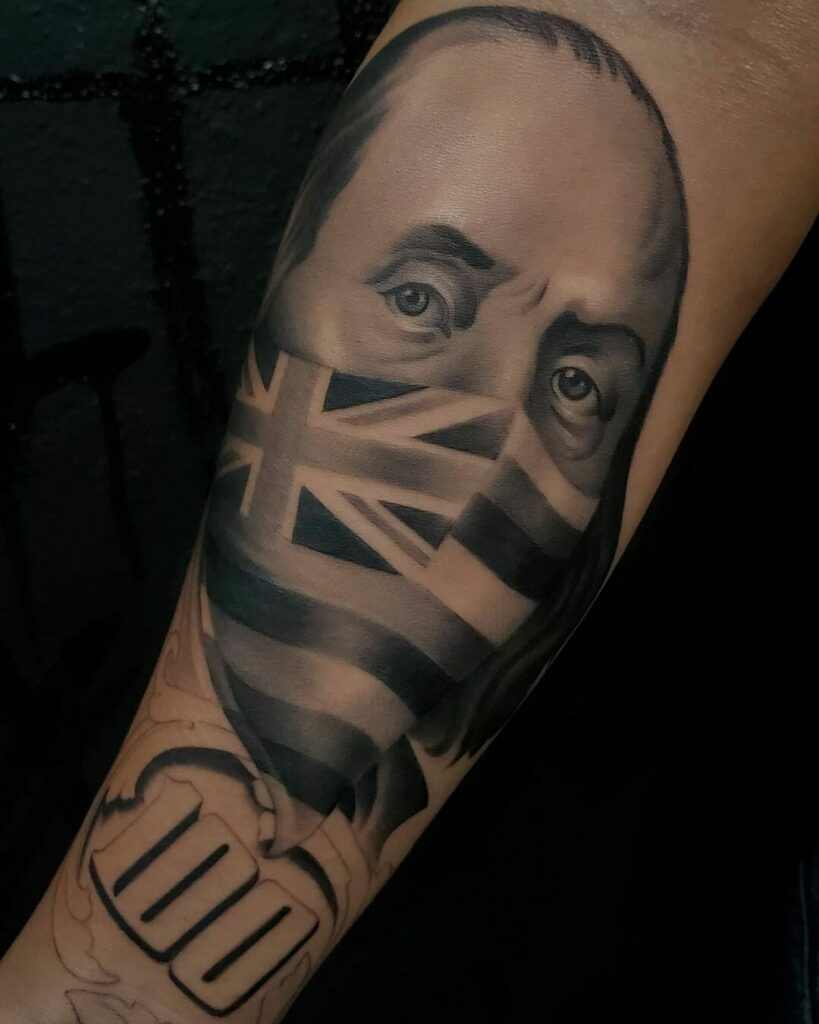 Last but not least, is the deeply patriotic American flag and Benjamin Franklin tattoo. This design pairs our founding father with the national flag, with the use of muted colors and a rustic finish adding a nostalgic charm.
Conclusion
In conclusion, when it comes to selecting your Benjamin Franklin tattoo, let your imagination be as free as the man himself once envisioned for our nation. Whether you choose a gangster-inspired design or a true-to-life portrait, remember that the placement should be thoughtfully chosen, considering your personal comfort and how prominently you wish your tattoo to be displayed. While the price might lean towards the upper end due to the complex nature of these designs, remember that good tattoos aren't cheap and cheap tattoos aren't good. Investing in an experienced artist is critical for achieving the best results and minimizing the risk of complications. Above all, ensure you follow appropriate aftercare, because while Ben Franklin might have been a fan of risks in the name of discovery, we're pretty sure he'd want you to take no chances with your skin's health.
Feature image from Pinterest