Looking to make a statement with your next tattoo? How about inking your birth year or that of someone special to you? Trust me, this is more than just numbers on skin—it's a personal, timeless statement you won't regret. In this article, you're gonna find a variety of badass birth year tattoo designs and understand the meanings that can go behind them. Whether it's honoring your own year of birth, paying tribute to a loved one, or even immortalizing the year you found your life's passion, we've got you covered. Stick around for personalized recommendations that'll help you truly own this ink.
Thigh 1999 Tattoo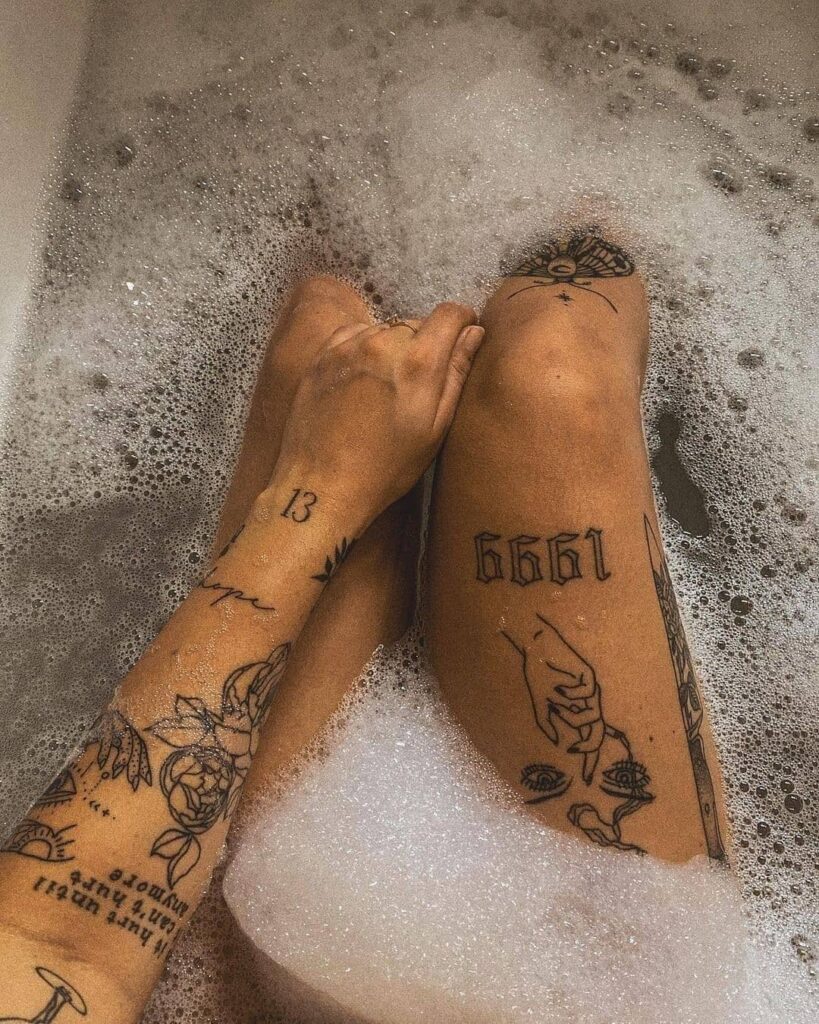 If you're looking for a meaningful tattoo that showcases your personality and celebrates the most important moments in your life, a birth year and birth date tattoo on your wrist might just be the perfect choice for you.
Having both the birth year and birth date tattoos on the same part of your skin may not provide the most visually appealing result, but having them on your wrist is a fantastic option. The focus of this tattoo design is definitely the birth year, so feel free to get creative and personalize your tattoo to reflect your unique style.
Celebrities like Liam Payne and Bella Thorne are great examples of people who show their self-love through tattoos. So why not take a page from their book and give yourself this little luxury of a meaningful tattoo? Trust us, you won't regret it!
Small Birth Year Tattoo Set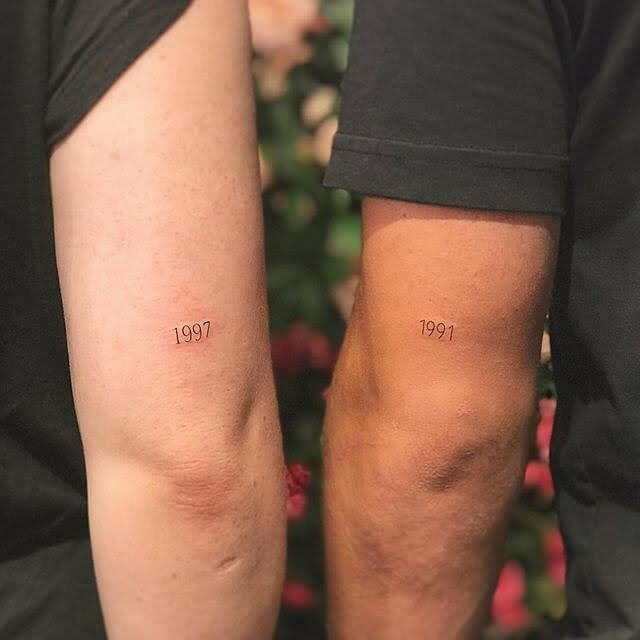 The meaning of the birth year tattoos can be molded in any direction depending on how the wearer wants to portray it. This very simple tattoo set for instance can be used as a couple of tattoo or a friendship tattoo or even as a sibling tattoo. Tattoos are for a lifetime commitment and are a great way to keep something preserved in your skin forever. So to represent the special years as something glorious, getting both of your birth years tattooed would hold a special meaning to both of you.
This minimal birth year tattoo set would be a great way to begin your ink journey. It is tiny yet effortlessly neat and would be perfect not only for those who like it short and simple but also for those who are new to tattoos and have just started exploring.
Leo Birth Year Tattoo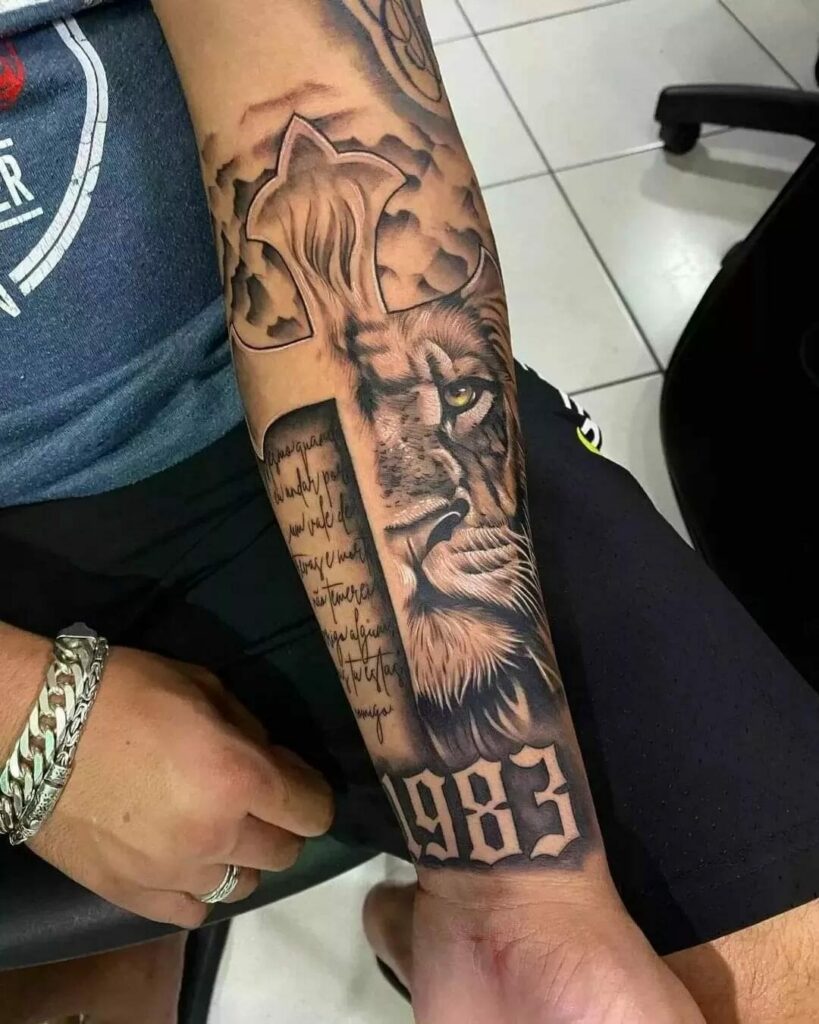 If you're looking for a tattoo that showcases your strength, courage, and majestic personality, then a lion tattoo combined with your birth year might just be the perfect fit. Lions are a symbol of power and bravery, making them a popular choice for tattoos.
For those born under the zodiac sign of Leo, this tattoo design is especially fitting. Astrology views Leos as strong and powerful, much like a lion. So if you identify as a Leo or simply feel like you embody lion-like qualities, this tattoo design is definitely worth considering.
It's important to find a talented tattoo artist to bring your vision to life, especially when it comes to intricate details like a lion. You want to make sure that the features of the majestic beast are captured realistically and beautifully, so it's essential to find an artist with the skills to do so. Trust us, the result will be worth it!
Hand Birth Year Tattoo
If you're looking for a bold and eye-catching tattoo that showcases your personality and gratitude for life, then a birth year tattoo on the top of your hand might just be the perfect choice for you.
The font used for this birth year tattoo is bold, fun, and definitely makes a statement. The dark black ink used to fill the numbers gives it an extra pop and makes it really stand out. Adding other small tattoos like your birth date or zodiac sign can add even more personalization to your design and make it truly unique to you.
This tattoo can also serve as a reminder to be thankful for your existence. Whether you want to express gratitude to God or your parents for giving you life, this tattoo can be a meaningful way to show your appreciation. For more inspiration, take a look at this Instagram post for some creative ideas!
Ribcage Birth Year Tattoo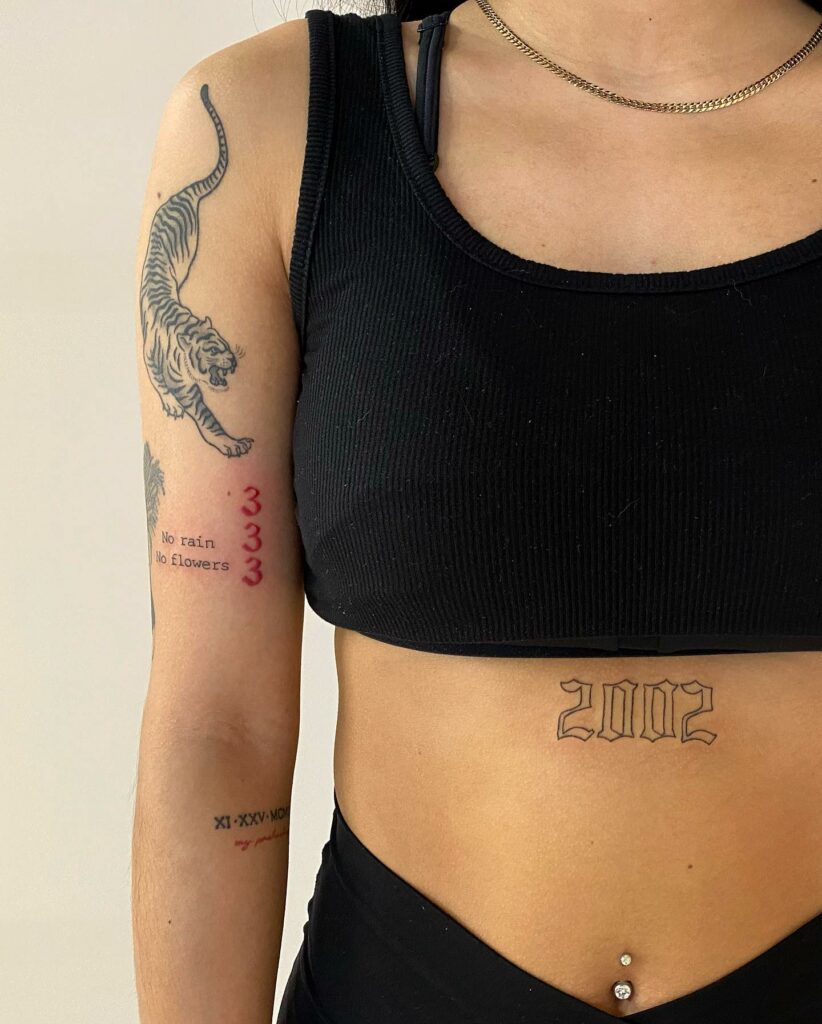 If you're up for a bit of a challenge, then the ribcage might be the perfect spot for you! It's known to be one of the most painful areas to get inked, but the end result is worth it. You'll love the way this simple yet elegant design looks on you. It's just the right amount of creativity and will definitely turn heads.
What's even better is that you can customize this tattoo to make it truly special. You can include the birth year of a loved one, like a friend, family member, or even your pet. And, if you really want to make it unique, you can add their full birthdate or even little charms that represent them. The possibilities are endless and the end result will be a beautiful expression of love and friendship. So, if you're up for the challenge, let's make some magic happen!
Floral Birth Year Tattoo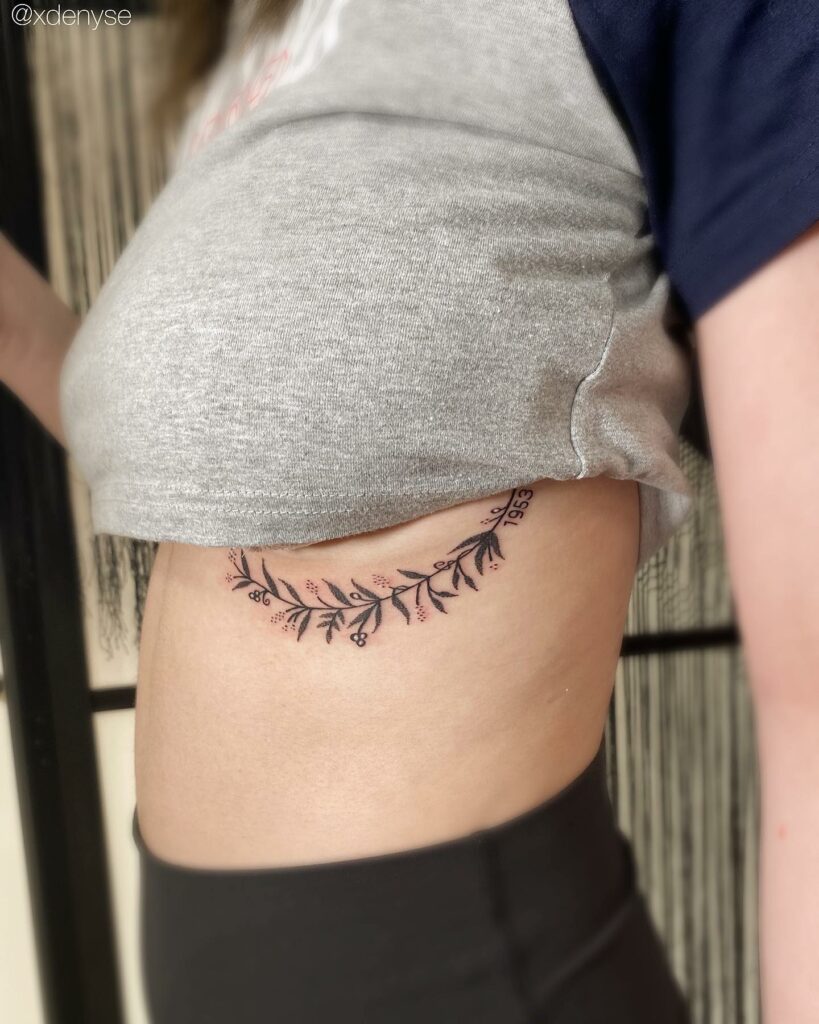 Are you searching for the perfect tattoo to represent your growth and the journey of life? Look no further! The birth year tattoo with a beautiful floral design is just what you need. This tattoo is all about capturing the essence of who you are and what you stand for. The birth year represents the beginning of your journey, while the floral design symbolizes your growth and positivity.
This tattoo is a masterpiece in itself, as the artist has blended different patterns and techniques to create a one-of-a-kind design. From the loose dot-work used for the flowers to the tighter dot-work for the leaves, this tattoo is sure to impress. The artist has done an amazing job of incorporating different techniques to make this design come to life.
So, if you're a fan of floral designs and want to showcase your growth and journey, this tattoo is perfect for you! Get ready to turn heads and show off your unique style.
Wrist Birth Year Small Tattoo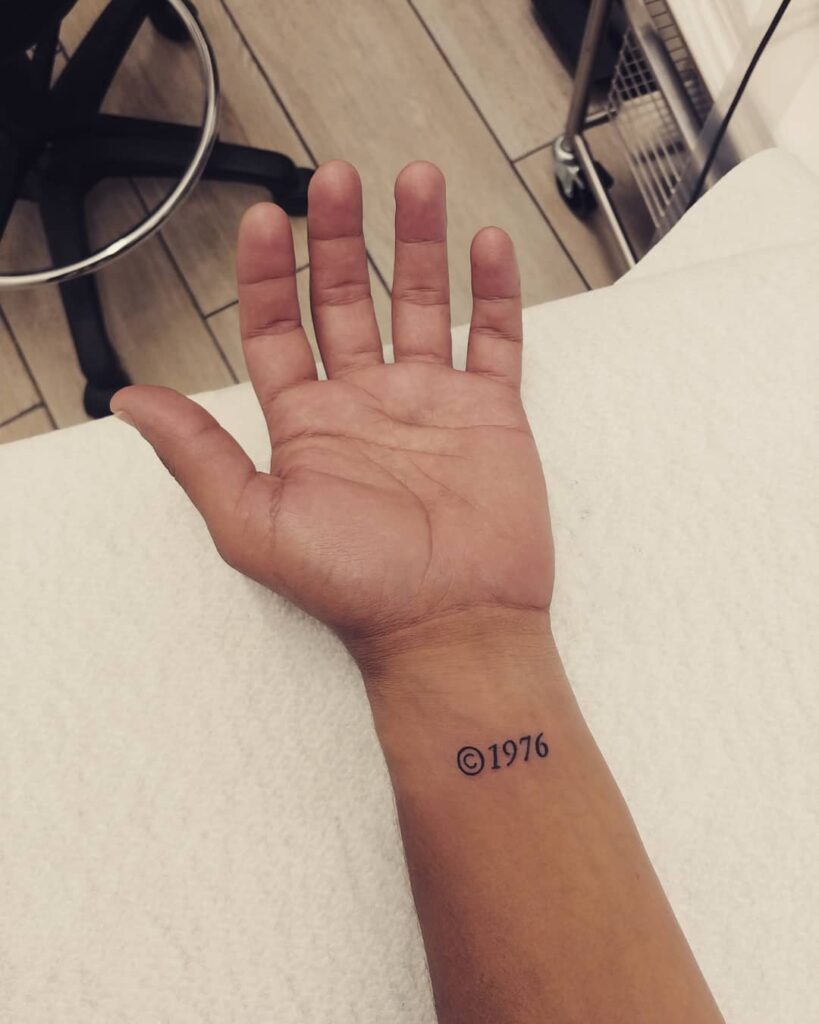 Are you looking for a trendy and simple tattoo? Then, the wrist is the perfect spot for you! This area is one of the most popular places to get a tattoo and it's a great way to show off your ink in a subtle and stylish way.
And, if you love minimalistic tattoos, then this one is definitely worth considering. The "c" inside the circle is a versatile design that can be interpreted in many different ways. You can add the year of your birth, or switch it up with "Est" or any other word that represents you. The possibilities are endless and it's a great way to make your tattoo truly personal.
So, if you're looking for a fun and meaningful tattoo, look no further! This wrist tattoo is the perfect combination of simplicity and style.
Birth Year Ankle Tattoo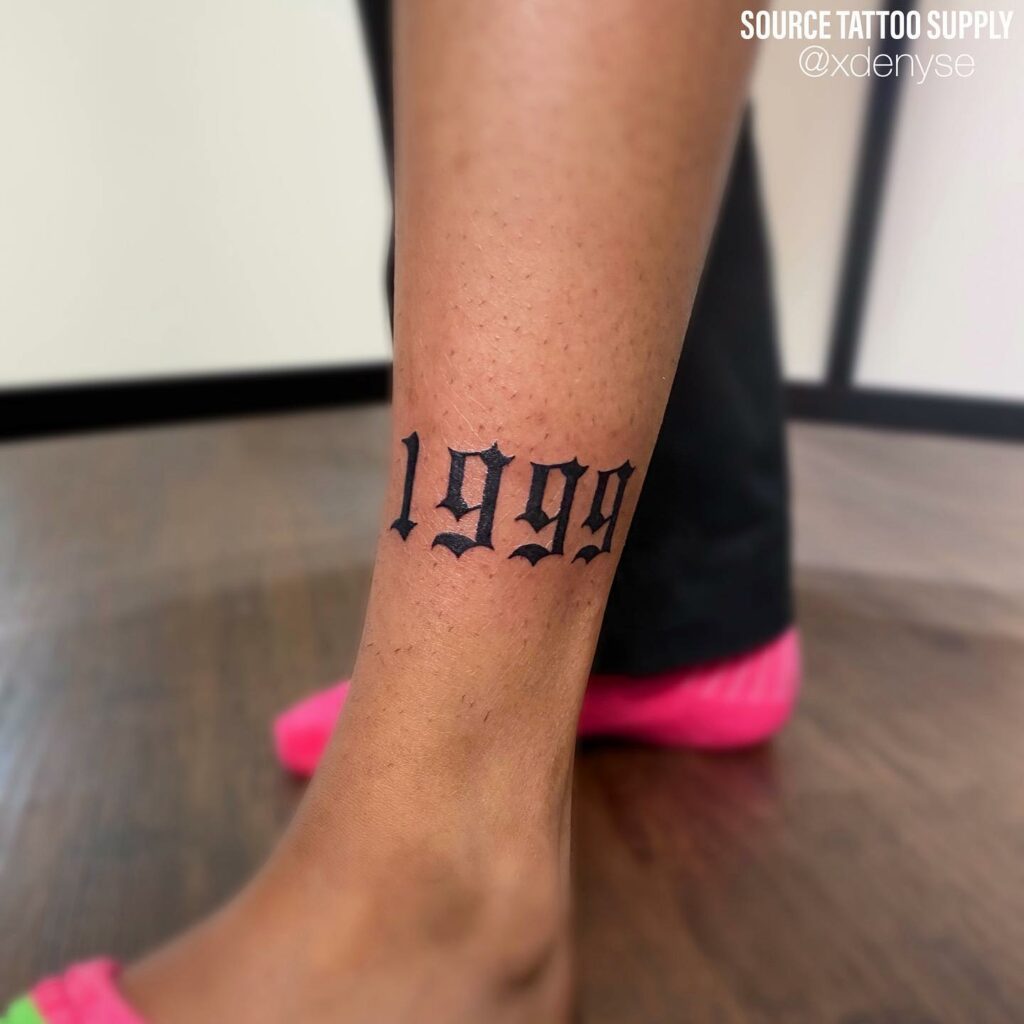 If you're searching for a unique and eye-catching tattoo to commemorate your birth year, look no further! This tattoo design is a perfect choice. With its bold and distinctive font, it's sure to make a statement.
Not only does this design represent your birth year, but it can also symbolize the things that are important to you. Want to make it even more personal? Add your birth flower, favorite colors, or your Chinese zodiac sign to make it truly your own.
So, if you're looking for a timeless and meaningful tattoo, this design is perfect for you! Don't hesitate to make it your own with your personal touch. Get ready to show off your unique style and tell the world your story.
Butterfly Birth Year Tattoo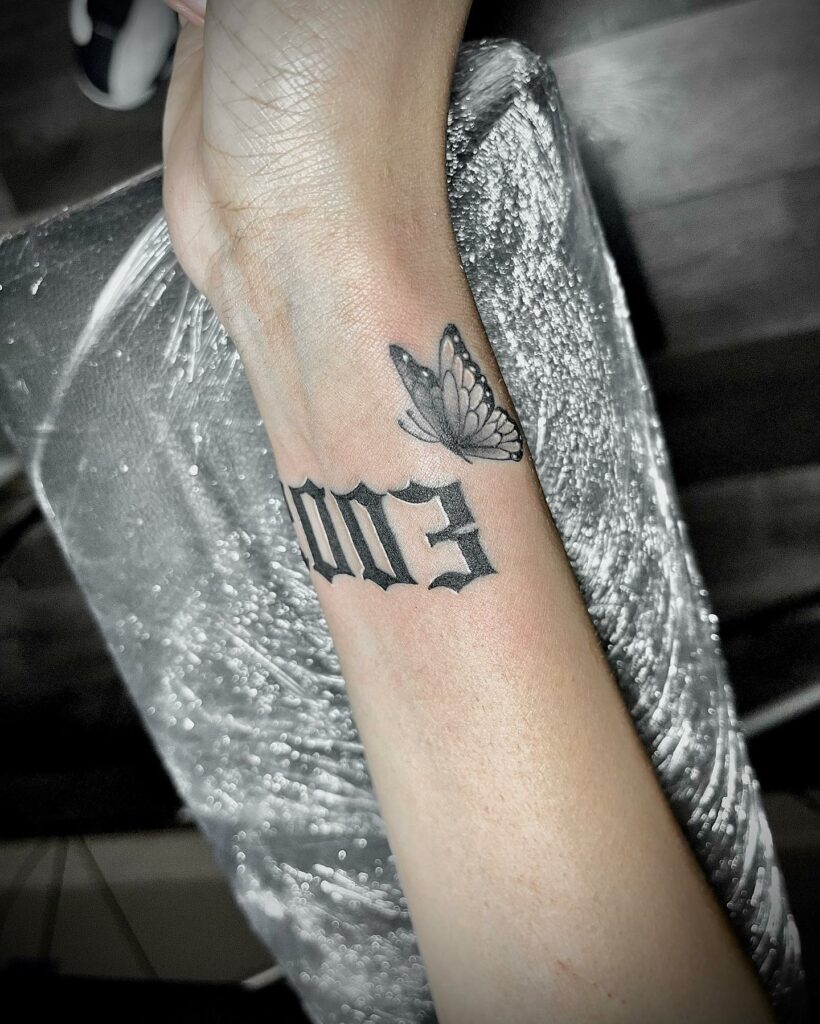 Are you looking for a tattoo that represents positivity and new beginnings? Then a butterfly tattoo with your birth year might be the perfect choice for you!
Butterflies hold a special meaning in many cultures and are often associated with change, hope, comfort, and positivity. This tattoo design beautifully represents the positive energy you bring into the world. Whether you're a parent celebrating the birth of your child or simply want to commemorate a special year in your life, this tattoo is a great way to do so.
And, if you want to add a pop of color to your tattoo, consider adding some color to the butterfly. This will bring out the beauty of nature and make your tattoo even more vibrant. So, if you're looking for a meaningful and beautiful tattoo, give this one a try!
Family Birth Year Tattoos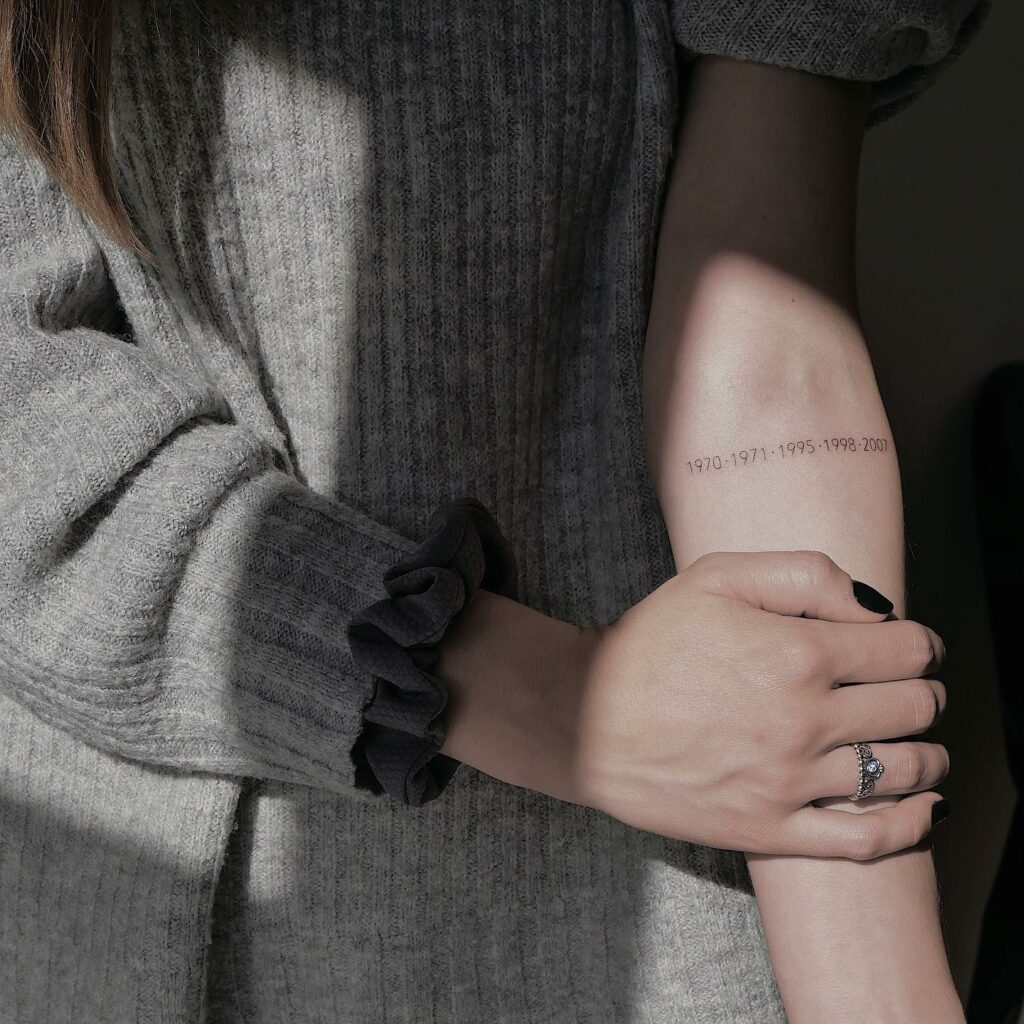 Are you looking for a special way to commemorate the birth of your loved ones? How about getting their birth years tattooed? It's a beautiful way to honor their existence and show your appreciation for them. And the best part is, you can make this moment last forever with a timeless piece of ink.
This design features the birth years written side by side, separated by dots, and is simply a treat for the eyes. You can also add symbols to each year to make it even more personal. If you're looking for a single tattoo that celebrates multiple people, this one could be just what you need.
And did you know, birth year tattoos have become a popular trend all over the world? Celebrities like Bella Thorne and Liam Payne have even jumped on the bandwagon. So, why not join the trend and get inked with a meaningful birth year tattoo!
Still Need Inspiration Then Watch This Video
Conclusion
Alright, there you have it—a deep dive into the world of birth year tattoos. Just remember, while these tattoos are a killer way to celebrate a special year, make sure to give some serious thought to the design and placement. After all, this is a lifelong commitment. Consider any potential career implications and be mindful of the healing process, which may be a bit more sensitive around the pelvic area. But with the right planning and a skilled artist, this could be the personal and unique statement piece you've been searching for. Now, what are you waiting for? Get out there and make your mark!
feature image from Pinterest – Want your tattoo to look brighter? Try "Tattoo Balm"
Last reviewed and updated on September 27, 2023