Hey there! Are you a big fan of butterflies? If you are, then you'll love these butterfly thigh tattoo ideas that we've curated just for you! Tattoos are a beautiful way to express yourself through art and to celebrate the things you love. It's a form of body art that can help boost your confidence and bring you joy. Butterflies, in particular, have a lot of deep symbolic meanings that people often connect with their personal life journey, transformation, and growth. That's why butterfly tattoos are so popular! They represent spiritual transcendence, metamorphosis, and evolution. In this article, we'll showcase some of the most stunning butterfly tattoo designs that you can get inked on your thigh.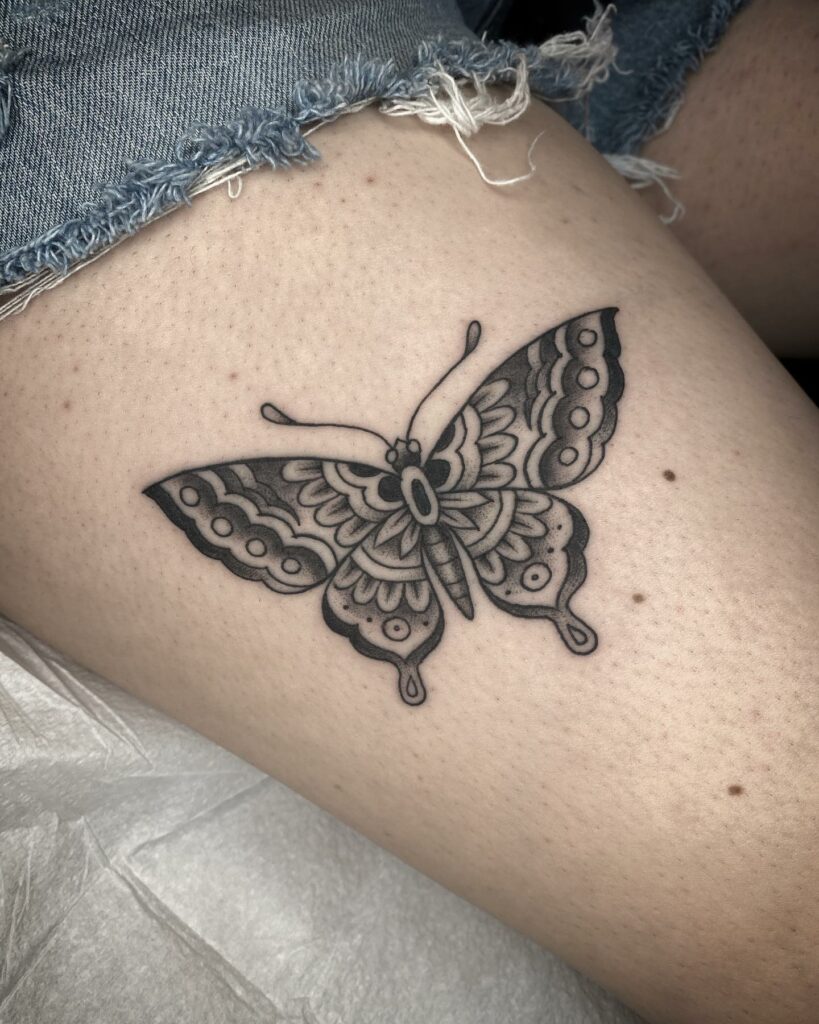 Half Butterfly On Flowers Tattoo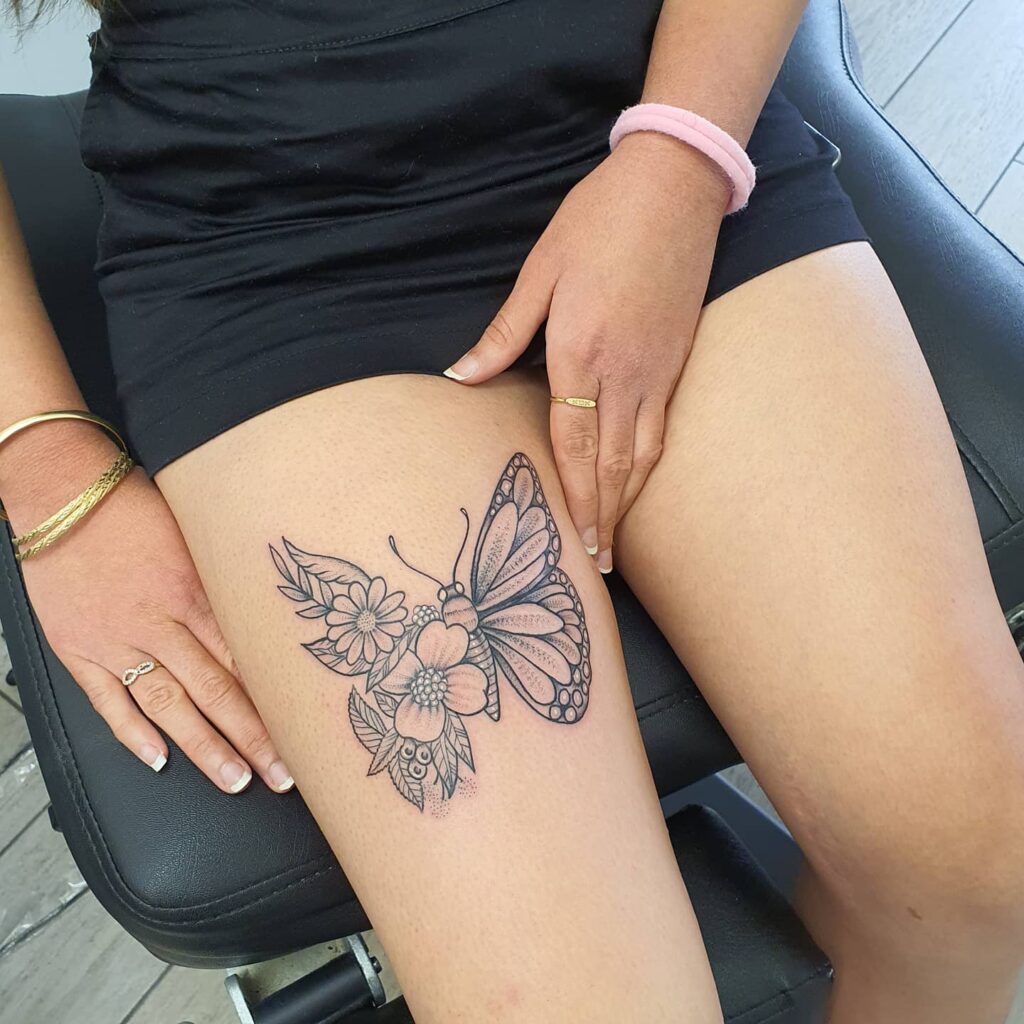 This butterfly tattoo design on the thigh is simply stunning! The two-dimensional image portrays a butterfly perched on some flowers, which gives the tattoo a charming and delicate look. The butterfly and flowers have a special symbolic meaning when paired together in a tattoo design. The butterfly represents the fleeting nature of life, while flowers signify the slow transformation from life to death. When combined, these two symbols represent the value of life and the inevitability of death. If you want to celebrate life and appreciate the beauty of nature, this tattoo design could be an excellent choice for you.
Totoro And Butterfly Tattoo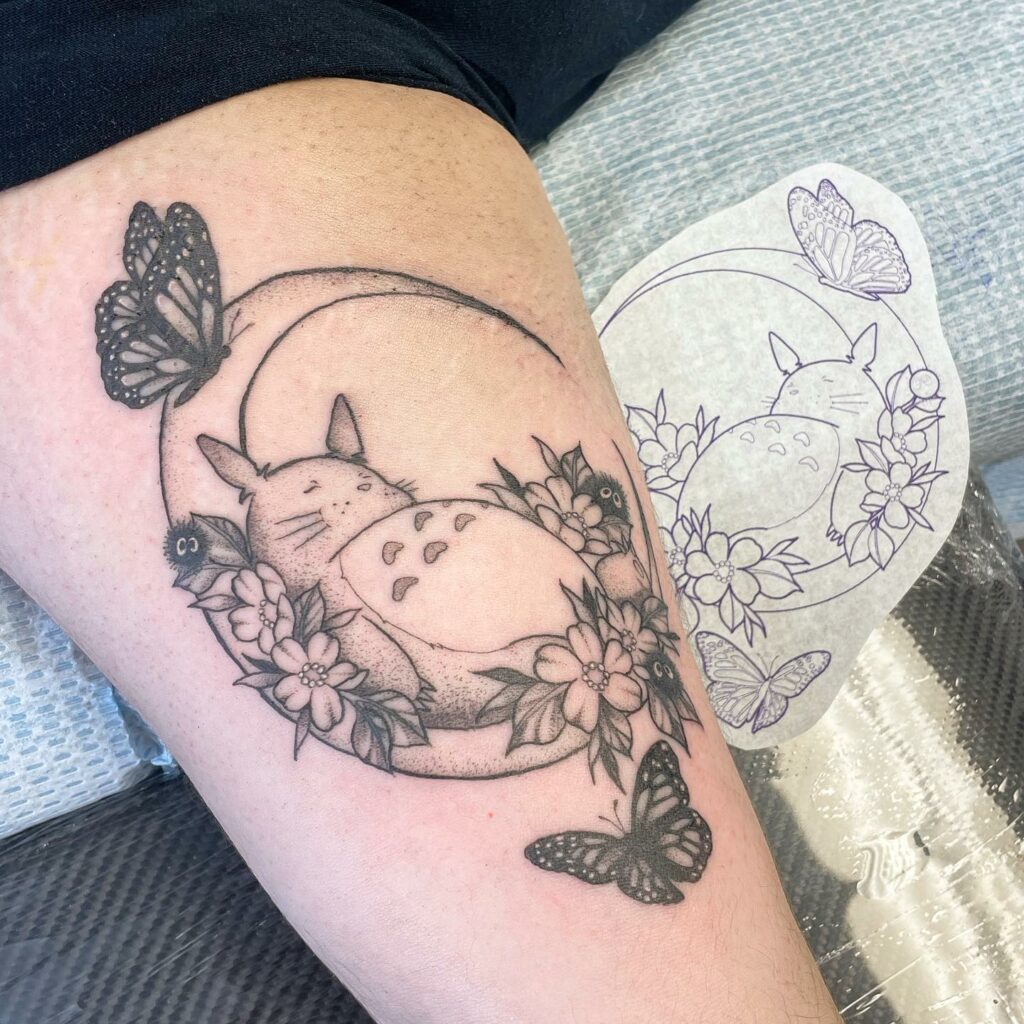 If you're an anime enthusiast, you might be interested in this beautiful piece of body art on the thigh! It features the beloved Japanese mythical creature, Totoro, sound asleep on a crescent moon with delicate flowers adorning the design. Two fluttering butterflies are nearby, almost as if they're watching over Totoro while he dreams. The design is executed with expert dotwork, which adds depth and shadow to the black ink lines. Totoro is considered a spirit and protector of the forest and is hugely popular in Japan and among fans of anime. This tattoo could be a perfect choice for anyone who loves nature and is passionate about protecting it.
Meaningful Black Butterfly Tattoo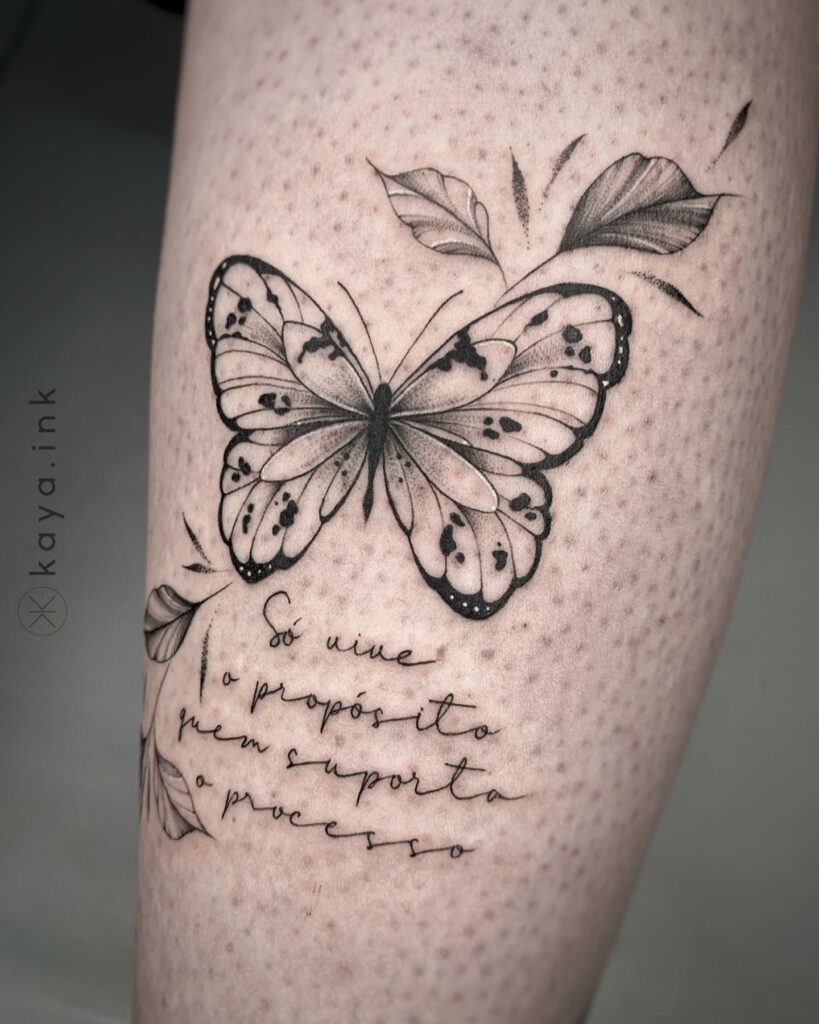 Butterfly tattoos are not only beautiful but also meaningful, and this one is no exception. The tattoo features a sterling monarch butterfly with an Italian quote on a delicate thigh. The quote means that only those who embrace the process of change and evolution can truly live life to the fullest, and the butterfly's metamorphosis serves as a perfect metaphor for that process. The black ink calligraphy of the quote is skillfully and artistically done, adding to the beauty and meaning of the tattoo. If you're looking for a tattoo with a message that inspires you to embrace life and change, this butterfly tattoo is definitely one to consider.
Watercolor Butterfly Tattoo On Thigh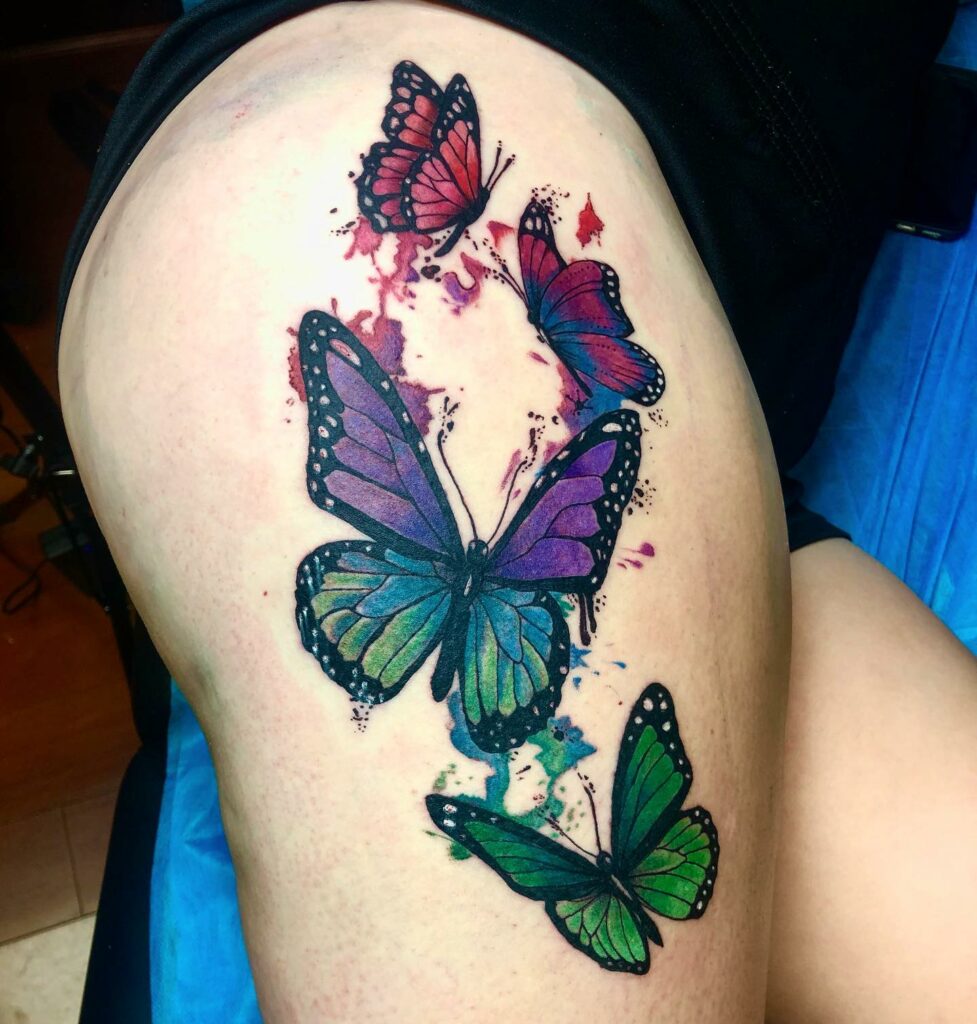 If you're looking for a vibrant and stunning tattoo, look no further than this watercolor butterfly tattoo. With a beautiful blend of reds, blues, pinks, violets, and greens, this tattoo stretches from the hip to the thigh, creating an incredible work of art. The intricate detailing of the white ink dots on the butterfly's wings adds an extra dimension of beauty to the already mesmerizing design. The array of colors gives the tattoo a life-like feel, making the butterfly look like it's about to take off and fly away. Colorful butterfly tattoos represent the spirit of life and hope, and this tattoo embodies that perfectly. If you're someone who loves a bold and lively tattoo, then this is the perfect butterfly tattoo design for you.
Metamorphosis Of Butterfly Tattoo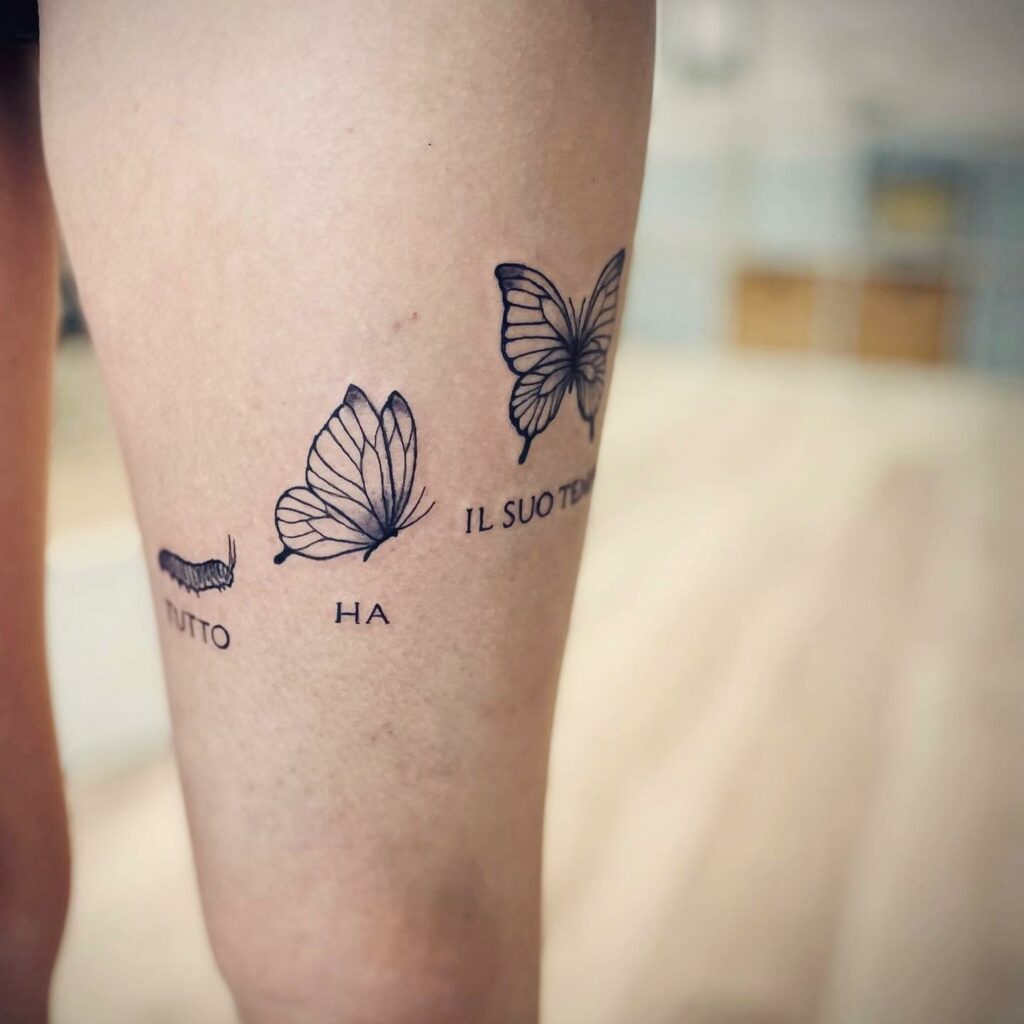 It's no wonder why, as the meaning behind this tattoo is clear and meaningful to many. As we all know, the transformation from a caterpillar to a beautiful butterfly is a journey that signifies the fleeting nature of life. With this butterfly tattoo design, the beauty is not just in its elegant shape, but also in the Italian words inscribed under each figure. Together, they create the meaning of "Everything has its time", reminding us that everything in life has its own journey and should be cherished. It's no wonder that many women opt for this minimalistic tattoo, as it represents the celebration of new beginnings and hopeful ends. Come and get your own unique butterfly tattoo today!
Cat Face Butterfly Tattoo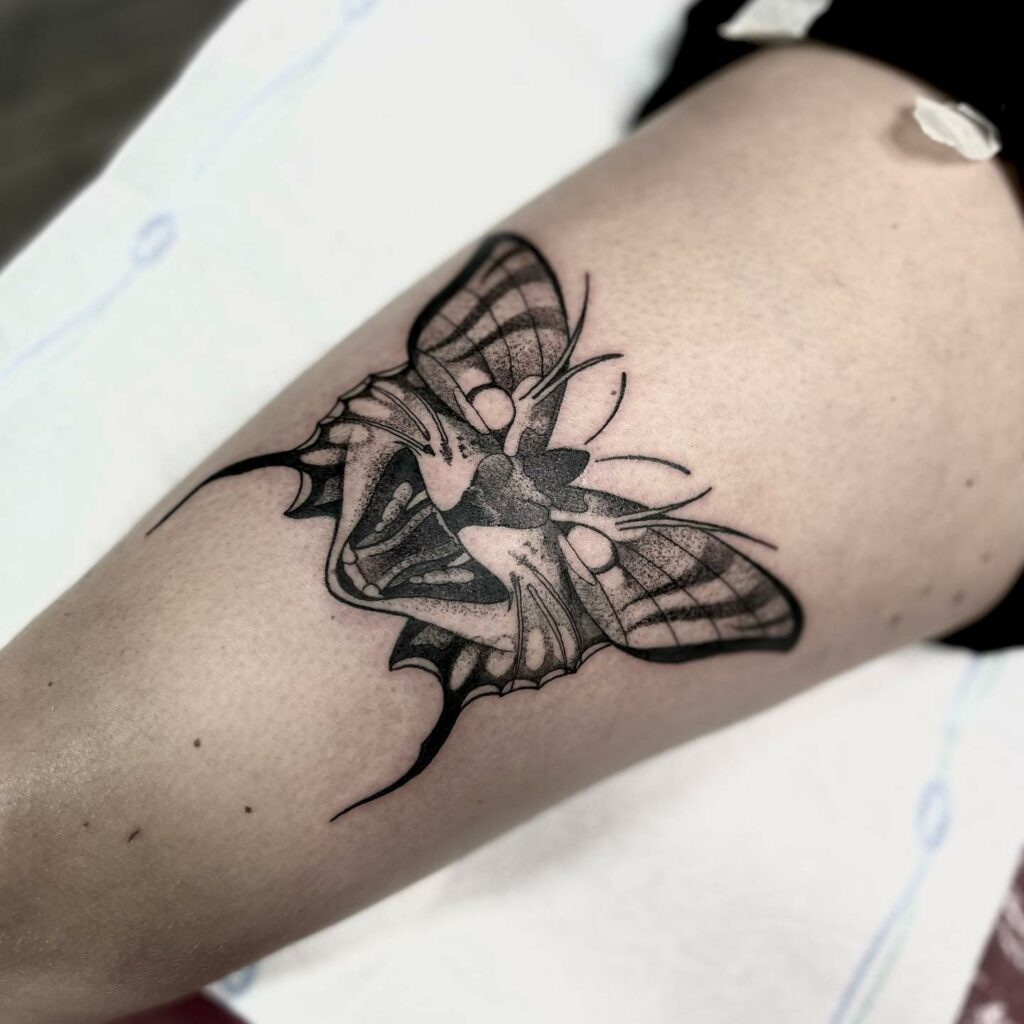 Are you a cat lover who is also a fan of butterflies? This neo-traditional tattoo style might be the perfect one for you! This cute cat-faced butterfly tattoo is a creative take on tattoo art, with the shape of a cat's face infused within a butterfly's wings. The prominent black butterfly wings provide a great canvas for the cat's face and ears to flourish, and the insect's tails seem like the cat's long whiskers. Cats are often celebrated for their cuteness, as well as their strength and power. When paired with a butterfly, this tattoo represents the strength to accept life's transitions, and to face the inevitability of endings with your head held high. If you're a cat lover who appreciates the beauty of butterflies and the symbolism behind them, this tattoo design is definitely worth considering!
Blue Butterfly Tattoo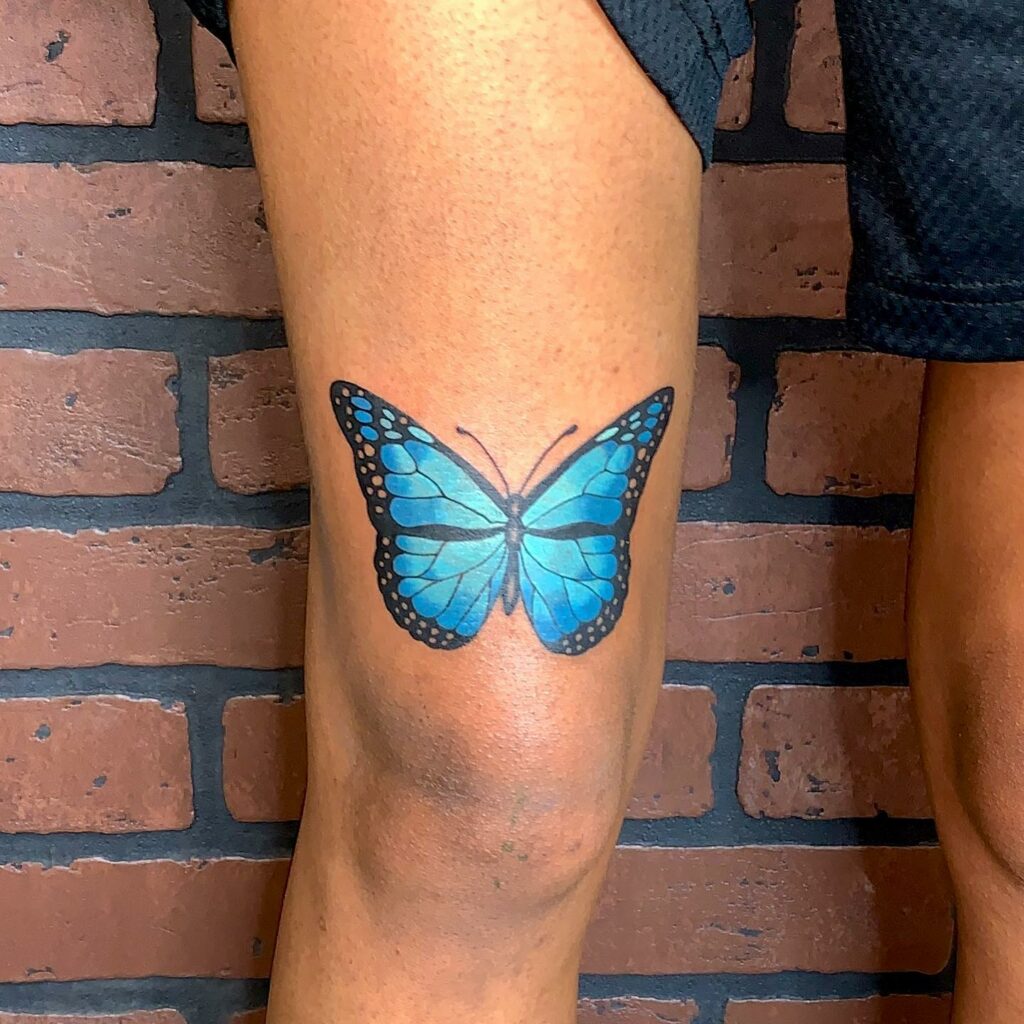 Butterfly tattoos are a popular choice for many people and the blue butterfly tattoo is no exception. The striking blue color of this butterfly, ranging from dark to light shading with black borders, makes it a unique and eye-catching tattoo.
In many cultures, the blue butterfly is believed to be a symbol of good fortune and is associated with freedom. Like the butterfly, we all have the freedom to transform and evolve into our best selves. That's why the blue butterfly tattoo can serve as a reminder to embrace the process of change and transformation in our lives.
This tattoo style is suitable for both men and women, and can be customized to fit your preferences. Whether you prefer a large or small butterfly tattoo, the blue butterfly tattoo can be a beautiful addition to your collection of body art.
Monarch Butterfly Tattoo
There's nothing quite as awe-inspiring as a well-designed monarch butterfly tattoo! The intricate details of the butterfly's wings are drawn with care and filled in with stunning orange, yellow, and black hues. The bold colors pop and create an eye-catching design that looks great on the thigh. The butterfly tattoo represents endurance and hope, a transformation of beauty and strength. It's no wonder the monarch butterfly is revered as the king of butterflies. This design will leave a lasting impression on anyone who catches a glimpse of it.
Small Butterfly Tattoo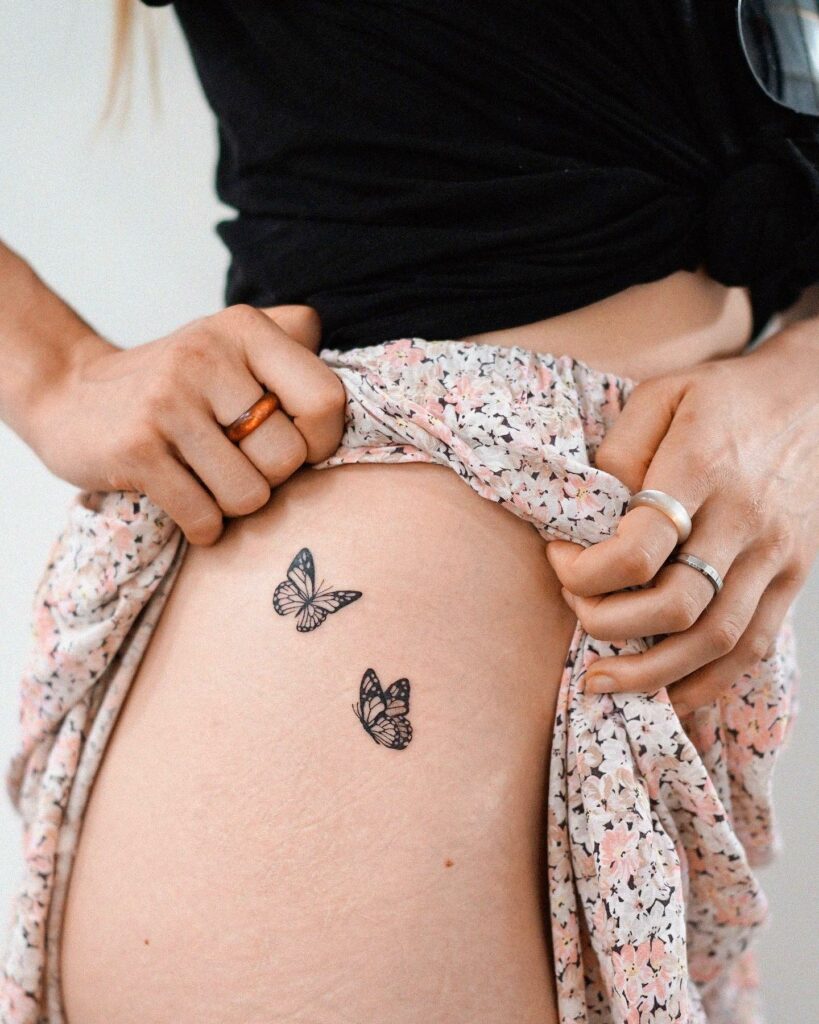 Butterfly tattoos never go out of style, and the small butterfly tattoo is one of the most popular designs, especially for women. They are easy to place, easy to cover, and easy to appreciate. The little black butterflies on the side of the thigh add an irresistible element of sensuality, and they can make any woman feel more confident and attractive. This tattoo style is perfect for those who are new to tattoos, as it is easy to place, and you can always add more later on.
Tribal Butterfly Tattoo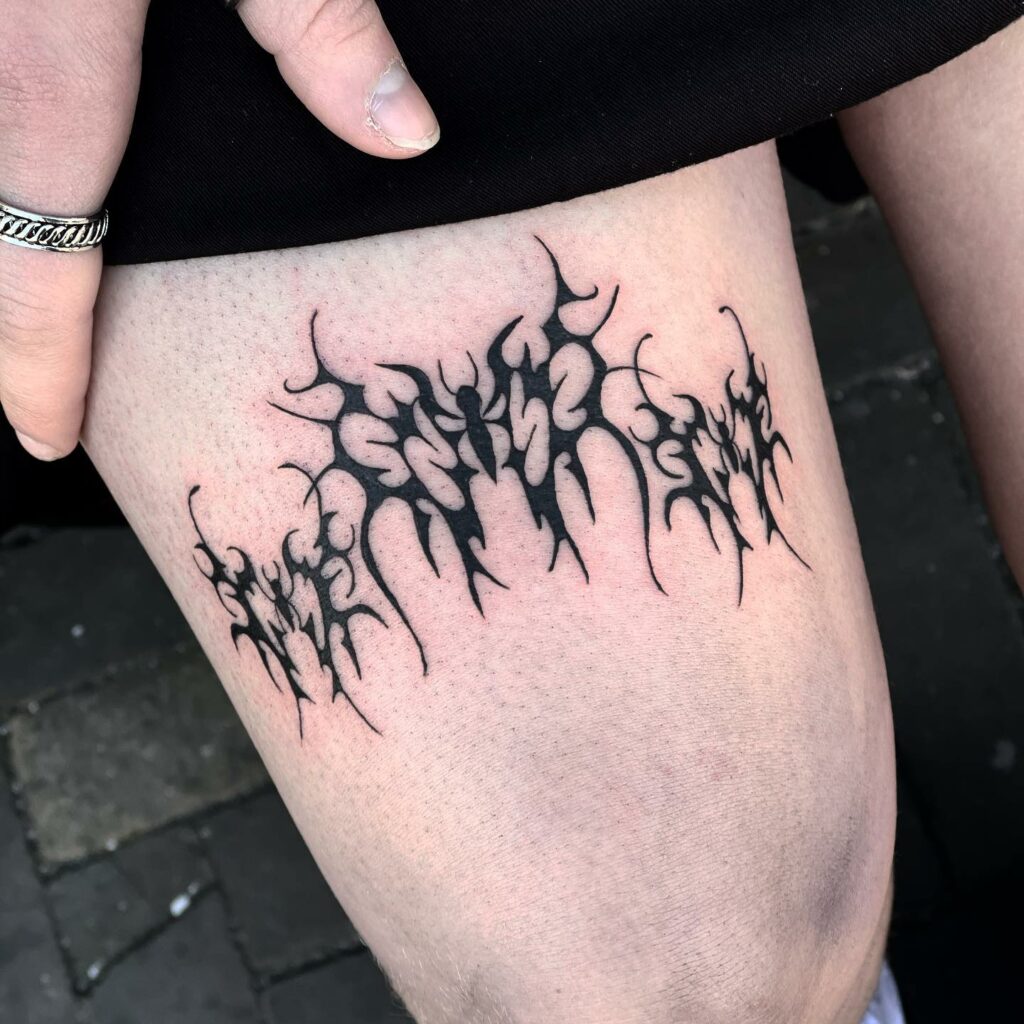 Butterflies are a popular choice for tattoos due to their beauty and symbolism. This tribal butterfly tattoo is a unique take on the classic design, with delicate black strokes forming the shape of three butterflies on the thigh. The tribal symbolism adds an extra layer of meaning, representing transition and change in life.
For those who appreciate tribal culture and symbolism, this butterfly tattoo is a great option. The butterfly's wings are a perfect canvas for tribal designs, and the combination of the two creates a striking and meaningful tattoo.
The thigh is a popular location for butterfly tattoos, as it provides ample space to showcase delicate wings. Plus, it's a great way to add some feminine sex appeal, drawing attention to the area. So if you're looking for a beautiful and meaningful tattoo, a butterfly tattoo on the thigh could be a perfect choice.
Still looking for inspiration, then checkout this blog post about japanese snake tattoos
feature image from Pinterest – Want your tattoo to look brighter? Try "Tattoo Balm"