Hey there! Are you a fan of bold, statement-making tattoos? Well, you're in luck because Chicano tattoos might just be what you're looking for. With their roots in gang culture, Chicano tattoos now feature a diverse mix of beautiful artwork like women, lettering, and cultural and religious symbols that make them truly unique.
Gone are the days when Chicano tattoos were exclusive to the members of a gang or those with a criminal background. Nowadays, anyone can get a Chicano tattoo that is meaningful to them. People have been incorporating elements from their own lives into the tattoos to make them more personal, which is why Chicano tattoos have become so popular.
If you're on the hunt for some Chicano tattoo inspiration, we've got you covered. We've put together a list of some of the most amazing Chicano tattoos that you can try out on your next trip to the tattoo studio. Get ready to be inspired!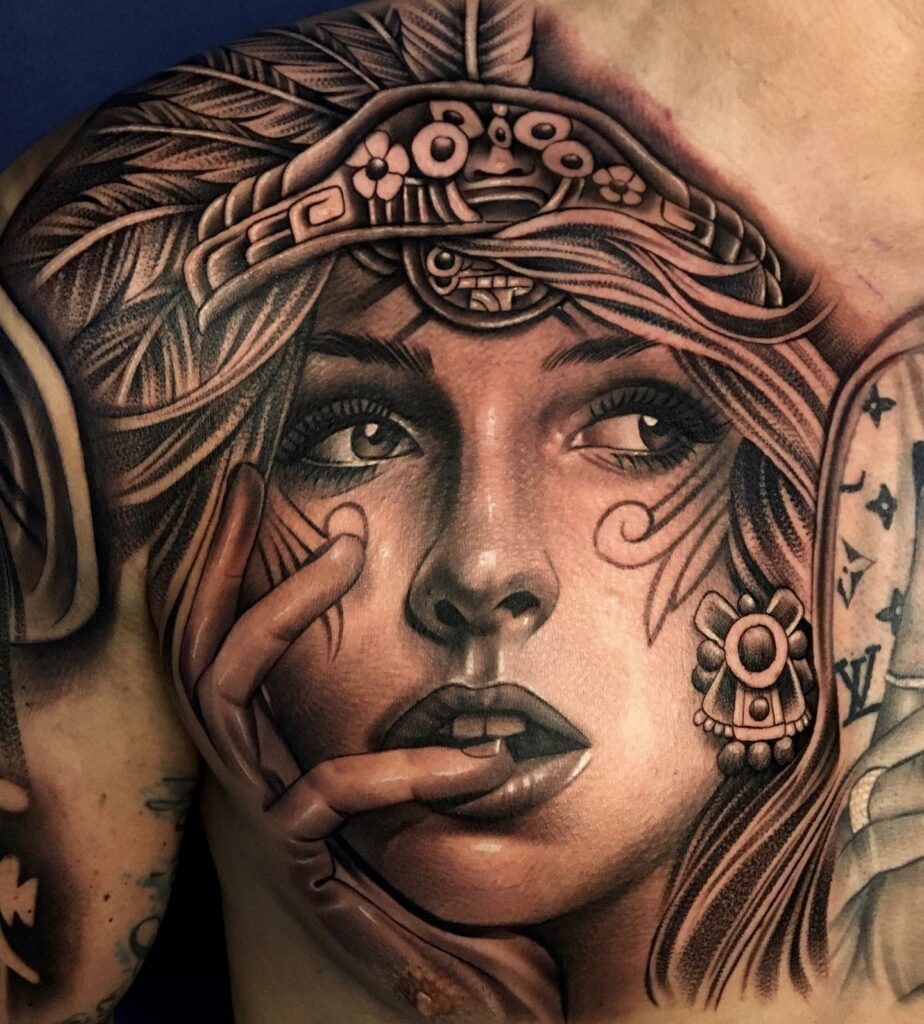 Joker Inspired Chicano Tattoo Idea
This design captures the essence of the character with its attention to detail and its use of black and white ink to create the iconic grey hue seen in the Joker's mask and facial features. The lines used to create the Joker's face are thin and clean, giving the appearance of a sketch.
The design features half of the Joker's face merged with the famous Joker mask and the other half showcases his own face. The famous dance scene from the movie has also been beautifully incorporated into the design, making it a perfect fit for the entire back. This tattoo is ideal for those who are reserved, complex, and introspective or for those who are simply die-hard fans of the movie.
Mexican Style Chicano Tattoo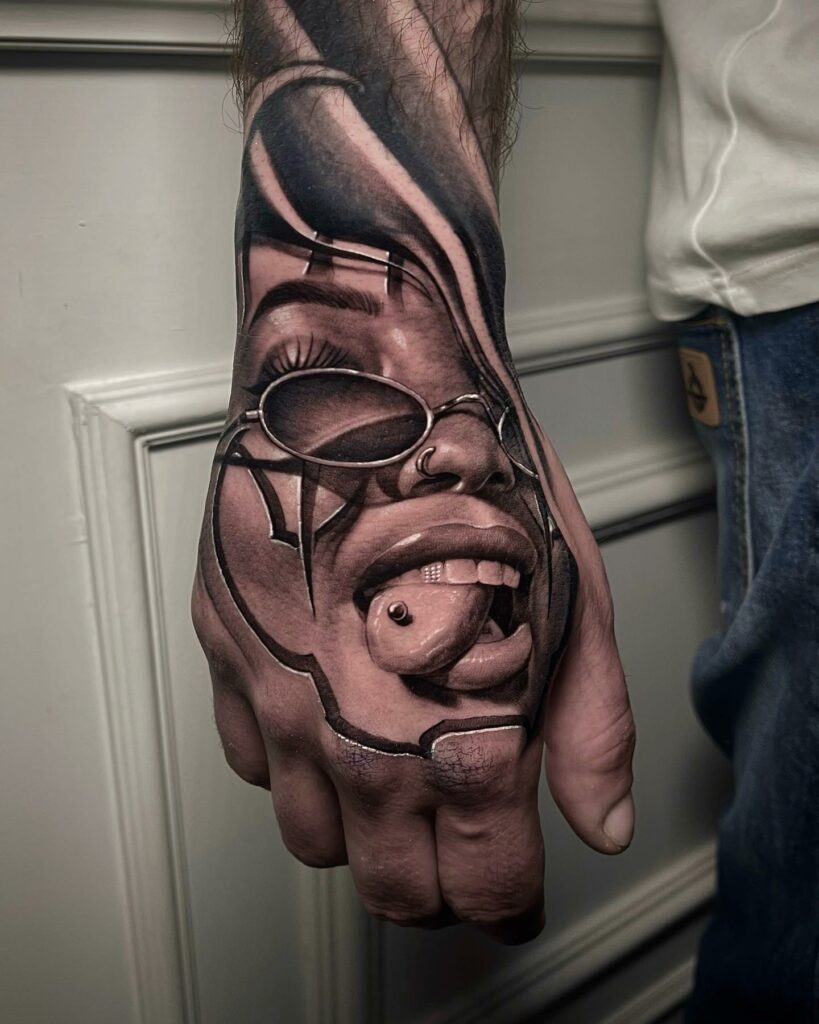 Are you looking for a unique and bold tattoo that showcases your personality? Then you should definitely consider this Mexican-style Chicano tattoo. This hand tattoo is a true work of art and can be done using a blend of black and brown inks. The tattoo features a stunning portrait of a woman with a retro sunglass, sticking out her tongue, making it perfect for those who are confident and extroverted.
The authentic Mexican-style Chicano tattoo creates an energy that is both casual and traditional, and the contrasting brown and black palette will give the tattoo a smooth, flowing look on your hand. Whether you are someone who loves bold and exotic tattoos or just appreciate beautiful artwork, this tattoo is a great choice for you.
Black And White Chicano Tattoo Design
This tattoo showcases two figures of baby jokers, beautifully depicted using the Chicano style. The design represents the struggle of the lower class against the wealthy, making a powerful statement. The best part? You have a wide range of body canvas options, like your chest, back, hips, forearm or arm, to flaunt this work of art. The use of black and white ink to create a grey hue, adds to the tattoo's elegance and volume. With a meaningful representation of the relationship between passion and money, this tattoo is sure to make heads turn!
Smile And Cry Chicano Tattoo
This tattoo design showcases the two-faced nature that we often come across in life through the depiction of a smile and cry mask in beautiful Chicano art. The grey shading is created using a combination of black and white, which adds depth and dimension to the design.
The font and background of the writing in the tattoo, as well as the flame motif, are all done in black and white to create a harmonious and impactful design. This tattoo can be placed on your hand or chest, giving your tattoo artist plenty of space to perfectly capture the dimension of the smile and cry figures and the size, length, and font of the tattoo. Whether you're looking for something sym
Highly Detailed Chicano Tattoo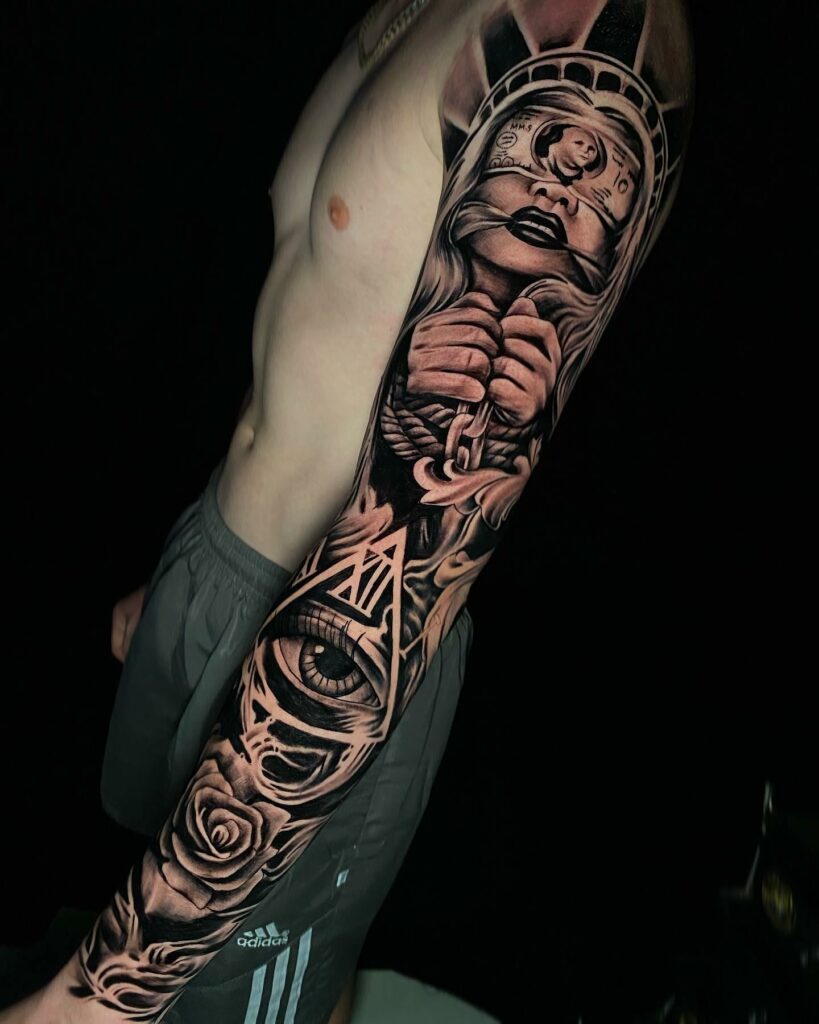 If you're a fan of meaningful tattoos, then this Chicano design is perfect for you! This black-inked beauty features an eye-catching image of the Statue of Liberty being blindfolded by the American dollar and intricate patterns of roses mixed with Illuminati symbols. It's a powerful representation of the Chicano community's views on politics and social justice in America.
For those looking for a truly authentic Chicano tattoo, this design works best on larger canvas areas like the chest or hand, where the tattoo artist can play with the size and details to truly showcase its intricate beauty. The use of bold black and brown shades gives this tattoo a unique and powerful look, making it a perfect choice for those who want to make a statement with their ink.
Hyper-Realistic Chicano Tattoo Style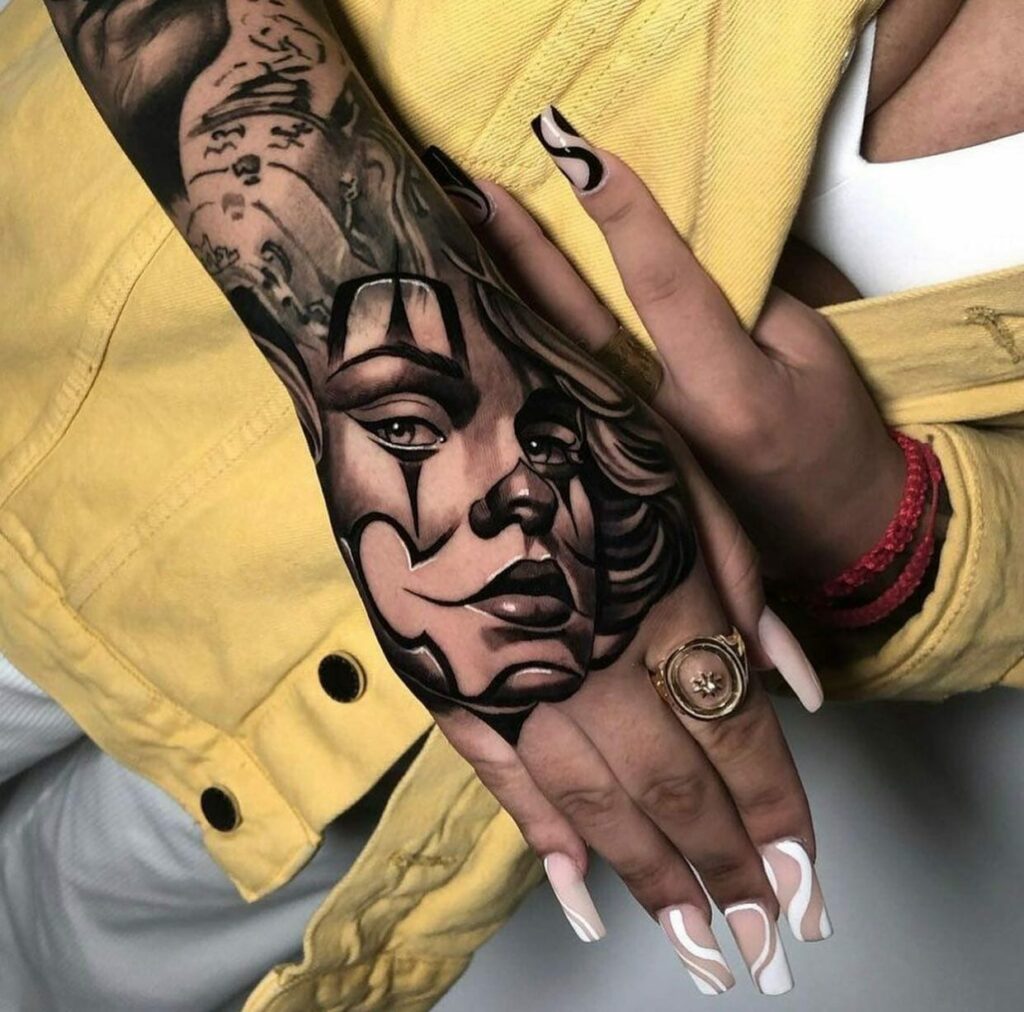 This style of tattooing has its roots in Los Angeles, California, Texas, Arizona, and New Mexico, dating back to the 1940s and 50s.
One of the most popular Chicano tattoos is the Catrina tattoo, which is often inked to celebrate the Mexican holiday "Day of the Dead". The Chicano style is known for its bold lines, shading, and intricate details, making it the perfect choice for those who want to show their love and appreciation for this rich cultural tradition. You can get this tattoo on any part of your body and even customize it with elements like flowers, masks, guns, or skulls to make it truly unique and personal to you.
Pieta Inspired Chicano Tattoo
If you're interested in religious tattoos with a Chicano twist, the pieta tattoo is definitely worth considering. This beautiful tattoo depicts the Virgin Mary mourning over the dead body of Jesus Christ, representing compassion and pity.
The pieta design is intricately done with fine black and grey lines, and the use of white highlights just elevates the beauty of this art. If you're looking for a personal touch, you can even add your own elements like a flower or anything else you like. And, if you're a religious person, there are plenty of other options to choose from, like other Catholic or spiritual tattoos.
Clown Chicano Tattoo Style
This tattoo style is perfect for anyone who is proud of their Chicano heritage or wants to pay homage to the rich culture of Mexico. The clown Chicano tattoo is a unique design that showcases the playful yet sometimes melancholic nature of the Chicano community. The design is typically done in black, with intricate lines and shading that give the clown a slightly manic expression. The tattoo is not just a representation of playing games, but it also symbolizes the idea of "smiling now and crying later," reflecting the resilience and perseverance of the Chicano people during tough times. If you're looking for a meaningful and striking tattoo that celebrates your heritage, the clown Chicano design is a great choice.
Super Cool Masked Chicano Tattoo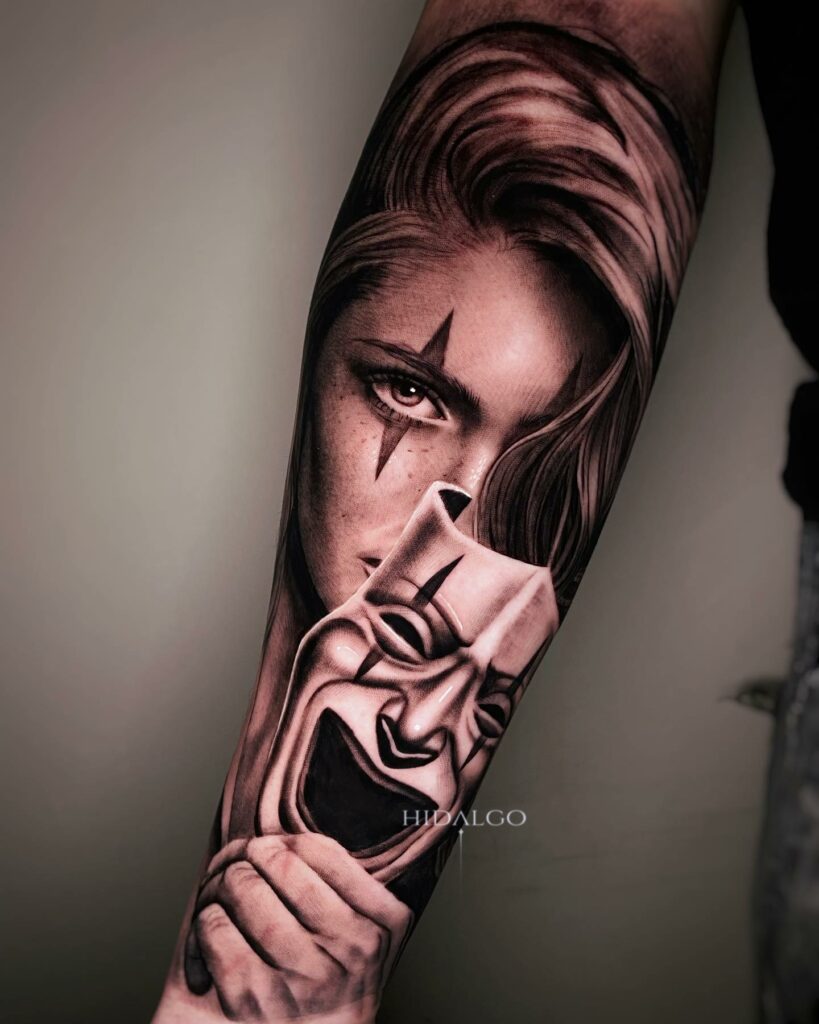 The Catrina tattoo is a true masterpiece of Chicano style tattooing and has been a popular choice among people looking to celebrate their Mexican heritage. With intricate details and black and grey shading, this portrait tattoo is a true work of art. Whether you're of Mexican descent or just admire Mexican culture, this tattoo is the perfect way to show your love and appreciation.
The laughing mask in this tattoo symbolizes the old Mexican proverb of "smile now and cry later", which speaks to the resilience and strength of the Mexican people. To get the best results, it's important to find a talented tattoo artist who has experience with Chicano style tattoos, as they will be able to bring the detailed design to life. So, if you're looking for a tattoo that celebrates your culture and heritage, the Catrina tattoo is a fantastic choice!
Folded Hands Chicano Art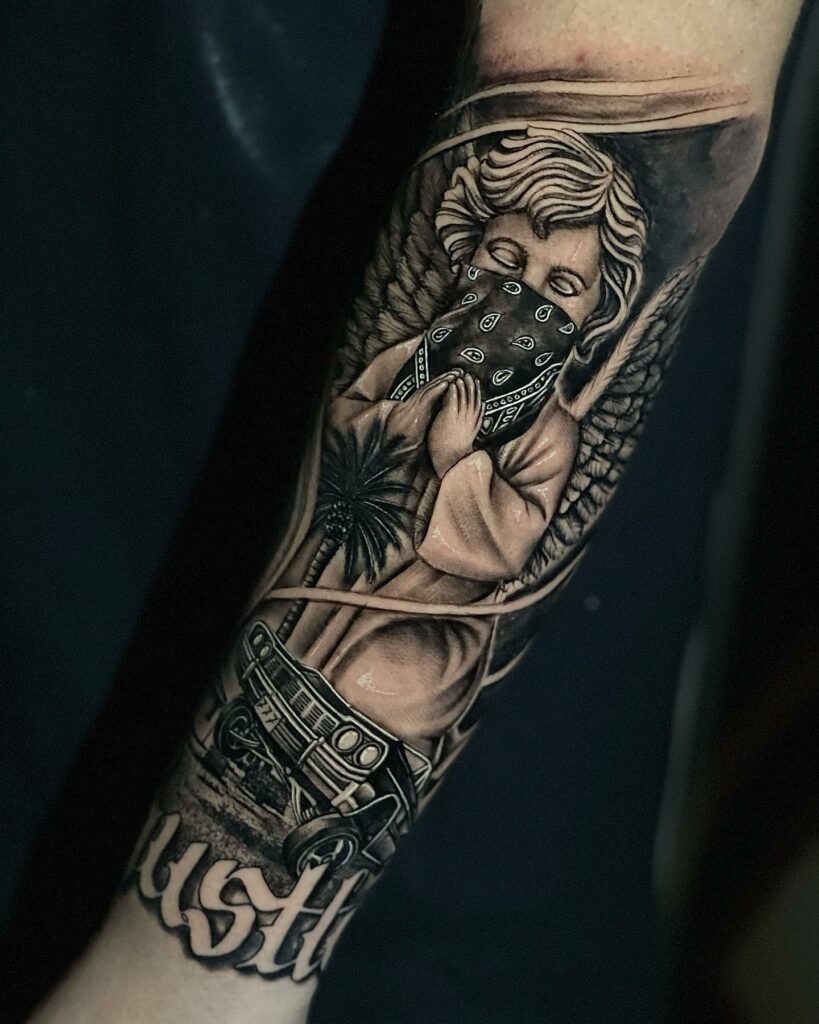 If you're looking for a tattoo that's bold, beautiful, and holds a deeper meaning, you might want to consider a Chicano tattoo. These tattoos are a representation of the hybrid Chicano culture and its values, and they come in various styles with different symbols and representations.
For example, the folded hands Chicano art is a full-sleeve tattoo featuring a half-hidden-faced boy with folded hands and a pair of wings. This tattoo symbolizes the overcoming of struggle and compassion, and it's a typical Chicano-style tattoo, done with deep black and grey with a few white highlights for added depth and detail.
Chicano tattoos are known for their striking appearance and their powerful meaning. If you're looking for a tattoo that makes a statement, Chicano tattoos are definitely for you. And since each Chicano tattoo has a special significance, you can use it to commemorate a particular moment or event in your life. So if you're looking for a tattoo that's both beautiful and meaningful, consider getting a Chicano tattoo today!
feature image from Pinterest – Want your tattoo to look brighter? Try "Tattoo Balm"