Hey there! Are you in search of a constant guardian to watch over you? Look no further! As a tattoo expert, I've got some fantastic female protector guardian angel tattoo ideas that will blow your mind.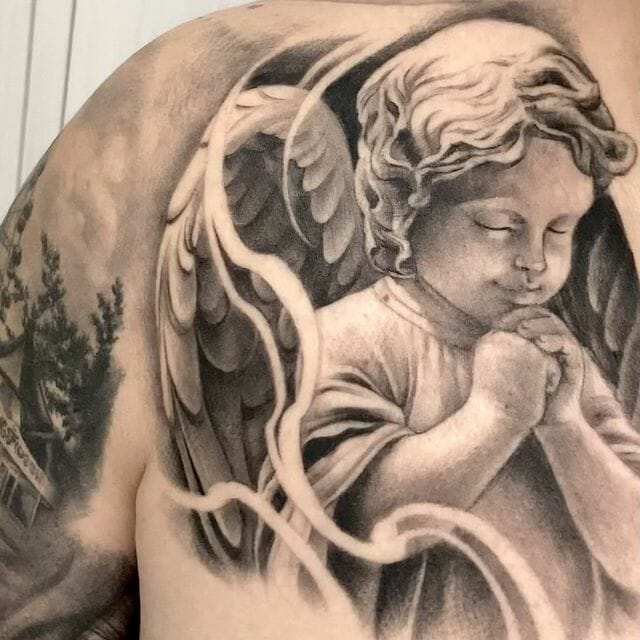 Guardian angel tattoos are one of the most sought-after designs among both men and women. They're not just a tribute to your faith but also serve as a symbol of your strength, beauty, innocence, remembrance, and prayer. And let's not forget, they're simply gorgeous! These tattoos can be placed on various parts of your body like your back, arm, chest, or shoulder. And if you're a religious Christian, you can make the design more meaningful by adding a religious element to it. The black and grey color scheme is classic and timeless, but you can also add other colors to make it pop. Selecting your design, colors, and placement is a simple process, and we've got a list of amazing designs just for you. So, let's get started!
Archangel Tattoo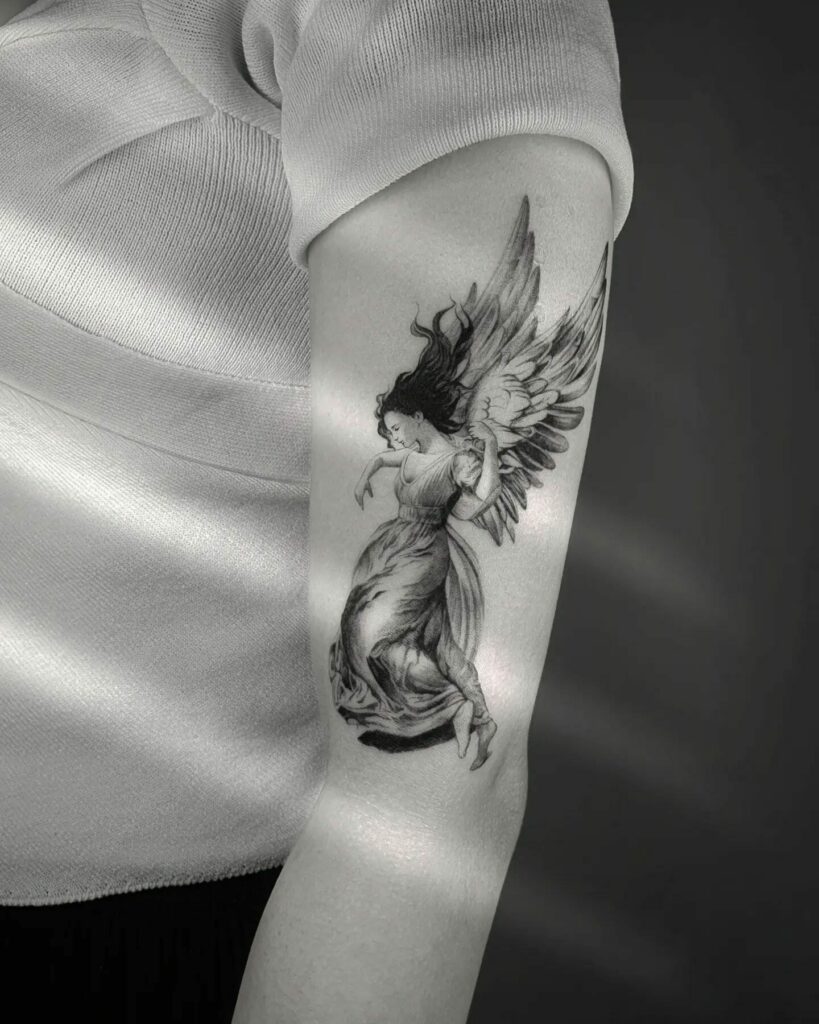 Are you interested in getting a Guardian Angel tattoo? Jophiel, one of the seven Archangels, is a popular choice for many people. In Episcopal and Anglican traditions, she is depicted as a female angel holding a flaming sword, which makes her one of the few female angels recognized in the spiritual world. The artist who created this beautiful design did an incredible job capturing the intricate details of Jophiel. From the fine line strokes in her hair to the stunning feathers in her wings, every aspect of this tattoo is a masterpiece. The artist expertly used shades of black and grey to complete the design, and the result is simply stunning. You can place this tattoo on any part of your body as it is highly versatile, but it looks especially fantastic on the arm.
Beautiful Guardian Angel Tattoo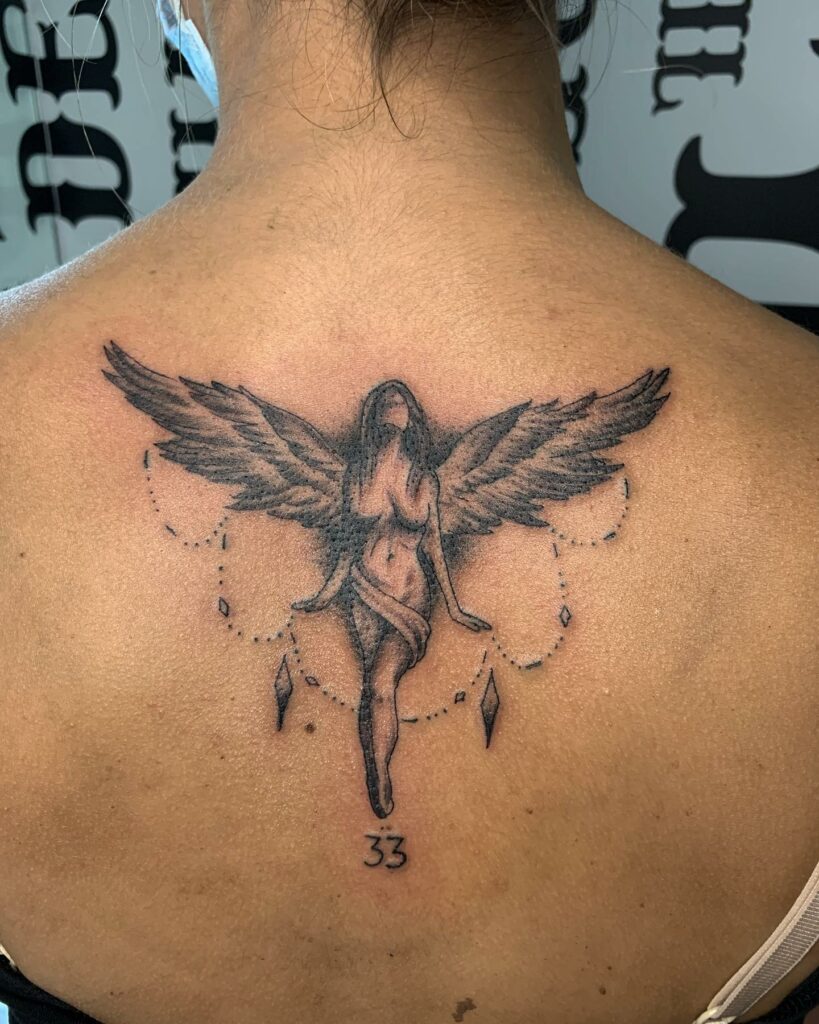 This design is a true masterpiece, featuring breathtaking artwork and a mesmerizing mandala tattoo surrounding it. The mandala holds a special meaning, symbolizing the perfect balance between the mind and body. It elevates the design to a whole new level and makes it truly captivating.
And that's not all, this design also includes the number 33 below the angel. It's known as an angel number and carries a deep spiritual significance. It represents changes in one's love life, career, and personal growth and is believed to help cultivate a healthy mind.
The artist has used delicate lines of black and grey ink to bring this design to life, adding incredible detail and intricate design work. This tattoo is placed on the nape of the neck but can be placed anywhere on the body, as it's a versatile design. So go ahead, treat yourself to this beautiful piece of artwork!
Angel's Wings Tattoo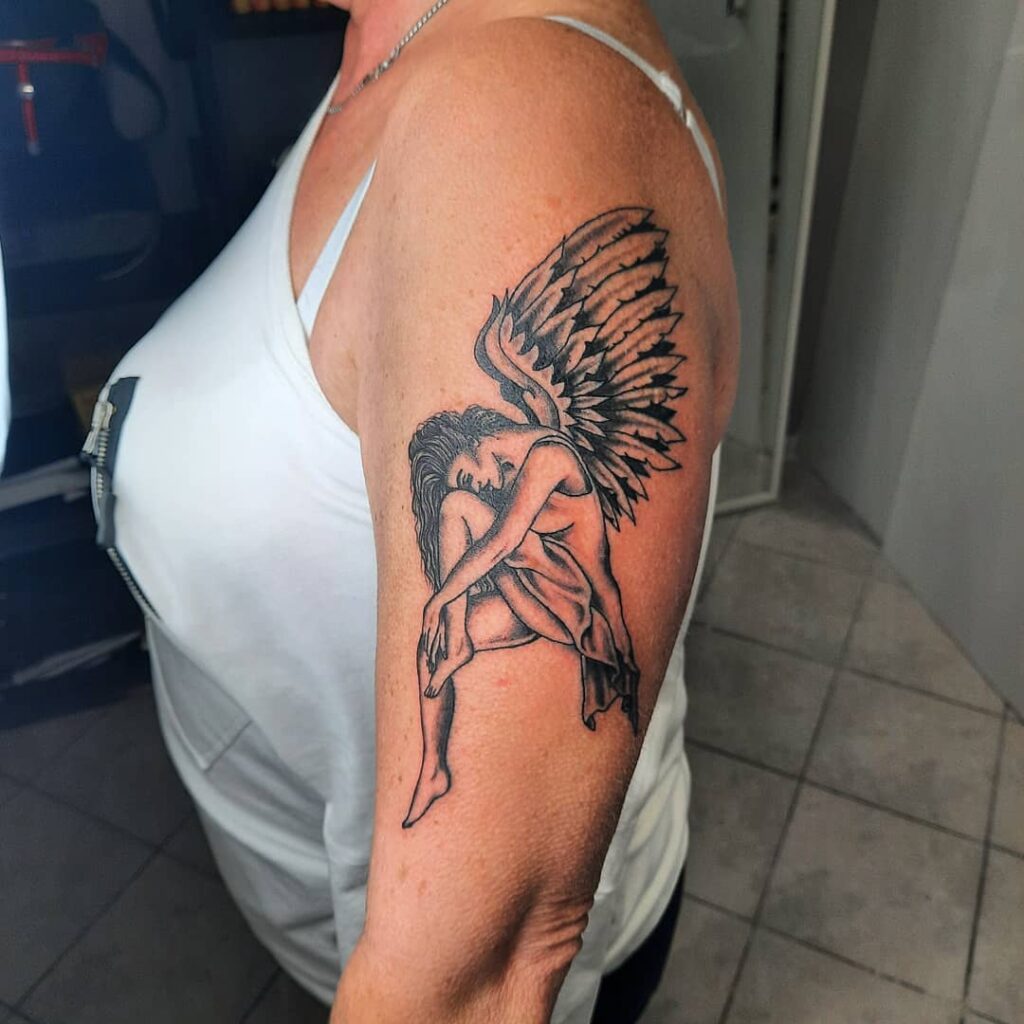 If you're searching for a breathtaking guardian angel tattoo design, look no further! This design showcases the stunning wings of the angel, which are a well-known symbol of faith, protection, and freedom. In many cultures, angel wings are also a way to honor loved ones who have passed, as they are thought to be guardian angels watching over them from beyond.
This beautiful design is a testament to spiritual protection and is sure to leave an impression. The intricate lines and detailed shading are done in black and grey ink, creating a stunning visual. The angel is depicted sitting down with open wings, adding a sense of grace and serenity to the design. It's placed on the arm but can be placed anywhere on the body, so get ready to show off your new ink!
Fallen Angel Tattoo
If you're looking for a tattoo that showcases the depth of emotion, you might want to consider the sad Angel tattoo, also known as a fallen Angel tattoo. This design symbolizes the loss and struggle of paradise and is often chosen by those who have experienced a significant loss in their lives. It's a powerful and moving tribute to the person or thing that's been lost.
This beautiful design is a true masterpiece, crafted by a talented artist. The artist has used a stunning combination of black and grey ink for most of the design, while incorporating a light shade of brown for the Angel and a few feathers, adding a touch of delicacy to the piece.
If you believe in the protection and guidance offered by angels, then this tattoo might be just the right choice for you. It's a powerful reminder of the presence of angels, even in our darkest moments. So why not take the leap and immortalize your story with this beautiful design?
Warrior Angel Tattoo
Are you thinking about getting a warrior angel tattoo to honor a loved one who has recently passed away? Well, you're in for a treat! This design symbolizes protection and bravery, making it a powerful and meaningful choice for a tattoo.
When it comes to the actual design, I have to say, it's just stunning! The artist has done a fantastic job with the intricate details and the use of black ink for the outline gives the design a bold and striking look. The shading with light brown, black, and grey truly brings the design to life and gives it a sense of depth and dimension.
Overall, if you're looking for a tattoo that's both meaningful and stylish, this warrior angel design is a perfect choice. It's a symbol of courage and protection, making it a great reminder of the love and supports you have, even in times of hardship.
Guardian Angel Neck Tattoo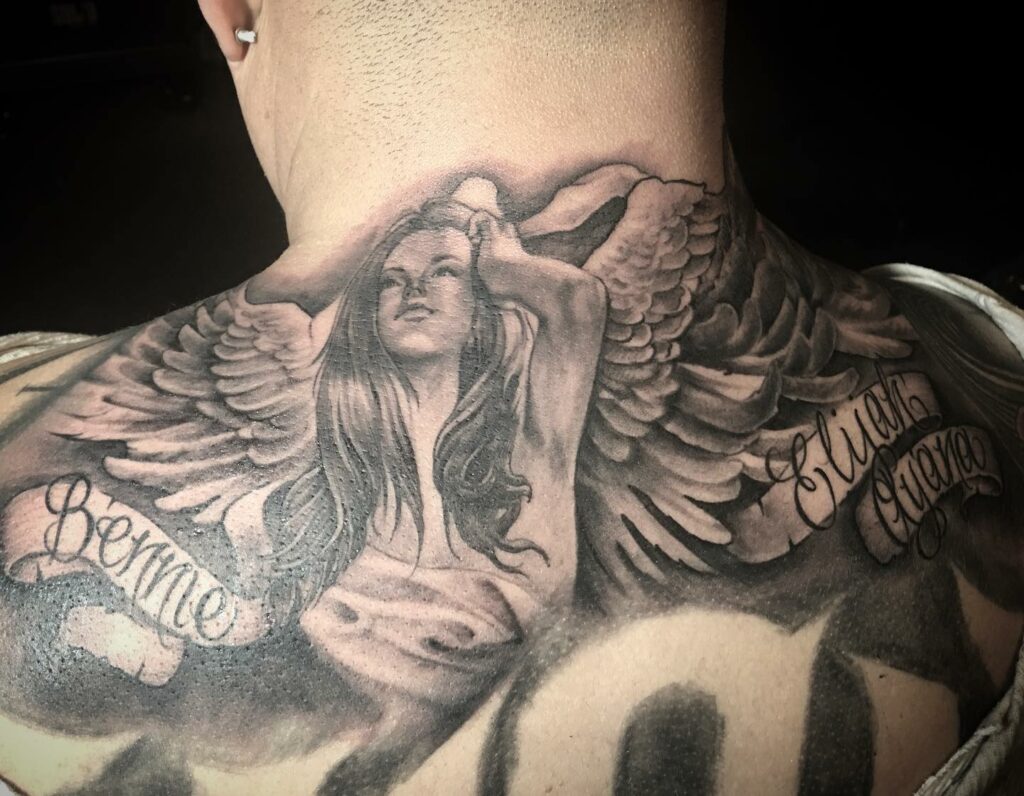 Are you considering getting an angel tattoo? This timeless design is not just a religious symbol, but also represents love, doubt, and wrath. The beauty of angel tattoos is that even those who don't follow any particular religion can still appreciate the design.
One thing that sets angel tattoos apart from other designs is the intricate detailing. The strokes of the feathers are crafted with great care to bring out their full beauty. The use of black and grey colors also adds depth and dimension to the design, making it a true work of art.
When choosing an angel tattoo, it's important to find a skilled tattoo artist who can bring your vision to life. They will be able to incorporate your personal style and ideas into the design, making it truly unique and special. So if you're looking for a tattoo that's meaningful, beautiful, and timeless, consider getting an angel tattoo!
Black And Grey Angel Tattoo
Are you considering getting a Guardian Angel tattoo? This design is a popular choice among people who are looking for a symbol of protection and safety from evil forces. While many people who choose this tattoo have a religious background, it's not a requirement. In fact, anyone can get an Angel tattoo regardless of their beliefs.
This specific Guardian Angel tattoo features a beautiful angel with her wings spread wide. The skilled tattoo artist used fine line strokes of black ink to create the outlines, then added depth and dimension with shades of black and gray. In some areas, the artist also utilized the dot work technique for added detail. To give the tattoo a lifelike appearance, the artist depicted the candles that the Angel is holding as emitting light, creating a stunning visual effect.
Warrior Angel With Sword Tattoo
If you're looking for a tattoo that represents bravery and strength, you might want to consider a Valkyrie design. Valkyrie, also known as the Angel of Death, are associated with the gods Freyja and Odin and are renowned for their bravery on the battlefield. This tattoo design captures the essence of the Valkyrie, with its strong resemblance to these fierce warriors.
The artist has expertly combined black and brown hues to bring this design to life, using shading work to add depth and detail. The intricate lines used to create the design are striking, and the thick black ink used to outline the tattoo gives it a bold, defined look. This is not just any ordinary tattoo, it's a masterpiece that truly captures the essence of the Valkyrie and their fearless spirit.
So if you're looking for a tattoo that pays homage to these brave soldiers, this Valkyrie design is just the thing for you! Not only does it symbolize bravery, but the intricate design and skilled shading work also make it a visually stunning piece of art.
Guardian Angel Back Tattoo
If you're looking for a beautiful and meaningful tattoo design, I'd love to tell you more about this amazing Angel Wings piece! This tattoo showcases the wings of an Angel spread wide, symbolizing the protection and love that God has created these beautiful creatures to provide us. The ability of the Angel to fly is also depicted in the design, reminding us of the courage and bravery that we can all possess.
The artist has used a fine line technique and shading to bring this piece to life with stunning black and grey ink. The intricate strokes truly capture each aspect of the design and make it a true masterpiece. This Angel Wings design is not only visually stunning but also holds a deeper significance, making it a perfect choice for those seeking a meaningful tattoo.
Guardian Angel Leg Tattoo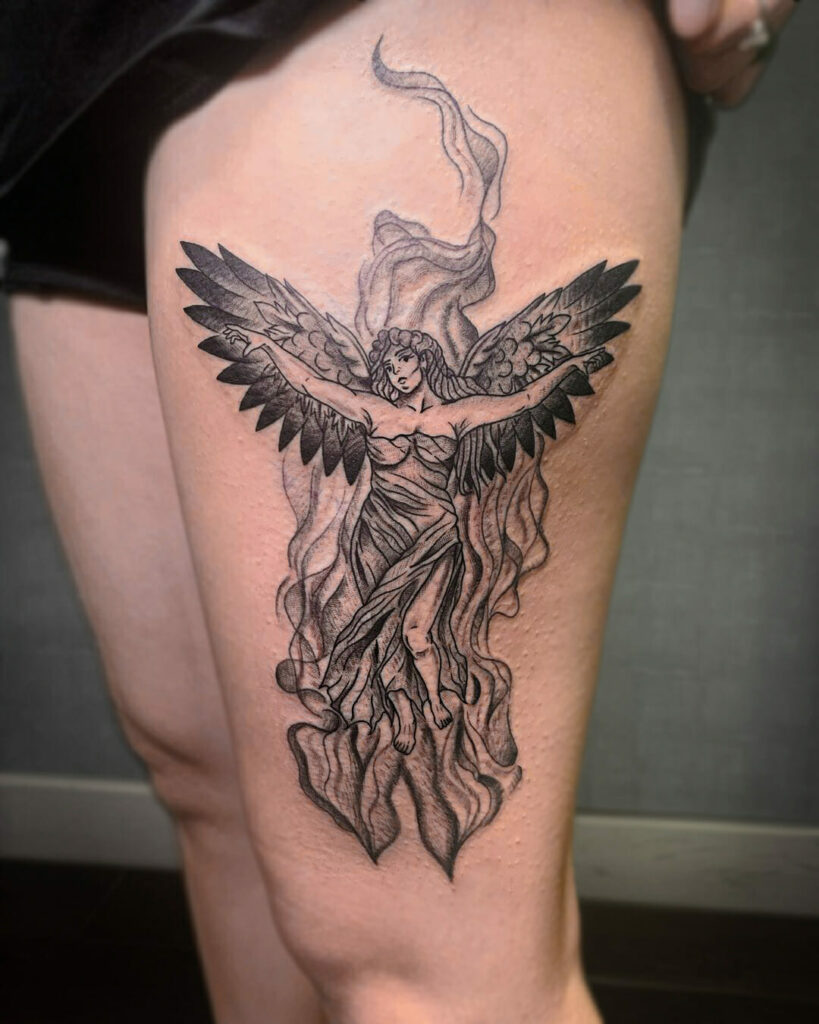 If you're considering getting an Angel tattoo, you're in for a treat! There are so many amazing designs to choose from that are sure to appeal to your personal style and taste. Some designs are super simple and feature an Angel with spread out wings, while others are more intricate and incorporate elements like fire, water, or clouds. The design I'd like to highlight today features an Angel with its wings spread wide and a background that resembles fire. The artist behind this beauty used a combination of fine line work and dot work to create a stunning black and grey masterpiece. So if you're looking for an eye-catching Angel tattoo, this one is definitely worth considering!
These designs are usually quite big and can make a bold statement. But, because of their size, it's important to make sure you choose the right design that you'll love for years to come. If you're feeling a bit nervous about going all in with a permanent large black and grey tattoo, don't worry! You can always start with a temporary one first, and then make it permanent later on if you love it. I hope you found some inspiration from the designs I mentioned and feel confident in your decision. Good luck!
Still looking for inspiration, then checkout this blog post about st michael tattoos
feature image from Pinterest – Want your tattoo to look brighter? Try "Tattoo Balm"