Hey there! Are you on the hunt for some unique and gorgeous ideas for your next pelvic tattoo? Look no further, because we've got you covered with some of the best designs you can choose from!
Now, it's important to remember that tattoos are not limited by gender. Anyone can get a tattoo that aligns with their personal taste and preference, regardless of its style or design.
It's true that pelvic tattoos are often considered a more painful tattoo experience, due to the high concentration of nerve endings in the area. But, if you're up for the challenge, the end result is worth it. The tattoo will not only highlight your feminine curves but also add a touch of seductiveness to your look. In recent years, this style of tattoo has gained popularity and has been a trendsetter in the tattoo industry. So, if you're ready to take the leap, here are some of the best ideas for your next pelvic tattoo.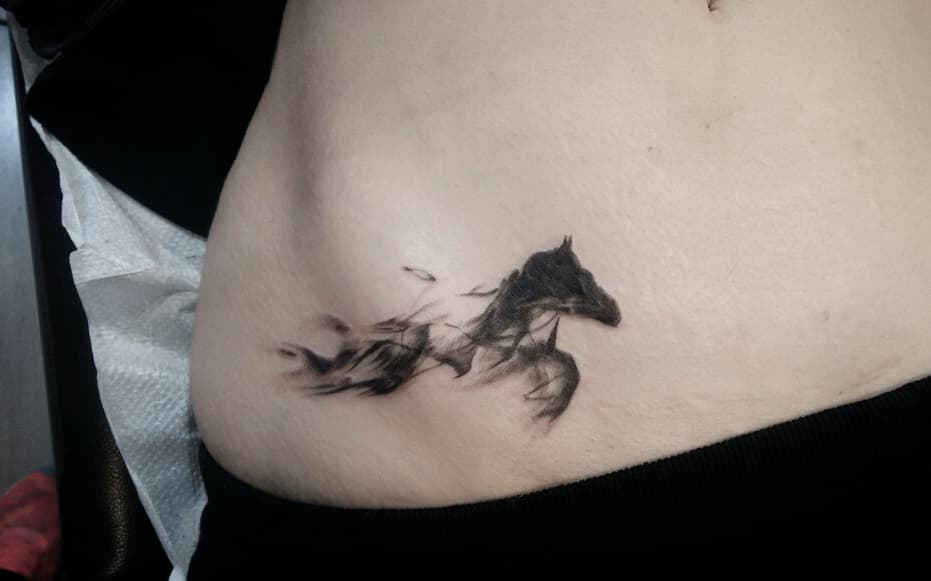 Rose Outline Pelvic Tattoo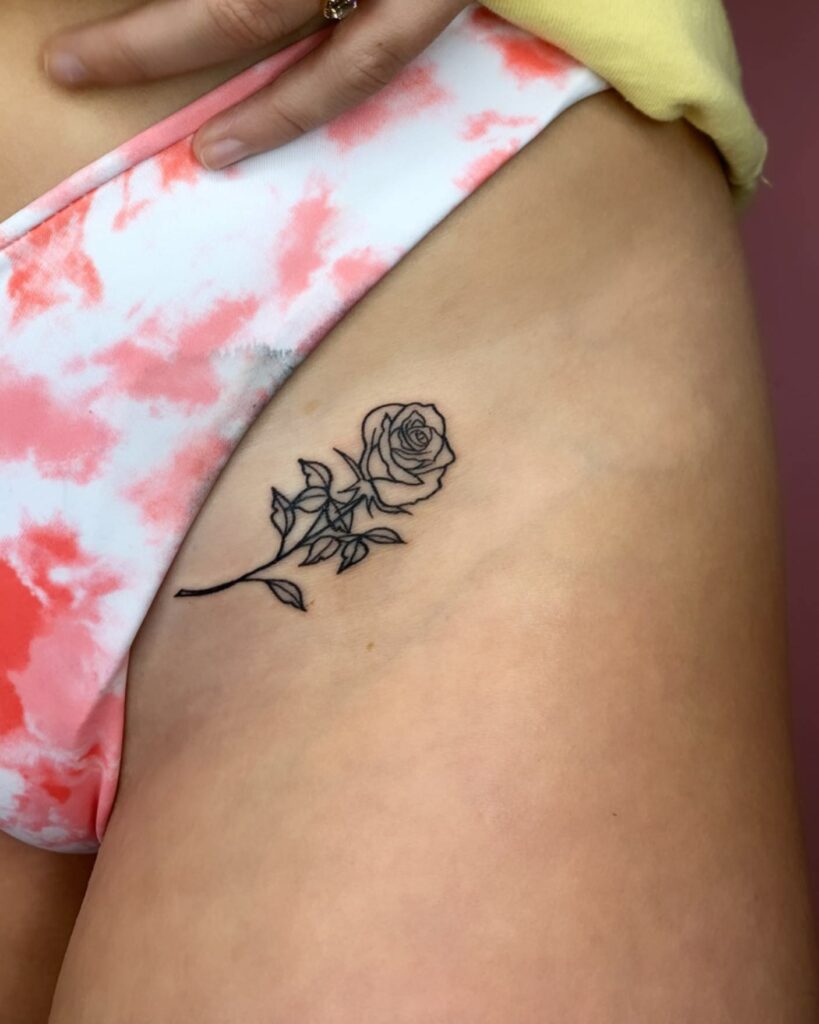 If you're looking for a cute and feminine tattoo for your pelvic area, then this design might just be the one for you. Check out this black ink outline of a dainty rose – the epitome of love and beauty! The artist has done an amazing job capturing the delicate details of the petals. Whether you want to express love, beauty, or just have a sweet, personal touch on your body, this pelvic tattoo design is definitely worth considering. Book an appointment with your favorite tattoo artist and get ready to show off your beautiful new ink!
Pelvic Star Design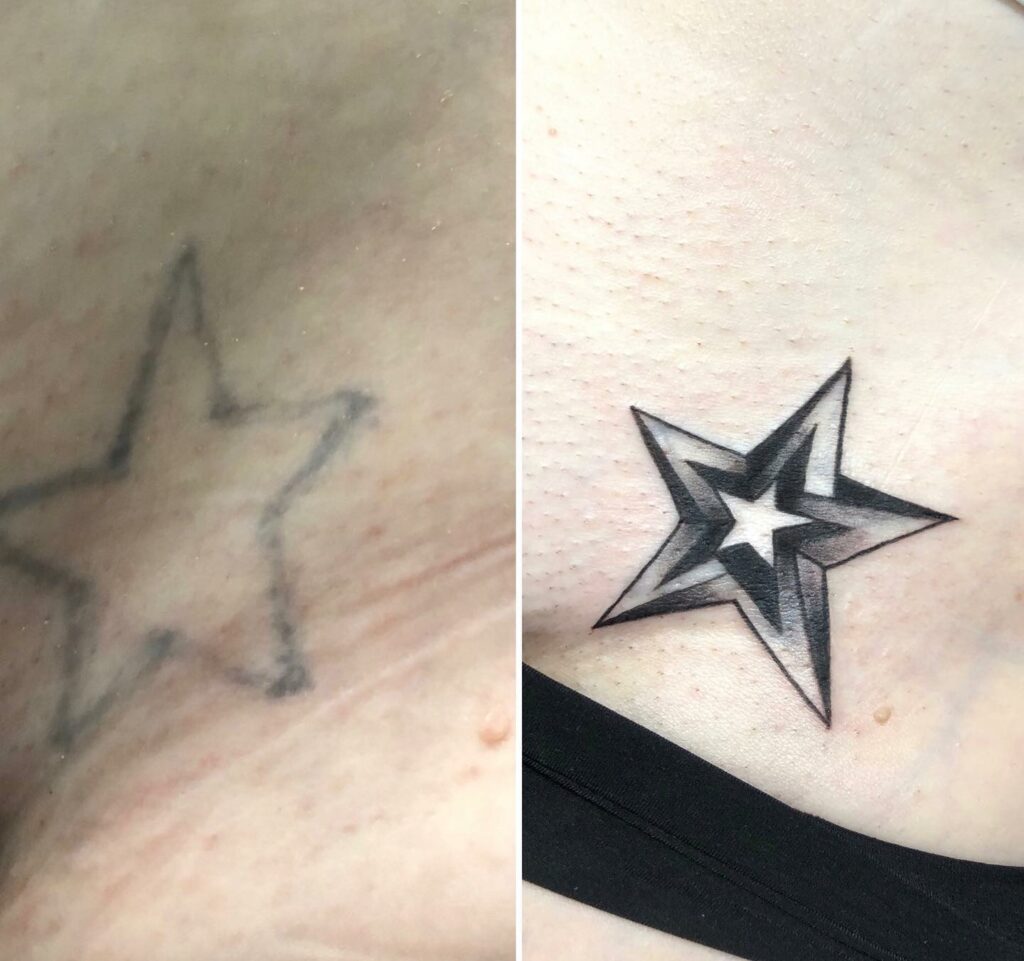 This symbol of achievement and success can be inked in different shades of black to add depth and dimension, or you can opt for just the outline for a sleek look. Many women choose star tattoos in the pelvic area, like the hip or upper thigh, to add a touch of sexiness and class. And, while this tattoo was done with a needle, if you're not quite ready for the pain, you can always try henna ink for a temporary option that lasts for a few weeks.
Rose and Dagger Design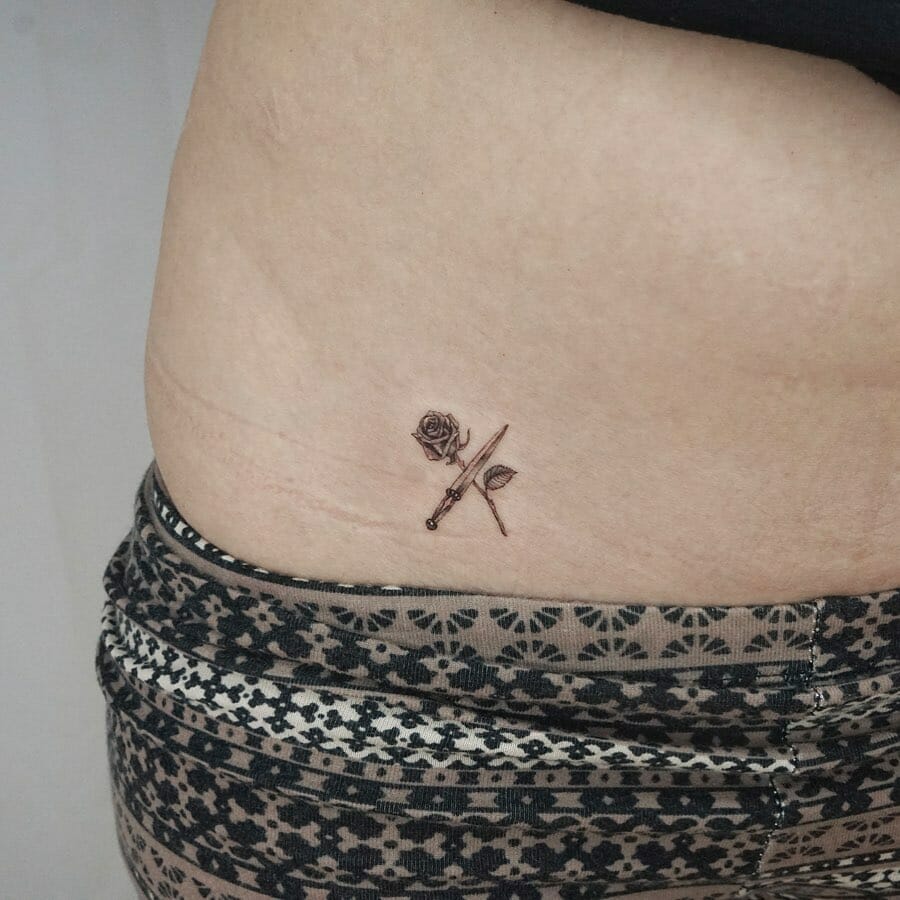 If you're searching for a tattoo that's both stylish and thought-provoking, look no further! In this design, the artist has masterfully combined two contrasting symbols – roses and daggers – to create a unique and meaningful piece of body art.
Roses symbolize all things positive, like love and beauty, while daggers are often associated with betrayal and heartbreak. This tattoo represents the idea that life is not always a bed of roses and that even in the midst of beauty, there may be challenges or heartbreak. The artist has illustrated this idea perfectly by showing a dagger piercing the stem of a rose.
If you're in the market for a tattoo that speaks to the complexities of life and is also visually stunning, this design is perfect for you!
Serpent Tattoo Design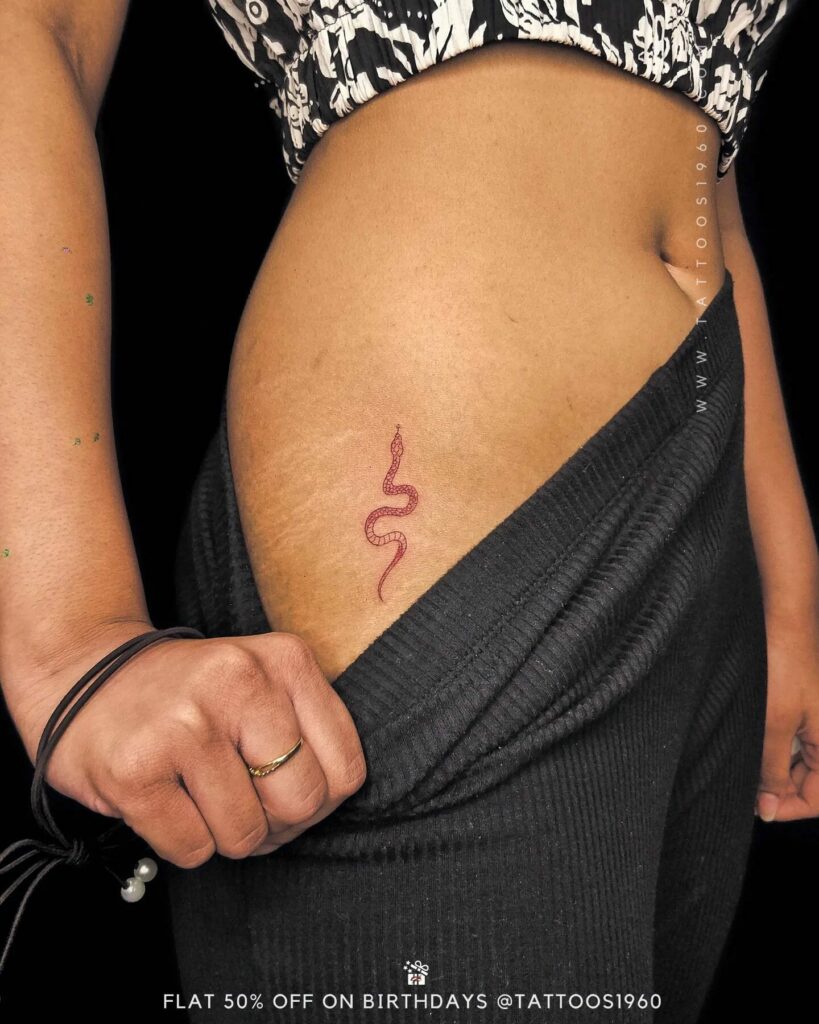 Snakes have been a popular choice for body art for centuries, thanks to their bold and fierce appearance. But there's more to these slithering creatures than meets the eye. They symbolize healing and immortality, making them an ideal choice for those seeking a deeper meaning in their tattoos.
This minimalistic serpentine design, as shown in the image, is a perfect example of a stylish tattoo. The use of red ink, instead of the traditional black, adds an extra pop of fire to this already striking design. Whether you're a man or a woman, a serpentine tattoo is a great option for anyone looking to make a statement. If you're considering a new tattoo, this design might be the perfect fit for you!
Feminine Flower Design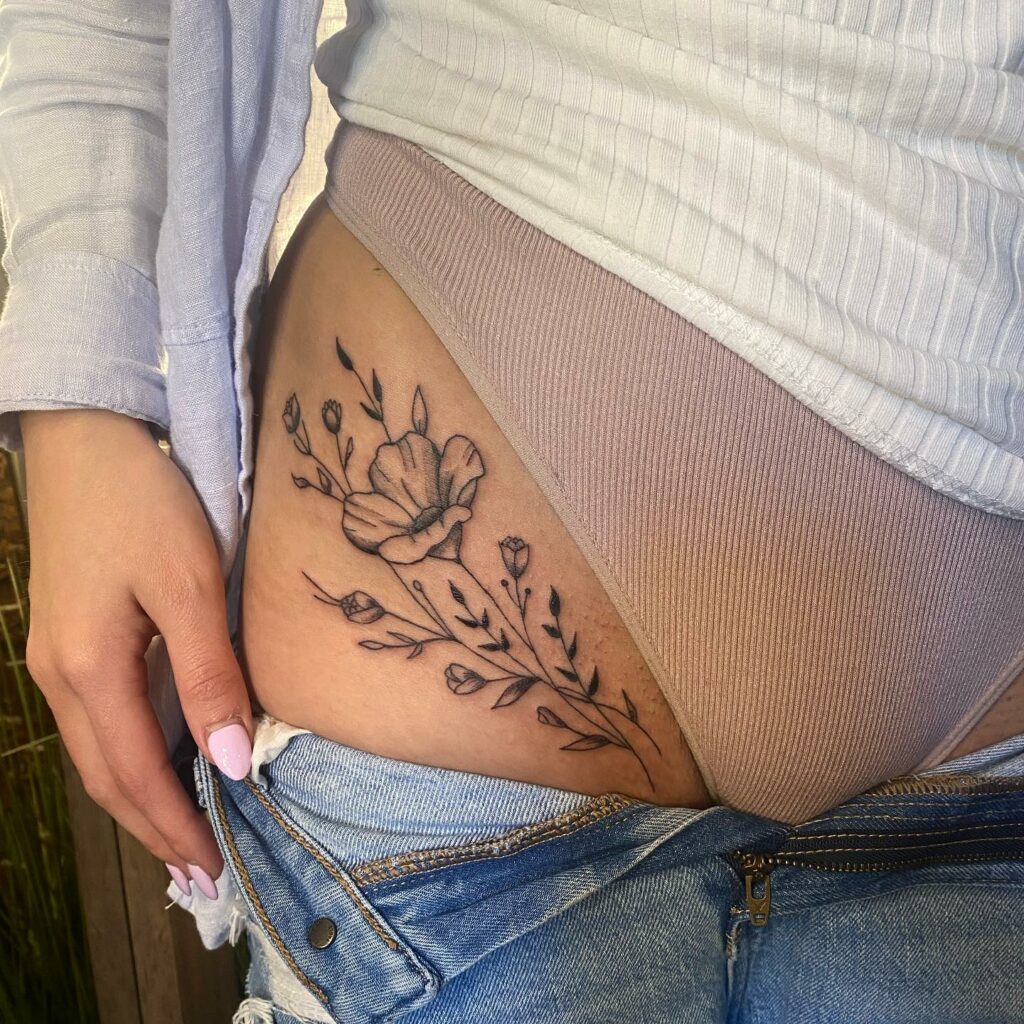 Flowers are the epitome of beauty, grace, and positive feelings, making them the perfect choice for tattoos. Whether you're after a minimalistic look or something more dramatic, flowers always make a stunning design. Just take a look at this beautiful flower tattoo with its abundance of buds and leaves. It's both innocent and bold, which is a hard balance to strike, but the artist has done an amazing job! When getting a flower tattoo, it's important to consider the placement area. While it looks great on the pelvic area, it can also be a charming thigh or hip tattoo. No matter what you choose, you're sure to love your new tattoo with its beautiful and meaningful design.
Butterfly Tattoo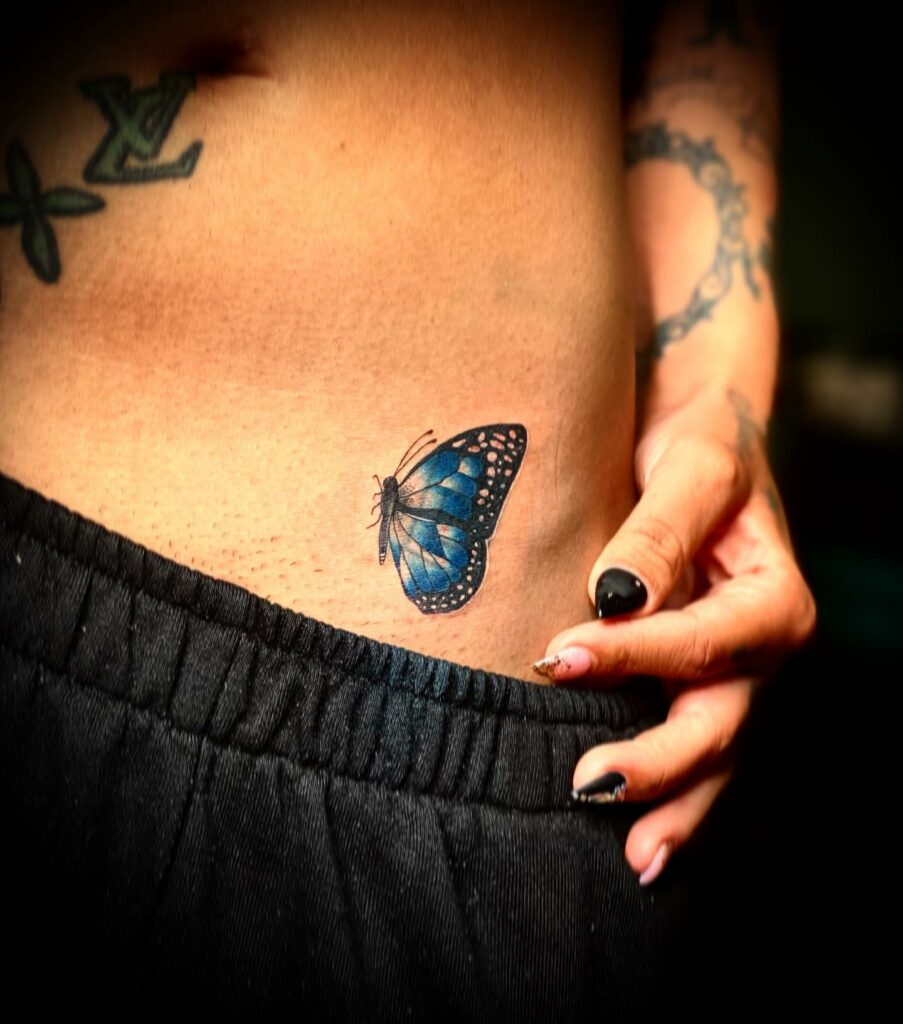 If you're searching for a tattoo design that symbolizes grace, immortality, and young love, a butterfly is the perfect choice for you. This amazing body art captures the delicate beauty of a butterfly in a stunning way. Just look at the intricate detailing of the wings! The artist has used different shades of blue and black ink to bring this design to life, and it's truly magnificent. Whether you want to display this design on your pelvic area, thigh, or hip, I can guarantee that it will look fantastic no matter where you place it. So, if you're ready to make a statement with your next tattoo, go for a butterfly!
Tribal Tattoo Design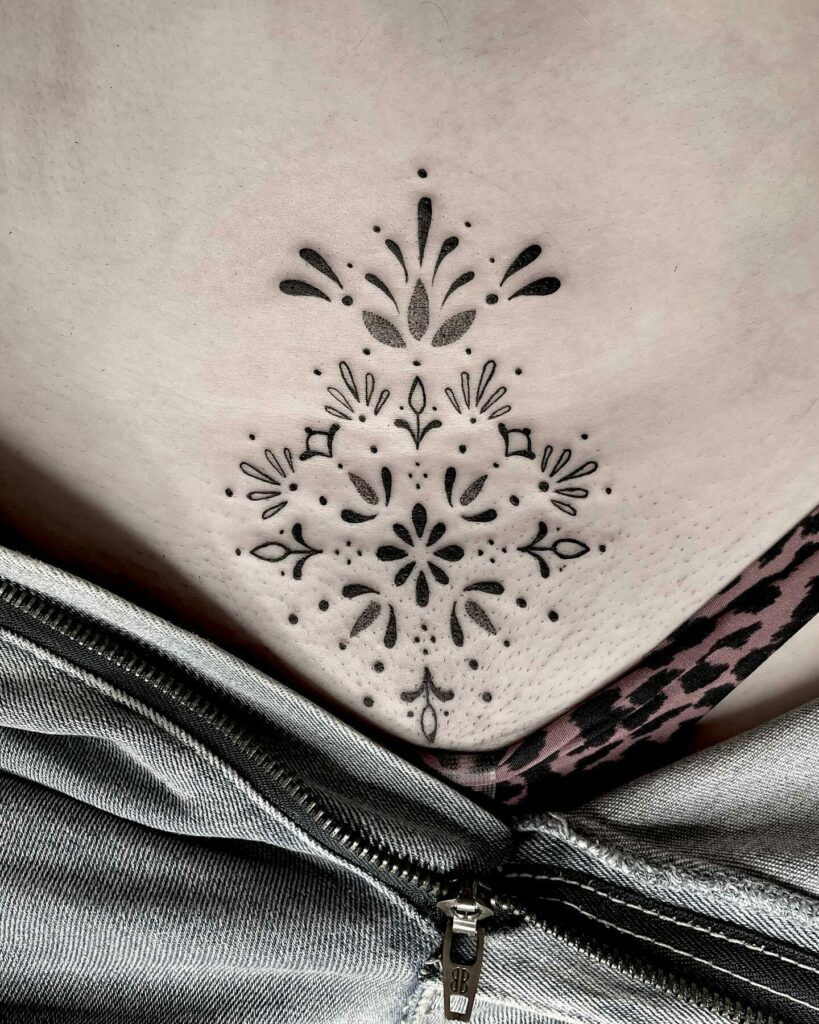 If you're looking for a tattoo that symbolizes your heritage and gives you a feeling of protection and power, then you might want to consider a tribal tattoo. The design above is a great example of a classic tribal tattoo that's been placed in a sexy and bold location on the body. This particular design features a beautiful tribal pattern that's sure to turn heads and make a statement about your connection to your ancestors and heritage. If you're looking for inspiration for your next tattoo, this could be a great starting point!
Dragon Tattoo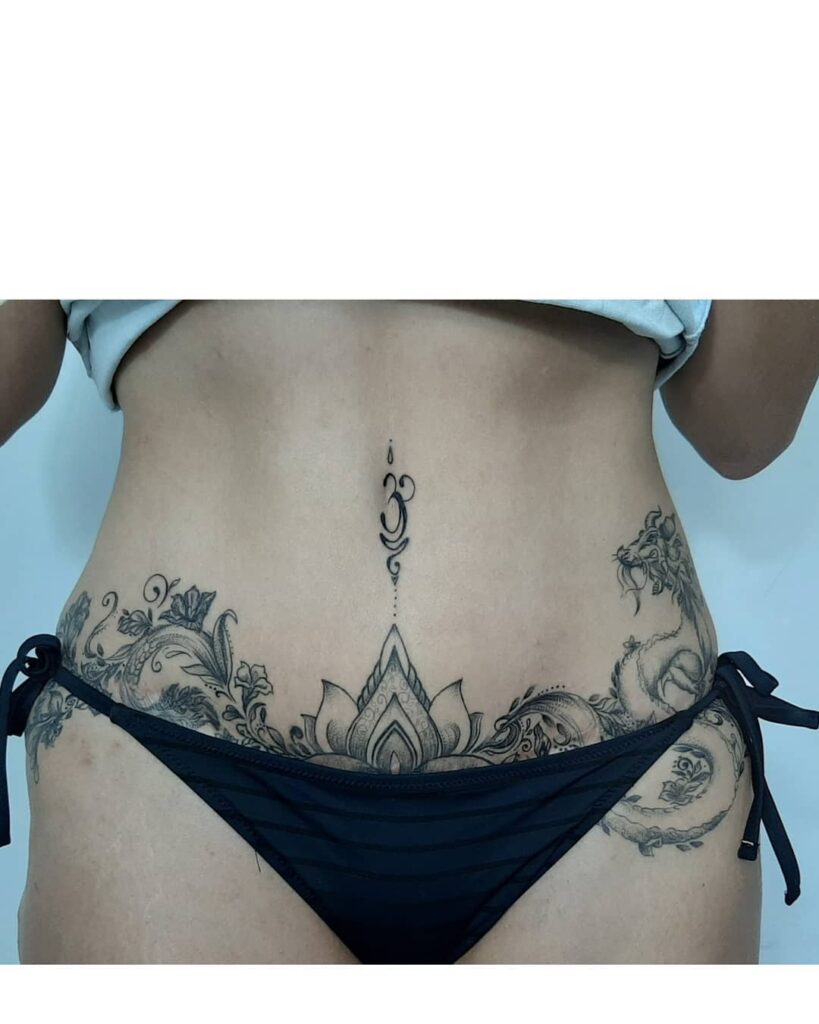 Looking for a statement piece to show off your fearless and strong side? Look no further! This dragon tattoo design is sure to turn heads. With its dramatic appearance, this tattoo showcases the body of a dragon emerging from the rear end and extending up to the side of the stomach. It's a unique and bold design that not only looks amazing but also symbolizes fearlessness and strength. If you're after a tattoo that draws attention to a specific area of your body, a pelvic tattoo is a great choice and this dragon design will make it a true standout.
Quote Tattoos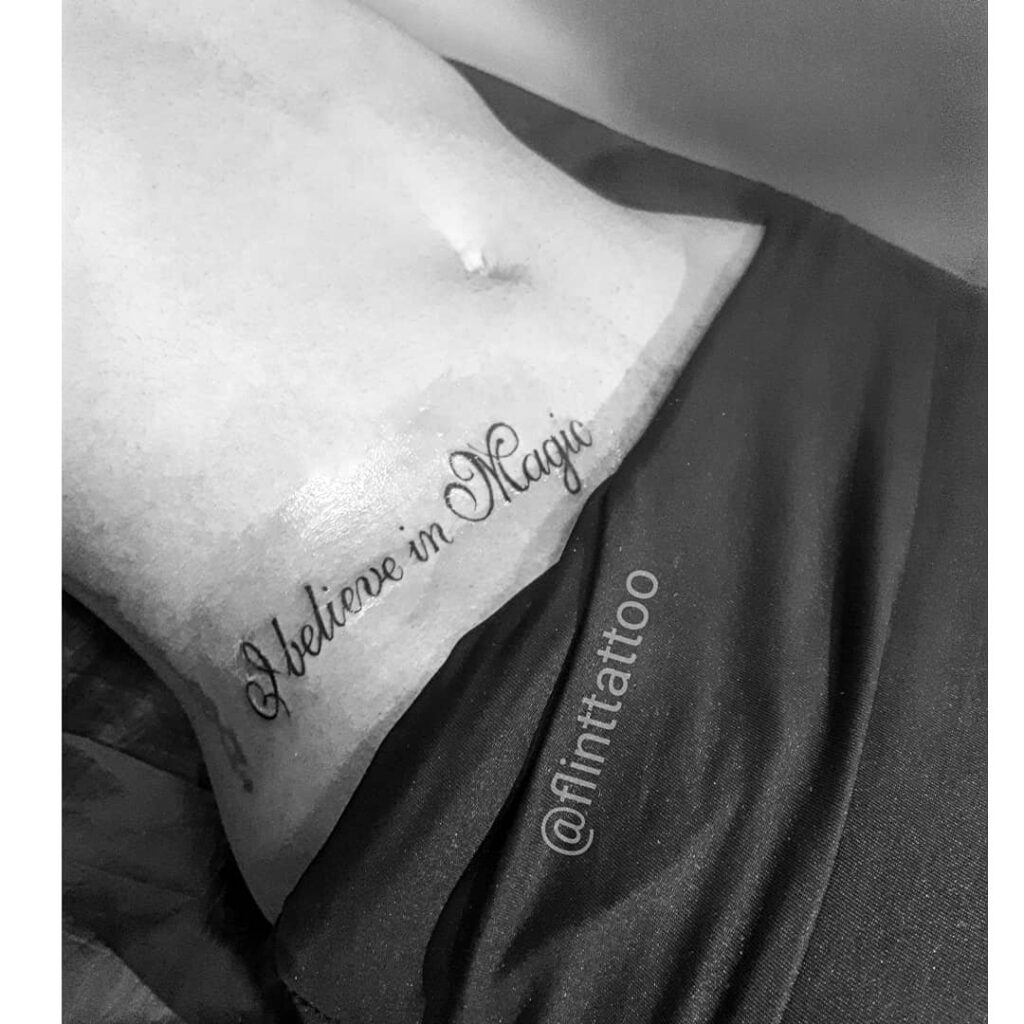 If you're looking for a meaningful and personal touch to your next body art, consider inscribing a quote close to your heart on your pelvic area. As you can see in this photo, this individual opted for the empowering phrase "I believe in magic." It's a great way to keep your favorite words of inspiration with you always. When it comes to such a delicate and intimate spot, it's important to choose a skilled and experienced tattoo artist who can bring your vision to life. So, go ahead and pick your favorite quote and get inked with confidence!
Flame Tattoo
If you're looking for a cute and quirky tattoo design, then this flame tattoo might just be the perfect fit for you! As you can see in the picture, the artist has beautifully outlined a flame near the pelvic area of the woman. This design can symbolize various things like fierceness, creativity, or even destruction. You can customize the shape and even add different colors to make it more dramatic and realistic. This design can look amazing both as a pelvic tattoo and a thigh tattoo.
Nowadays, many women choose pelvic tattoos as a creative way to cover up stretch marks. While it's not necessary, it does look great on everyone! However, it's important to keep in mind that the skin around the pelvic area is quite delicate and getting a tattoo in this area can be more painful compared to other areas like the wrist or hand. So, before getting a pelvic tattoo, make sure you're completely confident in your decision and have all the information you need about the procedure and potential consequences.
Still looking for inspiration, then checkout this blog post about japanese snake tattoo
feature image from Pinterest – Want your tattoo to look brighter? Try "Tattoo Balm"