Plant enthusiasts and Monstera fans, rejoice! We've curated a list of the 10 best Monstera plant tattoo ideas just for you.
The captivating Monstera, a beloved indoor plant, has made a splash in the tattoo world thanks to its enchanting leaves and striking splits.
Botanists and plant lovers alike hold a special place in their hearts for the Monstera Deliciosa. Many have chosen to immortalize their love for this plant by turning it into a unique tattoo design. With deep roots in American plant culture, the Monstera Deliciosa has been a favorite for years and now graces the wishlists of plant tattoo aficionados due to its intriguing presence.
So, what's the craze about this plant? Its large, lively leaves bring joy and a sense of freedom, inspiring people to embrace their personal space. Browse our collection of ten stunning Monstera Deliciosa tattoo designs, and let them fuel your passion for plant tattoos.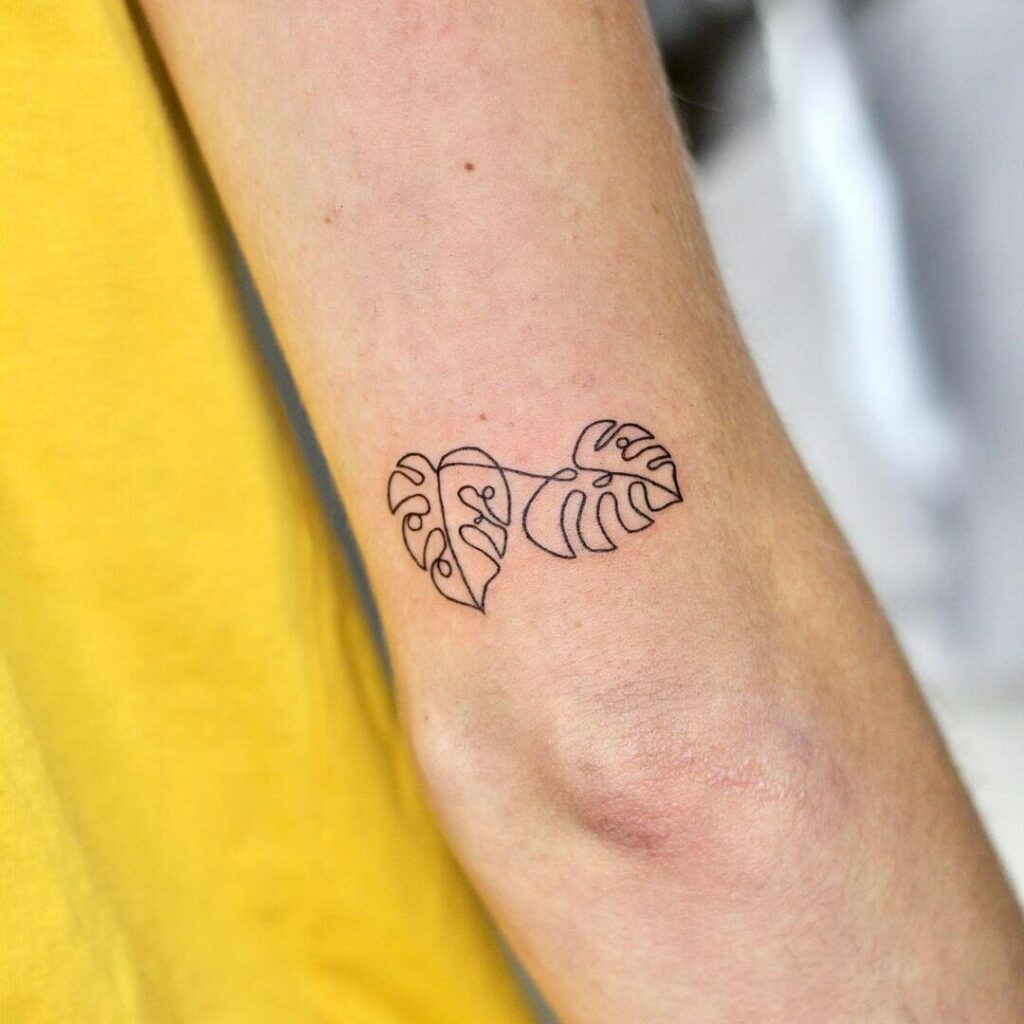 Monstera Deliciosa Arm Tattoo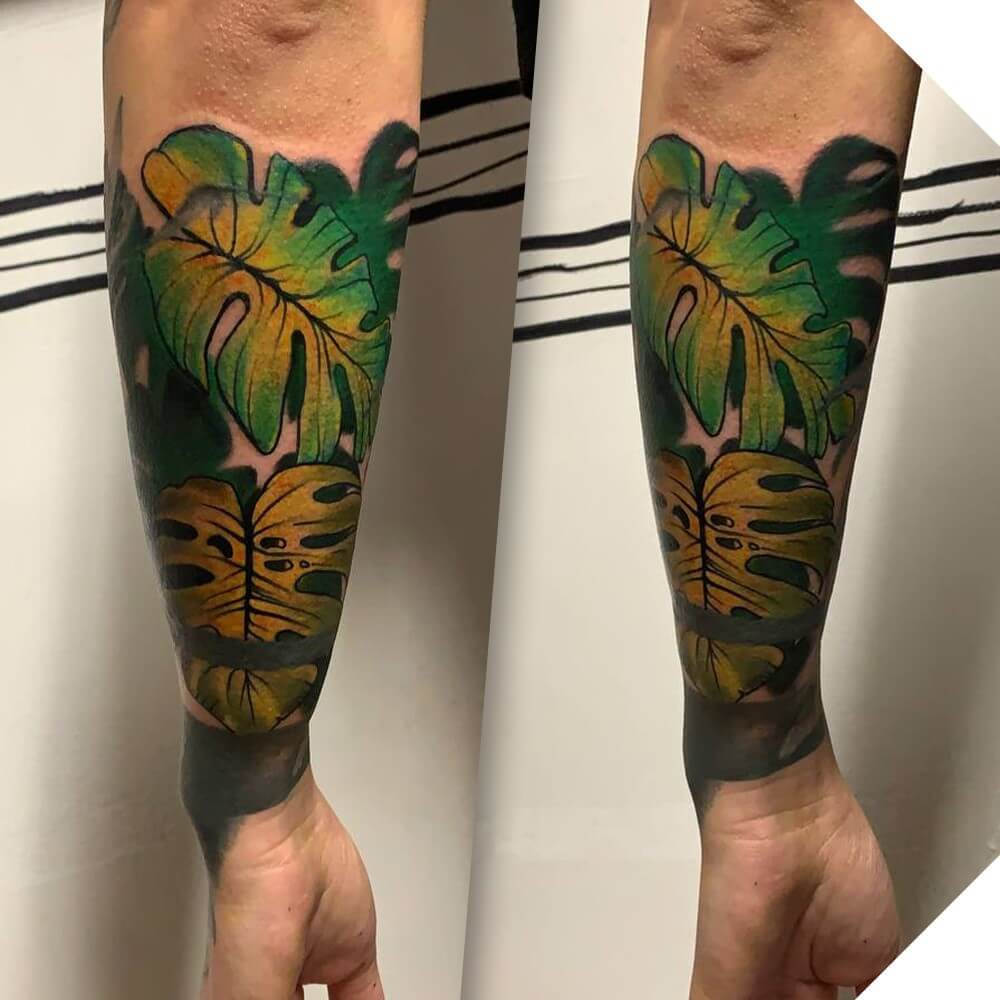 If you're a lover of plants and tattoos, then this Monstera Deliciosa tattoo is perfect for you! With its vibrant colors and beautiful design, this plant tattoo is sure to capture the attention of both tattoo enthusiasts and plant lovers alike. This tattoo can be done in various ways, but this particular design showcases the leaves covering the entire bicep, making it a striking piece of body art. It's no wonder why this colorful leaves tattoo has become so popular among those who appreciate both the beauty of plants and the art of tattoos. It's a perfect way to bring a little bit of nature with you wherever you go, and a constant reminder of the gorgeous plant you have at home.
Lil Monstera Pot Tattoo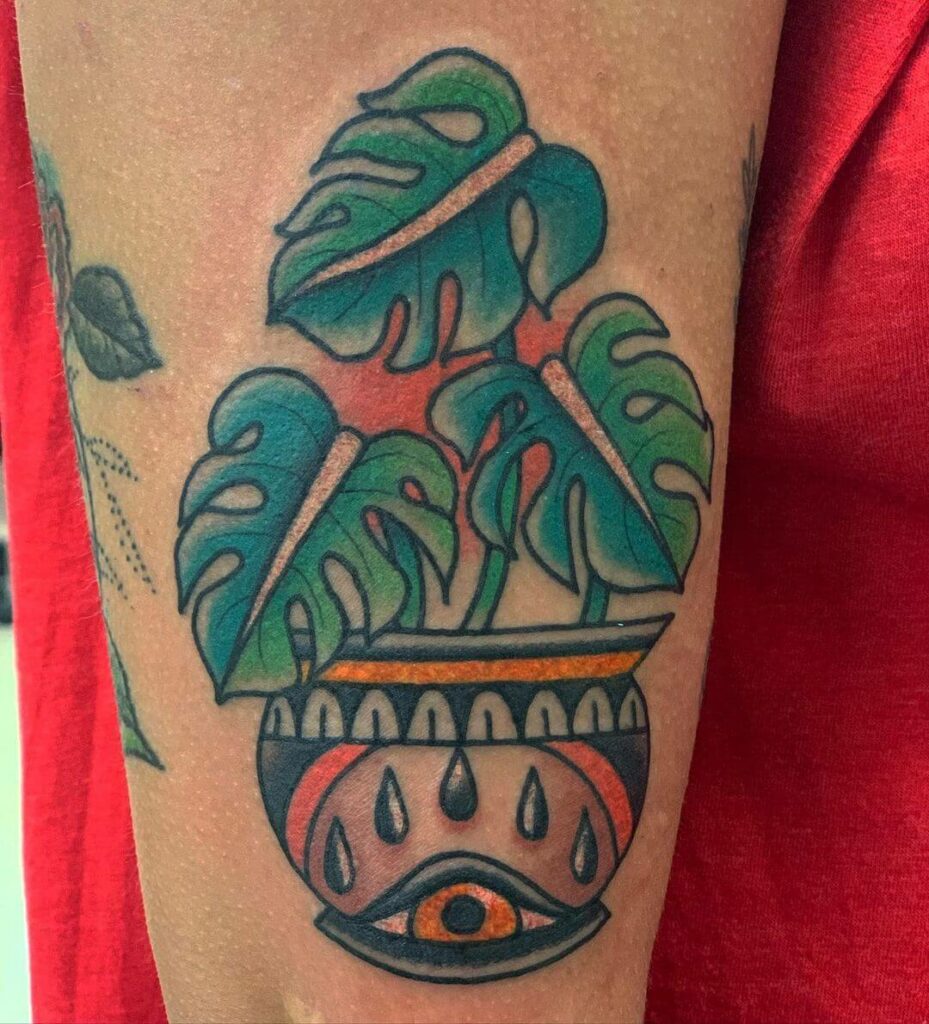 If you're looking for a unique and diverse tattoo, this little Monstera leaves tattoo might be just what you need. It's perfect for those who crave change and adventure in their lives. This tattoo provides a combination of different vibes, creating an aesthetic and antique look. The antique design of the pot, along with the Monstera plant leaves, creates a gorgeous image that gives you a stylish, antique look. Monstera plants have many cool stories associated with them, and together with the historic pot, this tattoo is a must-have for plant enthusiasts who love plant tattoo ideas.
Shaded Monstera Tattoo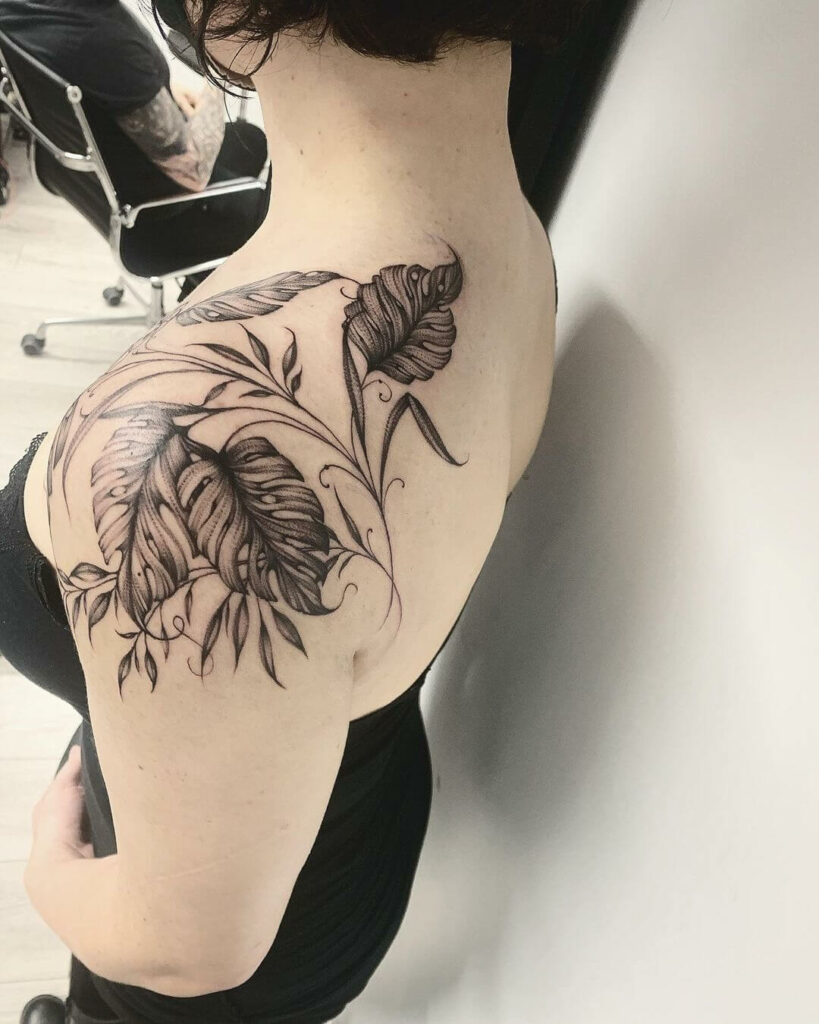 This plant tattoo featuring black and white Monstera leaves scattered on your shoulder is both breathtaking and chic, radiating a cool and refined vibe. If you're in need of some personal space, this plant tattoo is perfect for you. While every tattoo looks stunning in grayscale shading, the attitude and chills this tattoo exudes are on another level. Although Monstera plants are lively and colorful, this design proves that the plant's gorgeous and cool persona can also be portrayed through grayscale. If you want to pique the interest of others and grow their love for this plant, then this plant tattoo design is a must-have.
Monstera Tattoo Drawing
This Monstera tattoo on the back of your leg is a perfect choice for plant enthusiasts who want a cute and minimal look. It's also budget-friendly, making it an excellent option for first-timers. The Monstera plant has always symbolized freedom, so getting this tattoo means embracing the spirit of freedom. This tattoo is a great way to bring some positive change to your life, and the intricate details of the plant will surely leave a lasting impression on those who see it.
Lady With Monstera Plant Tattoo Ideas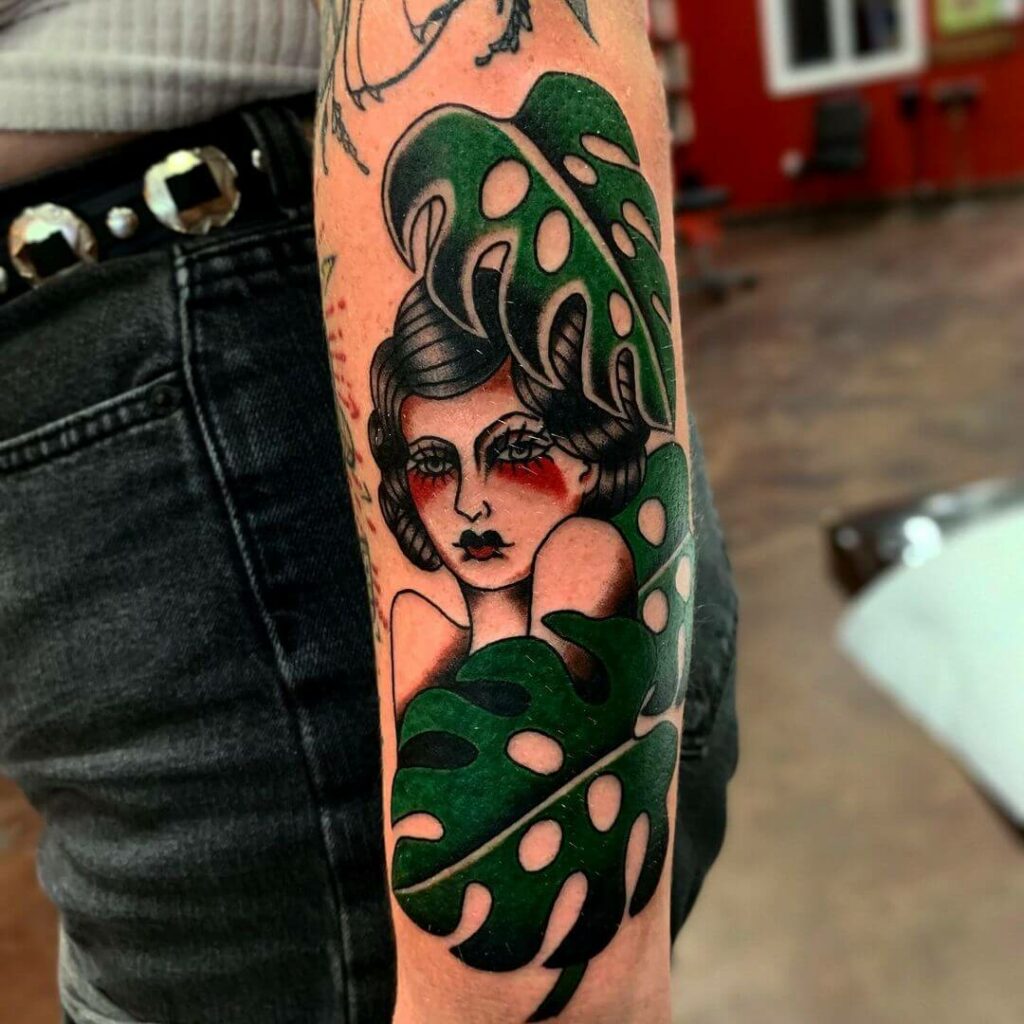 The lady Monstera plant tattoo is a true masterpiece that is sure to turn heads. It is a beautiful and intricate tattoo design that will definitely elevate your tattoo game. The attention to detail in the tattoo is amazing and the artistry involved in creating this design is truly impressive. Whether you are a plant lover or not, this tattoo is bound to grab your attention with its stunning beauty. So, if you are looking for a tattoo that combines cool art with natural elements, then this lady Monstera tattoo is definitely worth considering.
Flamingo Monstera Tattoo
Combining animal and plant tattoos is a popular choice among tattoo enthusiasts, and the Flamingo with Monstera design is a classic example. This unique combination of a bird and a plant creates a striking and eye-catching tattoo design that is sure to turn heads. The intricate details of the Flamingo and Monstera make for a beautiful and timeless tattoo that can be placed on any part of the body. This design is a must-have for anyone who loves both plants and animals and wants a tattoo that reflects their passions.
Bird And Monstera Plant Tattoo
Birds and Monstera plant tattoos are an iconic combination that symbolizes freedom and a life lived on your own terms. Birds fly high in the sky, free to explore the world, and Monstera plants also have a wild and free nature. If you want to break free from society's norms and inspire others to do the same, then this tattoo is a great option for you. With this tattoo, you can convey a message of freedom and inspire others to live their lives according to their own terms. So, if you want to express your love for freedom through your body art, this tattoo is a great choice.
Black Monstera Leaves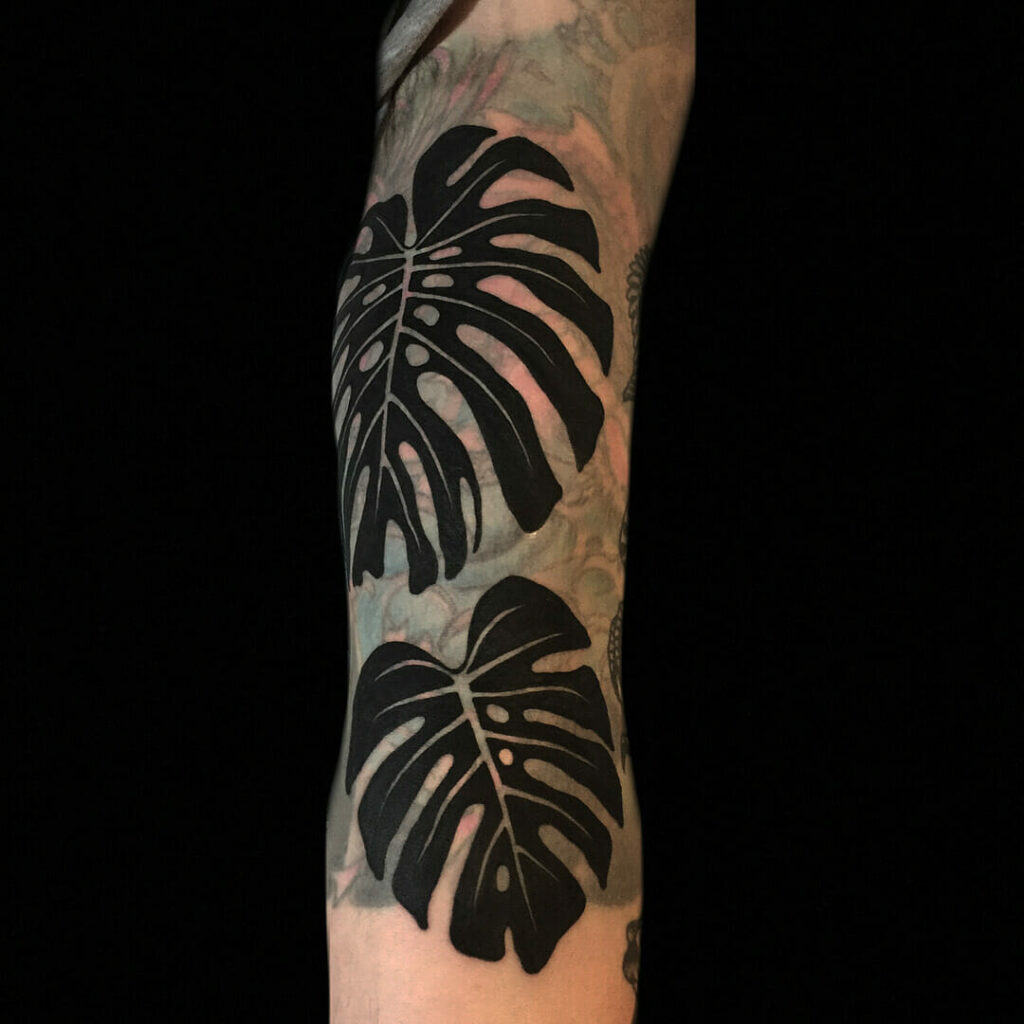 Monstera leaves have always been a popular choice for plant enthusiasts, and these pitch-black Monstera leaves are no exception. What sets them apart is their ability to cover up old tattoos while still providing a new, unique design. The bold black leaves are a great way to start fresh and can be seamlessly incorporated with your existing tattoos. If you're looking for a fresh start, don't miss out on the opportunity to have a tattoo that not only covers up the old but also provides a stunning new look.
One Monstera Leaf Tattoo
This elegant Monstera leaf tattoo is a perfect choice for those who believe in the beauty of simplicity. Placed on your bicep, this tattoo showcases your love for this amazing plant in a subtle yet beautiful way. If you're a fan of minimalism, then this tattoo is a must-have in your collection. It's a great example of plant tattoos that offer a variety of design options to explore. So if you want to add something unique and special to your tattoo collection, consider this stunning Monstera leaf design.
Bold Line Monstera Tattoo Design
Monstera Deliciosa is a plant that has captured the hearts of many, including tattoo lovers. Its large, unique leaves with their characteristic holes and splatters are a true sight to behold. As house plants, they are favoured by plant enthusiasts for their ability to thrive in sunlight. In many ways, the Monstera Deliciosa represents freedom and breaking free from societal chains. This is why many people choose to get tattoos of this plant as a way to spread that message.
One of the most popular designs is a simple, yet elegant leaf tattoo that showcases your love for this beautiful plant. If you're a botanist or just love taking care of plants, this cute tattoo will surely catch your eye and urge you to get one. Another bold option is the bold line Monstera tattoo, which highlights the plant's unique features with a bold black line. This design is perfect for those looking for a tattoo that will give them a bold, striking look.
No matter which design you choose, a Monstera tattoo is a great way to show your love for both plants and tattoos. It's a tattoo category that continues to grow in popularity and fascination, so why not jump on board and join the trend?
Feature image from Pinterest – Want your tattoo to look brighter? Try "Tattoo Balm"
Last reviewed and updated on August 31, 2023