Hand tattoos have become increasingly popular in recent years, and for good reason. Not only are they eye-catching and unique, but they also allow for a lot of creative freedom when it comes to design.
Hand tattoos can be particularly appealing because of their visibility and placement, they are always on display and can be a great conversation starter. But it's important to keep in mind that hand tattoos are also one of the most painful areas to get tattooed, so it's essential to choose a design that you'll love for a long time to come.
When choosing a design for a hand tattoo, it's important to consider the size, placement, and style of the tattoo. Some people prefer delicate, minimalist designs, while others prefer bold and colorful tattoos. Additionally, it's important to consider the design in the context of your overall style and how it will look with the rest of your tattoos.
So whether you're looking for inspiration for your first hand tattoo or you're a seasoned ink enthusiast, keep reading for some of the best pretty hand tattoos out there. And remember, when it comes to hand tattoos, it's all about choosing the right design for you.
Rose Hand Tattoo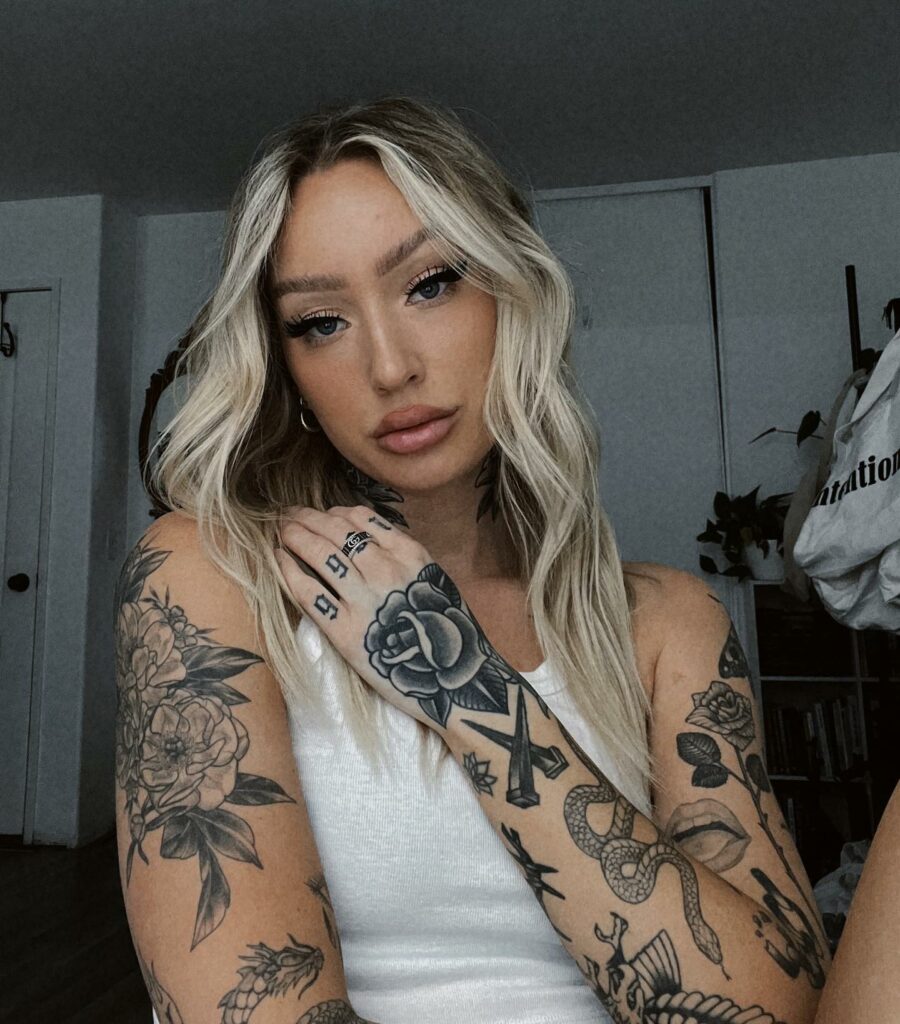 The rose, a symbol of love and passion, has long been a popular choice for tattoos, and placing it on the hand adds an element of visibility and boldness. Whether in full color or simple black and white, a rose hand tattoo can be a constant reminder of the things or people you hold dear. Depending on the intricacy, it can also speak volumes about your personal style, making it a meaningful and versatile choice.
Moth Hand Tattoo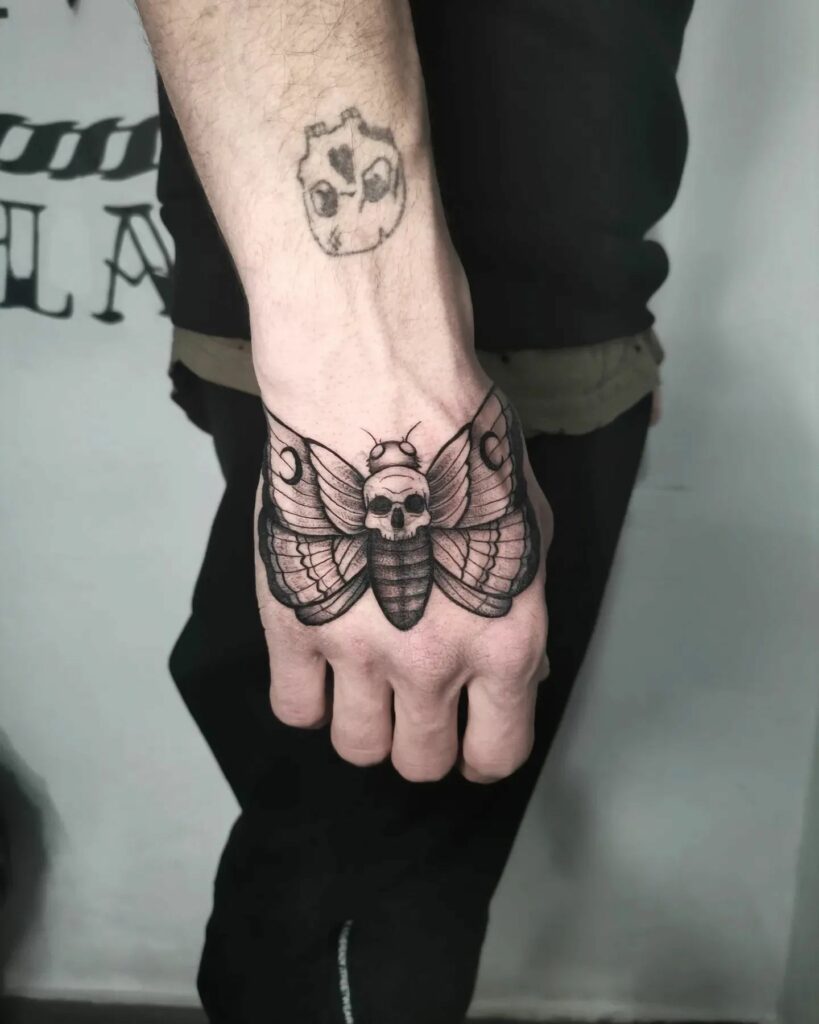 Moths, often associated with transformation and the mysterious allure of the night, make for striking hand tattoos. These designs often feature highly detailed wings and can be accompanied by celestial motifs to emphasize their nocturnal nature. A moth hand tattoo serves as an emblem of personal change, resilience, and the exploration of life's mysteries right at your fingertips.
Mandala Hand Tattoo
Mandalas are intricate designs that originated in ancient Eastern traditions. As a tattoo on the hand, they offer both aesthetic appeal and a sense of spiritual or philosophical depth. Highly detailed and symmetrical, mandala hand tattoos can require hours of meticulous work from skilled artists. This tattoo style may be interpreted as a symbol of unity, completeness, or a complex representation of the universe right on your hand.
Bird Hand Design
Birds have often symbolized freedom and transcendence. A bird tattoo on the hand can serve as a daily reminder of your aspirations to soar higher in life. Whether opting for a majestic eagle or a simple swallow, the tattoo can be both a personal talisman and a striking visual statement. With the hand's movement mirroring the flight of birds, this tattoo style is especially dynamic.
Castle Hand Design
Castles can symbolize strength, security, and grandeur. A castle design on the hand could be a remarkable way to display your dreams of ambition or your sense of personal fortitude. With turrets, walls, and intricate details, it offers a complex yet eye-catching display that can start conversations and spark imaginations.
Black Lightning Hand Design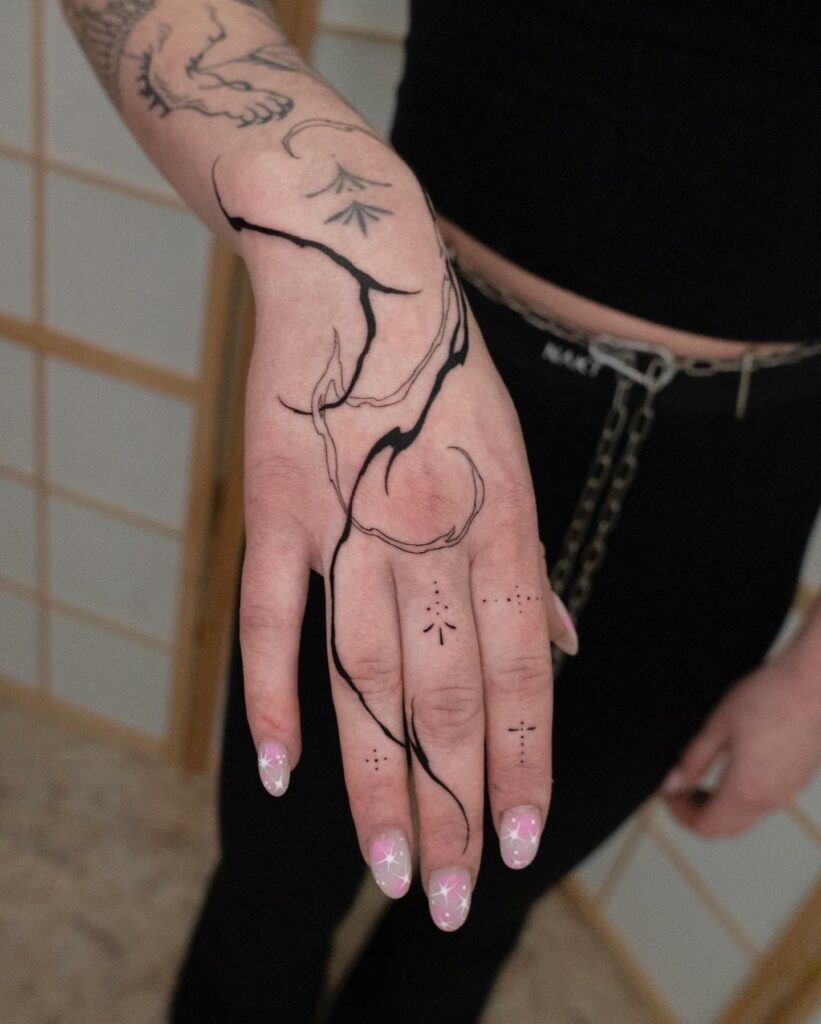 The black lightning design captures a raw and electric energy in a visually arresting manner. Suited for people who consider themselves dynamic and high-energy, the stark contrast of black ink on skin ensures that it will be a conversation starter. The design can also be a symbol of unpredictable power or a spark of inspiration that one carries with them at all times.
Woman Clown Hand Tattoo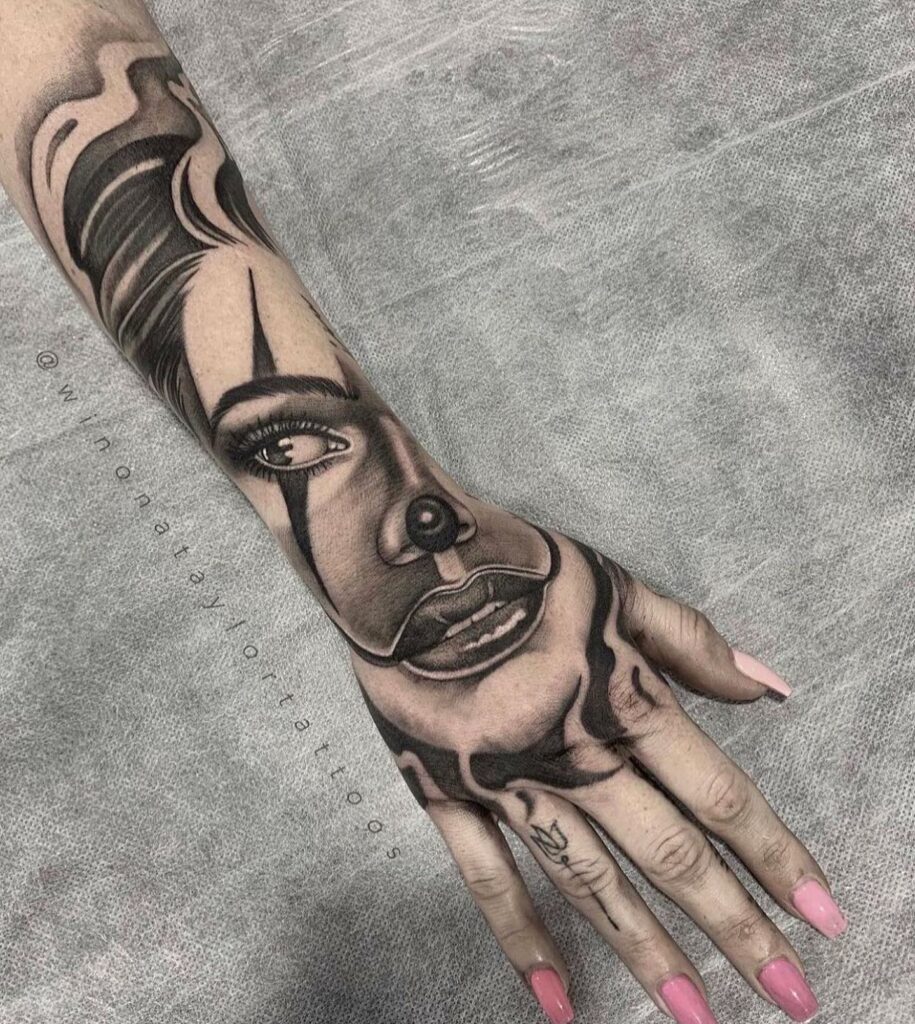 A woman clown hand tattoo could be a daring and provocative choice. Clowns are complex figures that can symbolize humor, irony, or even darker elements of the human psyche. Combining this with the image of a woman can add layers of meaning, potentially discussing themes of identity, societal expectations, or the multifaceted nature of femininity.
Rose Hand Design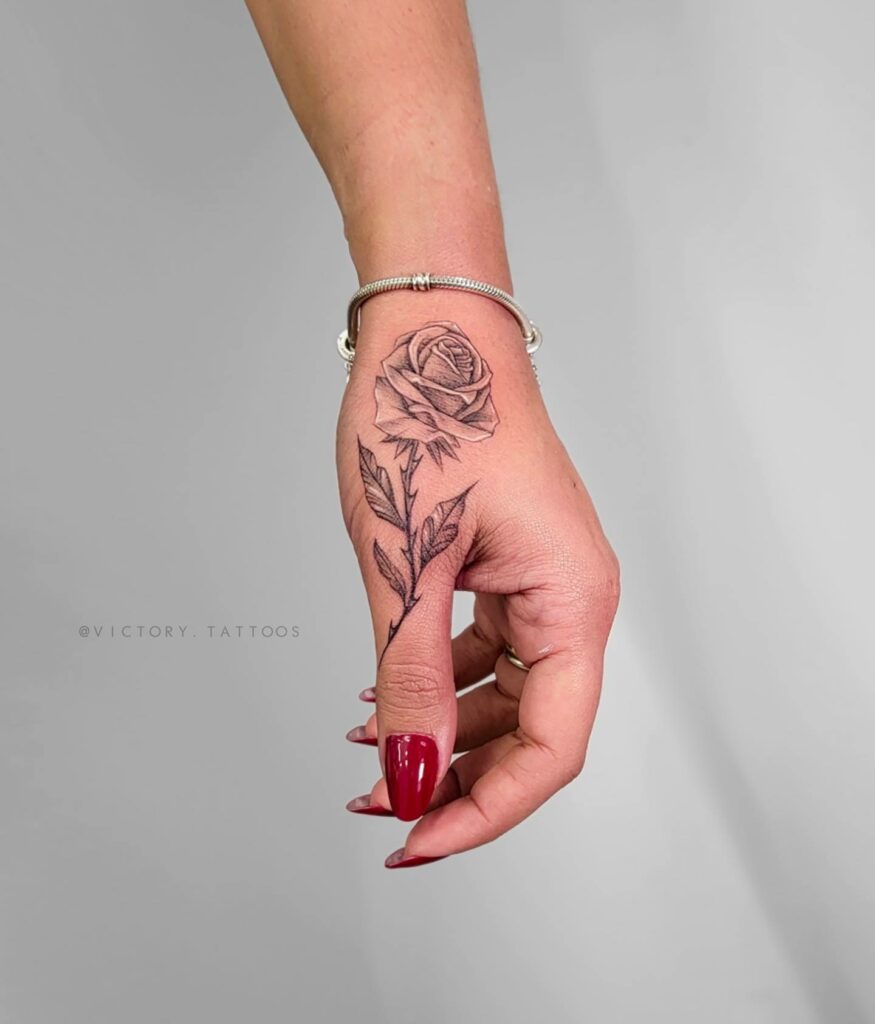 Much like the rose hand tattoo, a rose hand design focuses on the aesthetic and emotional appeal of this timeless flower. However, 'design' may imply a more abstract or stylized interpretation of the rose, perhaps incorporating other elements such as geometric shapes or additional floral motifs. This adds a unique spin to a classic tattoo choice.
Geometric Hand Design
Geometric tattoos offer a modern, clean look that often stands out for its precision and symmetry. When placed on the hand, the tattoo becomes a focal point that can represent concepts like balance, order, or mathematical beauty. As the hand moves, the geometry of the tattoo can offer varying perspectives, making it an ever-changing piece of art.
Stars Hand Design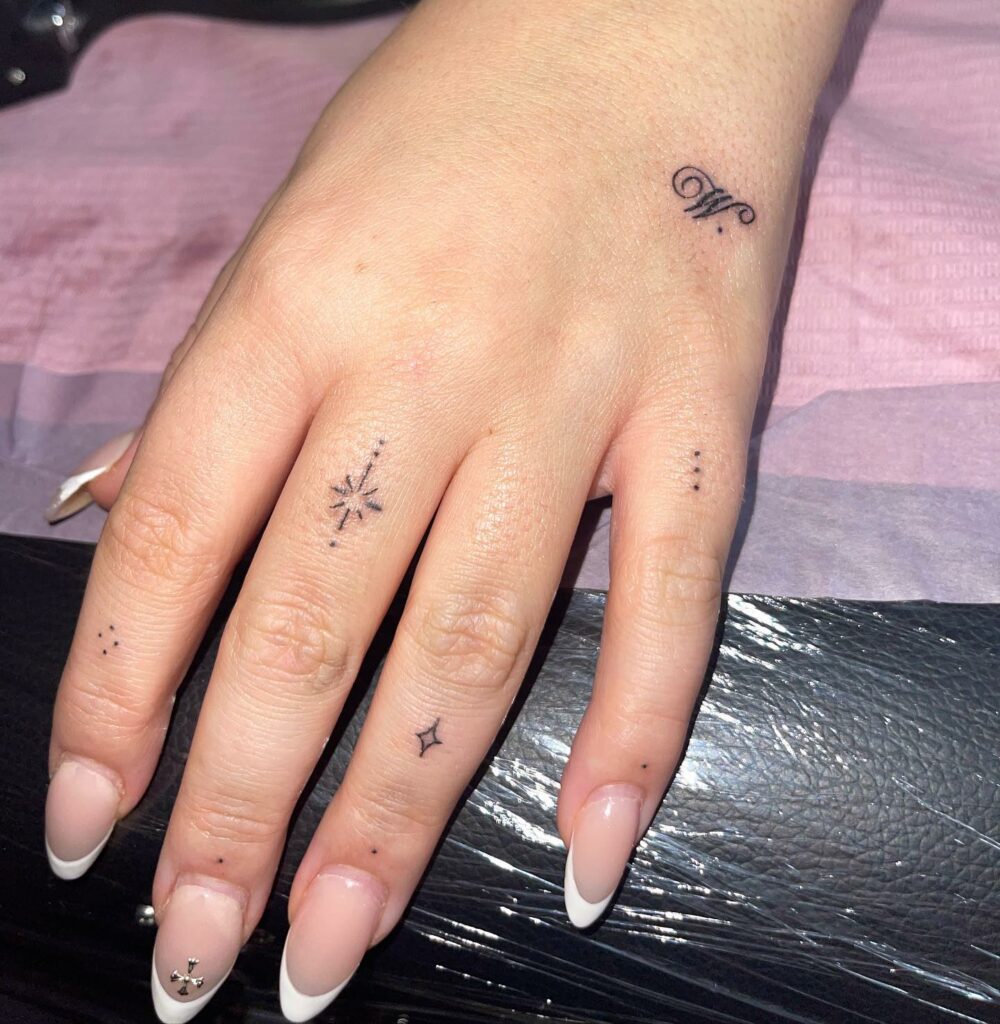 Stars have been a symbol of guidance and aspiration throughout human history. A stars hand design can range from a simple single star to a complex constellation or galaxy. This versatile motif offers a way to literally keep your dreams and ambitions at hand, while also allowing for plenty of personalization and style variation.
Mandala Flower Hand Tattoo
Combining the beauty of floral elements with the symmetry of a mandala, this tattoo style represents a harmonious blend of nature and spirituality. With its detailed patterns, a mandala flower hand tattoo could be seen as a manifestation of natural beauty and inner peace, carried with you as a personal emblem of balance and serenity.
Detailed Hand Design
As the name suggests, detailed hand designs are intricate works of art that require a high level of skill from the tattoo artist. These could encompass any theme but are notable for their complexity and the precision required to bring them to life. Whether it's an elaborate scene or a mesh of multiple symbols, these tattoos make a strong statement about one's commitment to their chosen motif.
Hand Flower Tattoo
Floral tattoos are often favored for their natural beauty and the variety of meanings they can hold. A hand flower tattoo may represent growth, renewal, or a specific quality like love or courage. Given the hand's visibility, such a tattoo can be both a personal reminder and a public declaration, with every bloom adding a touch of nature's art to daily life.
Butterfly And Moth Design
This dual motif combines the elegance of butterflies with the mysterious allure of moths, blending themes of transformation and nocturnal beauty. A tattoo of this kind captures the dichotomy between light and dark, offering an intricate and thoughtful visual story. Placed on any part of the body, the juxtaposition can offer a unique aesthetic experience, touching on themes of duality, change, and the complexities of nature.
Japanese Demon Hand Design
Drawing from the rich lore of Japanese mythology, a demon hand tattoo can be both fearsome and deeply symbolic. These designs often include traditional elements like fire, fangs, and horns, woven into a tapestry that could signify personal battles, cultural heritage, or a fascination with the mythical. The hand placement adds a level of immediacy, making it a strong statement piece.
Geometric Stars Finger Design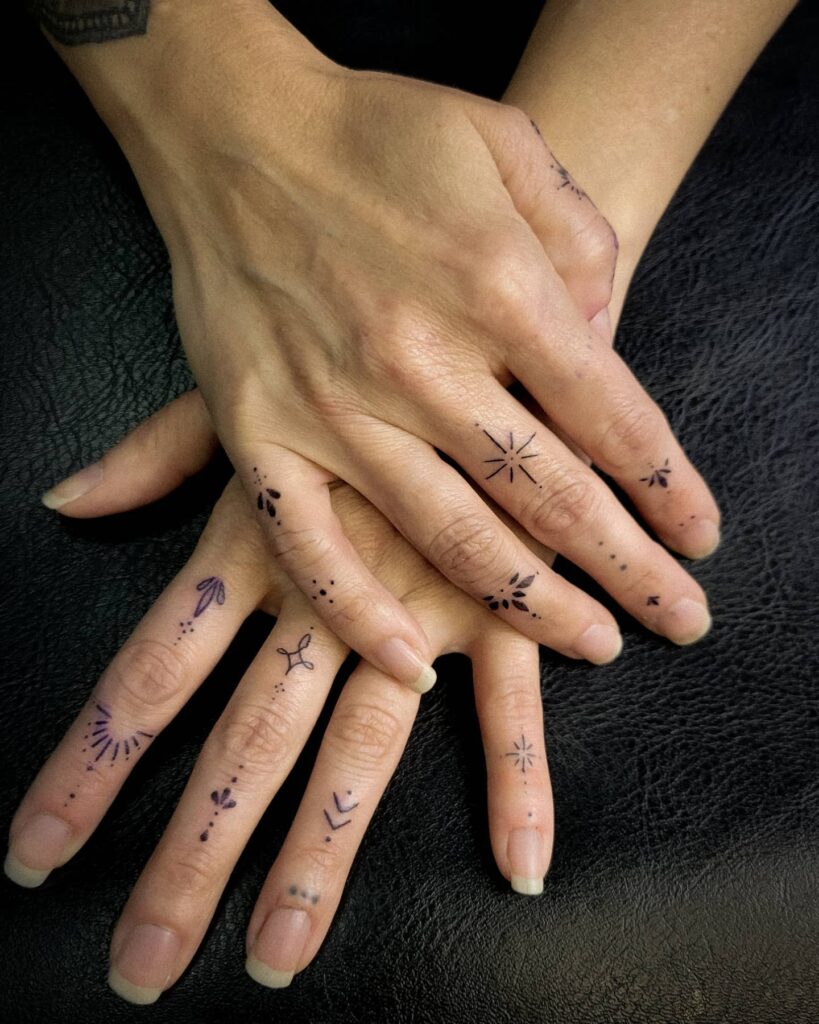 This tattoo takes the ethereal beauty of stars and confines them within geometric shapes, all neatly placed on the fingers. This creates a unique blend of the natural and the mathematical, offering an eye-catching yet sophisticated aesthetic. The stars may signify aspiration or guidance, while the geometric elements introduce a layer of complexity or order.
Eye On Heart Hand Design
Marrying the motifs of an eye and a heart, this tattoo delves into themes of love, perception, and emotional intelligence. The hand is a fitting canvas for such powerful symbols, making every handshake or gesture a moment of interpersonal connection or introspection. It could serve as a constant reminder to see with your heart and feel with your eyes.
Geometric Moon Design
The moon, a symbol of change, cycles, and mystery, is given a modern update with geometric accents. This fusion creates a visually striking tattoo that holds layers of meaning. Whether it's a crescent moon framed in a hexagon or a full moon segmented with geometric lines, the tattoo combines natural and mathematical beauty in an intriguing way.
Star Constellation Design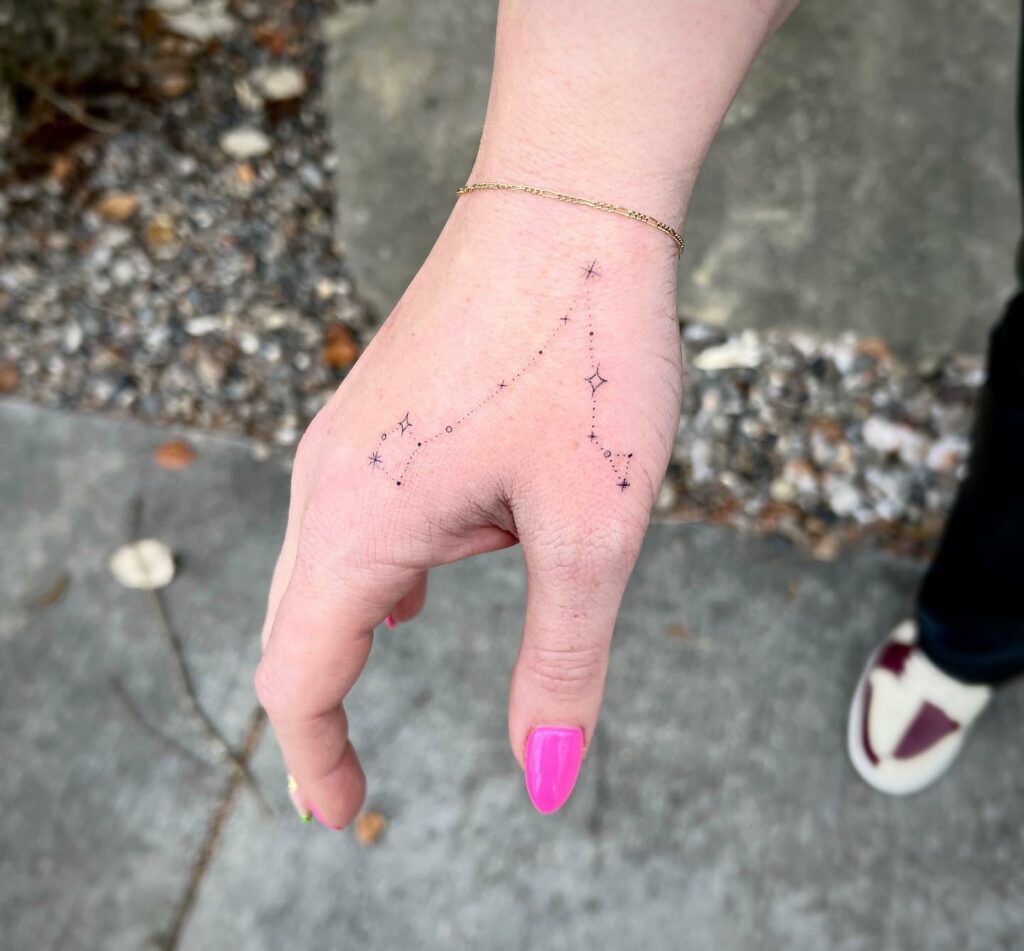 A star constellation tattoo takes the idea of guidance by the stars to a personal level. The design can depict a zodiac constellation, a favorite celestial formation, or even a custom array of stars. By wearing this cosmic roadmap on your skin, you make a public declaration of your aspirations, or perhaps pay homage to a love for astronomy and the mysteries of the universe.
Modern Hand Design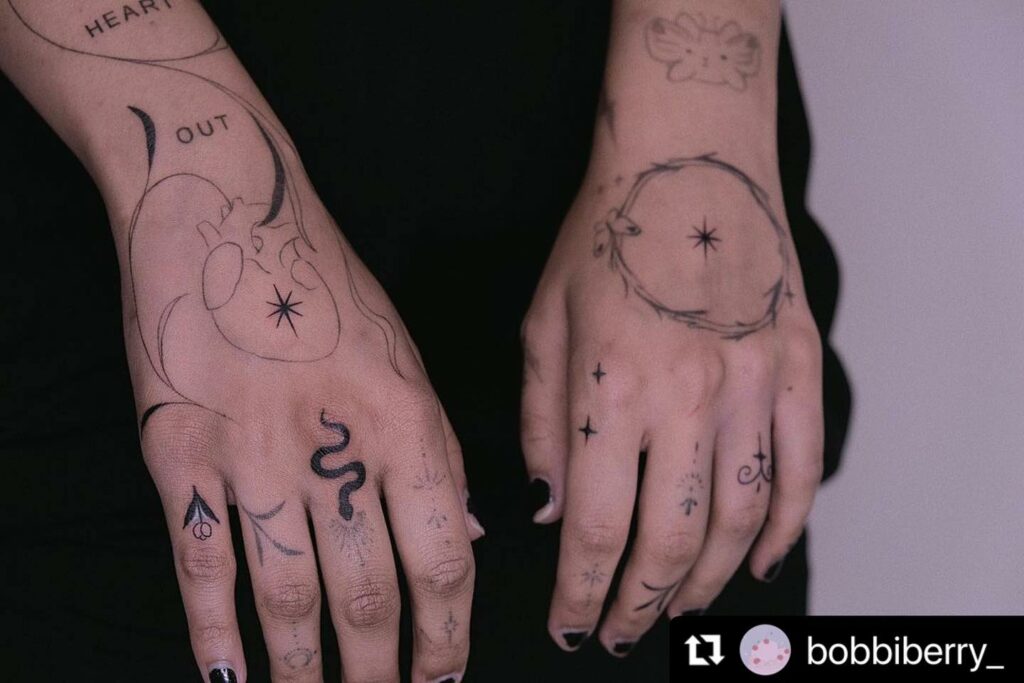 This category of tattoos is characterized by its contemporary aesthetics, which might include abstract shapes, bold color contrasts, or futuristic themes. A modern hand tattoo serves as a canvas for personal expression in today's fast-paced world, signaling a connection with current trends or concepts. It could be an abstract representation of modern life or simply a design that resonates with today's aesthetics.
Initial Hand Design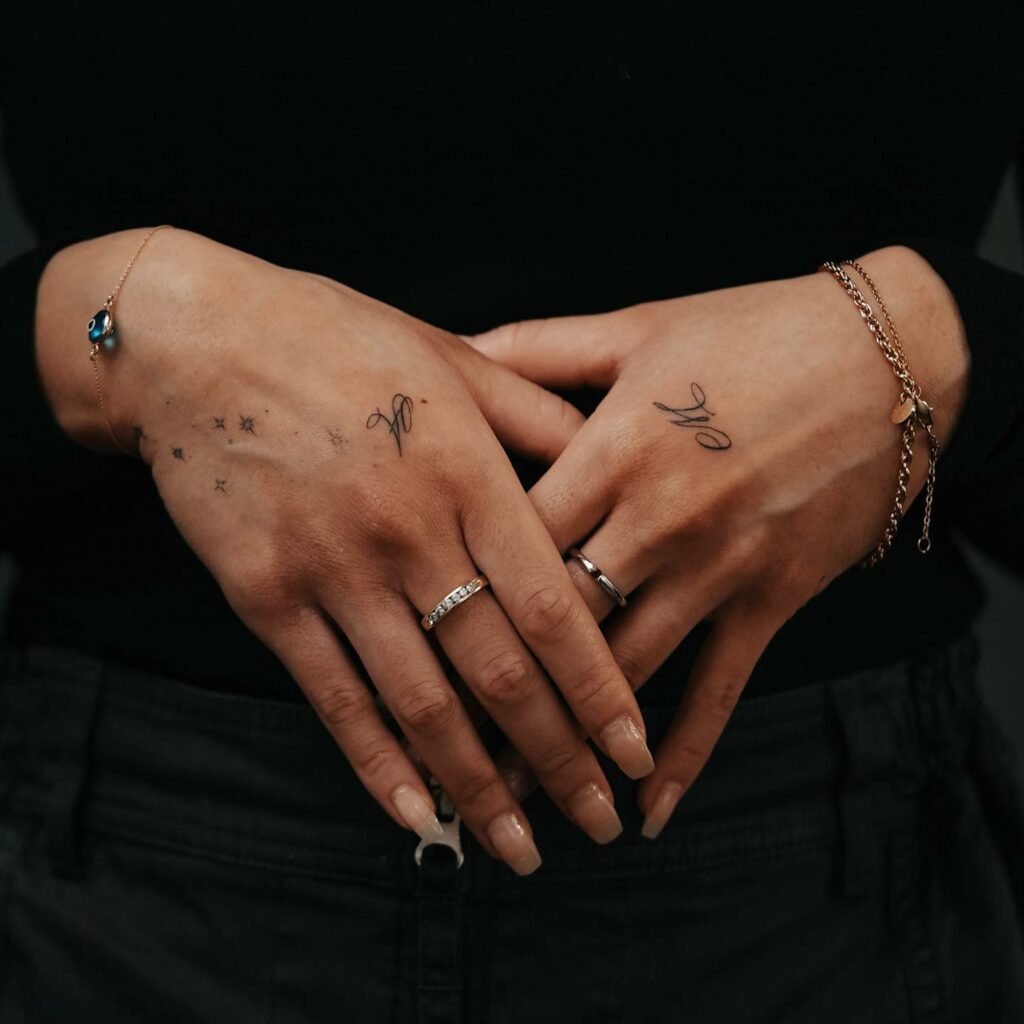 Tattooing initials onto your hand provides a simple yet impactful tribute to someone important or something meaningful. Whether it's your own initials or those of someone you care about, the design offers a permanent reminder right at your fingertips. The simplicity of the tattoo belies its emotional significance, making it a deeply personal choice.
Hand Design Tattoo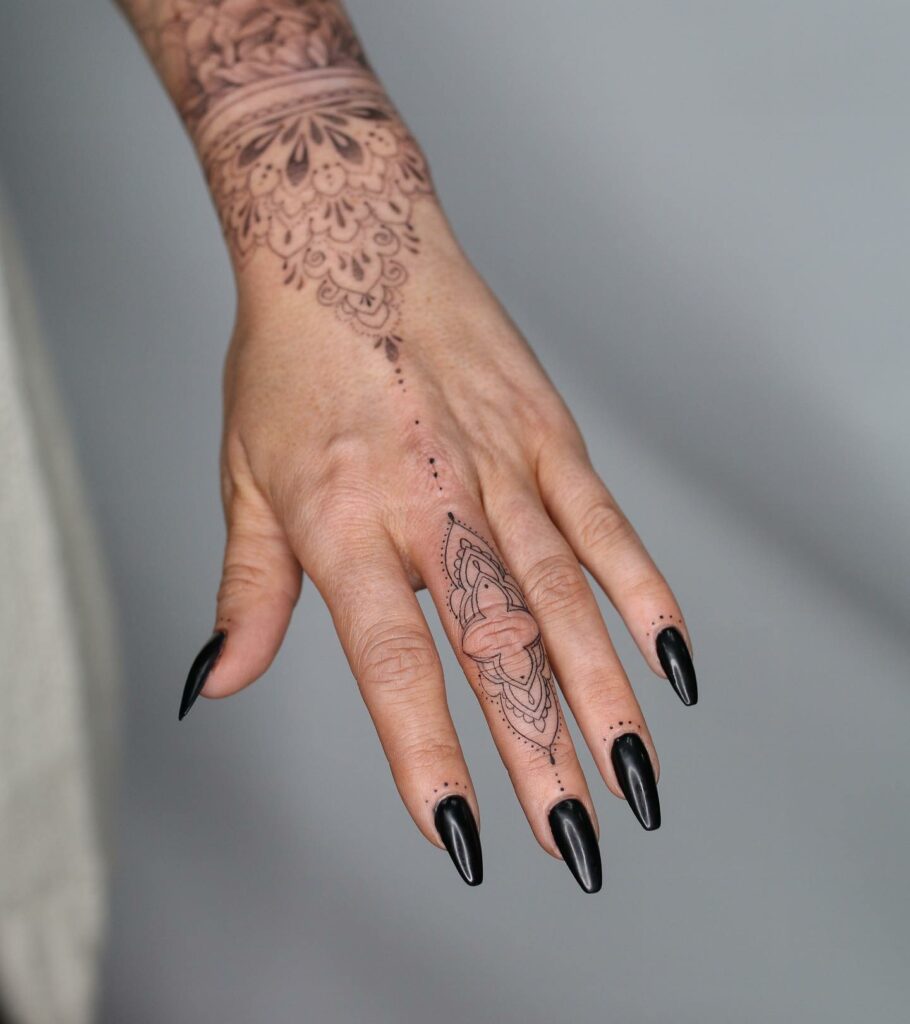 This generic title covers a broad range of possibilities, from intricate patterns to simple logos. What unites these designs is their placement on one of the body's most visible and active areas. As such, a hand design tattoo serves not only as personal decoration but also as a public statement, revealing facets of your identity or beliefs with every gesture.
Women With Snake Hand Design
A tattoo featuring a woman intertwined with a snake could symbolize various themes such as temptation, wisdom, or duality. The design takes on an evocative air, potentially touching on historical or mythical narratives like Eve and the Serpent or Medusa. The hand placement amplifies the complexity and visual appeal, making it a provocative and multi-layered choice.
Multiple Butterfly On Hand
A cluster of butterflies tattooed on the hand can symbolize not just transformation but also abundance and diversity. Each butterfly might stand for a different aspect of life or a unique experience, and together they can indicate a journey filled with various twists and turns. The visual effect is often captivating, offering a burst of color or intricate details right at your fingertips.
Minimalist Mandala Design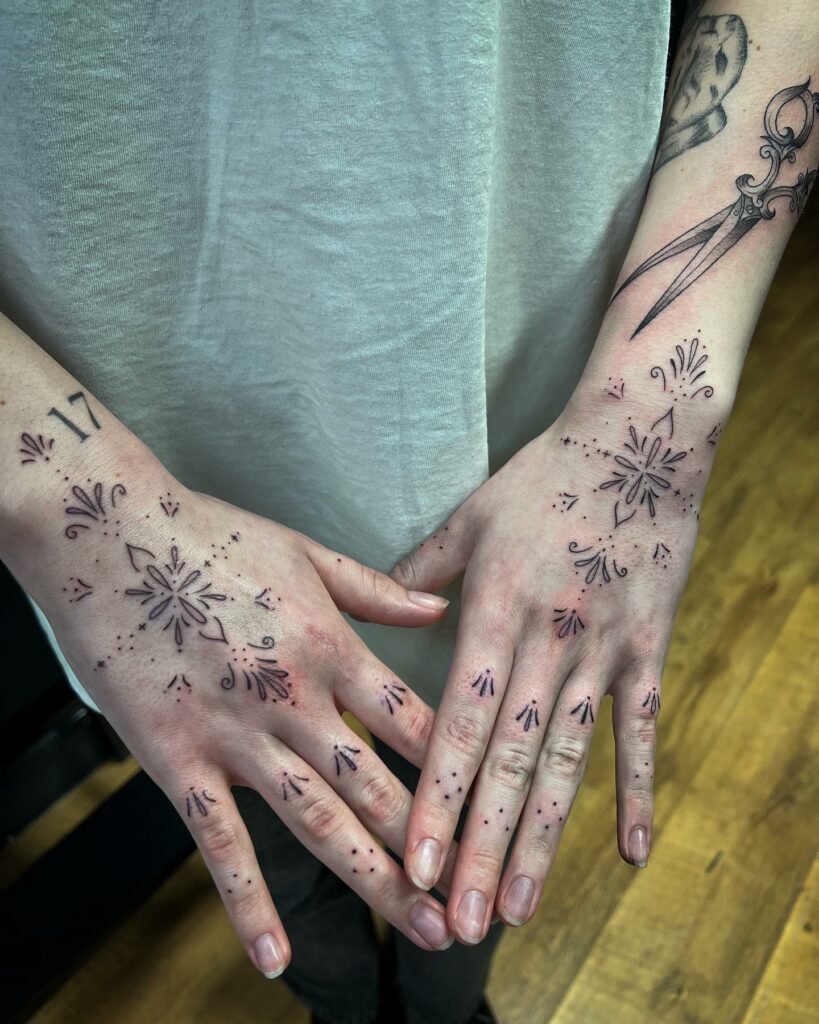 Stripping away the often elaborate details of traditional mandalas, a minimalist mandala tattoo focuses on the essential shapes and lines to offer a cleaner, simpler aesthetic. This approach allows the core spiritual or philosophical meanings to stand out, making the design a subtle yet powerful statement of unity or completeness.
Small Octopus Design On Hand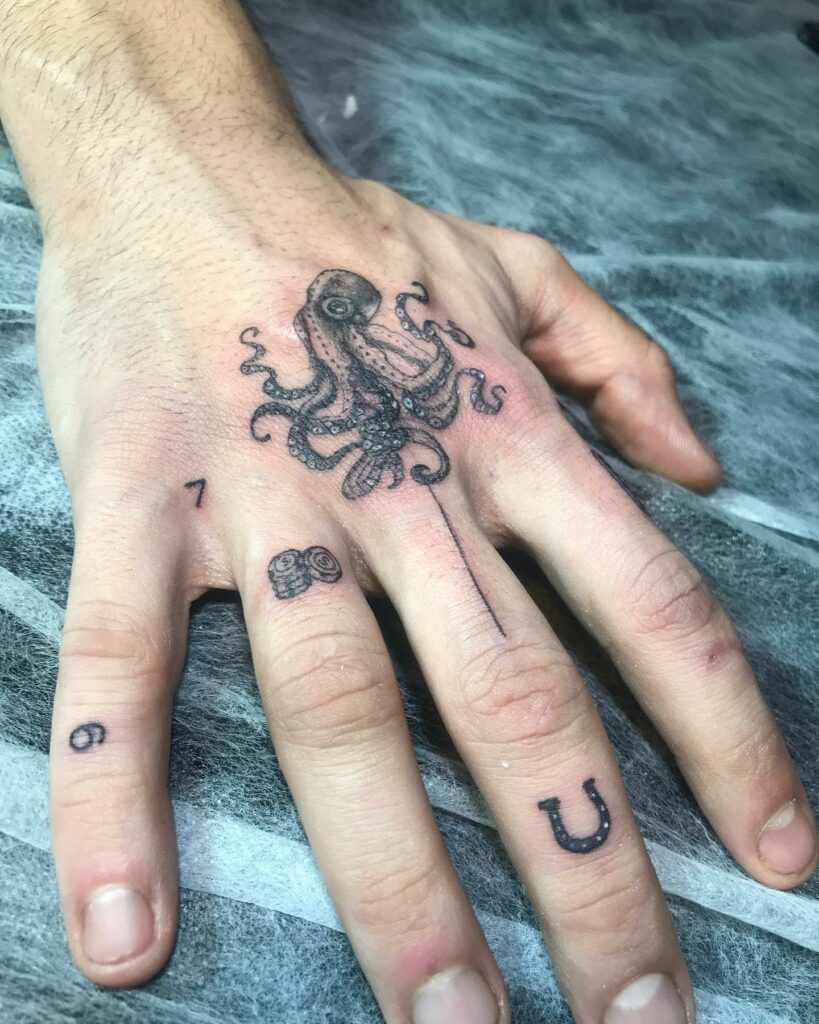 The octopus is a symbol of flexibility, intelligence, and adaptability. A small octopus design on the hand can serve as a discreet yet powerful reminder of these traits, offering both aesthetic appeal and meaningful symbolism. With tentacles potentially extending onto the fingers, the tattoo can be both playful and intricate.
Flower Hand Tattoo
Flowers, in their multitude of forms and meanings, make for versatile and beautiful tattoos. A flower hand tattoo can represent everything from love and beauty to resilience and renewal. Depending on the species chosen, the tattoo could have a specific cultural or personal significance, and its placement on the hand ensures that it remains a visible and vibrant form of expression.
Three Dot Design
Often understated but loaded with possible meanings, the three-dot design can symbolize everything from past, present, and future to the idea of completeness represented by the trio of beginning, middle, and end. Its simplicity makes it versatile, while its placement on the hand gives it an ever-present relevance.
Blessed Word On Hand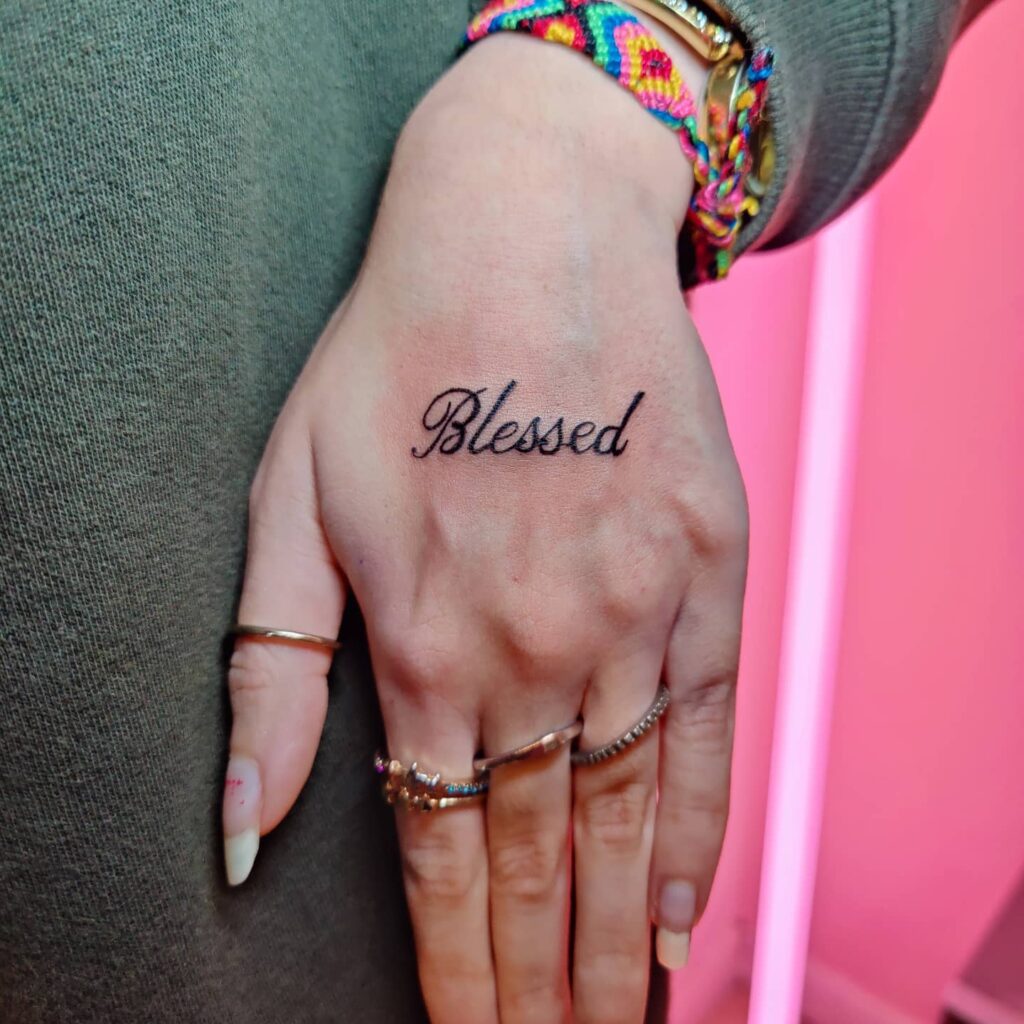 Tattooing the word "Blessed" onto your hand serves as a constant reminder of gratitude and perspective. Each glance can serve to reorient your thoughts toward the positive aspects of life, and perhaps inspire those around you to consider their own blessings. It's a straightforward yet powerful statement that carries emotional and spiritual weight.
Mechanical Hand Design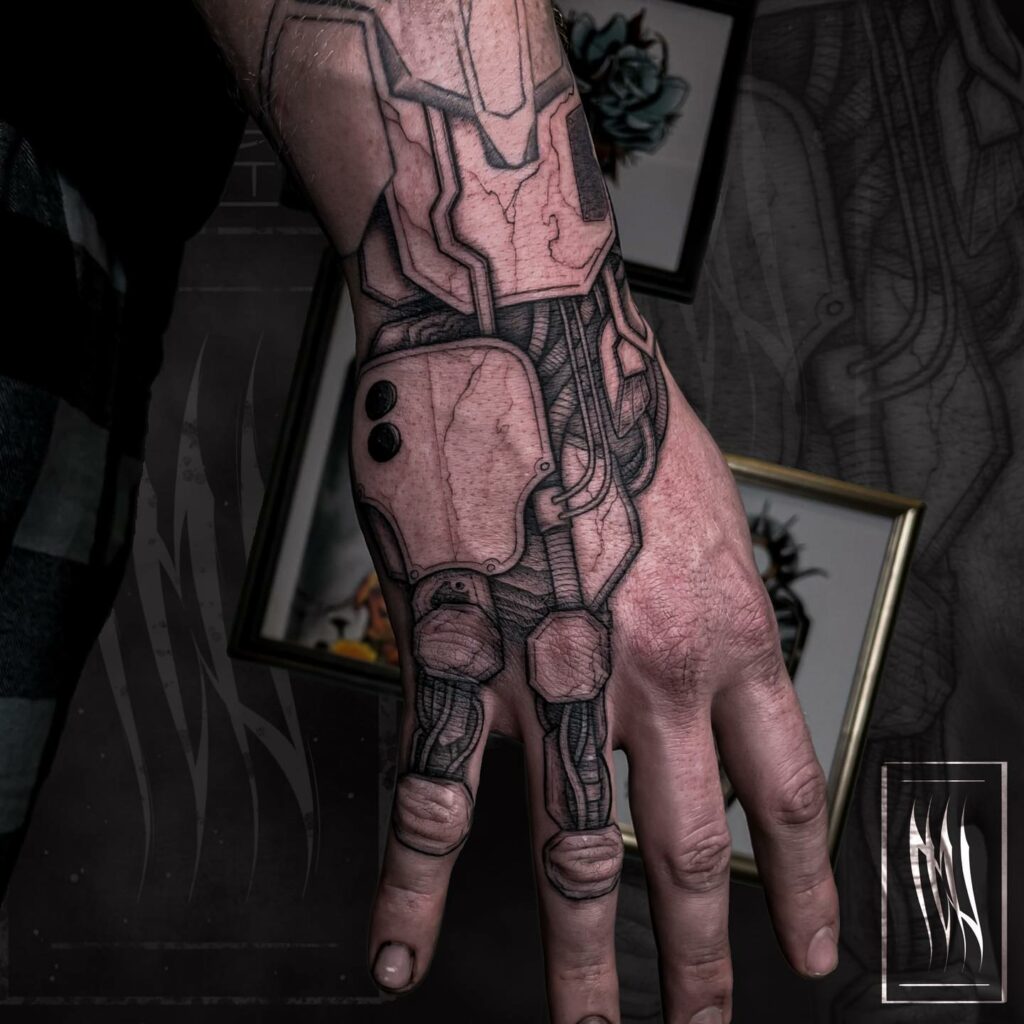 Incorporating elements like gears, wires, and metallic textures, a mechanical hand tattoo transforms the organic into the mechanical, questioning the boundaries between human and machine. This could be a reflection of a fascination with technology, an appreciation for steampunk aesthetics, or a deeper philosophical musing on the nature of humanity in an increasingly automated world.
Rose On Hand Design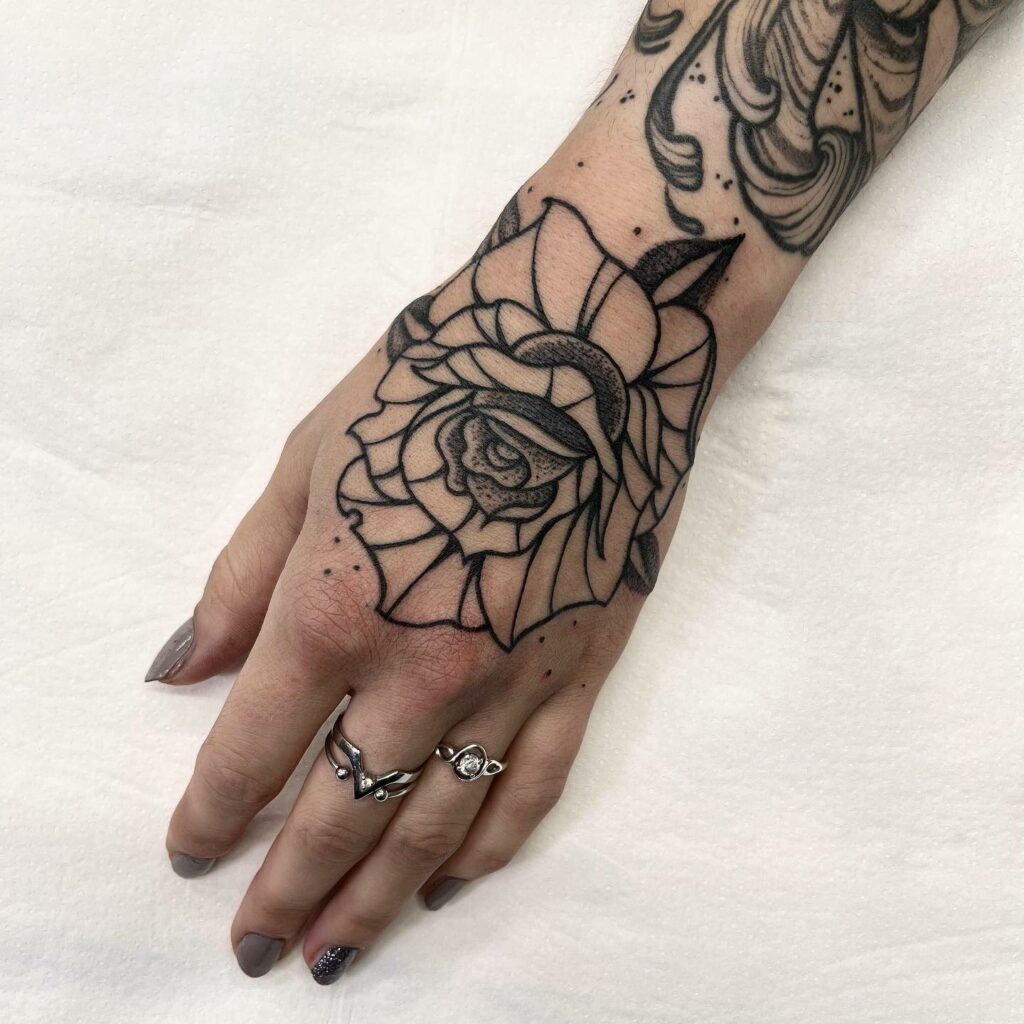 The timeless rose finds a new canvas when placed on the hand. Far from hidden, this design puts a beloved symbol of love, passion, or remembrance right out in the open for all to see. Every gesture becomes a display of whatever the rose means to you, whether that's a specific relationship, an event, or even a personal philosophy. The level of detail can range from hyper-realistic to abstract, making each rose hand design as unique as the individual wearing it.
Small Lotus On Finger
A lotus flower, a symbol often associated with rebirth, enlightenment, and purity, gains a discreet yet potent presence when tattooed on the finger. The small scale makes it an understated statement piece, ideal for those who prefer subtlety in their tattoos. The intimacy of its placement allows for a personal reminder that can easily be concealed or revealed, providing a touch of spiritual or philosophical reflection to daily life.
Minimalist Hand Design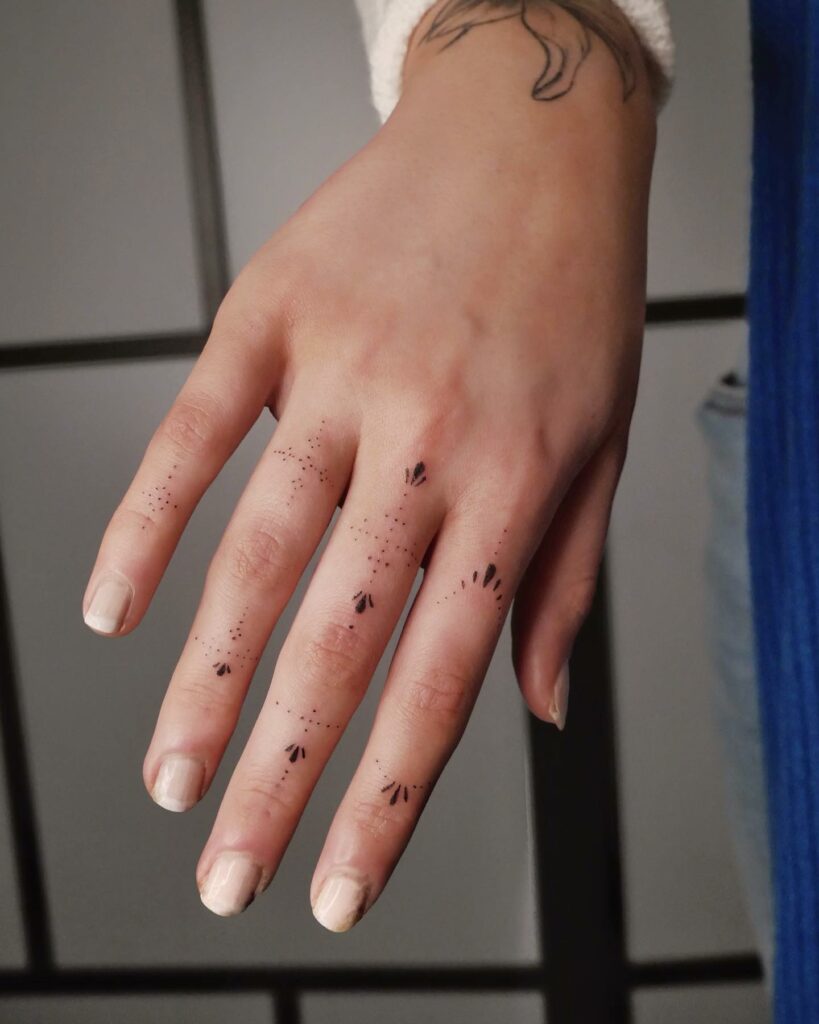 Stripped down to its essence, a minimalist hand design focuses on simplicity and clean lines to make its statement. These tattoos often utilize basic geometric shapes, monochromatic palettes, or pared-down imagery to convey their message. It's a style that speaks to those who appreciate understatement, offering a subtlety that can be both personal and universal. The hand placement adds an element of visibility, making even the simplest design more prominent.
Sword With Spider On Hand Design
Combining the elements of a sword and a spider, this tattoo carries a rich tapestry of symbolism. The sword often stands for courage, battle, or a warrior spirit, while the spider can symbolize creativity, intricacy, or even destiny. Together on the hand, these elements create a complex narrative that can mean different things to different people, from the triumph over fears to the balance between danger and artistry. It's a visually striking combination that leaves a lasting impression.
Initial 'A' On Hand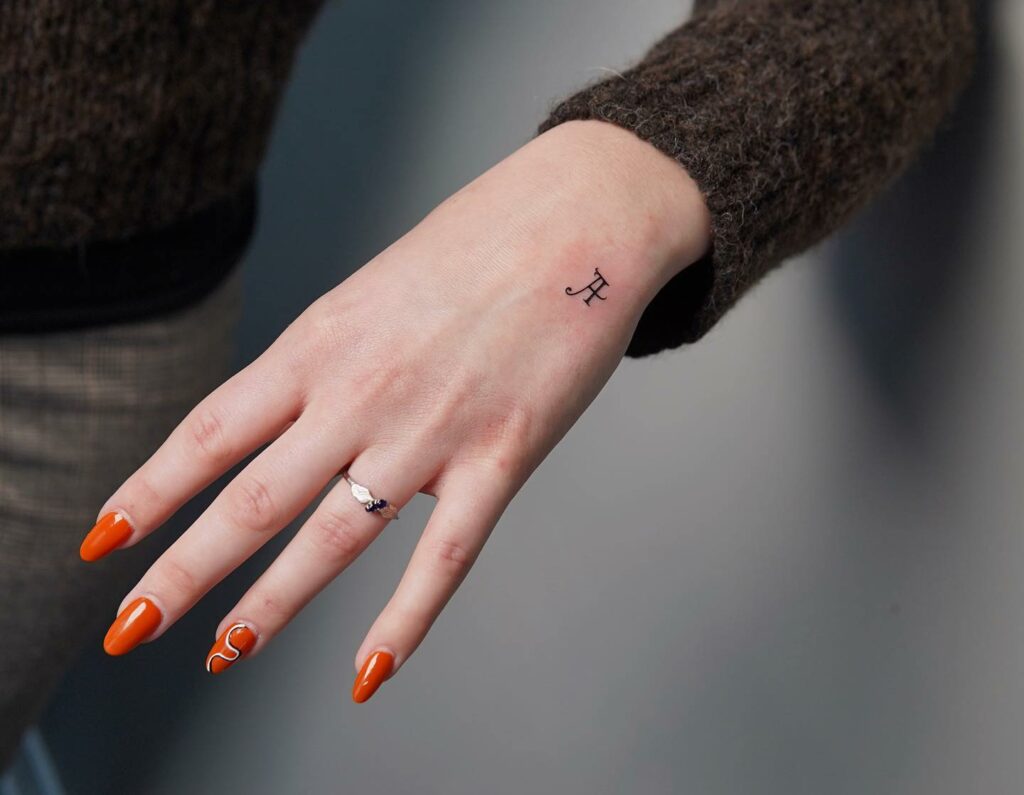 Having the initial 'A' tattooed on your hand could serve various purposes, depending on its significance to you. It could represent a loved one's name, an important date, or even a word that holds particular meaning, like "ambition" or "adventure." Simple in its execution but deep in its personal significance, the tattoo serves as an ever-present reminder that can be both public and intimate. Its placement on the hand adds an extra layer of importance, making it an immediate focal point during interactions.
Considerations Before Getting A Hand Tattoo
If you're considering getting a hand tattoo, there are a few things to keep in mind before taking the plunge. First and foremost, think about the design you want. Hand tattoos are highly visible and will be seen by many people, so you want to make sure it's something you're comfortable with and that has a special meaning to you. Additionally, consider the size and placement of the tattoo. Hand tattoos tend to be small and often placed on the fingers or the back of the hand. Keep in mind that hand tattoos can be harder to cover up and may affect your job prospects, so think carefully about whether you're ready for that level of commitment. Finally, it's important to choose an experienced and reputable tattoo artist to ensure that the tattoo is done safely and looks great. Best of luck with your decision!
What Is The Meaning Of A Pretty Hand Tattoo?
A Pretty Hand Tattoo is essentially a tattoo that's aesthetically pleasing and typically features designs like flowers, butterflies, or intricate patterns. It's a form of self-expression that lets you wear your personality, interests, or even memories right on your skin. While the term "pretty" is subjective, these tattoos usually focus on elements considered visually appealing rather than edgy or intense. They can add a unique flair to your look, make a style statement, or commemorate something special to you.
Conclusion
In conclusion, hand tattoos are a beautiful and unique way to express yourself and showcase your personality. As with any tattoo, it's important to take the time to carefully consider the design, placement, and size before getting inked. With so many options to choose from, from delicate florals to bold geometric designs, the possibilities are endless. Just keep in mind that hand tattoos are highly visible and may affect your job prospects, so make sure you're ready for that level of commitment. Remember to always choose a reputable and experienced tattoo artist to ensure that your tattoo is done safely and looks amazing. We hope this post has given you some inspiration for your next hand tattoo. Happy tattooing!
Feature Image Photo By christopher_north_tattoos on Instagram
Last reviewed and updated on September 28, 2023