Hey, there tattoo lovers! Are you ready to add a touch of elegance and power to your hands? Well, you're in luck because rose hand tattoos are a popular trend among men these days. Not just for women, the rose symbolizes dignity, courage, and strength, making it a perfect choice for the tough guys out there.
These tattoos serve as a reminder that love, like a rose, may come with thorns, but the beauty and strength it brings is worth it. The modern rose hand tattoo design is sophisticated and timeless, giving you a delicate yet manly look. And the best part, you can personalize it by choosing your favorite ink color to show off to your loved ones. So, let's dive into some amazing rose hand tattoo ideas for men.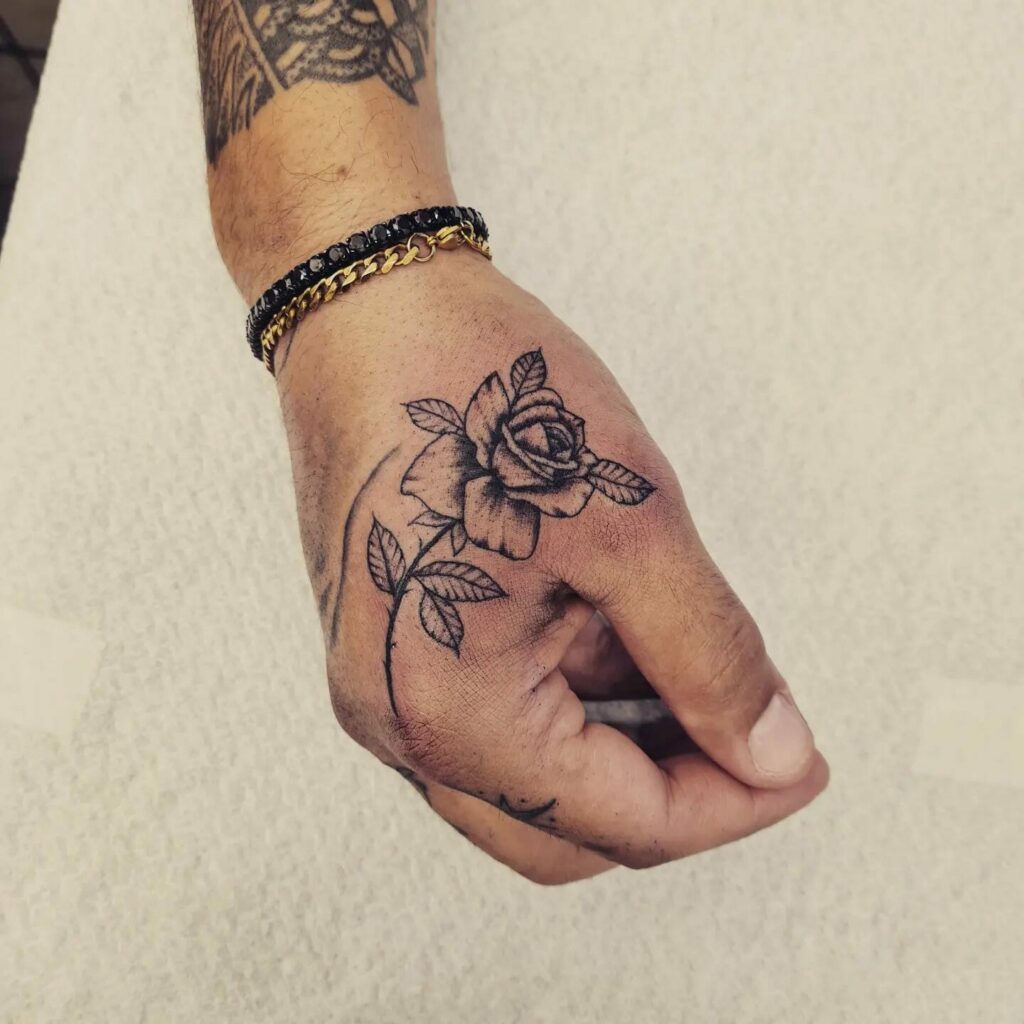 Beautiful Black On Hand Rose Tattoo For Male
Roses are such beautiful flowers that can be represented in many shapes, colors, and meanings, and this unique rose tattoo is no exception. It's no wonder why it's so popular among men, given how powerful and eye-catching it looks. If you're a man who's been searching for a masculine rose tattoo design but is not a fan of yellow roses, then this tattoo is perfect for you.
This medium-sized rose tattoo is shaded in dark black ink, making it a fine work of art by the artist. This tattoo design showcases the creativity and is one of the most unique tattoo ideas out there. If you're wondering whether this tattoo can be done as part of a full-sleeve tattoo, it's always best to ask the tattoo artist. The design features a medium-sized black rose with a long stem that encompasses your fingers, giving you an extra edge of coolness.
Classic Black Rose Hand Tattoo With Leaves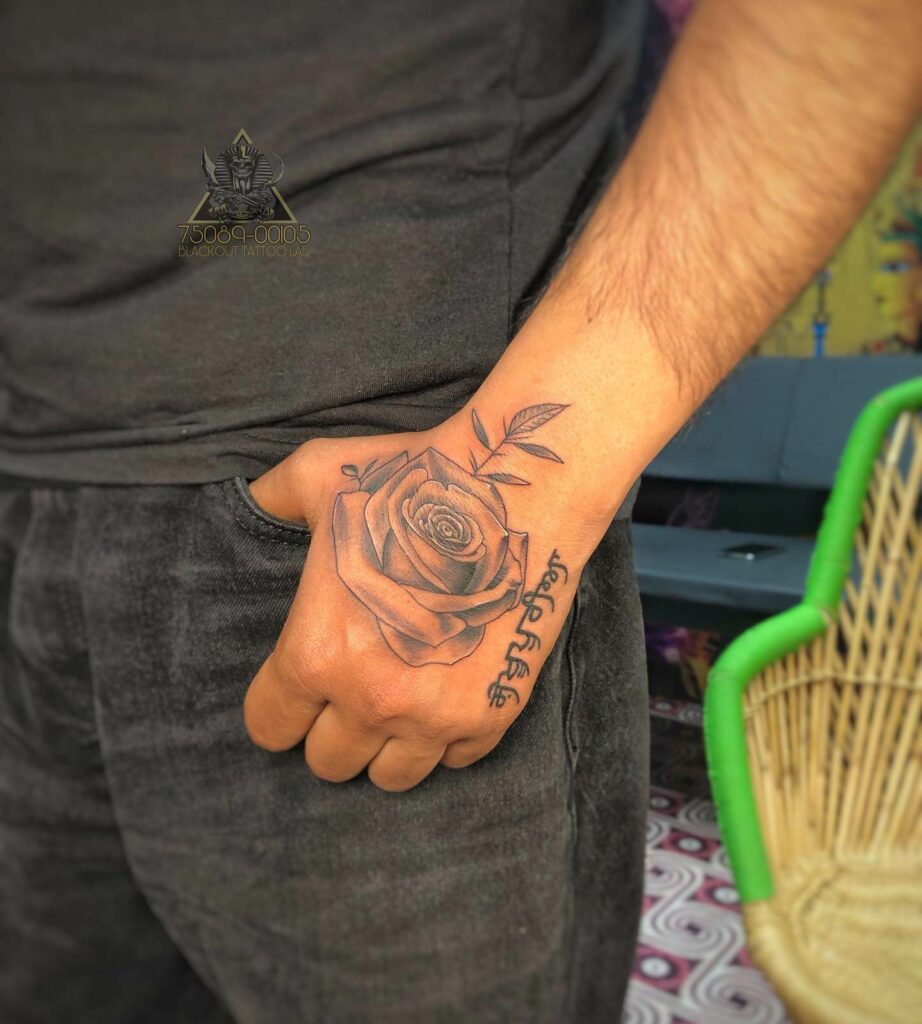 Looking for a rose tattoo design that is both unique and meaningful? Look no further than this classic black rose hand tattoo. The artist uses quality ink and intricate design to create a superb tattoo that is sure to catch the eye. If you prefer a more understated look than a bright yellow or blue rose, this classic black rose design is perfect for you.
This simple yet attractive flower tattoo can be done on your hand, showcasing a medium-sized black rose with multiple leaves that stretch from your wrist to the upper part of your hand. While black rose tattoos are typically associated with loss and death, they do not necessarily have to represent a specific person. Instead, this tattoo can symbolize heartbreak, lost love, and the pain of a broken heart. It's a powerful and meaningful design that is sure to make a statement.
Realistic Black And Gray Rose Outline Tattoo For Men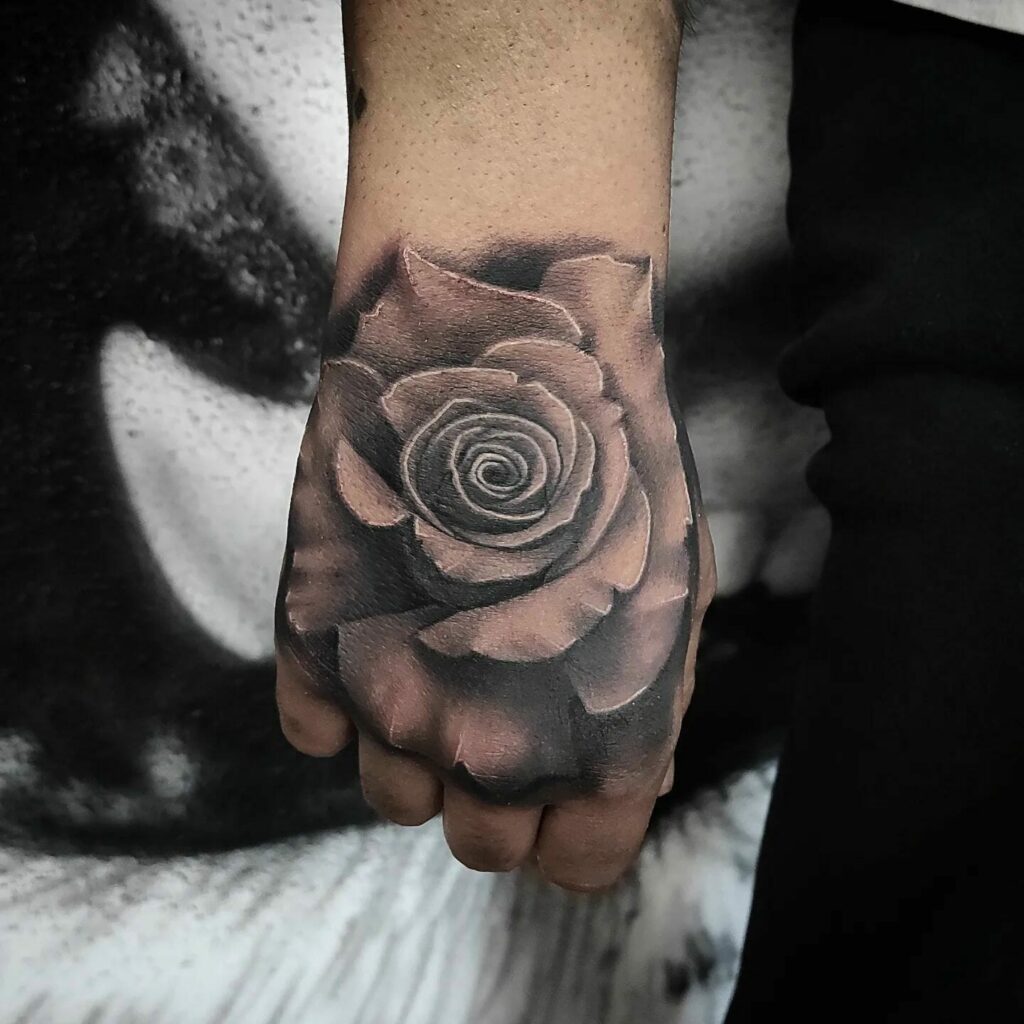 Looking for an attractive and bold traditional rose tattoo for your hand? This black and grey rose tattoo is a popular choice among men and is just as eye-catching as a vibrant red or blue rose design. This tattoo is perfect for those who want to showcase their strength and courage while also displaying their sense of style.
The design of this tattoo is simple yet powerful, featuring a large rose that can span across your fingers, the back of your hand, and some of your wrist. The black and grey coloring gives the tattoo a classic and timeless feel. Roses are often associated with beauty and love, but this tattoo also represents strength and power, making it a versatile choice for those looking to make a statement with their body art.
Inked Up Big Rose Hand Tattoo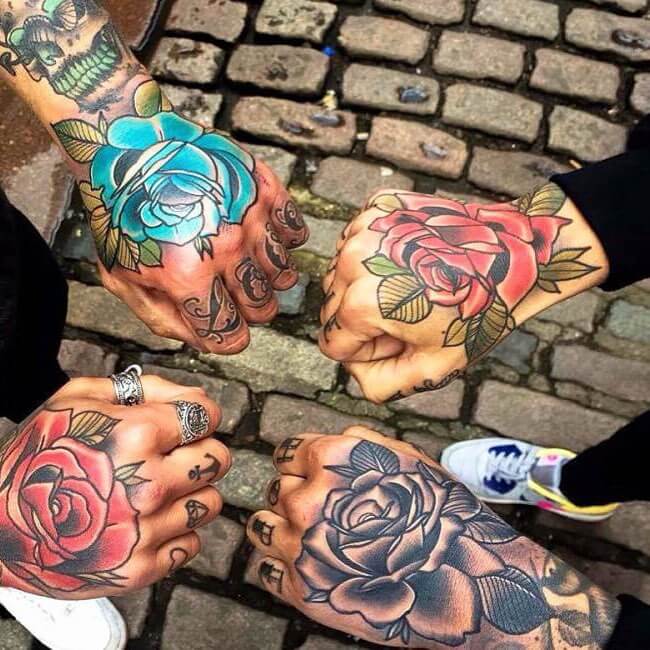 The rose is an influential symbol and men are now accepting it as a popular tattoo design. If you're searching for a bright and eye-catching rose tattoo that makes a strong impression, this tattoo is worth considering. Its overall appearance conveys a message of eternal love for your partner.
Red rose tattoos have been adorned by various generations, from sailors sailing on seas to soldiers having their last breath on the war fields. However, different from the classic red-colored rose tattoo and rose vine tattoo, this tattoo design will also leave a powerful impression. Its vibrant and colorful look, created with the use of quality ink, will make the tattoo stand out and become a symbol of your eternal love.
Beautiful Embossed Black Rose Hand Tattoo
If you're on the lookout for a rose hand tattoo that's both creative and finely detailed, then this tattoo design could be perfect for you. This embossed type black rose tattoo features small and medium-sized leaves throughout the design, making it an excellent choice for men who appreciate traditional rose tattoos. The intricate design spans your hand and even some parts of your fingers, which makes it all the more eye-catching. The dark ink used in the tattoo gives it a powerful impression, while the simplistic look and creative design of both the flower and leaves make it stand out among other tattoo ideas.
Traditional Big Black Rose Hand Tattoo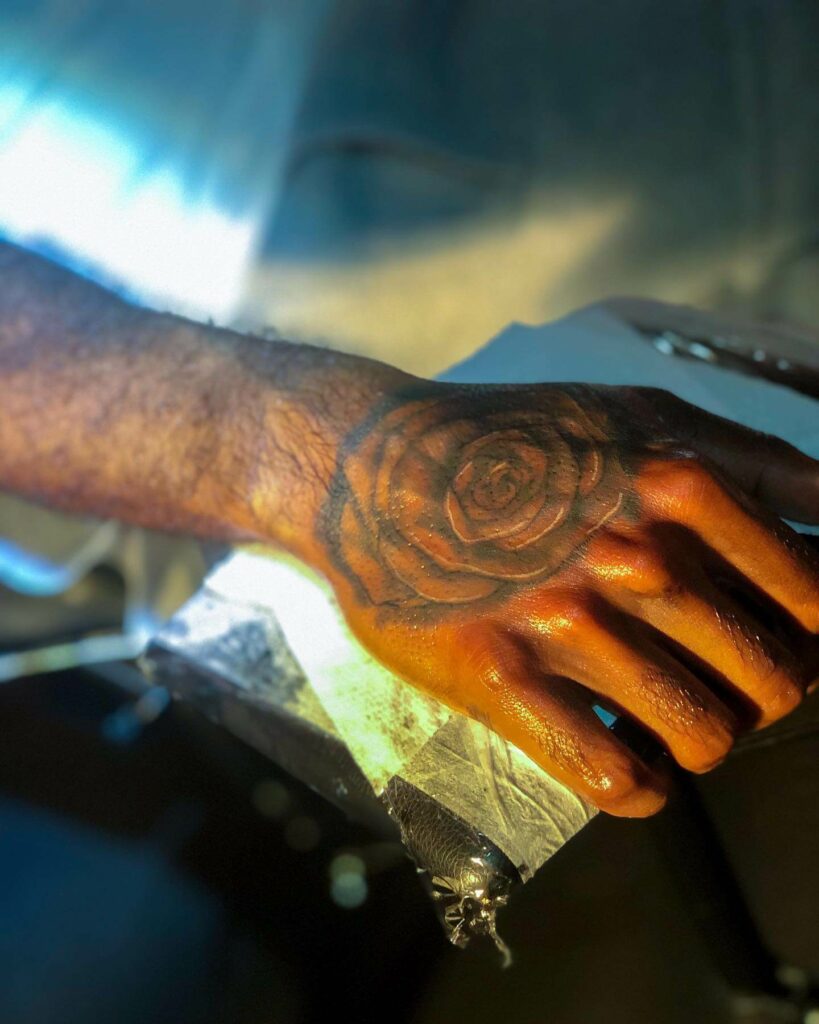 This traditional black rose tattoo design is a great option if you want a classic and timeless look that showcases the artist's fine attention to detail. Unlike some other over-the-top designs, this one is simple yet bold and can be an excellent choice if you are looking for a subtle yet powerful tattoo. With a medium size, this rose tattoo is also quite affordable, making it an excellent option for those who want a cost-effective yet attractive tattoo. If you prefer a more manly and bold look, then this black rose tattoo is perfect for you. It can also be incorporated into a full sleeve tattoo, but it's always a good idea to check with your tattoo artist first.
Dynamic Black And Grey Rose Hand Tattoo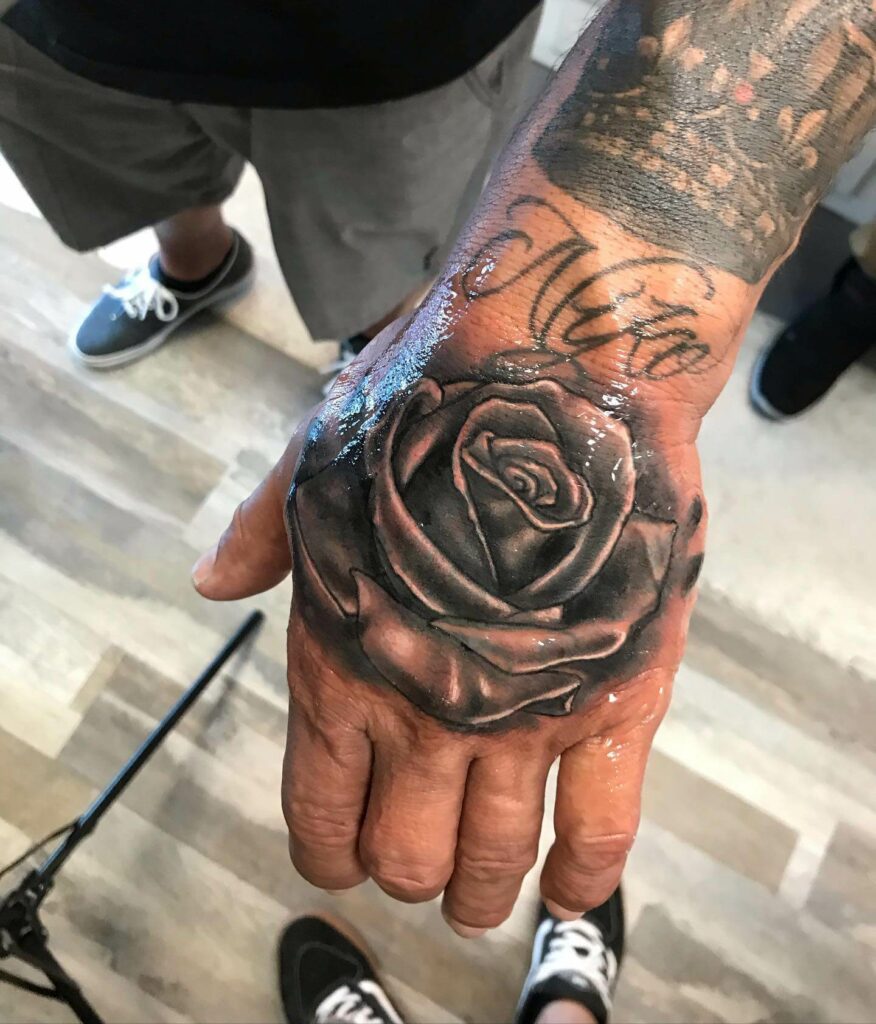 If you are looking for a tattoo that reflects passion and courage, then a red rose tattoo might be the perfect choice for you. The dark ink used to create this tattoo's bold and bright appearance, combined with the dynamic black and grey colors, make for a striking and visually appealing design. It's a popular choice for men of all ages who want to show off their masculine side.
The size of this tattoo is typically larger, covering the entire hand or even extending to a sleeve tattoo. Its bold design and bright colors make a statement, representing love, courage, and power. It's a classic and timeless design that has been popular for generations and will continue to be a beloved tattoo for many years to come.
Realistic Big Black And Grey Rose Hand Tattoo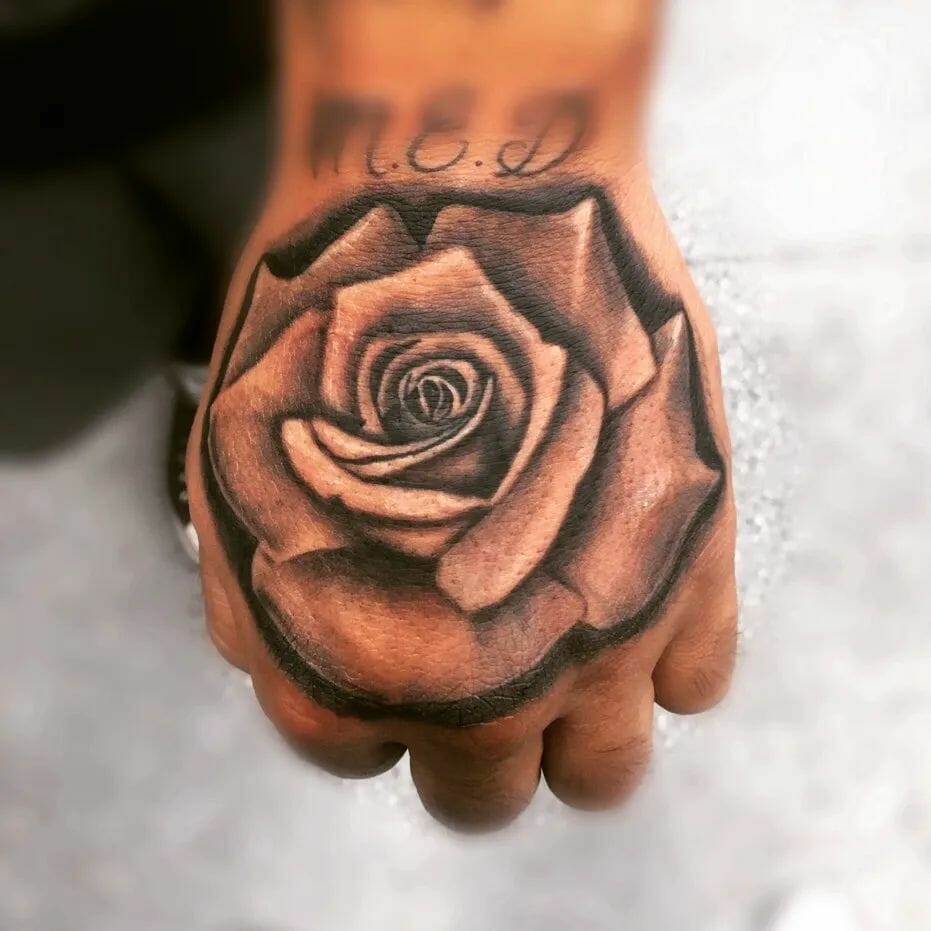 re you looking for a tattoo that is perfect for a special occasion or a romantic date? Then you should consider a realistic black and grey rose tattoo. Unlike the usual white rose tattoo designs, this tattoo is a bold choice for anyone looking to make a statement.
One of the most striking aspects of this tattoo design is the intricate and subtle detailing of the rosebud and petals. It's a realistic and artistic interpretation that captures the beauty of a rose. If you want a tattoo that is both bold and elegant, this design could be the perfect fit for you.
Beautiful Full Color Big Rose Hand Tattoo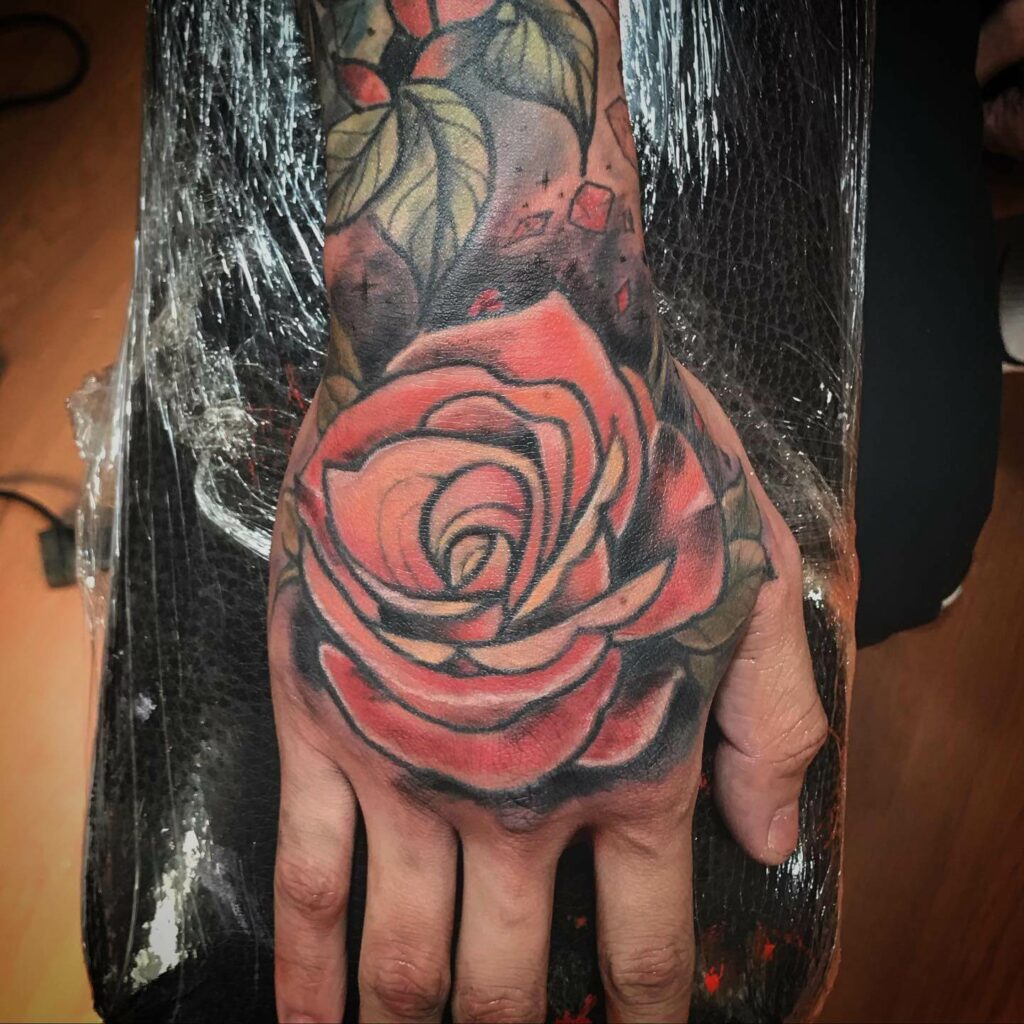 s a tattoo expert, I can tell you that vibrant colors make any tattoo design pop. Take this rose tattoo for example, its buds and petals are intricately designed with bright red and cream colors, creating a bold and lively look. This tattoo design stands out from the rest of the white rose, vine or rose vine tattoos which may appear dull and lifeless. To complement the rose, the leaves are designed in a vibrant green color, with some smaller leaves accented in red. This full-colored big rose hand tattoo is the perfect choice for anyone looking for a bold and dynamic tattoo design.
Beautiful Rose Hand Tattoo With Leaves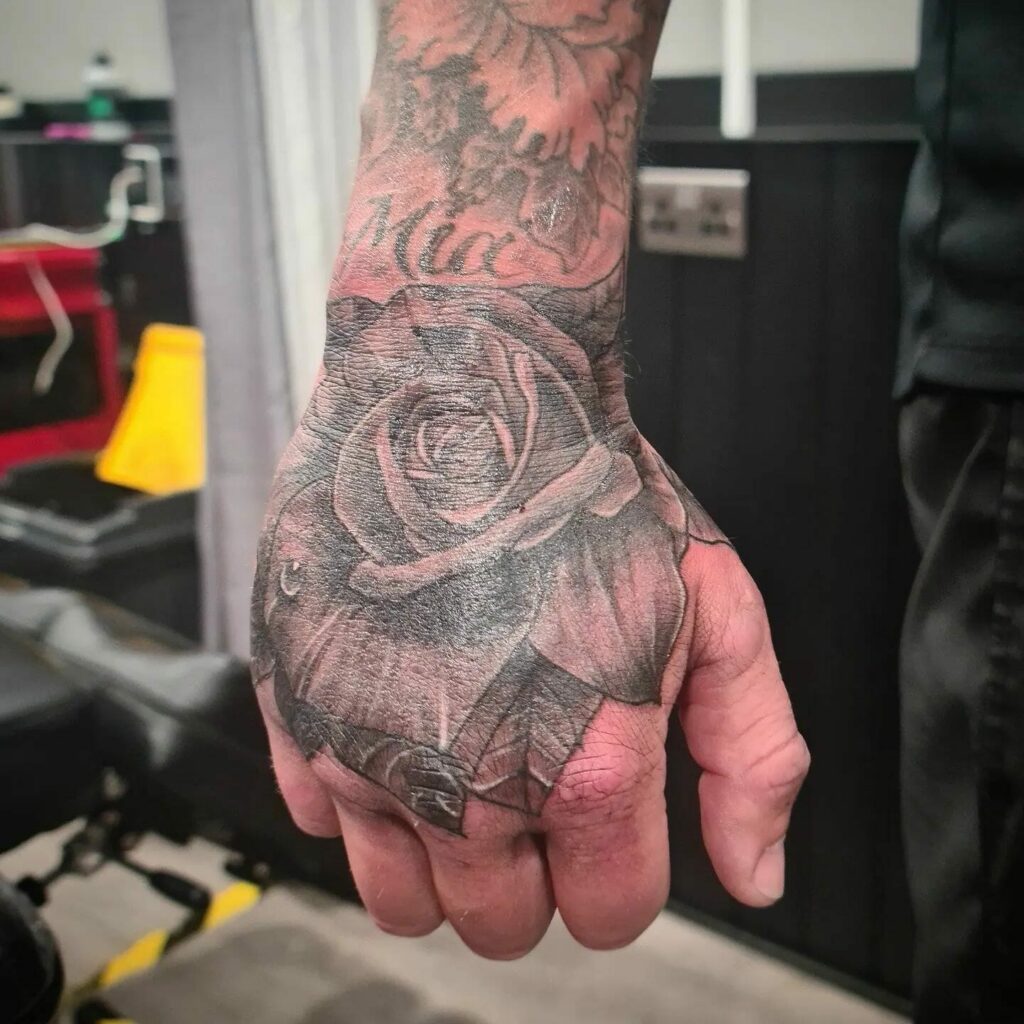 If you're searching for a creative rose tattoo for your hand, then this one is absolutely awesome! The tattoo artist paid a lot of attention to detail and worked hard to create this delicate and elegant design. Unlike other complex thorn tattoos, this one has an elegant look, making it perfect for anyone who wants a rose on their hand.
This tattoo design spans a large part of your hand, with some petals and leaves extending up to your fingers. The black rosebud is meticulously designed, creating a realistic look. Whether you're male or female, rose tattoos are a great choice for anyone interested in body art.
Rose tattoos can convey a range of meanings and symbolize different themes like good versus evil, making them a great choice for those who want to express themselves through ink. No matter which design you choose, it's certain to make a powerful impression on others. Rose hand tattoos for men are an excellent choice whether you're a seasoned collector or looking for your first piece. Plus, they not only calm the mood of the person who got the tattoo but also improve the surrounding vibes!
Feature Image from Pinterest – Want your tattoo to look brighter? Try "Tattoo Balm"