Hey there, fellow horror movie and tattoo enthusiasts! If you're a fan of the iconic 'Scream' movie franchise, you're in for a treat! We've compiled a list of the best 'Scream' tattoo designs that you won't want to miss.
For those who may not be familiar, 'Scream' is a classic American horror movie franchise known for its thrilling jump-scares and unique storyline. The main villain of the series is a character called Ghostface, who terrorizes their victims using a scary knife and a creepy phone call.
The original 'Scream' movie was a huge success and has spawned five sequels, each with its own set of memorable characters. Some of the most notable actors who have starred in the movies include Neve Campbell, Courteney Cox, and David Arquette.
If you're a die-hard fan of the 'Scream' movies and want to show your love in a fun and unique way, then getting a 'Scream' tattoo might be the perfect tribute for you. These tattoos are sure to turn heads and spark conversations with other horror movie enthusiasts!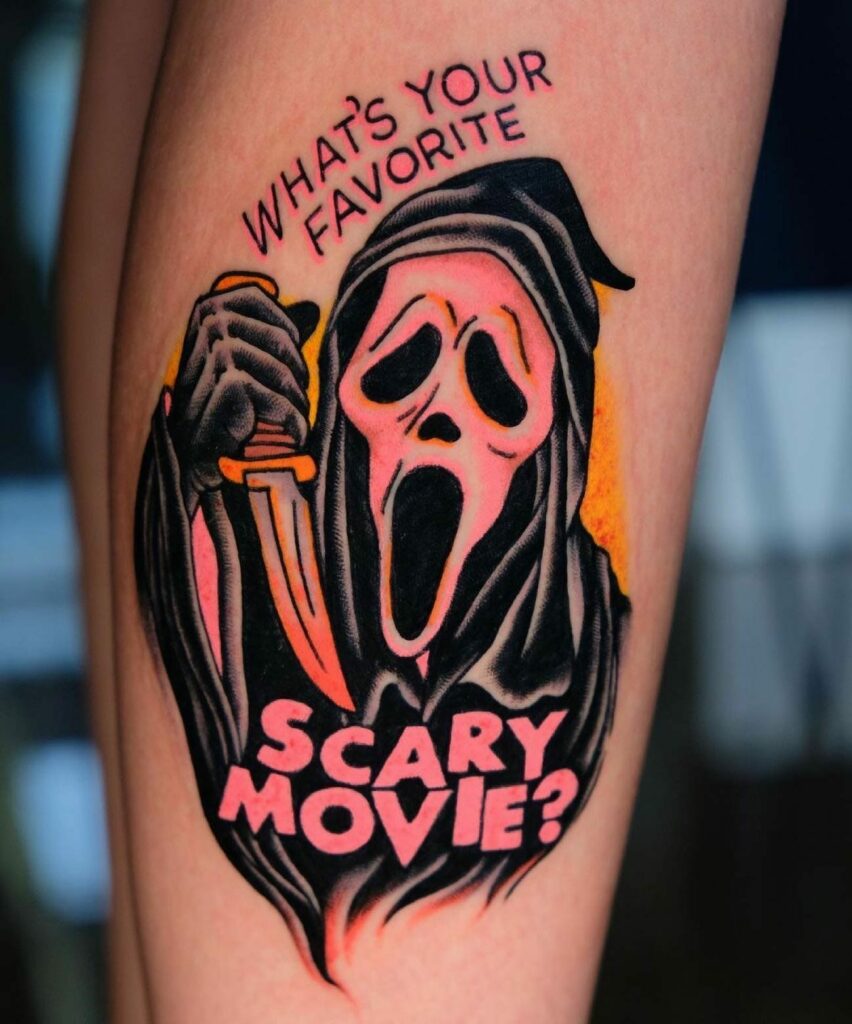 Minimal Tattoo Designs Based On The Movie 'Scream'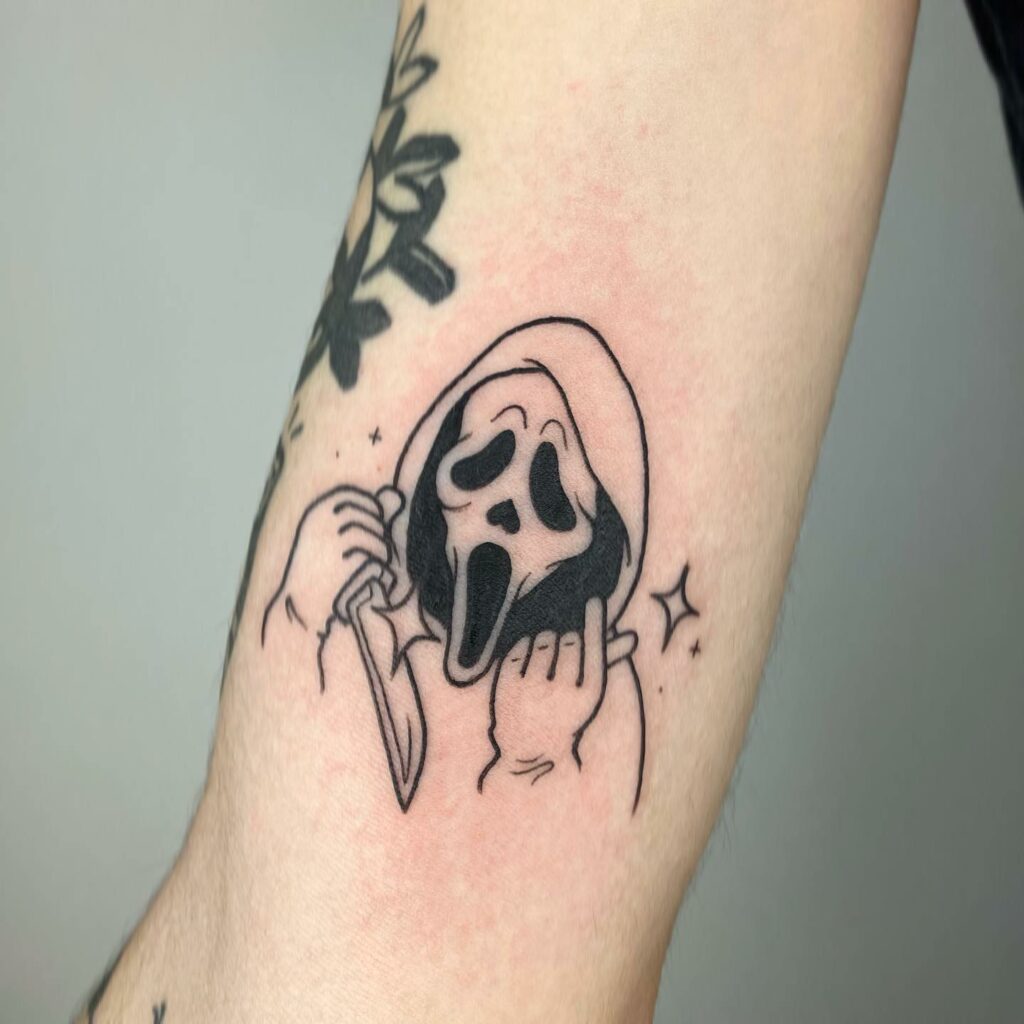 If you're looking for something subtle and straightforward, you might be interested in a simple and minimalistic tattoo. Many people prefer smaller tattoos as they require less time and are more cost-effective as they use less ink. If you're searching for some ideas on minimalist 'Scream' tattoos, take a look at the picture above and show it to your tattoo artist for inspiration.
If you're interested in other spooky tattoo ideas, check out our handpicked list of the best horror tattoo designs for more inspiration!
Hilarious Scream Tattoo Ideas For Fans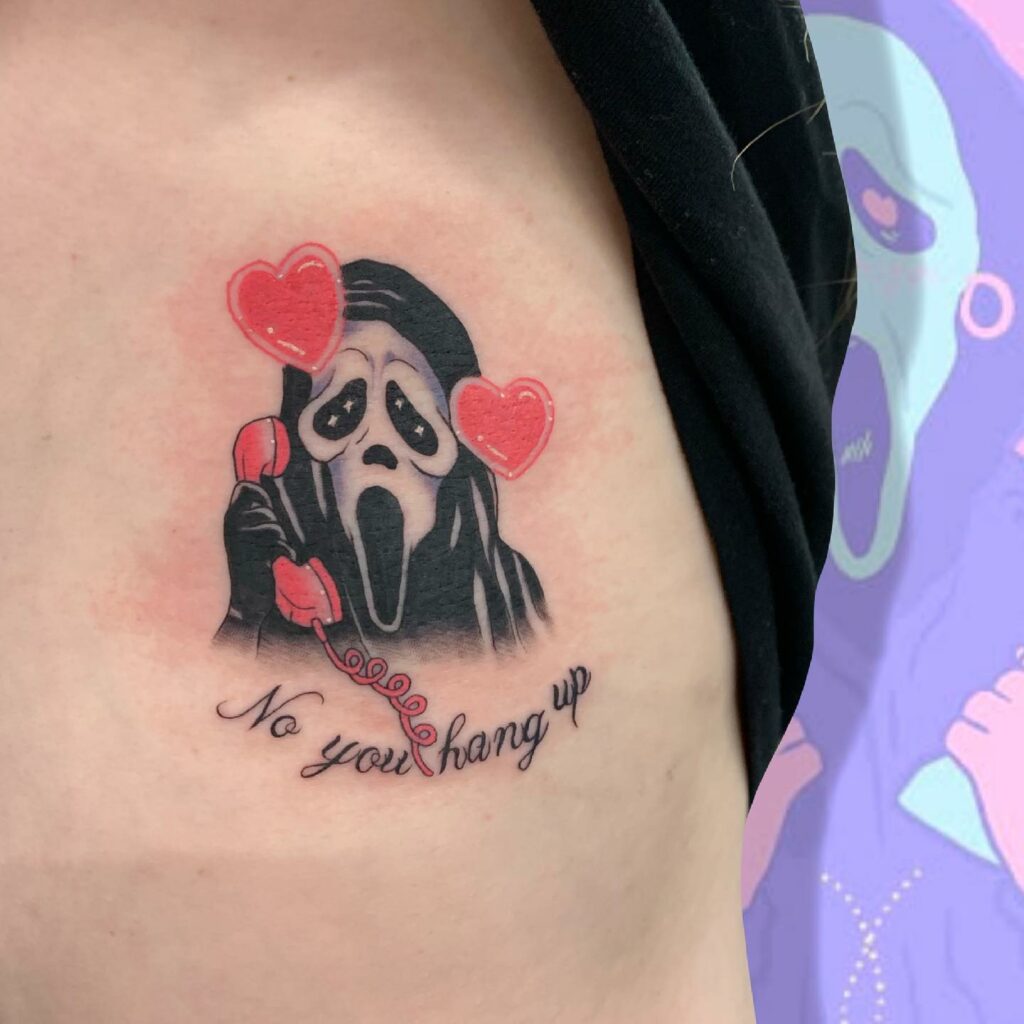 The Scream movie franchise has become popular for its balanced mix of fear and humor, and if you're someone who appreciates the latter, then you might want to consider getting a funny Scream tattoo. In this tattoo, the wearer has taken a cute approach to the notorious Ghostface, adding hearts and the phrase "No you hang up" to poke fun at the character's calling habits before attacking. There are many ways to incorporate humor into a Scream tattoo, and your tattoo artist can help you come up with something that fits your personality. So, whether you're a horror fan or just looking for a good laugh, a funny Scream tattoo could be a great option for you.
Colorful And Funny 'Scream' Tattoo Ideas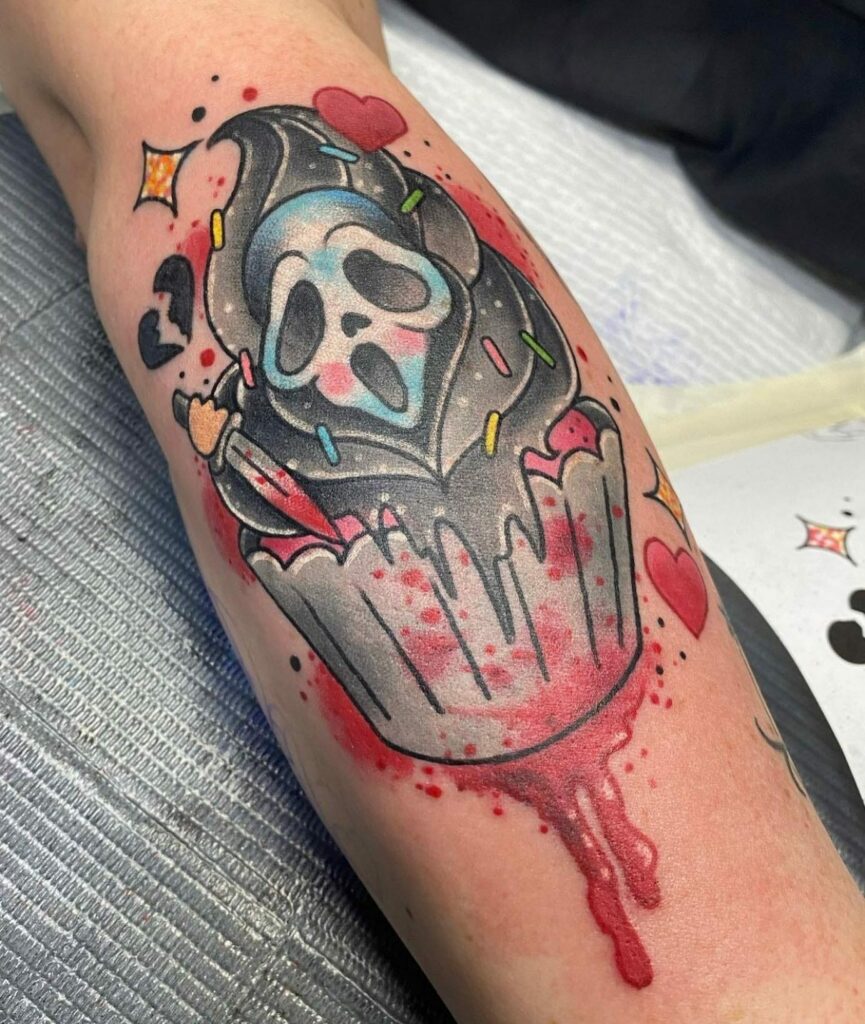 When it comes to horror-themed tattoos, many people assume that they need to be dark and moody. But with 'Scream' tattoos, this is definitely not the case! If you're someone who loves bold and bright colors, then you can incorporate those into your 'Scream' tattoo to make it more eye-catching and unique. As seen in the photo above, the wearer has even gone as far as transforming Ghostface into a cupcake, and the artist has added plenty of colors to bring the design to life. With a colorful 'Scream' tattoo, you can showcase your love for the movies in a fun and unconventional way that's sure to turn heads!
Ghostface Tattoo Design Done In The Traditional Style
If you're looking for some Ghostface tattoo inspiration, you'll find that many of the designs out there are created in the classic traditional style. This style is known for its bold, dark outlines and its unique way of portraying figures. If you're interested in a 'Scream' tattoo with that traditional flair, just chat with your tattoo artist, and they can create a design that fits your preferences. With a traditional-style 'Scream' tattoo, you'll be sure to have a timeless piece of art that will catch everyone's eye!
Knife Tattoo Ideas Inspired From The 'Scream' Movie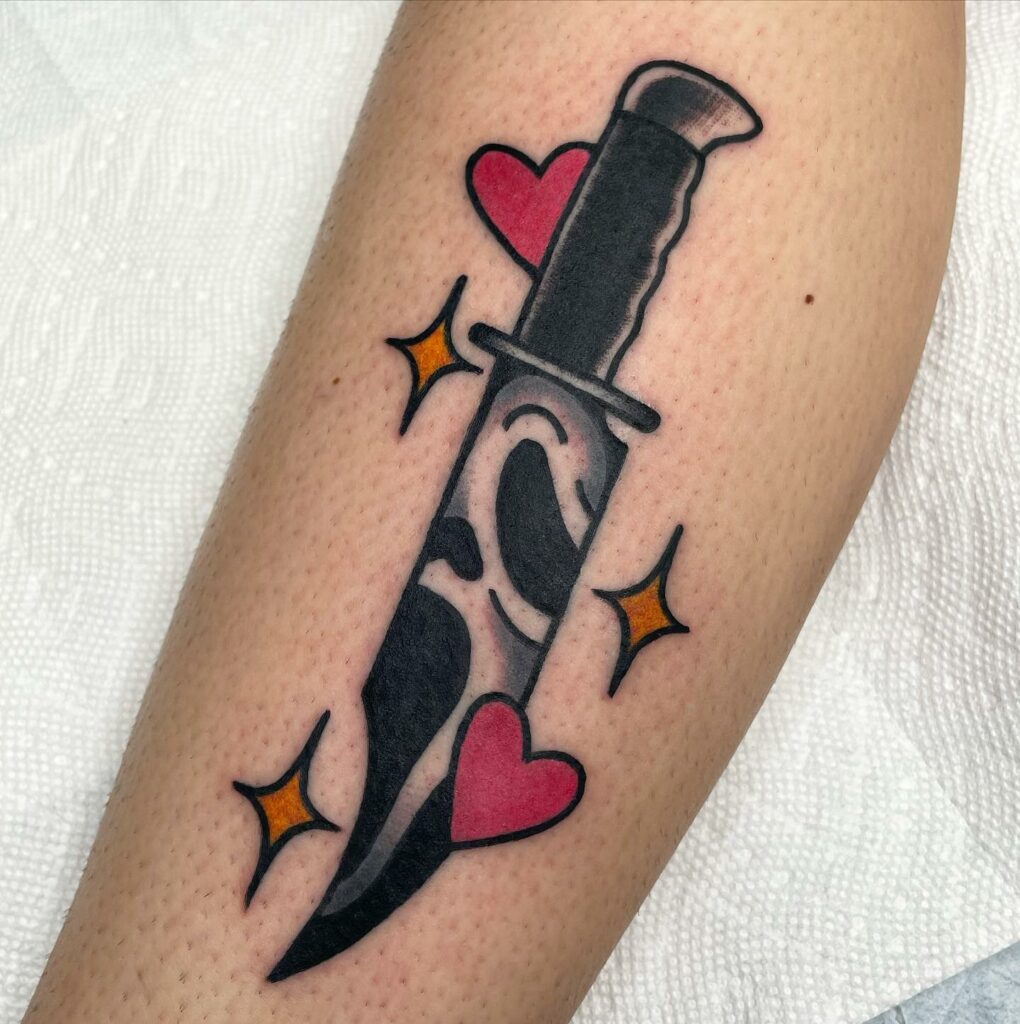 When it comes to slasher movies, gore and blood are some of the defining characteristics that fans remember the most. In the 'Scream' movies, the protagonist and her friends are constantly being pursued by the terrifying Ghostface, whose weapon of choice is a jagged knife. If you're a true fan of the franchise, you can pay homage to it with a 'Scream' knife tattoo. While most fans opt for a Ghostface tattoo, getting a knife tattoo will set you apart and show off your love for the movies in a unique way. To make it even more authentic, ask your tattoo artist to add some bright red droplets around or beside the knife to represent the blood of Ghostface's victims. This tattoo will definitely catch people's attention and make them curious about your fascination with the horror genre.
Simple Ghostface Tattoo Designs For Fans
If you're thinking about getting your first tattoo, it might be a good idea to start with something small and simple. That way, you can get an idea of how your body reacts to the tattooing process and how much pain you can handle. You can also avoid spending too much time in the chair. If you're a fan of 'Scream' and want a minimal tattoo to show your love for the franchise, there are many options available. You can find inspiration online or ask your tattoo artist to create a simple 'Scream' tattoo design that suits your preferences. With a minimal 'Scream' tattoo, you can still show off your fandom without going too overboard.
Heavily Shaded Ghostface Tattoo Ideas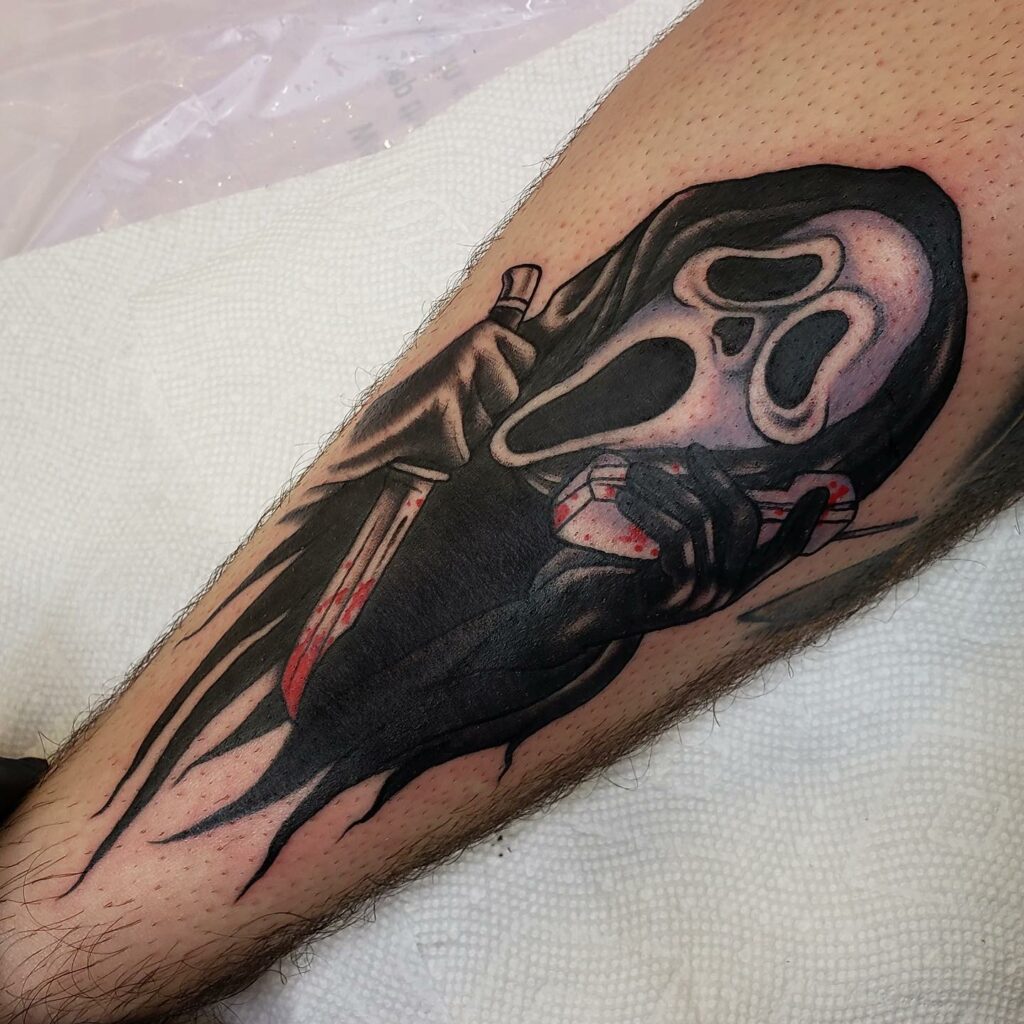 If you're looking for a tattoo that is more intense and has a darker tone, you might consider a Ghostface tattoo from the 'Scream' movie series. Ghostface has become an iconic character in the horror genre and has inspired a lot of artwork and tattoos all over the world. If you want to capture the terror of Ghostface, you could work with your tattoo artist to create a detailed design that uses black and gray ink to create a heavily shaded effect. This approach will give the tattoo a more realistic look, and can make the image of Ghostface even more chilling.
'Scream' Tattoos That Can Be Placed Anywhere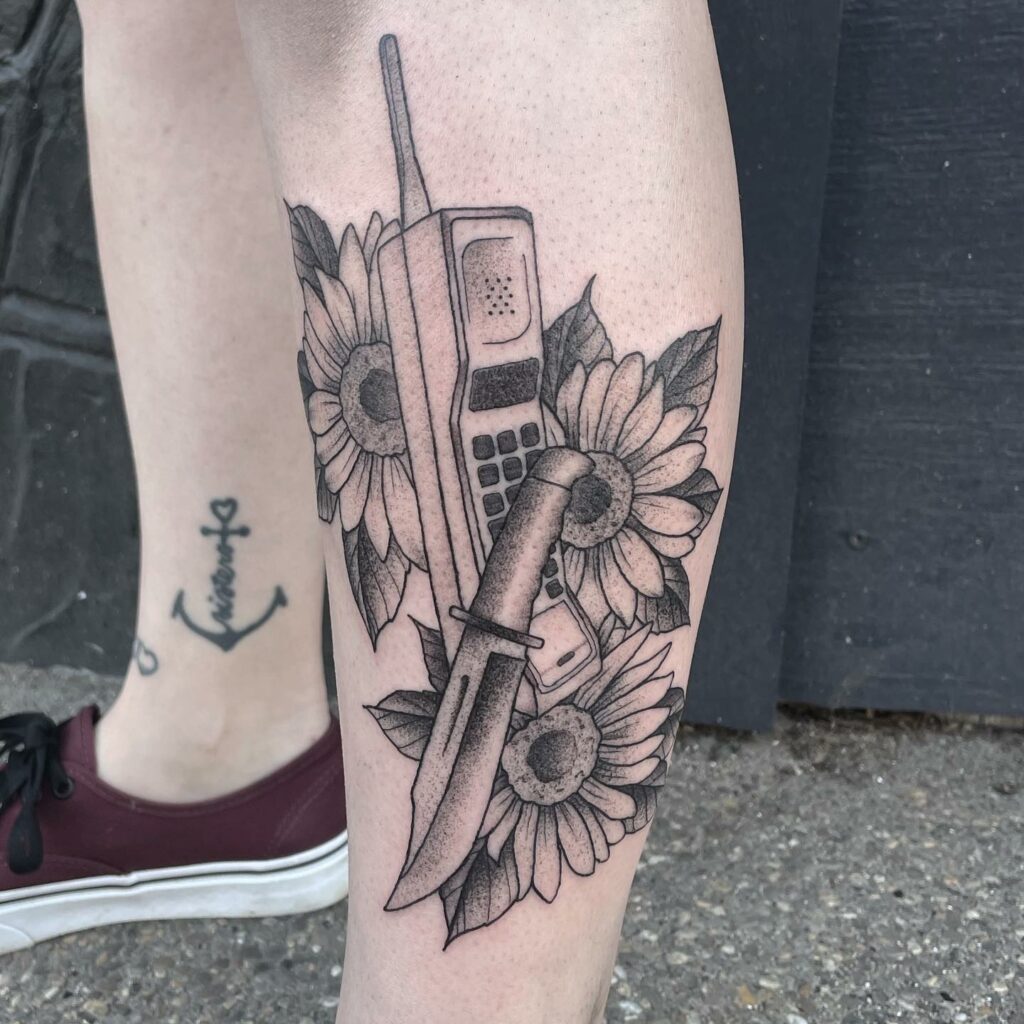 One of the best things about getting a 'Scream' tattoo is that you have the freedom to choose where to place it on your body. Unlike some other tattoo designs that can be difficult to place due to their size or shape, you can ask your tattoo artist to create a 'Scream' tattoo design that will fit anywhere on your body. This means that you can place it on your back, ankle, thigh, shoulder, or even on the top of your hand. With so many options available, you can choose a placement that best suits your style and personality. Just talk to your tattoo artist about your preferences and they'll help you create a design that's perfect for you.
Unconventional Sidney Prescott Tattoos From The 'Scream' Movies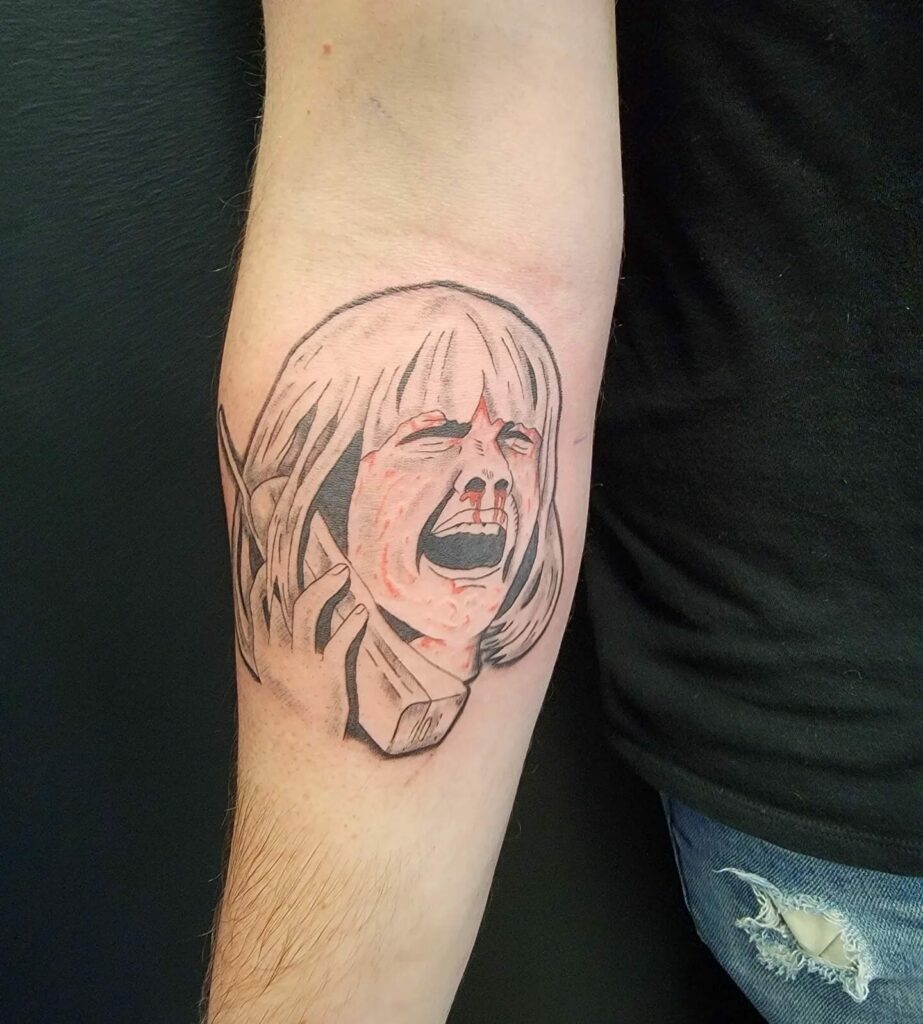 If you're looking for a more unconventional choice, why not choose Sidney Prescott as your tattoo inspiration? Sidney is the fierce and determined protagonist of the 'Scream' movies, played by actress Neve Campbell. Her character has evolved throughout the series, from a scared teenager to a strong woman who can protect herself from Ghostface's attacks.
One fan has even chosen to immortalize Sidney in their tattoo, with a portrait of her talking on the phone during one of her many tense moments in the movies. Getting a Sidney Prescott tattoo is a great way to honor one of the most beloved horror movie characters of all time. The best part is that you can get it in any size and place it anywhere on your body. Whether you want a bold statement piece or a subtle homage to the films, a Sidney Prescott tattoo can be tailored to your preferences.
Popular Ghostface Tattoos With The Heart Motif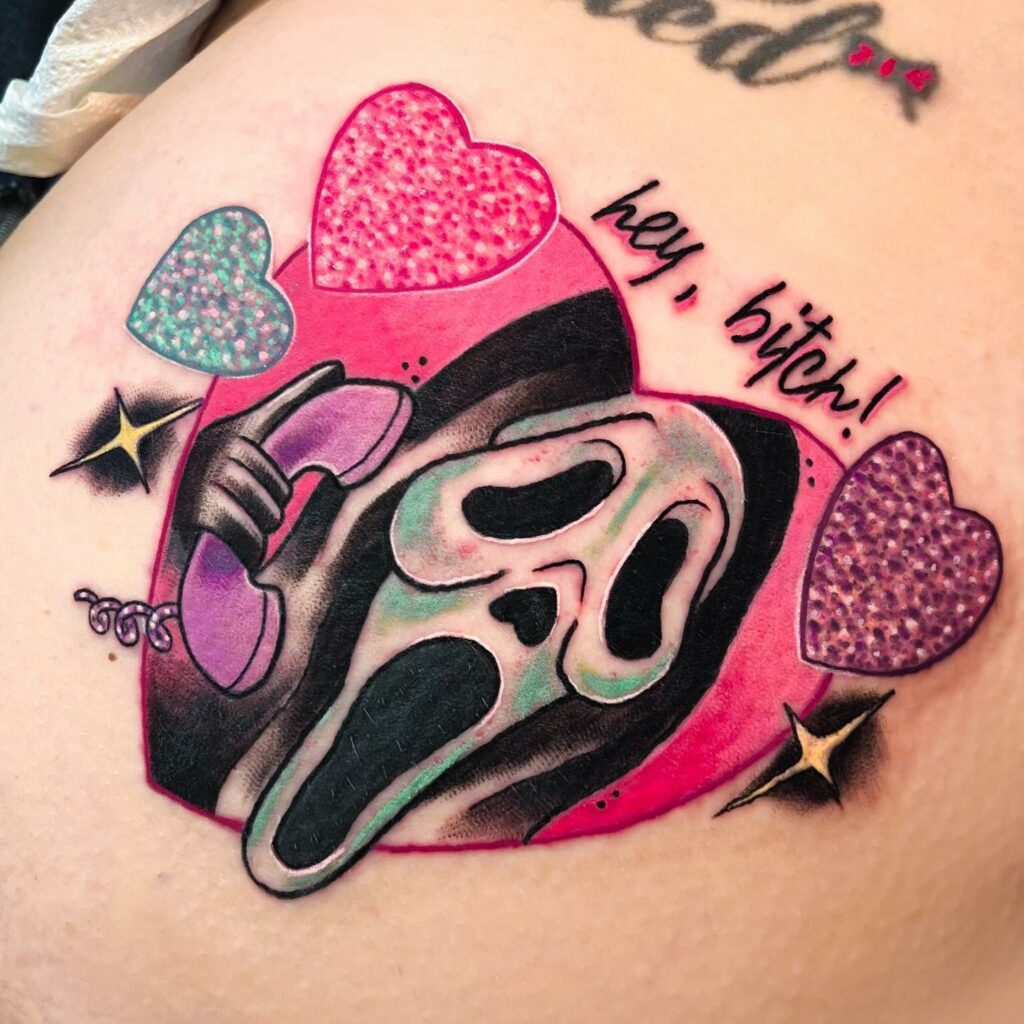 Are you a 'Scream' movie fan looking for a unique and fun tattoo to show off your love for the franchise? Consider a quirky and wacky Ghostface tattoo surrounded by a heart outline! While the movies can be scary, they also have a lot of humorous moments that fans love. These heart outlined Ghostface tattoos have become increasingly popular among tattoo enthusiasts, and it's easy to see why. But, of course, there are many other great 'Scream' tattoo designs to choose from as well, so don't be afraid to explore your options! A tattoo is a great way to express your interests and passions, and what better way to do it than with a nod to one of the most iconic horror franchises of all time?
feature image from Pinterest – Want your tattoo to look brighter? Try "Tattoo Balm"