Hey there! Are you thinking about getting a tattoo that's both chic and trendy? If so, you've come to the right place! Snake tattoos are a popular choice and look amazing when placed on the collarbone. This area is often overlooked for tattoos, but it's a great spot to show off your body art. The collarbone offers plenty of flexibility, so you can choose to show it off or hide it as you see fit. And don't let anyone tell you that collarbone tattoos are just for women. More and more guys are getting inked in this area too, making a statement with their body art.
Snake tattoos are especially popular and carry a variety of meanings, from power and temptation to fertility and rebirth. They're a timeless symbol that never goes out of style, and they look stunning on the collarbone. Whether you're looking for something small and minimalistic or a larger piece, we've got you covered with some amazing snake collarbone tattoo ideas. Browse through the list, find your favorite design, and get ready to make a bold statement with your next tattoo!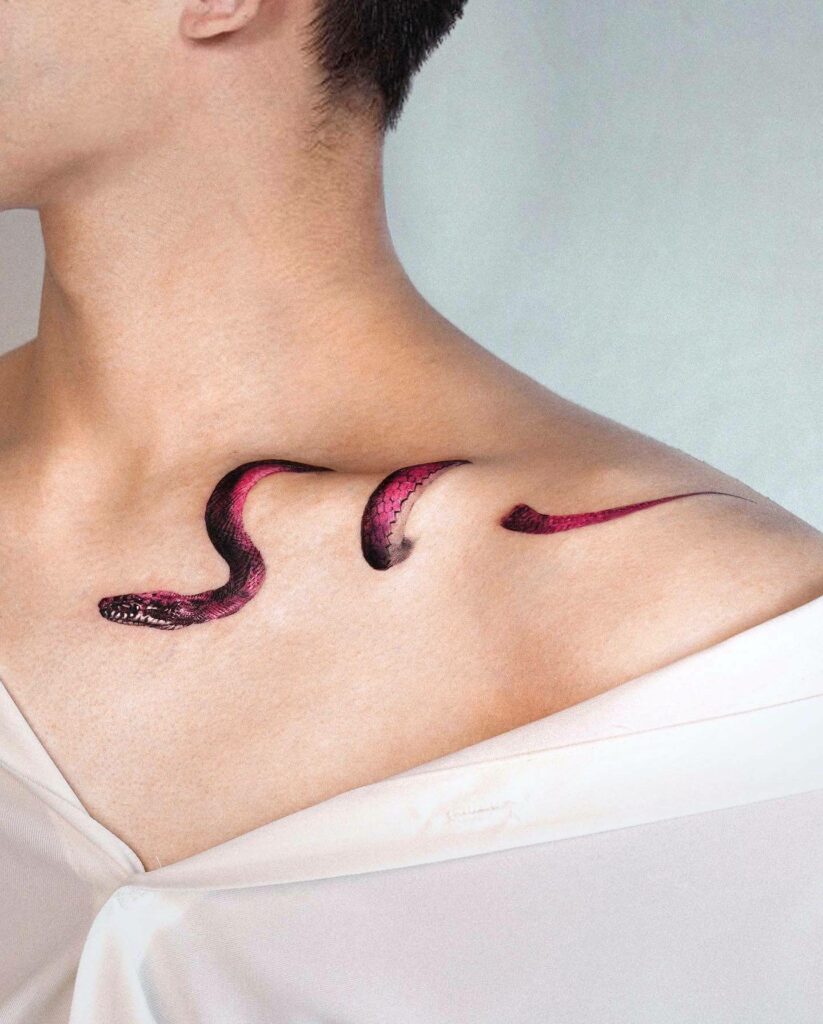 Collarbone Snake Tattoo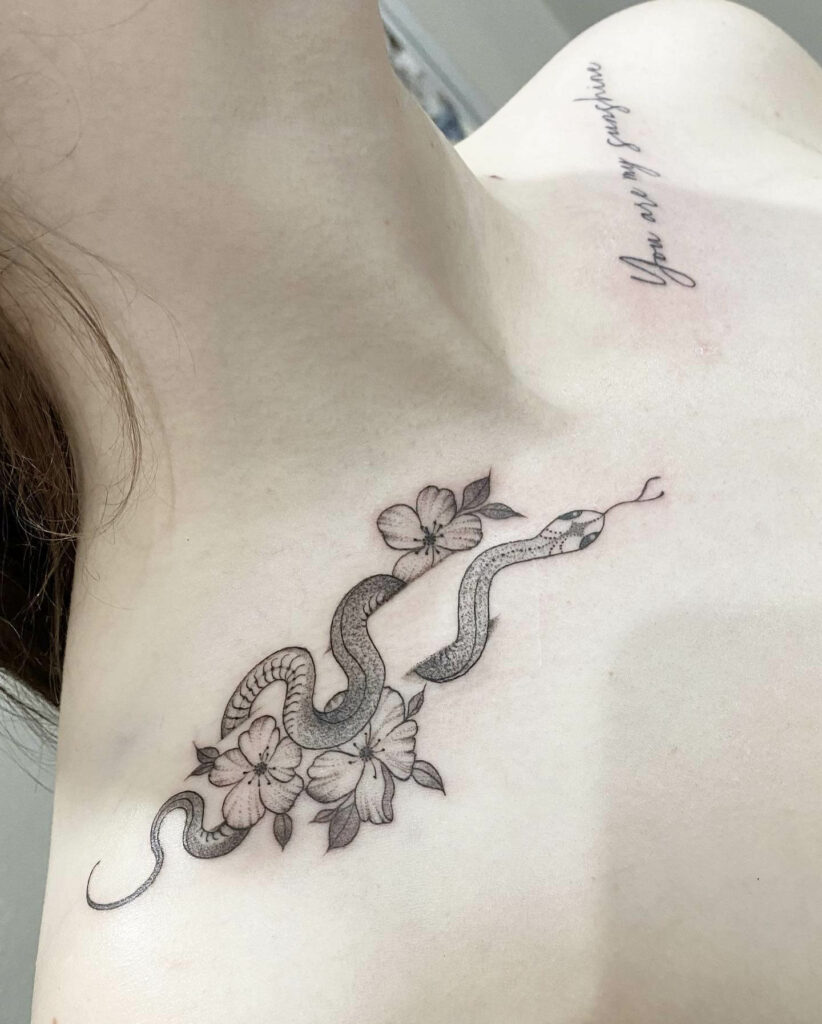 This particular combination of designs is a popular one, and it carries a lot of cultural significance. In some cultures, the flower and snake symbolize temptation – the snake representing destruction and the flowers representing innocence. The idea is that the tattoo represents the loss of purity and the beginning of temptation in the person.
If you do decide to get this tattoo, you're in luck! Your tattoo artist has done a fantastic job bringing this design to life. The snake is expertly coiled around your limb, and the flowers are beautifully placed beside it. The artist used a combination of fine line and dot-work styles to create the design, and stuck with a classic black and grey color palette. But if you're feeling adventurous, you can always add a pop of color to make it even more eye-catching.
Dragon And Snake Tattoo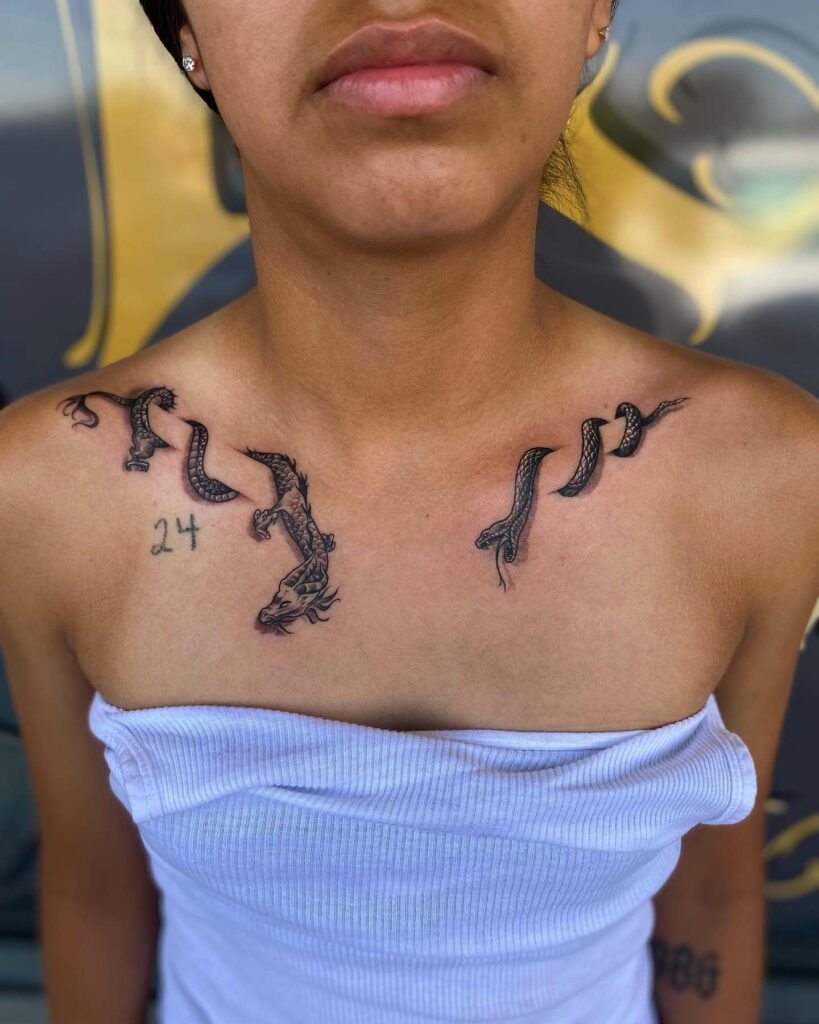 This particular combination of designs can represent a balance between two very different things. The dragon symbolizes passion and wildness, while the snake represents nature's cunning and calm side.
The picture you're looking at showcases two tattoos, one on each collarbone. Your tattoo artist has done an amazing job with the details in this design. The intricate strokes and shading in black ink make the dragon and snake look almost lifelike as they elegantly coil around the clavicle. It's a beautiful design that combines sophistication and wildness in one unique piece of art.
Twin Snake Tattoo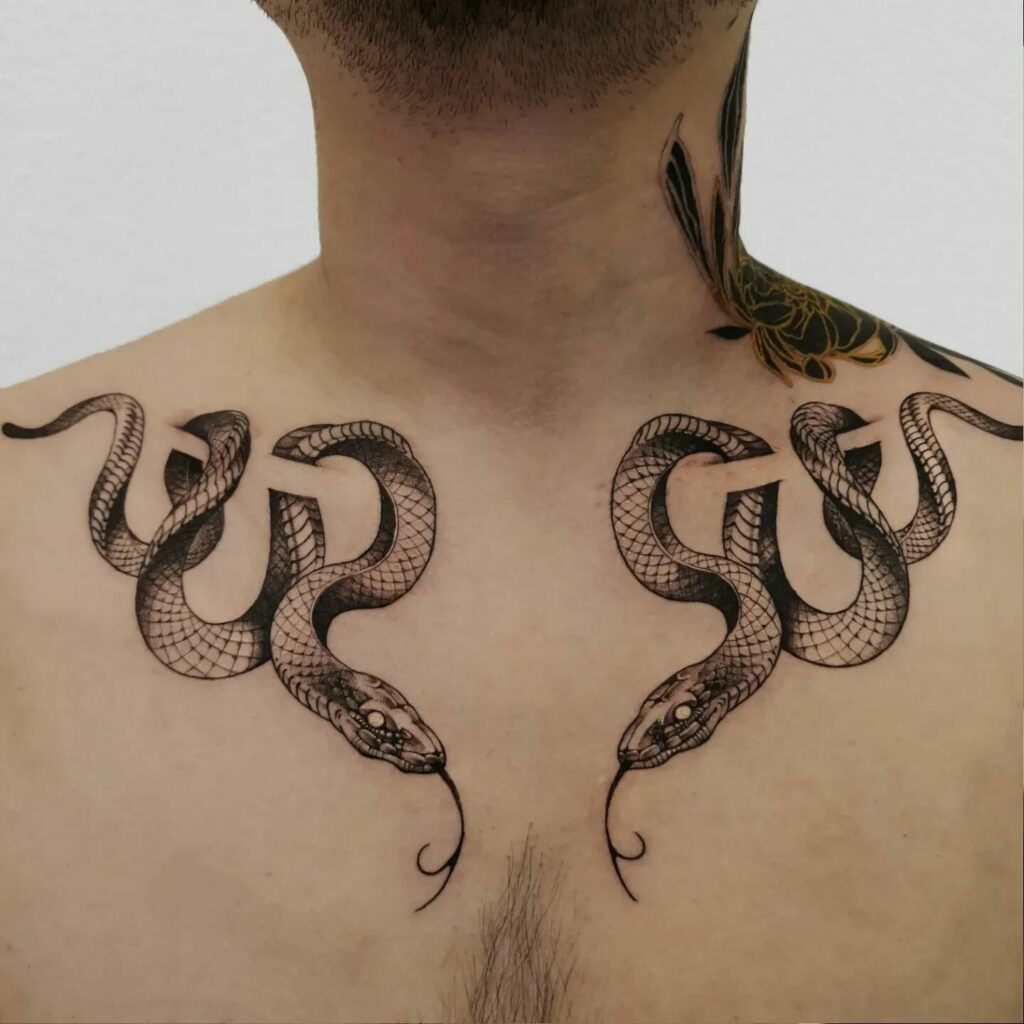 This design is a bit different, featuring two snakes on each collarbone. Snakes have been revered in many cultures throughout history, with the Aztecs worshiping a snake that symbolizes wisdom, power, and energy. It's believed that having twin snake tattoos on your body will bring you the trinity of these qualities.
This design is sharp and striking, with the snakes coiling around the collarbone just like in other collarbone tattoos. Your tattoo artist has done a fantastic job with the details, adding black and grey shading in some areas to give the snakes a more three-dimensional effect. The two snakes are incredibly similar, making this a wild and eye-catching design that's sure to turn heads. If you're looking for a unique tattoo, this might just be the one for you!
Snake Tattoo On Collarbone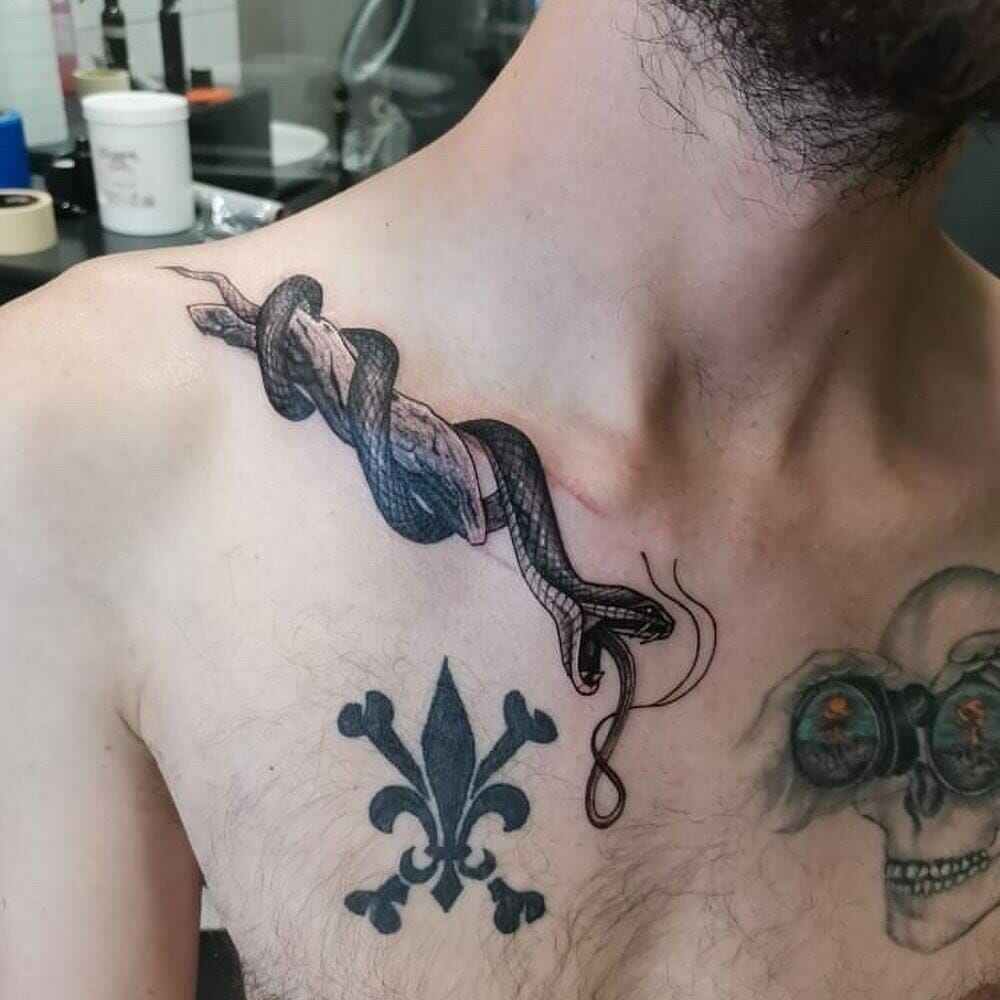 Like the snake collarbone design I mentioned earlier, this design features a snake coiled around the clavicle, but with a unique twist. Your tattoo artist has added a tree bark effect to the design, making it look like the snake is wrapped around a tree. The details in this design are truly amazing. The dark black and grey colors of the snake add an elegant touch to the overall look.
The placement of this tattoo is perfect as it allows you to show it off or hide it under clothing, depending on your preference. Both men and women can rock this design and it looks great on both. So, whether you're looking for a bold and daring tattoo or one that's more subtle and refined, this design might just be the one for you!
Coiled Snake Tattoo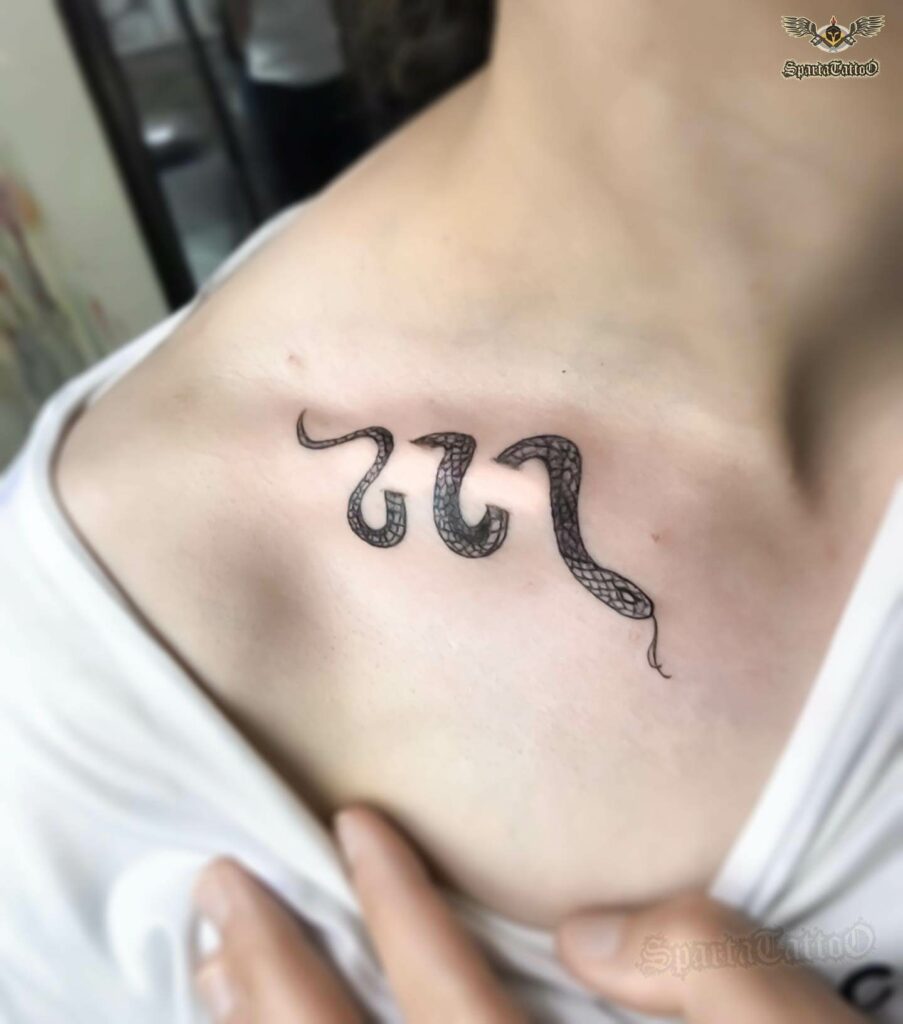 This design features a small but mighty snake, expertly crafted in bold black ink. Your tattoo artist has added intricate strokes to the design, giving the snake a realistic look. To enhance the 3D effect, certain areas around the curves of the snake have been shaded in a darker color. The fine line style used in this tattoo gives it a clean and sharp look.
Despite its small size, this design packs a punch and is suitable for both men and women. The meaning of this tattoo remains the same as with larger snake designs, symbolizing fertility and power. So, if you're looking for a minimalist and meaningful tattoo, this design is the perfect choice for you!
Flash Snake Tattoo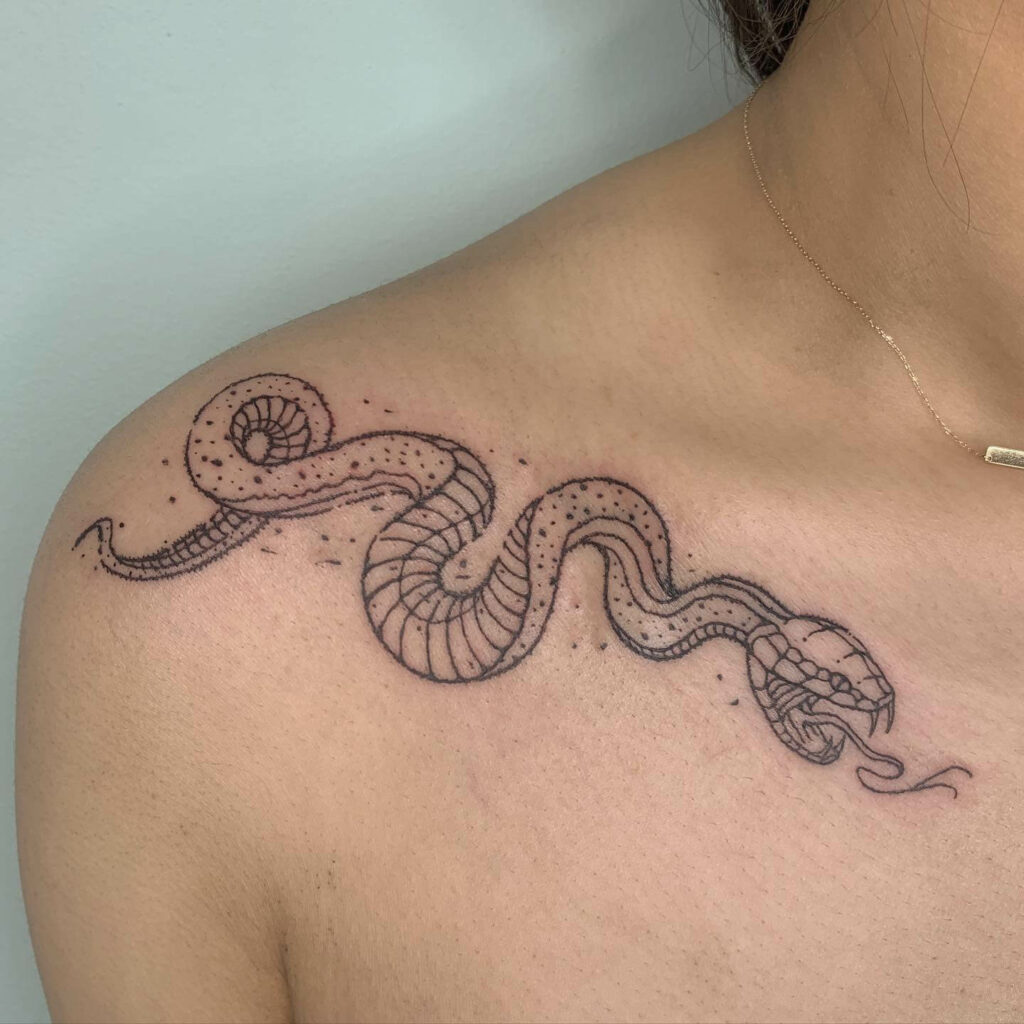 If you're looking for a unique twist on a snake tattoo, this design is definitely worth checking out. The tattoo artist has done a fantastic job of blending two different styles – dot-work and fine-line work – to create a one-of-a-kind piece. The top part of the snake has a playful, polka-dot-like feel while the bottom part is more intricately detailed with a crisscross design. And the added geometric shapes on the head of the snake give it an extra touch of creativity. The artist chose to keep things simple, using only black ink to bring the design to life. The end result is a minimalist masterpiece that's sure to turn heads.
Realistic Snake Tattoo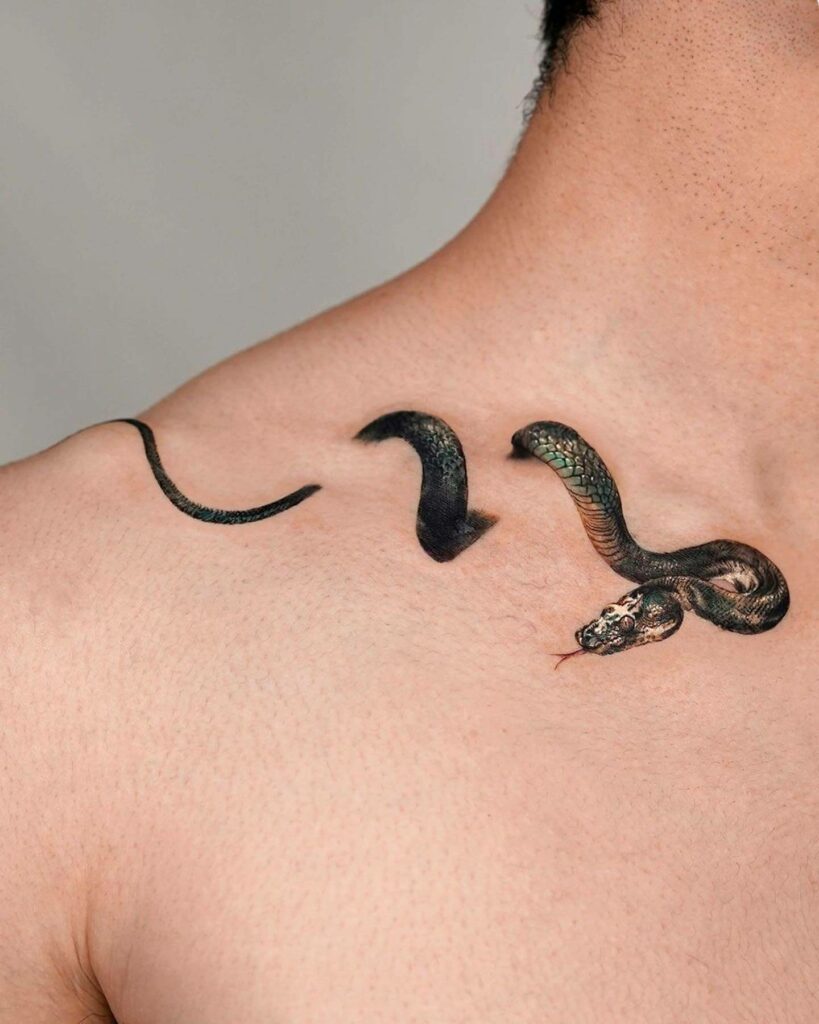 If you're looking for a snake tattoo that will make you feel like you have a real serpent coiled around your collar bone, then you're in the right place! Not all tattoo artists can capture the essence of a snake's movement and texture, but the artist behind this design has truly gone above and beyond. They've used different shades of green, ochre, and white to bring the snake to life and make it look as close to the real deal as possible.
One of the most impressive things about this tattoo is the level of detail. The scales are so defined that you can count them one by one, and the eye and fang look so lifelike that you might feel like the snake is about to strike. It takes a talented artist to bring this design to life, but the end result is definitely worth it. If you're after a realistic snake tattoo, make sure you find an artist who can create this level of detail and accuracy.
Black And Grey Snake Tattoo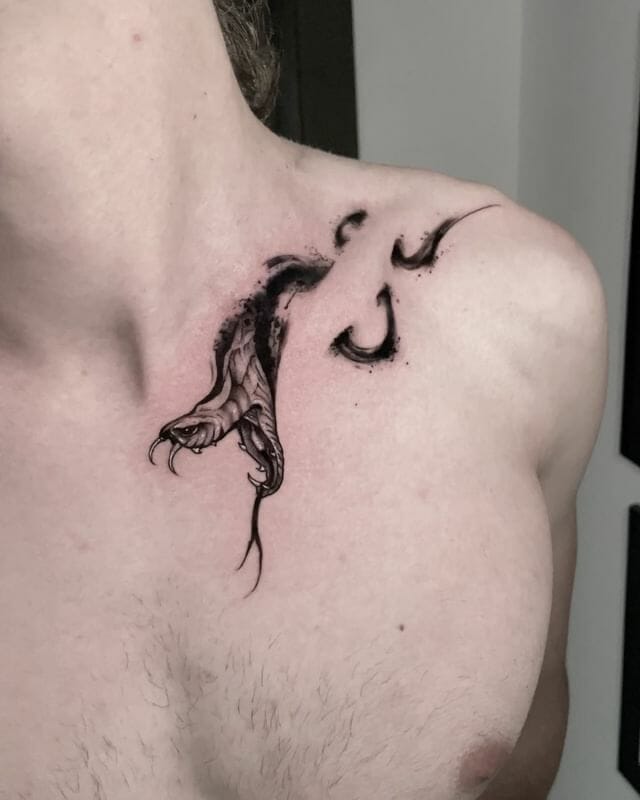 This design features a bold and striking snake head that's been carefully crafted with intricate detailing. The artist has truly captured the essence of the snake's movement, making it look like it's about to strike its prey.
This design is a bit larger, stretching from the center of the neck to the shoulder, making it a standout piece. The body of the snake is done in thick black ink while the head features a mix of black, grey and white highlights to create depth and dimension. If you're looking for a unique take on the traditional snake tattoo, this design is definitely worth considering.
Skeleton Snake Tattoo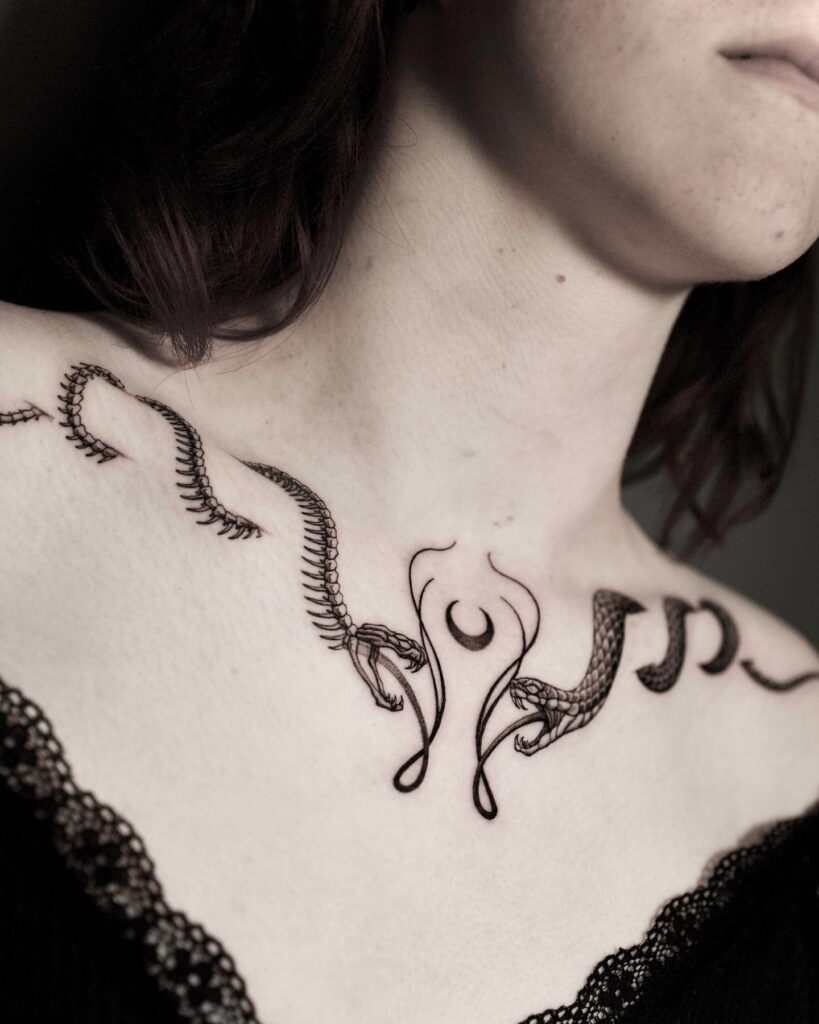 This design features two snakes on either side of your collarbone. One side showcases a beautifully crafted snake skeleton while the other side has a lively snake. The details on each design are incredibly precise, and the fangs are a standout feature, making them more prominent than other designs. To balance it out, the artist has added a Crescent moon design in between the two snakes, which symbolizes guidance and purity.
The entire design is done in black and grey, giving it a bold and edgy look. If you're looking for a unique yet simple tattoo idea, this snake skeleton design is definitely worth considering. Get in touch with an experienced tattoo artist and get ready to showcase your love for life and the ever-changing universe!
Simple Snake Tattoo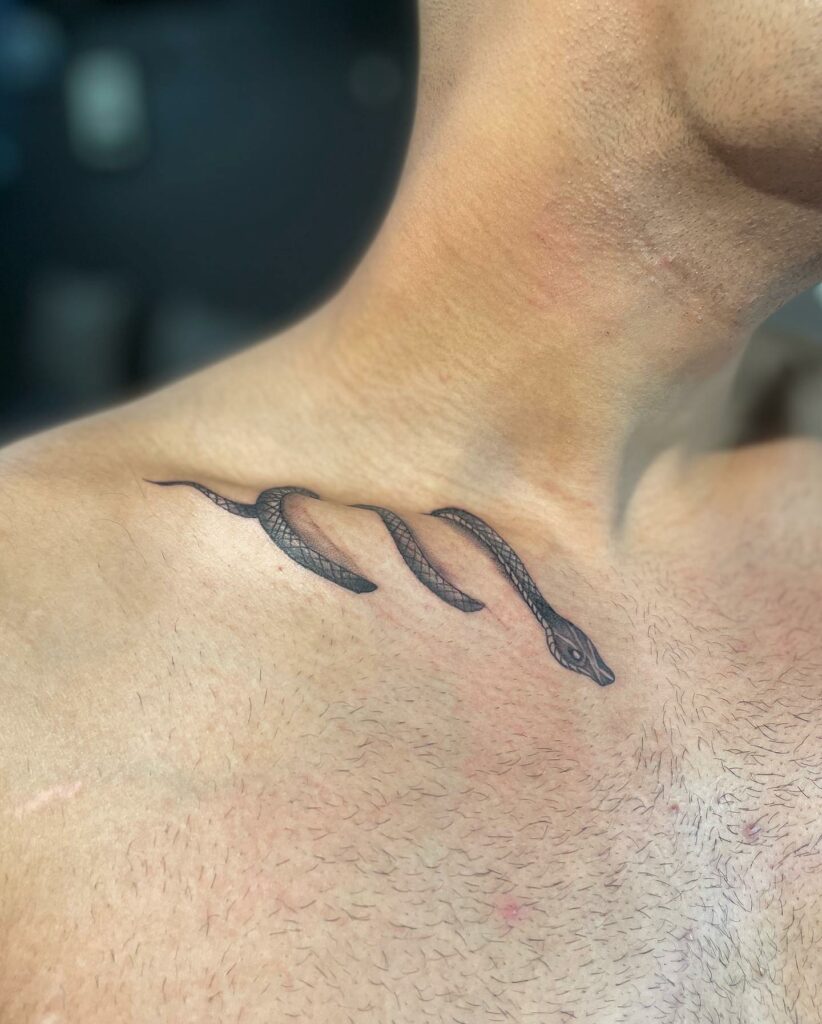 This last design is a real treat for those who love minimalist tattoos. This simple coiled snake design is delicately inked around the collarbone area. The attention to detail in this design is truly impressive, from the accurate shading that gives the snake a 3D effect to the use of black and grey shades that bring the design to life.
Keep in mind, the collarbone area can be sensitive during a tattoo session, but the end result is worth the temporary discomfort. And if you're still unsure, you can always opt for a temporary snake tattoo to try it out before committing to a permanent one. Remember, a snake tattoo may not be for everyone, so make sure it's the right design for you.
Still looking for inspiration, then checkout this blog post about japanese snake tattoos
Feature Image from Pinterest