Hey there, are you looking for some breathtaking tattoo designs featuring roses and sunflowers? If so, you're in the right place! Sunflowers and roses are two of the most popular flower designs in tattoo art due to their stunning and intricate designs. These flowers can be portrayed in many different ways, from small and delicate to large and bold.
In addition to their aesthetic appeal, sunflowers and roses are also popular for their symbolic meanings. A sunflower tattoo can represent happiness, good luck, and faith, while a rose tattoo symbolizes beauty and grace. These flowers can be combined to create a unique and meaningful design that reflects the wearer's personality and style.
If you're interested in exploring the world of sunflower and rose tattoo art, we've compiled a list of some amazing design ideas to get you started. Whether you're looking for a simple and elegant design or something more intricate and detailed, we've got you covered!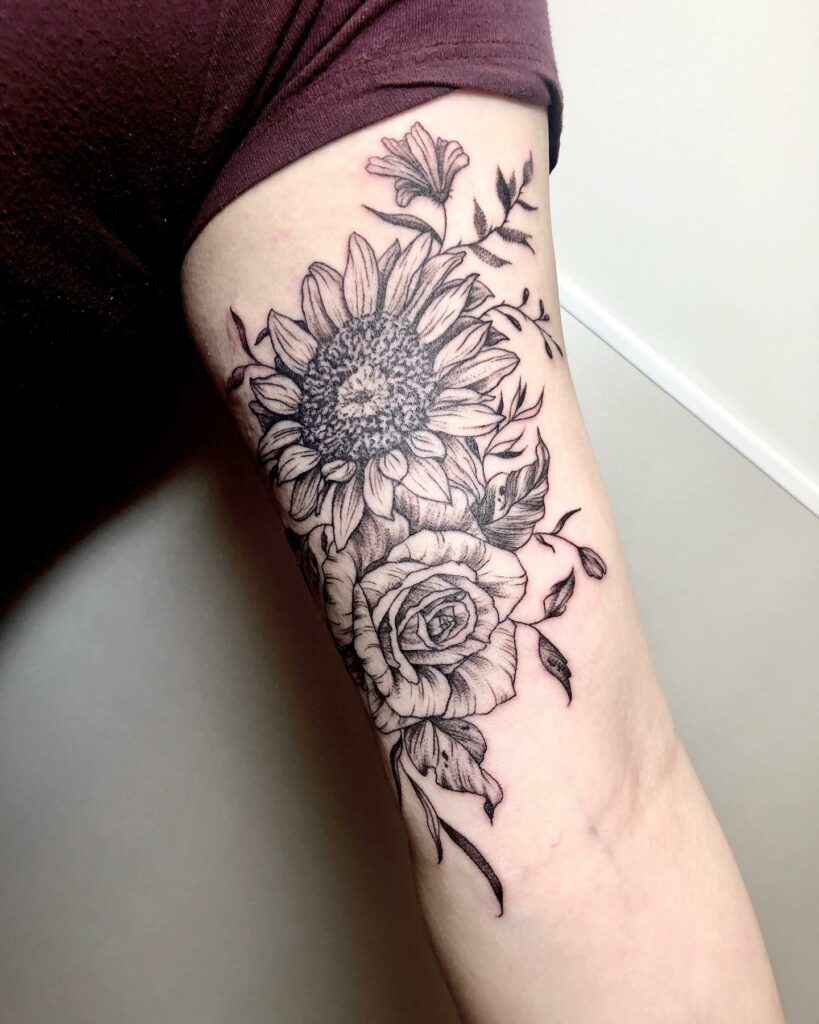 Hand Sunflower Tattoo With Rose And Tulip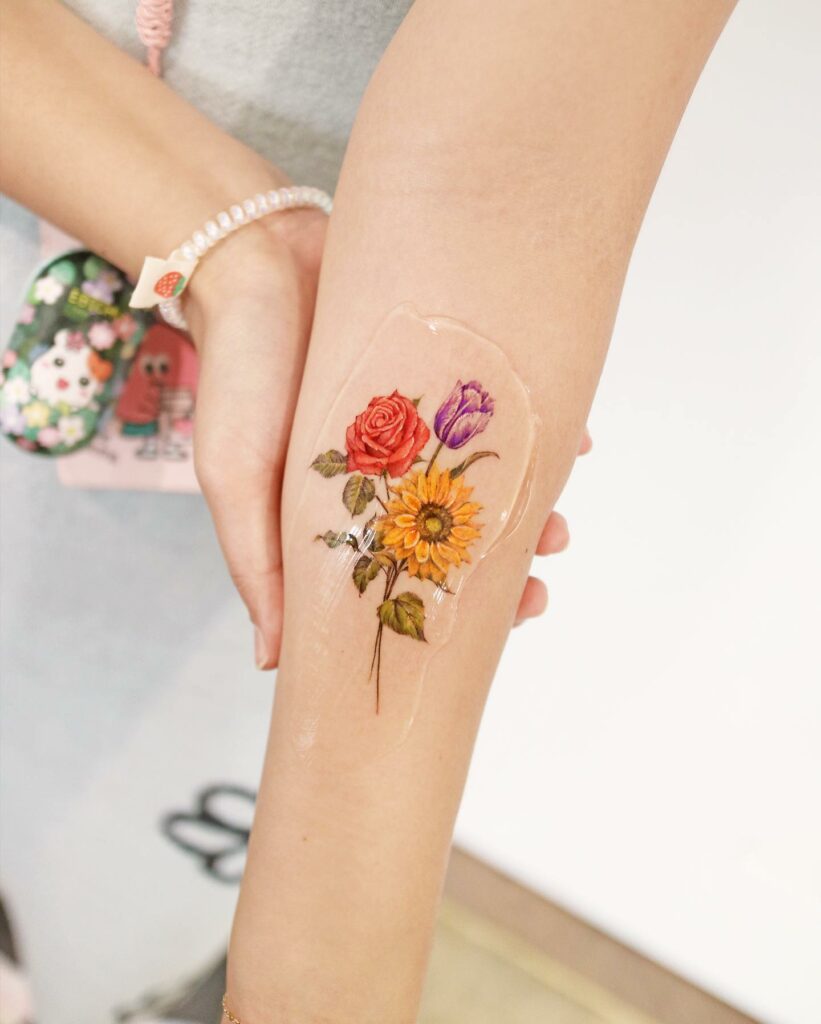 This tattoo idea is simply charming and has been crafted using some of the most gorgeous colors. In addition to the sunflower and rose, there is also a tulip included in the design, adding even more beauty to the ink. The overall look of the tattoo is watercolor, giving it a hyper-realistic appearance.
Let's talk about the individual elements of the tattoo. The sunflower has been expertly crafted using different shades of yellow, adding depth to the flower and making it appear almost lifelike. The rose tattoo has been created using various shades of red, with deep red used to create the illusion of depth and shadow. The tulip, on the other hand, has been crafted using different shades of purple, adding a stunning range of colors to the design.
The shading in each element of the tattoo is absolutely gorgeous and gives the flowers a sense of realism that is truly captivating. And let's not forget the leaves that accompany the bunch of flowers, adding to the overall natural beauty of the tattoo.
If you're looking for a tattoo that is both realistic and vibrant, this rose and butterfly tattoo is an excellent choice that you're sure to love!
Bee With Rose And Watercolor Sunflower Tattoo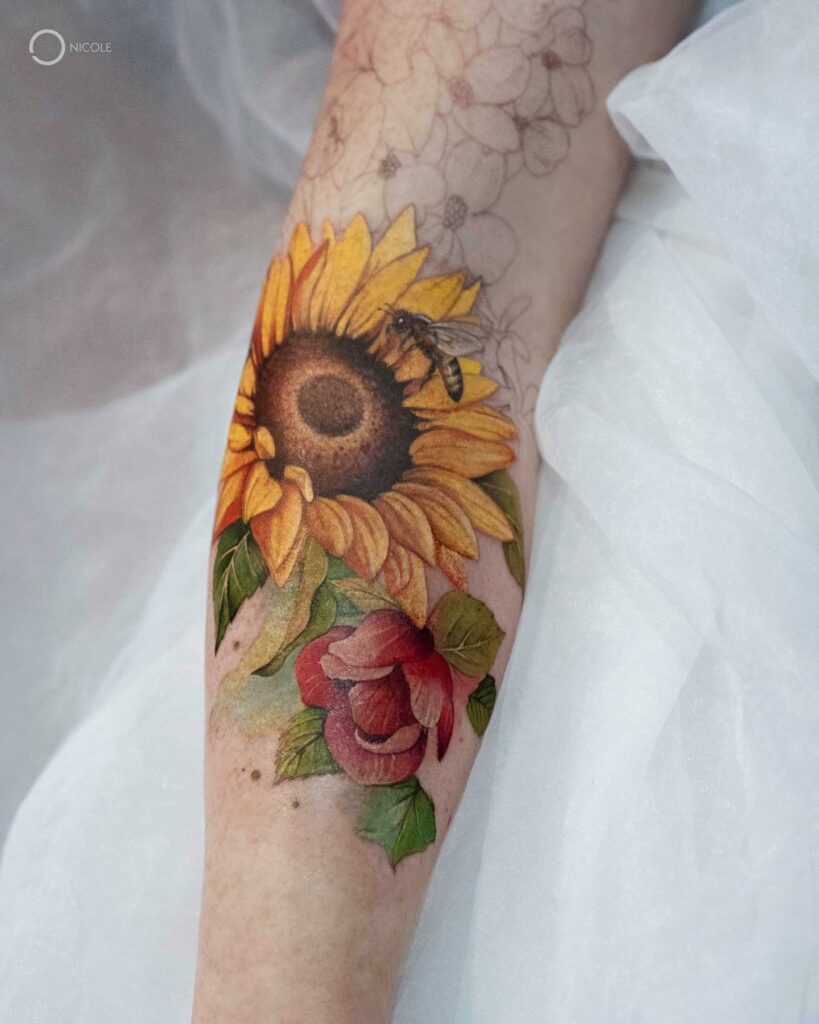 This sunflower and roses tattoo sleeve is an absolute statement piece that is sure to turn heads. The highly detailed elements of the tattoo add to its overall beauty, making it a truly breathtaking design.
The colors of the tattoo have been placed beautifully, with the use of light and dark shades on the flowers giving the tattoo a realistic appearance. The tattoo artist has created the sunflower and roses with incredible intricacy, resulting in a stunning and life-like effect.
To add to the beauty of the tattoo, there's a bee sitting on the sunflower, which has been expertly crafted using colors like brown and black to achieve a life-like look.
And the best part is that you can get this realistic sunflower and roses tattoo on any part of your body! Whether you choose to showcase it on your sleeve or a different location, this tattoo is sure to be an eye-catching and beautiful addition to your ink collection.
Butterfly Rose X Ankle Sunflower Tattoo
This half-and-half tattoo has been created with black ink, and it's an elegant design that incorporates a beautiful floral twist with the addition of the butterfly. The butterfly has been divided into two parts, with one part being the insect's wing, and the other part featuring some lovely flowers.
Even though the tattoo was created in black, it still looks very realistic. The wing of the butterfly has some stunning detailing that gives it a transparent look. The other part of the butterfly's wing features a bunch of pretty flowers, including small sunflower tattoos and a big rose.
The ink used in this tattoo is of excellent quality, which adds to the tattoo's overall charm. And if you want to add a pop of color, you could always incorporate some yellow ink or red ink to the rose with sunflower and butterfly tattoo.
Overall, this tattoo design is a beautiful and artistic expression of your love for butterflies and flowers. It's a stunning addition to any tattoo collection, and you're sure to love it for years to come!
Realistic Roses And Sunflower Tattoo Drawing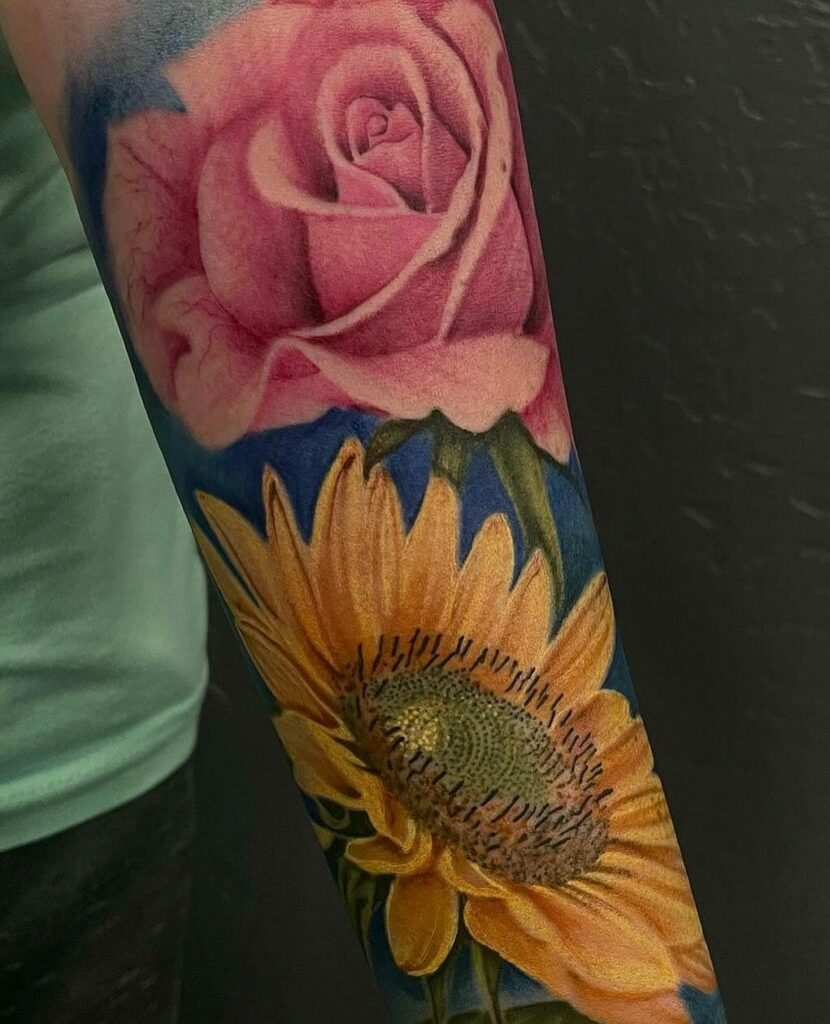 Are you interested in a tattoo that makes a statement? Consider this sleeve sunflower and rose design! It's truly majestic in size and uses a watercolor technique to create an eye-catching and elegant look. This type of tattoo can also be a great cover-up option for old or unwanted tattoos. The use of colors in this tattoo design is especially gorgeous, with incredible shading that creates a stunning and realistic effect. To ensure the best possible result, make sure to find a skilled and experienced tattoo artist to bring this design to life!
Gorgeous Design Sunflower And Roses Tattoo Drawing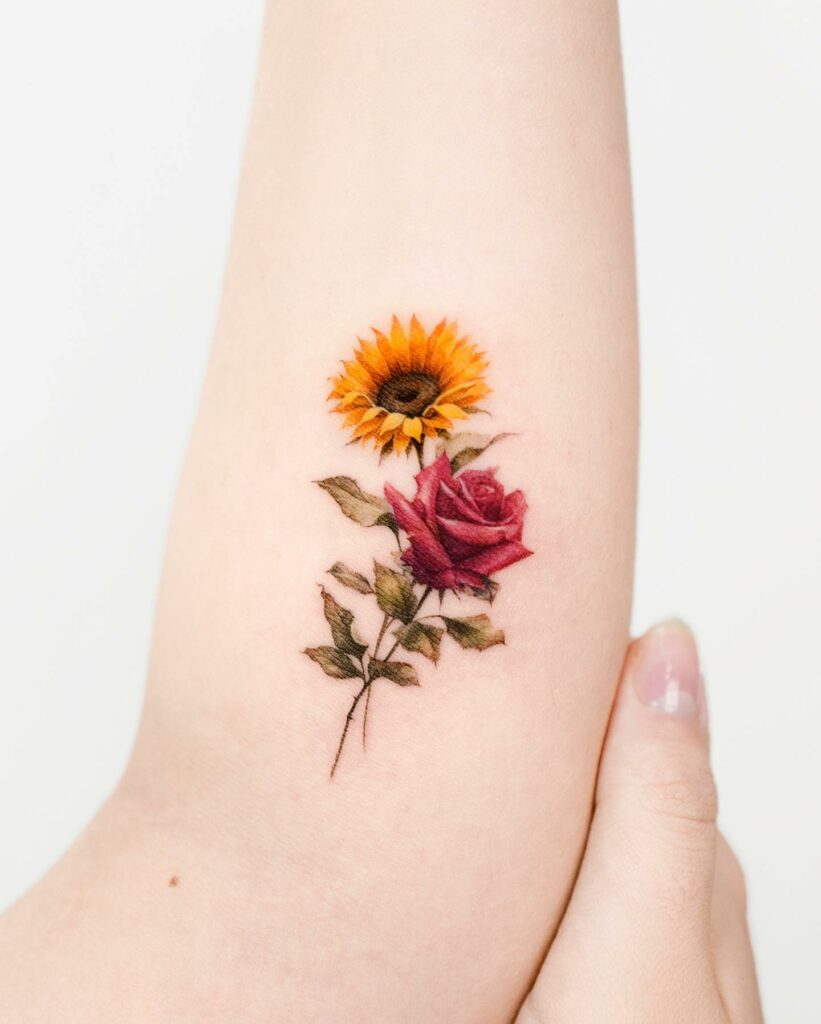 If you're a fan of small but elegant tattoos, then a sunflower and rose combination could be just what you need. Take a look at this delicate yet stunning 3D sunflower with roses tattoo that features a burst of vibrant colors. The yellow ink on the sunflower has been shaded to perfection, making it appear almost lifelike, and the red color on the rose adds depth to the design. The tattoo artist has also added some leaves, which perfectly complement the flowers and complete the entire look of the tattoo.
This dainty tattoo can be placed anywhere on your body, such as the back, the shoulder, or any other location of your choice. The 3D effect of the tattoo is what makes it stand out from the crowd, making it a true showstopper. So, if you're in the market for a beautifully crafted sunflower and rose tattoo, then look no further than this 3D ink.
Monochromatic Sunflower, Roses, And Butterfly Tattoo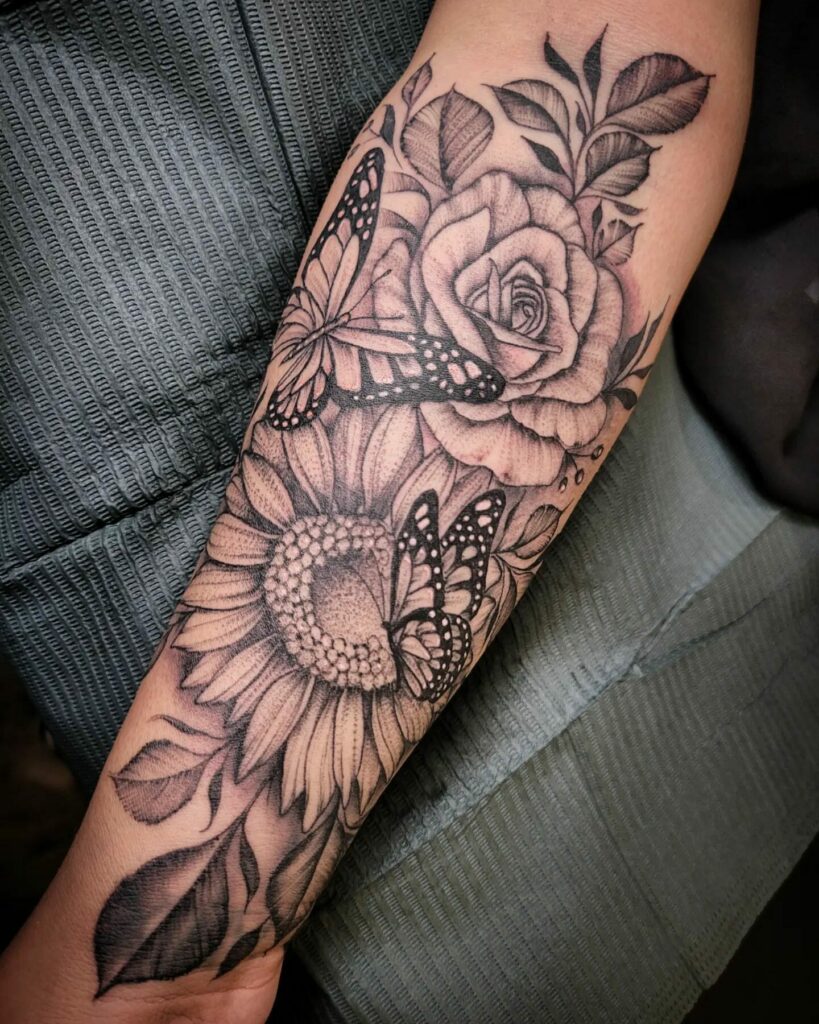 If you're looking for a tattoo that's both elegant and subtle, consider a monochromatic forearm tattoo featuring sunflowers, roses, and butterflies. The black and grey color palette gives it a sleek and edgy feel, while the delicate outlines of the butterflies add a touch of whimsy. This sunflower sleeve tattoo is perfect for those seeking a minimalist tattoo design.
This sunflower and rose tattoo is very versatile and can be made on any part of your body. You can also opt to get it done on a larger scale, covering your entire back or arm. The intricate detailing on this tattoo is sure to catch people's attention. If you want to add some extra color, consider adding a pop of yellow or red ink to the rose. Make sure you work with a professional tattoo artist to achieve the perfect look for your sunflower, rose, and butterfly tattoo.
Realistic Sunflower Tattoo With Roses
This particular tattoo is a sight to behold, with its vibrant yellow sunflowers, bright red roses, and sharp green leaves. The shading on each element is expertly done, making this tattoo a stunning work of art.
The use of beautiful colors is what makes this tattoo so popular. It can be placed on various parts of your body such as the leg, chest, back, or arm. For the best results, make sure your tattoo artist uses bright, vibrant colors and proper shading techniques. Keep in mind that this tattoo might take some time to complete, but the final product will be well worth the effort.
Small Roses And Realistic Sunflower Tattoo
A sunflower tattoo might be just the thing! Yellow sunflowers are known to symbolize hope, happiness, and positivity. There are endless options when it comes to sunflower tattoo designs, whether you want it in color or black and white, big or small, and on any location of your body.
A sunflower tattoo can be paired with other meaningful elements such as a red rose. Red roses are a popular symbol of love, passion, beauty, and courage. A rosebud tattoo signifies purity and innocence, while the bright colors of roses offer an amazing range of possibilities. A heart-shaped sunflower and rose tattoo design is perfect for showing your everlasting love for someone special. You could choose to have this tattoo on your arm, leg, or any other part of your body.
This tattoo idea is not only a stunning work of art, but it is also a meaningful expression of love that will last a lifetime. If you want to get a rose and sunflower tattoo, make sure to find a skilled artist who can bring your vision to life.
Life-Like Sunflower And Rose Tattoo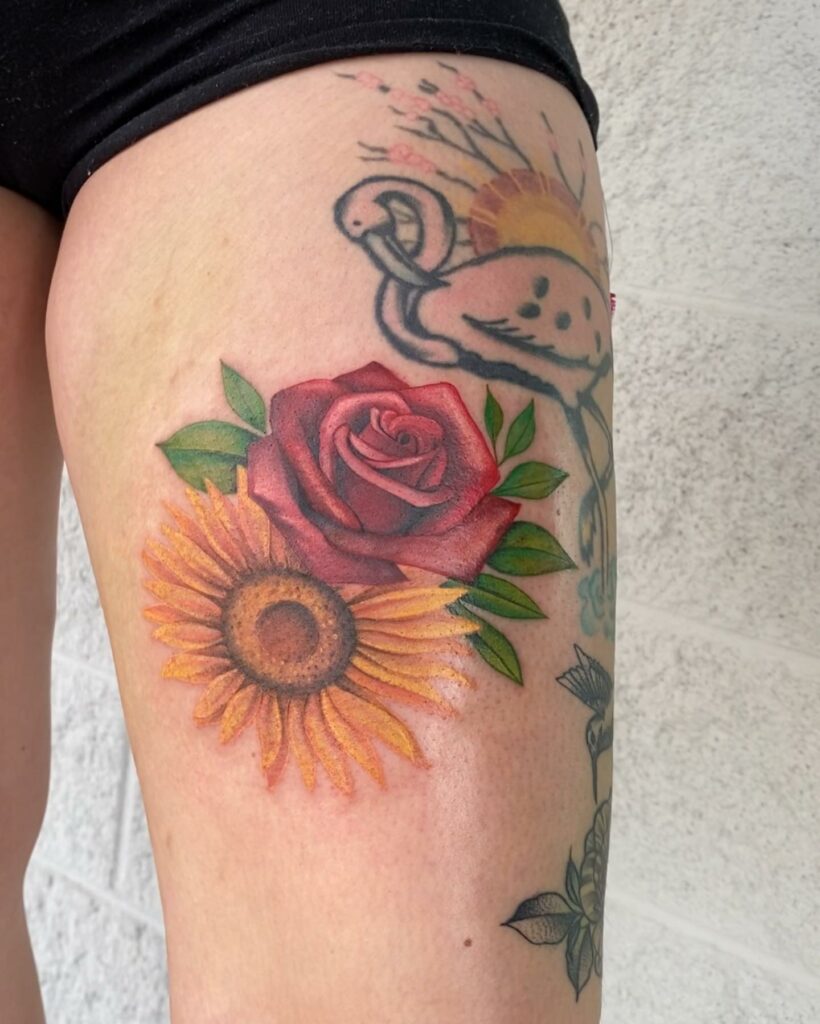 When it comes to sunflower tattoos, adding a few roses can make the design look even more feminine. A black-and-white sunflower and rose tattoo will ensure that the colors don't clash. Your tattoo artist can create a mock-up for you to review and suggest any changes to the design. By adding vibrant colors to the leaves and petals, the tattoo will appear even more realistic.
Sunflower thigh tattoos are bold and beautiful, and they're perfect for those who want to show off their ink. Thigh tattoos are easy to hide, so you don't have to worry about them being visible all the time. You can show off your tattoo by wearing shorts or a cute dress. The more elaborate your sunflower thigh tattoo design, the more your tattoo artist will enjoy bringing it to life. So, let your creativity run wild and create a unique and stunning sunflower tattoo design.
Outlined Different Flowers Half Sleeve Tattoo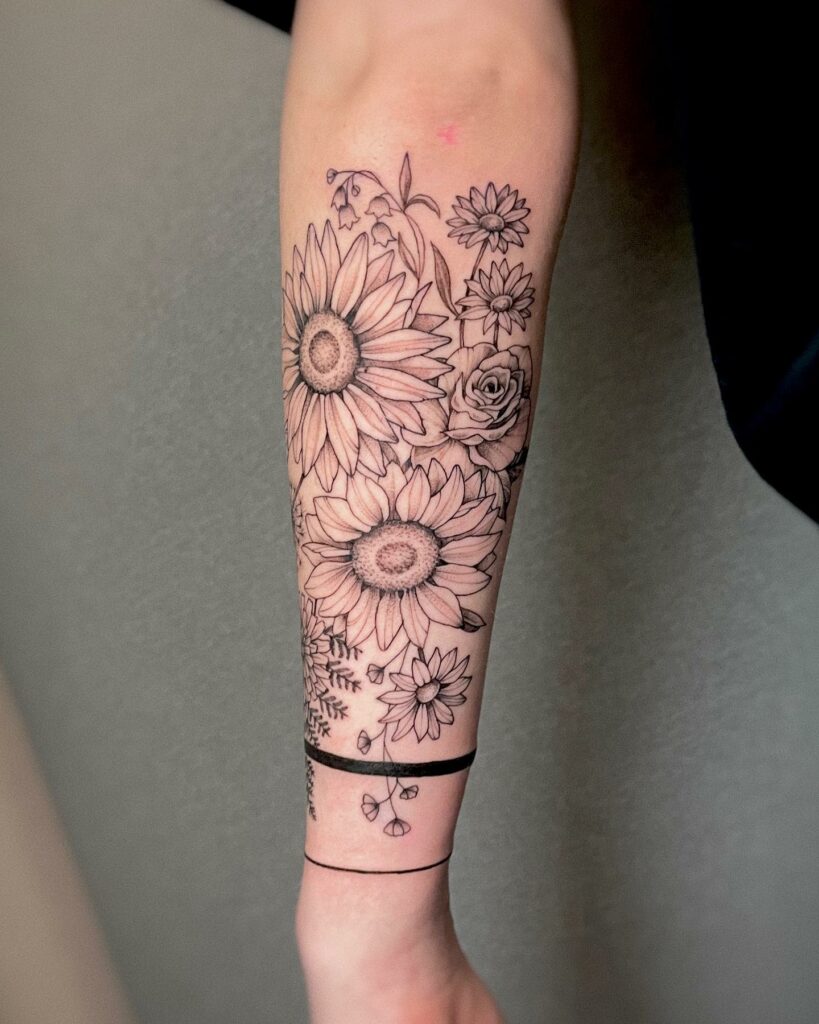 Sunflower tattoos don't always have to be elaborate, and a smaller, simpler design can be ideal for those who prefer a more subtle look. When seeking a designer for a simple sunflower tattoo, it's important to look for artists who are skilled at precise line work. If you're looking for a more modest sunflower tattoo, consider a black-and-white design, which tends to be lighter and airier, perfect for those who prefer a less intense look.
On the other hand, if you're looking for something more bold, a sunflower sleeve tattoo may be just what you're looking for. However, it's essential to remember that this kind of tattoo is a big commitment, and it can be a lengthy and costly process to complete.
Floral tattoos, especially those with roses and sunflowers, are a popular choice for women, as they represent both beauty and delicacy. When combined, these elements create an extraordinary tattoo design that is sure to impress.
feature image from Pinterest – Want your tattoo to look brighter? Try "Tattoo Balm"