Hey, there fellow tattoo enthusiasts! Are you on the hunt for some trendy and chic arm tattoos, especially for women? Look no further because we've got you covered!
Arm tattoos are a beautiful way to express one's beliefs, values, and personality. For women, back-of-arm tattoos are a popular choice that exudes confidence, empowerment, and a sense of self-assurance. Whether you prefer delicate florals, bold tribal designs, or meaningful religious symbols, arm tattoos have the potential to make a statement.
In this article, we'll be showcasing a variety of back of arm tattoo designs for women, from half sleeves to full sleeves to outer forearm tattoos. If you're wondering how these tattoos might look on an older woman, don't worry! A meaningful design such as a religious symbol or sophisticated abstract pattern can look elevated and sophisticated on any woman's back of her arm.
So, buckle up and get ready to be inspired by some amazing back of arm tattoos for women. Let's dive in!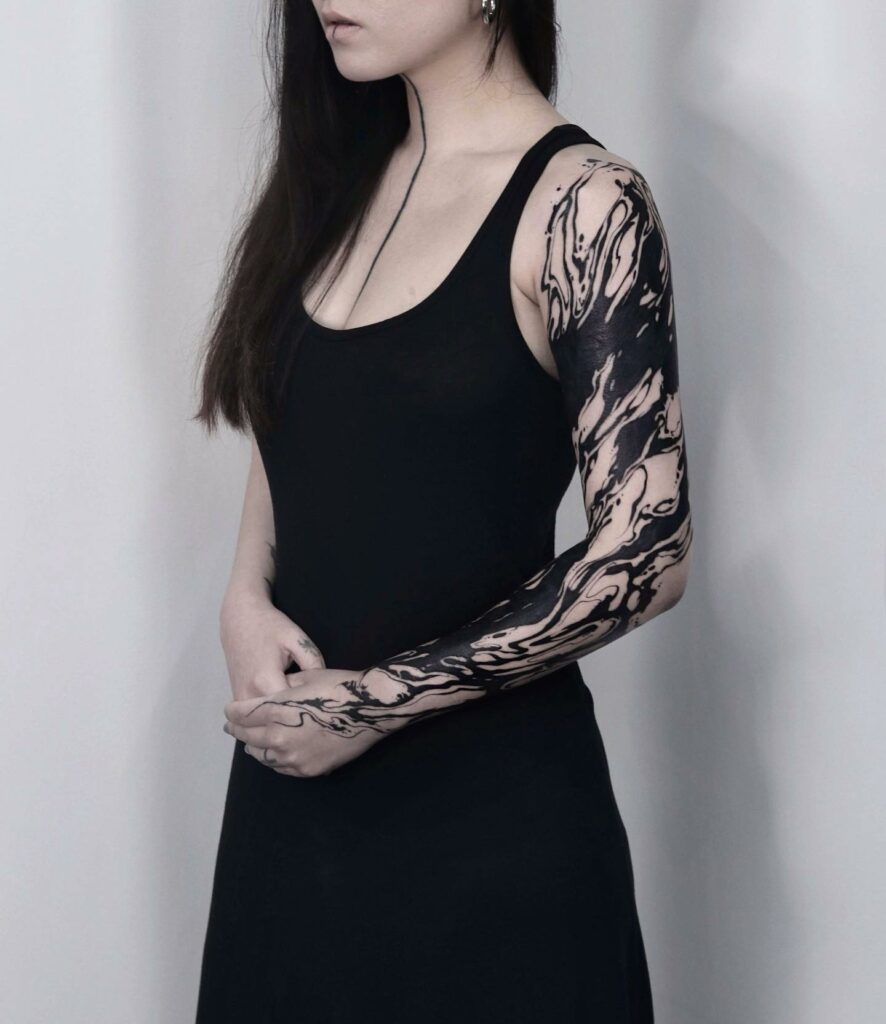 Phoenix Forearm Tattoo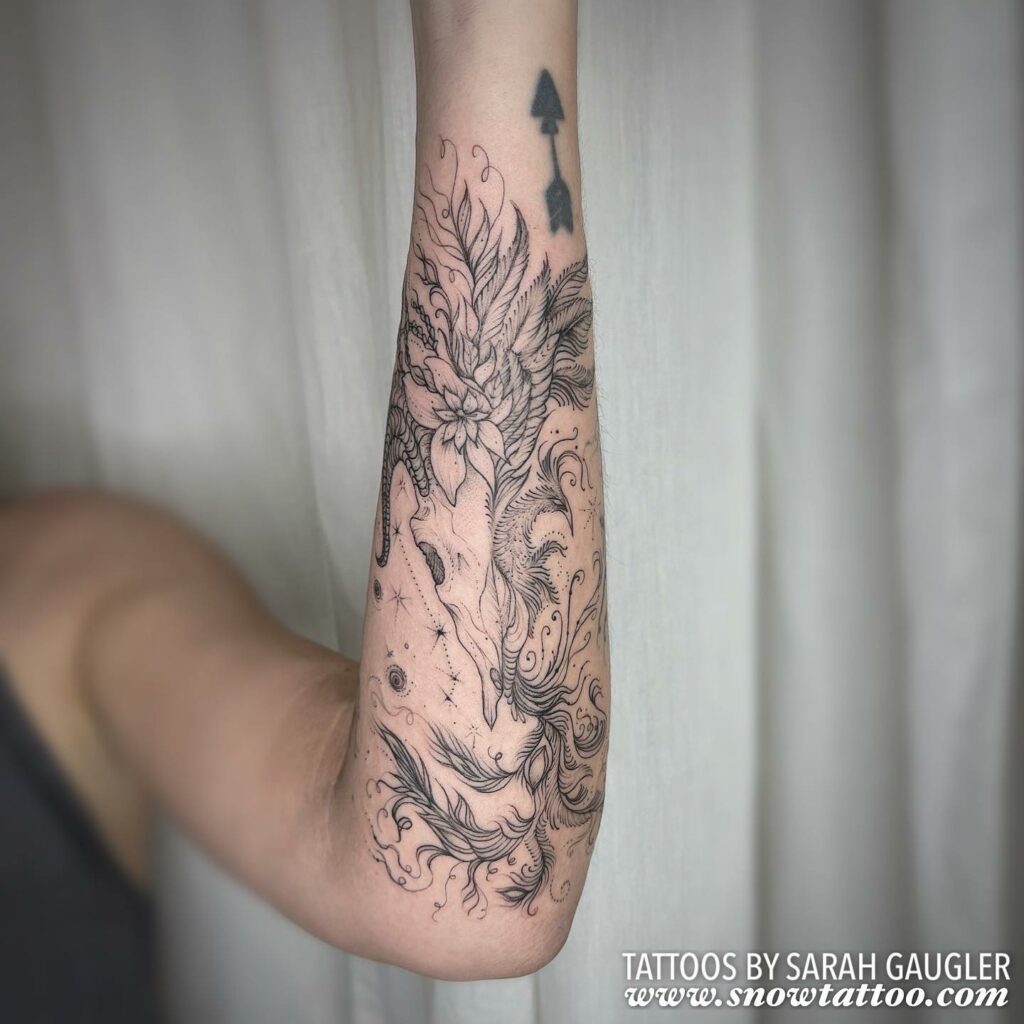 Are you searching for a design that represents strength, resilience, and rebirth? Look no further, because a Phoenix tattoo might just be the one for you! This legendary bird has roots in various cultures but is most commonly known in the Chinese dynasty. The Phoenix symbolizes the cycle of life, including birth, death, and rebirth, and is often associated with the fire and sun, spreading energy, strength, and power.
This particular design features a beautifully crafted Phoenix, with fine lines and a polished outlook, combined with the astrological symbol of Aries, making it a true representation of strength and power. If you're looking for a larger piece, this design would be perfect for a sleeve, inner arm, or upper arm tattoo. Whether you want to showcase your inner strength or pay homage to the mythical bird, a Phoenix tattoo is a must-have for any tattoo enthusiast!
Wolf Forearm Tattoo
This wolf tattoo design is perfect for the adventurous and fearless woman who wants to showcase her strength and protection. The image of the wolf and the girl together symbolizes the balance of femininity and the powerful, beastly instinct to protect oneself. This design is made in black ink with fine lines and is placed on the back of the arm, making it a unique choice for a forearm or inner arm tattoo.
Instead of a traditional tribal wolf design, this wolf tattoo combines the wild and untamed spirit of the wolf with the grace and strength of a woman, making it the perfect representation of femininity and power. If you're looking for a simple yet bold tattoo that showcases your fearless nature, then this wolf tattoo design is definitely worth considering.
Wing Forearm Tattoo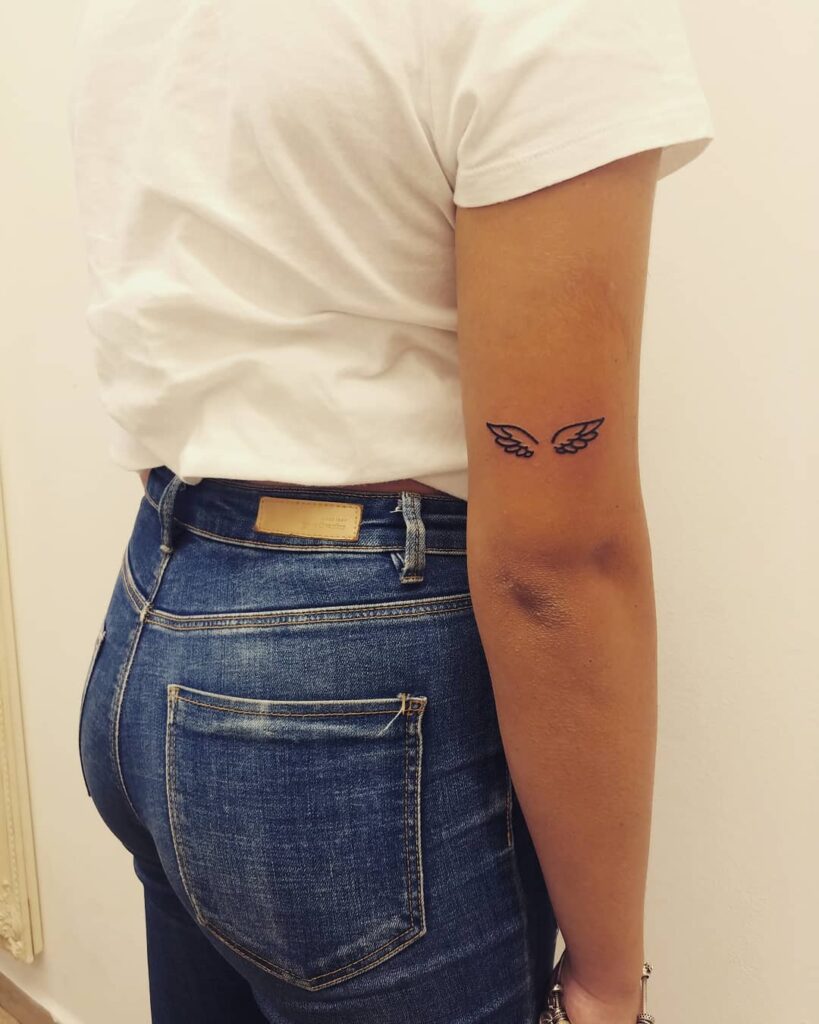 If you're looking for a symbol of freedom, hope, faith, guidance, and opportunity, then a pair of wings may be just what you need! Wings are often associated with the angelic world and are considered a sacred symbol. In this particular design, you'll see a beautiful, small tattoo with a minimalist approach. Perfect for those who prefer petite tattoos and don't want to endure a lot of pain, this tattoo is placed on the upper arm. But don't limit yourself, this design would also look great as a lower arm or back wrist tattoo!
Mandala Forearm Tattoo
If you're looking for a tattoo that symbolizes balance and stability, a mandala design is definitely worth considering. In Hindu culture, mandalas are often used during meditation and prayer as a way to focus the mind and promote inner peace. These tattoos feature intricate geometric patterns, typically circular in shape, that are beautifully symmetrical and have a calming effect.
A mandala tattoo looks especially stunning on the backside of the arm, where it can be inked in a way that gives it depth and dimension. For even more impact, you can opt for full coverage on the forearm. And, if you're looking for a location with maximum visibility, the elbow is a popular spot for this type of tattoo. Whether you're a spiritual person or just appreciate the beauty of symmetrical designs, a mandala tattoo is a gorgeous choice for women.
Anchor Forearm Tattoo
Anchor tattoos are a popular choice for those who love the ocean and all things nautical. And when you combine an anchor with a compass, you get a design that not only looks amazing, but also holds deeper meaning. This type of tattoo symbolizes staying on the right path in life, even as you navigate the ups and downs. It also represents staying grounded and connected to your roots, even in the face of success.
The tattoo design shown here is inked on the half sleeve and looks pretty cool, if I do say so myself! And, if you're looking for a spot with a little less coverage, it can also be inked on the lower arm. This type of tattoo is a great choice for middle-aged and older women who want to make a statement with their ink. Whether you're a seafarer or just appreciate the beauty of anchors and compasses, this type of tattoo is a timeless choice that you'll never regret.
Simple Forearm Tattoo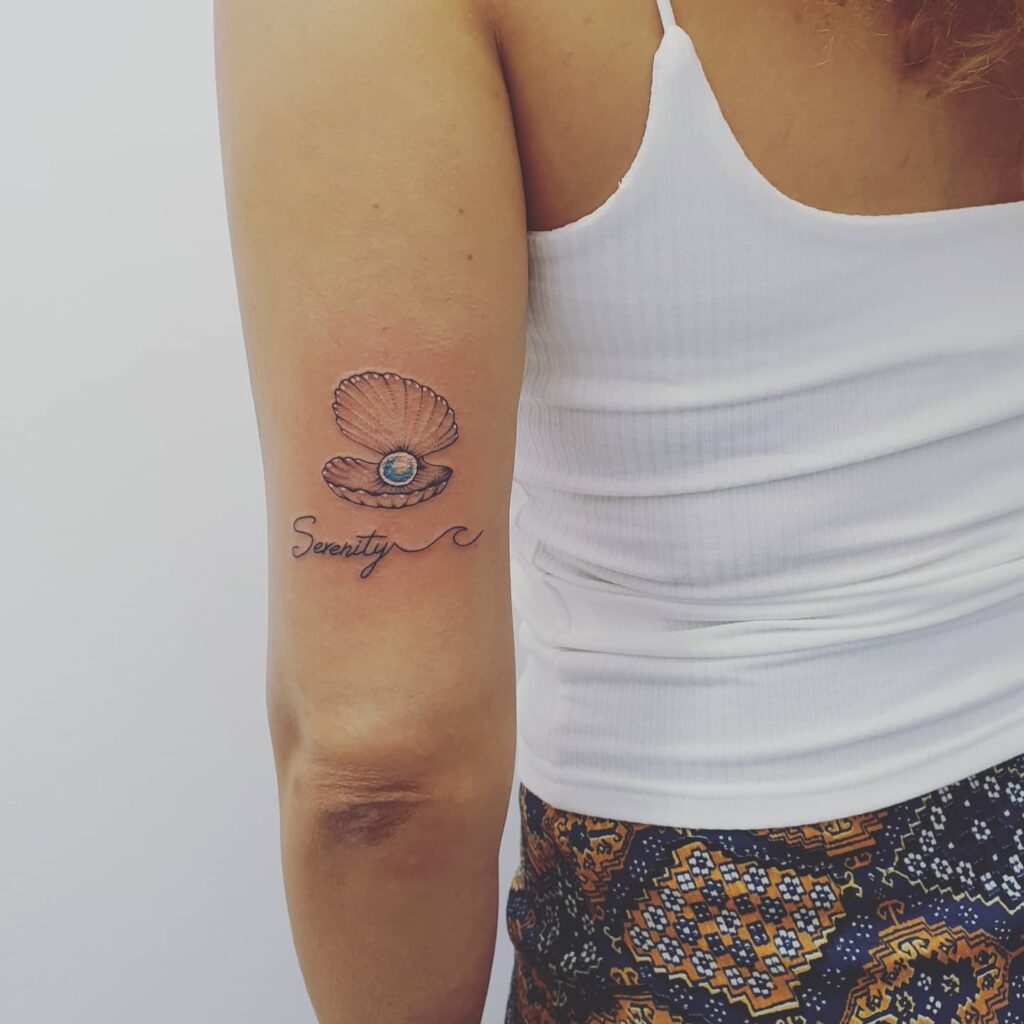 If you're looking for a tattoo that's simple and elegant, you've come to the right place! Sometimes, less is more when it comes to tattoos, and a single image can make a big impact. Take this design, for example. It features a pearl inside an oyster shell, paired with a meaningful quote. Not only is it pretty to look at, but the pearl also symbolizes qualities like purity, rarity, uniqueness, and strong willpower.
This type of tattoo is often inked in a miniature form, which gives it a serene and delicate look. Whether you're looking for a small, subtle tattoo or want to make a bold statement, a simple and clear design like this one can be just what you're looking for. So if you're looking for a tattoo that's both pretty and meaningful, this type of design might just be the perfect choice for you!
Quote Forearm Tattoos For Women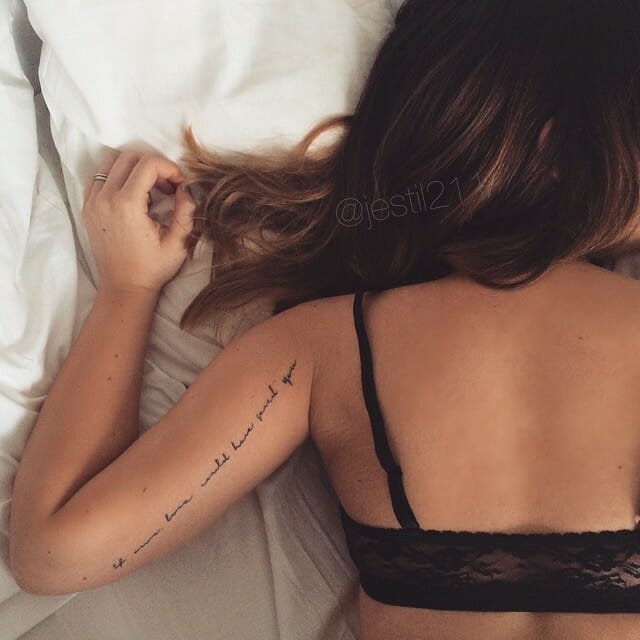 If you're a fan of tattoos, you might already know that quote tattoos are one of the most popular designs out there. Whether it's a favorite line from a poem or novel, or a powerful quote from a famous figure, these tattoos have a way of speaking directly to the soul. Quotes have the power to inspire and motivate, and they can help us live our lives more fully and with more purpose.
The tattoo design shown here is a single-line quote inked on the back of the arm, and it's a great example of the impact that these tattoos can have. This type of tattoo is suitable for people of all ages, and it can be inked in a variety of locations, from near the elbow to a full half-sleeve. So, if you're looking for a tattoo that carries a powerful message and is also visually stunning, a quote tattoo might just be the perfect choice for you!
Flag Forearm Tattoo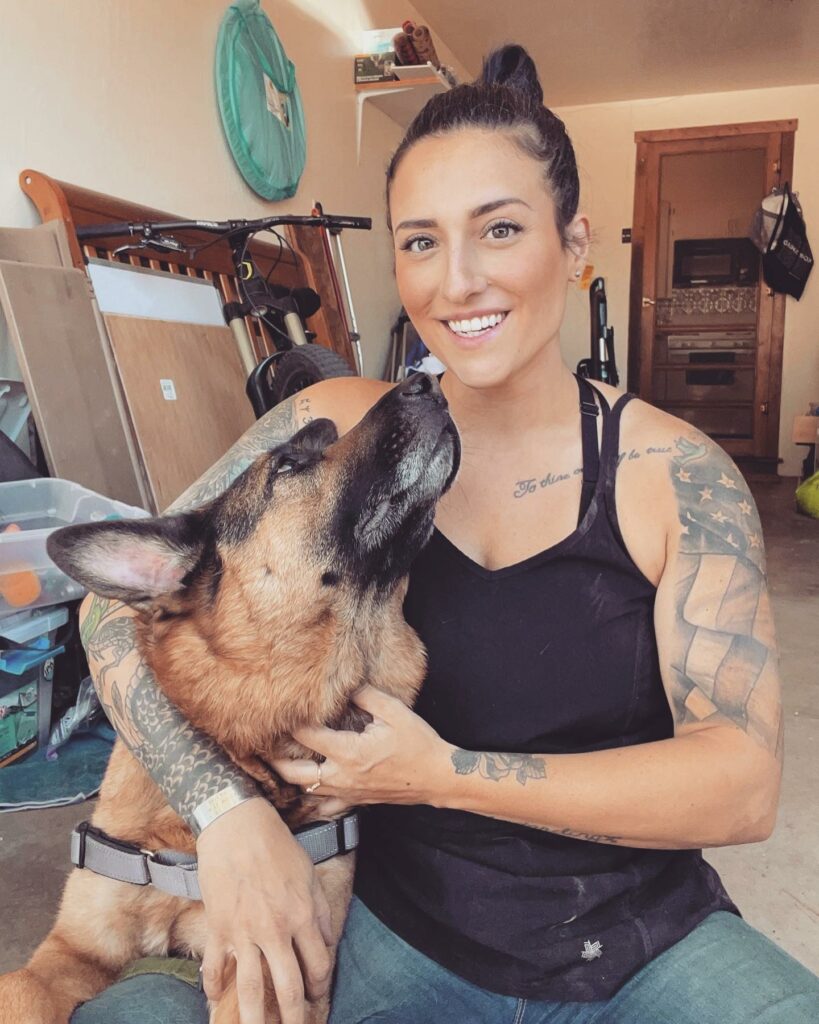 If you're looking for a way to show your love and pride for your country, a flag tattoo might be just the thing. This type of tattoo is a powerful symbol of patriotism, and it can serve as a reminder of the things you hold dear and the values that you cherish.
The tattoo design shown here is of the USA flag and it covers the back of the arm. This is a great example of how you can use a flag tattoo to make a statement about your identity and your sense of belonging. The black and white ink used in this design gives it a timeless and classic look, but you can choose to add color if you prefer. And if you're looking for a more subtle or minimalist design, you could also consider a mini flag tattoo instead of a full or semi-coverage design. The choice is yours!
Floral Forearm Tattoos For Women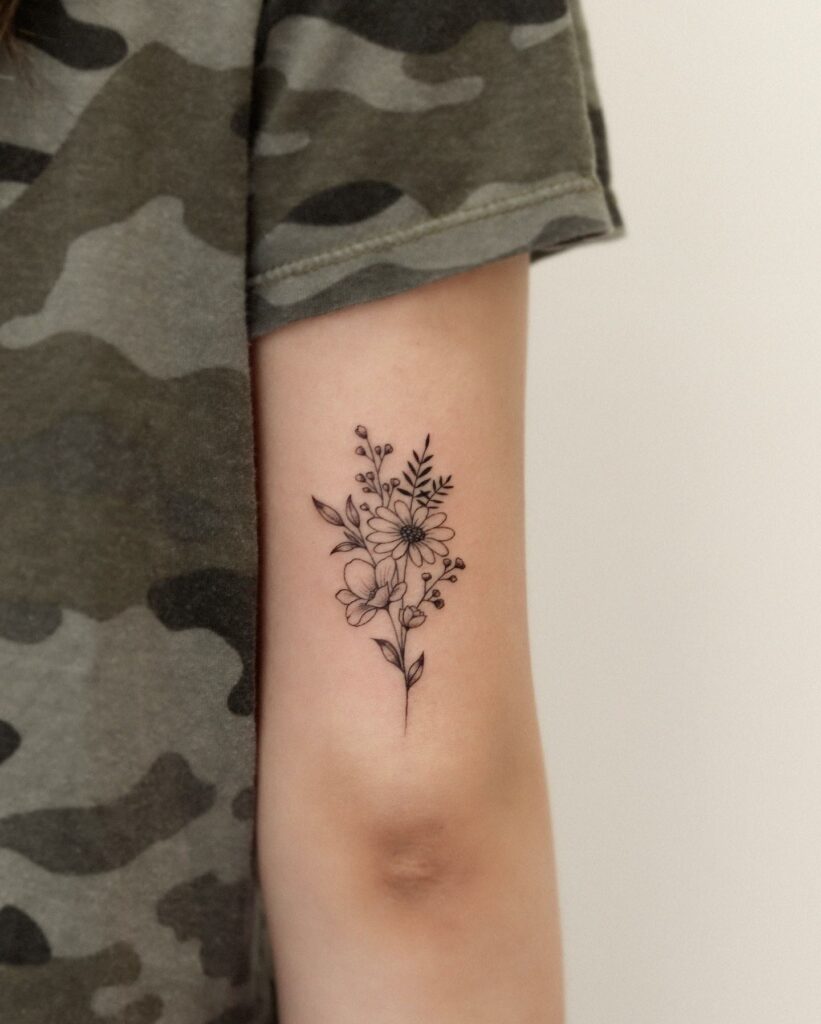 Who doesn't love to embrace the beauty of a flower tattoo on the skin? Each flower tattoo has a distinct meaning that can be anything between love, commitment, protection, purity, vitality, joy, hope, happiness, and so on. Flowers are bestowed to God, thus, they can be related to His contentment. The floral ones have their own grace and charisma. The picture given shows a bunch of flowers and leaves tied together. It looks beautiful on the backside of the arm.
If you have a keen eye for unique flowers such as black roses, you can definitely add them to your floral tattoos. A combination of rose and other flowers such as orchid, tulip, or lily is a classic combination.
Beautiful Arm Tattoo Designs
If you love nature and its beauty, this unique tattoo design featuring a tree is perfect for you. It's inspired by the writings of William Wordsworth, who appreciated nature and its joy. Just like the image, this design will bring calm and happiness to your life. If you have a strong connection to the outdoors, hills, and nature, this design is an excellent choice for a half-sleeve or back-of-the-arm tattoo.
Back-of-the-arm tattoos are popular among women for their artistic expression. It's a great way to show off your individuality and personality. And don't worry about age – back-of-the-arm tattoos are suitable for women of all ages, and they never go out of style! Whether you're young or older, this type of tattoo is a great way to embrace your free spirit and express your personal beliefs and interests.
Feature Image from Pinterest – Want your tattoo to look brighter? Try "Tattoo Balm"
Last reviewed and updated on July 26, 2023