Hey there, looking for a delicate and dainty tattoo that makes a statement? Look no further! Our collection of amazing woman silhouette line tattoos will have you falling in love with this style in no time.
With a woman silhouette line tattoo, the artist uses ink to create the outline of a woman's figure without filling it in. Some people opt for a one-line silhouette, wh
ere the form is created using a single continuous line. This type of tattoo is open to interpretation, and the meaning behind it can vary depending on the person who gets it and the person who sees it.
Women are drawn to this style of fine-line tattoo because of its delicate and feminine look. And the best part? Line art tattoos don't take as long to complete as other tattoos that use shading and filling techniques.
So if you're looking to add some ink to your skin, take a look at these stunning woman silhouette line tattoos. You're sure to find the perfect design for your next appointment!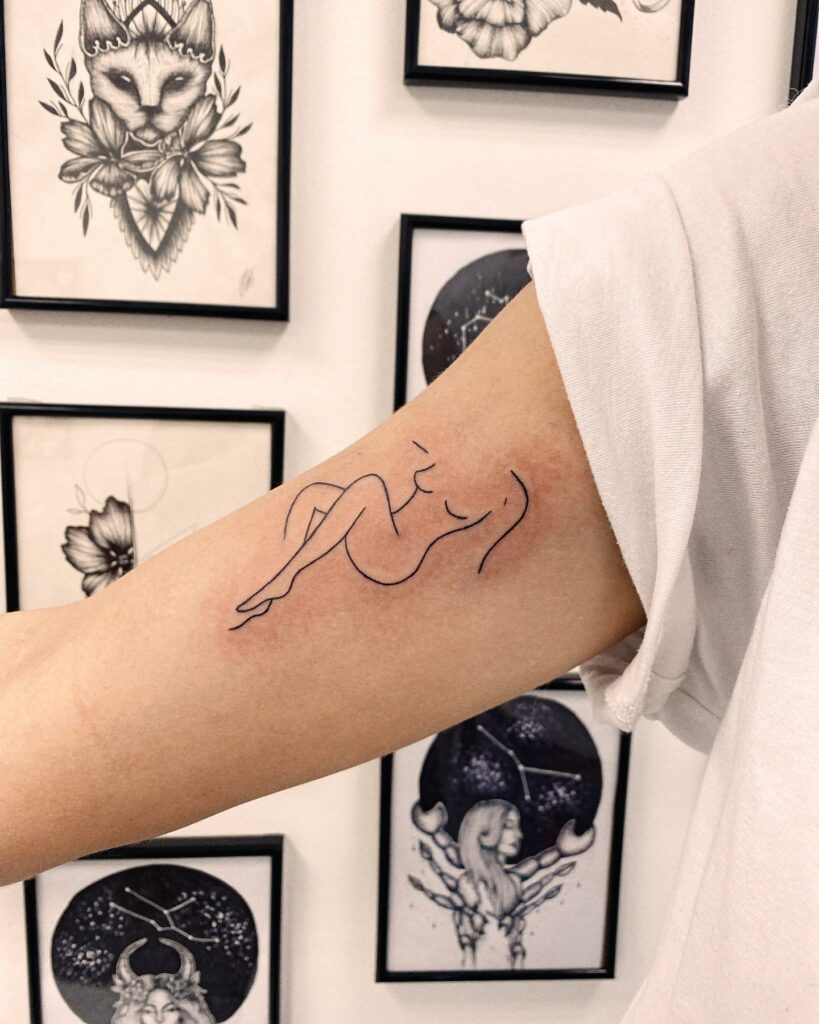 Simple And Minimal Woman Silhouette Line Tattoo Ideas
If you're looking for a stunning tattoo that's both minimal and eye-catching, then silhouette line tattoos are the way to go! Perfect for those with a simple sense of style, these tattoos are created with neat and precise strokes of ink, showcasing the silhouette of an object or person. The beauty of this style lies in its simplicity, as the silhouette is not filled in with color, giving the tattoo a delicate and ethereal appearance. If you're looking for inspiration for your own silhouette line tattoo, check out the image above. These tattoos are also a great option if you're looking for a minimal design that won't be too overwhelming on your skin. Just keep in mind that these tattoos often require a steady hand, so make sure to find a skilled tattoo artist to bring your vision to life!
Gorgeous Woman Silhouette Line Tattoo With Floral Motifs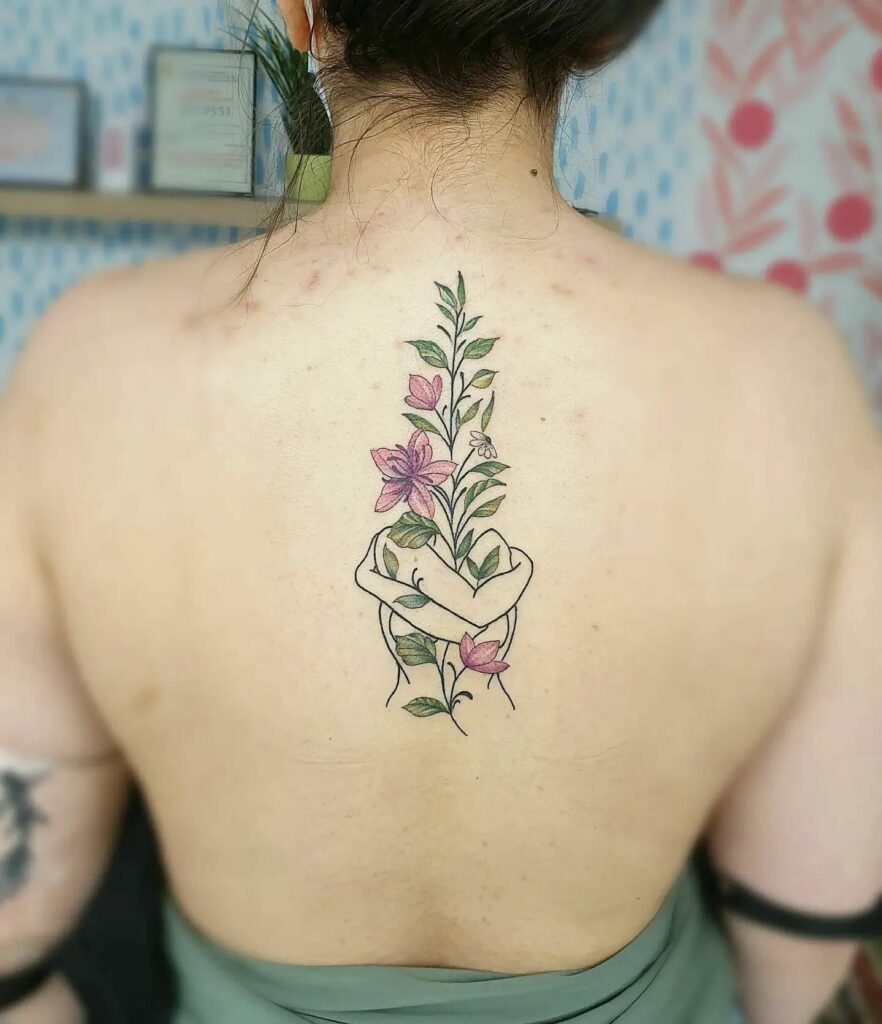 If you're looking for a stunning tattoo featuring a beautiful woman's silhouette, I highly recommend considering a fine line style. This approach will give you precise lines and sharp details that will truly make your tattoo stand out. And to make it even more eye-catching, why not take inspiration from nature? So many women choose to incorporate floral motifs into their tattoos, and for good reason. Not only do flowers add an extra layer of beauty to the design, but they can also act as fantastic fillers if you're looking to expand your tattoo or cover more space on your body. Just like the example in the picture, you can add pops of color to the flowers for a stunning contrast against the silhouette. Trust me, with a tattoo like this, you're sure to turn heads and receive plenty of compliments!
Beautiful Fairy Tattoos Done In Silhouette Tattoo Style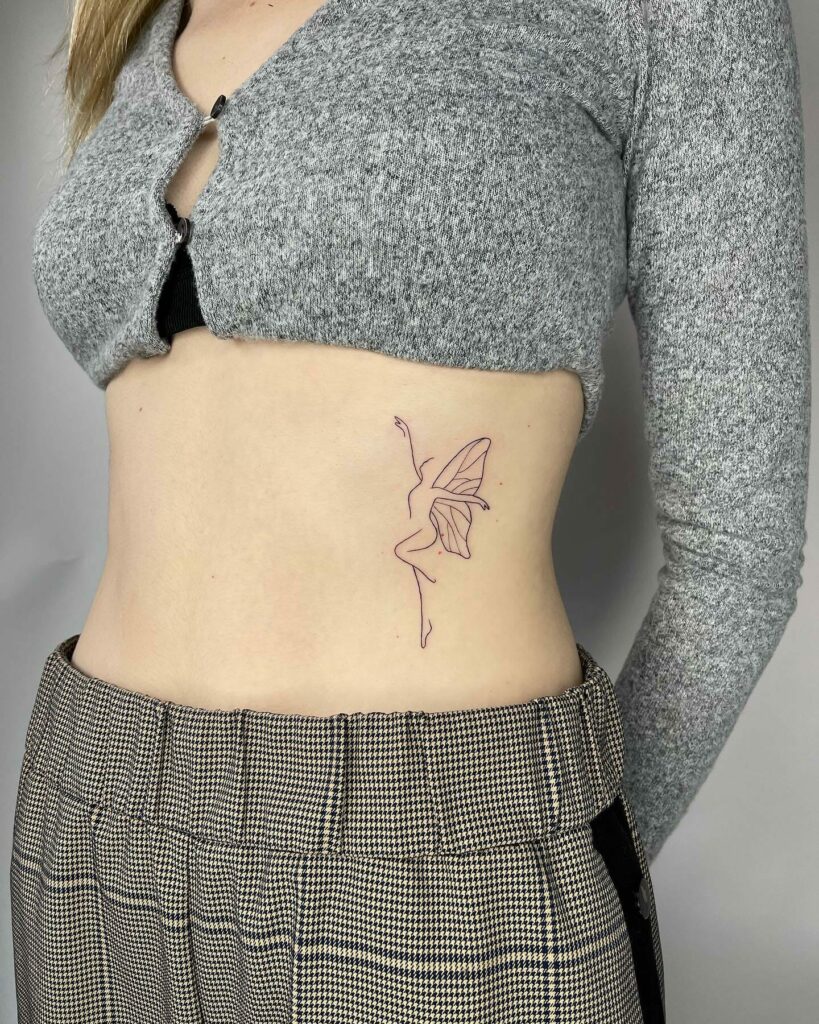 Are you a fan of all things magical and whimsical? Then a fairy tattoo might just be the perfect design for you! Fairies have been a beloved part of our childhood storybook tales for as long as we can remember. From the mischievous Tinkerbell in Peter Pan to the kind and generous Fairy Godmother in Cinderella, these magical creatures have captured our imaginations for generations. When it comes to adding a touch of enchantment to your tattoo collection, why not go for a stunning fairy silhouette design? You can ask your tattoo artist to add delicate wings to the design to really make it come to life. And if you need some inspiration, we've got you covered! Check out this list of beautiful and simple fairy tattoo ideas for some inspo. Get ready to add a little magic to your life with a gorgeous fairy tattoo!
Lovely Watercolor Silhouette Tattoo Designs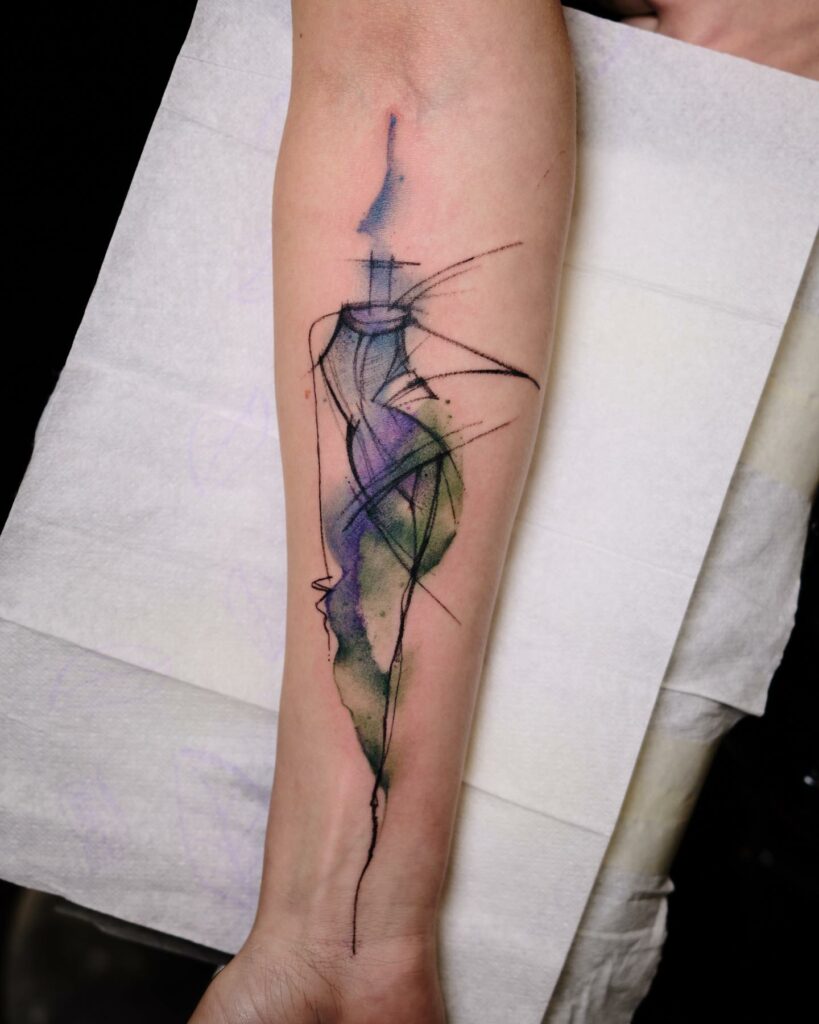 Are you looking to add a touch of color to your fine line tattoo? Great choice! Tattoos are all about personal expression, and that's why it's important to choose a design that truly speaks to you. Some folks prefer the classic look of a black fine line tattoo, while others like to add a pop of color to their ink. If you're in the latter camp, we've got some great tips for you!
Your tattoo artist can add color to your fine line tattoo in a few different ways. You can choose to have the lines drawn in color, or you can create a colorful background and then have the silhouette outlined in black. Either way, adding color to your fine line tattoo is a great way to make it unique and eye-catching.
Need some inspiration for your colorful fine line tattoo? Check out this list of beautiful floral watercolor tattoo designs. They're the perfect source of inspiration for your next tattoo! So why not add a touch of color to your life with a gorgeous fine line tattoo?
Deep And Meaningful Silhouette Line Tattoo Of A Woman
Are you looking to add a special touch to your woman silhouette tattoo? Great idea! Silhouette tattoos are already beautiful on their own, but you can make them even more meaningful with a few creative twists.
Just take a look at the picture above, for example. The artist has drawn the woman's silhouette in a way that her hands are forming a heart shape. And by using a mix of red and pink, they've given the tattoo an extra touch of love and affection. It's a sweet and subtle way to add a personal message to your tattoo.
So why not let your woman silhouette tattoo reflect your personality and values? With a few thoughtful additions, you can turn it into a meaningful work of art that you'll treasure for years to come.
Woman Silhouette Line Tattoo Ideas That Can Be Placed Anywhere
Are you thinking about getting a woman silhouette tattoo? That's great! One of the best things about these tattoos is that they can be placed just about anywhere on your body. From your forearm to your back, chest, ankle, hip, or thigh, the possibilities are endless.
When it comes to choosing the right placement for your tattoo, it's all about personal preference and how much pain you're comfortable with. Some people love having tattoos on their forearm, while others prefer a more discreet spot like their collarbone or hip. And don't worry, if you need some guidance, your tattoo artist is always there to help. They'll work with you to find the perfect placement for your new tattoo.
So why not experiment and see what placement feels right for you? Whether you're looking for a bold statement or a more subtle design, a woman silhouette tattoo is a beautiful way to express yourself.
Awesome Silhouette Tattoo Designs For Women Who Are Overthinkers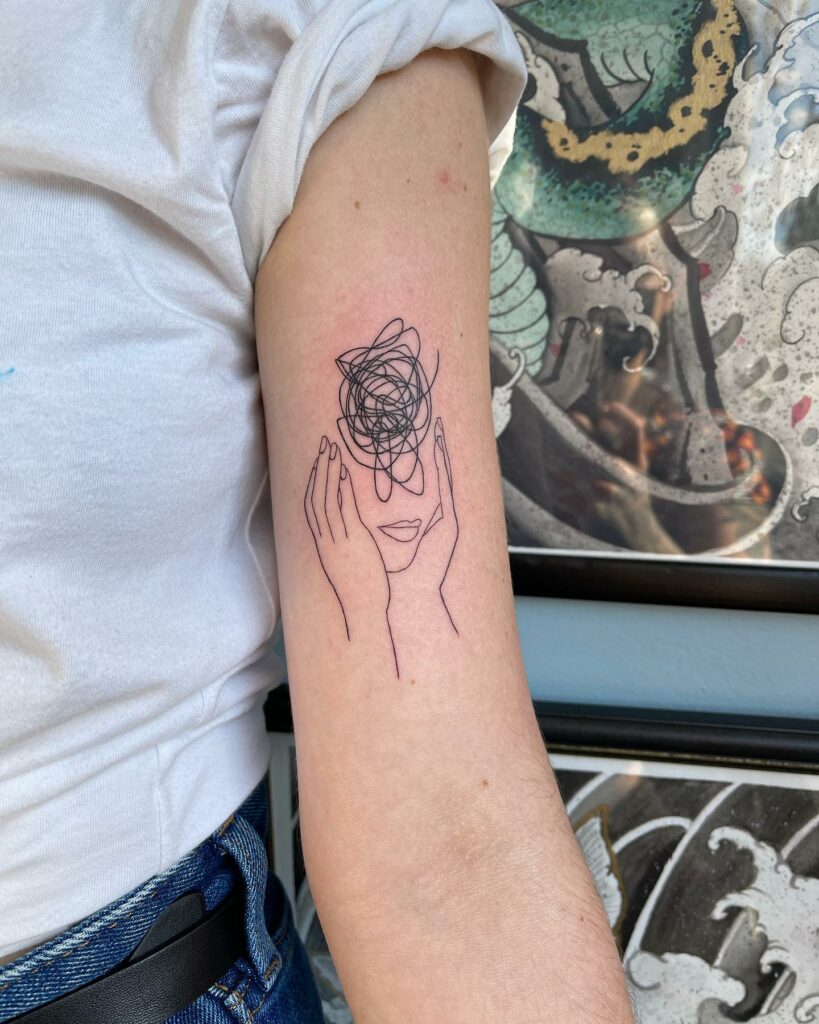 Are you looking for a tattoo that truly represents you and your personality? That's fantastic! Tattoos are a great way to express different aspects of ourselves, and silhouette tattoos are no exception.
If you're someone who's always thinking or worrying, then this tattoo might just be perfect for you. Take a look at the photo above – the wearer has chosen to express this side of themselves by replacing the head of the woman silhouette with jumbled, squiggly lines. It's a subtle yet powerful way to show that there's always a lot going on in their mind.
So, if you see yourself in this tattoo and it resonates with you, why not consider getting it for yourself? Whether you're looking to express your true nature or show what you like or dislike, a silhouette tattoo is a beautiful way to do so.
Unconventional Line Tattoo Design With Shading Effect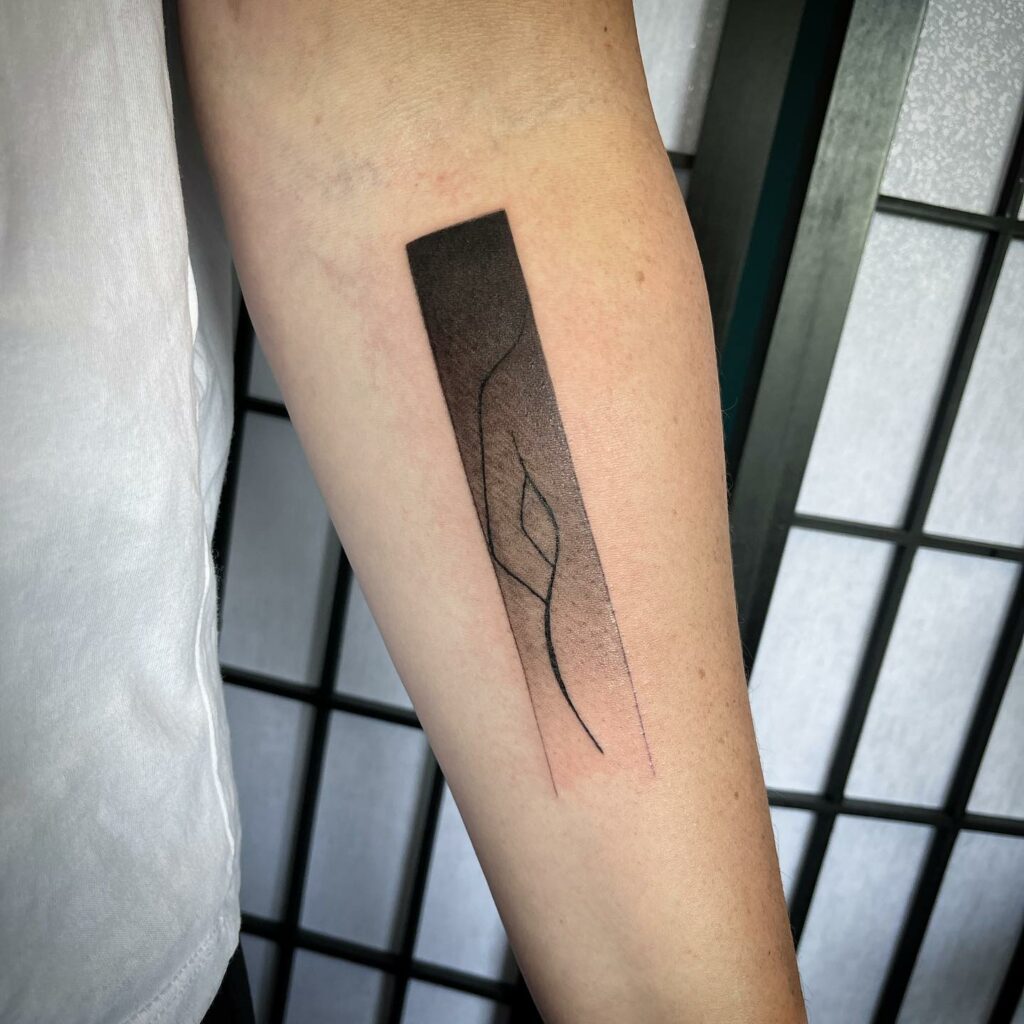 If you're a fan of woman silhouette tattoos, then you probably know that they often feature simple and clean lines in black ink. But what if you want to switch things up a bit and add a unique twist to your tattoo? That's where shading comes in!
Take a look at the photo above as an example. The artist took a creative approach by first creating a shaded strip on the skin and then adding the woman's form on top with black ink. The result is a stunning silhouette tattoo that stands out with its added shading effect.
So, if you're feeling daring and want to show off your individuality through your tattoo, consider incorporating shading into your woman silhouette design. Your tattoo artist will be able to guide you and make sure that you end up with a one-of-a-kind masterpiece!
Wonderful Woman Silhouette Line Tattoos With Leaves And Vines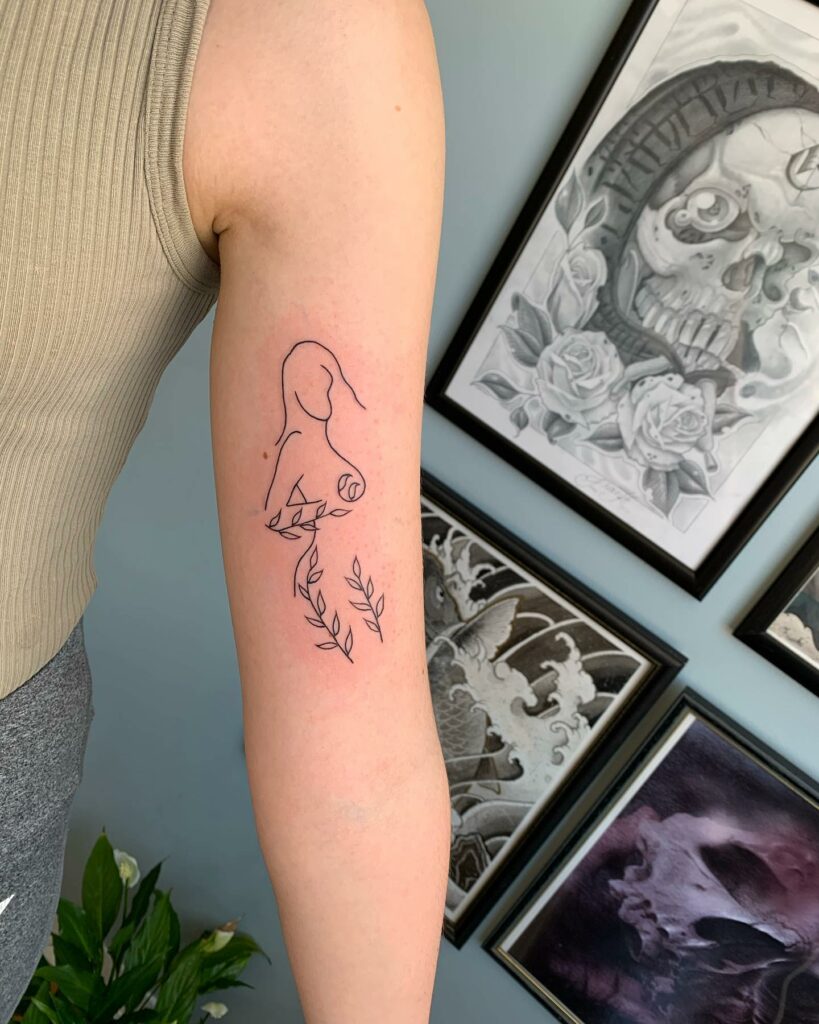 Are you thinking about getting a woman silhouette line tattoo? Well, why settle for just a simple line drawing when you can make it even more special and personal to you? In the photo above, you can see an example of a woman silhouette line tattoo with added leaves and vines. This is a great way to make your tattoo more delicate and lovely, while also adding a touch of nature and femininity. So, don't be afraid to get creative with your tattoo and make it truly one-of-a-kind!
Stunning Woman Silhouette Line Tattoo Ideas For Your Arm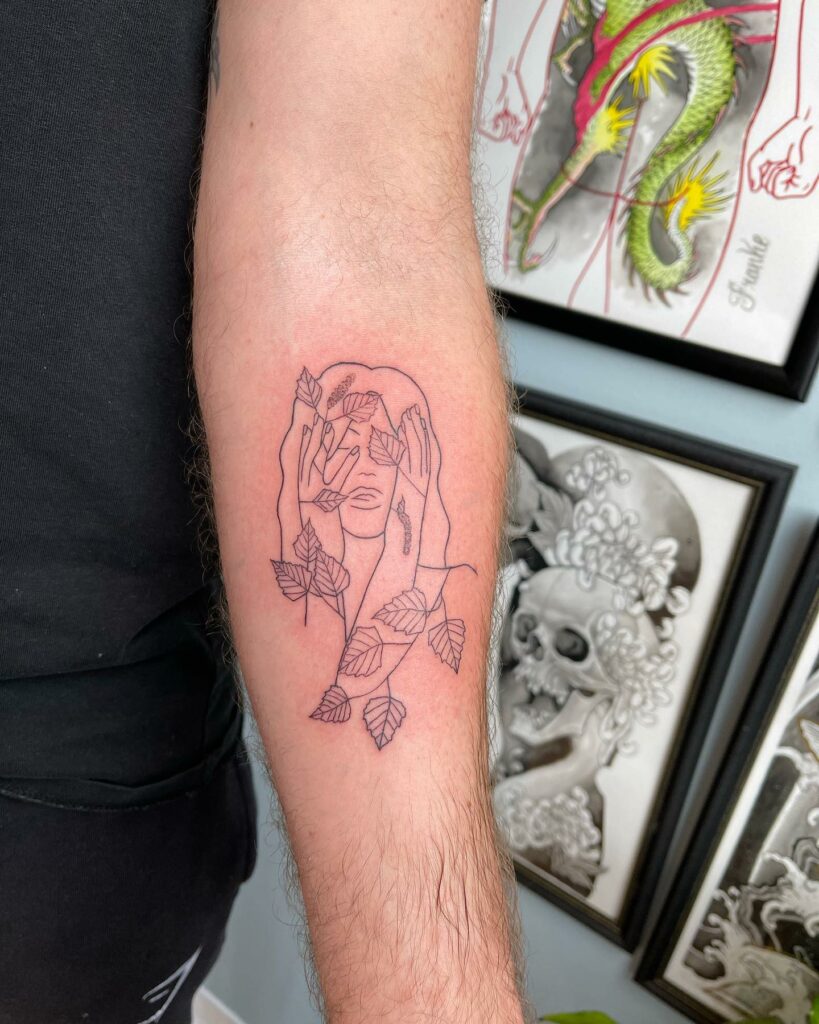 If you're a fan of minimalist yet stunning tattoos, then a woman silhouette line tattoo might be just what you're looking for. A lot of women love to get this type of tattoo on their arms, especially on the bicep, forearm, or below the elbow. This placement ensures that the tattoo is easily visible and can be flaunted with pride.
When it comes to choosing the best spot for your woman silhouette tattoo, you can consult with your tattoo artist to get their professional opinion. They'll be able to help you pick a placement that will make your tattoo stand out in the best way possible.
So if you want a delicate, dainty, and feminine tattoo that's sure to turn heads, why not book an appointment with your local tattoo shop today and get a gorgeous woman silhouette line tattoo!
Still looking for inspiration, then checkout this blog post about japanese snake tattoos
feature image from Pinterest – Want your tattoo to look brighter? Try "Tattoo Balm"