Hey there! Are you a fan of Egyptian mythology? If so, you're in luck! We have some amazing Women's Eye of Horus tattoo designs that you'll definitely love. The Eye of Horus is a powerful symbol that represents protection and prosperity in ancient Egyptian mythology. These tattoos have become increasingly popular in recent years, as people have grown more interested in the ancient mythology of Egypt.
The story behind the Eye of Horus is quite fascinating. According to mythology, Horus, the god of the sky and war, had a conflict with Set, the god of chaos and violence. During the argument, Set tore out one or both of Horus's eyes. However, the eye was subsequently healed or returned to him with the help of the god Thoth. Horus then gave the eye to his father Osiris, so that he could sustain his power in the afterlife. The Eye of Horus has since been associated with offerings made at funerals or at temples to honor the gods.
The Eye of Horus is typically represented by an eye with distinctive markings and is often accompanied by a hieroglyph symbol. These tattoos are not only beautiful, but they also have a deep meaning and are said to possess healing power and magical energy. If you're interested in getting an Eye of Horus tattoo, we have some great design ideas to help you get started!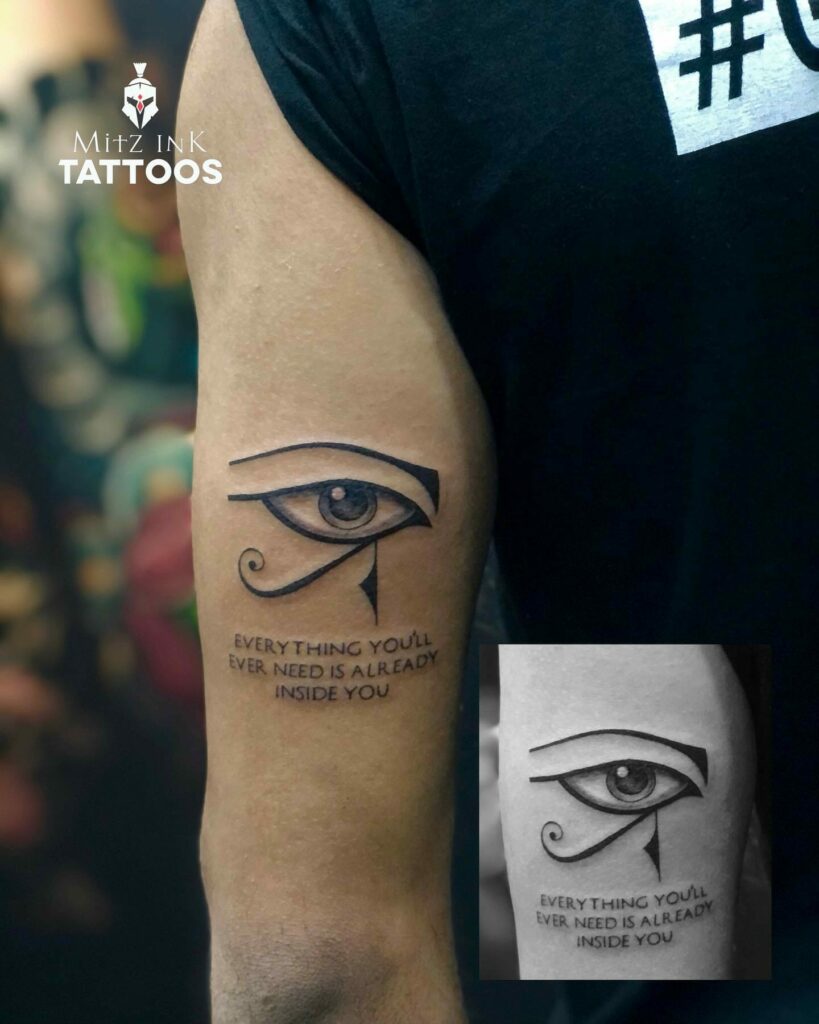 Horus Tattoo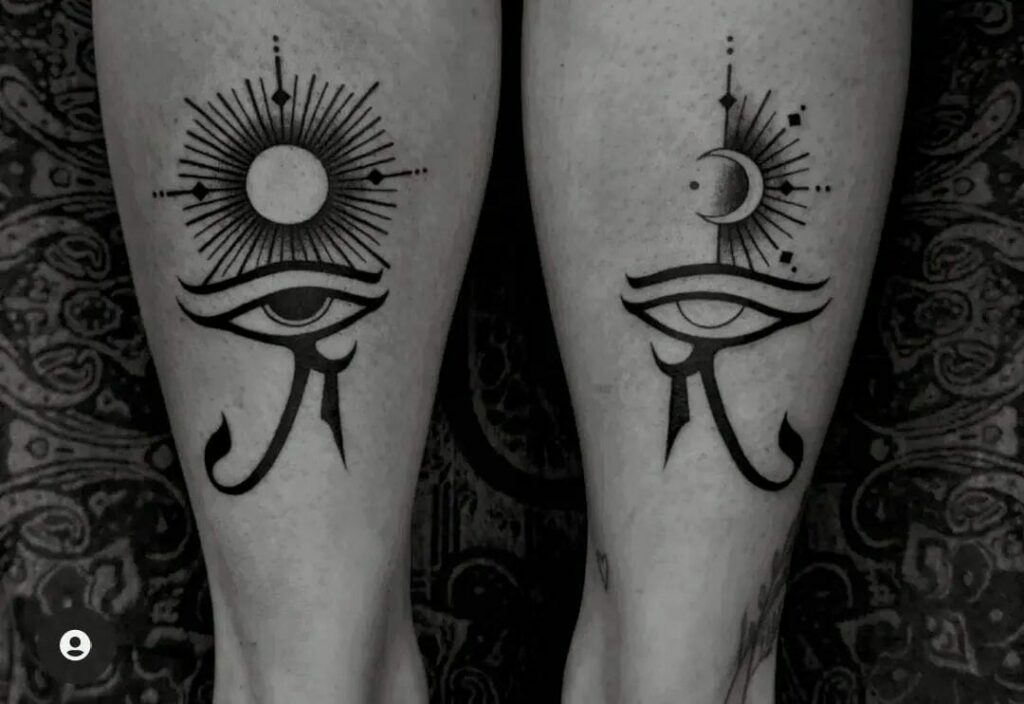 Horus was a powerful god in ancient Egyptian mythology, and his left eye was associated with the moon while his right eye was linked with the sun. The two eyes were considered equivalent to the red and white crown of Egypt. It's also believed that the Eye of Horus can be interchanged with the Eye of Ra, the sun god who was often personified as a goddess.
This eye-catching tattoo shows both the left and right Eye of Horus, with a moon on the left and a sun on the right. The bold black lines of the tattoo are contrasted beautifully with white ink used to highlight the sun and moon. This particular design is on the legs of the individual, but you could get a matching Eye of Horus tattoo with a friend or family member. So, whether you're drawn to Egyptian mythology, or just love the striking imagery of the Eye of Horus, it's a great choice for your next tattoo.
Small Women's Eye Of Horus Tattoo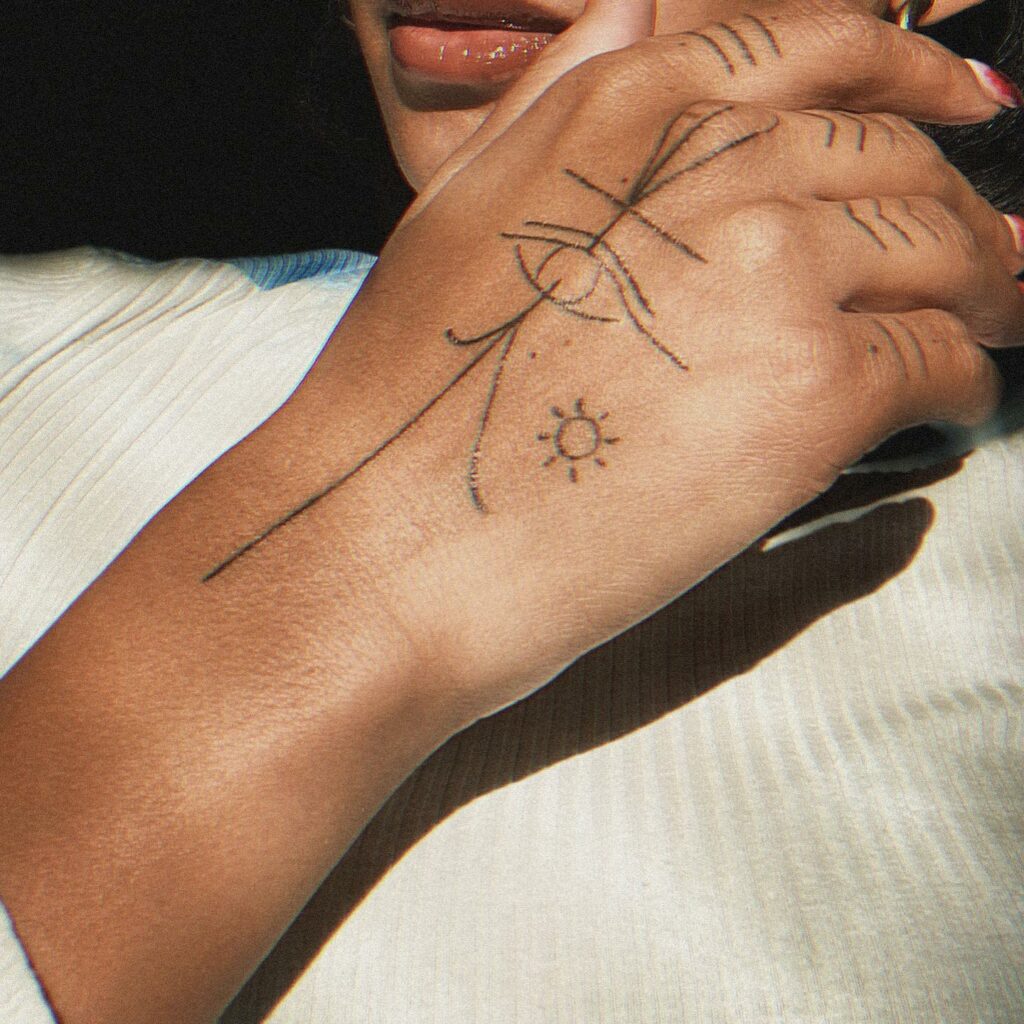 This particular tattoo design is a simplified version of the original Eye of Horus tattoo. The ancient Egyptians had a spiritual connection with eyes, and this design is a common feature in their artwork.
This tattoo is particularly popular among women and is believed to provide protection from evil spirits. There are many variations of this design, but this particular one is a simple yet elegant form. The tattoo artist has skillfully used fine lines of black ink to create a small Eye of Horus tattoo that looks stunning on the wrist. However, since this tattoo is very versatile, it can be placed on any part of the body and still look very chic. So, if you're looking for a unique and spiritual tattoo design, the Eye of Horus might be the perfect choice for you!
Ancient Symbol Tattoo
The Eye of Horus has a rich history in ancient Egyptian culture, symbolizing protection and healing. This design has been a popular tattoo choice for centuries, with many people believing it can bring long-term health benefits. The placement of the tattoo is also significant, as it can represent a bold statement or a personal belief.
This Eye of Horus tattoo is a stunning example of the design, created by a talented artist using black and grey colors. The fine lines and dot work used in the design create a beautiful and intricate pattern and the shades of grey and black add depth and dimension to
Cleopatra Tattoo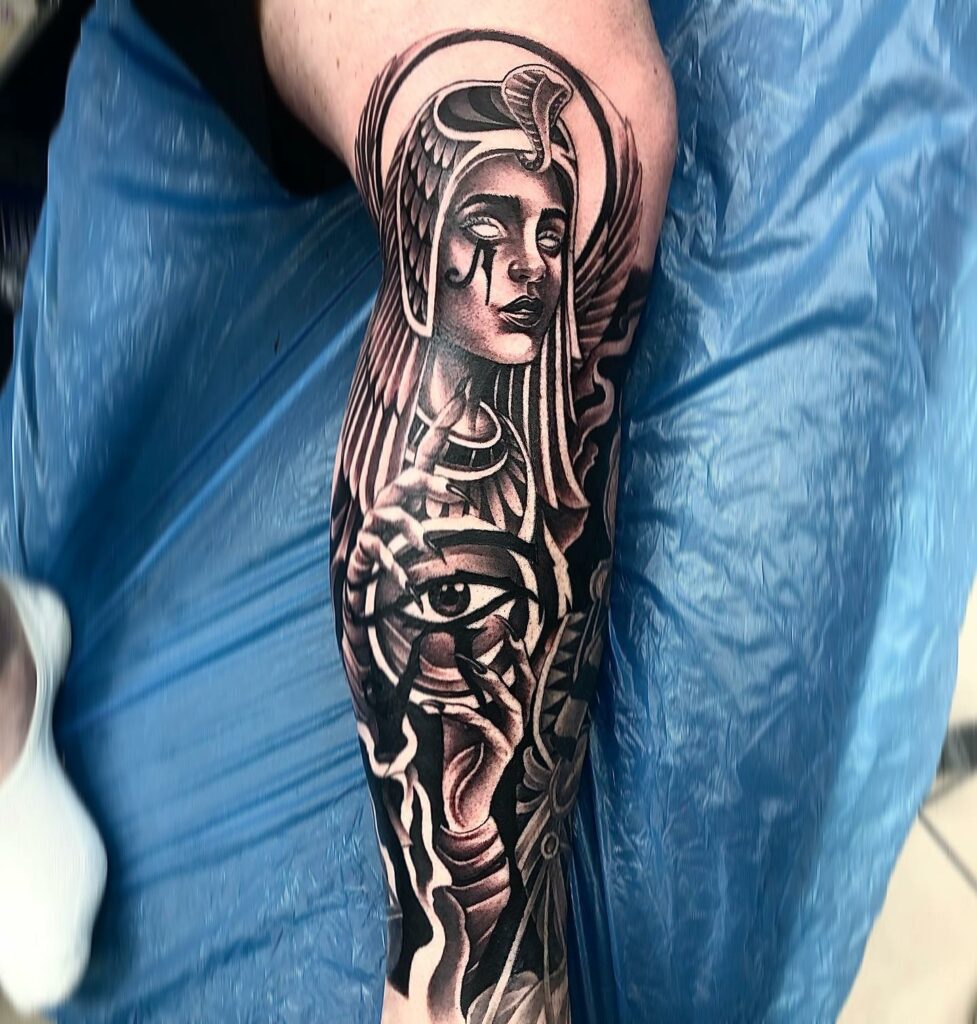 Let's talk about the legendary Queen Cleopatra, one of the most iconic figures of ancient Egyptian history, who was famous for her incredible beauty and intelligence. Cleopatra used to take inspiration from goddess Isis and Aphrodite and often adorned herself with eye makeup that resembled the eye of Horus, which further enhanced her already mesmerizing features.
This stunning tattoo is a beautiful depiction of Cleopatra with intricate details and Egyptian eyes that resemble the eye of Horus. The tattoo artist has used a variety of shades like black, grey, and brown to complete the design. The attention to detail in this tattoo is admirable, and it makes for a stunning piece of body art.
Egyptian Tattoo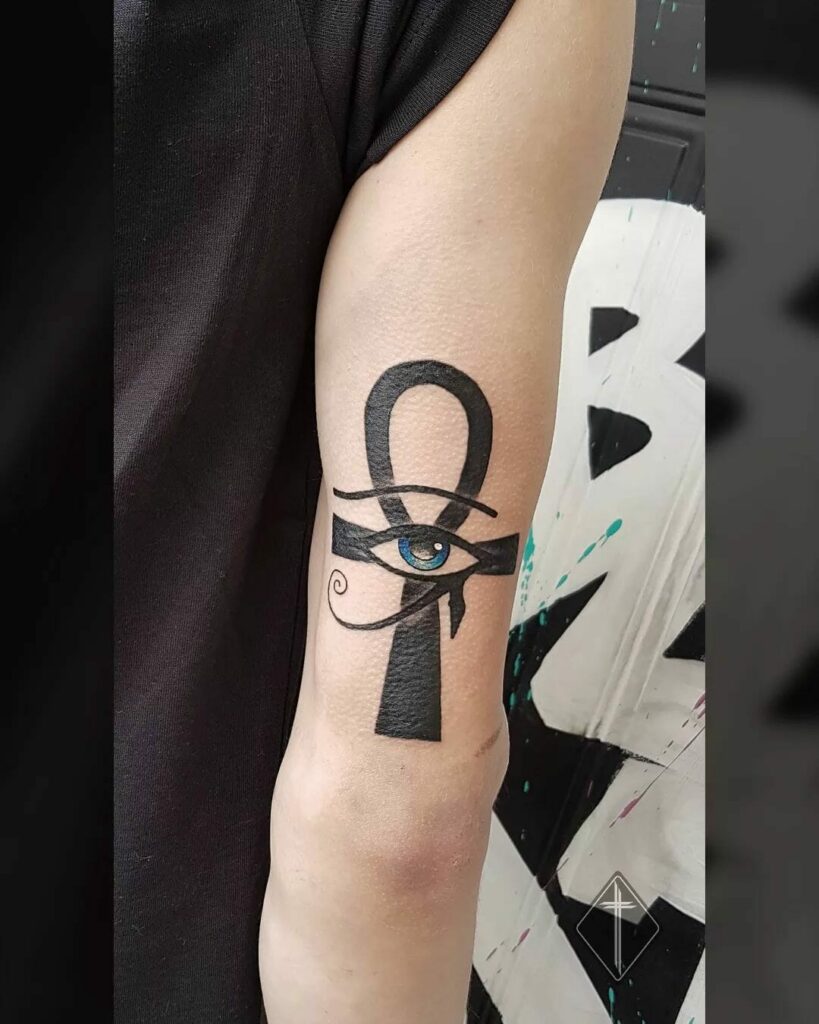 When it comes to meaningful tattoos, the Horus eye and the cross tattoo are two popular symbols that are filled with significance. This particular design brings together the power of both symbols to offer protection and good luck. The eye of Horus, with its rich history of representing healing and protection, is placed within a cross that is a symbol of faith and devotion. This tattoo is perfect for those who wish to show their love for both symbols. The talented tattoo artist has used black ink to create bold lines and shades, and for the eye, a beautiful blend of blue, gray, black, and white colors. This tattoo is of medium size and has been placed on the back of the upper arm, however, it can be placed anywhere on the body.
Horus Eye Tattoo
The ancient Egyptians associated Horus with the falcon, and sometimes he was depicted as a human with a falcon head. Later, the stylised eye became another important symbol of Horus. This particular design is a smaller version of the eye tattoo. The tattoo artist has used dark black ink to create an eyebrow extending into the eye and another black line extending towards the cheek. To add a personal touch, the words 'Mind Matter' have been written on top of the design. This small yet impactful design is perfect for someone who wants to convey their belief in the power of the mind.
Women's Feminine Eye Of Horus Tattoo
Simple Eye Of Horus Tattoo
Eye Of RA Tattoo
Realistic Eye Tattoo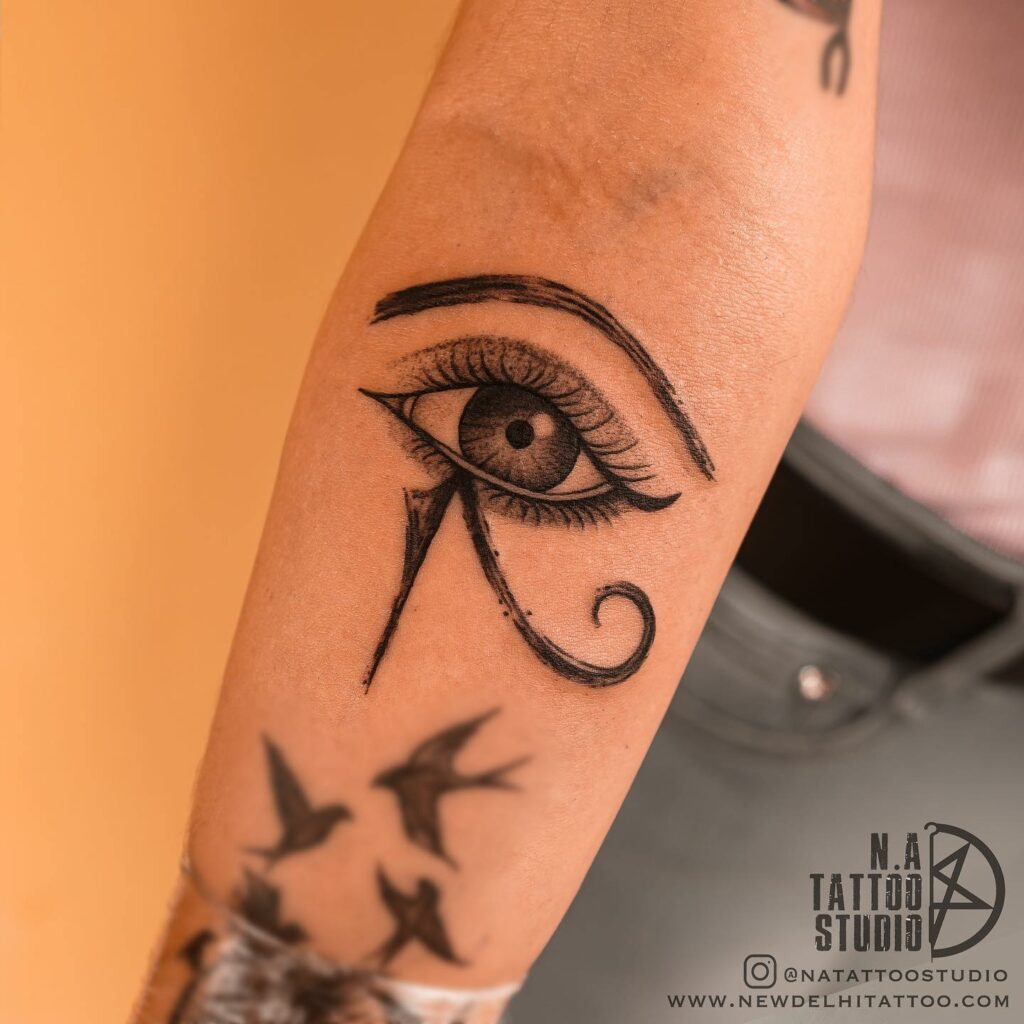 Are you fascinated by the history of ancient Egypt and looking for a tattoo that reflects your interests? The eye of Horus tattoo is a perfect choice for you! If you're hesitant about making a long-term commitment, you can ask your tattoo artist to create a temporary version first. This will give you the opportunity to try out the design and see if it's the right fit for you. If you end up falling in love with the temporary tattoo, you can always convert it into a permanent one later. Don't let fear of commitment hold you back from getting the tattoo of your dreams!
feature image from Pinterest – Want your tattoo to look brighter? Try "Tattoo Balm"