Are you looking for some inspiration for your next tattoo? Look no further! We've got you covered with these incredible black American flag tattoo designs that are uniquely stunning. 
The American flag has been a symbol of pride since 1977, and what better way to show off your patriotism than with a flag tattoo? American flag tattoos are extremely versatile and can be inked in different variations. But what is a black American flag? Although there is no particular definition associated with a black American flag, a black flag, in general, is a declaration to the enemy of not giving up in a war. Now can you find a tattoo design more patriotic than a black flag tattoo? We bet not. You might be wondering if it would be disrespectful to ink an American flag tattoo. The answer is not really. American flag tattoos are often inked as a symbol of pride. However, there are a few things that you might need to keep in mind while doing so, like obviously not incorporating a flag with fire. That completely alters the entire meaning of an American flag tattoo and we are sure you are not looking for that. With that being said, let's hop on a ride into our catalogue that will inspire you with the best American flag tattoos.
Fire Fighter Tribute American Flag Tattoo
Firefighters are real heroes who put their lives on the line every day to protect us. These brave and self-sacrificing people deserve all the recognition they can get. If you are looking for a way to honor these modern-day heroes, a firefighter tattoo is a great idea. These tattoos can be inked by anyone, whether you are a firefighter yourself or simply want to pay tribute to someone who has made an impact in your life.
American Flag Eagle Tattoo Black And White
The bald eagle is a symbol of strength and freedom in America. This national bird has been admired for its fierce beauty for years, and what better way to make your American flag tattoo stand out than with a bald eagle American flag tattoo? This tattoo is a great way to symbolize your patriotism and show your love for your country.
American Flag We The People Tattoo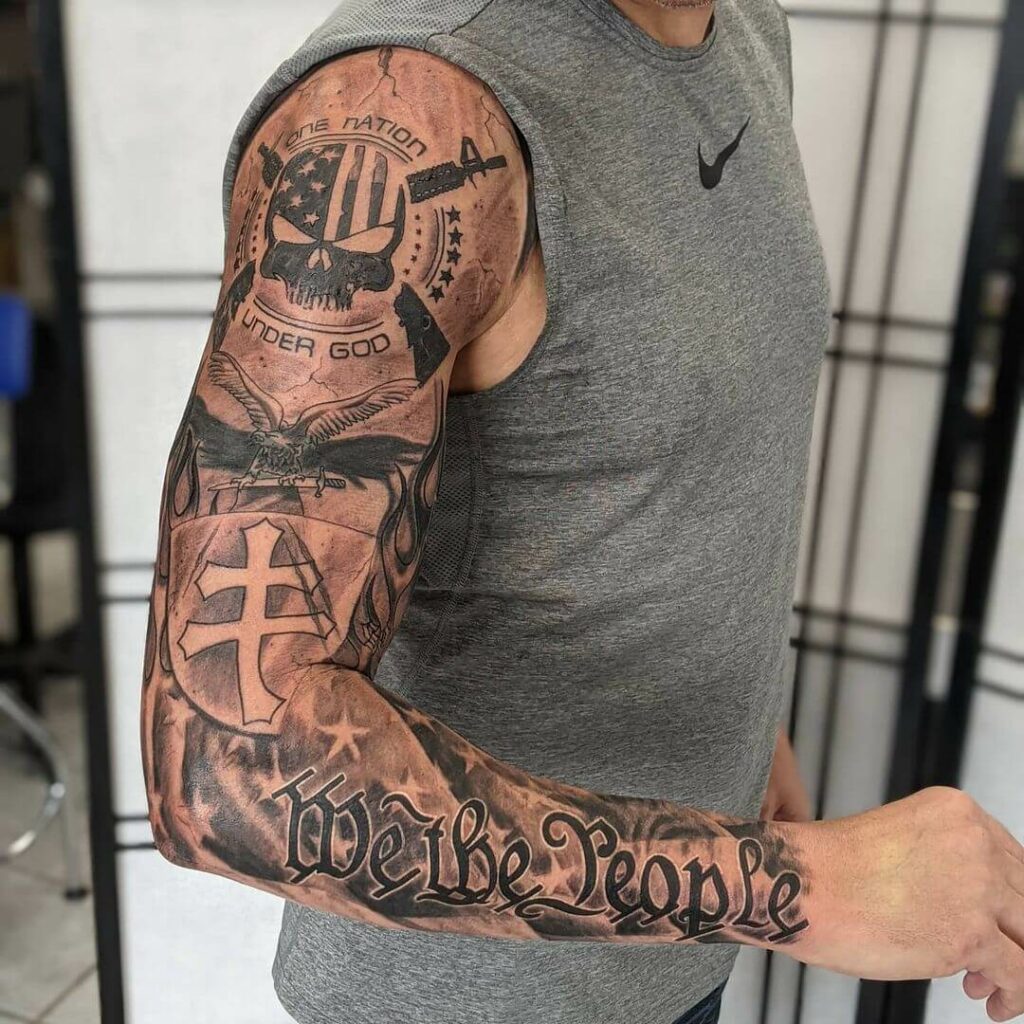 The Preamble to the American Constitution starts with the phrase 'We the People', and this phrase holds a special place in the hearts of all Americans. It means that all the power that was derived to create the Constitution has been drawn from the people of America collectively. If you are an American, you would know how much this phrase means to the nation. Inking it along with your American flag will symbolize your patriotism and love for your country.
Marine Corps American Flag Tattoo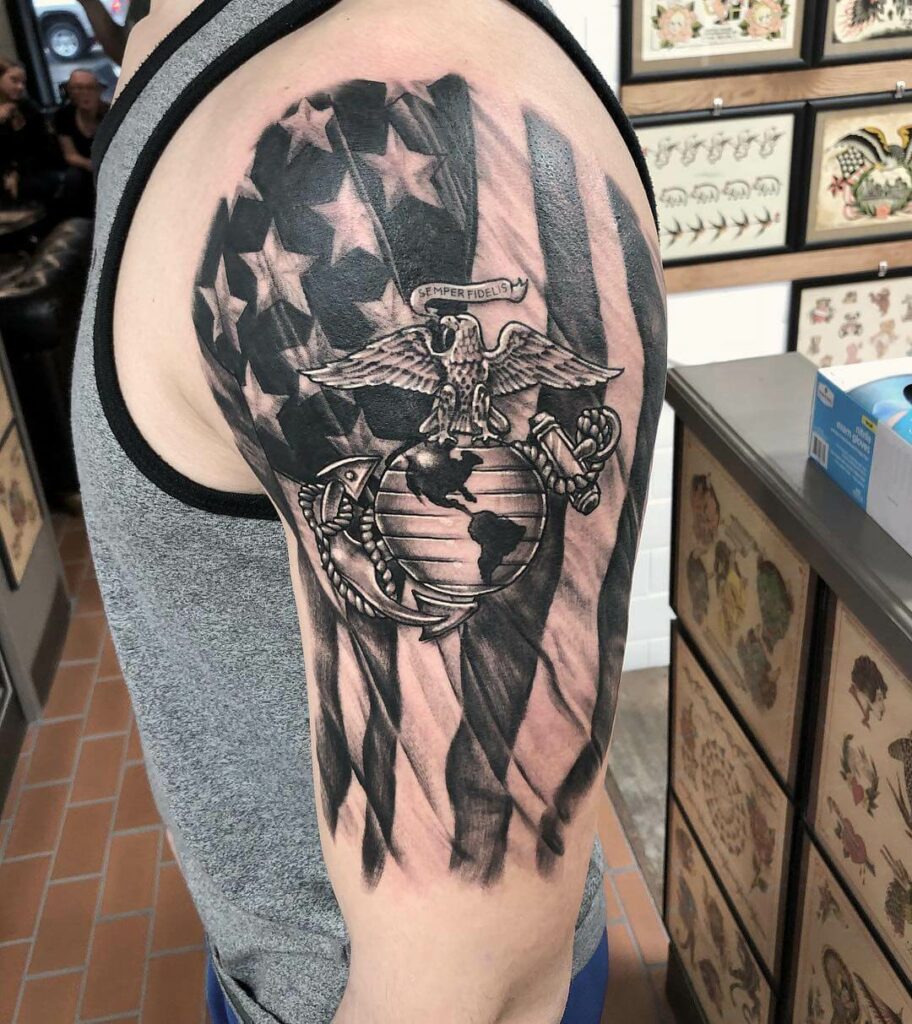 This tattoo features the American flag along with the Marine Corps emblem. The Eagle, of course, is the national symbol of the USA and in its beak it carries a streamer marked with the Corps' motto: Semper Fidelis. The Globe symbolizes the worldwide commitment of the Marine Corps and their responsibilities. The Marines are deployed anywhere in the world and it is their duty to serve their nation with great dedication. Lastly, the fouled anchor symbolizes the aquatic life of a Marine.
St. Michael American Flag Tattoo
This tattoo features a spread out American flag with an image of St. Michael, the patron saint of marines, paratroopers, police officers and military personnel. St. Michael is the leader of the heavenly army who will always defend us in a battle with the rulers of darkness. This tattoo is a great way to bring in blessings with an angel tattoo like this and add the American flag at the backdrop.
Black And White American Flag Tattoo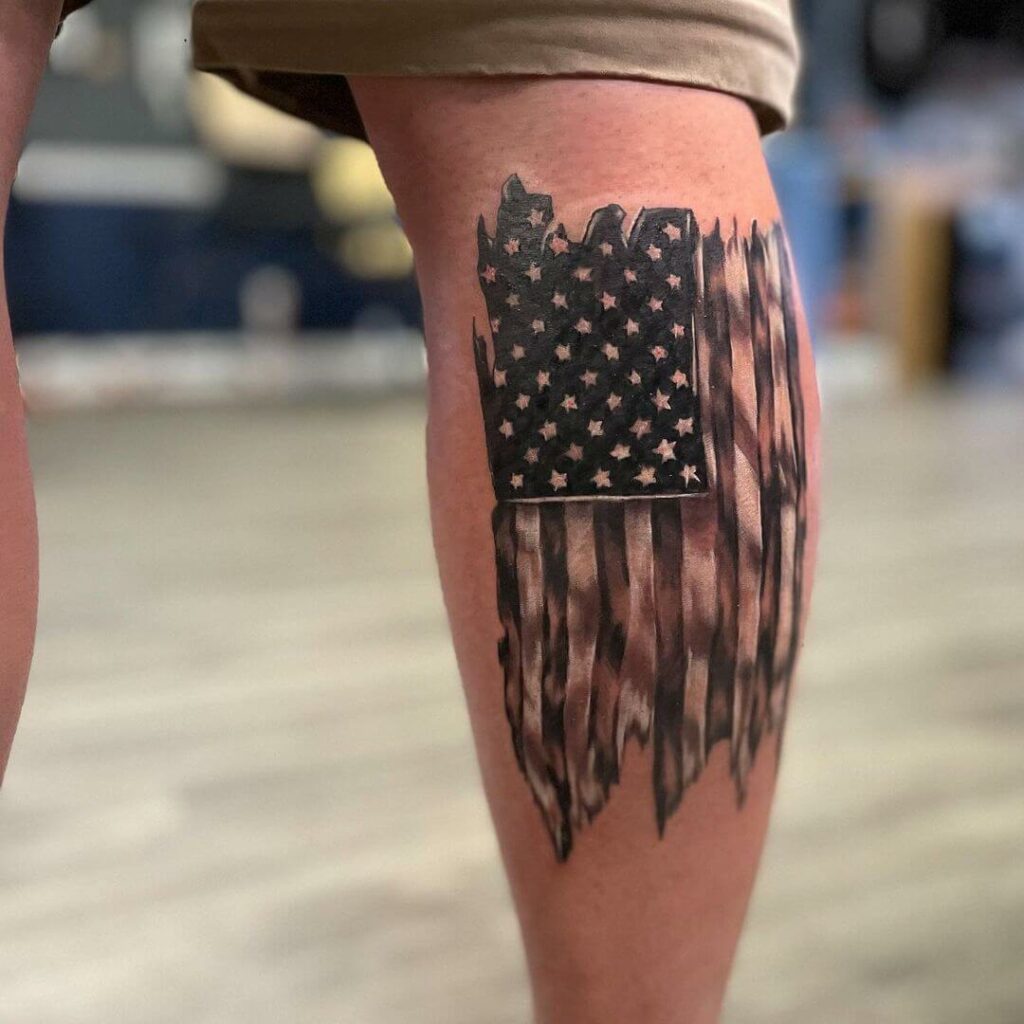 If you are looking for a simple and small tattoo that honors your country and shows your pride, a black and white small American flag tattoo like this should be your go-to. Using the contrast of black and white in an American flag like this makes the design easily distinguishable and look super cool at the same time.
Black And Gray American Flag Tattoo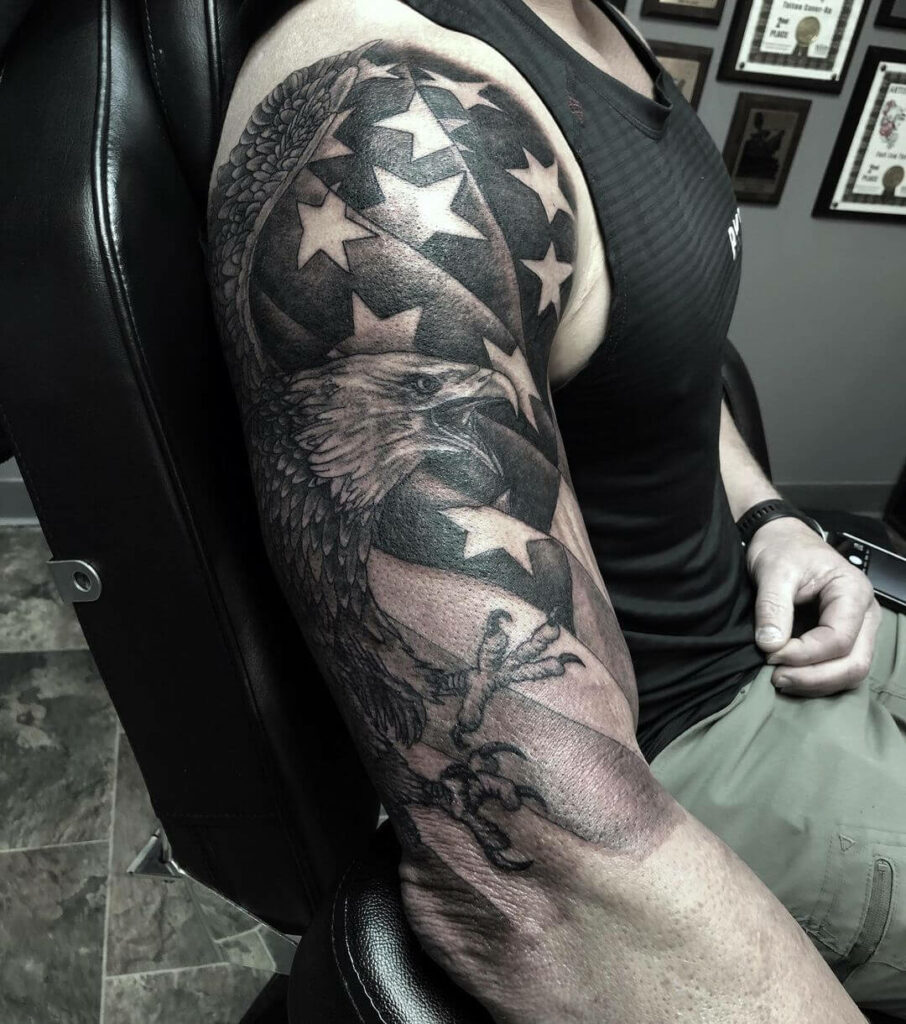 Although black and white is a great thing to ink, you can also always alter it for a black and gray style to give your American flag tattoo an intense effect. Add an eagle to your tattoo like the one here, and make a bold statement of your love for your country. You can always incorporate different styles and give it your personal creative touch, and your tattoo will always stand out.
Black And White American Flag Forearm Tattoo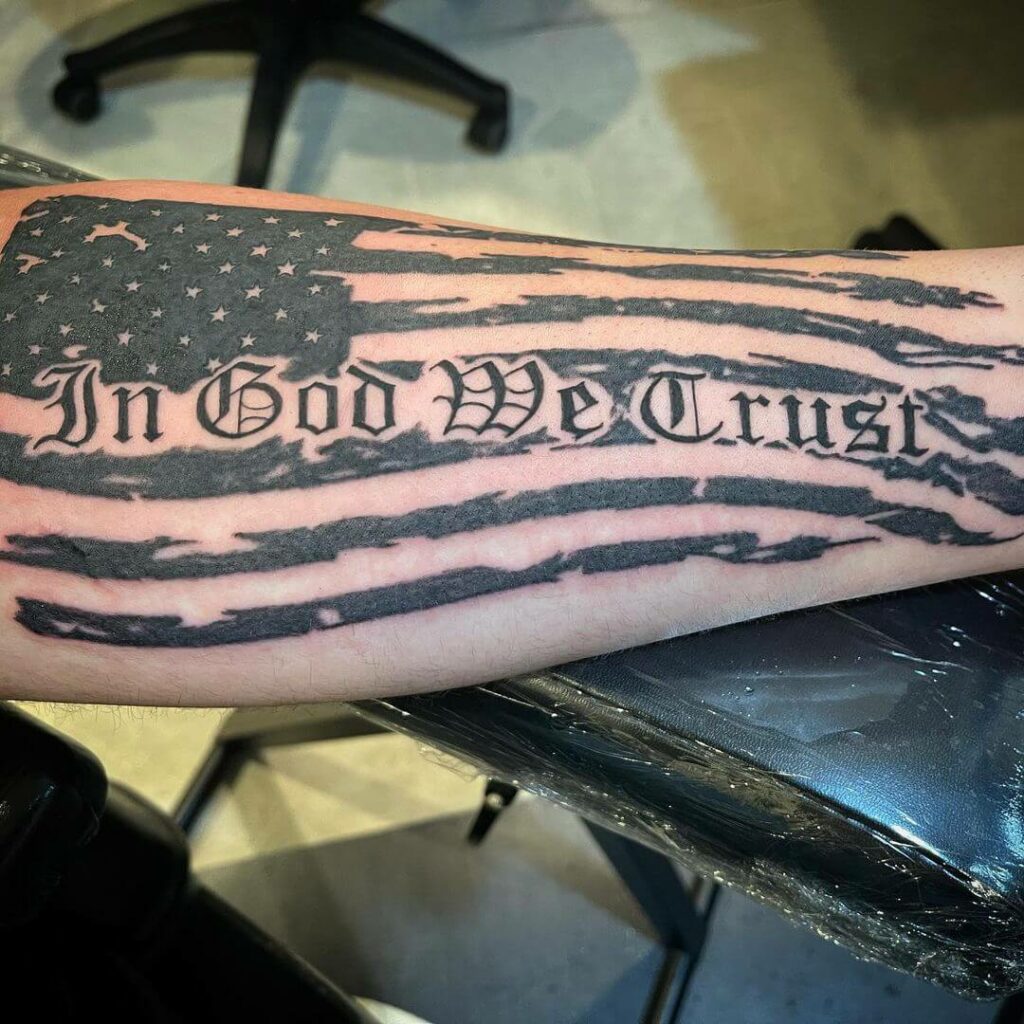 American flag tattoos always represent one's love for America. A forearm tattoo is one of those body art placements that are always out in the open, and a patriotic American flag tattoo is a perfect way to bring out the patriot in you. If you have been wondering about the body parts to ink an American flag tattoo and don't mind a little bit of show-off, your search has finally come to an end.
Black And White American Flag Shoulder Tattoo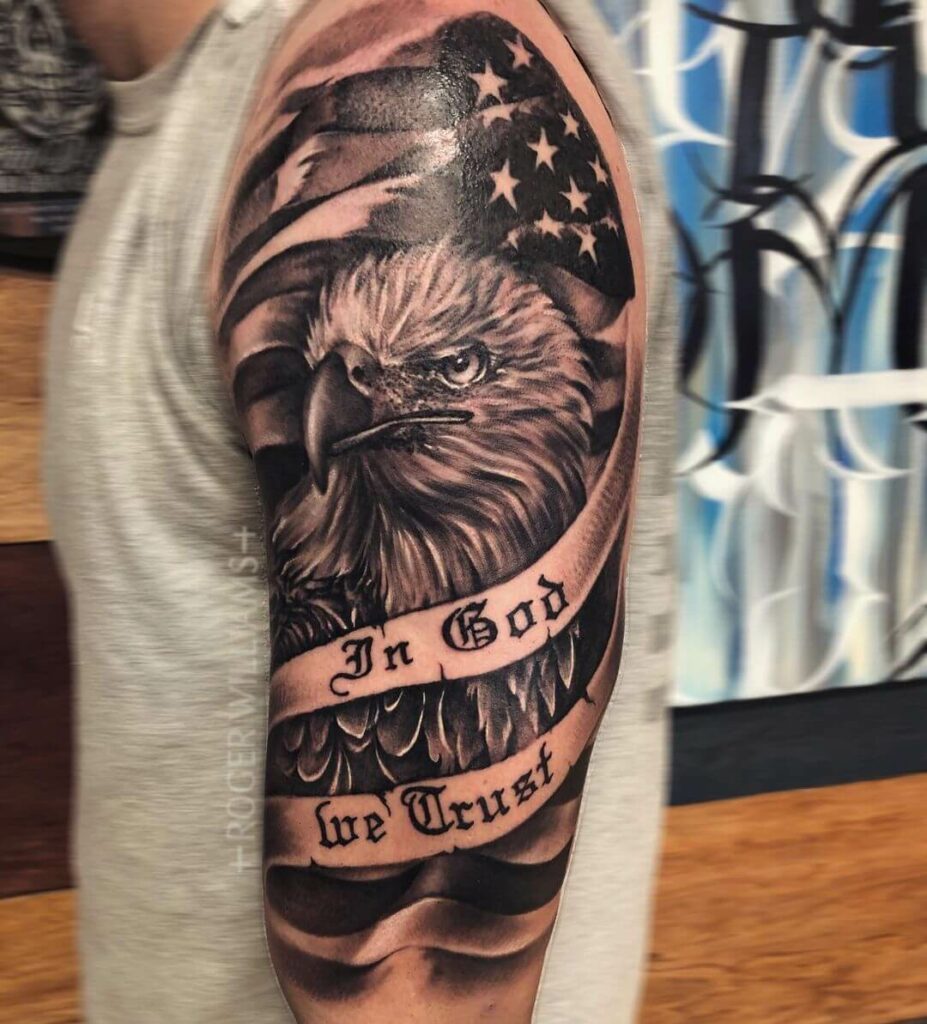 A shoulder tattoo usually represents strength and power. As we already know of how the shoulders in the uniform of a defense personnel have embellishments declaring their rank, a shoulder could also make a great display placement for anything you are proud of. And hence, another perfect placement for an American patriotic tattoo. Add in details like the eagle-like the one in this tattoo with a quote of your choice and make it unique and bold.
Black And White American Flag Back Tattoo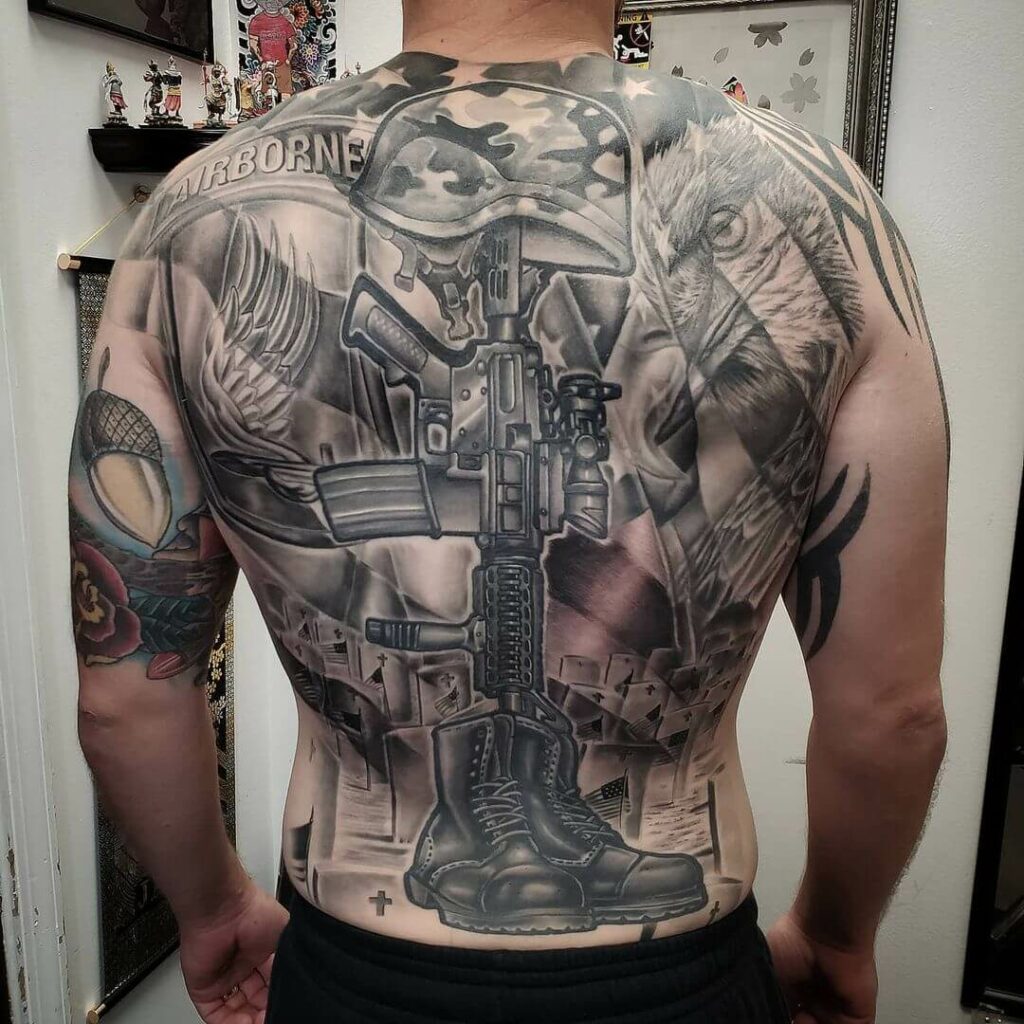 Tattoos in hidden areas like the back are very personal since they are not just a subject to be showing off. This tattoo features a military hat, a rifle, and a shoe as a tribute and respect for the fallen ones. If you too have lost a loved one in battle, this tattoo is perfect for you. Also, let's please take a moment to appreciate the stunning work by the artist in this image.
Conclusion
When it comes to getting a black American flag tattoo, there are many different designs and styles to choose from. Whether you want a small and simple design or a large and intricate one, there is something out there for everyone. It's important to find an experienced tattoo artist who can help bring your vision to life and create a design that you will be proud to show off. When it comes to placement, consider areas like the forearm or shoulder for a bold and visible display of your patriotism. As for cost, this can vary depending on the size and complexity of the design. Be sure to discuss pricing with your tattoo artist before getting started.
It's also important to keep in mind that tattoos do come with some potential negative side effects or risks. These can include pain, infection, and scarring. However, by choosing an experienced tattoo artist and following proper aftercare instructions, you can minimize these risks and enjoy your new black American flag tattoo for years to come.
Feature image from Pinterest