Looking for some old-school tattoo designs? Don't worry; we have just the same for you. These Black American traditional tattoo designs are amazing.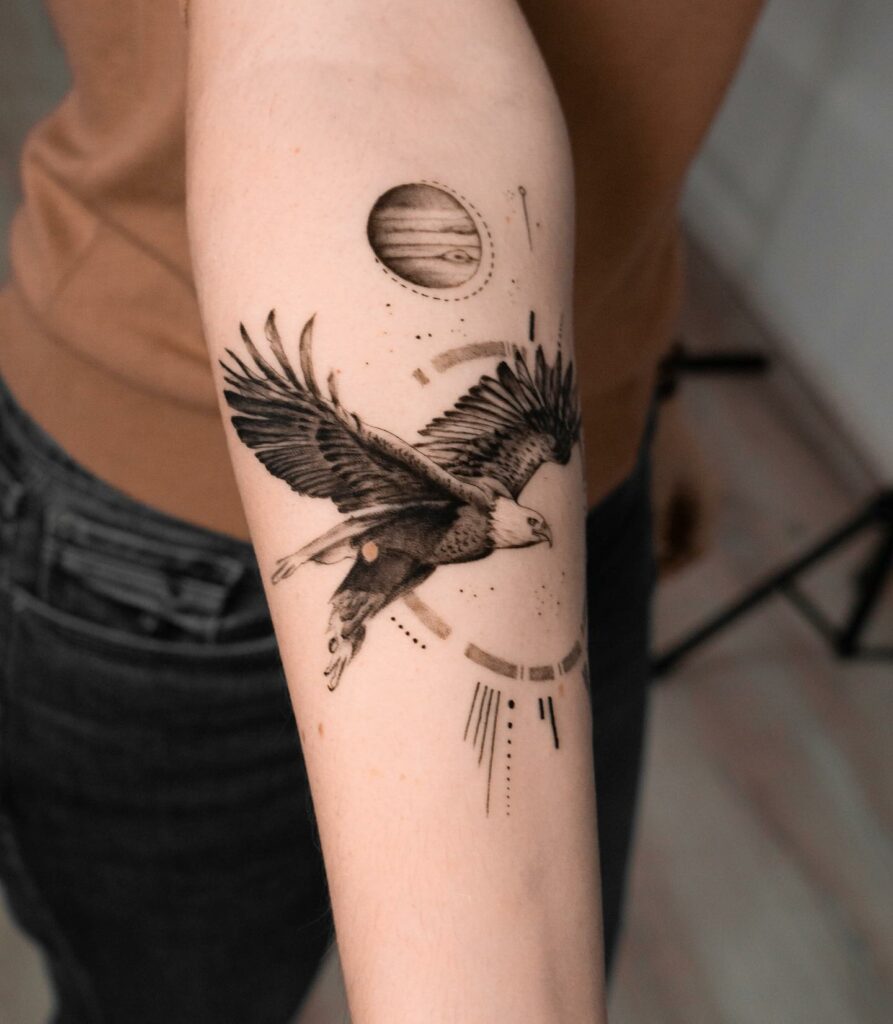 American traditional tattoo style has its origin in the early 30s.
At that time, traditional American tattoos were limited only to a particular section of the people. They included the soldiers or the circus people.
With the end of World War II, tattoos became very popular among US citizens. One of the pioneers of old-school tattoos was Norman Collins. Under his influence, the craze for tattoos began among the American mass. Some of the main characteristics of traditional American tattoos are that only bold lines are used, using pitch-black ink. The color palette of these tattoos is also restricted to only green, blue, yellow, and red. The traditional style of tattoos made use of different types of elements of Nature as well as animals to make their design. Given below are some of the best examples of black American traditional tattoos.
Black American Traditional Rose Tattoo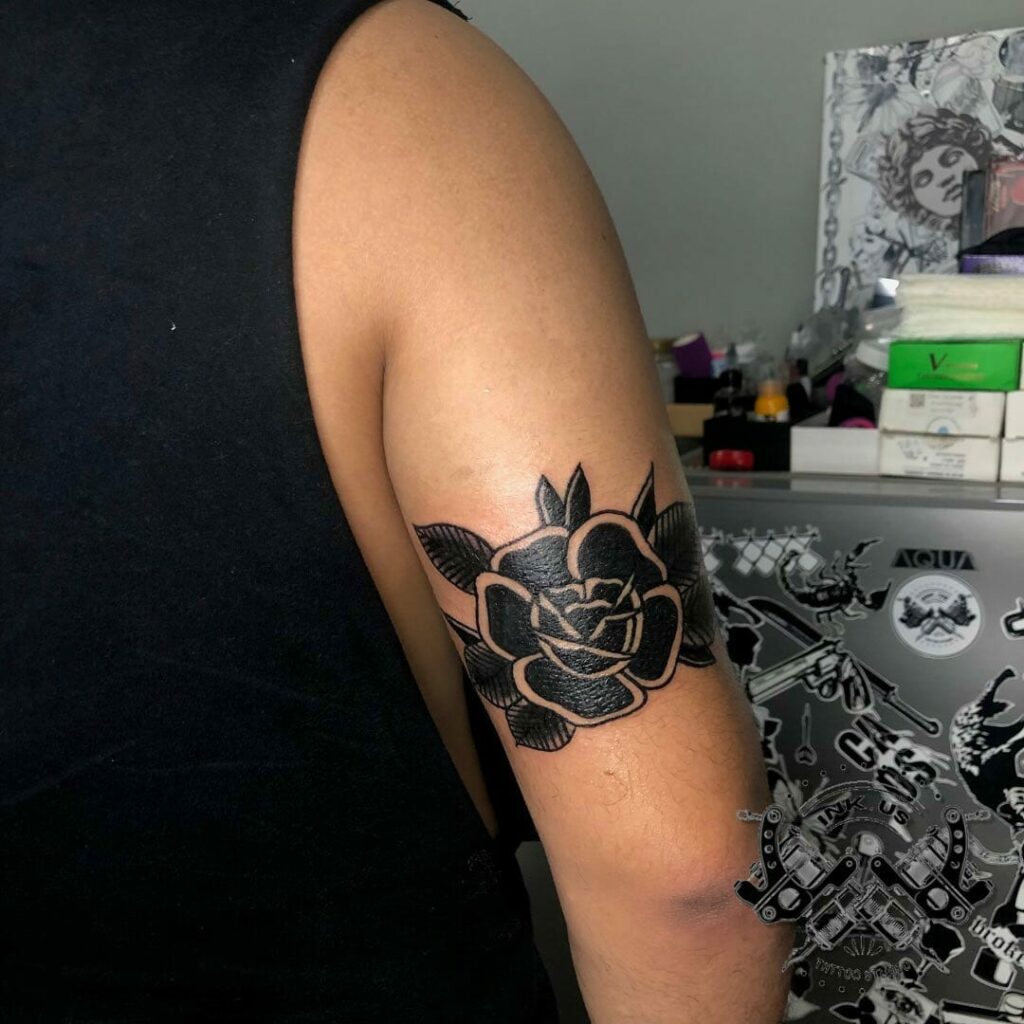 No one can deny that roses are one of the most beautiful elements of Nature. Using roses for tattoo designs is quite popular, especially among old-school tattoo artists. Here is an example of the same. The artist has created the design of a black rose on the arm of the individual. This image gives off a very bold vibe, yet looks gracious at the same time. Roses are symbols of beauty and life. The tattoo artist has tried to highlight these emotions through this particular. One common thing that you can find in the majority of American traditional tattoos is the use of flowers. Unlike this one, the flower tattoo can also be designed using different colors like yellow, red, or green. This kind of traditional American tattoo will look good on every individual.
Black Moth Traditional American Tattoo
Moths are the symbols of transformation and personal growth. Some cultures also believe that moths symbolize death and bad luck. They share specific similar physical characteristics with a butterfly and are an ideal choice for tattoo designs, especially among women. In this image, we can see the design of a moth with its wing spread. One of the key highlights of this design is the intricate detailing of the insect's wings. On closer inspection, you can see the image of a skull drawn in the moth's body. It is a perfect representation of death and decay. This is a classic example of a traditional American tattoo. If you like this design, you can use it as a reference for your next tattoo.
Flower Tattoo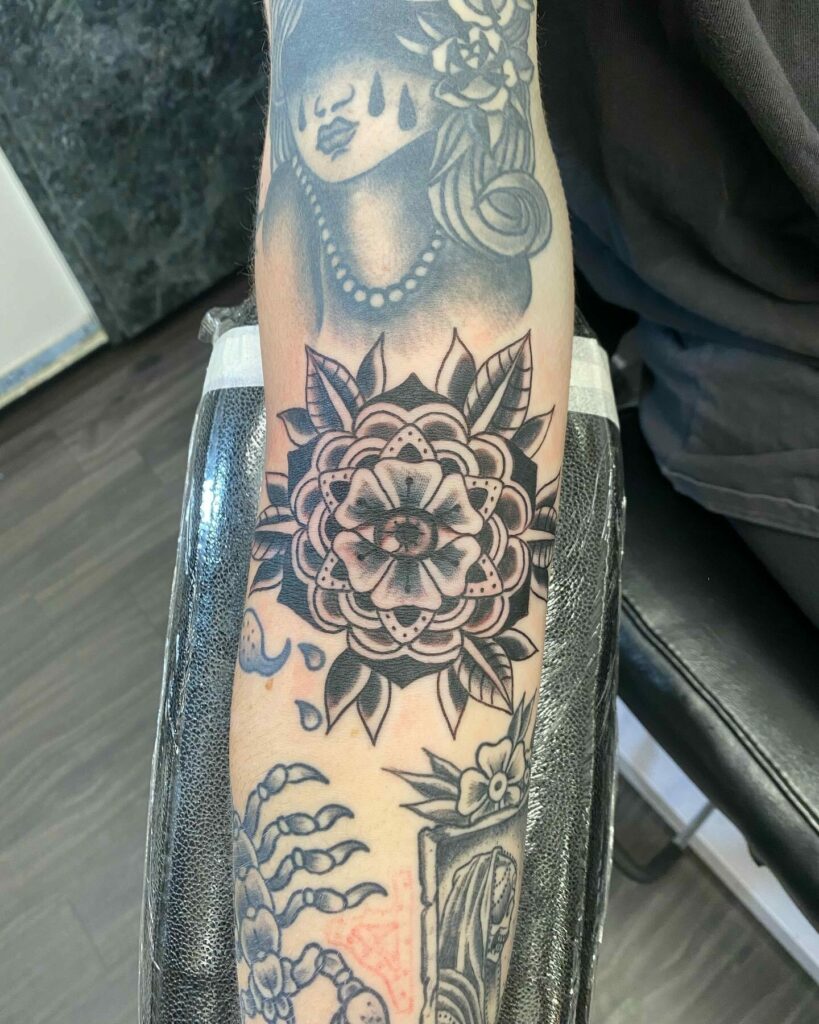 Flower tattoos are increasingly popular, especially among women, because of the deep emotions associated with them. They are the epitome of everything beautiful and filled with grace. In this image, we can see the design of a very complex flower drawn on the forearm of the individual. Take a moment to pause and look at the intricate detailing of the different petals of the flower that the artist has done using black shades. If you look closely, you can see that in the innermost part of the flower, the design of an eye has been drawn. The eye in flower tattoo is one of the most common themes in American culture. They represent the idea that through the eye of an individual, you can take a sneak peek of his soul. Such a similar meaning has been portrayed in this design.
Mermaid Tattoo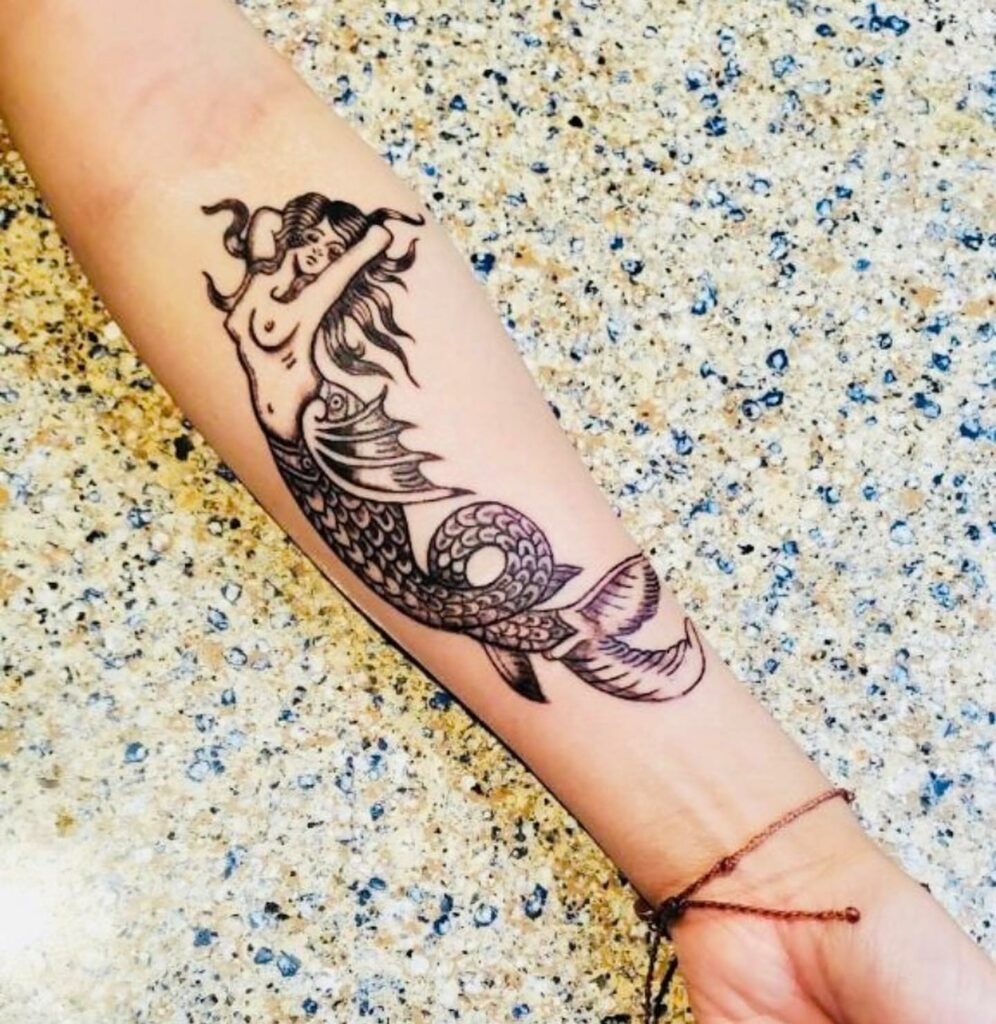 Mermaid tattoos are yet another trendy design in traditional American culture. The meaning of this design differs across different cultures. A few cultures believe that mermaids symbolize fertility and harmony, while others associate this design with negative feelings such as destruction. In this image, we can see the design of an exquisite mermaid drawn on the forearm of the individual. It gives off a very seductive and classy vibe. The tattoo artist has used black shading to highlight certain features of the mermaid, like its tail and hair. If you are looking for exotic and meaningful tattoos, you can use this one as a reference.
Gypsy Girl Tattoo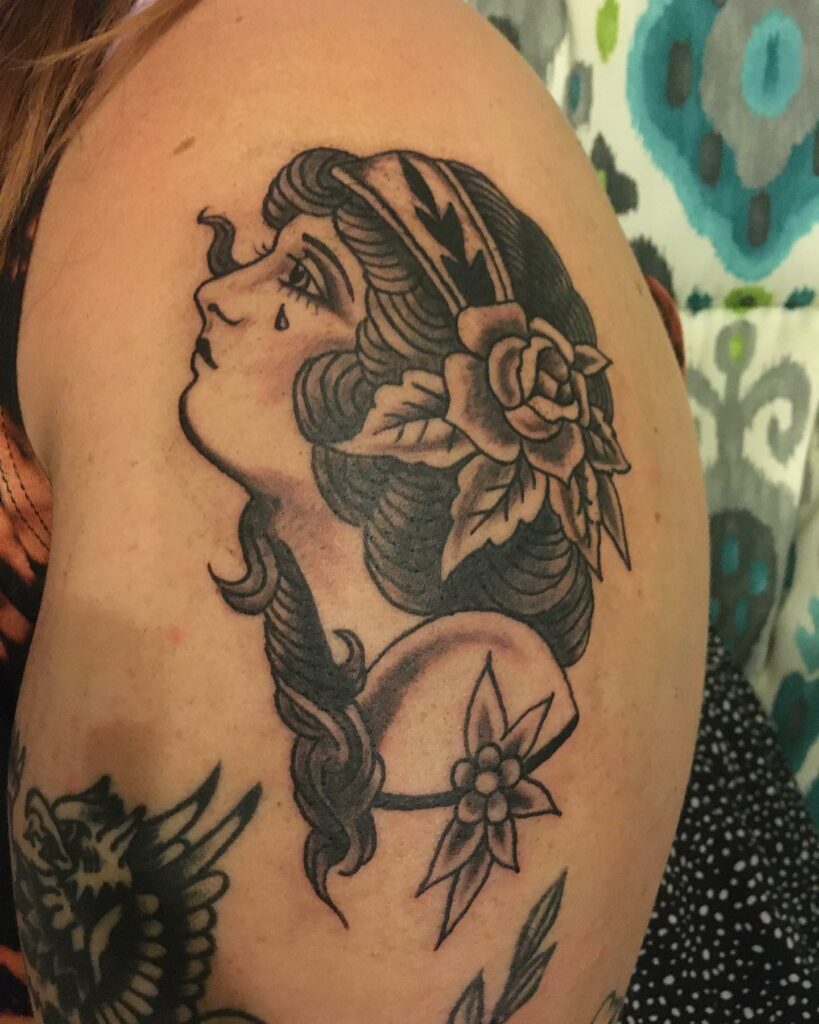 The gypsy girl tattoo is one of the popular choices among both men and women alike. These old-school tattoos are a classic representation of the traditional American style. The gypsy girl in this design stands for prophecy, freedom, and mystery. However, one important thing to remember while getting such portrait tattoos done is that they are usually quite large in size. Therefore, the ideal place for getting this traditional tattoo design inked, includes the chest, or even the thigh, since they provide a larger canvas than most other body parts.
Raven Tattoos
In this above-mentioned image, we can see the image of a raven head drawn on the leg of the individual. A pitch-black ink has been used by the tattoo artist to highlight the feather on the neck of the raven. These kinds of bird tattoo styles usually represent freedom and strength. A raven tattoo such as this one is a symbol of wisdom and knowledge. If you like these kinds of bird tattoo styles, then you should definitely check this one out. Other kinds of bird tattoos include eagle tattoos and dove tattoos.
Ship Tattoos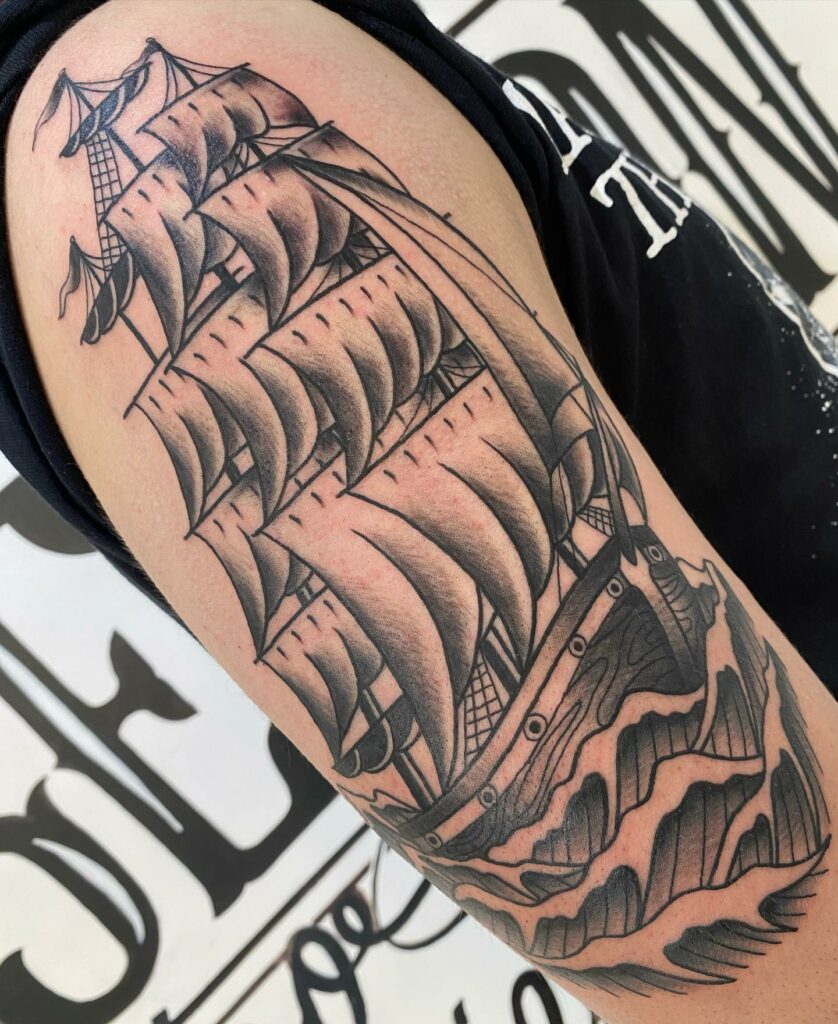 A ship tattoo is an iconic example of a traditional American tattoo. During long sea voyages, they were the most important vessel to every sailor. Although there are various interpretations of a ship tattoo, the basic meaning remains the same, which is new beginnings. If you are among those people who love to travel a lot, and visit new places, this might be a good choice for your next body art.
In this image, the artist has very beautifully highlighted the sails of the ship, using black ink. It looks majestic and powerful. These kinds of tattoos are especially more common among men. You can also add any other element, like an anchor, or swallow, to make this design more unique.
Traditional American Snake Tattoo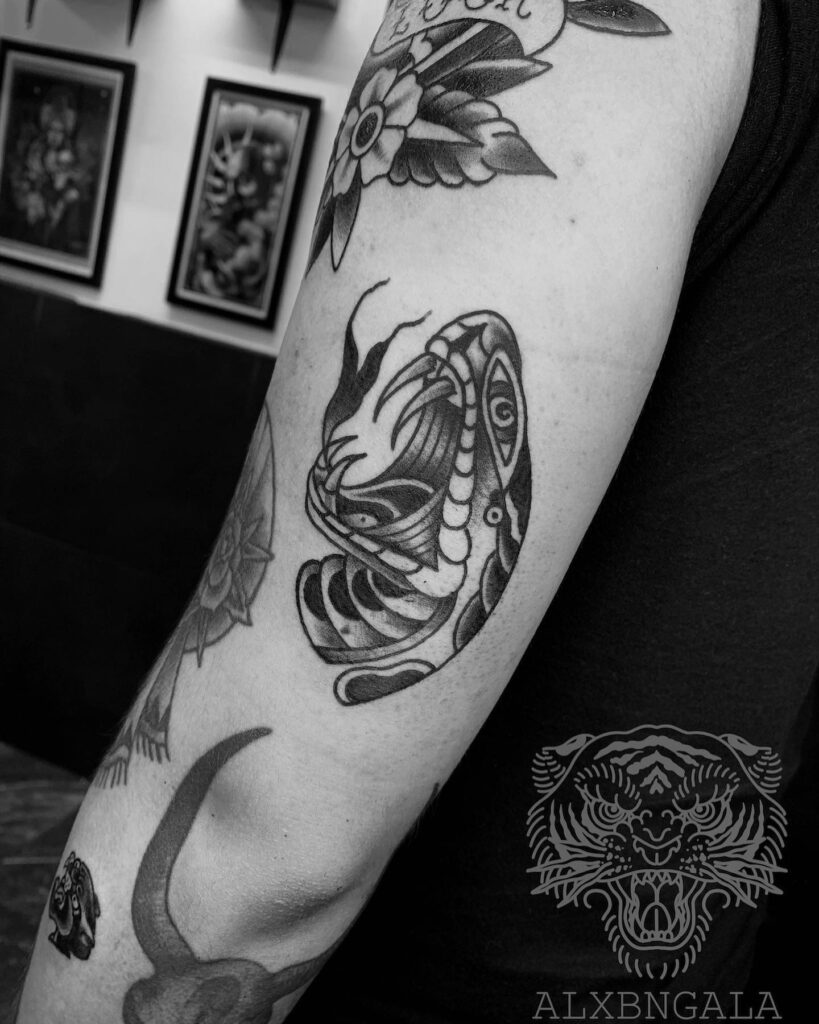 The snake is a symbol of fertility, power, and rebirth. For this reason, they are so popular among many artists. The beautiful body of a snake, allows you to customize the shape or color, and make it look more aesthetic. For example, you can design a snake tattoo wrapped around your arm, or a snake tattoo coiled around your wrist. They not only look unique but also look very aesthetic. Here we can see a slightly different style of a snake tattoo. Instead of the slender body of the snake, the artists have only highlighted its head. The forked tongue and the fangs of the snake are beautifully highlighted. It gives a ferocious look to this tattoo. Furthermore, the scales of the snake are also very prominent in this design.
Shark Tattoos
Traditional shark tattoos are symbols of protection, power and strength. It also depicts all the unknown dangers lingering in the deep waters. Here's a rendition of such a similar idea. In this picture we can see a minimalistic design of this ferocious creature, that is drawn on the arm of the individual. Just by using simple black and gray ink, the artist has created this simple yet elegant design on the forearm of the individual. If you like such minimalistic designs in tattoos, you can consider using this one as suggestion, for the next time you get inked.
Swallow Tattoo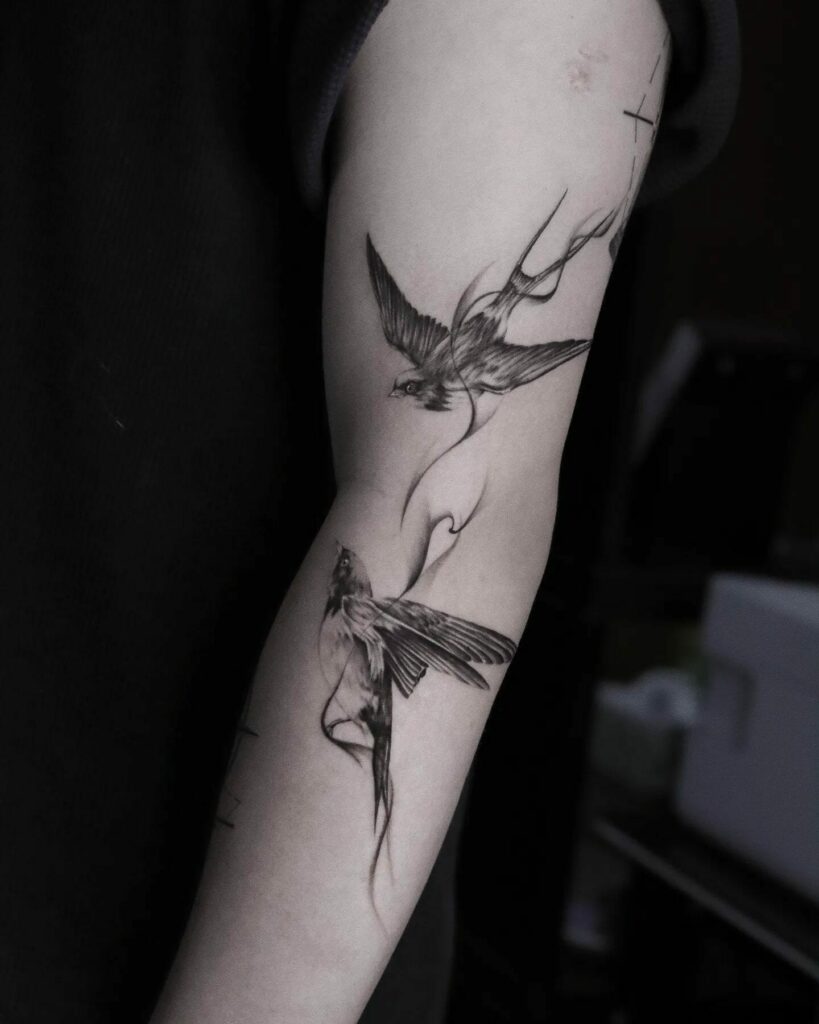 Swallows are migratory birds and are often associated with good luck and fortune. Typically, after completing a journey, a swallow tattoo is inked on the body of the person. It is a mark of remembrance of the journey and all the adventures that came along with it. However, there are other various representations of this design as well. One such belief is that the swallow birds carry away the soul of the lost ones to the afterlife. If you like this kind of deep-meaning tattoo style, you can use this one as a reference.
Tattoos are personal to every individual. Therefore, before visiting a tattoo shop to get inked, you need to choose your design very carefully so that it can reflect all the desired meanings in the perfect manner. There is no fixed place where an individual should get inked. Depending on the size and design of the tattoo, you can choose any place on your body to get inked. However, it is advisable that for large-shaped tattoos, if you choose a body part that can provide a larger canvas. They might include your leg, back, or thigh. Here are a few other examples of traditional American tattoo ideas.
feature image from Pinterest – Want your tattoo to look brighter? Try "Tattoo Balm"