Welcome to the world of black and white rose tattoos! These tattoos have become increasingly popular among millennials and Gen Z, thanks to their mysterious and eye-catching appeal. By removing the iconic red color from the rose, black and white rose tattoos take on a completely different meaning, often associated with grief and loss. However, just like colored roses, black and white roses have their own unique symbolism and meaning. While black roses don't exist naturally, their allure and captivating beauty make them a popular choice for tattoos. If you're looking for inspiration for your own black-and-white rose tattoo, look no further than our comprehensive list of the best designs out there!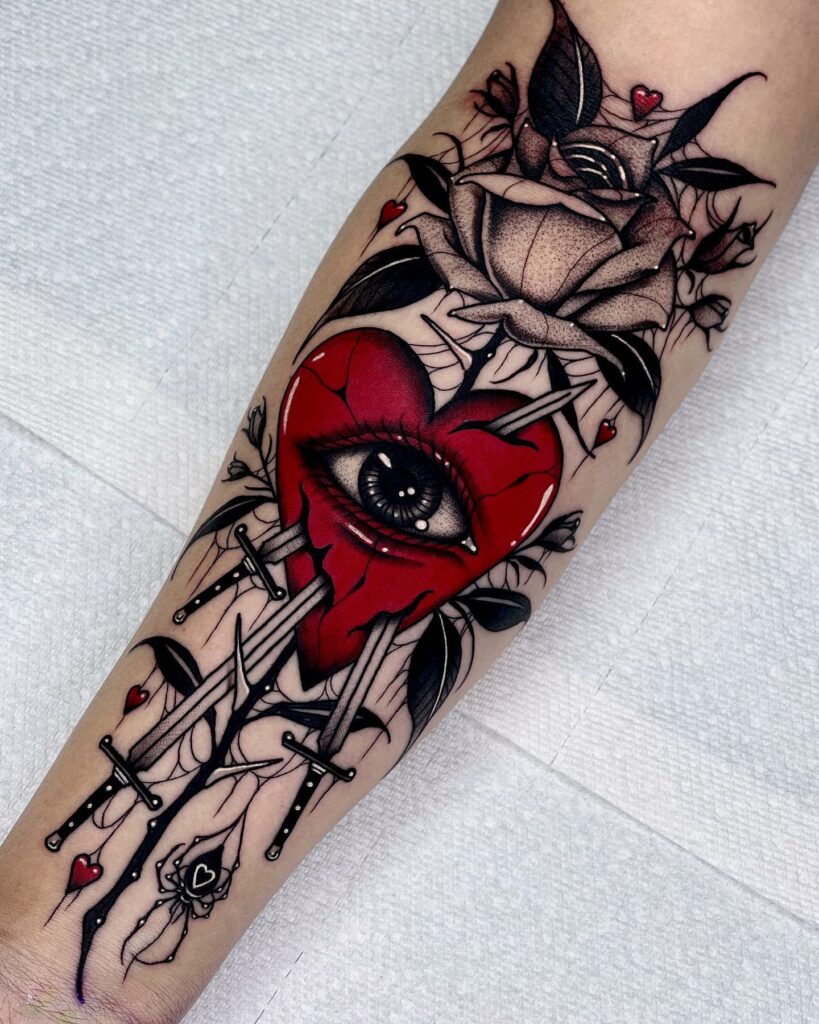 Couple Black And Whites Rose Tattoos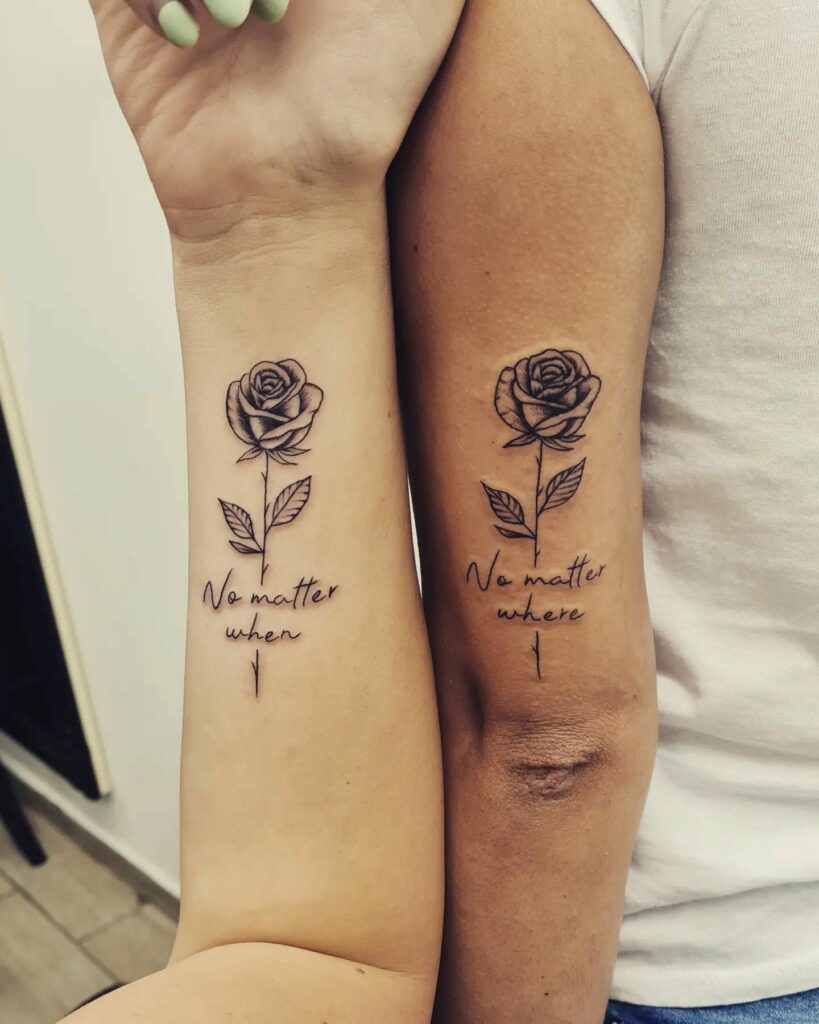 When it comes to expressing a profound connection between two people, couple tattoos are a popular choice. They come in various shapes and sizes, but what matters is the deep meaning and understanding shared by the two individuals. The tattoo design above portrays a classic black and white rose tattoo, inked on the arms of two people, symbolizing a close bond between them. The design is simple yet elegant, capturing the essence of the relationship with a quote that says 'No matter when' and 'No matter where,' signifying the promise to stay together through thick and thin. Whether you're looking for a shared symbol of love or friendship, a small and delicate tattoo design can work wonders in expressing the depth of your connection with your loved one.
Black And White Rose Tattoos For Men Sleeves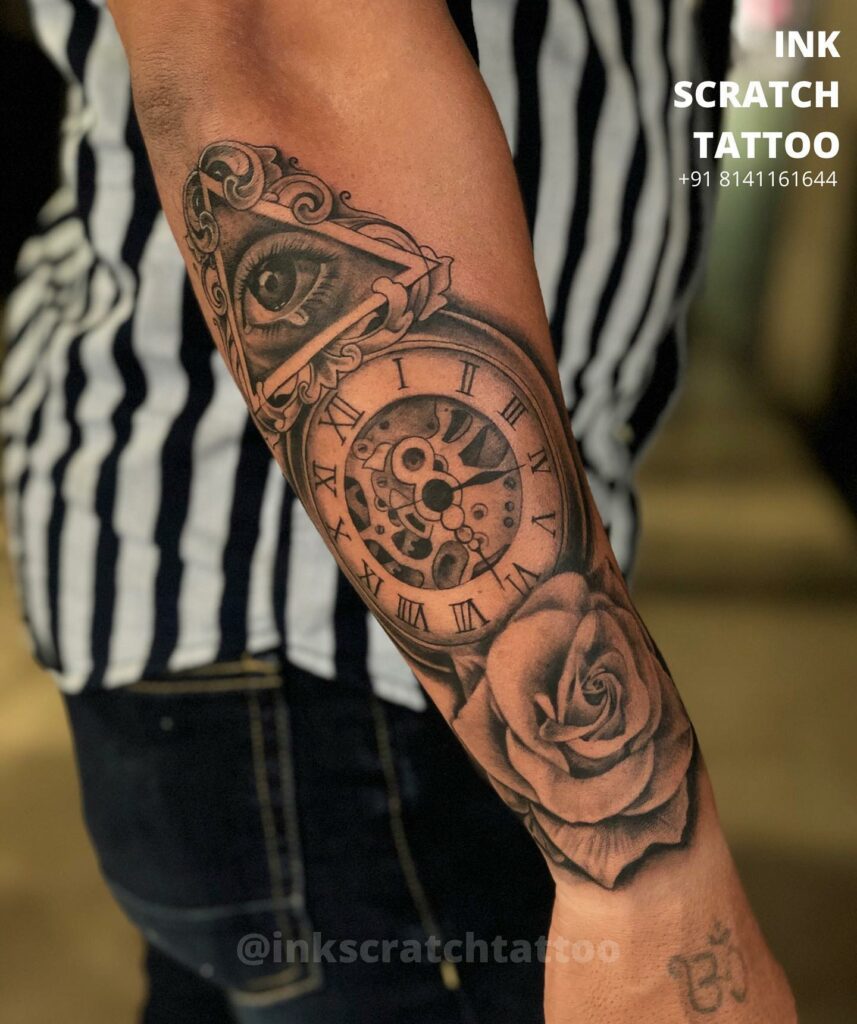 Flower tattoos are not just for women, as men can also get creative with different styles of rose tattoos to accentuate their sleeve. The tattoo above showcases a stunning black rose tattoo that exudes both strength and grace. The tattoo design is realistic and portrays a single rose in black ink, coupled with a compass and an eye within a box. The artist follows a traditional shading pattern, which creates an authentic and mesmerizing design. Whether you want a large or small rose tattoo, this black and white rose tattoo is sure to impress.
White On Black Rose Tattoo Ideas With Simple Design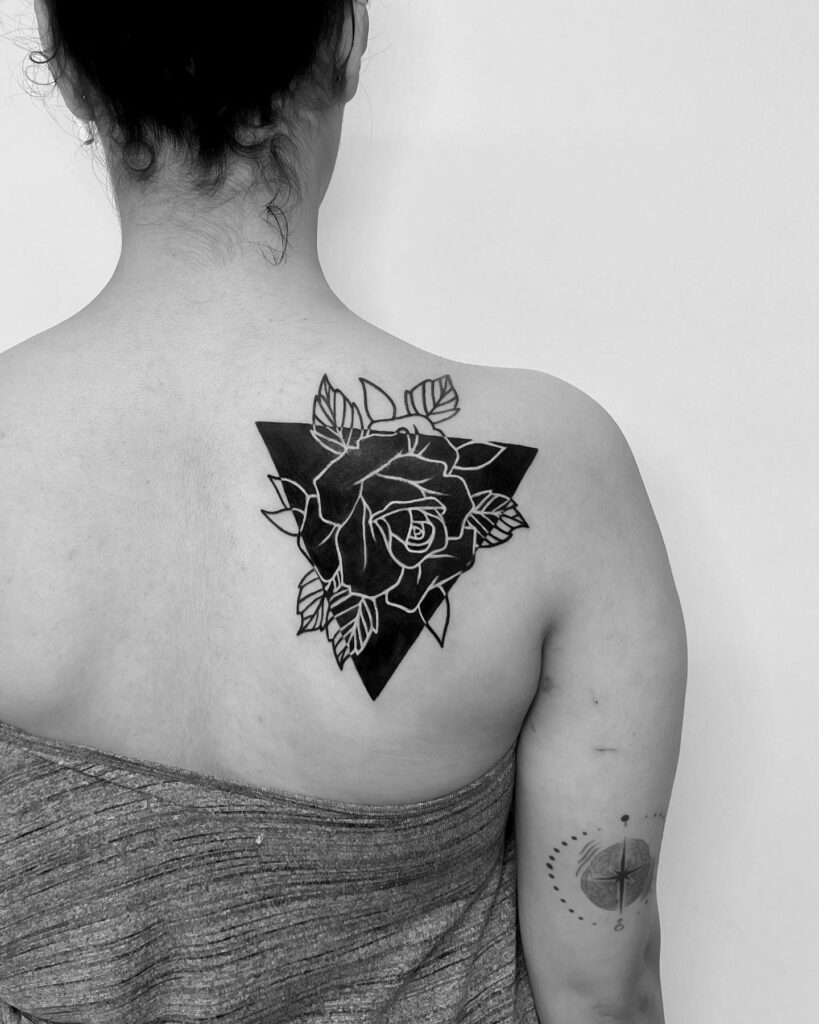 The design is a perfect example of how the curves of a flower can complement geometric patterns. This never-seen-before design breaks away from the traditional dark tones used in most rose tattoos. Instead, the artist incorporates solid black color as a base and outlines a white rose tattoo over it, creating a striking contrast that makes the design super unique. Roses are a popular tattoo design among millions of people, but this tattoo stands out from the crowd with its bold and eccentric take on the classic flower. By stealing the signature color of the rose and putting it in a black and white frame, this design is both breathtaking and original.
Memorial Dragonflies And Rose Tattoo Black And White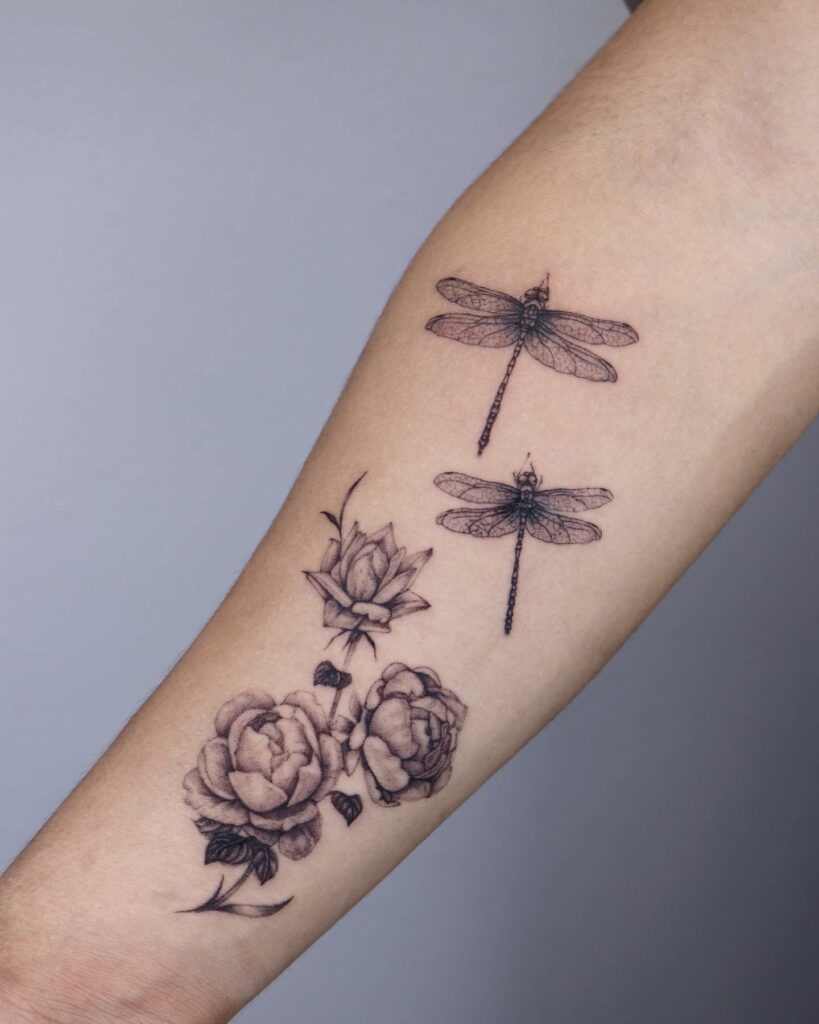 Flowers have always been an essential part of commemorating the departed. They are often used to express empathy and love while offering a connection with the natural world that is imbued with beauty. This commemorative tattoo idea is an incredibly sensitive and poignant way to pay tribute to a lost loved one.
Dragonflies have long been associated with change and transformation, and this tattoo captures that symbolism in a beautiful way. The tattoo artist has used the dragonflies to represent the metamorphosis that the human body undergoes after passing on. The group of roses below the dragonflies adds a delicate touch to the entire artwork. Although the grey rose tattoo is devoid of colors, it represents the emotions people feel after losing a loved one. However, the beauty of the lost one still persists in the form of beautifully carved roses.
Butterfly Tattoo Ideas With Black And White Rose Tattoo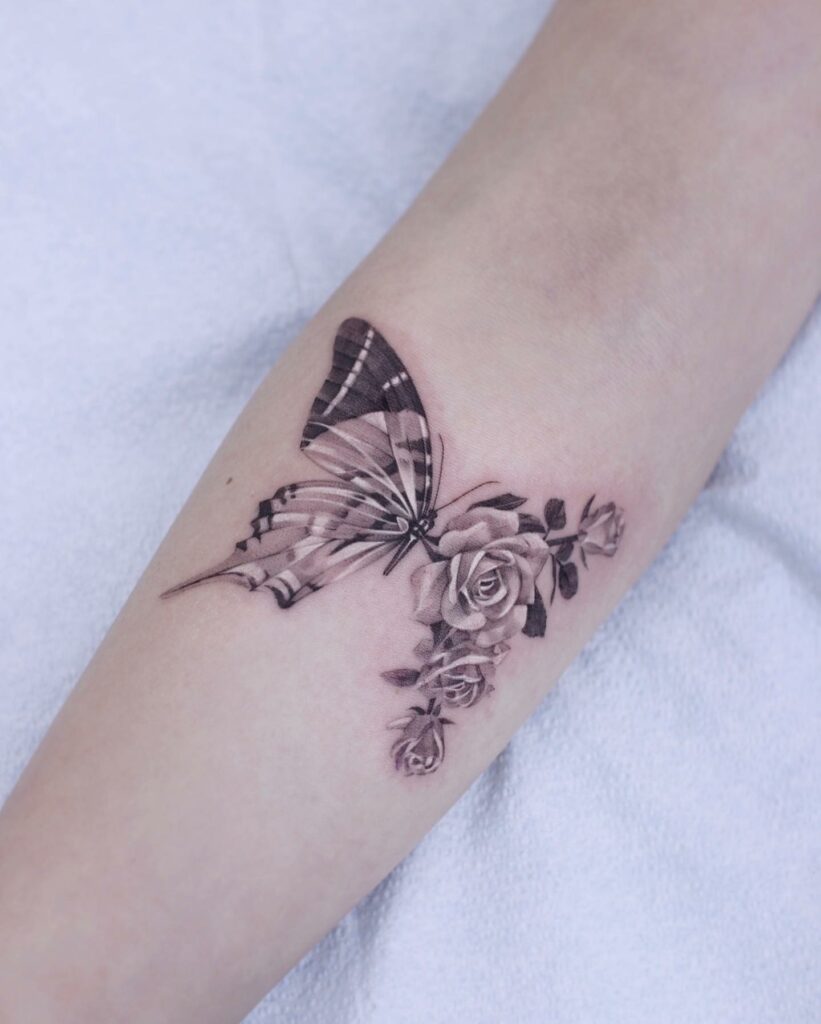 Flowers and butterflies are two of the most popular tattoo designs around, and this tattoo combines both to create a unique and stunning piece of art. The black and white rose design, combined with the butterfly's elegance, creates a perfect blend of beauty and grace. The tattoo features a butterfly with one half of its wings adorned with small roses, while the other half maintains its natural form. The artist has used a subtle color palette of black, white, and grey to create the butterfly's wings and the roses' delicate features, adding to the tattoo's overall beauty. This small yet intricate tattoo is a great choice for anyone looking for a wrist, arm, or neck tattoo.
Withering Black And Whites Rose Tattoo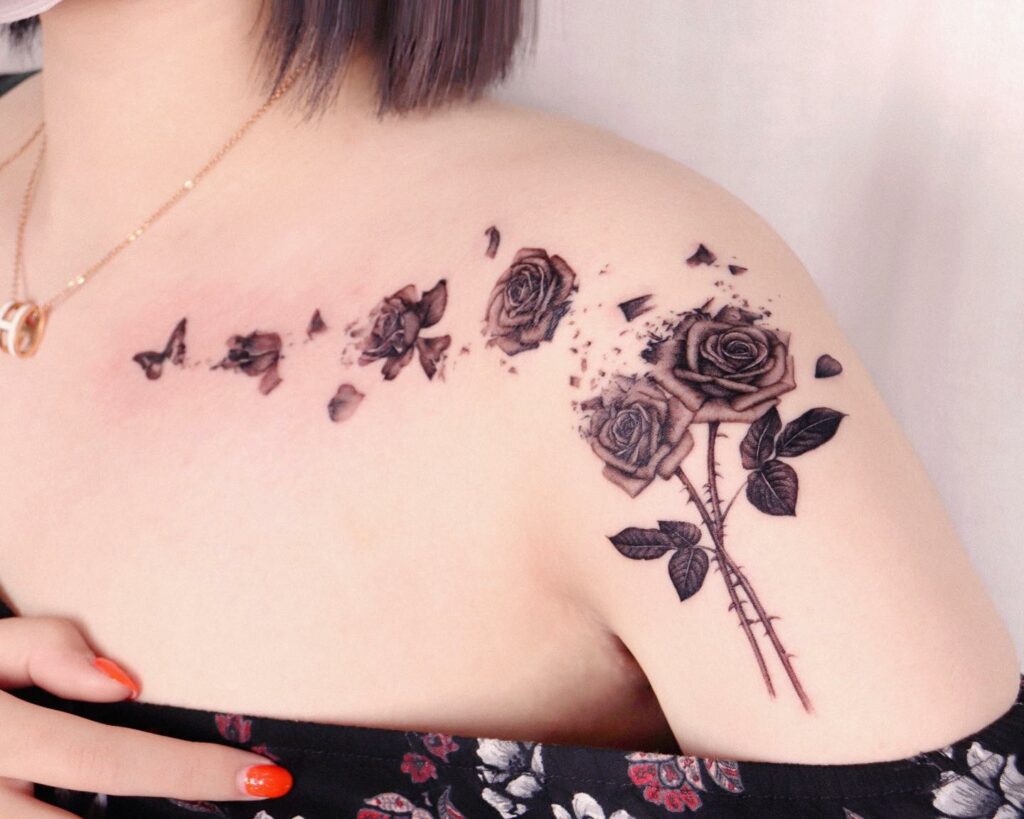 The beauty of nature can inspire some of the most stunning tattoo designs, and the black rose tattoos above are no exception. The intricate artwork showcases a rose stem and thorns, gently withering with the impact of the wind. What makes this design stand out is the inclusion of a small butterfly slowly emerging from the ruins of the withered rose petals. The black and white color palette used in this tattoo adds to the overall elegance of the design. Although some may think that colored tattoos are more impressive, this black and white rose tattoo proves otherwise with its deep meaning and symbolism. While the perfect placement for this tattoo is on the span of the shoulder to the neck, it can also be adapted to fit on the back for a change of pace while maintaining its beauty.
Delicate Small Rose Tattoos
Small, minimalistic tattoos are becoming increasingly popular among people who prefer discreet, subtle designs. The rose ankle tattoo is the perfect way to achieve this look with its small stem and simple yet elegant design. The black and white rose tattoo theme is carried through the entire stem, making it ideal for those who prefer simplicity without any added complexity or color. This tiny rose tattoo is a great option for those who want a subtle body art piece instead of a larger, more elaborate design. In fact, it can also be used on the wrist for a delicate touch.
Roses And Skull Black And White Tattoo Ideas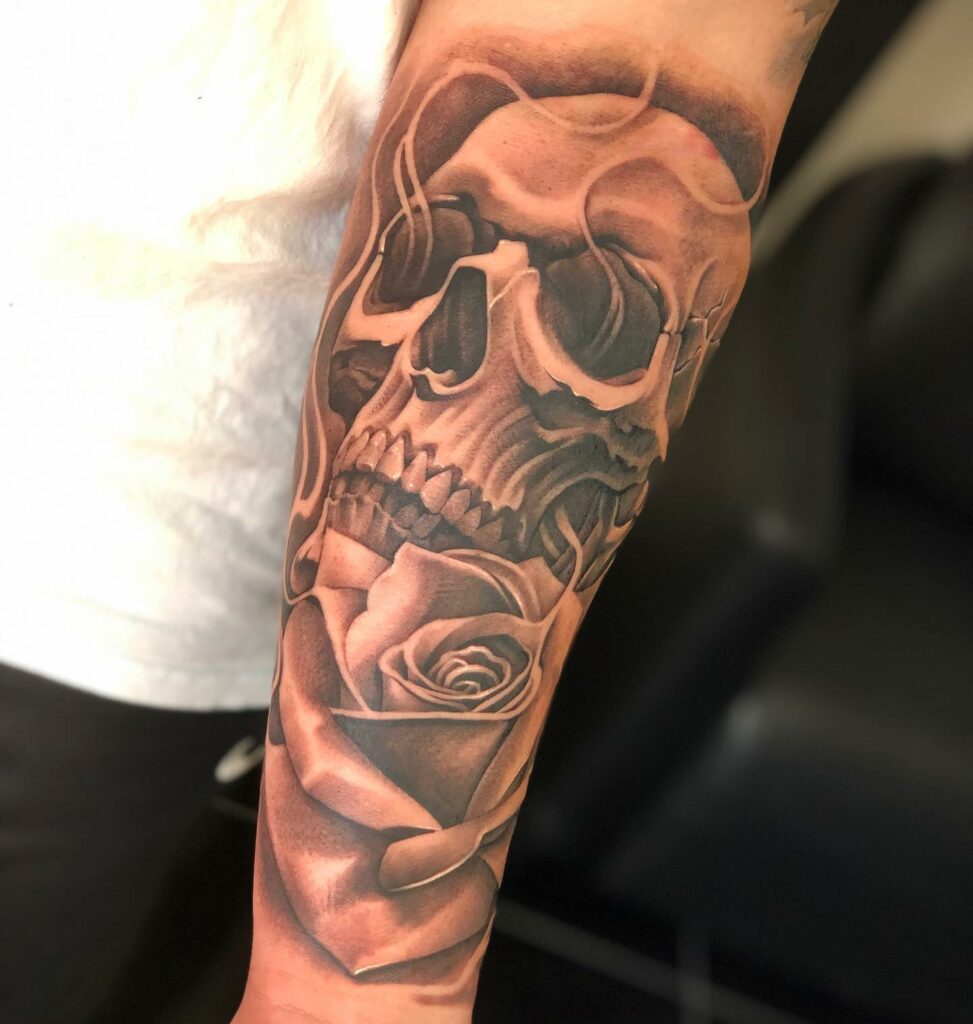 Flowers can be more than just pretty; they can also be edgy and spooky. This black and white tattoo design takes the sweet and innocent image of a rose and gives it a fresh twist with a skull nestled in the center of the bloom. The rose itself is rendered in stunning detail, while the skull is depicted in a hauntingly realistic way that adds an air of mystery and creepiness to the overall design. Since black roses traditionally symbolize grief and loss, this tattoo is a unique and slightly unsettling take on the classic flower. The intricate design is perfect for a rose sleeve tattoo or a rose shoulder tattoo, adding a touch of darkness and intrigue to your collection.
Cross Black And White Rose Tattoo Ideas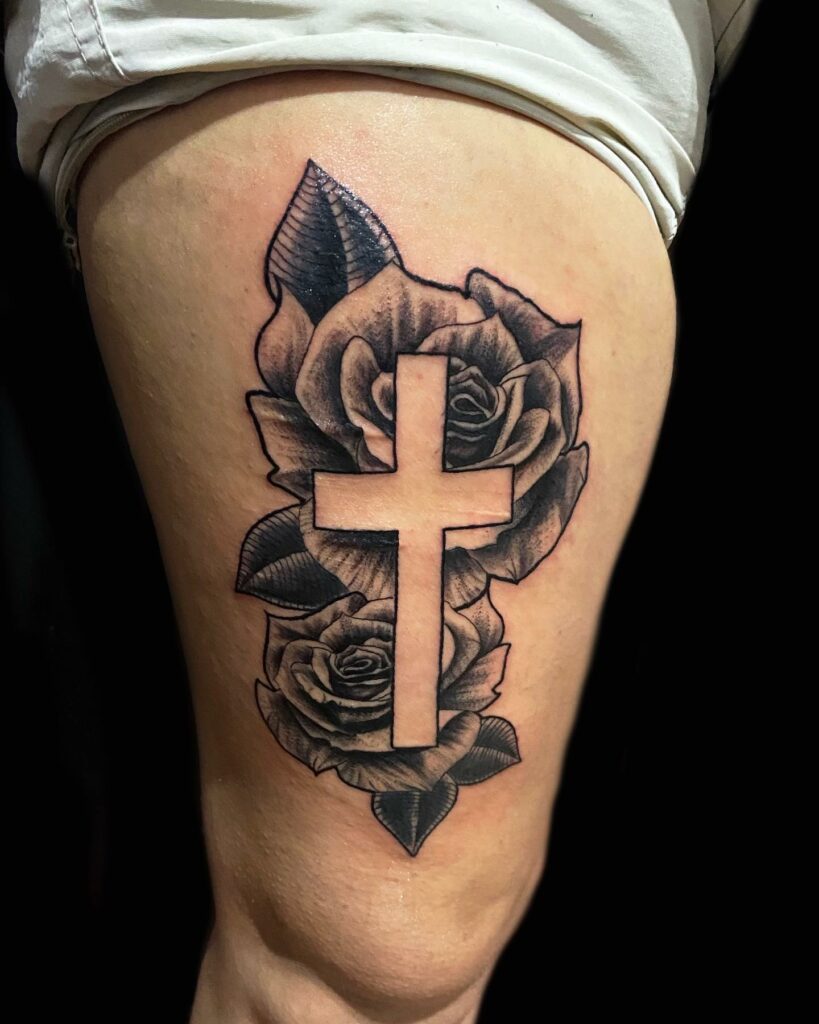 For those looking to blend their love of religious symbols with floral elements, the rose and cross tattoo is the perfect combination. While this design doesn't depict any specific religious event, it features a holy cross symbol paired with intricately illustrated roses to create a meaningful and beautiful tattoo. The white and black roses are arranged in a traditional color palette and shading, serving as a striking backdrop for the cross symbol. This tattoo design is ideal for those who want to showcase their faith while incorporating the beauty of flowers into their body art.
Black And White Skull And Rose Tattoo
Black and white rose tattoos are a classic choice for body art enthusiasts, and this particular design takes things up a notch by combining two rose stems with a pair of skulls. The result is a unique and creative take on the traditional rose and skull tattoo, with the two skull-like roses intertwined in a romantic pose. This design can be used as a rose hand tattoo, rose hip tattoo, or even as a rose neck tattoo, depending on your preference.
If this design doesn't quite fit your style, there are plenty of other black and white rose tattoo ideas to choose from. Whether you're looking for a minimalist ankle tattoo, a realistic shoulder piece, or something in between, there's a black and white rose tattoo out there to suit your taste. Don't be afraid to mix and match different elements from various designs to create a custom tattoo that's uniquely you.
feature image from Pinterest – Want your tattoo to look brighter? Try "Tattoo Balm"
Last reviewed and updated on May 25, 2023