Are you mulling over the idea of a black cross tattoo but are feeling stuck in the quagmire of designs? Don't fret, we've got your back with a plethora of inventive tattoo concepts that are bound to electrify your imagination.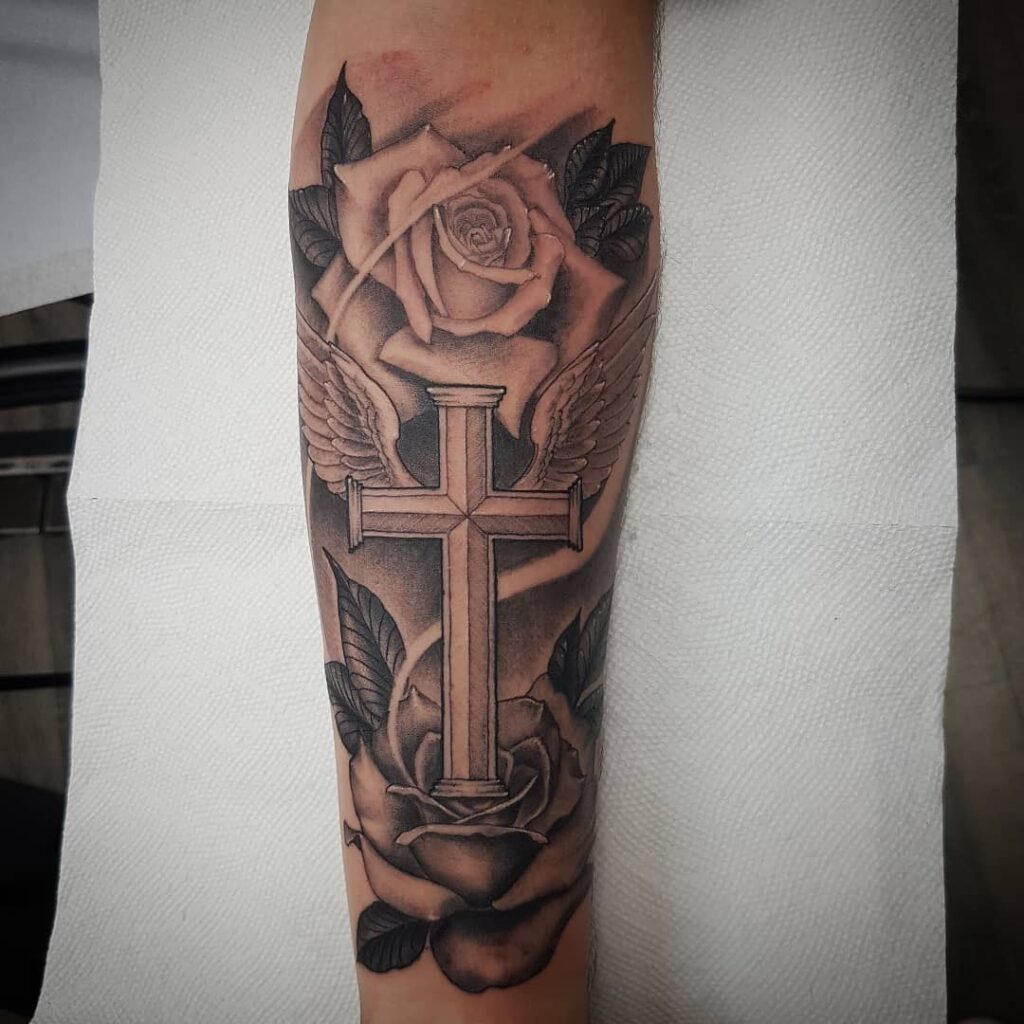 The cross, an emblem that's practically synonymous with Christianity, carries profound symbolic weight. It's no surprise then, that it has found its way into the hearts, and skin, of tattoo enthusiasts over the decades. If you're seeking a visible testament to your Christian faith, cross tattoos offer a compelling canvas.
In Christian iconography, the cross stands as the enduring symbol of Jesus Christ's crucifixion. It serves as a poignant reminder of his selfless sacrifices for humanity. The traditional Latin cross features unequal arms, with the horizontal line nudged upward, giving the vertical arm an elongated appearance. But the story of the cross doesn't end there. It is a shape-shifter with a number of variants, each distinct in its form. Take the Greek cross, for example, which flaunts equal arms just like the mathematical plus sign. The Byzantine cross, Patriarchal cross, and Double cross are other noteworthy variations.
Cross tattoos are rich with symbolism. They evoke the promise of hope – a beacon to remind us that in times of despair and desolation, divine intervention is never far. The most recurring motif in spiritual tattoos is the black cross, a bold choice of body art that stands out in its aesthetic appeal. You might be pondering over the significance of the black cross tattoo. In essence, bearers of black cross tattoos often opt for this design to vocalize their unwavering devotion to God and to acknowledge the precious gift of life.
The versatility of cross tattoos is truly remarkable. They can be reimagined in myriad ways, accommodating the individual preferences of the wearer, from design modifications to placement on the body. Some prefer to blend the cross with other elements that hold deep meanings, creating a personal and powerful piece of body art.
With all this in mind, let's plunge into an exciting exploration of our handpicked collection of the finest black cross tattoos. We're confident you'll find inspiration in every image.
Black Cross Rosary Tattoo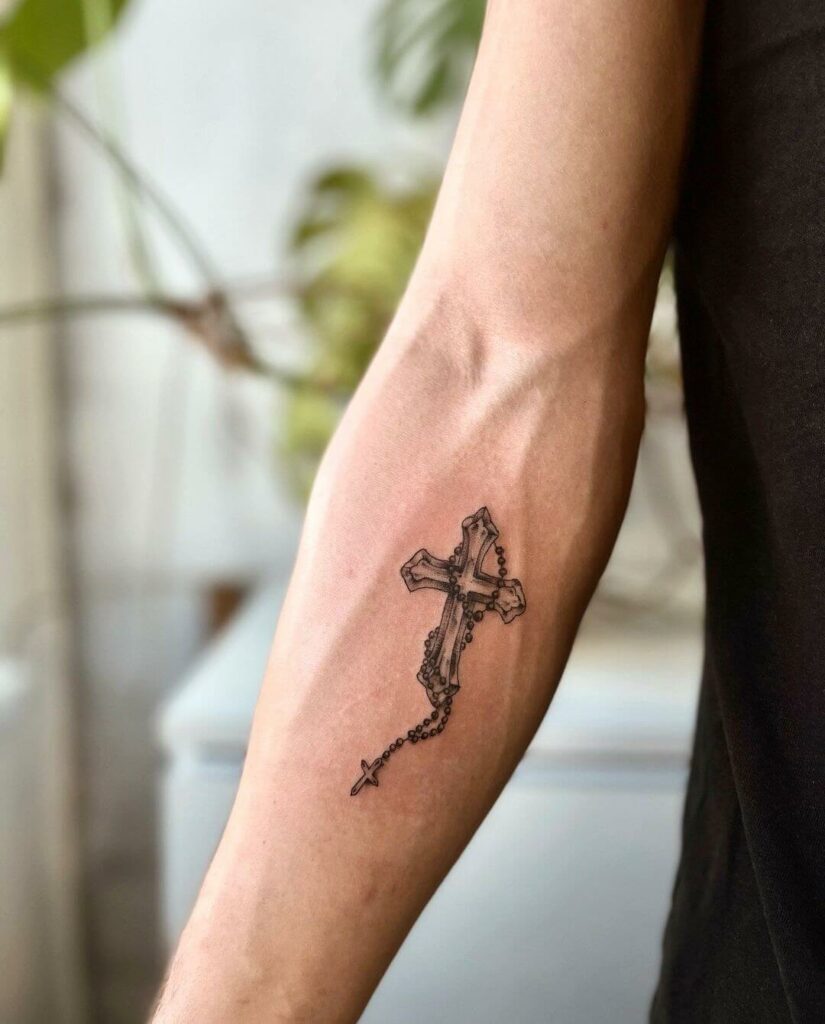 In the realm of Christianity, the rosary serves as a conduit for communication with the divine. While traditional rosaries consist of beads used for prayer, rosary tattoos offer a unique twist by symbolizing the sacred practice without the physical beads themselves. To achieve this, one must ensure that the tattoo features the exact number of beads found on a traditional rosary. However, if prayer isn't the primary purpose, the number of beads can be customized to personal preference. The cross combined with the rosary makes for a powerful and spiritually meaningful design. For those seeking a touch of realism, we have an awe-inspiring art piece as a bonus inspiration.
Black Gothic Cross Tattoo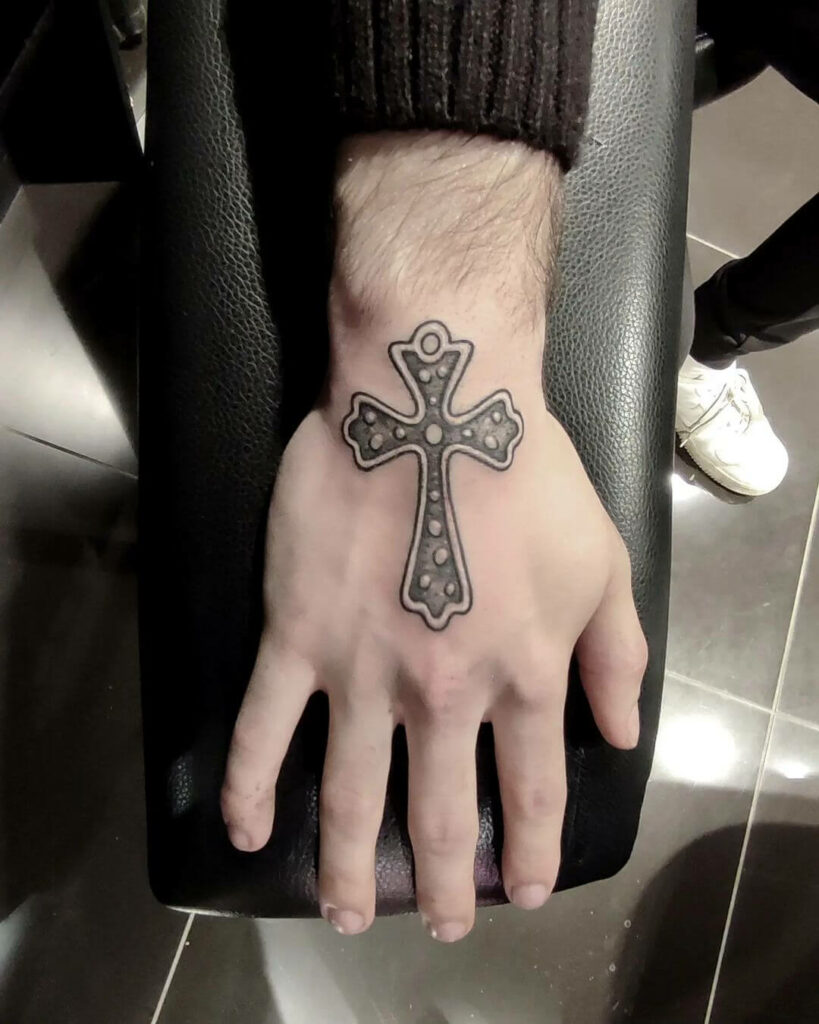 A prominent symbol within Gothic culture, the Gothic cross holds dual significance, paying homage to both religion and the Goth lifestyle. These crosses often feature four arms with accentuated ends, exuding an artistic and dramatic appeal. If you identify as a Goth or simply appreciate the aesthetic allure of the Gothic cross, this tattoo design might be an excellent choice. With various creative interpretations available, you have the freedom to personalize the design while preserving its original outlines.
Solid Black Cross Tattoo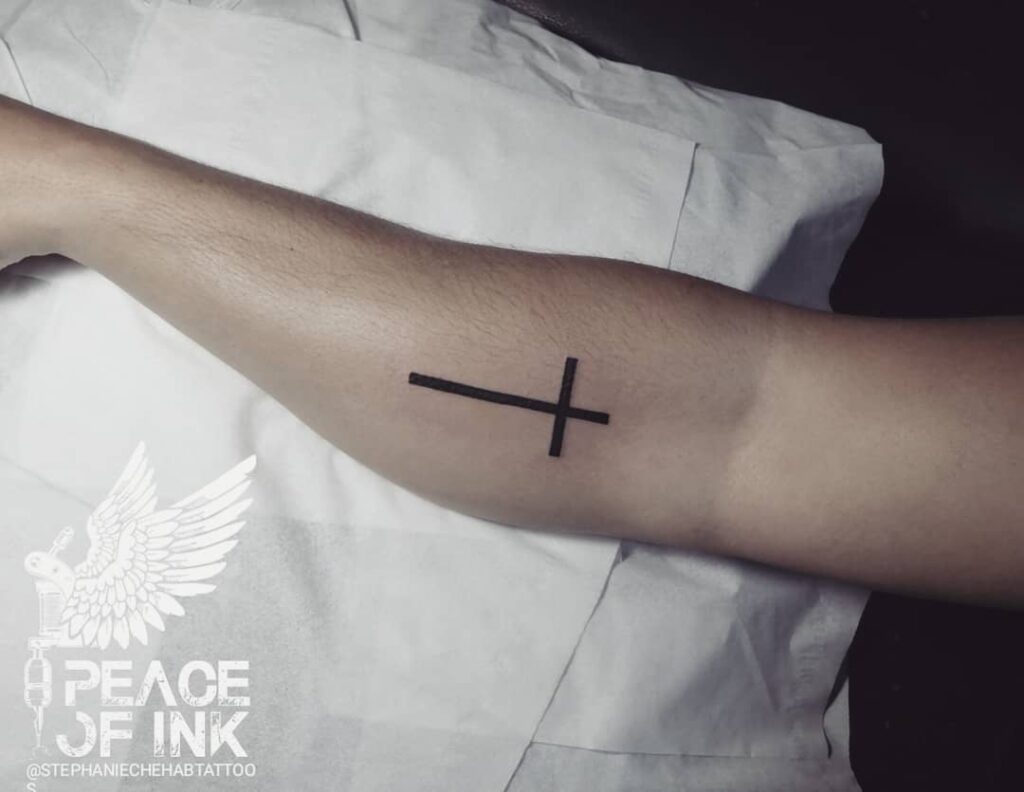 Sometimes, simplicity is key. A plain, solid black cross tattoo possesses an innate beauty that never fails to leave a lasting impression. Whether your design preference leans towards intricate or minimalistic, the result is a striking representation of faith. The allure of these tattoos lies in their ability to embody profound meaning through clean, straight lines. Should you wish to add a touch of personalization, consider incorporating a meaningful word or subtle details to make your tattoo truly unique.
Small Black Cross Tattoo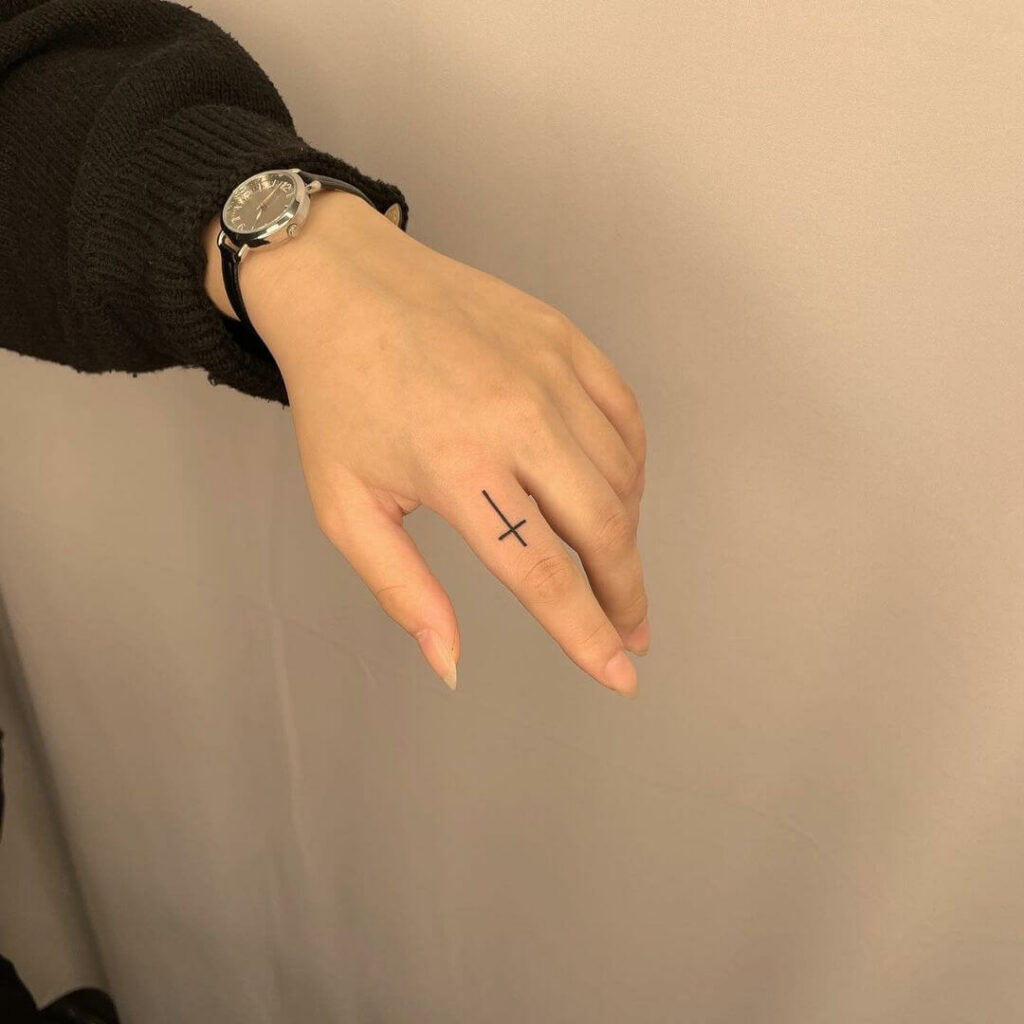 Compact yet captivating, small black cross tattoos exude an undeniable charm. While retaining the same symbolic weight, these minimalist designs cater to those who prefer subtlety or seek a temporary expression of faith. With minimalistic aesthetics, this tattoo serves as a testament to your beliefs without overwhelming commitment. To achieve this design, two thin, crisp lines are all it takes to create a small cross that will leave everyone awestruck.
Wings Black Cross Tattoo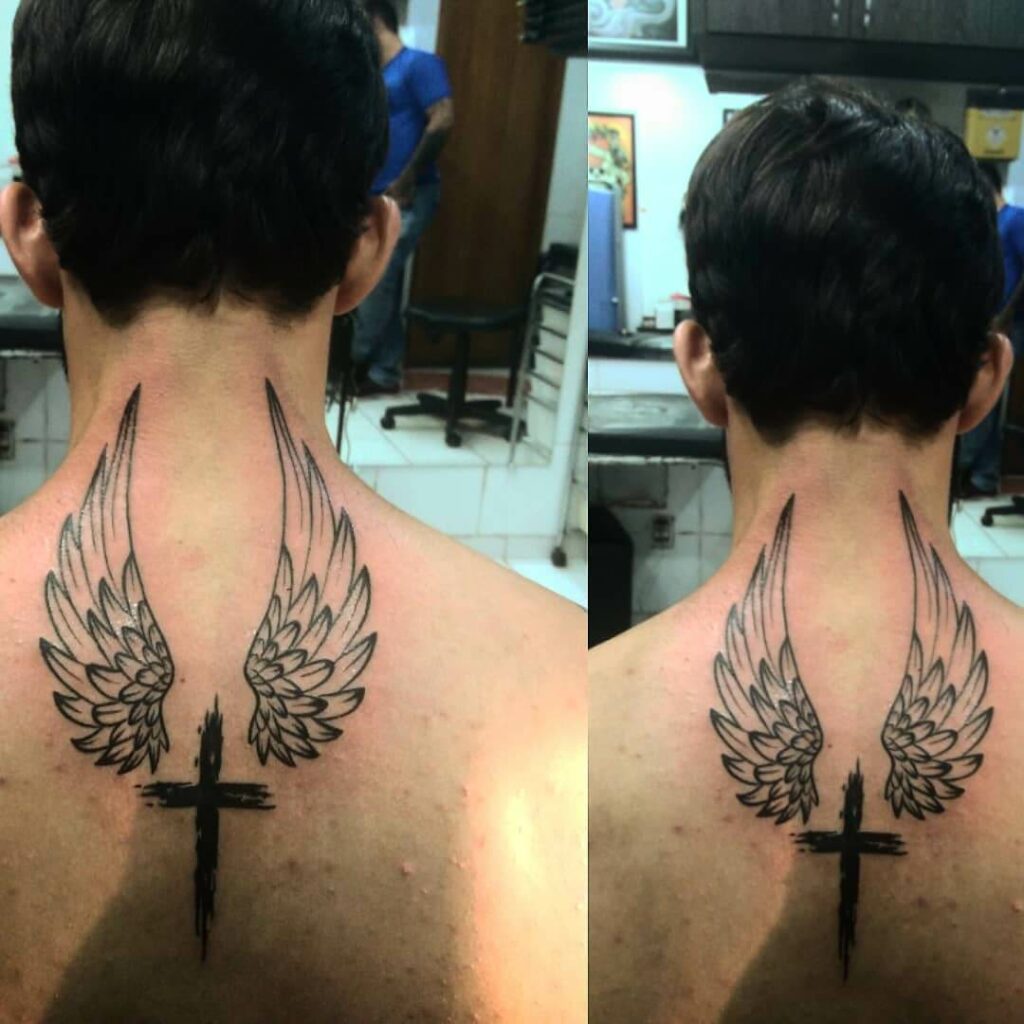 Wings, often associated with freedom and angels, add a touch of spirituality to tattoo designs. Many individuals incorporate wings into their tattoos to honor their guardian angels or the spirits of loved ones. The cross, when combined with wings, becomes a powerful symbol embracing the blessings bestowed upon us. If you're yearning for a cross tattoo that reflects your deep spiritual connection, this design beckons you to the tattoo studio, urging you to manifest your desires.
Rose Black Cross Tattoo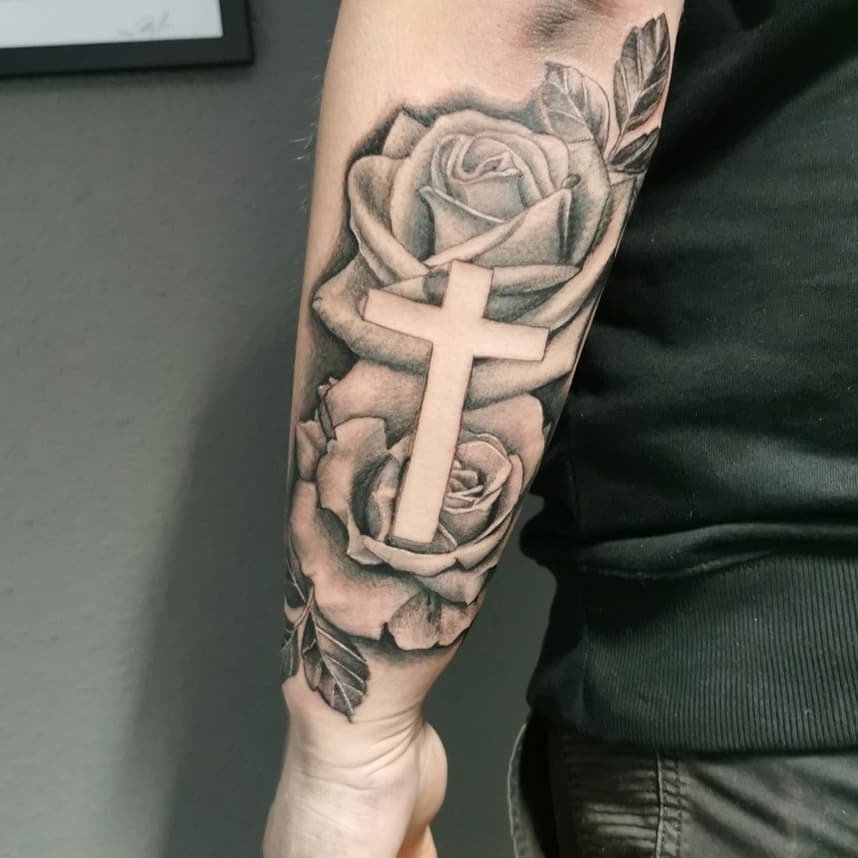 Roses, renowned symbols of love and purity, offer a delicate yet profound addition to any tattoo. A cross entwined with a rose exemplifies a union of deep symbolism and aesthetic beauty. For individuals seeking to express their love for Jesus Christ or display their patriotic sentiments, incorporating roses into a black cross tattoo is an ideal choice. This combination is particularly significant for those who identify with English heritage, as the rose serves as the national flower of England. With a range of cross designs available, adorned with roses, you can manifest the purest and most beautiful tattoo of your dreams.
Dove and Black Cross Tattoo
Doves, symbolic of love and peace, possess a spiritual essence that resonates with many. Imagining the synergy of doves with a cross in a tattoo design evokes a sense of joy and harmony. Such a tattoo symbolizes a deep love for peace and spirituality. You can add a personal touch to this design, incorporating elements such as your name or symbols that hold profound meaning to you and your life. In the example provided, the bearer chose to tattoo the name "Chelo," meaning "solace" and "consolation" in Spanish.
Black Cross Forearm Tattoo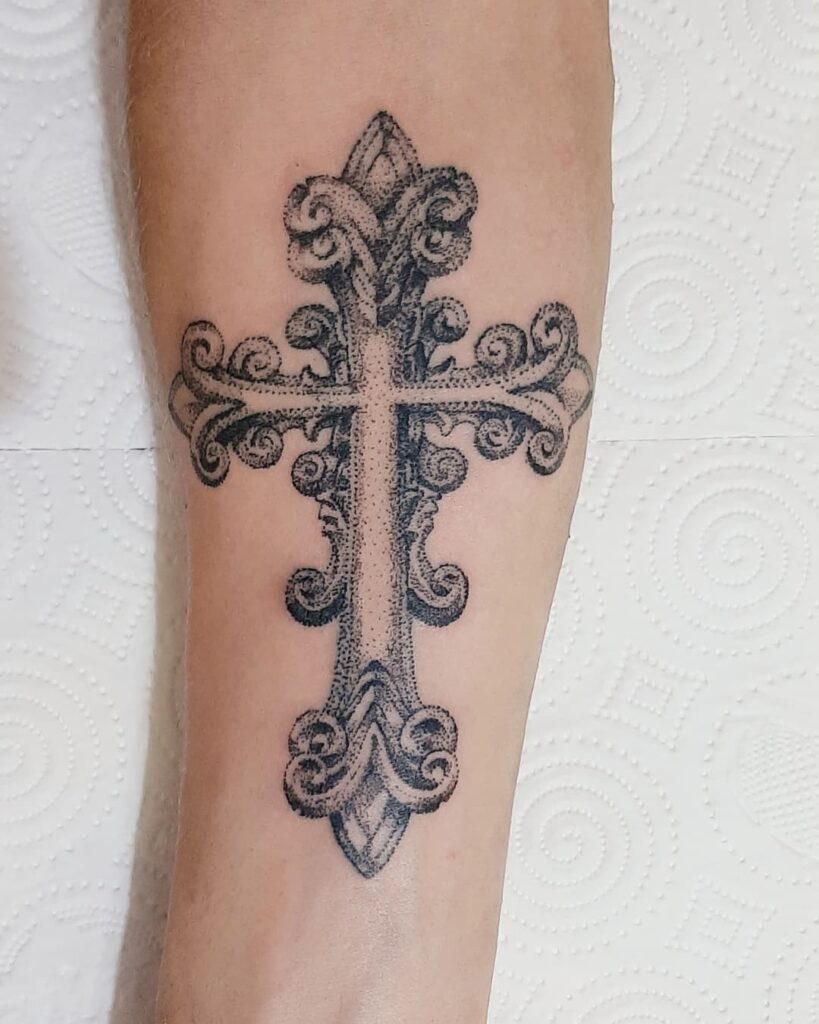 The forearm, with its visibility and ample space, serves as an ideal canvas for showcasing artistic prowess and meaningful designs. Cross tattoos on the forearm often grant tattoo artists the freedom to unleash their creativity and captivate viewers. This placement allows others to appreciate the artistry and serves as a representation of the wearer's courage and connection to their heart. If you seek a tattoo that holds deep significance to you, a cross tattoo on the forearm might be the perfect choice.
Black Cross Wrist Tattoo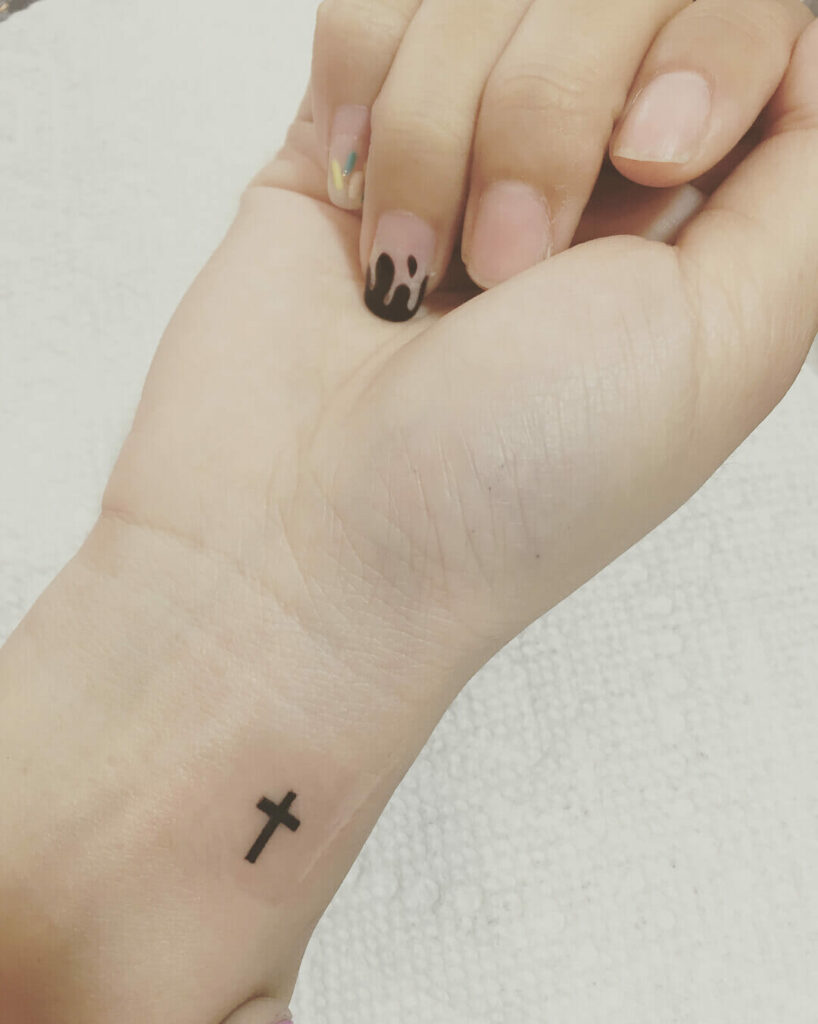 Wrist tattoos, known for their simplicity and subtlety, cater to those who prefer smaller designs. A small black cross tattoo on the wrist strikes a delicate balance between minimalism and profound symbolism. This minimalist approach to body art allows individuals to embody their faith while reflecting their minimalist lifestyle. Whether you choose a finger or wrist tattoo, both placements provide an opportunity for a small cross tattoo that speaks volumes.
Black Cross Chest Tattoo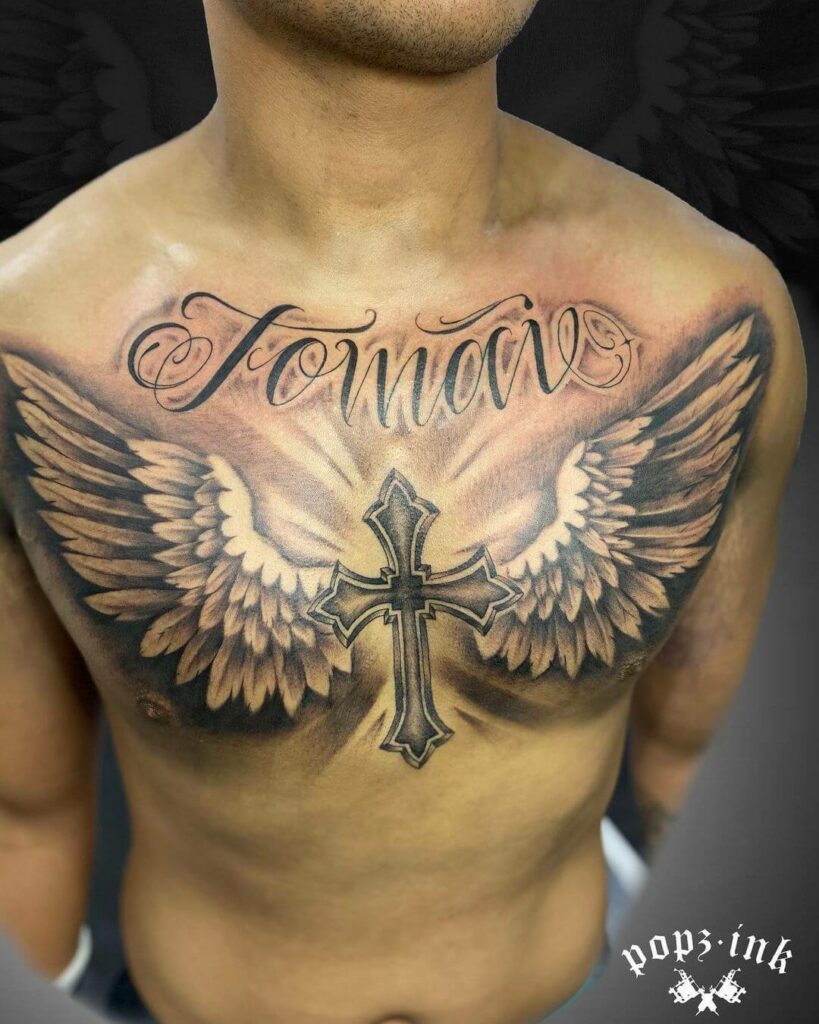 Chest tattoos often represent the wearer's courage and hold significance close to the heart, quite literally. Opting for a chest placement for a cross tattoo signifies a deeply personal connection. In the example provided, a cross with wings graces the chest, inviting creative flourishes and additional sacred elements. This design offers a visually stunning way to honor your faith and make your heart a warm and inviting space for God's presence.
Conclusion
In the captivating realm of black cross tattoos, we've explored an array of designs and meanings that can bring your faith and personal style to life. From the intricacies of a rosary tattoo to the minimalist charm of a small black cross, each design holds a unique allure. When considering placement, options abound, with forearms, wrists, and chests offering expansive canvases for creative expression. However, it's crucial to note that tattooing is a personal commitment, both in terms of aesthetics and potential risks. Prices can vary depending on the size, intricacy, and the expertise of the tattoo artist, so it's wise to consult with professionals and research reputable studios. Keep in mind that negative side effects, such as skin irritation or infections, can occur if proper aftercare is not followed diligently. So, remember to care for your tattoo like a work of art, with cleanliness and moisturization as your allies. With careful consideration and collaboration with skilled tattoo artists, your black cross tattoo can be a testament to your faith that transcends time. Embrace the journey, and may your ink be a constant reminder of the sacred stories etched upon your skin.
Feature image from Pinterest
Last reviewed and updated on May 22, 2023