Not all inks are good for your skin. On that note, here are some of the best black ink tattoo designs that you can refer to for your next tattoo.
Choosing the right ink for your tattoo is as crucial as the design of the tattoo itself.
Typically an organic tattoo ink consists of three elements. They are ethyl alcohol, organic pigment, and sterilized water.
The most famous black tattoo inks used, that are known to produce the best result, include Dynamic black ink, Kuro Sumi tattoo ink, Zuper black tattoo ink, and Intenze professional tattoo ink. While getting a tattoo it is important that you find the best ink that works for your design. A cheap ink can result in a lot of health issues in the future. It can cause redness and irritations on your skin, and the tattoo will also fade much more quickly. On that note, here are some of the best black ink tattoo designs for you.
Dynamic Black Tattoo Ink
The tattoo artist for this tattoo has created an anatomical design of a heart on the forearm of the individual, using Dynamic black tattoo ink. Dynamic black tattoo ink had its origin in the late 90s when it was mainly used to create tribal tattoos. The hypoallergenic nature of this ink, as well as its dark pigments, make them such a popular choice among all tattoo lovers. Unlike other types of cheap ink, this particular brand does not cause any form of allergic reactions to the skin, during or after healing. Furthermore, the black pigments blend easily into the skin, to give that bold and dark look to the tattoo design.
Kuro Sumi Tattoo Ink
If you have sensitive, and easily prone to allergic reactions, then opting for the Kuro Sumi tattoo ink might be beneficial for you. This ink especially is known to work wonders on sensitive skin, without causing any form of irritation since the ink is only made from natural ingredients. Furthermore, they are good for faded dark shades. The above-mentioned picture is an example of the same. We can see the image of a wolf, designed on the forearm of the individual using this ink. Kuro Sumi ink is also known to have a high percentage of color saturation. The only flaw in this ink is that, it tends to dry out a lot faster than others. Therefore the tattoo artist has to handle it carefully, to prevent any damage to the ink.
Bloodline Tattoo Ink
The bloodline tattoo ink is known to have a very thick texture and is the perfect example of an all-purpose ink. They are mainly used for outline tattoos and tribal tattoos. But the intense texture of this tattoo ink allows it to be used for other designs as well. In this image, we can see the design of a clock and a rose created by the tattoo artists using bloodline tattoo ink. The pitch-black color and the beautiful shading done by the artist are truly incredible. Bloodline ink is also very safe to use since it has no side effects and can be used for all types of designs.
Nocturnal Tattoo Ink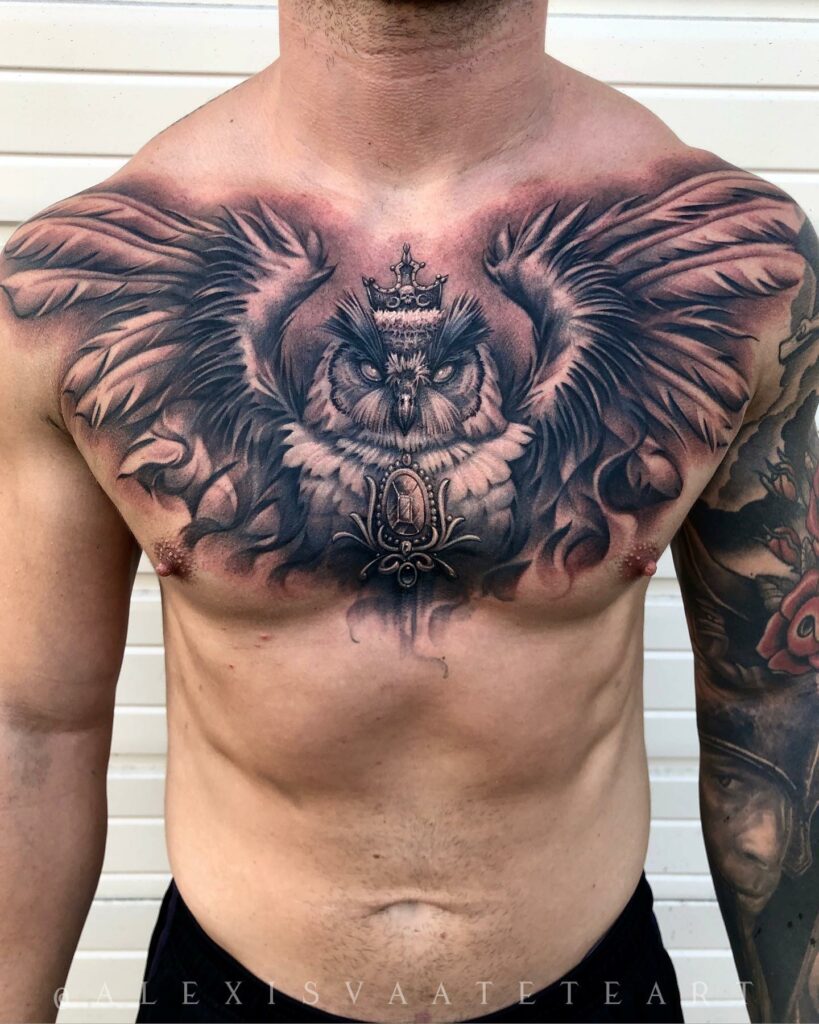 The nocturnal tattoo ink has three main ingredients, namely ethyl alcohol, sterilized water, and organic pigment. It was introduced by Franco Vescovi and Jack Rudy. Unlike the bloodline ink which has a thick texture, nocturnal tattoo ink has a very thin texture and can blend very easily with other inks. This is why, it is a very popular choice among tattoo artists, who like to use varied types of ink to create a design. In this image, we can see the design of an owl, that is drawn on the chest of the man. Chest tattoos are not only very painful but can also involve a lot of infections, if not done in the proper manner. Therefore, if you want to get inked on these kinds of sensitive regions of the body, it is important that you choose the ink type wisely, to avoid any health complications.
Allegory Premium Ink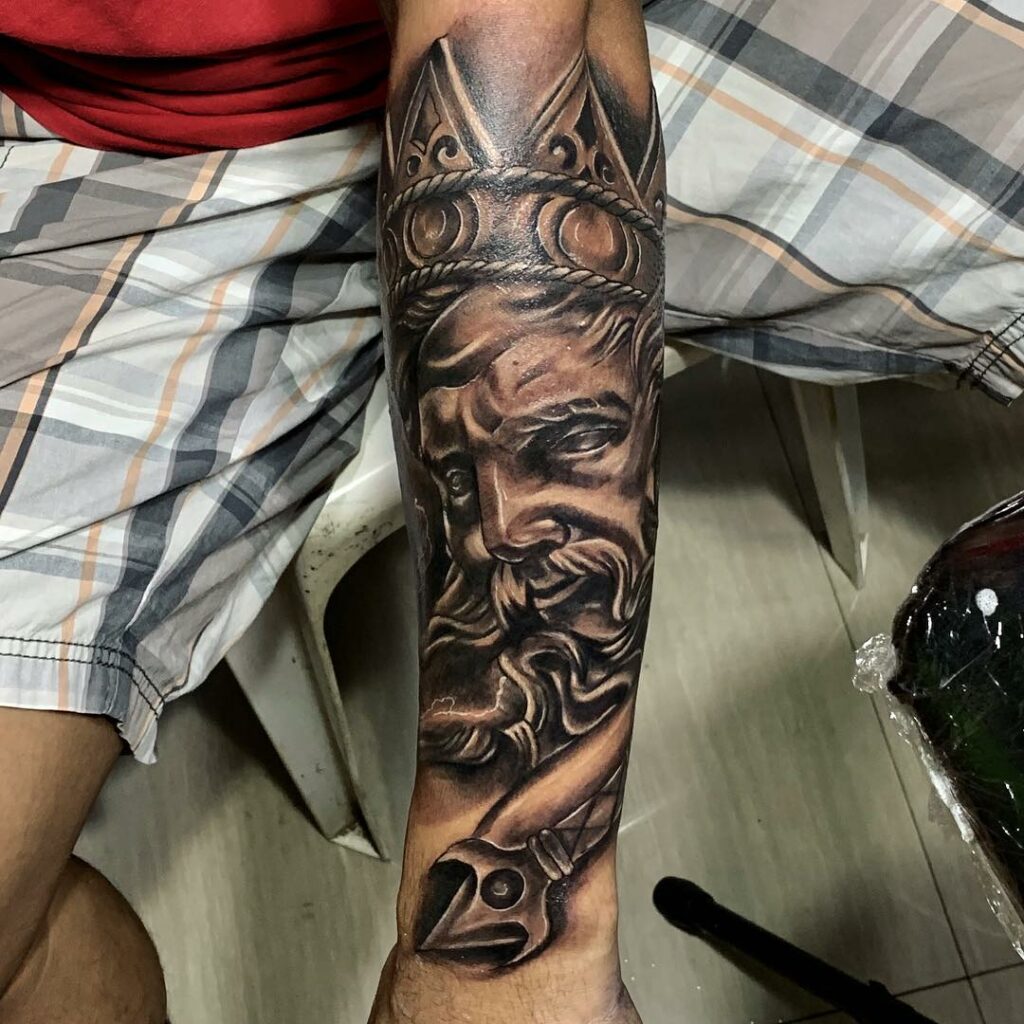 The portrait tattoo in this design has been created using the Allegory Premium Ink. This particular brand is known for its vegan-friendly ingredients, which makes it a very safe option for many. Furthermore, the undiluted ink of this brand has very strong pigmentations, which enables a smooth flow. It can be mixed with any other ink based on the design of the tattoo. The Allegory Premium Ink generates neat lines and shades and is a great choice especially if you are looking for any detailed artwork for your tattoo. Apart from all these benefits, there is only one disadvantage, which is, that this brand has a very short expiry limit. Therefore, buying large quantities of bottles at once, might not be the best idea.
Hawink Tattoo Ink
The Hawink is a newly introduced vegan ink. Within just a few years of its launch, it has managed to build a good reputation for itself, in the professional world of tattooing. One of the unique selling propositions of this brand is that the pigmented colors of this ink, are made sterile with the help of gamma rays. In the above-mentioned image, we can see the design of two ravens, tattooed on the thigh of the individual using Hawink. The highly water-soluble of this ink makes it a popular choice among professional tattoo artists.
Intenze Tattoo Ink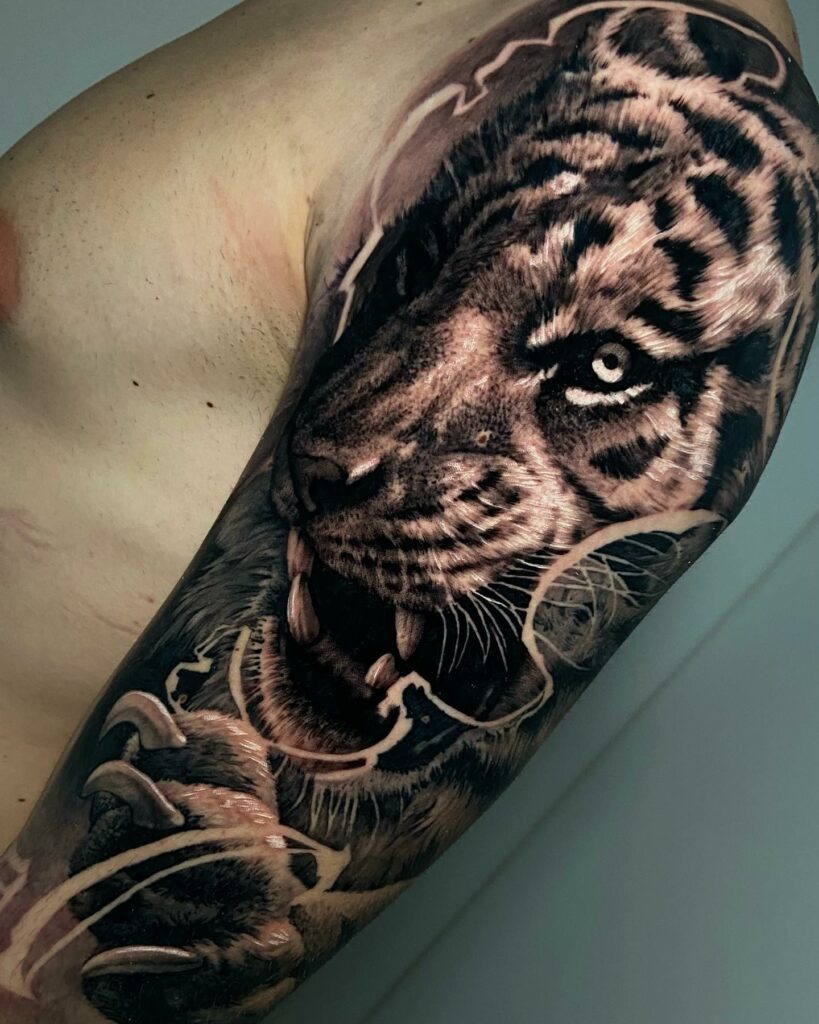 The Intenze tattoo ink is a multi-purpose ink. This means you can use this ink to create any lines, shading, or coloring. It is suitable for all skin tones and made out of vegan-friendly ingredients. The image here consists of a tiger tattoo that has been drawn using this ink. Just look at the detailing of the fur and the tiger's eyes, done by the professional tattoo artist. Intenze ink also lasts for a longer period of time than other inks and has ultra-fine pigments. There is no such disadvantage to this brand, except that it may seem watery to some artists. However, to avoid this problem, it is recommended to shake the bottle well, before finally using it for the design.
Star-Brite Black Tattoo Ink
Star-Brite Tattoo ink might seem a bit costly at first, however, the benefits that come along with it are worth the price. It is a certified lab-formulated ink and flows smoothly on the skin. This brand also provides a wide variety of colors for the artists. In this image, the tattoo artist has only used black ink to create this dinosaur tattoo. The rich coloring and the detailed shading of the various physical features of the dinosaurs look incredible on the forearm of the individual. The only disadvantage of this brand is that the inks come in small bottles.
Viking Black Ink
Viking Ink has a very wide range of different colored inks. The Dynamite black ink is the best one among them. The solid fillers and the lightweight texture of the ink easily penetrate the skin and leave a long-lasting shade. The above image contains one such tattoo, designed by using this ink. One of the main advantages of this ink is that, unlike other inks that need to be redone on a frequent basis, to retain the fresh and crisp look of the tattoo, this brand does not require all those tiresome efforts. In fact, just by using once, it will last for a very long time, without the need for any touch-ups. Therefore, if you are looking for ways to avoid the extra costs that come with tattoos, using this ink for your design, can be the perfect way to do so.
Millenium Mom's Black Pearl Ink
This particular brand uses strong pigmentation in their ink in order to ensure that it works well in every skin type. Furthermore, they are also great for almost all types of tattoo designs, like coloring, shading or fine outlines. This is a go-to brand for every tattoo artist since they deliver deep and bold outcomes. Here we can see the design of a flower that has been created using this ink. Another advantage of using this ink is that, when exposed to oxygen, it will not dry out as faster as other brands. Therefore, it is an ideal choice for every tattoo artist. It is, however, recommended to shake the bottle well before using, it to generate the best results.
If you are a newbie to the tattoo industry, you need to do thorough research on what kind of ink works best for your design. This will ensure, long-lasting color as well as a smooth procedure. One thing to keep in mind is to choose the best and most trusted products, especially when it is being used on the skin. Every skin has different requirements, and it is important to recognize them and choose accordingly.
feature image from Pinterest – Want your tattoo to look brighter? Try "Tattoo Balm"
Need More Inspiration