Looking for the perfect expression of love for your cute little doggie? Here are 10 fabulous black lab tattoo ideas that will blow your mind!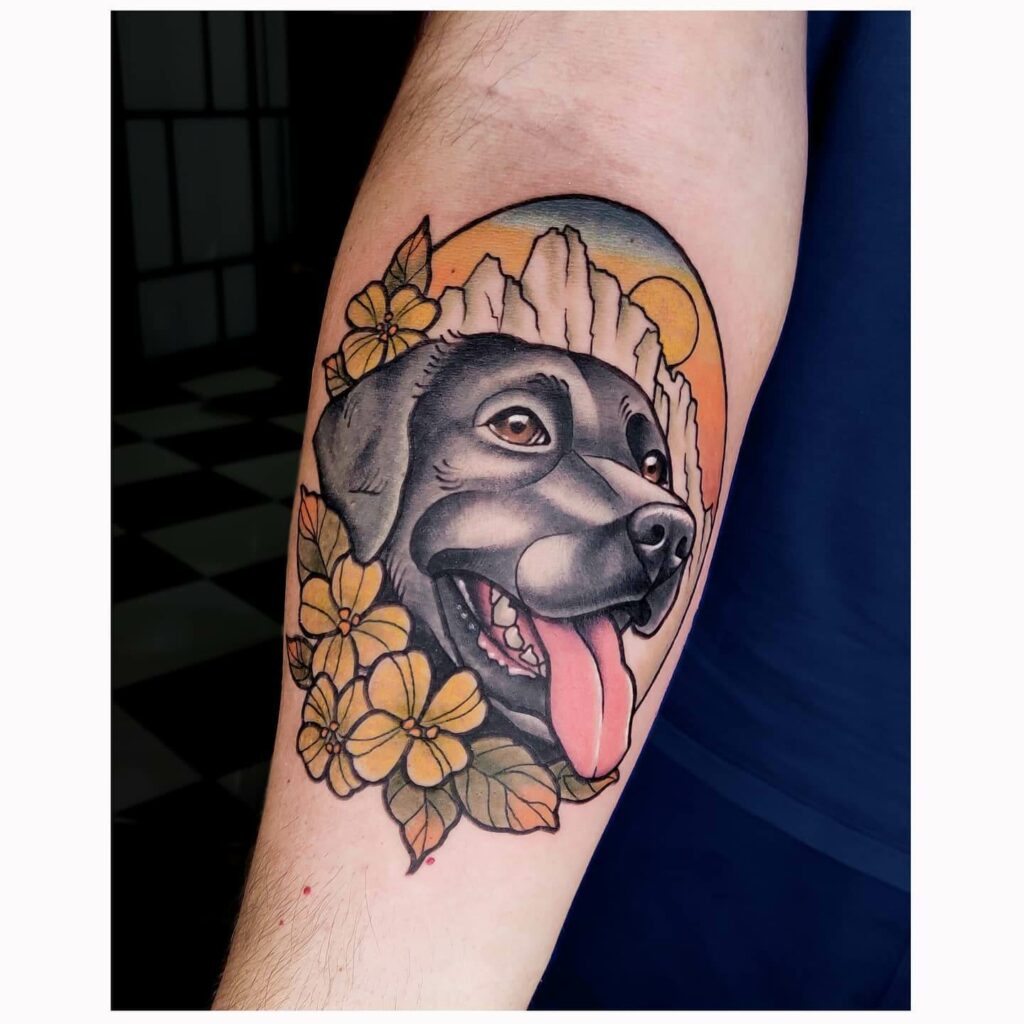 The Labrador Retriever is one of the most loved breeds of dogs all over the world.
Their easy-going temperament and friendly, energetic nature make them the perfect furry companions. Black labs are beautiful dogs.
They usually have soft brown eyes that will melt your heart into giving them that last biscuit in the tin. Labs are the kids of the doggie world. They are energetic and often destructive but with a dollop of innocence. They make great playmates for children and love to go swimming. Labrador retrievers are born swimmers because of their webbed feet, making them a great choice for retrieving games from water.
Labradors also have an exceptional sense of smell, making them excellent police dogs. They are loyal and perceptive, which makes them great service dogs too!
Labrador retrievers are a bunch of great things, and we don't blame you if you love your adorable black lab to bits! If you would like to make a statement of how much they mean to you, get inspired by these brilliant black lab tattoo designs for your next inking session.
Simple Twin Black Lab Tattoo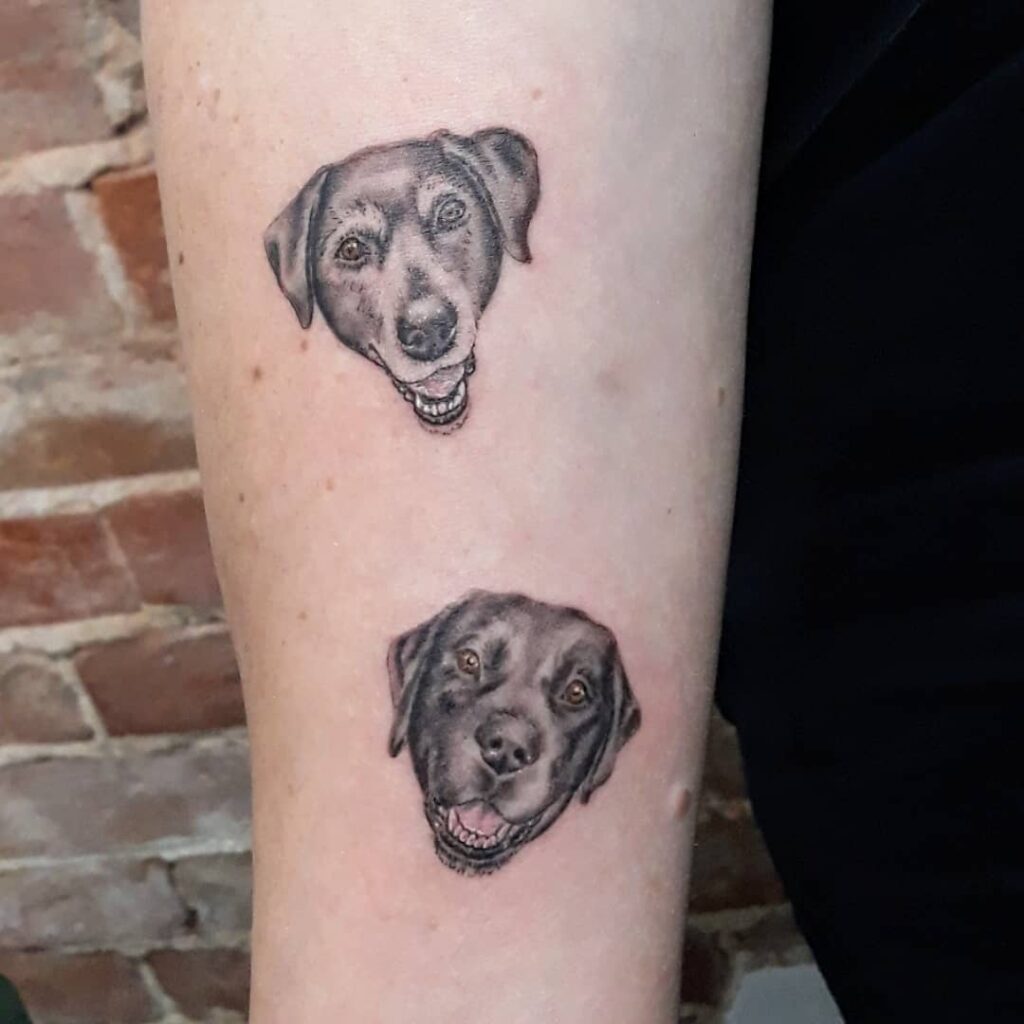 What's better than a black lab tattoo? Two black lab tattoos!
If you are looking for a simplistic black lab tattoo, this is the one for you. Its appeal lies in its simplicity, the warmth of those goofy grins is just what you need on a gloomy day.
This fine line lab tattoo has the faces of two black labs in one frame. This black lab tattoo is a great option if you have two dogs and want to get inked while keeping it simple.
A Labrador retriever makes a great companion, but their energy can often not be matched by humans. Adding another Labrador retriever to your family can do wonders to keep them happy.
This black lab tattoo can be inked almost anywhere on the body. If you wish to flaunt your adoration for your furry babies, consider getting inked on your forearms. If you are looking for more simple dog tattoos, keep scrolling.
Goofy Black Lab Tattoo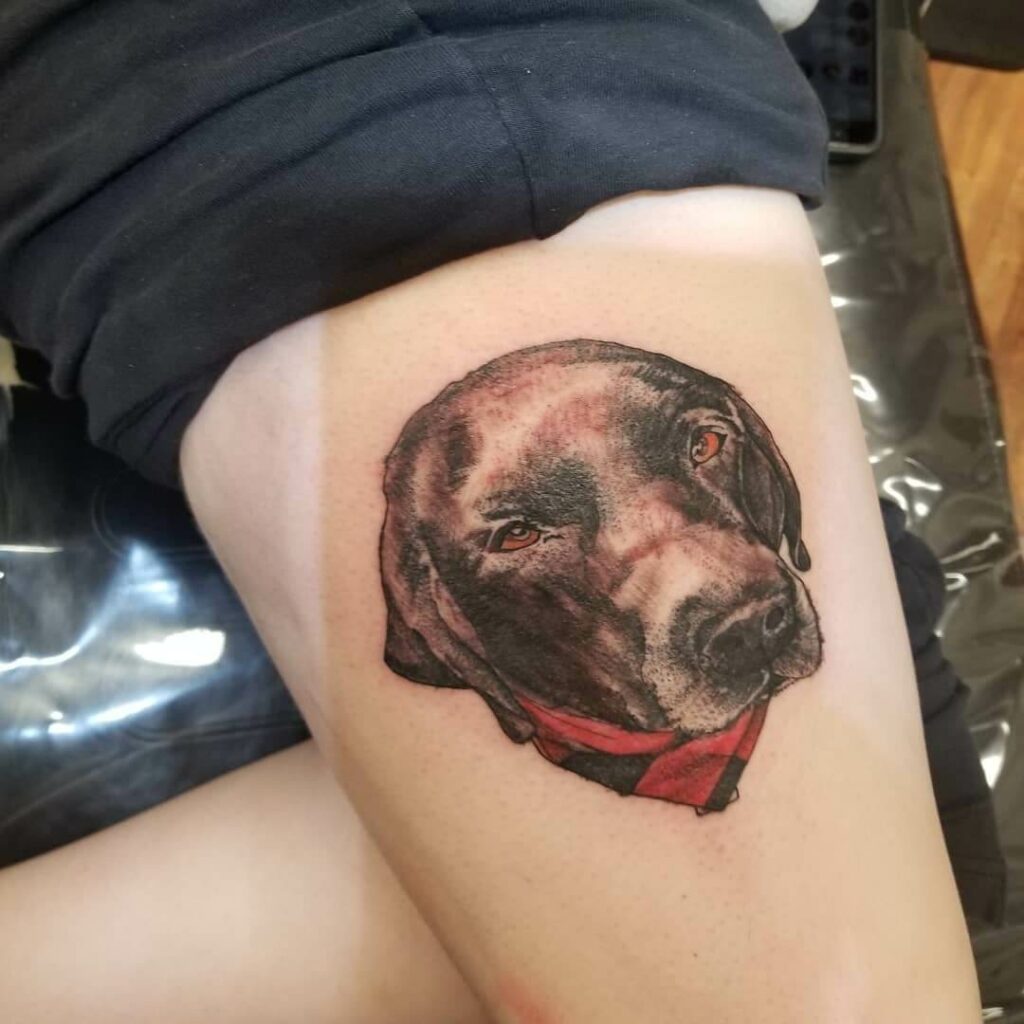 Black labs are loveable goofballs. Their energetic moves can often be too much for us. While some labs may show remorse, some labs like this are proud of their work!
This black lab tattoo is a great way to capture that moment of pride in your doggie when they wreck the house and show no signs of regret. The bandana on the neck adds to that by several notches to present the perfect picture.
Labrador tattoos like this are unique as they divert from the stereotypical innocent look preferred by people. If you are looking for more black lab tattoo designs like this, then keep reading.
Black Labrador Tattoo With Name
Want your black lab tattoo to stand apart? Want to lend it that unique touch? Getting your cute fur ball's name inked along with their adorable faces is your best way to go.
This cute black lab tattoo peeking out is one of the most versatile black lab tattoo designs on the list. You can get it anywhere on your body, and it will ooze charm. However, the best places to get it tattooed would be in places like shoulders and hands for you to flaunt your baby to the world!
This realistic portrait tattoo uses mostly black ink, and the stylized font lends it a classic feel. So if you want to make get inked with a special gesture of love while keeping it classy, just go for this tattoo!
Floral Black Labrador Retriever tattoo
You could never go wrong with a black labrador with pretty flowers! This cute puppy looks adorable with tulips on the collar, and the wet snout is a big bonus.
This gorgeous black lab tattoo is great for showing off your dog's lustrous coat and this tattoo is a great option. The highlights on the shiny black fur give off a realistic effect, and even the wet nose is super detailed.
This labrador tattoo idea is extremely customizable and would look great even with a chocolate lab. You can add the flowers of your choice, and if you want to do justice to your furry baby's love for treats, you can get them inked instead of flowers.
Show your love and affection through this pretty tattoo and see the compliments pour in!
Sweet Lab Tattoo On Chest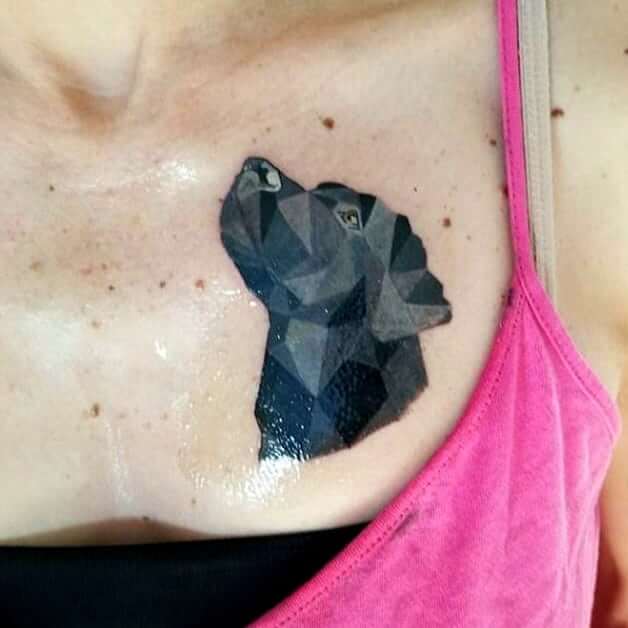 Your labrador is very close to your heart and probably occupies a huge chunk of it. So why not flaunt it to all people around you?
This labrador tattoo idea is perfect for lab parents who keep their furry companions near their hearts. The lab tattoo is great for reminding yourself how important they are to you.
This geometric tattoo uses different shades of black paired with soft brown lab eyes that you'd absolutely adore! It is often told that the path to the heart is through the eyes, and this lab tattoo proves it absolutely correct.
Pet's Image Tattoo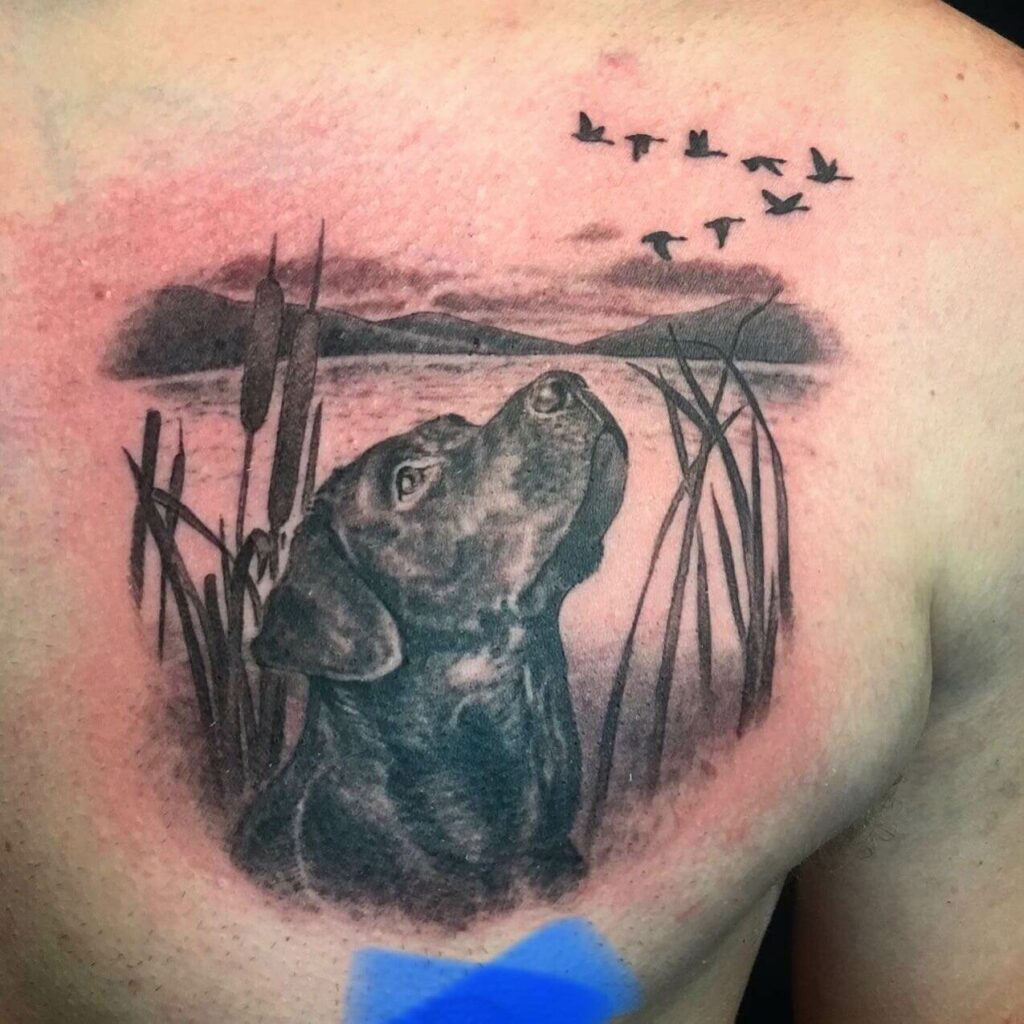 The image of your faithful companion against the backdrop of a sweeping natural view is sure to bring you peace. It is reminiscent of all the long walks, hiking, and hunting trips your labrador has accompanied you.
The water, mountain, birds, and foliage are a sign that you can become one with nature through your labrador. Tattoo ideas like this are great conversation starters. So sign up for this tattoo to tune into the joys nature has to offer with your amazing labrador.
This tattoo of a black labrador in the form of a portrait is sure to win hearts. This pet's image tattoo is fairly customizable, and you can replace the background with about anything of your choice.
Black Lab Tattoo With A Splash Of Color
This creative dog tattoo idea is a great expression of love for your lab. A riot of colors with your lab, what's not to love?
A labrador retriever tattoo like this one can melt hearts. The goofy smile and lovable eyes come together, drenched in rainbow colors. It is a watercolor portrait tattoo that captures the essence of sharing space with a labrador retriever. It is all chaos and mess, but your heart warms up to that innocent grin at the end of the day.
Labrador tattoo ideas like this one are a great option for all dogs. The rainbow colors used in this labrador retriever tattoo are symbolic of the rainbow bridge. It is believed among dog lovers that when a dog passes away, they cross the rainbow bridge, which is a very important aspect of passing over to the other side. If you are getting inked in the memory of your lost dog friend, this tattoo is a beautiful ode to them.
The Lab Tattoo On Calf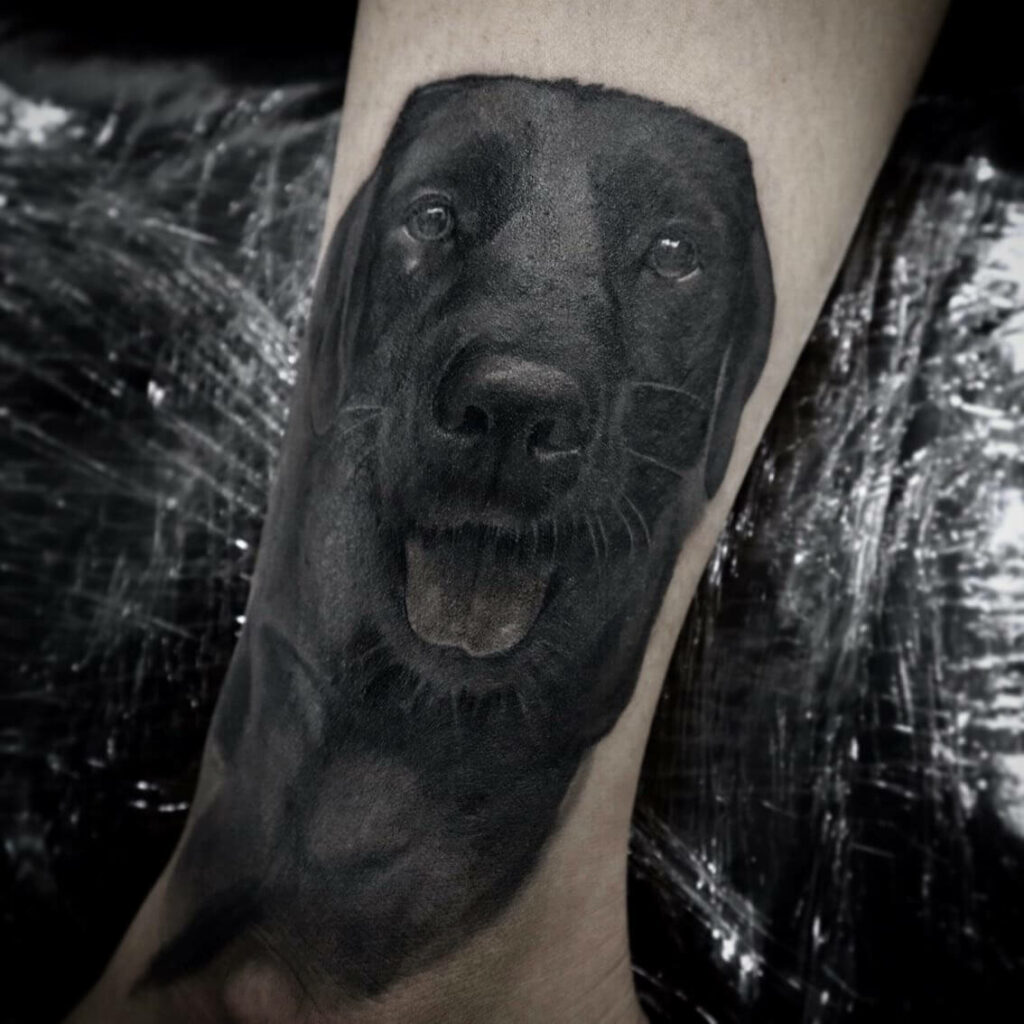 Looking for a hyper-realistic black labrador tattoo? This tattoo has got what you need.
This black labrador is an intricately detailed ink work on the skin. The tattoo artist leaves no stone unturned to create this masterpiece. The fur, whiskers, wet nose, and lively eyes make it hard to believe that this labrador tattoo is drawn by hand.
Tattoo ideas like this can only be perfect for your little black lab. They deserve this fascinating piece of art dedicated to them.
Such detailed tattoos are meant to be shown off, so get it inked where it is easily visible, like this one.
Black Lab Sugar Skull Tattoo
Sugar skulls are symbolic of departed souls. In Mexican tradition, they are used to honor the return of the deceased. This black labrador tattoo is given the form of a sugar skull with colorful flowers and patterns.
This is one of the unconventional labrador tattoo ideas for remembering a lost labrador soul close to your heart.
Miniature Black Lab Tattoo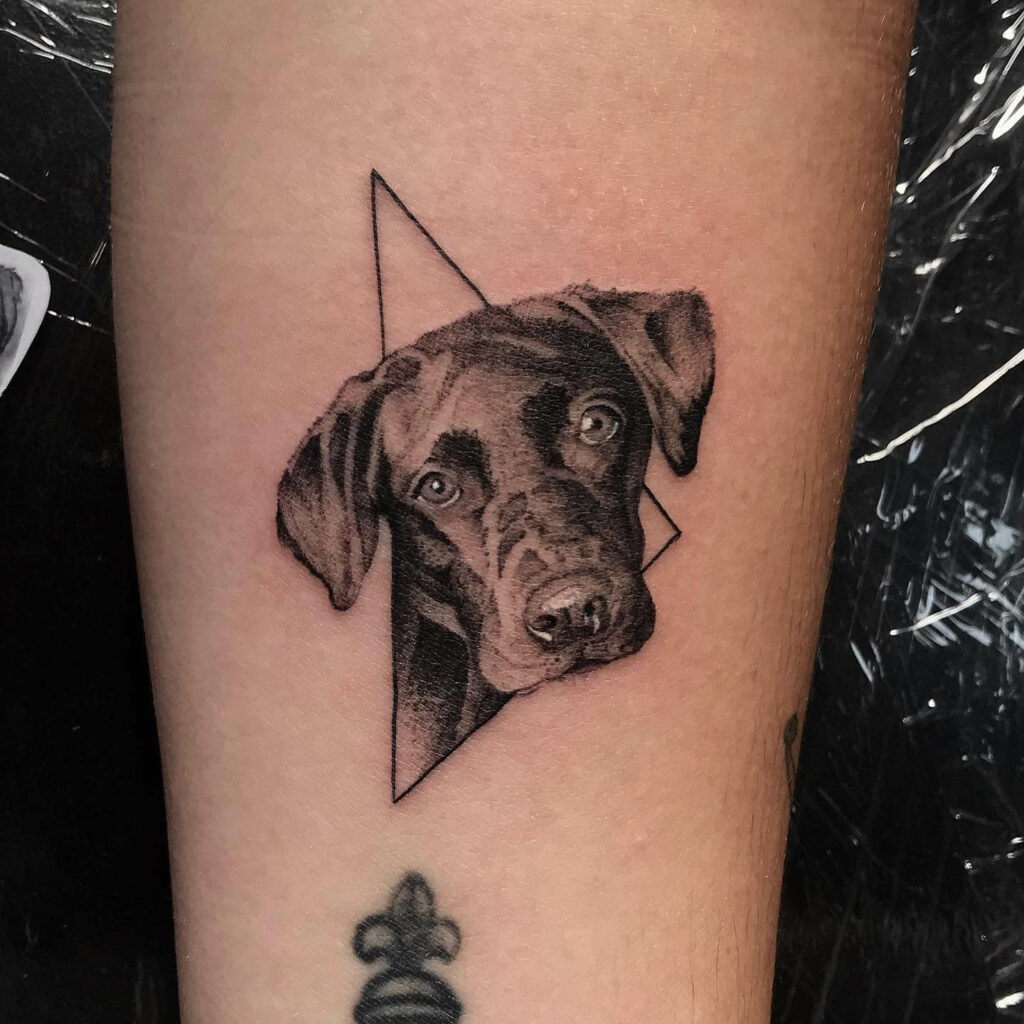 This tiny black labrador tattoo is set to steal hearts!
Linework tattoos are a great choice for miniature tattoos. This little black labrador can be seen putting its head through a geometric structure. The tattoo is whacky and will look really good when inked on arms and legs.
If you have been looking for a black labrador tattoo that is not very big but is worth the hype, your search ends here.
Black labs are, without a doubt, shot through the kawaii meter! This adorable dog breed is a favorite, from being a tiny black bean of a pup to a full-grown baby. The Labrador retriever tattoos in this article capture the moments of spending time with these adorable furballs. Consider getting these beautiful labrador tattoos if you have a black labrador for a reminder of how much you love them.
Need more ideas for that perfect Labrador tattoo? Here are some more Labrador tattoo ideas for you to embark on your lab tattoo journey.
Feature Image from Pinterest – Want your tattoo to look brighter? Try "Tattoo Balm"