Have you been flirting with the idea of inking yourself with an understated black outline tattoo? Well, look no further! Here is a curated collection of 10 extraordinary black ink outline tattoos that will surely kindle your interest.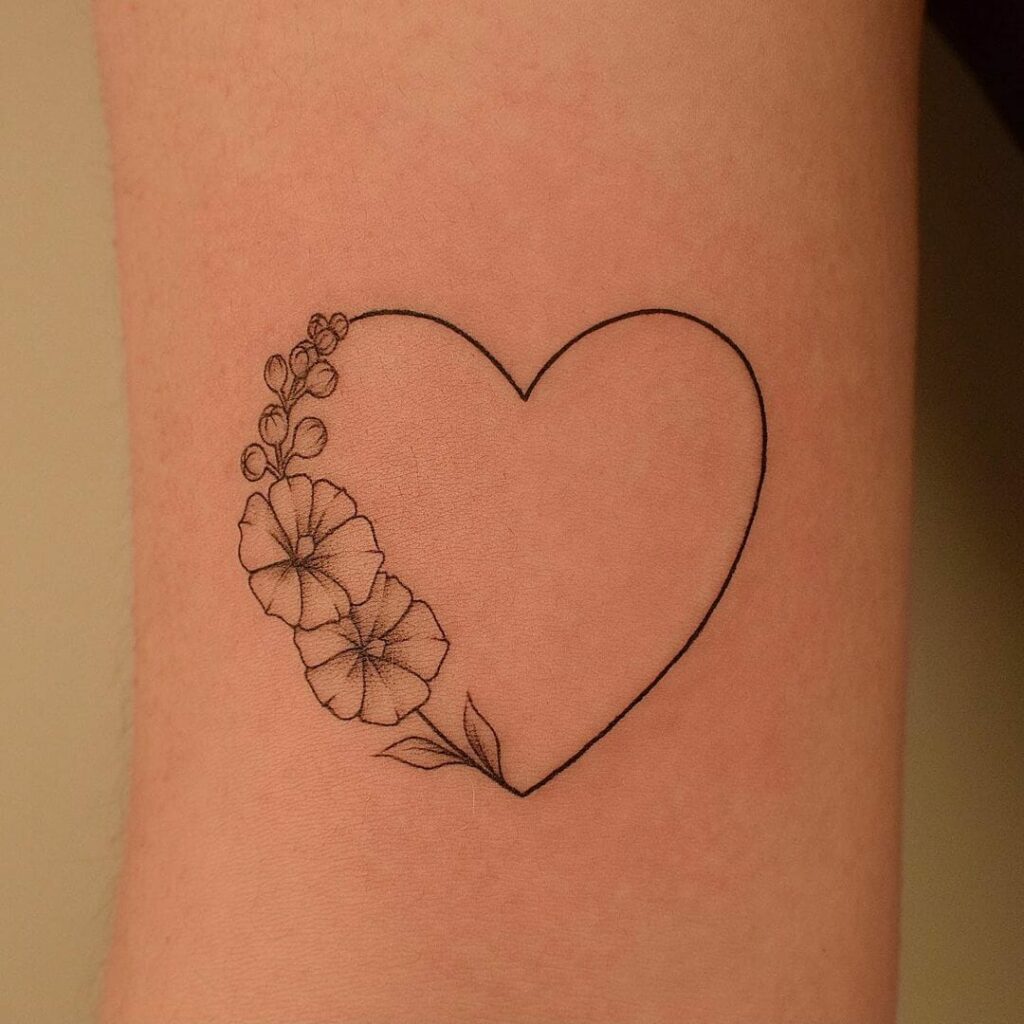 Outline tattoos, as the name suggests, boast bold edges sketched without the usual filler ink inside the lines. These stunning pieces of art have been steadily gaining popularity, with black ink designs leading the pack due to their striking allure.
Outlined in black ink, these tattoos usually present precise and illustrative designs, sometimes punctuated with bold, solid lines. They tell their stories through shape alone, devoid of the color distractions found in traditional tattoos. This style naturally lends itself to a range of designs – whether it's animals, objects, symbols, or minimalist concepts, there's no limit to what can be created with a black outline.
Black outline tattoos exude an air of simplicity and sophistication, making them universally appealing, regardless of age, gender or cultural background. One of the charming aspects of choosing a black outline tattoo is its versatility – it can remain a minimalist outline, or be filled in at a later stage, should you fancy a change.
The world of outline tattoos is your oyster; there are no boundaries to what can be crafted. Any design, any size, can be brought to life with the elegant simplicity of a black outline. So, whether you're a tattoo novice or a seasoned enthusiast, this article promises to inspire you with some of the finest examples of black outline tattoos. Read on to help shape your next body art decision.
Black Spooky Outline Tattoo
Imbued with a charming Halloween essence, the Black Spooky Outline Tattoo features a trio of traditional symbols: a skull, a frog, and the moon. Each component holds its own significance. The skull and the moon, emblematic of mortality and the passing of time, remind us to seize the day, while the frog, often linked with witchcraft, adds a dash of mystery. This tattoo stands as a celebration of the cycle of life, making it a timeless and meaningful piece that would look striking on any part of the body.
Shin & Calf Dragon Tattoo Using Black Outlining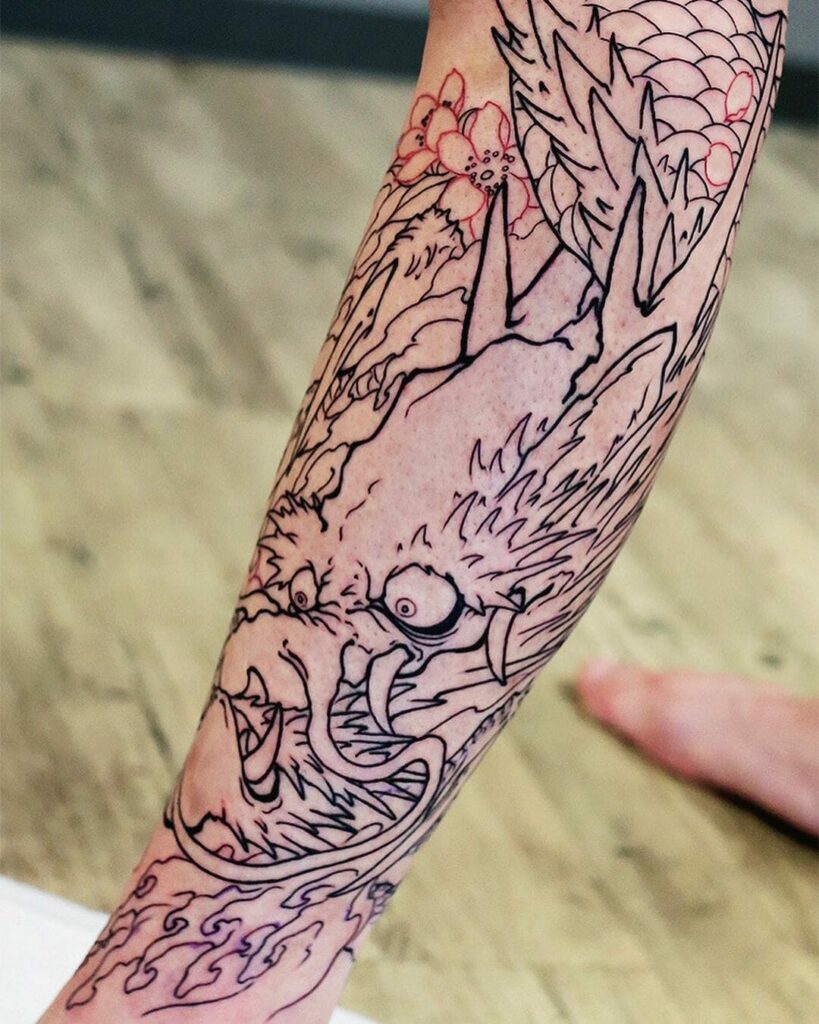 If you're a fan of intricate designs, then the Shin & Calf Dragon Tattoo, traced in bold black ink, may well captivate your imagination. Drawing on mythological influences, this tattoo represents power, grace, and intellect. Often considered a harbinger of good luck, the tattoo gets its vivacity from its black outline and strategic touches of red. Ideal for a dragon sleeve tattoo, this design is a bold and intriguing choice.
Black Moon In Hands Outline Tattoo
The Black Moon In Hands Outline Tattoo showcases a pair of hands gently cradling a crescent moon. The crescent, typically a symbol of fertility, cyclical changes, and femininity, also signifies the banishment of negativity. The hands uplift the moon, embodying motivation and optimism. Regardless of age, gender, or skin complexion, this design, when inked by a skilled artist, can be a stunning personal emblem.
Cat Tattoo In Black Outline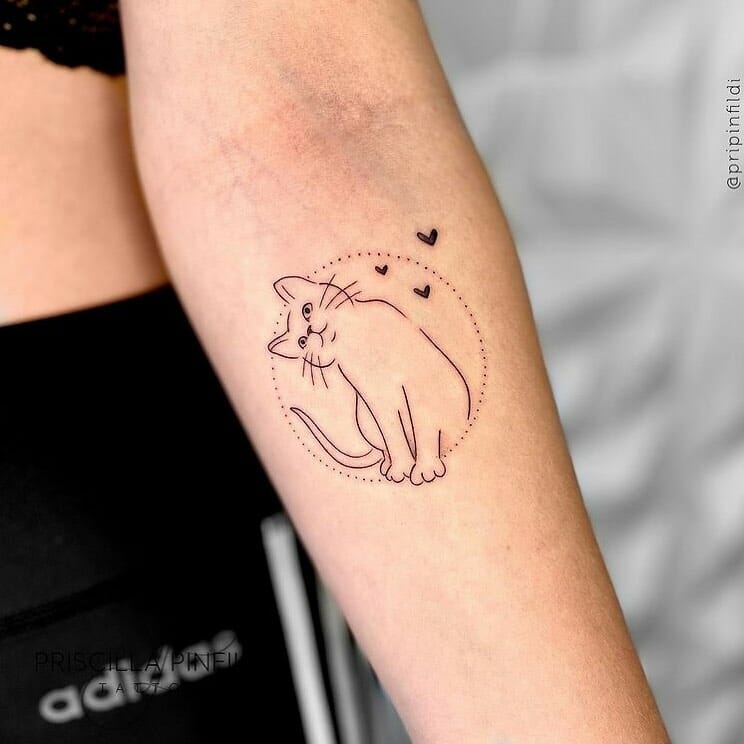 Paying homage to our feline friends is the Cat Tattoo In Black Outline. This design's simplicity doesn't just make it cost-effective; it also allows for customization, making it an ideal choice for pet lovers. This black and white design could be further accentuated with a watercolour backdrop, leaving the original outline intact.
Black Paper Plane Outline Tattoo
The Black Paper Plane Outline Tattoo is a gentle introduction to the world of body art, especially for first-timers who might be nervous about the process. A symbol of wanderlust, imagination, hope, and the ability to start anew, the paper plane tattoo is a beautiful reminder of life's endless possibilities. Ideally placed on the neck, wrist, or ankle, this design is light, airy, and meaningful.
Forearm Dragon Tattoo With Black Outlining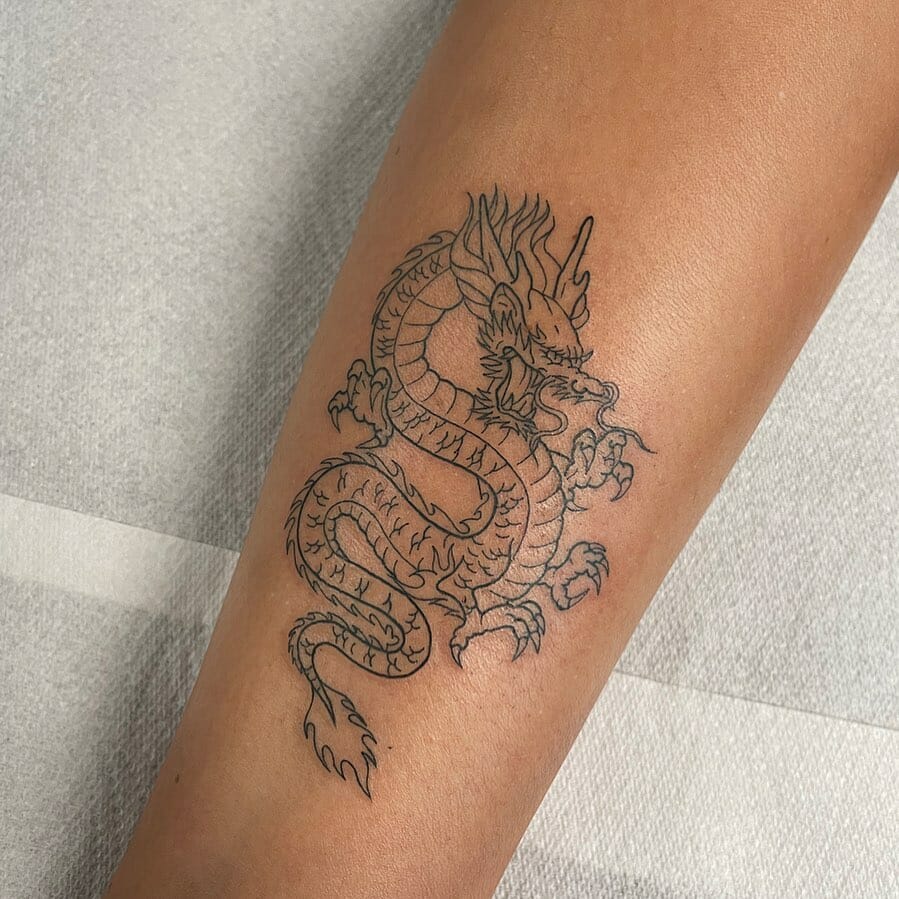 The Forearm Dragon Tattoo, etched in the Chinese art style, presents an intricately detailed design in a small canvas. Choosing a dragon tattoo is a statement of inner strength, power, and confidence. This design requires a skilled artist to bring it to life, but with proper aftercare, it promises to be a masterpiece on your skin.
Black Wildflowers Outline Tattoo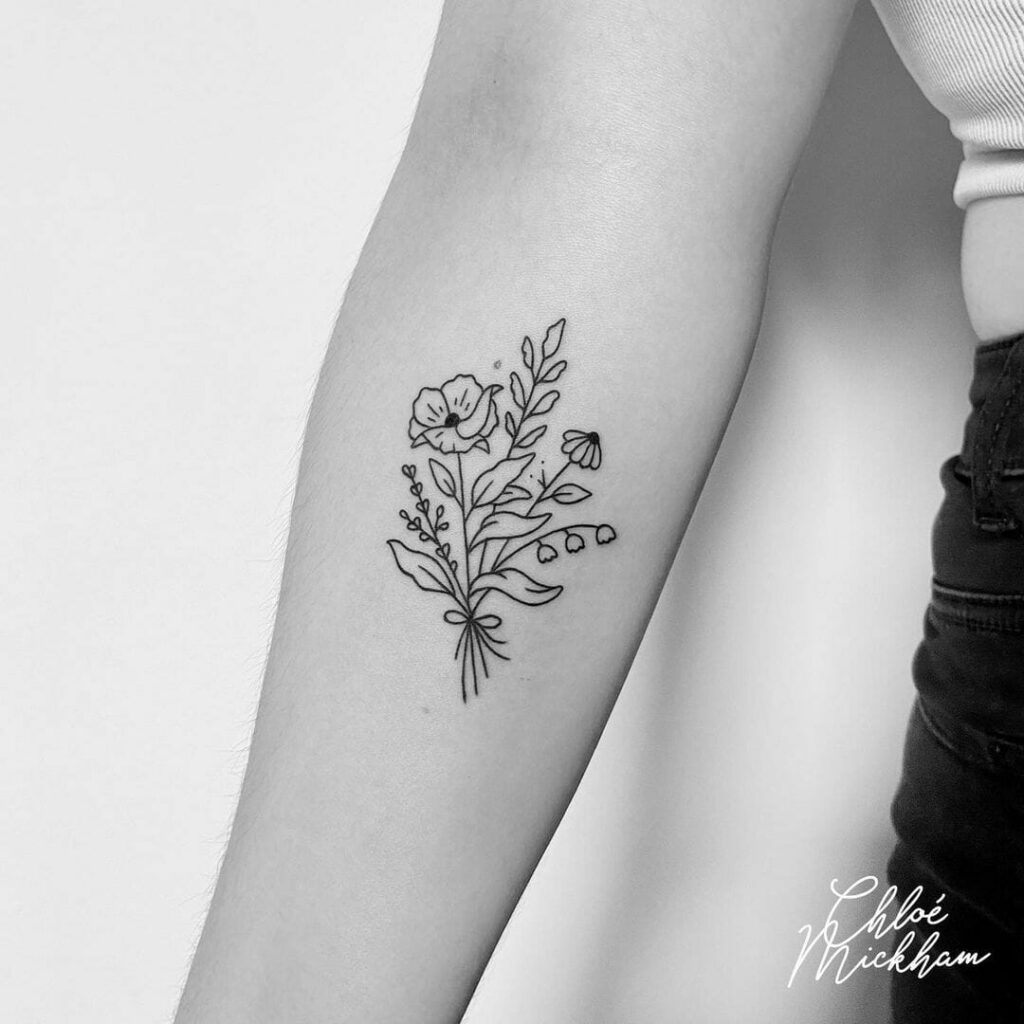 The Black Wildflowers Outline Tattoo, with its elegant simplicity, can appeal to anyone. Wildflowers symbolize joy and positivity across various cultures, and this tattoo serves as a gentle reminder to remain optimistic. All you need is a good artist, a little patience, and a bit of investment to adorn yourself with this delightful design.
Black Outlined Rick Tattoo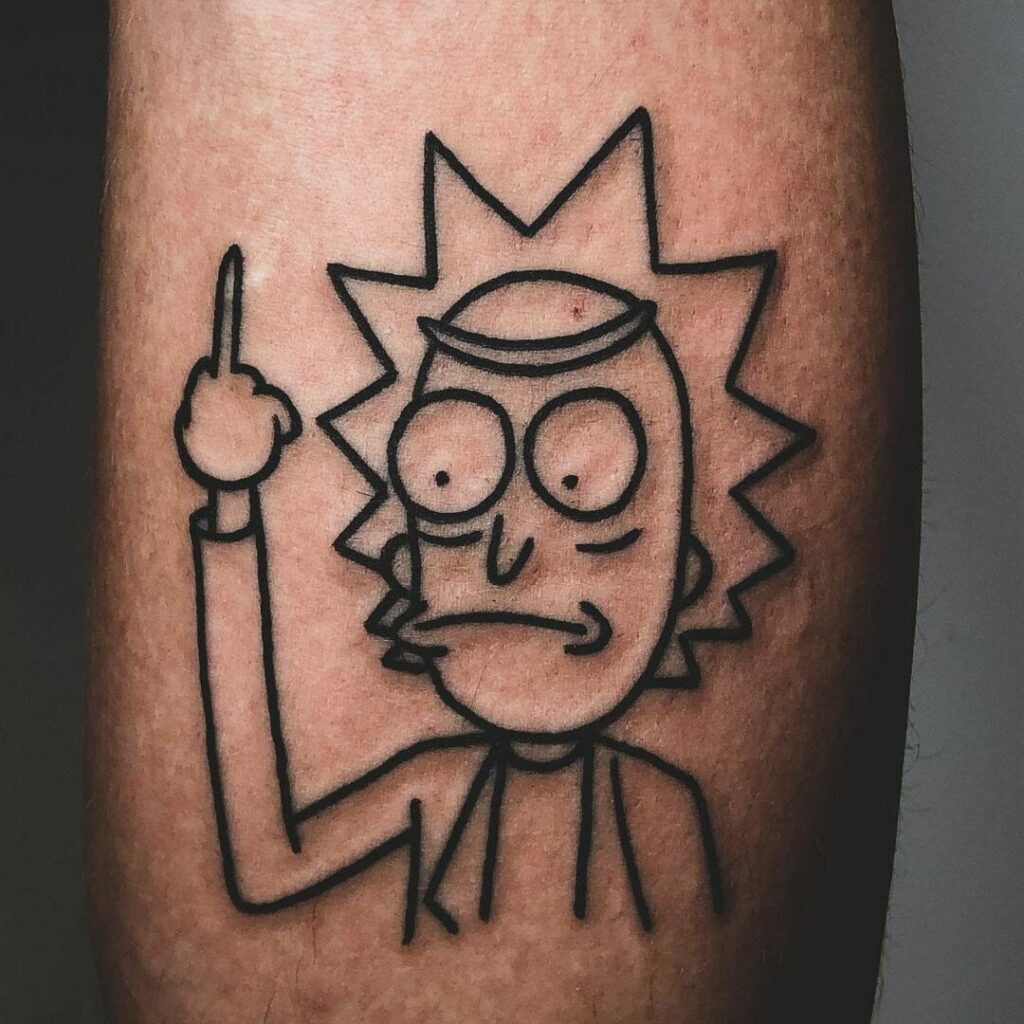 The Black Outlined Rick Tattoo is a tribute to the popular character from the animated series 'Rick and Morty'. Recognizable for his nihilistic and reckless attitude, Rick's portrait is crafted with bold, black lines, making it noticeable on any skin complexion. If you find resonance with Rick's character or are a fan of the show, this tattoo could be an interesting choice.
Two Koi Fish Tattoo In Black Outline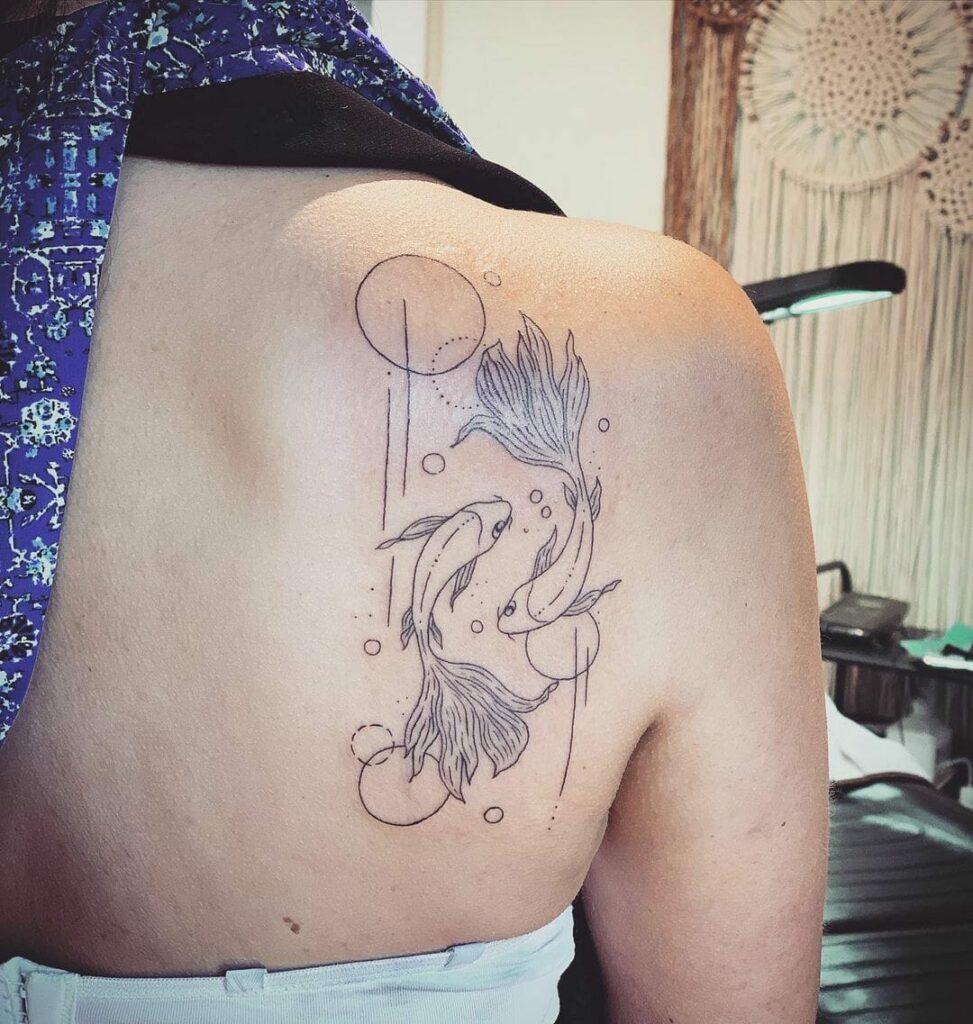 The Two Koi Fish Tattoo in Black Outline holds a wealth of meaning within its elegant design. Representing transformation, overcoming obstacles, longevity, love, and enduring friendship, the koi fish tattoo is a symbolic masterpiece. Its shape makes it an excellent fit for a calf or arm tattoo, but the design's intricate detailing demands a skilled artist.
Black Medusa Outline Tattoo
The Black Medusa Outline Tattoo is a rich tapestry of symbolism. Medusa, a potent symbol of female empowerment, independence, and transformation, is an embodiment of strength. Although hand tattoos are notoriously painful, the end result with this design is guaranteed to be a stunning visual representation of powerful
Conclusion
As we conclude this exploration into the world of black outline tattoos, it's evident that the options are as varied as they are compelling. From the mystical symbolism of koi fish to the empowering figure of Medusa, the possibilities are near endless. Placement is a vital consideration, with many opting for visible areas like the forearm, calf, or neck. For more intricate designs, larger canvases like the back or thigh could be more suitable. As for cost, remember that simplicity may be easier on the pocket, but complex tattoos, while more expensive, can be a breathtaking showcase of your tattoo artist's skill.
However, as with any decision related to body modification, it's essential to consider the potential drawbacks. While tattoos are a popular form of self-expression, they do come with risks. These can include allergic reactions, skin infections, or complications with MRI examinations. So, before you embark on your tattoo journey, ensure you choose a reputable artist, understand the aftercare instructions, and are fully aware of the implications. A tattoo can be a beautiful form of self-expression, a personal symbol that accompanies you throughout life's journey, so make sure it's a choice you'll cherish.
Feature image from Pinterest
Last reviewed and updated on May 18, 2023