If you are a seasonal tattoo enthusiast looking for body modification, then this list of the best body tattoo ideas will definitely help you.
Getting inked is a fashion trend preferred by millions all over the globe with many settling for large body tattoos that they can flaunt.
The best artists treat your body as an artists treat a blank canvas and come up with the best tattoo designs that will transform that canvas into a work of art. We all want cool tattoo designs that exude both personal choices as well as are visually stunning in equal measure.
There are thousands of tattoo ideas available in the market and, as is the case with too many choices, one gets too confused. This article will help you to understand different tattoo ideas, temporary tattoos, fake tattoos, and aid you in making an educated choice for your next body tattoo.
Full Body Tattoo For Men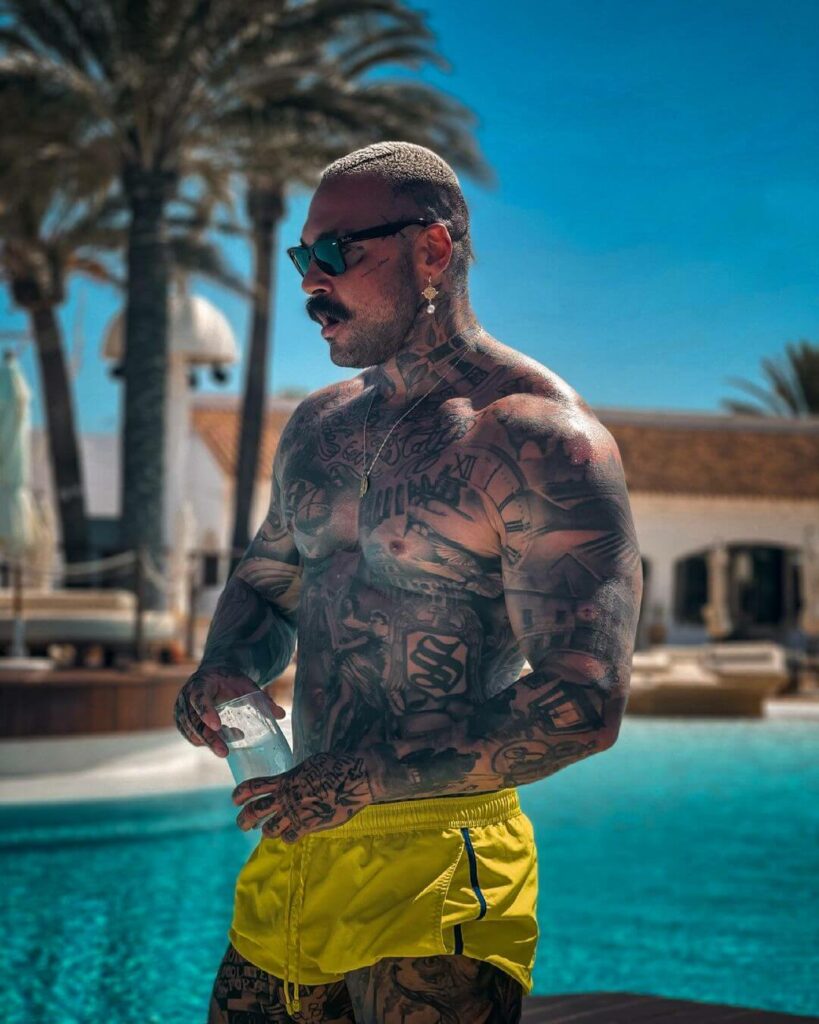 Some people opt for minimal tattoos or designs that are small and compact, while others go for designs that they can openly flaunt and show off to others. If you are the type of man that falls into the latter category, then this men's full-body tattoo might interest you. However, make sure you are committed to the tattoo of your choice before opting for a full-body tattoo since it is going to cover up almost the entirety of your body. Do your research diligently and ask for a lot of second opinions before getting a whole-body tattoo as there is little to no chance of changing your mind after committing to it. Also, ensure to get professional, reputable, and experienced tattoo artists to get the best result and to save yourself from future skin issues.
Castle Full Back Tattoo For Magic Lovers
Castle tattoos are a great way to show your impeccable taste in fashion and a stylish way to express your love for ancient history and architecture as well as a touch of royalty. These sectional ink pieces automatically impress people the moment you walk into a room and offer a chance for an individual to have a taste of the ancient dynastic dominance. Fans, as well as players of chess, also opt for castle body art as it serves as a symbolism for the chess piece rook. As the chess piece moves in a straight line, horizontally or vertically, this can be a symbol of a candid thinker who has a clear and concise plan chalked out. Hence, regardless of the motivation behind getting a castle tattoo, the undeniable fact remains that they are almost always compelling and shrewd. You can opt for a castle tattoo that reflects the archetypal historical architecture, like the one in this picture, or some future archaeological design as well.
Intricate Mandala Body Tattoo
Mandalas are geometric assemblages of symbols that are usually aligned in circular formations. Generally considered as a representation of perfection, eternity, and balance, mandalas are found in many cultures and religions around the world as a guide to teaching and understanding balance. While the Buddhists consider mandalas as a symbol of balance between the mind and body, Hindus think of mandalas as a point of focus and draw them in their prayer rooms. We can also come across intricate mandala designs incorporated within the artwork found in churches. Mandala tattoos can stand for many things – from your inner peace, stability, balance, soul to eternity; and even found to occur in Nature in form of blossoming flowers, thus standing for the geometry occurring in Nature. Almost all mandala designs are unique and hence you can trust mandala tattoos to be completely personal and unique.
Full Body Tattoo for Women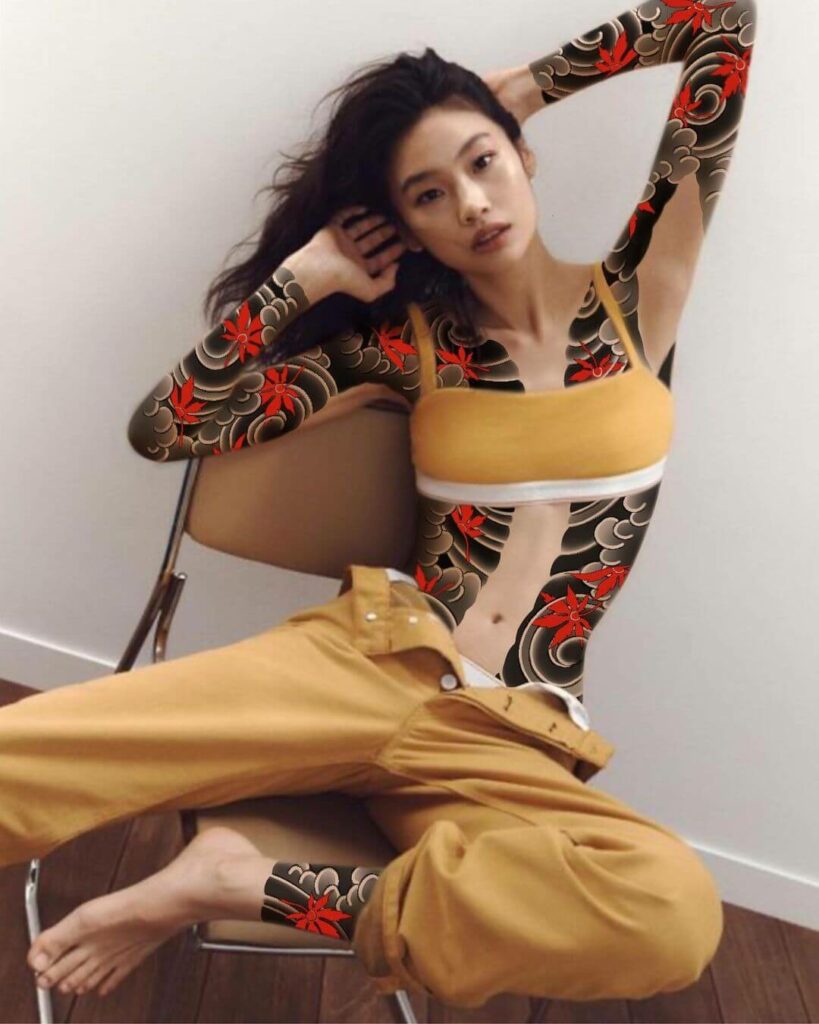 Ever since Netflix dropped its South Korean series 'Squid Game', everyone has been going gaga over the innovative plotline and cast of the series. Riding high on popularity, HoYeon Jung has amassed huge internet popularity and this full-body tattoo shows the internet sensation sporting one. The artist, going by the username @tato_irezumi, has designed this concept art for the actress which can serve as an inspiration for women looking to get tattooed. The bright use of colours and bold lines by the artist and patterns invoke a sense of tribal design in this piece of art.
Japanese Tiger And Dragon Back Tattoos
With dragons playing an essential role in Japanese folklore, the Japanese dragon tattoo stands for balance, freedom, good luck, and success. Coupled with the Japanese tiger that is a symbol of longevity and courage, this wonderful tattoo comprises two of the most sacred creatures of Japanese culture. If you are getting a tattoo that pays homage to your Japanese root or Japanese culture in general, then this Japanese dragon and tiger tattoo is a must-have.
Tribal Full Back Tattoo
Tribal tattooing is the latest trend with thousands queuing up to get a tribal tattoo from tattoo artists. Due to their large size, complex designs, use of bold lines, and a wide range of colour palettes, tribal tattoo ideas have gained immense popularity lately. These tribal tattoos cover up a large portion of your shoulders, back, arm, and chest and can be considered a prime example of a full or side body tattoo. Go for this tribal tattoo if you are looking for a design in tribal style.
Blossoming Flowers Body Tattoo
Considered as a symbol of life and natural beauty, flowers are inarguably one of the most prominent tattoo designs when it comes to tattooing. Floral tattoos are an amazing piece of body art that have deep cultural roots around the globe. In ancient times, many cultures considered flowers as a literal representation of god's contentment, while today they act as a way of expressing love between two individuals. If you are looking for a large tattoo that might be vibrant and colourful, or an outline of blooming flowers done with the help of an expert shading technique, as is shown in the picture, then a cute blooming flower tattoo is perfect for you.
Naruto Themed Full Body Tattoo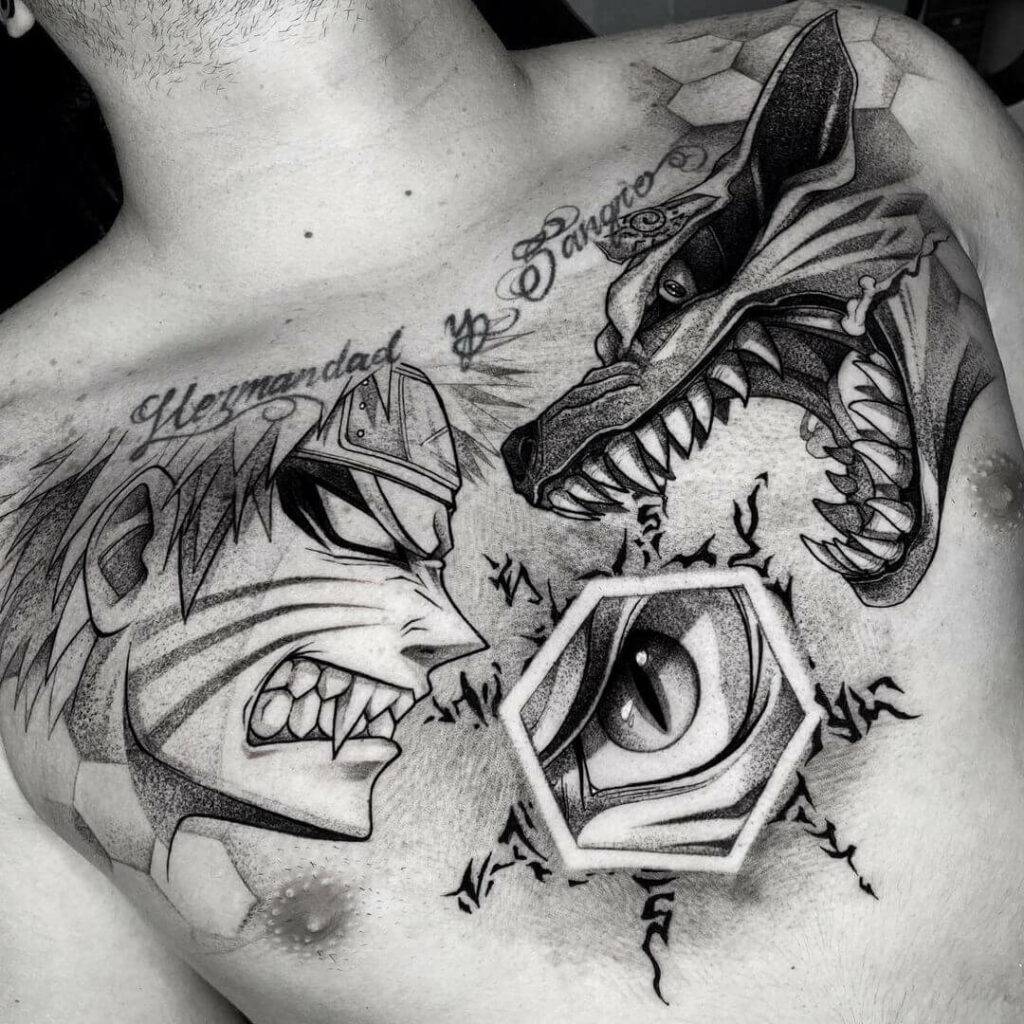 For most of us, 'Naruto' was the first anime that we watched while growing up. Hence, these Naruto tattoos are compatible with our hopes to attain our dreams as we watched the journey of the young ninja that seems to co-relate with all the hurdles we faced as we became adults. From the appearances of the characters, the minute details of their clothes, their catchphrases to the symbols they seem to adorn – all the visuals of the Naruto universe can be inspirations for great tattoo ideas. You can get inked with your favourite Naruto quote or any of the epic battle scenes, or with the favourite characters from the anime, like this one that portrays Naruto and Kurama. Remember, the best Naruto tattoo is that one that encompasses true imageries from the show coupled with your idiosyncratic journey through life.
Minimal Full Body Tattoo Design
While most of the full-body tattoos on this list are large and complex in design, they prove a bit too overwhelming for those tattooing for the very first time or are on a tight budget. These large designs require a lot of money, time, commitment, and usually comprise a very painstaking process that can be suitable for seasonal tattoo enthusiasts only. Hence, this minimal body tattoo is perfect for the aforementioned first-timers.
Snake Body Tattoo For Goth Fans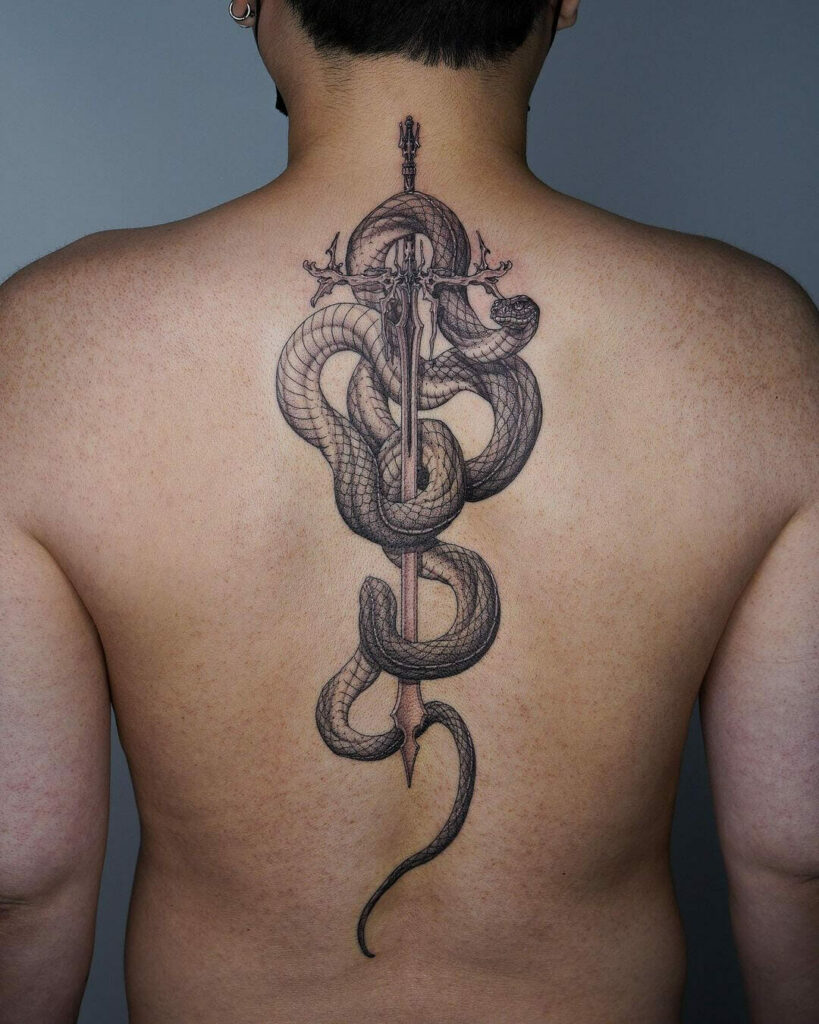 Viper or snake body art has been a constant motif in the tattoo community ever since. Whether they are used as a part of intricate floral tattoo design combined with other elements such as complex geometric designs, and mandala art, or are coupled with gothic elements such as daggers and skulls, snake tattoos are flexible body art with deep symbolicism. Even though snakes are thought to be carrying somewhat negative connotations, they are immensely popular with the best artists coming up with new designs every day. This snake body tattoo, with its use of dark ink and realistic portrayal of a menacing, coiling snake around a bare sword, is a striking piece of art and a must-have body tattoo for all goth fans out there.
We hope this article helped you in finding out your next tattoo choice. As always, opt for a tattoo that goes with your personal sense of fashion and go for an experienced and professional tattoo artist to avoid future complexities and to get the best result. Happy inking!
Feature Image from Pinterest – Want your tattoo to look brighter? Try "Tattoo Balm"