An emblem of spiritual transcendence, the Bodhi tree, has been an eternal muse for those seeking to imprint their journey towards enlightenment on their skin. This is the sacred tree under which Gautama Buddha, once a privileged Nepalese prince known as Siddhartha, relinquished his riches and comforts to confront the inexorable sorrow of existence. His meditative perseverance under the Bodhi tree's leafy shelter, enduring the harshest of seasons and the pangs of near-starvation, eventually culminated in his profound awakening – the zenith of human potential.
Anchored in Bodh Gaya, India, this noble tree witnessed the transformation of Siddhartha into Gautama Buddha, the illuminated one. While the original tree no longer graces our world, its progeny and the story they hold continue to flourish across the globe. Today, the Bodhi tree stands as a testament to humanity's ceaseless quest for truth and knowledge balanced with compassion – the very heart of Buddhism.
The tree's symbolic nature is a subject of rich discourse, a beacon for seekers of Buddhism and those desiring to carry its emblem. Its shade nurtures peace, hope, and joy, making it an exquisite choice for a tattoo imbued with these sentiments. Those who choose to wear the Bodhi tree on their skin not only celebrate its historical significance but also symbolize their personal pursuit of reaching their ultimate potential, transcending the boundaries of gender.
The Bodhi tree's silhouette is a portrayal of life's upward and outward progression, with leaves and branches reaching for the sky. In contrast, the roots embody a deep, inherent connection with oneself, serving as a grounding force during internal tempests. Bodhi tree tattoos, thus, mirror an individual's journey – their growth, their groundedness, and their aspirations towards enlightenment.
Bodhi Tree Back Tattoo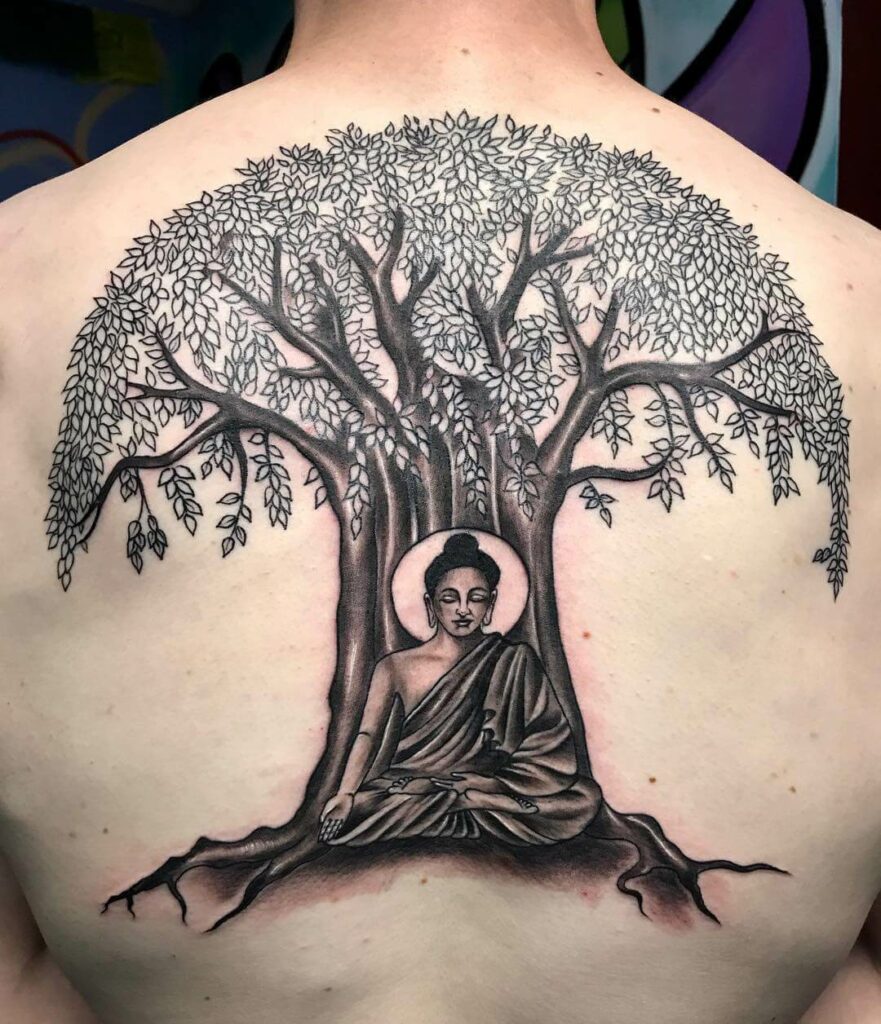 The Bodhi Tree Back Tattoo brilliantly contours the natural form of the back. Its delicate yet resilient Bodhi tree cradles a meditating Buddha on the brink of achieving nirvana. Contrasting shading intensifies Buddha's figure, while the tree emanates a softer, ethereal glow. A veritable feast for the eyes, this intricate piece holds a special appeal to men.
Bodhi Tree Tattoo For Women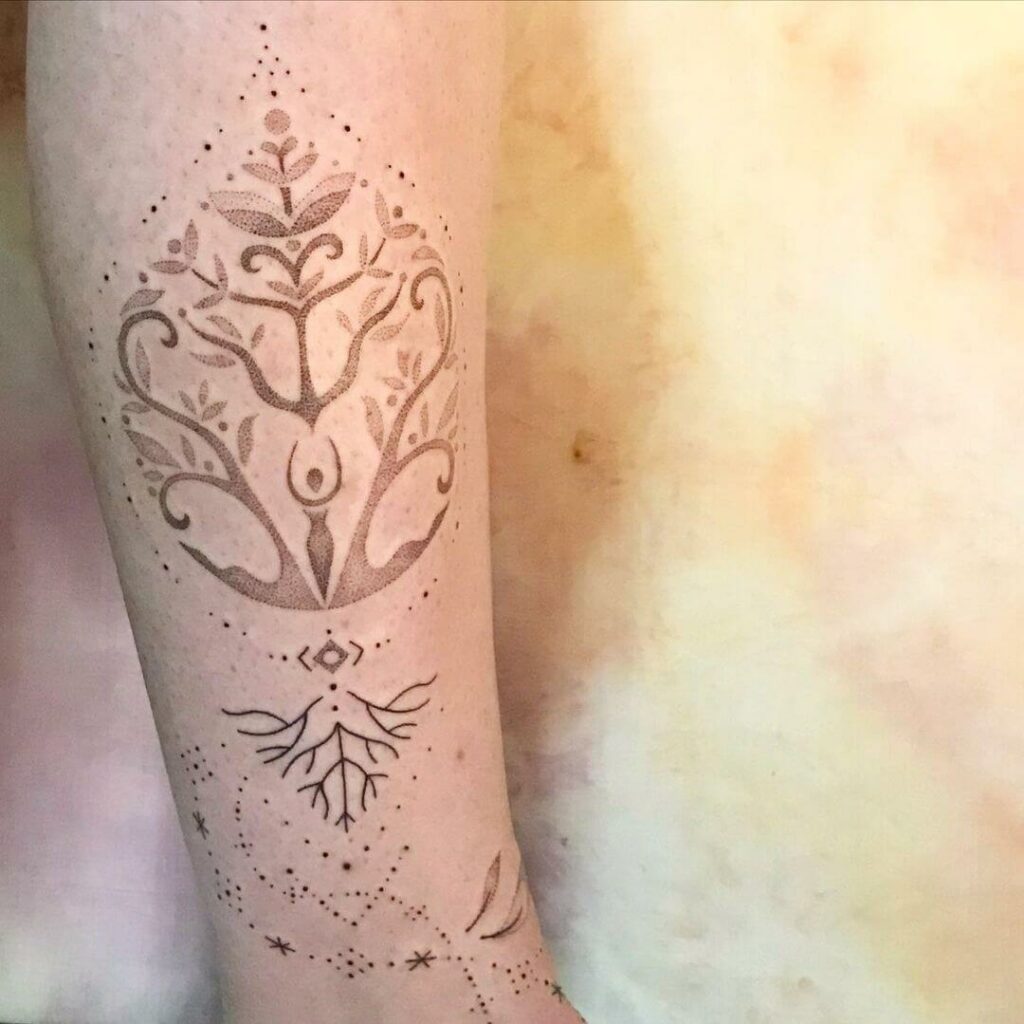 In the feminine universe of tattoos, the Bodhi Tree Tattoo for Women has earned rave reviews. At its heart is a gracefully dancing woman, an emblem of hope, joy, and peace. The tattoo's allure lies in its intricate details – the textural interplay between the tree's grainy upper part and the solidly etched roots make it a unique piece.
Bodhi Tree With Roots Tattoo
The Bodhi Tree with Roots Tattoo is a bold display of the tree's formidable trunk morphing into its roots. This dominant feature demands exceptional artistry to master its intense shading. This isn't a tattoo for the faint of heart but an audacious statement of personal fortitude.
Bodhi Tree Lotus Tattoo
Fusing the tranquil charm of a lotus with the robust Bodhi tree, the Bodhi Tree Lotus Tattoo is an exemplary harmony of aesthetics. The lotus, emblematic of enlightenment, purity, and regeneration, adds a dash of charm to this subtly fashionable Bodhi tree tattoo.
Bodhi Tree Text Tattoo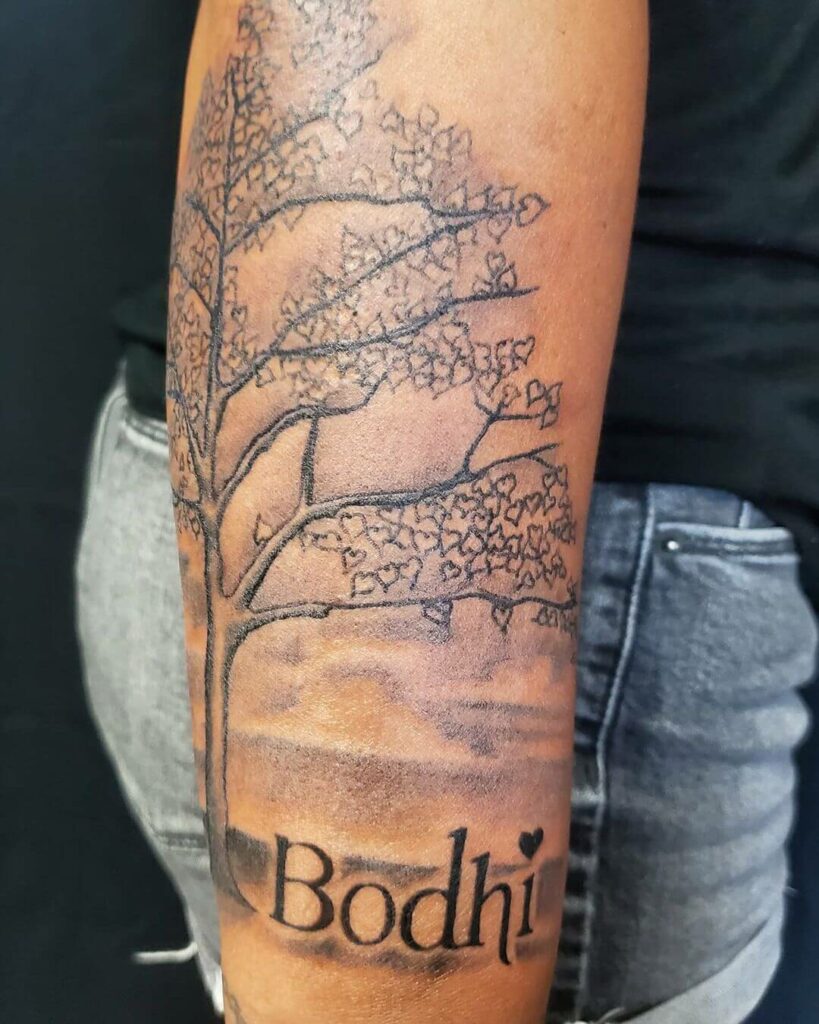 Simple and elegant, the Bodhi Tree Text Tattoo features heart-shaped leaves adorning a beautiful Bodhi tree. With its mild shading, this tattoo is the embodiment of peace and joy, a perfect companion for those on their enlightenment journey.
Bodhi Tree Sleeve Tattoo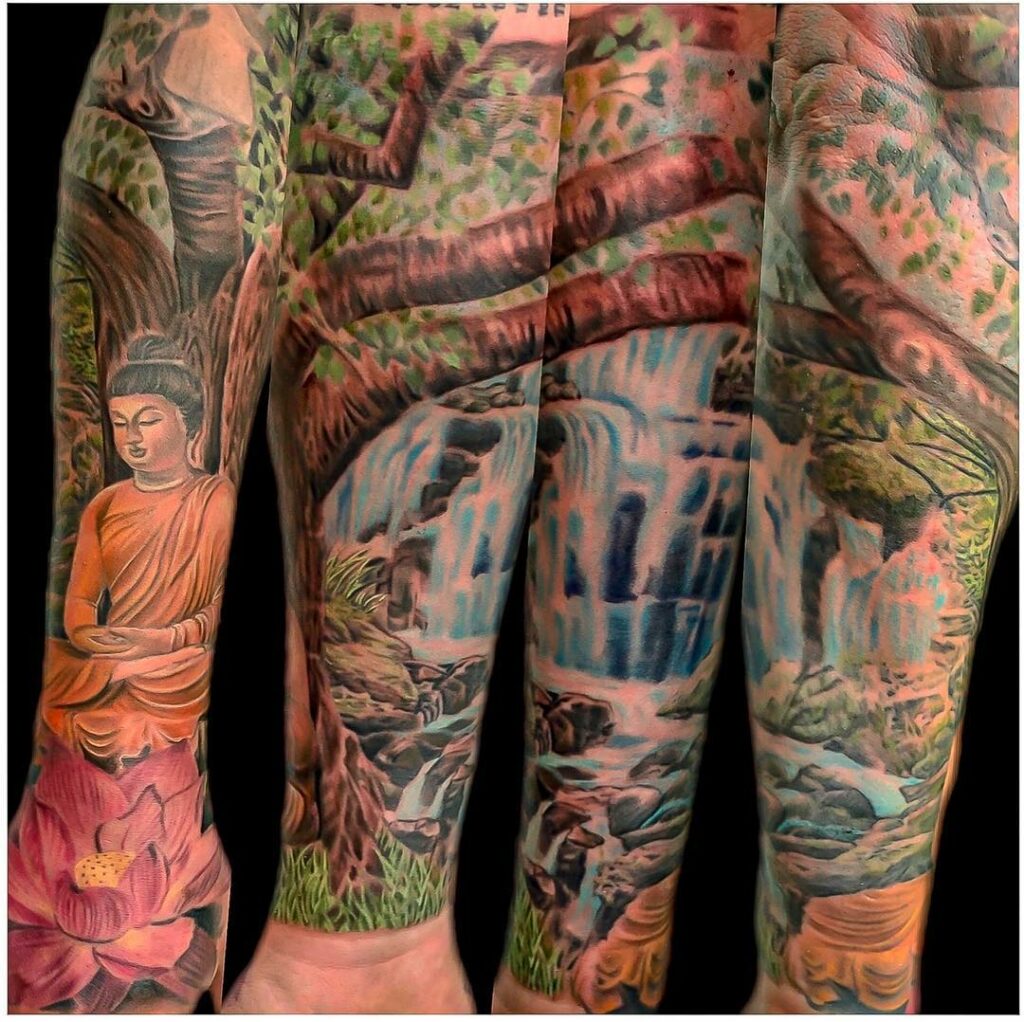 A visual symphony of Buddha's enlightenment, the Bodhi Tree Sleeve Tattoo showcases an enchanted waterfall, a tranquil Buddha meditating under the iconic Bodhi tree. Its vivid color palette breathes life into this awe-inspiring sleeve tattoo.
Bodhi Tree forearm Tattoo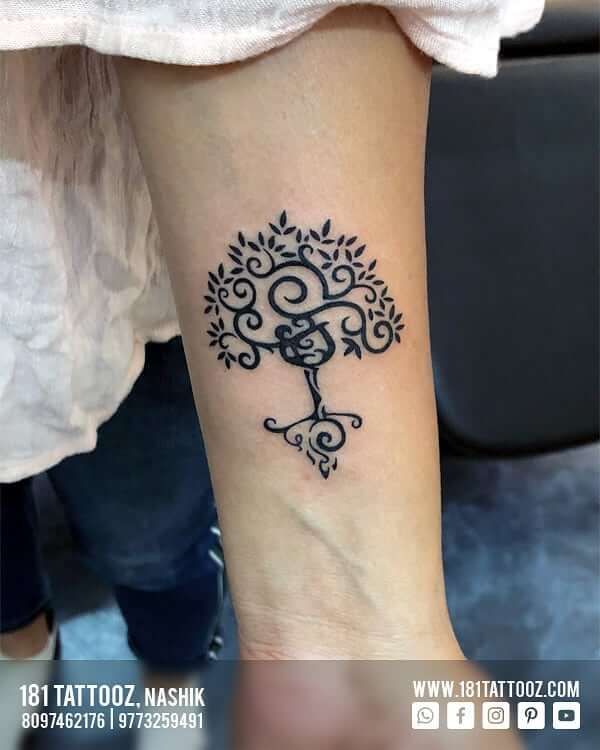 The Bodhi Tree Forearm Tattoo makes a bold yet feminine statement in a compact form. Its simplicity allows for swift, precise rendering by an expert tattoo artist, making it the perfect Bodhi tree ink for a small canvas.
Bodhi Tree Upper arm Tattoo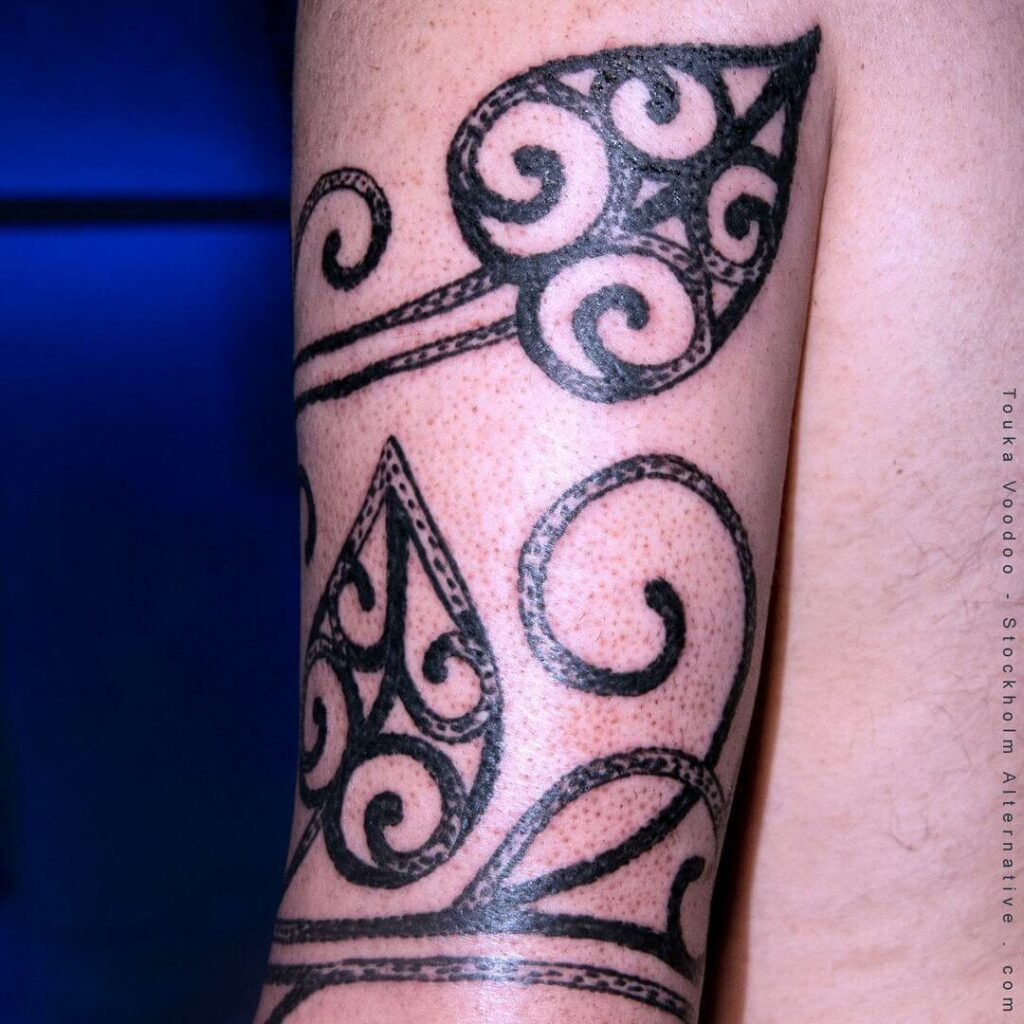 Inspired by Aztec art, the Bodhi Tree Upper Arm Tattoo is a striking choice for men seeking to showcase their spiritual inclinations on muscular arms. This captivating piece of art never fails to draw attention and admiration.
Bodhi Tree Circle Of Life Tattoo
The Bodhi Tree Circle Of Life Tattoo goes beyond excellence. Its circular form denotes the cycle of life, while the Bodhi tree represents enlightenment. Edgy, shard-like leaves give the tattoo a unique spin, appealing to a wide range of tattoo enthusiasts.
Meditating Buddha Bodhi Tree Tattoo
Finally, the Meditating Buddha Bodhi Tree Tattoo encapsulates spiritual tranquillity. It features Buddha immersed in deep meditation under the magnificent Bodhi tree. The intense shading and ethereal white highlights infuse the tattoo with a divine aura, transforming it into a transcendent piece of art.
Conclusion
Navigating the fascinating realm of Bodhi tree tattoos, one thing becomes abundantly clear – each piece is a symbolic narration of personal quests for wisdom, resilience, and peace. As you contemplate these intricate designs, consider that their placement should align with your comfort and the visibility you desire. Larger pieces like back or sleeve tattoos make bold statements, while smaller designs on forearms or upper arms can be more subtle but equally impactful.
The cost of your Bodhi tree tattoo will largely depend on the design's complexity, the artist's expertise, and your geographical location. It could range from $100 for simpler designs to over $1000 for intricate, large pieces. Always remember that quality and safety should never be compromised for a lower price.
Speaking of safety, while tattoos are generally safe, they come with potential risks, including allergic reactions, skin infections, and potential scarring. Ensure you engage a licensed professional who adheres to proper hygiene practices, and follow the aftercare instructions diligently.
Lastly, remember, a tattoo is not merely an aesthetic adornment, but an expressive story etched on your skin. Your Bodhi tree tattoo is a powerful testament to your journey towards enlightenment – wear it with pride and reverence.
Feature image from Pinterest