Hey there! Are you on the lookout for some cool, unique, and bold letter tattoo fonts? You're in luck! We've got some amazing ideas that will look fantastic on you and make a statement.
When it comes to tattoos, lettering designs can be very artistic and provide a personalized touch to your body art. But with so many font options available, it can be overwhelming to choose the right one. That's why we've put together a list of the best bold letter tattoo fonts for you.
Choosing the right tattoo design is important because it's a commitment that lasts forever. A letter tattoo is a great idea because it can represent something meaningful and personal to you. It could be related to someone you love or hold dear or something that's important to you.
But it's not just about the design itself, the placement of the tattoo on your body is also crucial. You don't want the placement to take away from the significance of the design. So, make sure to consult with your tattoo artist to get the perfect placement for your letter tattoo.
Letter tattoos have become increasingly popular over the years because of their unique touch. We've compiled a list of some interesting and different letter tattoo designs for you to choose from. Take a look and pick your favorite for your next body art.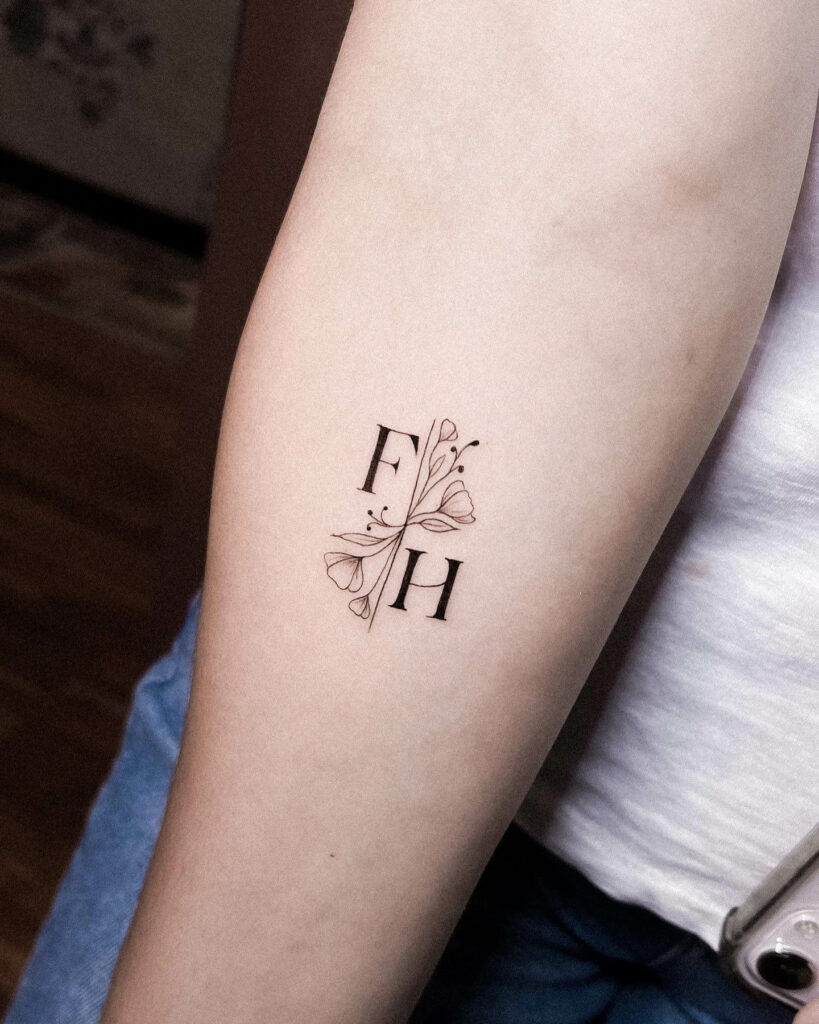 Inspirational Bold Letter Tattoo
Inspirational tattoos are not just meant for showcasing; they hold personal significance that can help you stay positive in life. If you're looking for a constant source of motivation, then getting a tattoo with an inspirational quote or word can be a great idea.
One such design is a small tattoo with the word "blessed" written in Gothic font. The elegant font used in this tattoo gives it a sophisticated look and makes it stand out. The entire tattoo is inked in black and placed at the center of the chest, where it can be seen at all times. This design is perfect for those who want a simple yet meaningful tattoo.
Black Bold Letter Tattoos
When it comes to tattoos, choosing the right placement is crucial as it's a permanent addition to your body. Fortunately, you can always seek the advice of a tattoo artist to help you select the ideal body placement for your chosen design. For text-based tattoos, the font is also crucial in ensuring the tattoo looks both stylish and trendy.
One example of a font tattoo is the inspiring phrase 'move on, be strong' written in a striking Gothic font. The words 'move on' are inked on one thigh while 'be strong' is written on the other. This tattoo design uses bold black ink to make a statement. Whenever you look at this tattoo, it will serve as a constant reminder to stay strong and resilient, no matter what life throws your way.
Bold Letter Name Tattoo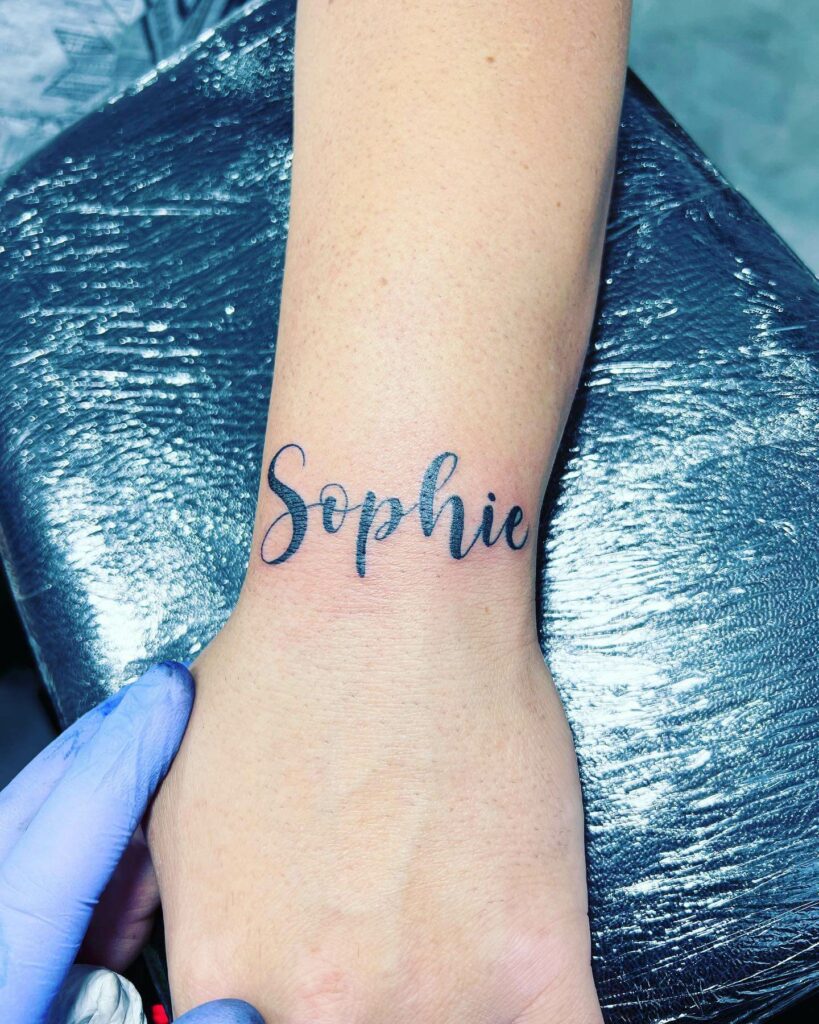 Name tattoos are a timeless way to honor and remember loved ones who hold a special place in our hearts. Name tattoos can take many forms, from writing the entire name to just the first letter, and can be placed in various locations on the body. The wrist and hand are popular spots to get a name tattoo since they're easily visible to the wearer.
This particular design features the name Sophie written in an elegant calligraphy font using fine line work. The black ink adds a classic touch to the design. The name sits on the upper part of the wrist, resembling a delicate bracelet. This placement allows the wearer to see and cherish the memory of their loved one every day.
Simple Bold Letter Tattoo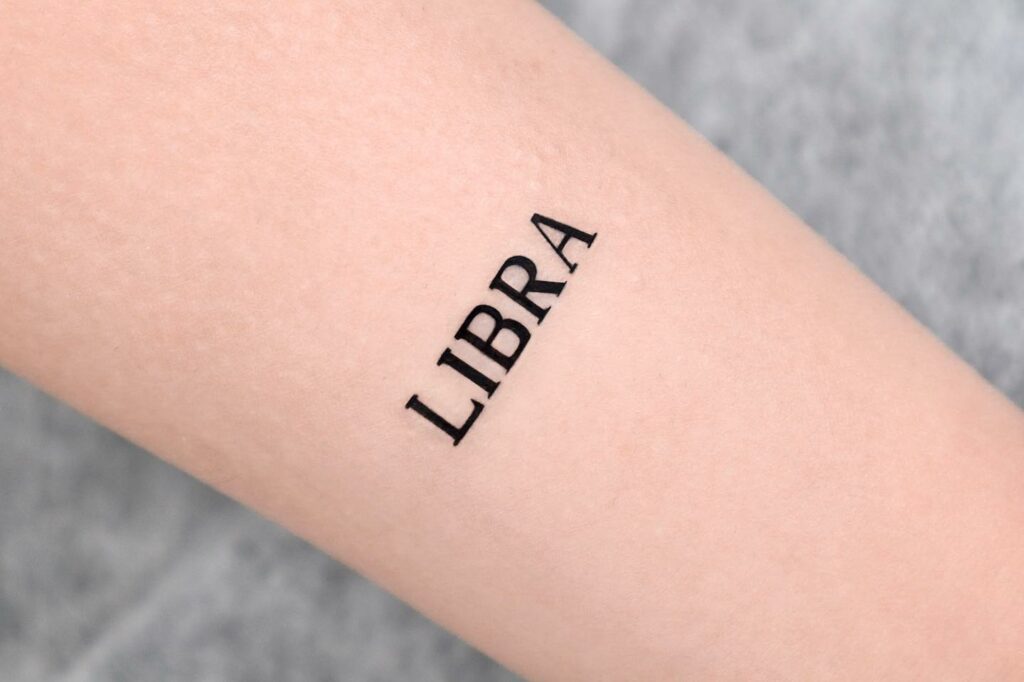 One of the best ways to show off your personality through ink is by getting a tattoo of your Zodiac sign. Each Zodiac sign has its unique characteristics and meaning, and a Libra sign represents peace, romance, and idealism. Some people get a Libra tattoo to symbolize that everyone deserves justice and doing what is right. To achieve an elegant design, it is essential to choose a skilled tattoo artist. The placement of the tattoo is also crucial, and in this case, the forearm is an excellent spot. The bold letter font and thick black ink used for this design make it stand out. You can add other elements, such as flowers or stars, to enhance the overall look.
Chinese Letter Design
Flower tattoos are a popular choice, often symbolizing love and beauty. While many opt for specific flowers like roses or lotuses, this design features the Chinese character for "flowers." This unique approach makes for an elegant and eye-catching tattoo.
The tattoo artist used thick black ink to write the character, and added light yellow color to highlight it without overshadowing its meaning. Whether you have a personal connection to Chinese culture or simply appreciate the aesthetic of the character, this design is sure to turn heads.
Minimalist Bold Letter Tattoo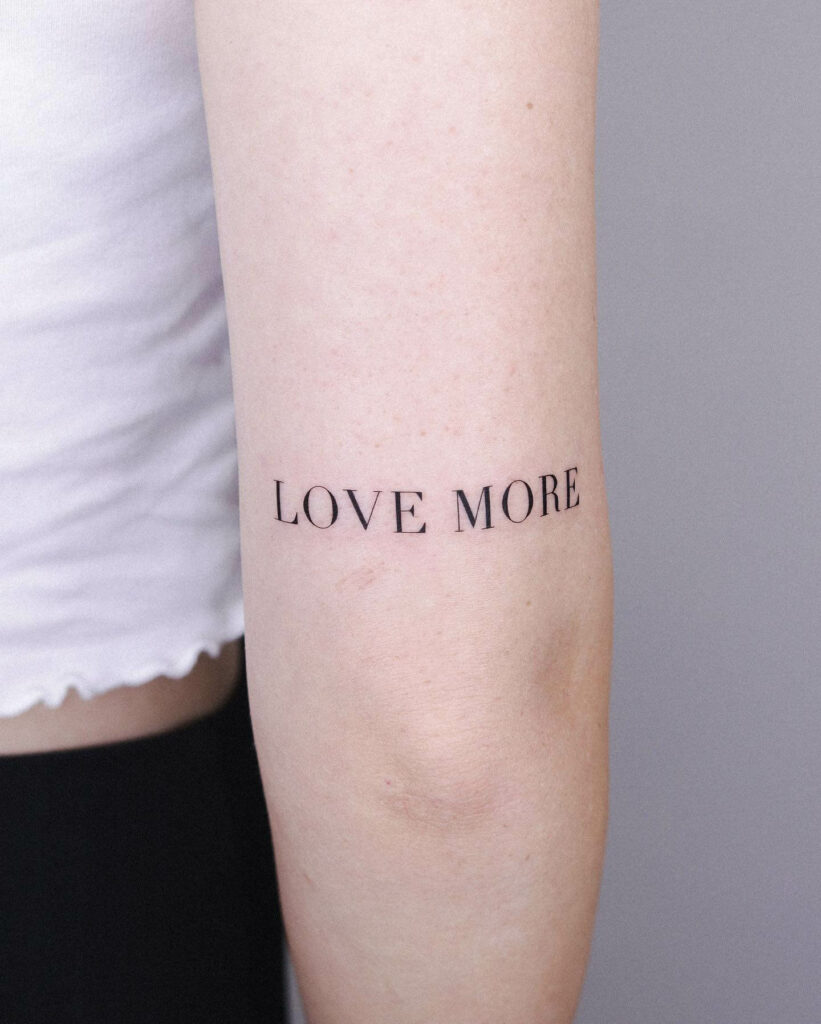 In the world of tattoos, inspirational designs are one of the most popular choices. This particular tattoo design is a beautiful testament to the power of love. The words "love more" have been inked with precision, with each letter spaced equally apart. The tattoo artist has used fine line work to create a clean and elegant look. The color used for this tattoo is classic black ink, but it could also be customized with a variety of other colors to suit your preferences. The unique placement of this design on the backside of the elbow makes it an eye-catching conversation starter, even though it's not constantly visible to the wearer.
Unique Bold Letter Tattoo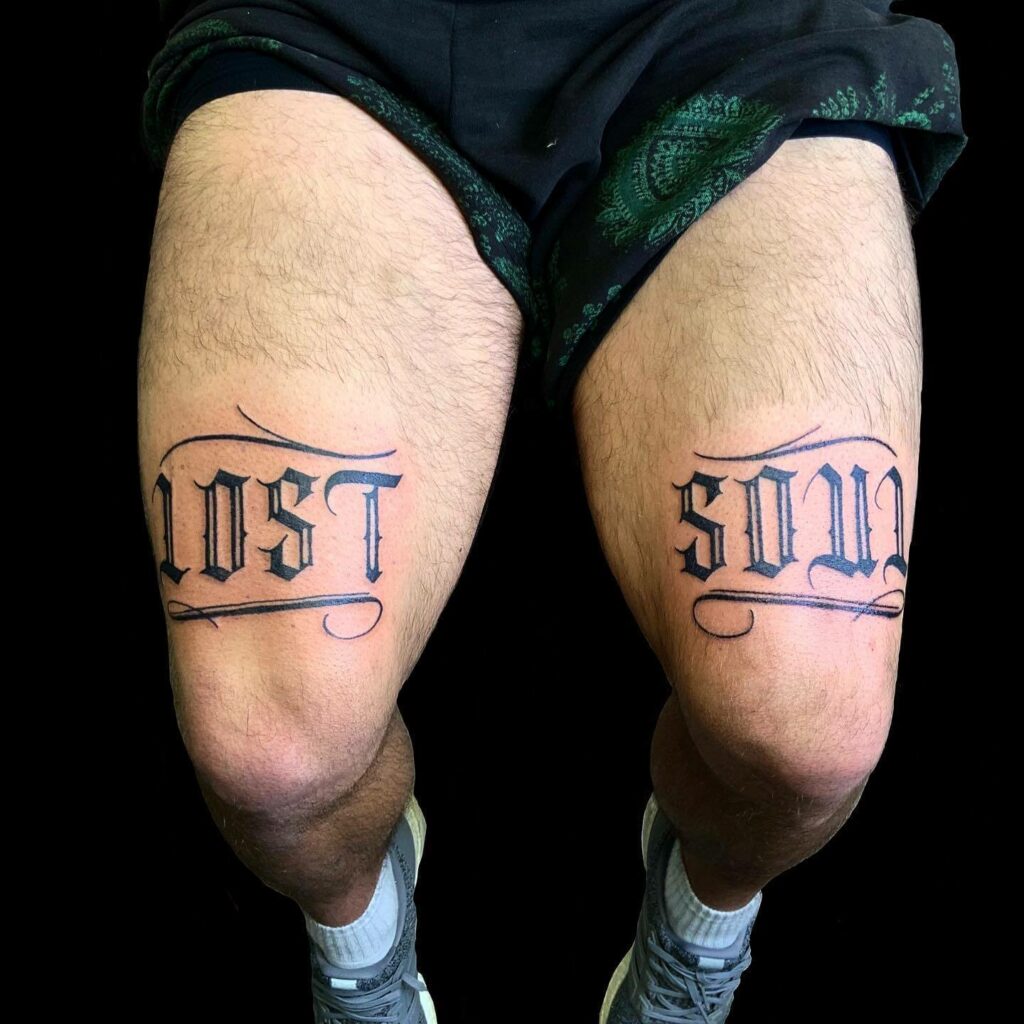 This exquisite tattoo design is truly unique and sophisticated. The skilled tattoo artist has used bold black ink and Gothic font to create this striking design, featuring the words "Lost soul." The meaning behind these words can be interpreted differently by each individual, serving as a reminder to look inward and explore the depths of your soul for a deeper understanding of the world around you. This design is versatile, as it can be easily concealed or shown off, depending on your preference. Additionally, the artist has used elegant gold letters to make the design stand out, highlighting the meaning behind the tattoo. If you're seeking a powerful yet graceful design, this is definitely worth considering.
Mini Bold Letter Tattoo
This tattoo is a small yet stylish design that is sure to catch your eye. It features the letters DIN, which may have different interpretations in art. The tattoo artist used delicate line work and black ink to create this design. However, you can customize it by adding more colors such as blue and red to give it a unique and personalized look. If you're looking for a subtle and elegant look, you might want to consider white ink, a popular trend in the tattoo industry. This design is perfect for those who appreciate minimalistic art, so if that's your style, this tattoo is definitely worth considering.
Letter P Tattoo
This particular design showcases a beautiful letter 'P' in solid black ink with intricate design elements like diamonds and strings. Calligraphy tattoos are a great choice for those looking for elegant and timeless designs. The placement of this tattoo is also unique, as it is on the inner wrist, a subtle yet sophisticated location. You can choose to add design elements to your tattoo, such as flowers or geometric shapes, to make it more personal and unique. Consult your tattoo artist to discover the possibilities and create a beautiful calligraphy tattoo that speaks to you.
Simple Letter J Tattoo
Looking for a small yet significant tattoo? Consider the classic letter J. This simple yet elegant design is created with fine line work and solid black ink. The letter J can hold special meaning, whether it's a representation of a special person or a reminder of something dear to you. Since it's a small design, it can be placed on any part of the body, making it a versatile option. However, it's crucial to select the right font for your lettering tattoo as it can make or break the design's meaning and aesthetics. Don't be afraid to request a temporary tattoo before committing to a permanent one to ensure you're completely satisfied with your design
Feature Image from Pinterest – Want your tattoo to look brighter? Try "Tattoo Balm"