Are you an adventurous spirit eager to try a little bit of everything? Take a look at our top 10 booty tattoo ideas and find a sultry design for your derrière!
Butt tattoos aren't for everyone, but they're certainly eye-catching, bold, and a testament to a free-spirited attitude. In fact, even celebrities like Cardi B and Halsey have embraced this unique form of body art to make a personal statement.
Getting a tattoo on your booty might be about fulfilling a hidden desire, with many people choosing this spot for a special message or sensual design they wouldn't want to display elsewhere. It's a secret that only a select few will see, making your backside the perfect canvas for a passionate expression!
It's worth noting that courage isn't the only requirement for a booty tattoo. This location can be a bit tricky, mainly due to the healing process and aftercare. While the presence of fat and muscle in the area may make tattooing less painful, the real challenge comes in keeping your new ink clean and healthy. Be sure to wear loose, flowy clothing to your appointment, and avoid sitting or lying on the tattooed cheek for the first week or two. Since the skin is typically covered, butt tattoos take longer to heal and require extra care. But with a little patience and diligence during those initial days, you'll be free to admire your tantalizing tattoo for years to come! Ready to sport a one-of-a-kind design on your behind? Keep reading to explore the many possibilities for your booty tattoo!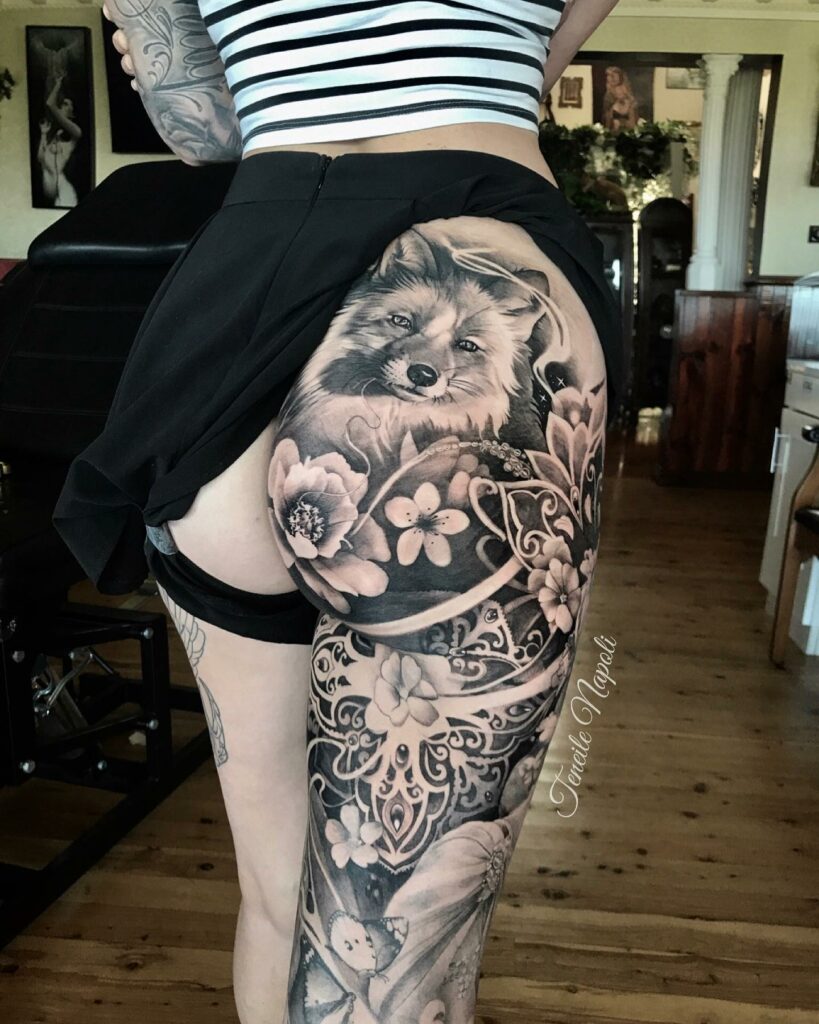 Pretty Booty Cheek Tattoo Ideas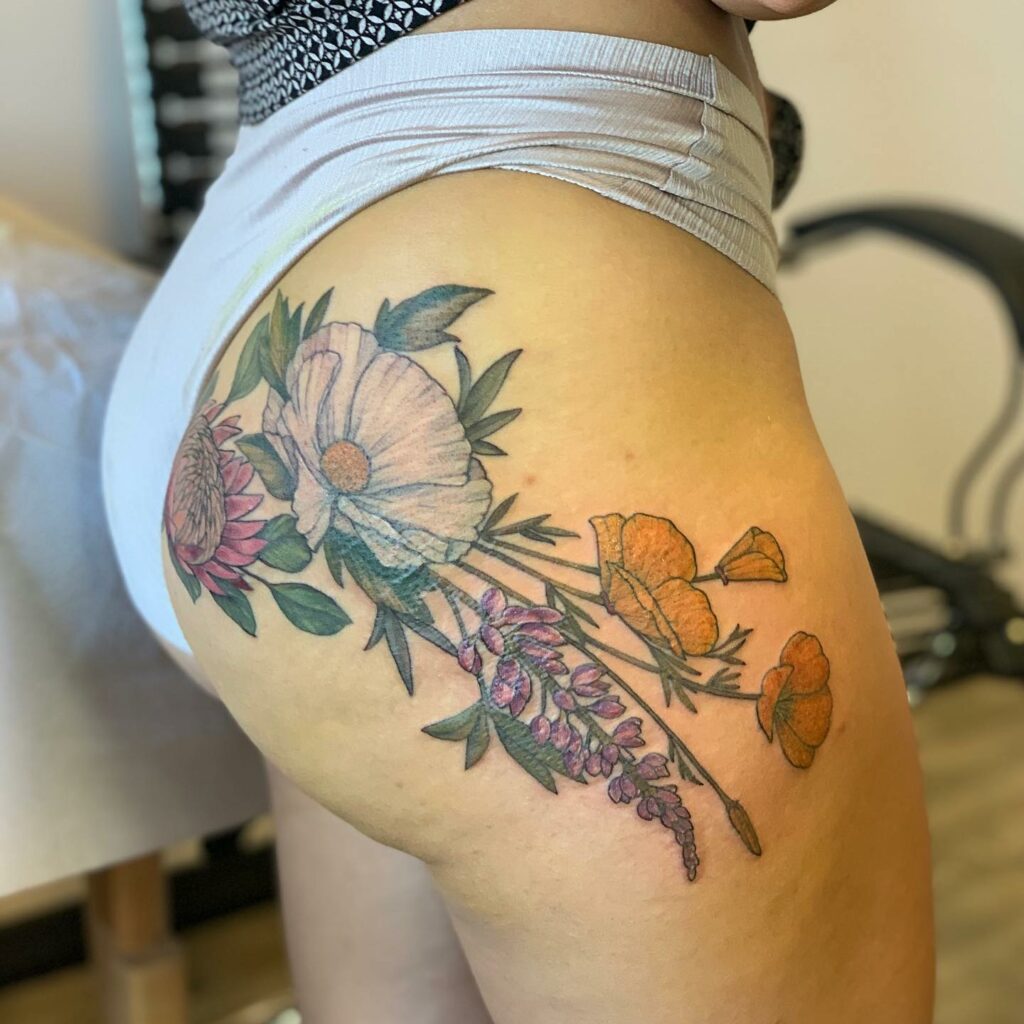 Butt tattoos have become increasingly popular in recent times, and not just for women. This tattoo idea has come a long way from being considered only for females. Women's curves indeed complement a tattoo design on the butt beautifully, and it can be equally attractive for men. The floral scene butt tattoo is an excellent example of how a tattoo design can add a touch of elegance and femininity. The colourful bouquet of flowers and twigs creates an exotic image, which can be customized to your liking. The colour gradient is strikingly on point and leaves enough space to avoid overcrowding. You can choose from a variety of flowers like roses or even add a butterfly or two to enhance the design.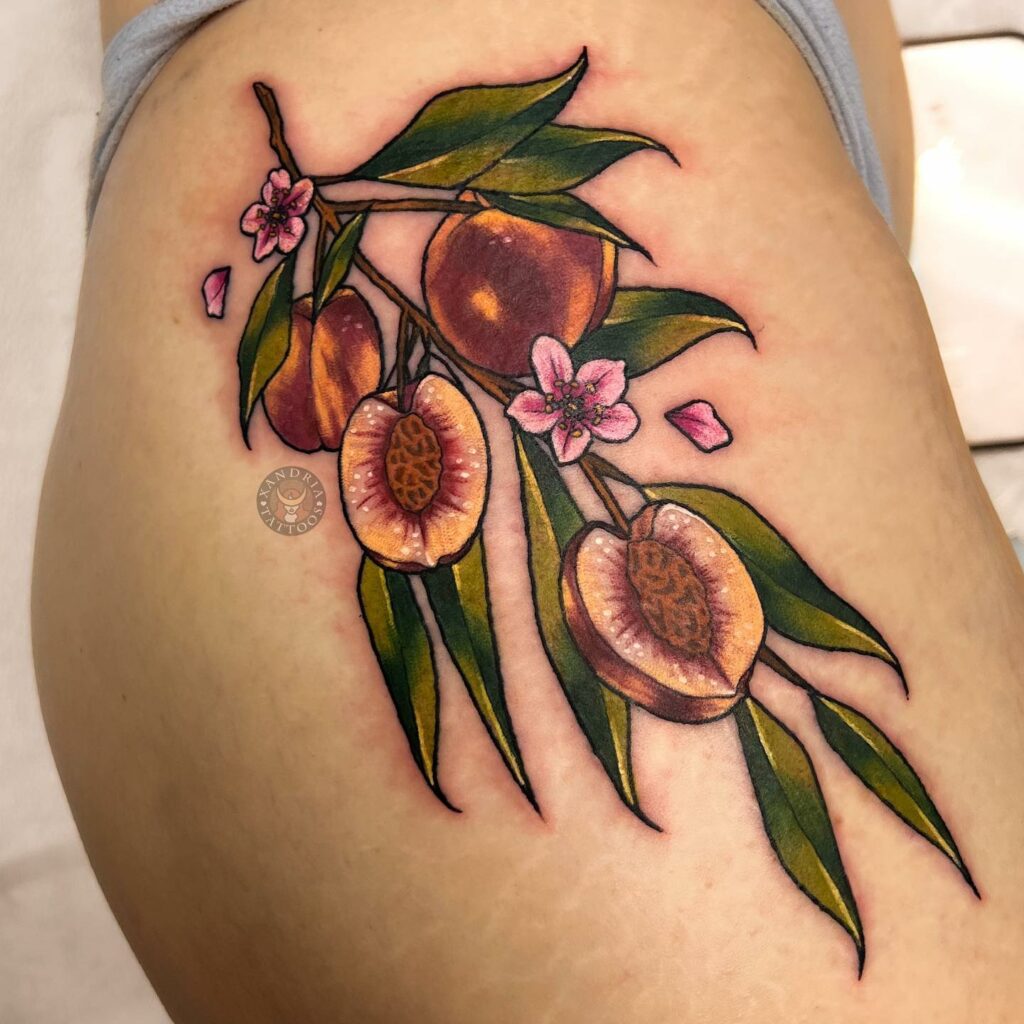 If you're looking for a fruity and fun twist on the traditional butt tattoo, consider a peach tattoo. This design is perfectly placed from the top of the butt to the side thighs, and features a realistic and carefully shaded nectarine branch that glistens and pops with vibrant color. It's a unique and eye-catching tattoo that will definitely turn heads and give you a confident boost. So why not show off your love of fruit and get a fun and flirty tattoo?
Small Booty Tattoo Ideas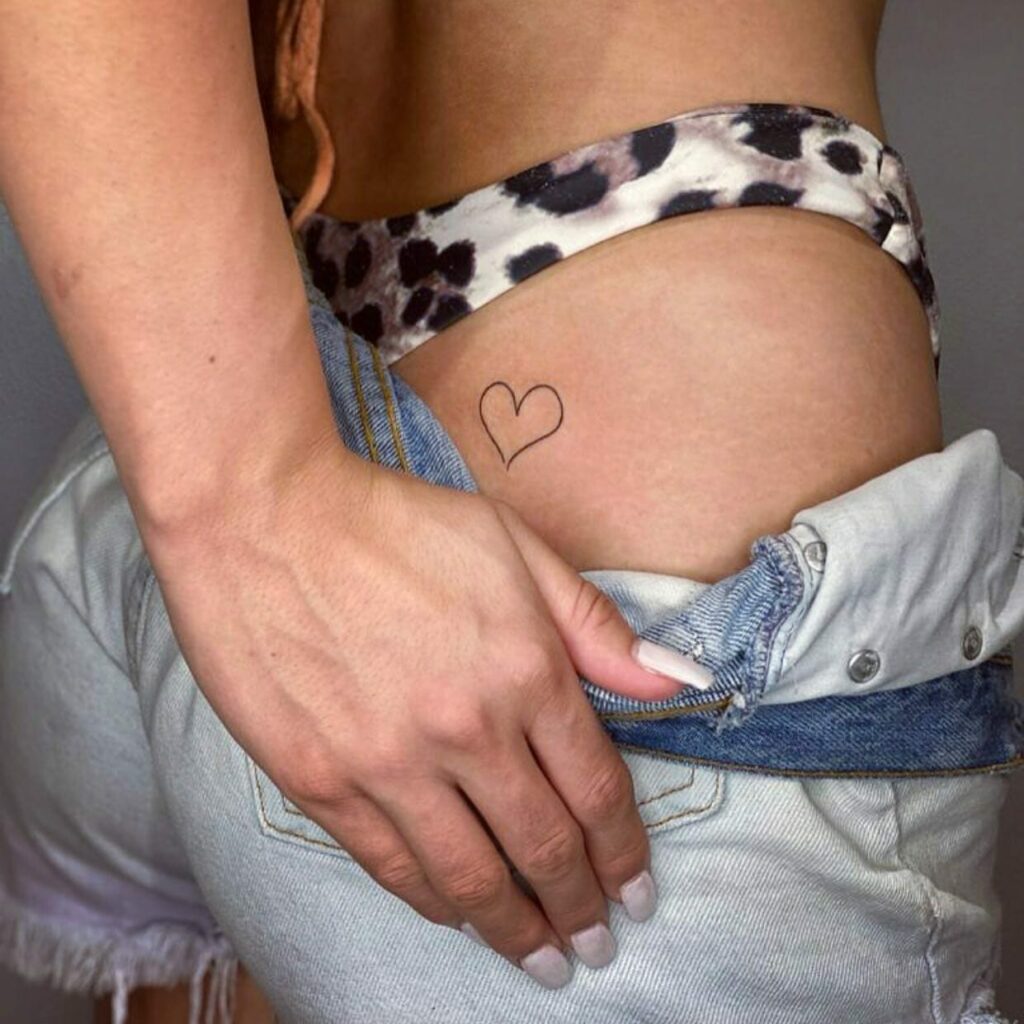 If you're looking to get a tattoo on your butt for the first time, it's a good idea to start small to avoid any unnecessary complications. A simple design such as a heart, word, or small flower can be perfect for your first butt tattoo. This tattoo idea features a plain black heart that sits on the centre of the butt, making it an elegant and straightforward option for beginners. Whether you want to keep it minimal or add a little more flair, a small tattoo on your butt can be a fun and exciting way to express yourself.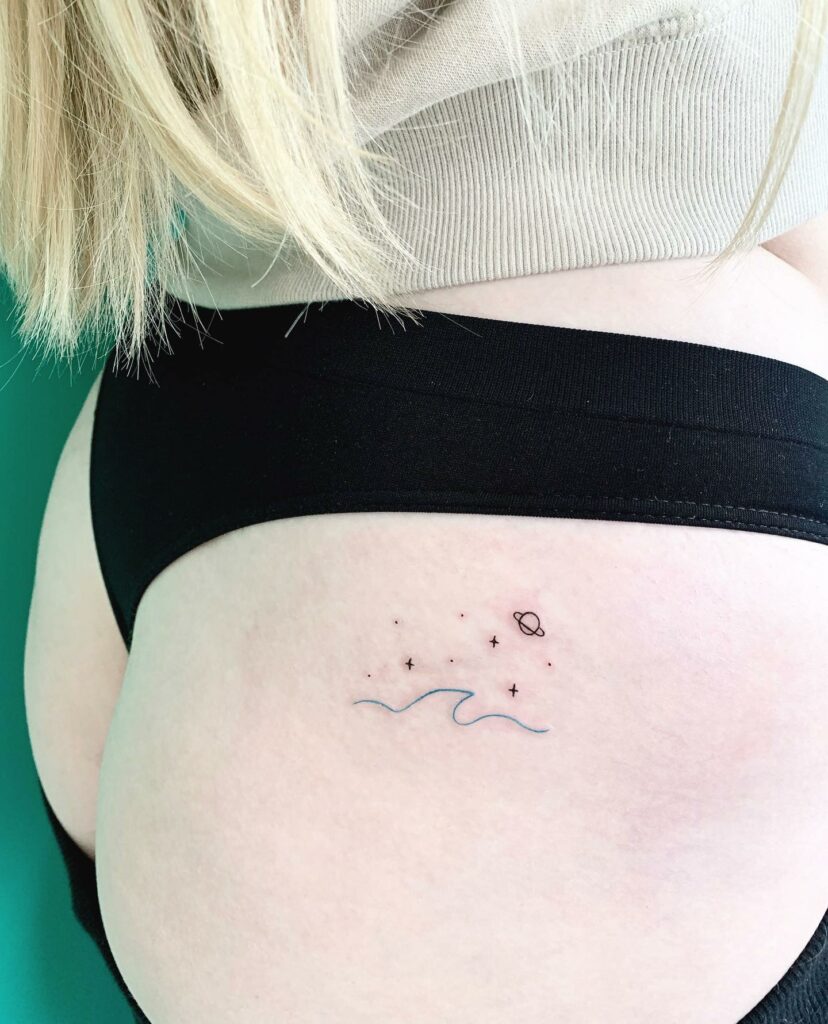 Looking for a more meaningful tattoo design for your butt? Check out this celestial-inspired design that combines the beauty of the ocean waves with the magic of the cosmos. The tattoo features intricate lines and details, including stars and planets, which make it stand out from other butt tattoos. Plus, the contrast between the blue waves and black stars adds an extra level of depth to the design. This tattoo idea is perfect for anyone looking to add some cosmic charm to their body art collection. And if you're looking for a fun bonding experience with your friends, why not get matching friendship tattoos on your butt? It's a unique and memorable way to celebrate your close relationship with your gal pals!
Cheeky Tattoo Ideas On Booty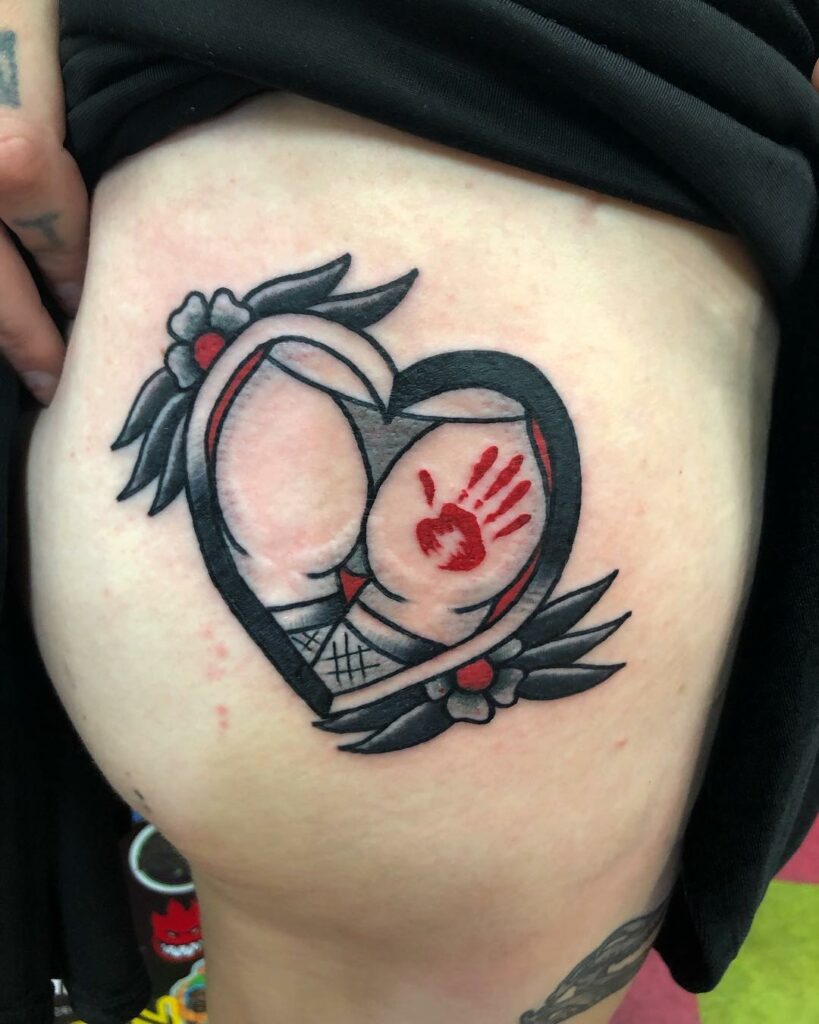 Butt tattoos have become an increasingly popular canvas for those looking to showcase their adventurous side. This unique body part is a great location to express yourself with a bit of humor or cheekiness. This particular design features a bold and playful red booty with traditional floral accents in bold black ink. The use of color in this tattoo creates a striking contrast that is sure to turn heads. If you're looking for a way to add a bit of spice to your body art collection, then a butt tattoo like this might be just the thing for you!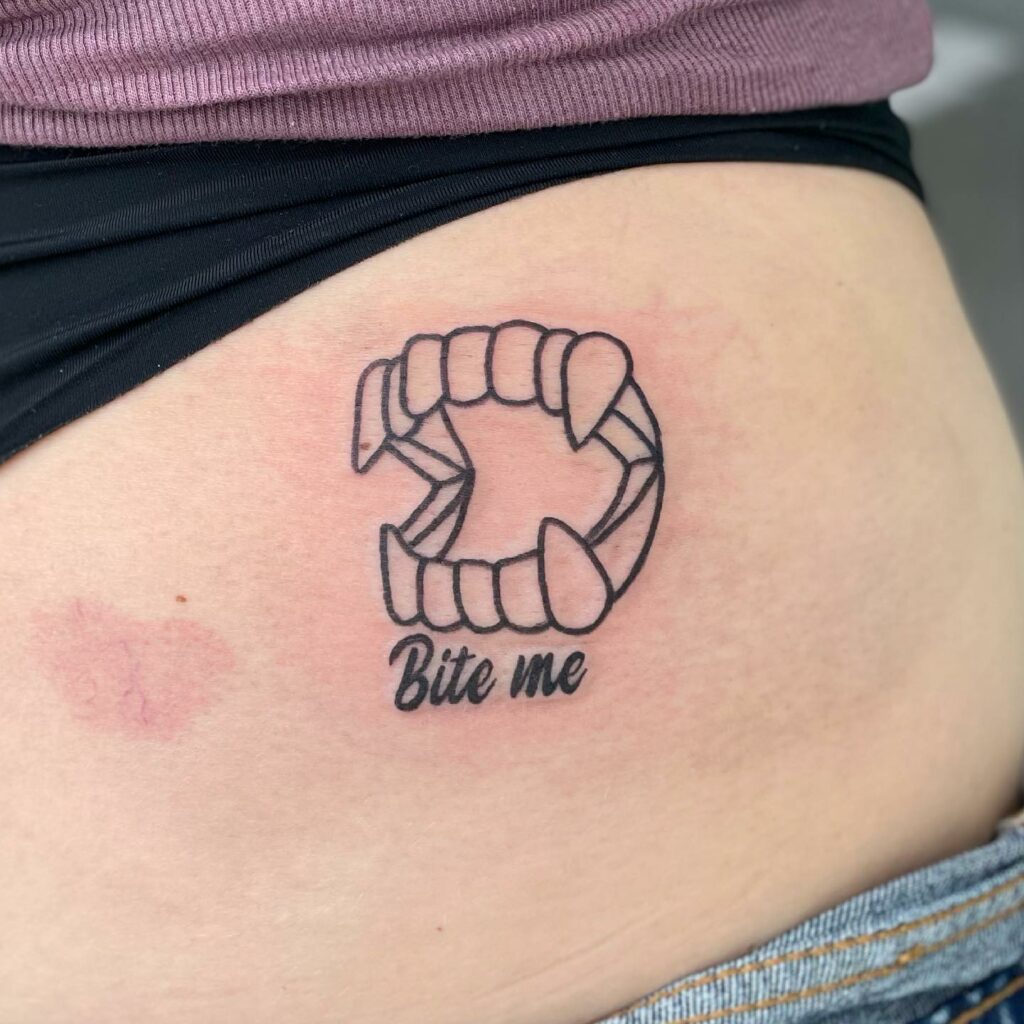 Have you ever thought of getting a tattoo on your butt with clear instructions? Well, it's possible and could even be humorous! This cheeky tattoo design features a set of teeth that adds a playful element to what could have been a serious tattoo. It's a fun design that is sure to spark some interesting conversations and leave an impression on those who see it.
Funny Tattoos On Butt Cheek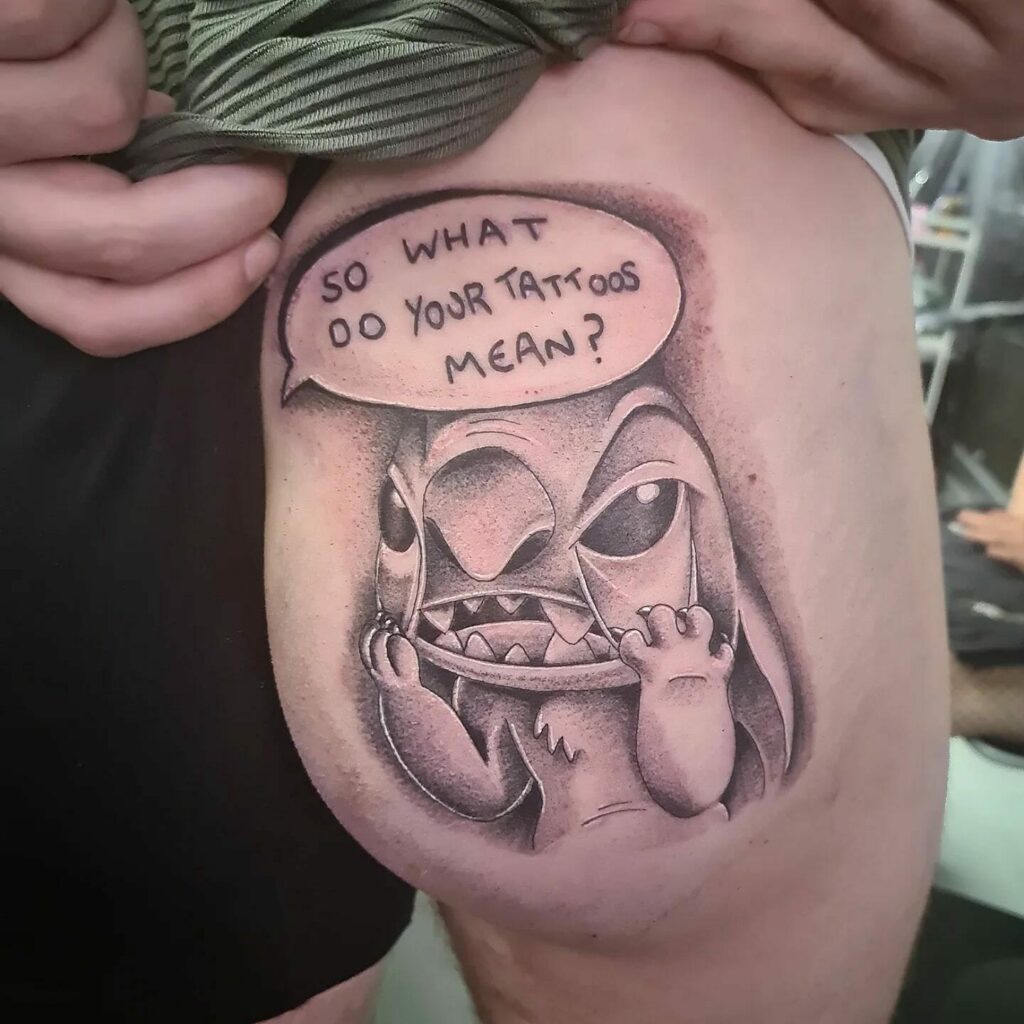 Butt tattoos are not just for sexy or provocative designs, they can also be fun and humorous. This playful tattoo featuring Stitch from the Disney movie "Lilo & Stitch" asks the age-old question that every tattoo enthusiast has probably heard before. The placement of the tattoo on the butt adds to the humor and makes it a great conversation starter. This black and grey tattoo showcases the beauty of simplicity and humor in body art. So, if you're looking for a way to add some fun to your tattoo collection, this one might just be perfect for you!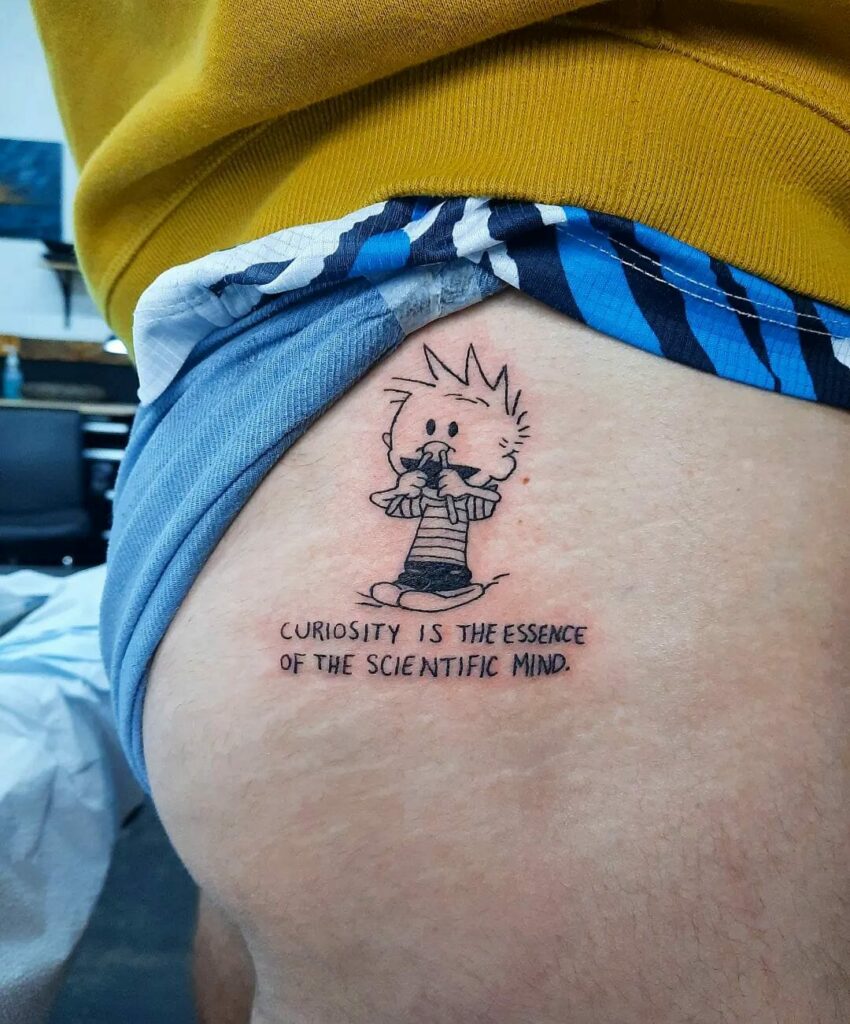 Have you considered getting a funny butt tattoo with a philosophical twist? This design showcases a wise quote accompanied by the mischievous Calvin from Calvin and Hobbes, whose comical presence adds a fun twist to the tattoo. The black ink used for this tattoo design gives it a timeless look that will remain bold and visible for years to come. This tattoo is perfect for anyone who wants to add some humor and meaning to their body art in a unique and creative way.
Weird Butt Tattoo Designs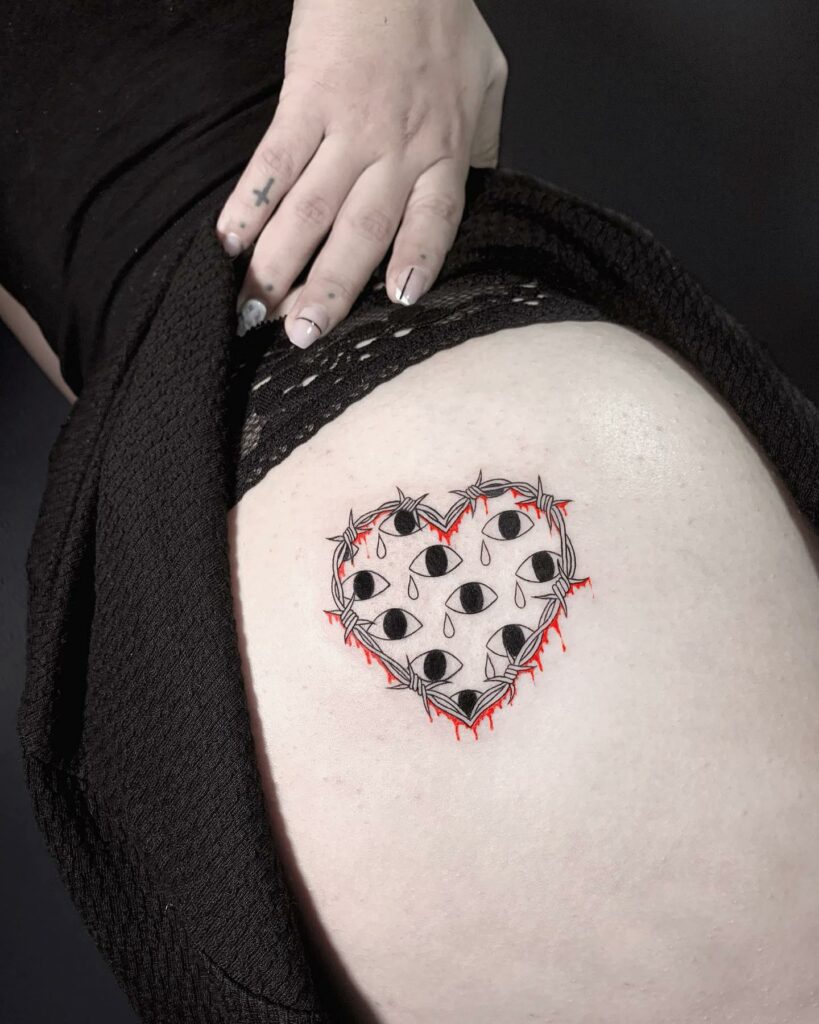 Are you ready for an unusual and weird idea for your butt tattoo? We have got you covered! This tattoo design will surely make you stand out from the crowd. Imagine a heart tattoo with eyes in it that seem to stare back at you. It might seem strange, but it will definitely grab everyone's attention. The barbed wire and red color in the design add depth and uniqueness to it. If you are a fan of unconventional tattoo ideas, this one is definitely for you.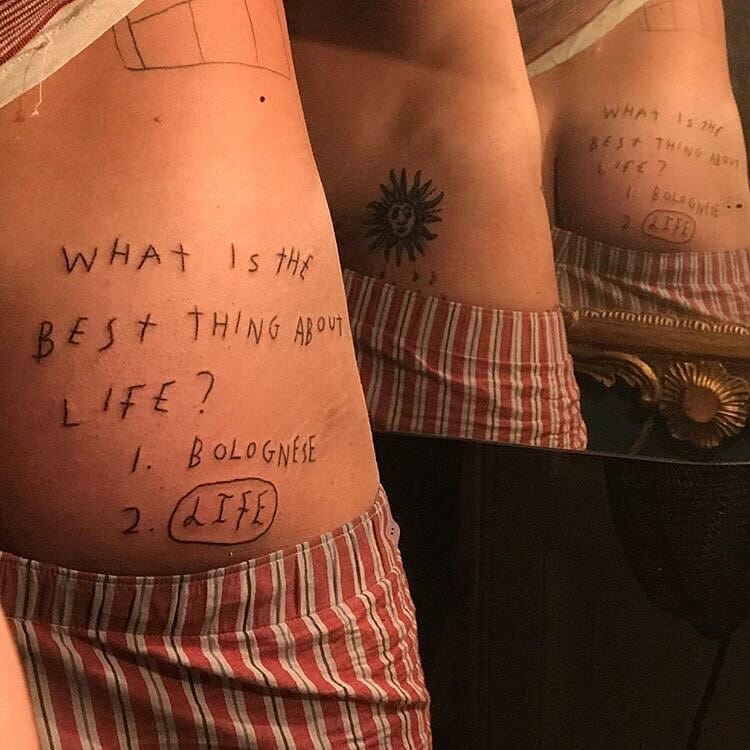 When it comes to butt tattoos, sometimes you just need a little bit of humor. Consider inking a funny phrase or word in a unique font for a playful yet stylish design. These types of tattoos can be less painful on the butt and are sure to get a laugh from your loved ones. So why not show off your funny side with a witty butt tattoo?
Full Butt Tattoo Ideas For Women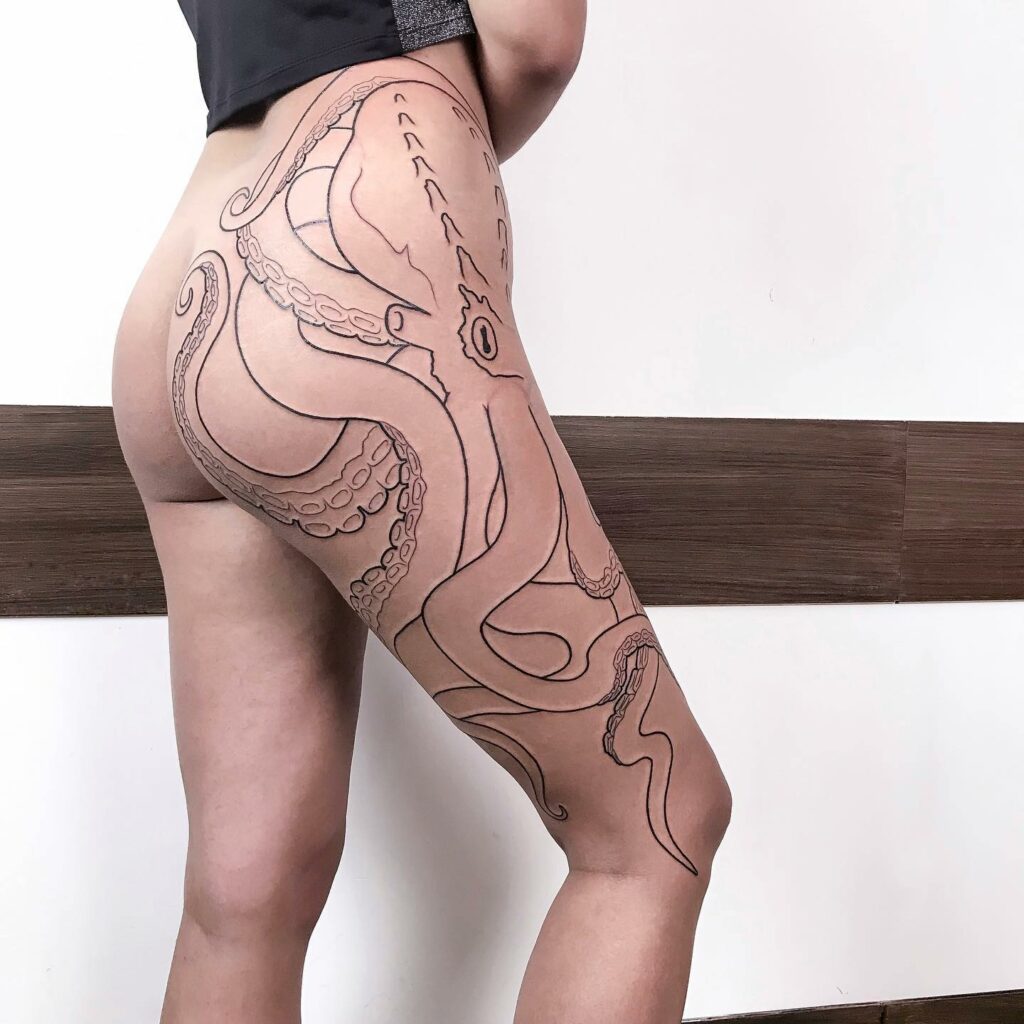 If you are looking for a tattoo design that is unique and stands out, then you might want to consider a butt tattoo that extends to the side of the thigh. This particular tattoo design showcases a beautiful and intricate octopus with its tentacles carefully crafted with fine line outlines. This tattoo is perfect for someone who wants to make a bold statement and show off their love for marine life without going over the top. The design is clutter-free and expertly executed, making it a great choice for anyone who wants an elaborate tattoo on their skin.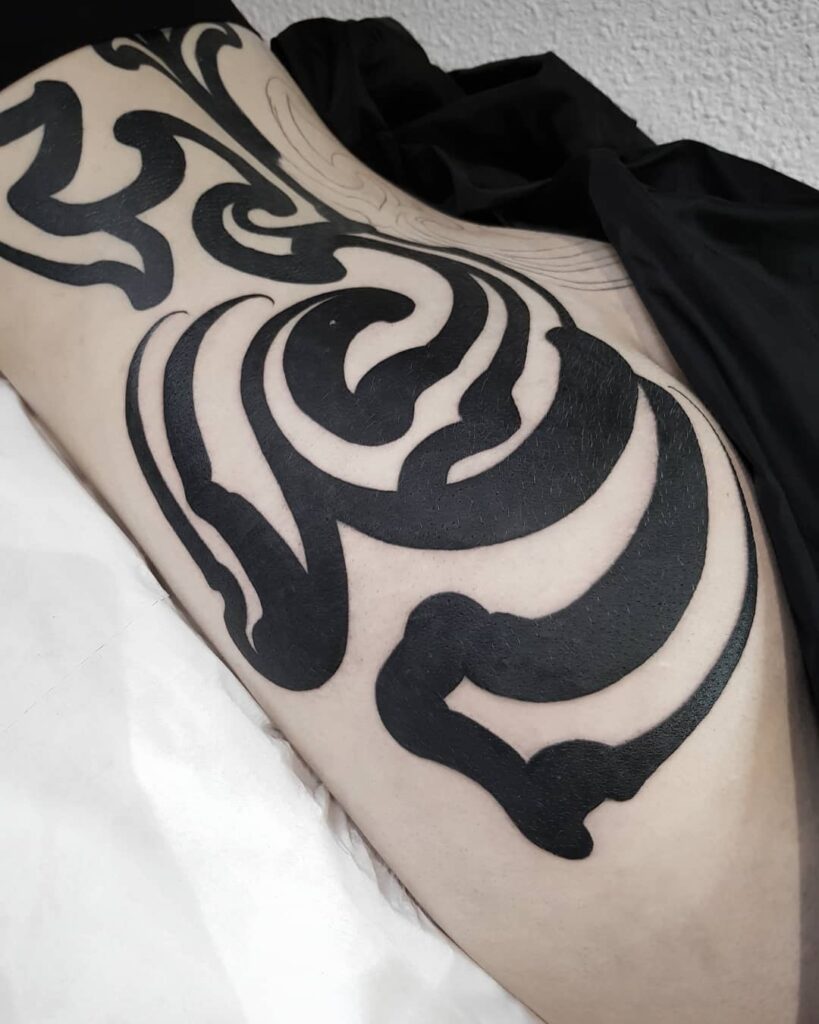 This impressive butt tattoo takes inspiration from neo-tribal designs with its abstract and flowy lines. The tattoo starts on the back and covers the entire butt, creating a striking visual effect. If you are unsure of a specific tattoo design but still want to rock an eye-catching piece, these abstract patterns are a great choice. They will beautifully accentuate your curves and add a touch of sexiness to your overall look.
Butt Tattoos With Greek Motif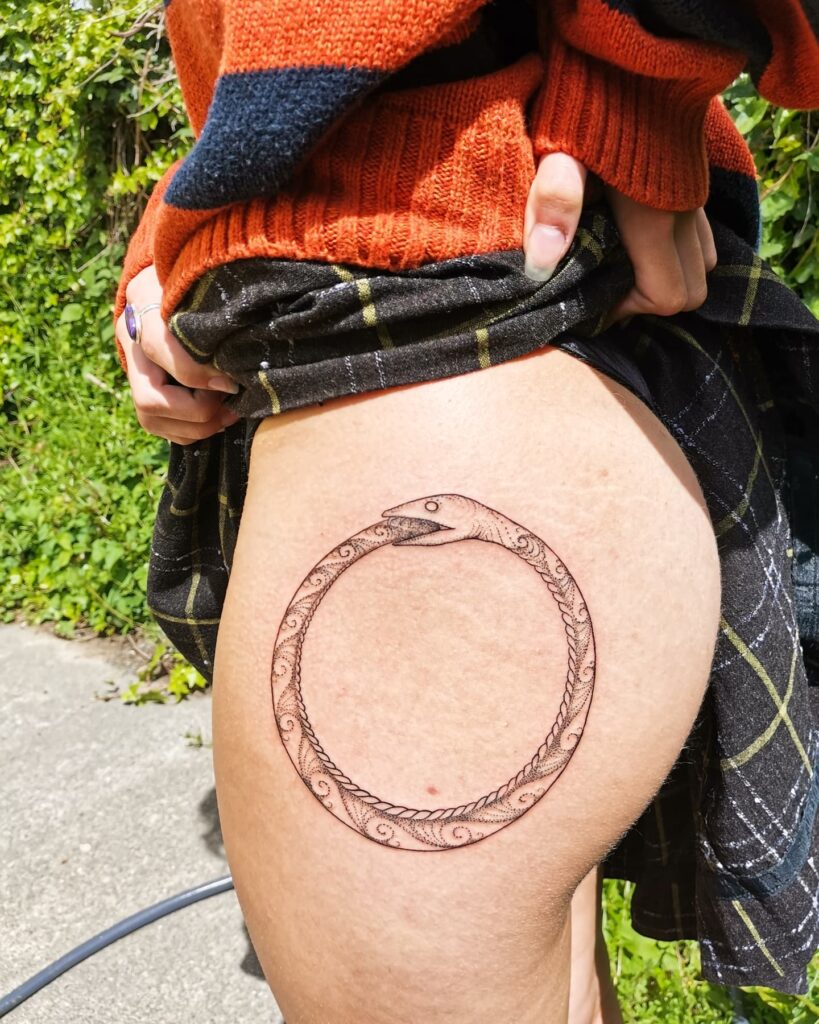 Greek mythology has been a great source of inspiration for many tattoo designs, and the Ouroboros symbol is one such example. This black and grey ink tattoo features the well-known serpent swallowing its own tail, representing wholeness and infinity. The symbol's intricate design is both meaningful and aesthetically pleasing, making it a great addition to any tattoo collection.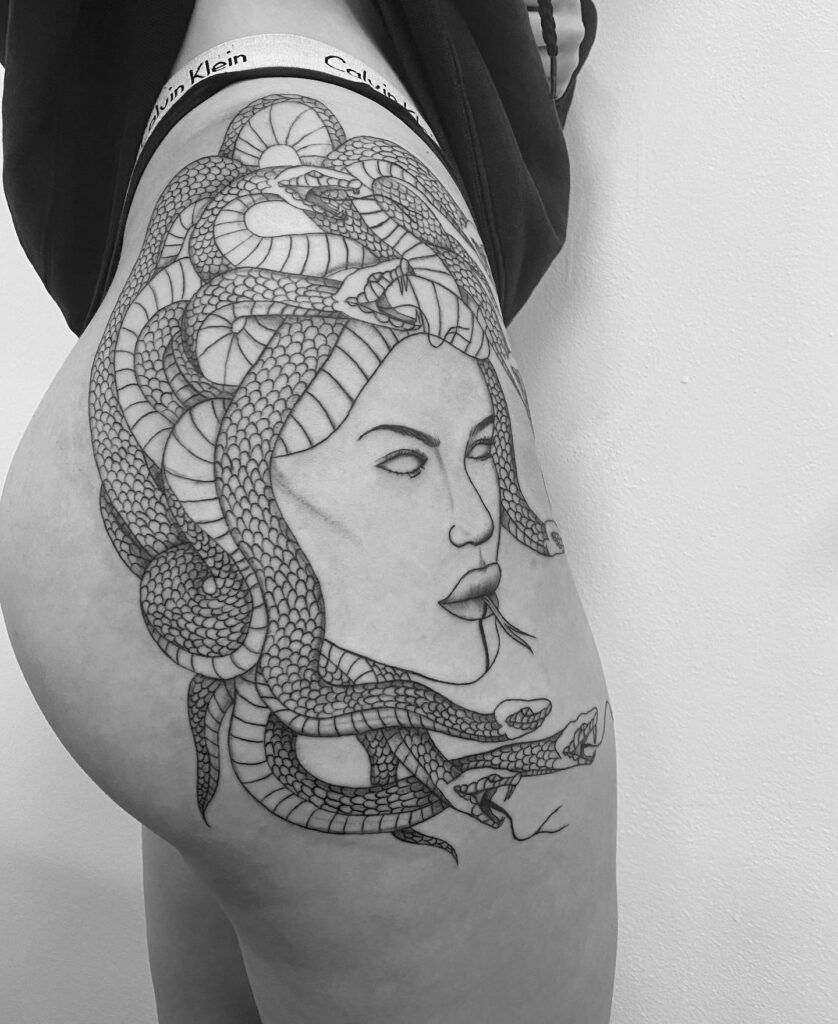 The beauty of Greek mythology is captivating, and many have found it to be the perfect inspiration for their tattoos. This side butt tattoo, for instance, features a stunning depiction of Medusa, with her serpent-laced hair, etched in black and grey ink. The artist has taken a minimalist approach while ensuring the details of the portrait are not compromised. This kind of design is perfect for women who are fans of Greek mythology and want to showcase their admiration through body art.
Butt Tattoos With Lettering For Women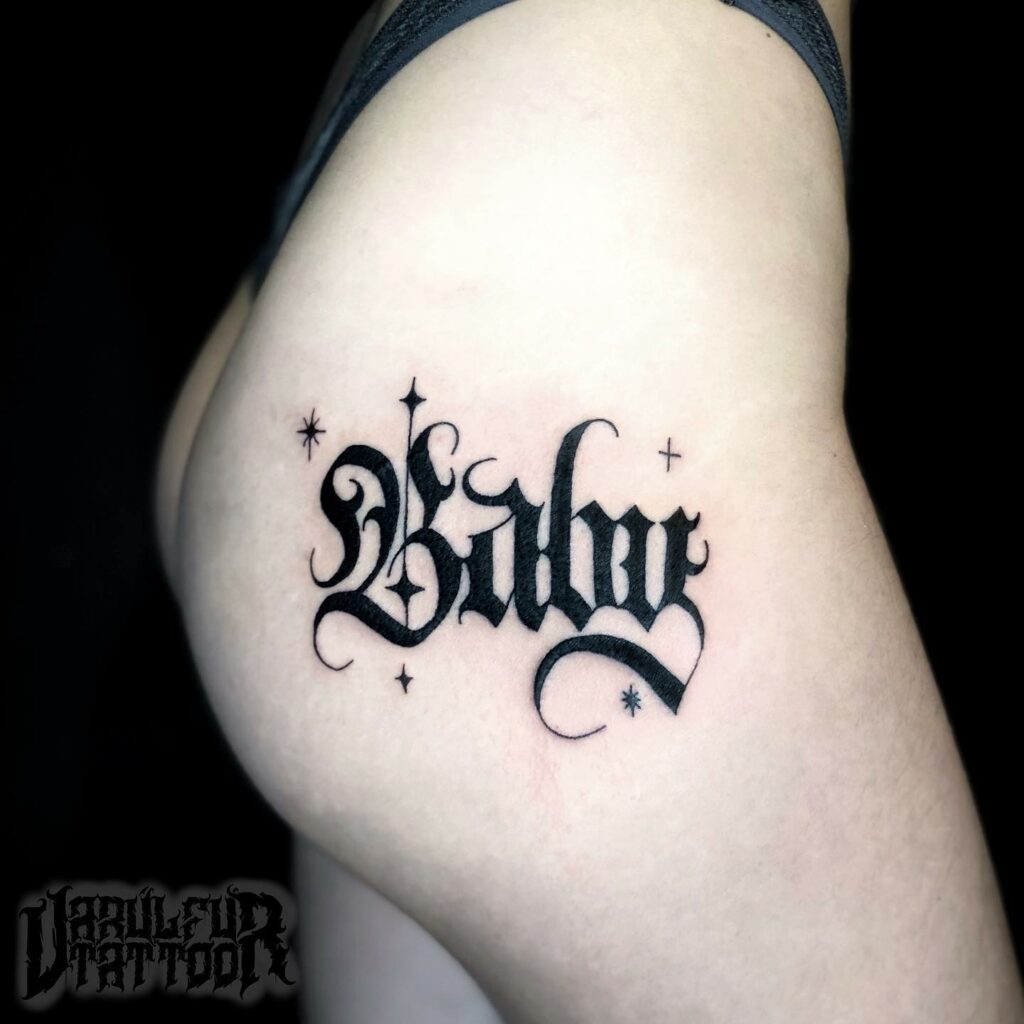 Butt tattoos featuring lettering designs have become popular among tattoo enthusiasts. These designs can range from a simple word to a full quote that holds a special meaning to the individual. This particular butt tattoo features an old English font that exudes a sense of intensity while still being playful with the addition of sparkles. Whether you want to showcase your love for a particular word or quote or simply want to add some personalized flair to your body art, a lettering design on your butt is definitely worth considering!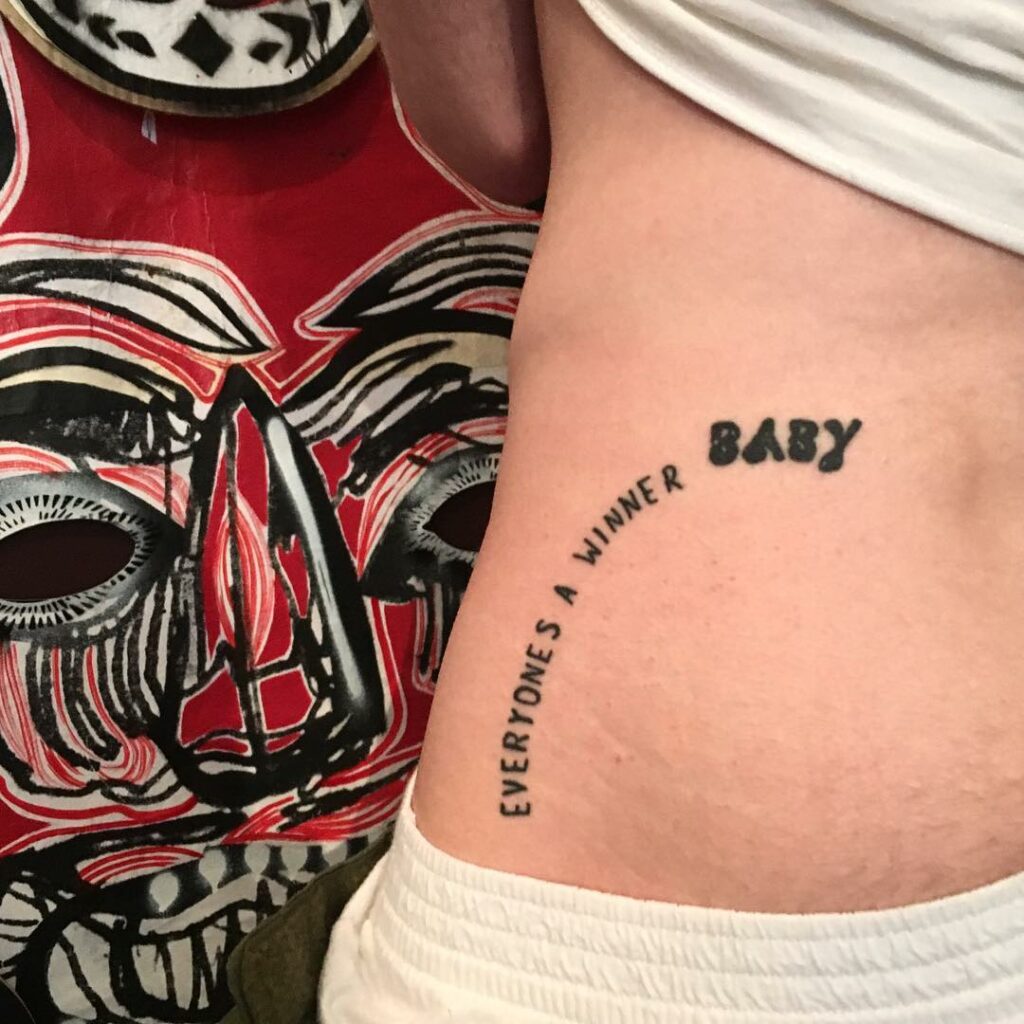 This butt tattoo features a beautiful quote that gracefully follows the curve of the buttocks. The design's simplicity is its strength, with a monochrome gradient adding to its appeal. However, you can experiment with colours and opt for a more feminine expression of your personality. Choose words that are cute and meaningful, and use this butt tattoo to showcase your hidden side to the world!
Traditional Tattoo On Butt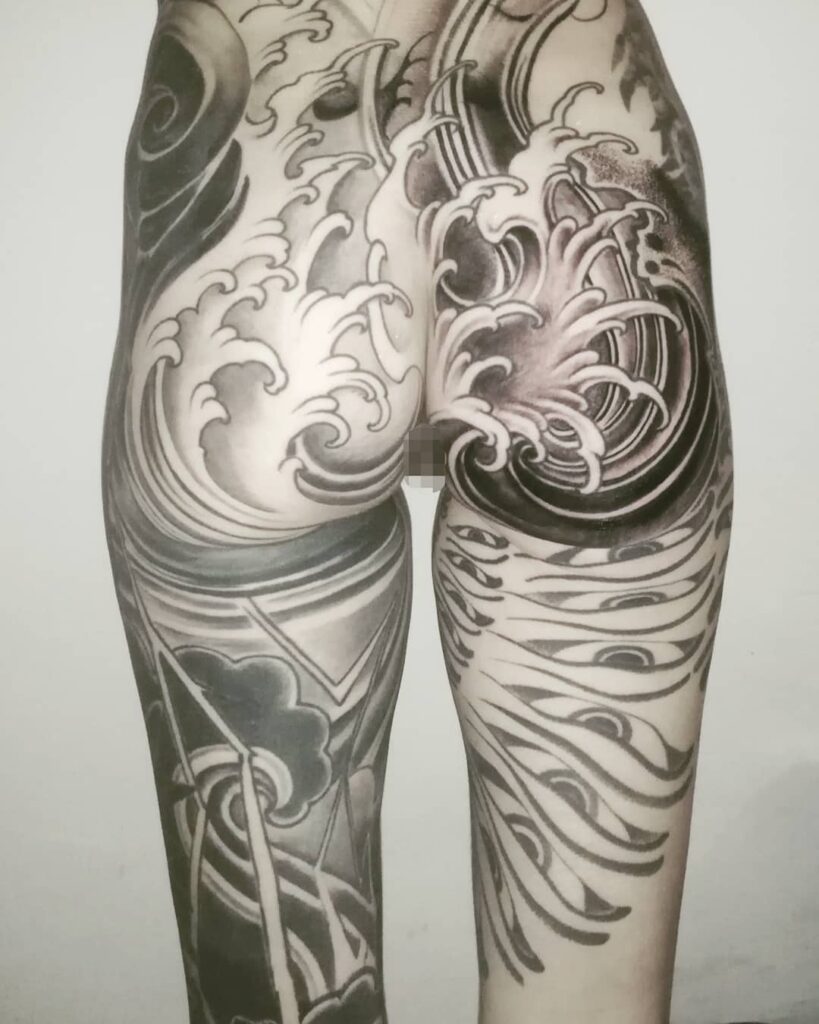 Japanese Irezumi tattoos have always been known for their intricate designs and deep cultural significance. The beauty of Irezumi lies in its ability to cover the entire body, including the butt and thigh area, giving the artist more space to create a complete work of art. This butt tattoo, featuring traditional Japanese waves, showcases the mastery of Irezumi tattooing. The design is meticulously crafted with black and grey ink, capturing every nuance of the waves' highs and lows. If you're looking for a tattoo that speaks to your appreciation of Japanese culture and exquisite artistry, an Irezumi tattoo on the butt is the perfect choice.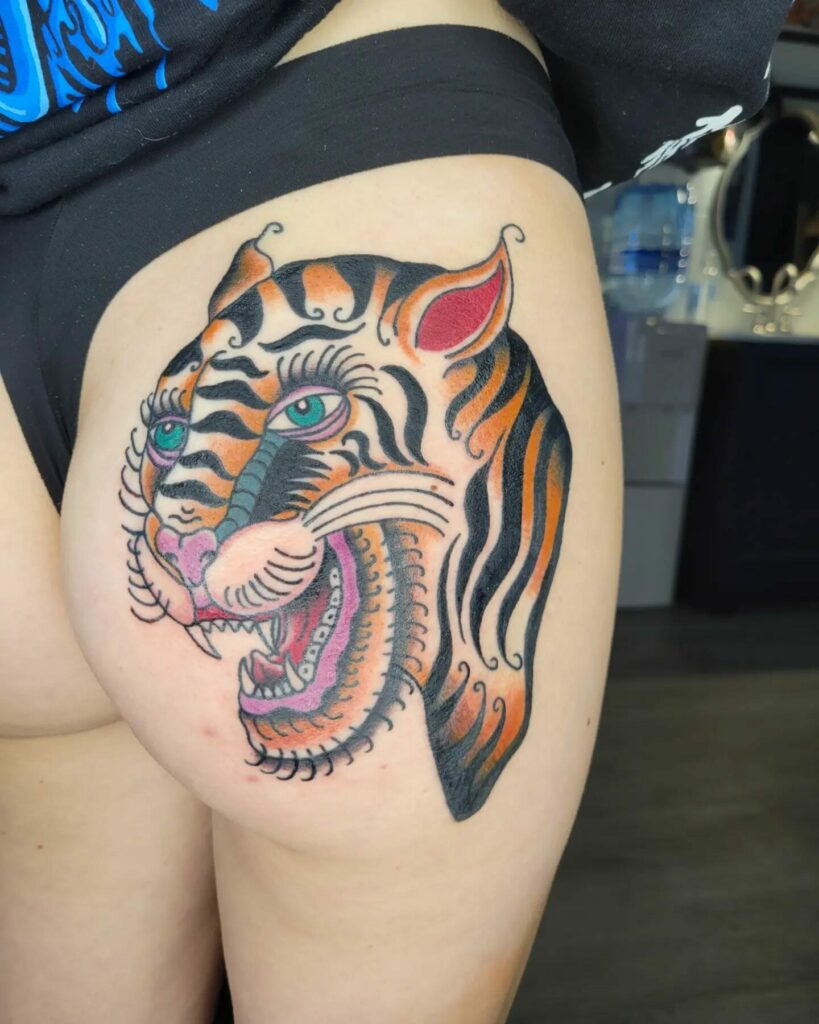 The American traditional tattoo style is a classic choice for butt tattoos that never goes out of fashion. This tiger design exemplifies the hallmark features of traditional body art with its bold outlines, bright colors, and minimal shading. The traditional style offers a plethora of cute tattoo ideas, from pin-up girls to flowers, that you can incorporate into your design. A traditional butt tattoo is perfect if you want to flaunt your love for classic art with a modern twist.
Detailed Butt Tattoo Ideas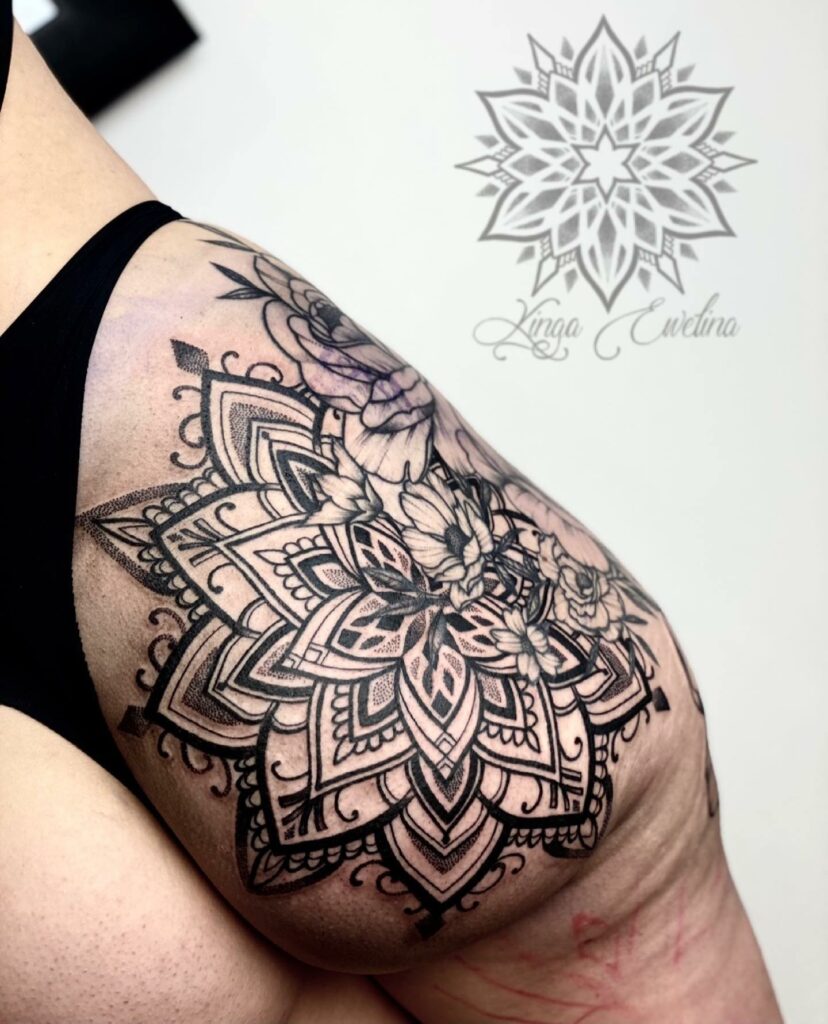 Butt tattoos have become a popular trend in the tattoo world, and mandala art is one of the most sought-after designs for the booty area. This elegant design features a complex pattern of intricate lines, shading, and dot work that covers the entire booty cheek. Mandala tattoos are known to exude a feminine vibe, making them a popular choice for women. However, keep in mind that getting such heavy details will require you to sit still like a rock.
Whether you are a man or a woman, a butt tattoo can look cool if done right. From traditional tigers to abstract patterns, the possibilities are endless. Now that you know all about the A-Z of butt tattoos, it's time to book an appointment and join the cool gang of butt tattoo enthusiasts.
feature image from Pinterest
Last reviewed and updated on May 5, 2023