Looking for some cool and pretty Brat tattoos? We have just what you need. Here are ten amazing Brat Tattoo ideas that you will love.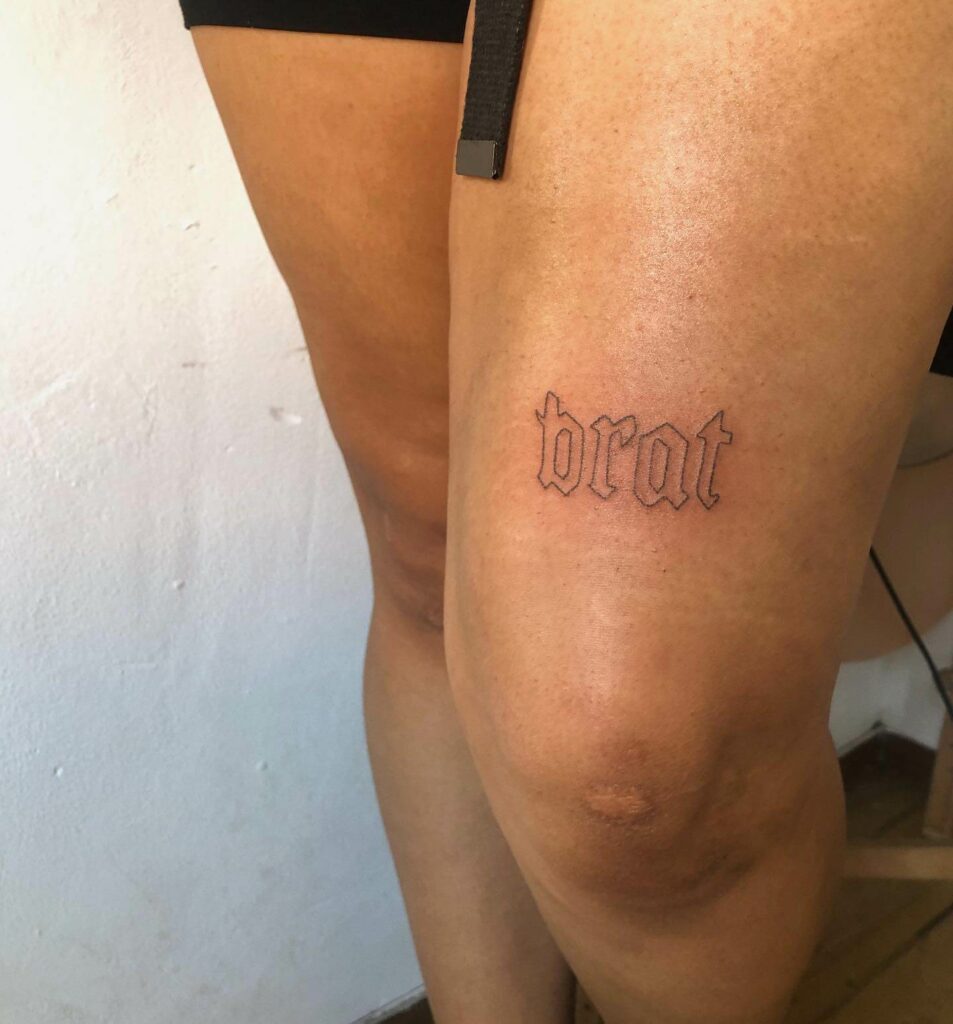 Is brat a word that you associate yourself with?
If yes, then you might have also thought about getting a tattoo of Brat lettering. Also popularly known as a Brat tattoo.
Well why just think? If you resonate with the word Brat, you can always get a very cool lettering tattoo of the same word just like Halsey has on her inner wrist. The word Brat carries a plethora of meaning. But mainly, the word is used to described a spoiled child, or a child that does not listen to their parents and does whatever they want. It is a pretty simple meaning but does have a negative undertone. But recently, a lot of people, especially women, have embraced this word and what it means. They are taking pride in not listening to other people and embracing their true identities. Even though brat might seem like a word that perfectly describes a spoiled teenager, many people, just like Hlasey, are embracing the term in their adulthood. Because they think that their brattiness and mistakes are what made them into the person that they are today. If you are also someone that resonates with this word, then we have just what you need. Here is a collection of ten amazing Brat tattoo ideas for your next tattoo journey.
Brat Inside Heart Tattoo Designs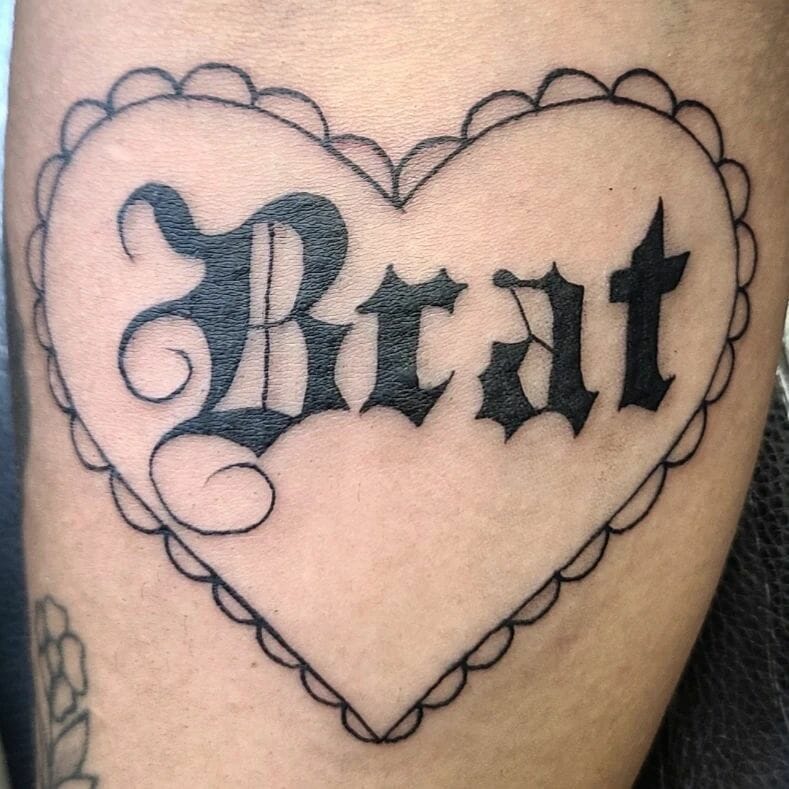 If you are looking for a cute lettering tattoo of the word brat, then this tattoo idea is perfect for you. In the picture, we can see that there is a heart with some designs on the edges. But the main attraction of the tattoo is the very gothic and cool lettering of the word Brat that is inside the heart. The font is really cool and often used for these type of tattoos. If you are someone that likes more simpler tattoos, you can always choose to customize the tattoo. You can get rid of the heart altogether and just get the brat lettering tattoo on your skin. You can also change the lettering to something that suits your personality more. The tattoo will look good anywhere. You can get it on your arm, forearm or wrist. But if you want to hide the tattoo then you can get it on your ribcage or hips. The tattoo will look cool on anybody.
Amazing Brat Under the Chin Tattoo Ideas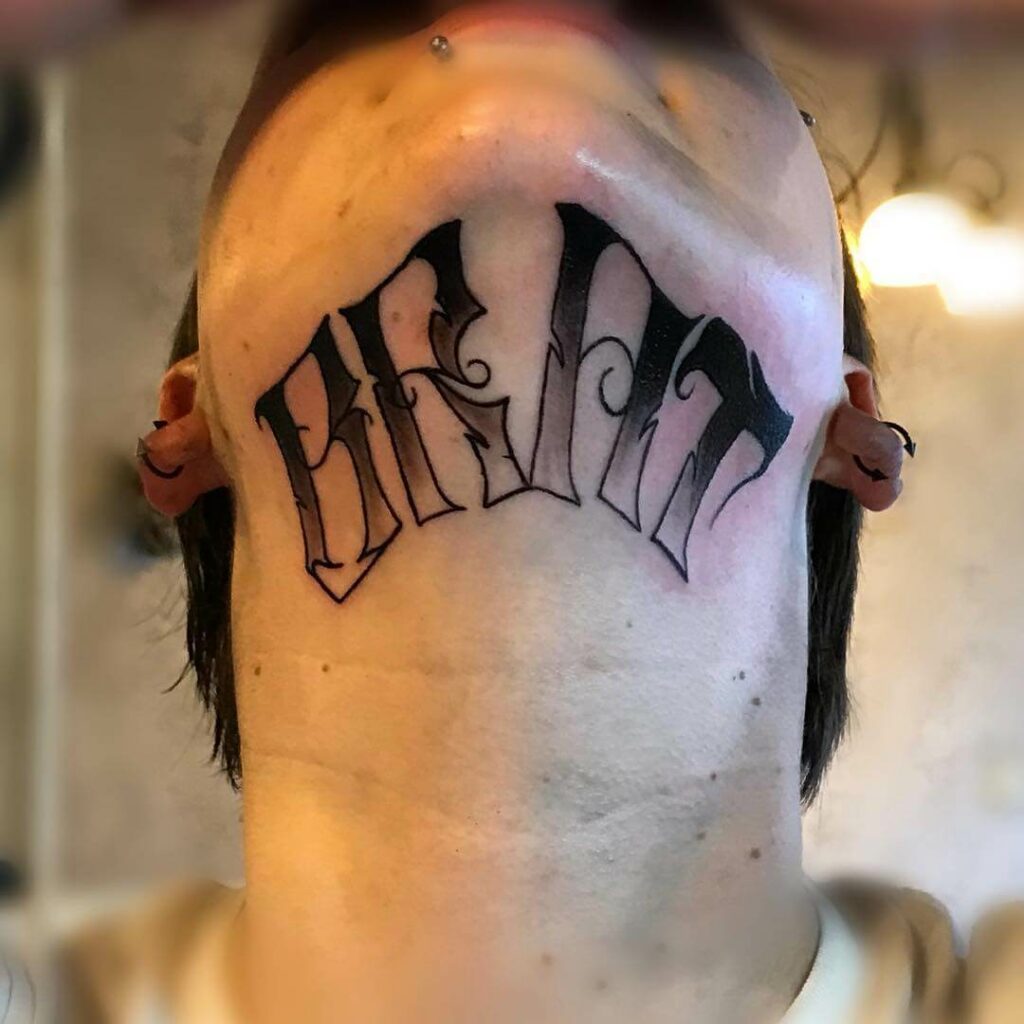 Neck tattoos or under the chin tattoos are not for everyone. But if you truly resonate with the word brat, then chances are, you do not really care about the rules or norms of society. This tattoo is very cool but can hurt a lot to get as the neck and the chin are both pretty sensitive parts of the body. But the way this tattoo is done compliments the shape of the woman's chin and looks really amazing on her. Since this is also a lettering tattoo, you can also customize it and change the font according to your taste. You can also change the color of the font if you want to.
Cute Brat Girl Mirror Selfie Tattoo Designs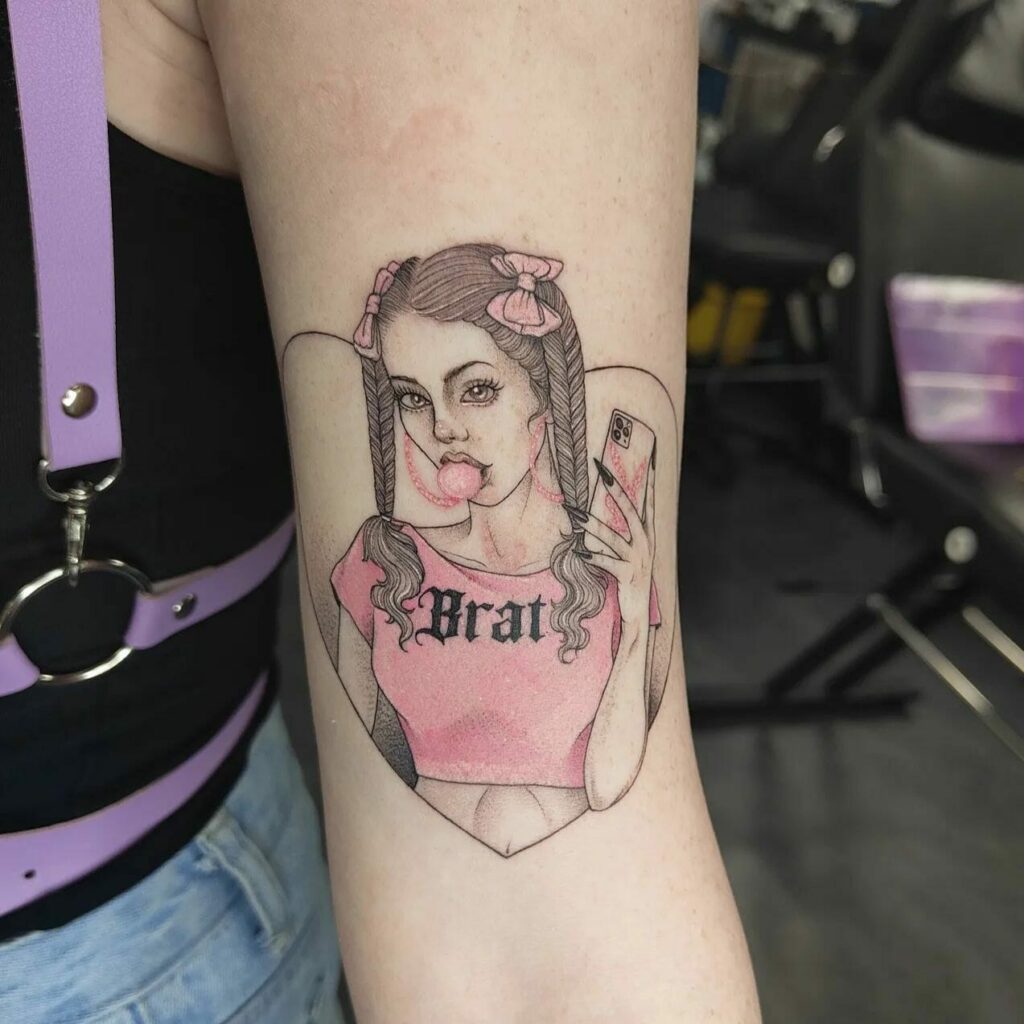 Mirror selfies have been very popular recently. And we always see that the young generation is especially really great fans of mirror selfies. They look amazing as pictures, and as tattoos as well. As is evident from this amazingly cute tattoo in the picture. We can see a girl taking a mirror selfie in the tattoo and there is also a heart shape in the background to tie the tattoo together. The word brat is written acrossher t-shirt in bold letters. If you want a tattoo like this, then make sure to find an artist who is great at portraits. This way, not only will you have a great Brat tattoo, but also a great self-portrait tattoo as well. You can also change the color scheme of the tattoo to match your aesthetic. This is a very relevant brat tattoo.
Brat Block Tattoo Designs You Will Love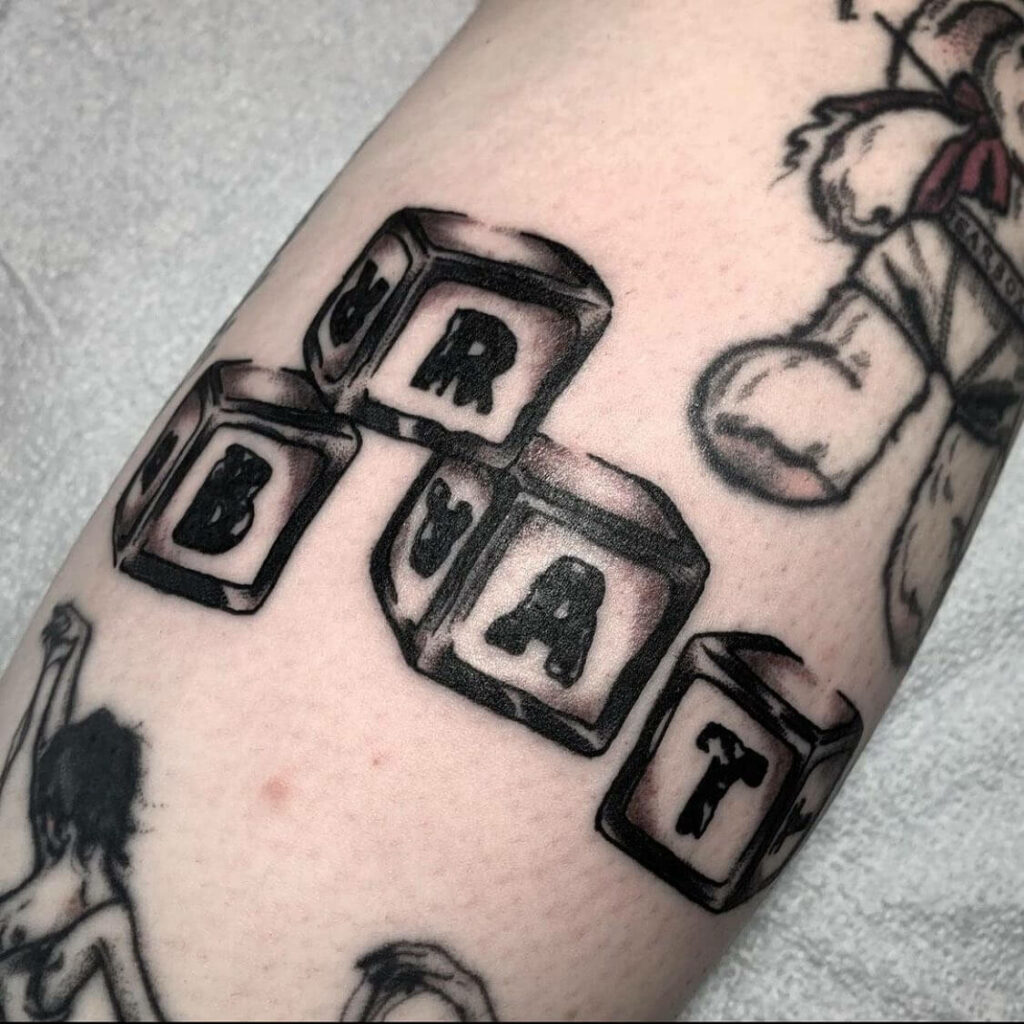 This tattoo is a pretty creative piece. We all know that letter blocks are used to teach children the alphabet and even the numericals. The tattoo artist who made this tattoo has used those blocks to write the word BRAT on the skin of this person. This tattoo is very creative and you can have a lot of fun with the design. You can get a colorful piece instead of a black and gray piece like this one. You can also place the blocks in weird shapes and add other elements to bring out the beauty of the tattoo to the front. This is a really cool piece if you have always wanted a brat tattoo.
Fantastic Brat Lettering Tattoo on Fingers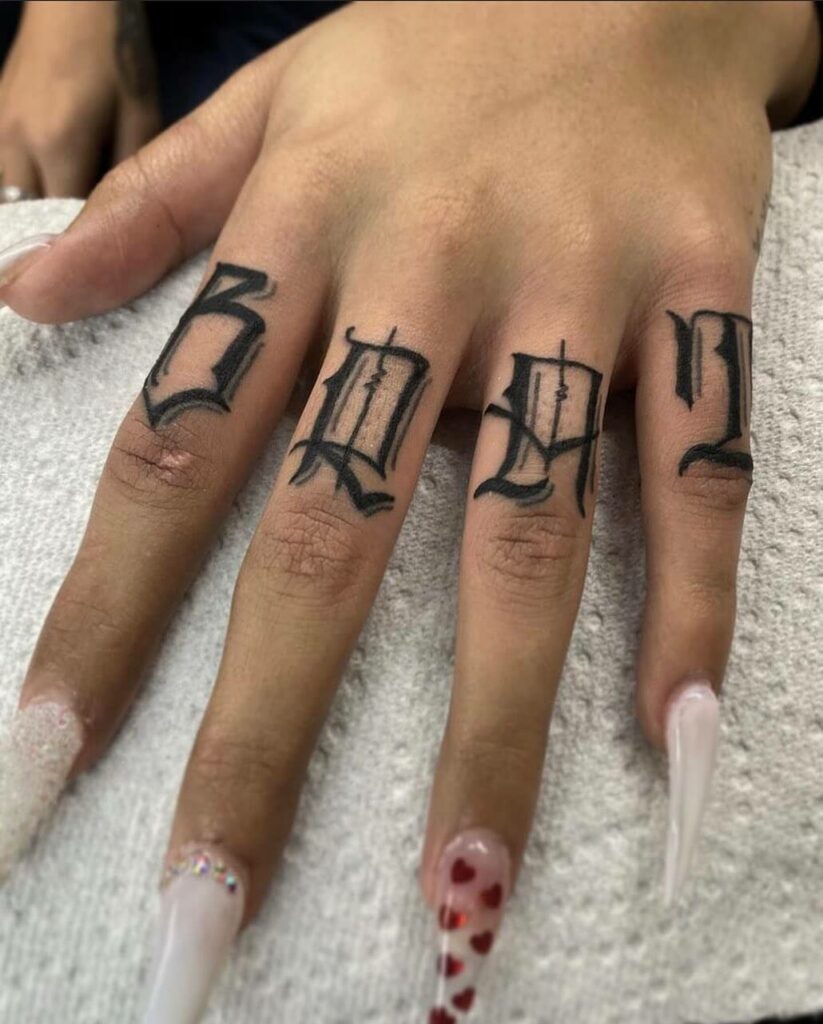 Brat is a four letter word. And that is why, one of the best Brat tattoos will be if you got a finger tattoo of the word. Finger tattoos can be of different types. But the one we are talking about is very loud and visible, just like the picture. As you can see, the person in the picture has the word BRAT written in an amazing Gothic font on four of their fingers. With each finger consisting one letter of the word. The tattoo look very cool ad edgy, definitely the vibe a Brat tattoo should give off. The quality of this tattoo is also amazing. If you have a sleeve tattoo, then you can use this Brat finger tattoo to tie the whole tattoo sleeve to your fingers. It will complete the sleeve tattoo that you have worked so hard on.
Halsey Brat Wrist Tattoo Idea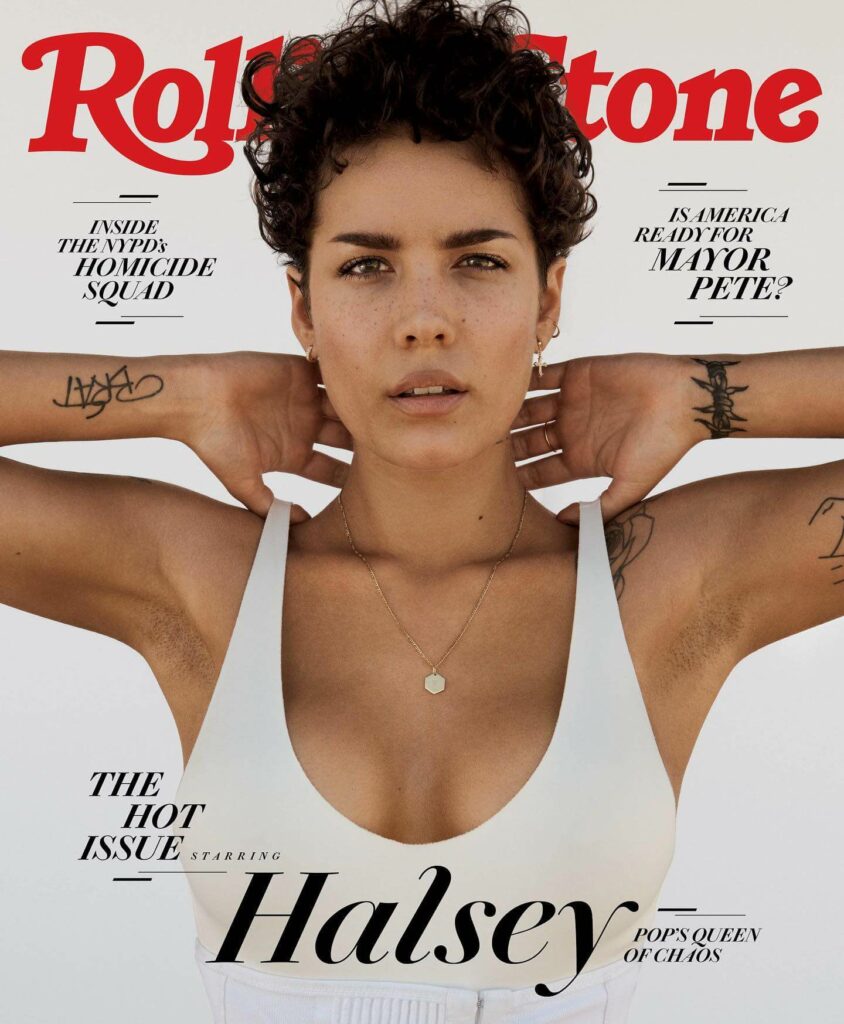 As we already mentioned, famous American Pop singer Halsey has a very cool Brat tattoo on her wrist. If you are a Halsey fan, then you can get the same tattoo on your wrist as well. Halsey has said that her parents used to call her a brat because in her teenage years, she was a bit rebellious. If you also resonate with a story like hers and want to take that word into stride just like her, then you can also get the same tattoo as her. The lettering on the tattoo is really rad and looks amazing. You can get a similar brat wrist tattoo and change the font if you want to.
Cute Gothic Font Brat Tattoo Designs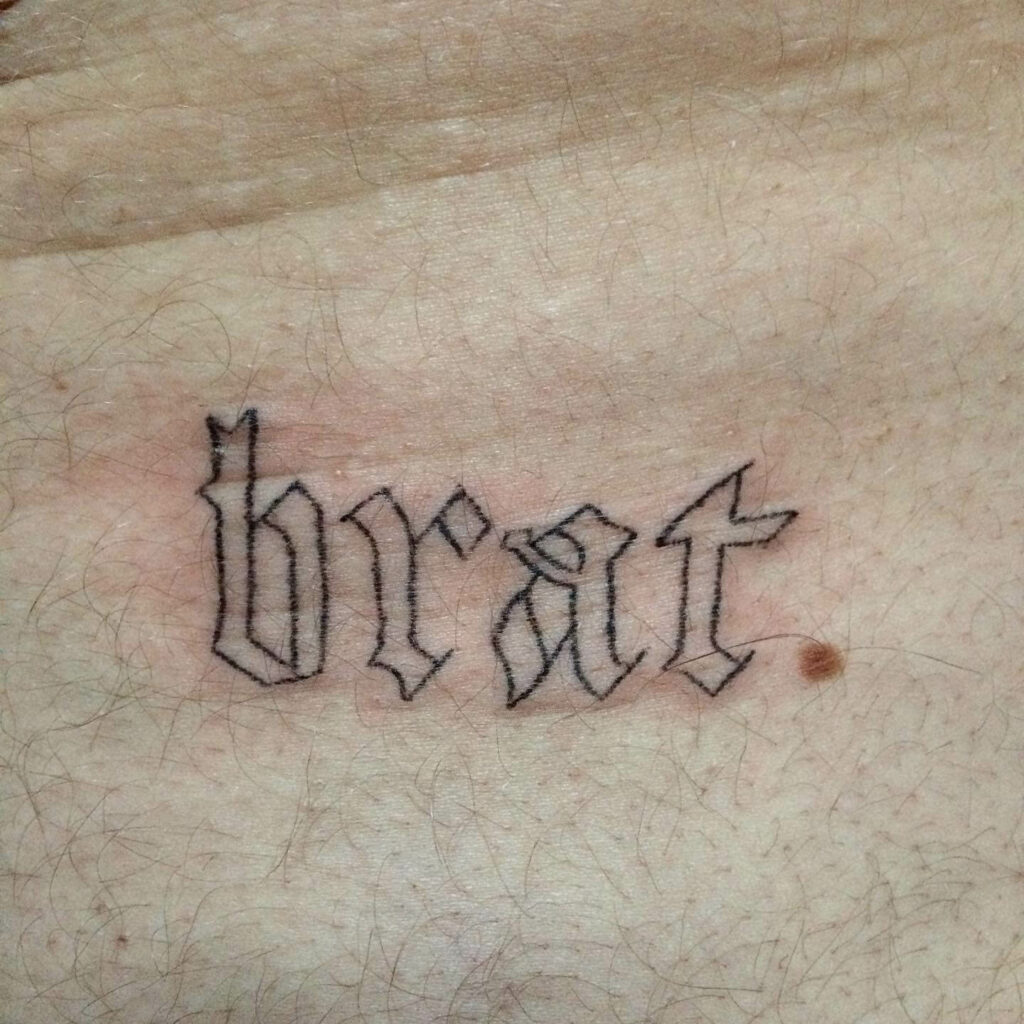 Gothic fonts are ver popular amongst people who like getting lettering tattoos. And it is evident from the picture that this person is a fan as well. This tattoo is pretty small and says Brat in a very small and cool gothic font. The person has chosen to only get the outline tattooed on him. But if you can sit through a bit more pain, you can always get the tattoo filled and it will look amazing. It will also last longer over the years. This is a small tattoo that you can get anywhere on your body. But the best part will be your wrist or forearm.
Small Handpoke Brat Lettering Tattoo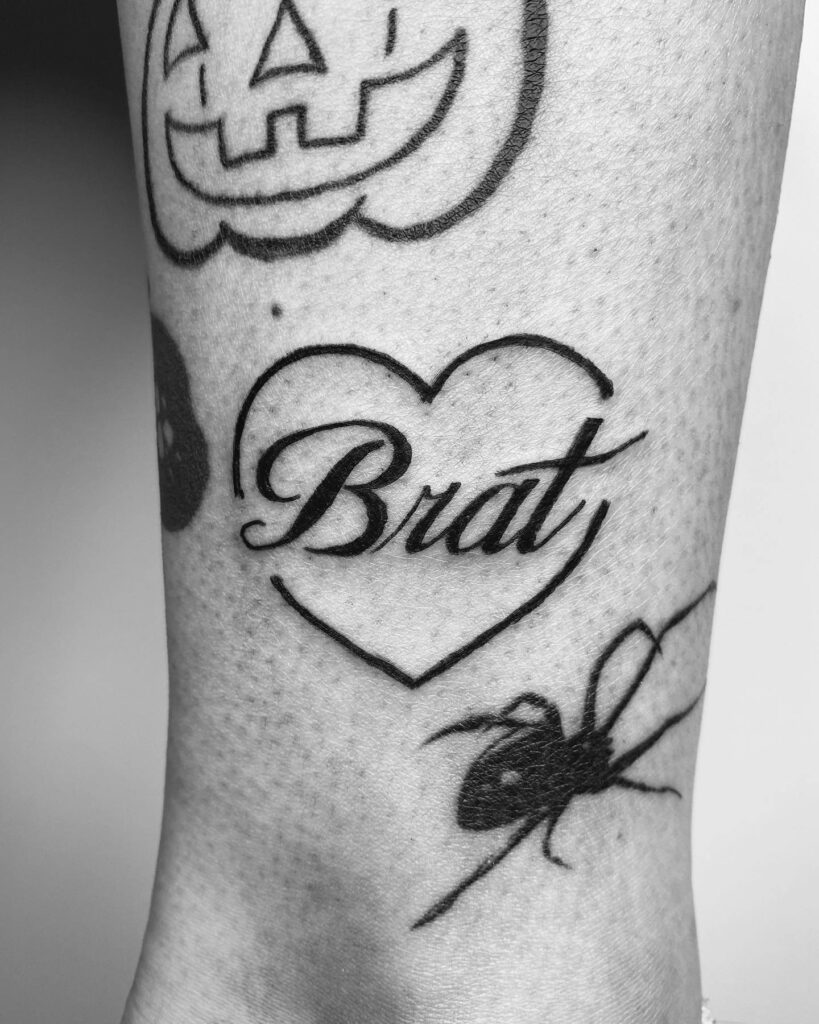 Handpoke tattoos are pretty popular for lettering tattoos for two main reasons. Firstly, they hurt less. And secondly, they work really well for precise lettering works. It will also look great if you want a small lettering tattoo like the one in the picture. But be careful as not everyone can execute a handpoke tattoo very well. So make sure to find a tattoo artist who is a pro at this style. You can also ask them to change the font and color of the tattoo if you want to.
Brat Lettering and Barbed Wire Tattoo on Stomach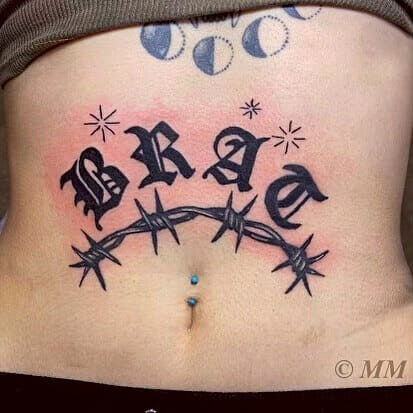 We have talked about small tattoos a lot in this article, but this tattoo is anything but small. As you can see, the tattoo takes up quite a bit of space in the stomach region. If you are not afraid to get your stomach tatted with huge lettering, you can opt for this tattoo. It looks really cool as the font used in the tattoo is very edgy. You can always change the font if you want to. There is also a barbed wire design in the tattoo which looks amazing. You can also choose to get this tattoo in a smaller size on your arm and it will still look amazing.
Beautiful Brat Lettering Ankle Tattoo Ideas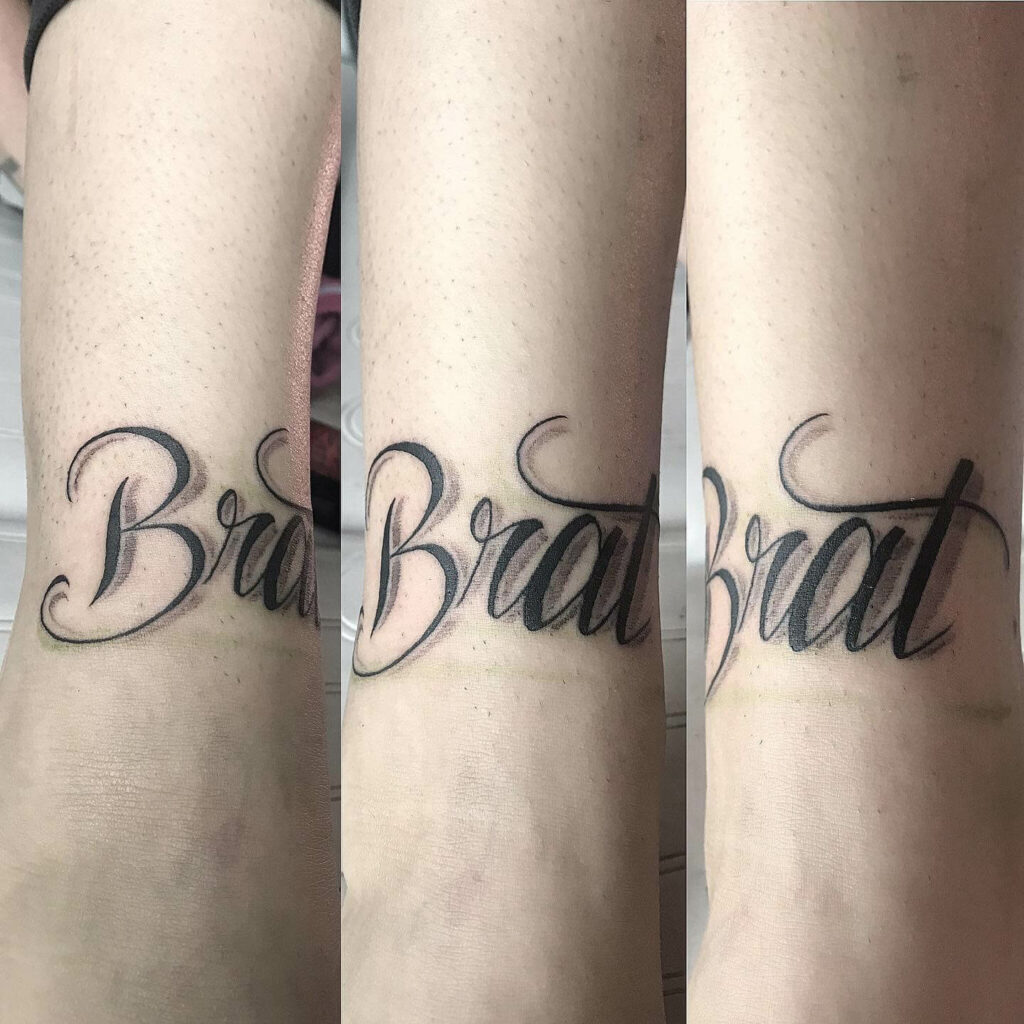 As we are finishing off the list, we have something really cool to end it with. This tattoo is perfect for you if you have been looking for a cool ink design to adorn your ankle. The tattoo shows a very cool design of the word brat written across the ankle in a very pretty and cursive font. This tattoo flows with the shape of the ankle and makes it look really amazing. If you have some other colors like red or blue in mind, you can always ask your tattooist to make the tattoo in that color. Since lettering tattoos are monochromatic most of the time, any tattoo will look cool.
Feature Image from Pinterest – Want your tattoo to look brighter? Try "Tattoo Balm"