Are you a bunny lover? Here's a list of the best bunny ears tattoo that would definitely enhance your look and collection!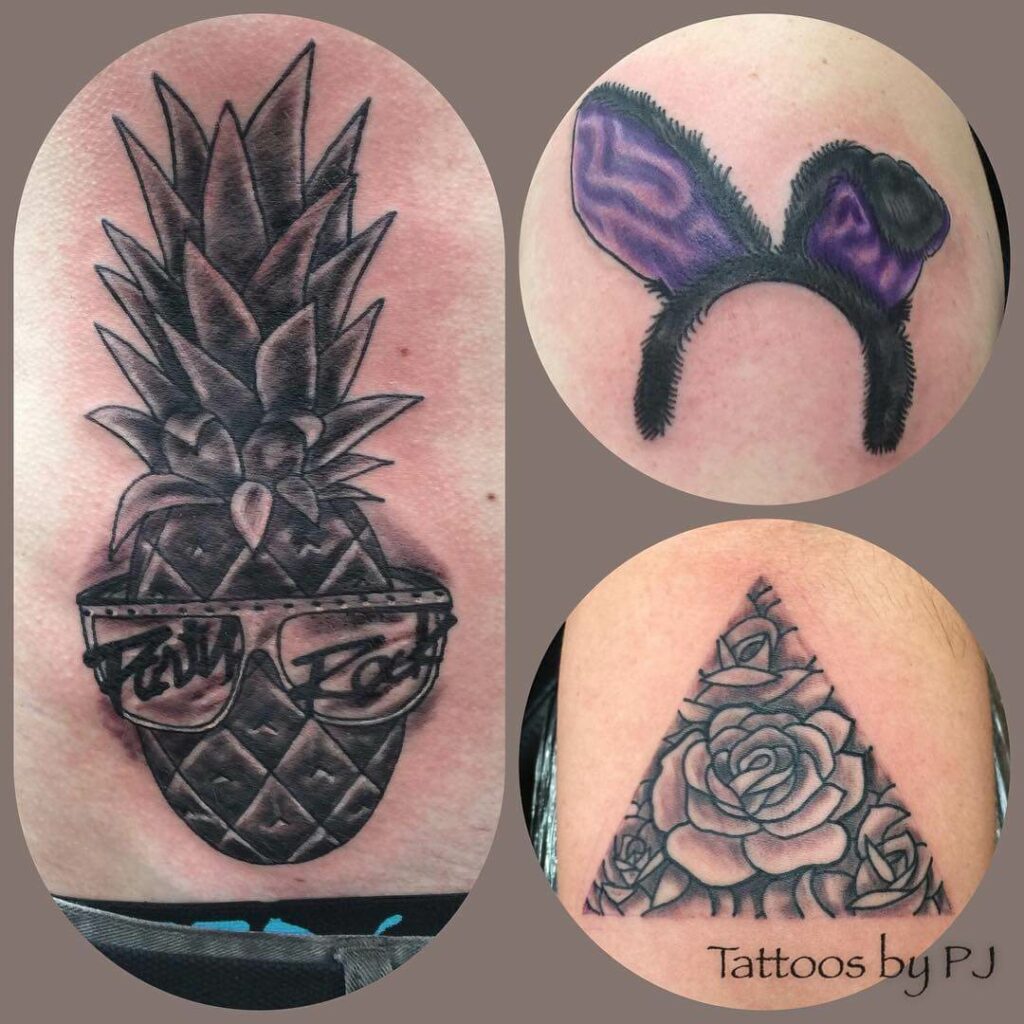 Rabbits have been one of the most admired household pets since time immemorial.
Bunny is an endearment used for these cuddly soft animals. According to the reports of the American Rabbit Breeders Association, there are currently 49 distinctive rabbit breeds. The Association's rabbit show mandates all rabbits to have a registration tattoo on their left ear which would help in identification purposes. All breeding rabbits bear a legible tattoo on their left ear, which consist of numbers as well as letters, but the right ear is reserved. As per the guidelines, the right ear is reserved for the American Rabbit Breeders Association registrar who would be tattooing the show champion.
The joyful, high-spirited animal, hopping in the meadows welcoming the arrival of spring, is a symbol of rebirth, tenderness, good fortune, prosperity, a new dawn and is often linked with Easter. Across Eastern mythologies and folk culture, rabbits are closely related to the moon. The bunny animal sign of Eostre, the fertility goddess strengthens the rabbit's association with fertility. If rabbits are saturated with symbolism, the cute bunny ears are no less symbolic. They are highly sensitive and a lot can be inferred about a rabbit from the positioning of their ears.
From children's literature, pop culture to cartoons, bunnies are always sensitive, witty, energetic and spontaneous animals. So if you want a tattoo rich in symbolism, a rabbit ear tattoo is highly recommended. To make your search easier here's a list of the best bunny ear tattoos.
Pink Bunny Ears Arm Tattoo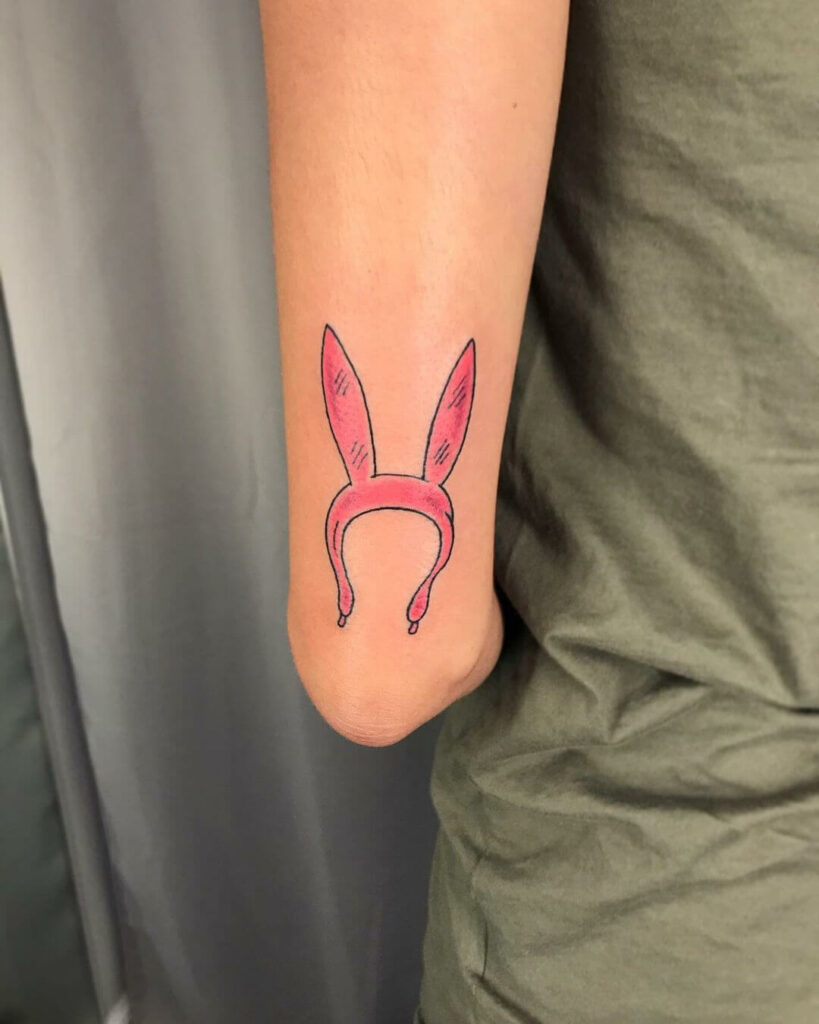 Do your arms look dull and lifeless? Get these pink ears tattooed on your arms and you would love the fresh shine and charm. This tattoo is simple with two cute ears on a thin band, but the black border with perfect black touch-up gives the tattoo an extra sharpness and a commendable finishing. The light pink colour makes the tattoo vibrant. Although ideal for the arms, the small size of the tattoo does not restrict it strictly to the arms.
Black Ink Tattoo Design
This black tattoo design will give you a regal look with its bold outlines. The tattoo has two rabbit ears, the right ear laid back and the left ear in an alert posture. While the positioning of the two ears has different significations in a rabbit, the relaxing and alert mode combine to give a realistic touch to the tattoo. The design might go wrong if excess ink is used. As long as it retains its flawless perfection, you can get this tattooed on any part of your body. If you are looking for a subtly cute tattoo, this one is designed especially for you!
Bunny Ear Python Tattoo
Aren't you reminded of the Tiger and Lamb symbolism in Blake's poem by this tattoo design? Snakes are deadly reptiles, symbolising creative energy, treachery, power, strength while the rabbit is a cute mild creature and when such contrasting forces are merged in the tattoo, it's inevitable that the tattoo will carry a unique significance. While the body of the python gives a lethal look, the cuteness of the python's face with pink ears overshadows the deadliness. By cramming the python with such cuteness, the tattoo subverts the poisonous killer nature of a snake. Wanna have a cute python? Get this tattoo inked because it's hard to find a cute python!
Ariana Grande Bunny Ears Tattoo
This Ariana Grande bunny ear is a memorial tattoo for the Manchester Arena victims who died of bombing at Albert Square in May 2017, during a concert of Ariana Grande. The ribbon-shaped tattoo has two rabbit ears- a slanting right ear and an erect, alert left ear. The tattoo in black is fairly plain, but when the terrifying history gets attached to it, the otherwise classy, simple design achieves a new dimension. Take good care not to use excess ink for this design as it would blunt the sharpness.
Mini Rabbit Ear Tattoo
This is a simple tattoo with two pink rabbit ears. The fine black touches add extra depth to the tattoo design. This adorable tattoo can add extra cuteness to your otherwise amazing look! The small size makes it perfect for your wrist, neck or any place where you wouldn't need to compromise a bit of it. Grab this as your next tattoo design and flaunt your cuteness as confidently as bunnies do!
Colourful Long Bunny Ear Tattoo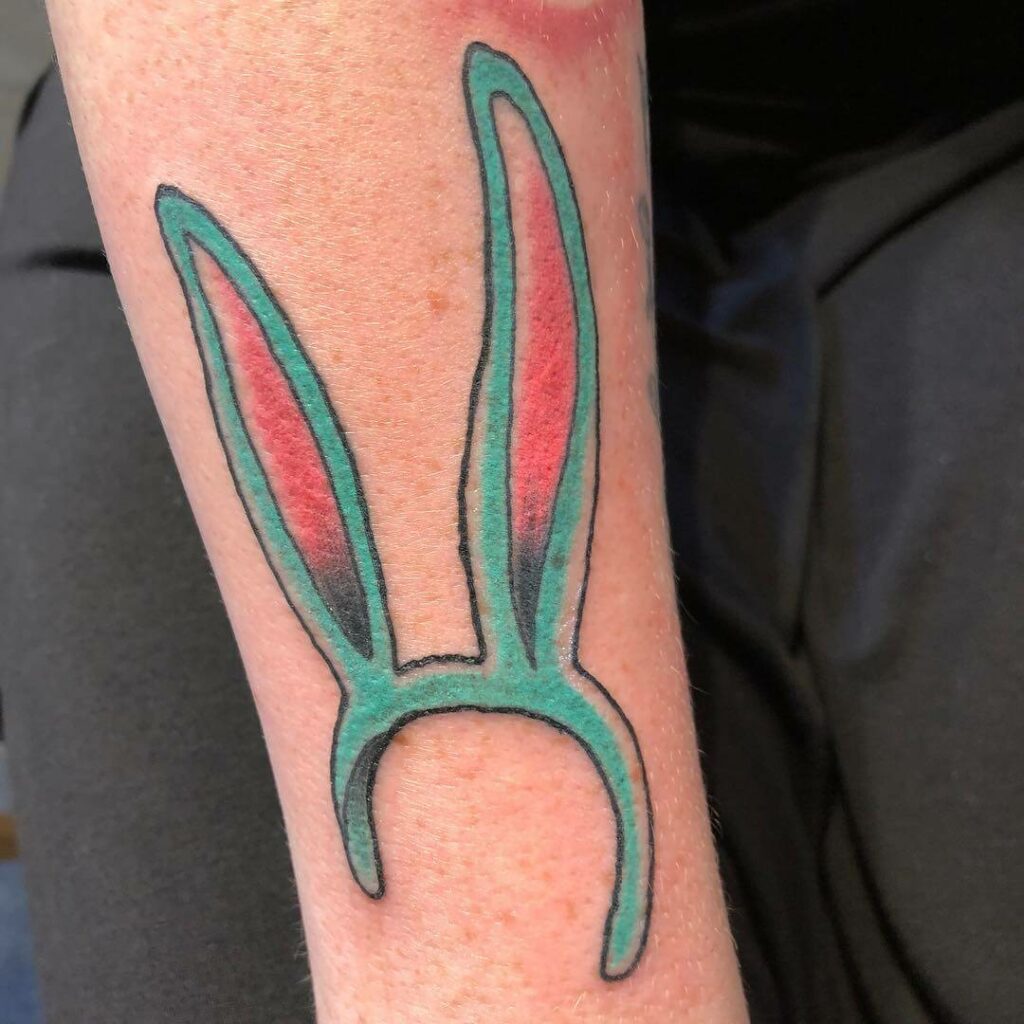 Wondering for your next rabbit ear tattoo? Here's a vibrant tattoo to add to your collection! One can identify green as the dominant colour in this tattoo. The light pink shades and delicate black touches lend finesse to this tattoo idea. The colour of the tattoo makes it a suitable choice for both sexes. Your arms will be the ideal place to incorporate this luxurious vibrance.
Playboy Bunny Ear Tattoo
This back-of-the-ear tattoo has sexual innuendos. This playboy tattoo is symbolic of seductiveness, sex, pleasure, playfulness, eroticism. This black outlined small tattoo is a great choice among men who regard themselves as playboys. Generally, men go for a black playboy rabbit ear tattoo, while women prefer a pink one. But why not transcend such colour stereotypes? If you want an alluring, mysteriously attractive look to make you stand out in the crowd, forget such colour taboos and seize this as your upcoming tattoo design! You can get this inked on your arm, shoulder, hip area, lower back, groin area, neck.
The Bunny-Eared Lady Tattoo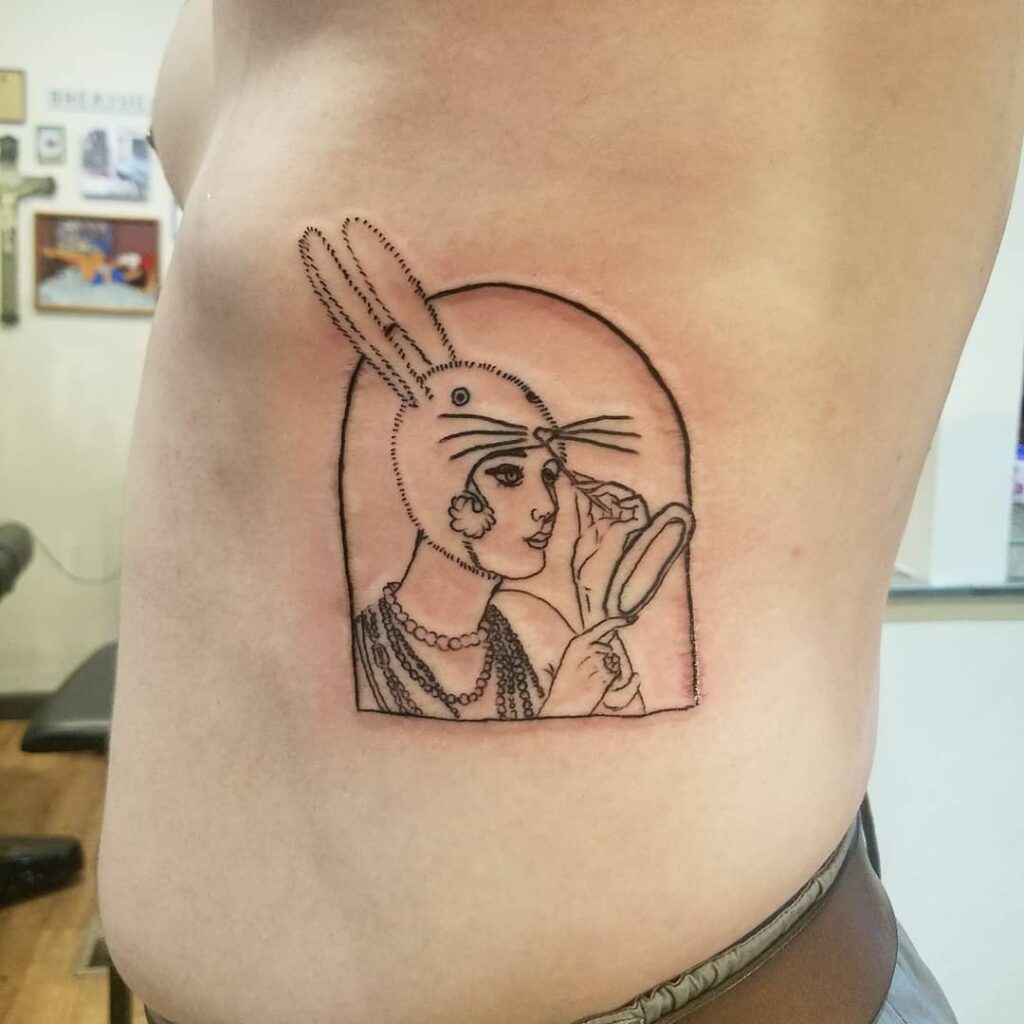 This tattoo is crammed with a somewhat quirky feminine beauty. The lady in the design is shown in action. Embellished with jewellery she's shaping her eyebrows, holding a mirror. What makes the tattoo unique is its deviation from the established standards of beauty. Instead of long flowing dark hair, the tattoo features a half-faced rabbit with two long ears on the lady's head, which adds a distinctive cuteness and beauty to the tattoo design. Except for the top part of the lady's face with dotted lines, the tattoo has solid black outlines without colours. Get yourself a veteran tattoo artist and wear this to redefine your beauty!
Cloud Bunny Ear Tattoo
This black linework tattoo constitutes two rabbit ears, one folded one straight. The face is hidden, and instead, you have a cloud with black detailing. This elegant design will equip you with the endless freedom of the cloud and the positive energy of the rabbit ears. This tattoo stands at an advantageous position due to its small size, but you are undoubtedly free to experiment with its size.
Classic Bunny Ear Tattoo
This is a simple design featuring two bunny ears in a circle with additional circles attached at the top and bottom. The whole design is a black outline with fine detailing. Use this tattoo to pay tribute to your pet! This simple design may be significant for a breeder who wants to celebrate the birth of his next litter.
While the commercial use of rabbits is innumerable, the spiritual use is no less. Crammed with hope, positive spirit and myriad symbolisms, bunny ear tattoos are adored highly by females mainly for their sugary cuteness. True that cuteness is a quality generally associated with a feminine persona, but guys, aren't we creatures of a postmodern universe where taboos and stereotypes are questioned? So men deconstruct such beliefs and get a dashing rabbit ear tattoo personalised for you! If you want a lucky charm or some merry vibe to guide your days, bunny ears tattoo must be your next tattoo design!
Feature image from Pinterest – Want your tattoo to look brighter? Try "Tattoo Balm"