Calling all devotees of Final Fantasy, this article promises to be a veritable feast for the senses, brimming with a dazzling collection of buster sword tattoos. If you're a true fan, then this iconic weapon will need no introduction.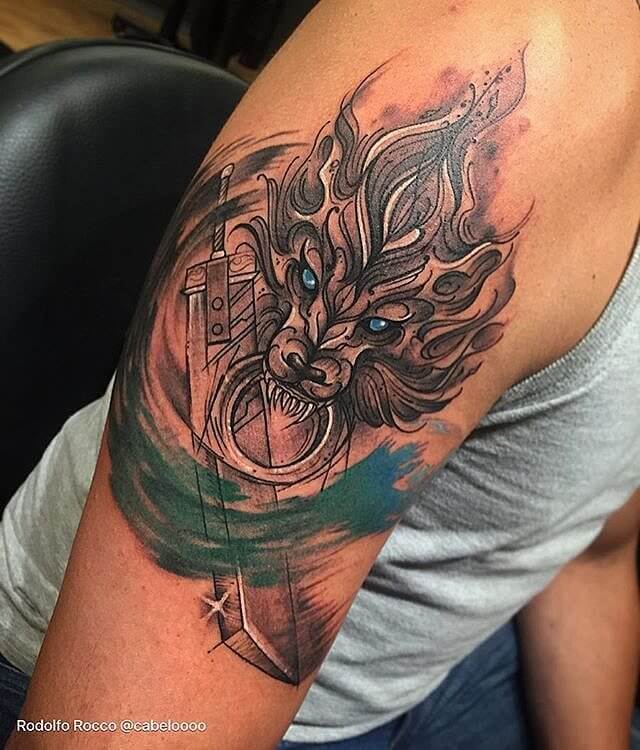 It's impossible to overstate the role of this signature blade in the world of Final Fantasy. This legendary weapon, deftly wielded by Cloud Strife, our undeterred protagonist, has sparked intrigue and admiration across series installments and spin-offs alike. The allure lies not just in its imposing aesthetics but also in the subtle evolution of its design, offering a wellspring of unique tattoo inspiration.
Final Fantasy VII, a visionary creation, catapulted the gaming industry into an era where reality blurred with a digital fantasy. The game, well ahead of its curve in the late 90s, enthralled gamers with its stunning visuals and intricate plot. It was a masterclass in narrative design, introducing side quests and mini-games to offer a respite from the main storyline – elements that were revolutionary at the time. Even decades later, its influence resonates, particularly in the continued demand for buster sword tattoos.
The buster sword, a symbol of power and resilience, has become a coveted tattoo subject for Final Fantasy VII enthusiasts. This hefty blade, with its single-edged vastness and intricate design, boasts an unrivaled presence and power. Its reddish hilt, etched with complex patterns, only enhances its formidable appeal. So, for those searching for the perfect buster sword tattoo inspiration, you've come to the right place!
Final Fantasy 7 Buster Sword Tattoo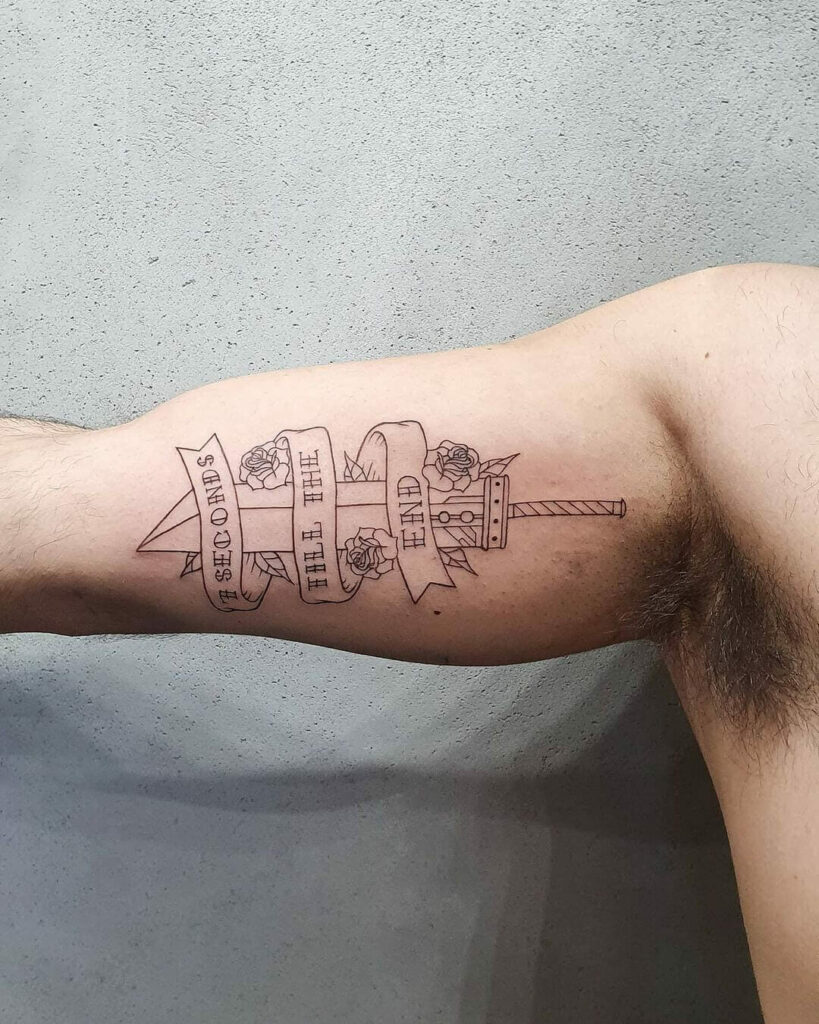 Immerse yourself in a world where line art takes center stage with a captivating tattoo featuring the infamous Buster Sword from Final Fantasy 7, delicately encased in roses and adorned with a quote from the game. Be sure to research the perfect positioning before permanently marking your canvas of skin. Whether on your forearm, leg, or shoulder, this tattoo serves as a fond reminder of your affection for this timeless game.
Clouds Buster Sword Tattoo In Fine Line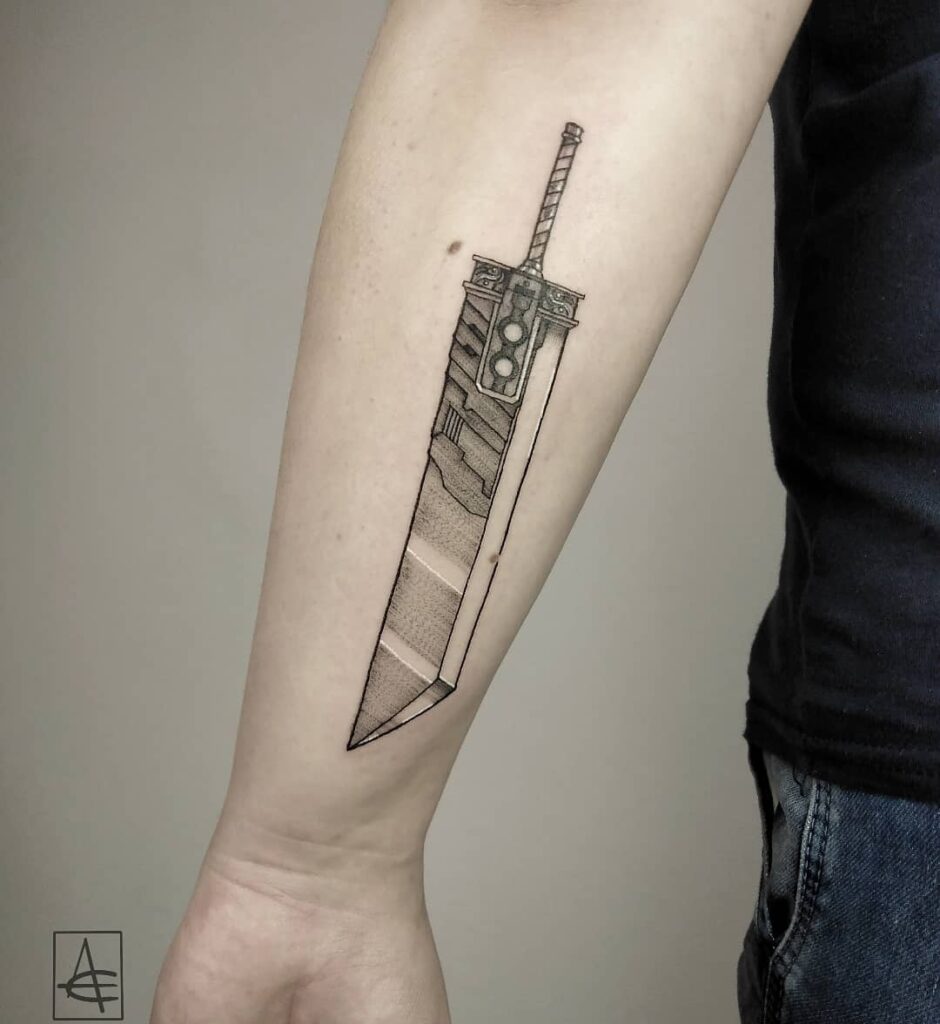 Experiment with fine line techniques to achieve a detailed portrayal of Cloud's Buster Sword. The artistry lies in the precise strokes and subtle white highlights, which may not be immediately conspicuous, yet contribute significantly to the sword's gleam.
Final Fantasy Buster Sword Tattoo Coloured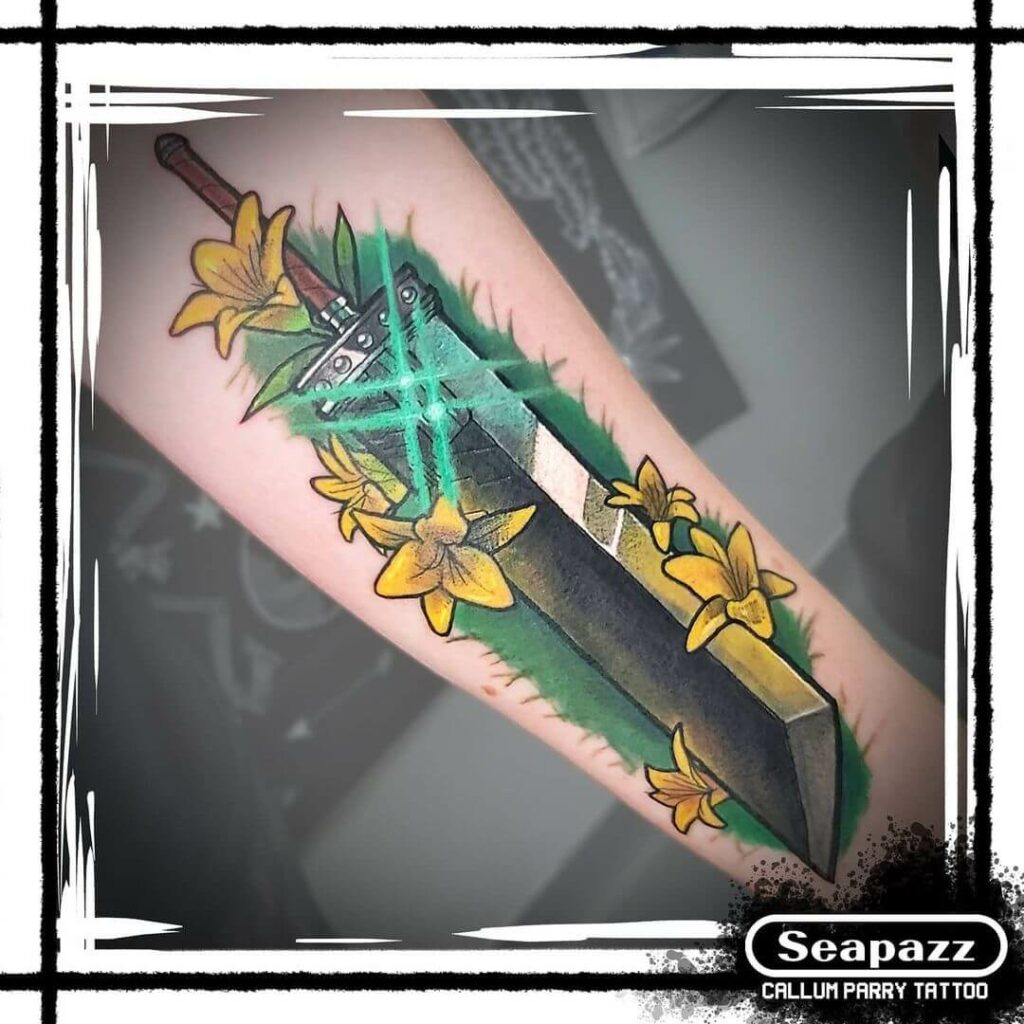 Dare to color outside the lines and embrace a vibrant alternative to the traditional black and white Buster Sword tattoo. As a seasoned tattoo enthusiast, at least one colorful artwork should punctuate your collection. Invigorate your Buster Sword depiction with a splash of color and let it be the showstopper of your collection.
FF7 Buster Sword Tattoo Gamer Ink
Bring back the nostalgia of old gaming memories with a simple yet striking image drawn from the game's intro. This tattoo resonates deeply with fans, striking a chord of sentimentality, and can be comfortably placed on your arm, leg, or nape of the neck.
Buster Blade Watercolour Tattoo Idea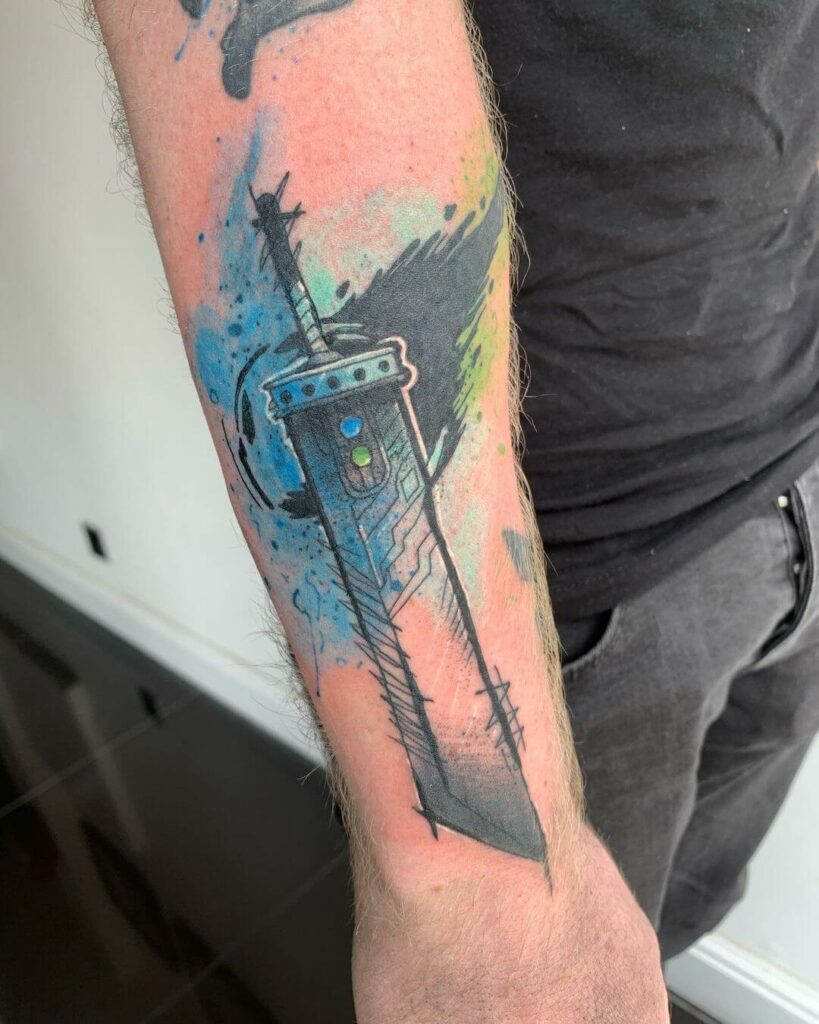 Use the flamboyant palette of watercolor as a backdrop for your Buster Sword. The bold contrasts of blues and greens amplify the black line-drawn sword, creating a dynamic visual experience. This tattoo showcases how the strategic use of color can enrich a simple sketch-style design.
Floral FF7 Tattoo Design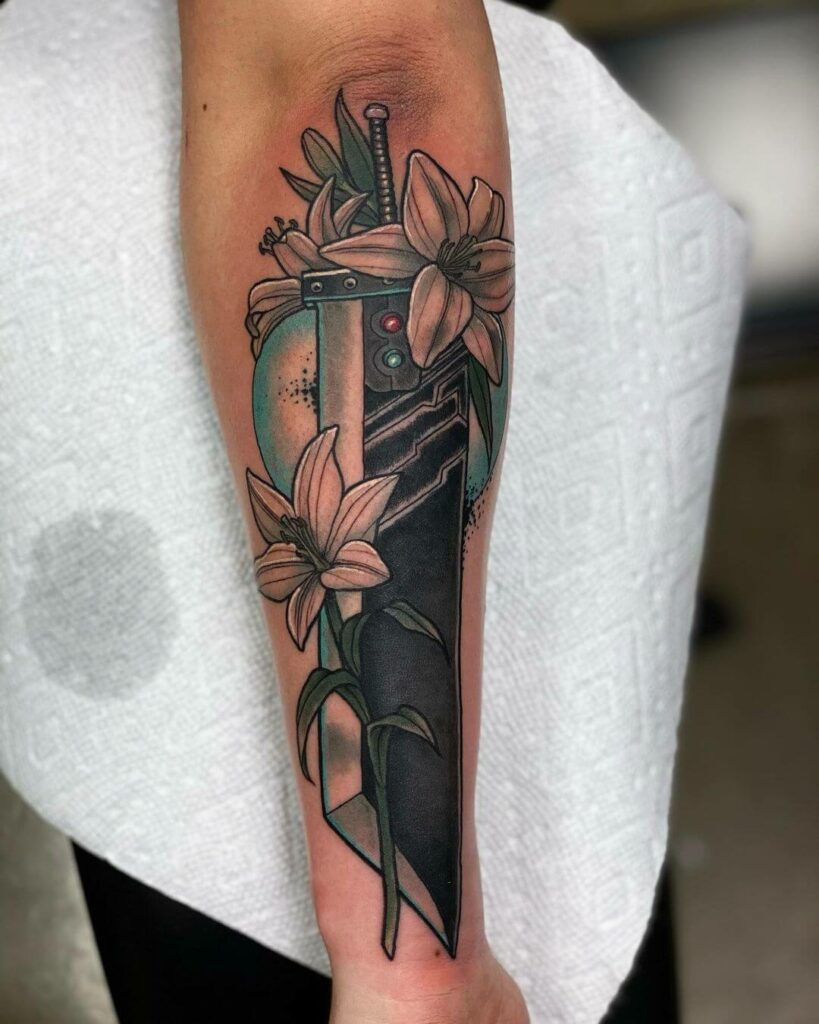 Allow the beauty of florals to complement your Buster Sword tattoo. The addition of flowers, such as lilies, can illuminate the entire aura of your tattoo, making it an excellent choice for anyone wishing to proudly display their Final Fantasy fandom.
Final Fantasy Red XIII Tattoo Idea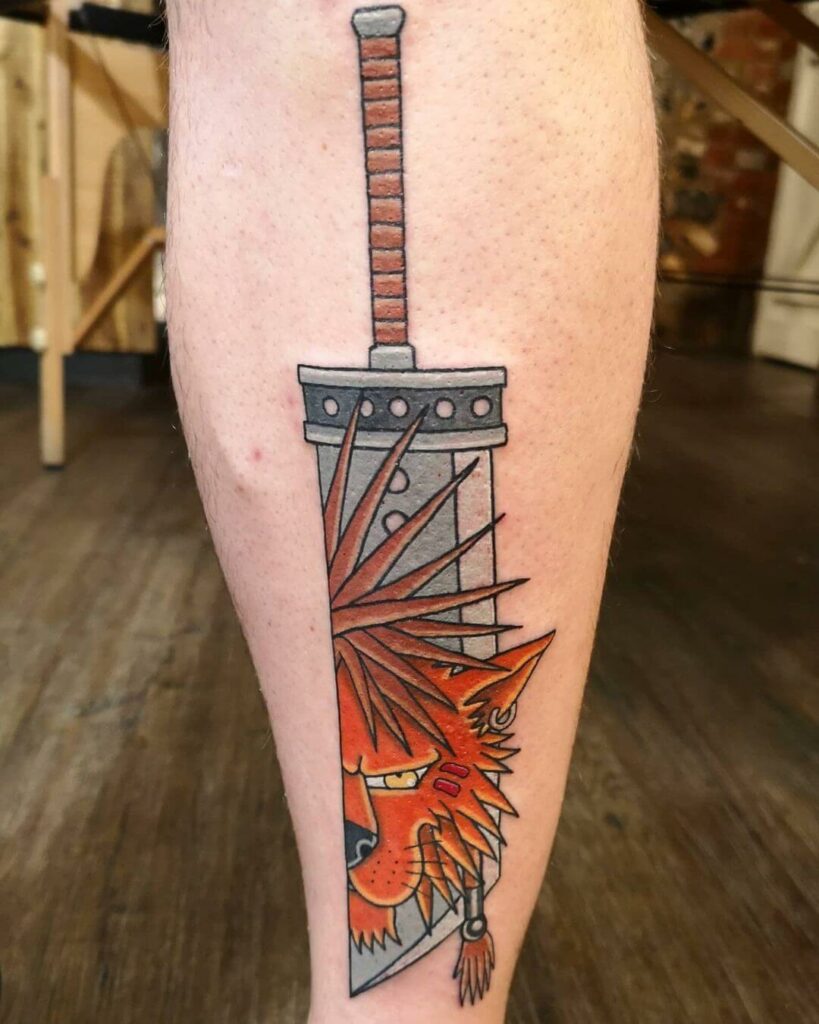 Consider the enchanting Red XIII, a mythical creature from Final Fantasy, known for its perfect equilibrium of magic and strength. A tattoo of the Buster Sword accentuated by the piercing gaze of Red XIII could be a stellar addition to your Final Fantasy tattoo collection.
Fierce Final Fantasy Buster Sword Tattoo Designs
Pay tribute to the ferocity of Final Fantasy characters with a striking tattoo of a wolf preceding the Buster Sword. This tattoo isn't just a show of force; it's a deeper symbolism of Cloud Strife's solitude and guilt over his perceived failures, including the loss of two friends.
Cloud Strife Sword With Shades Of Green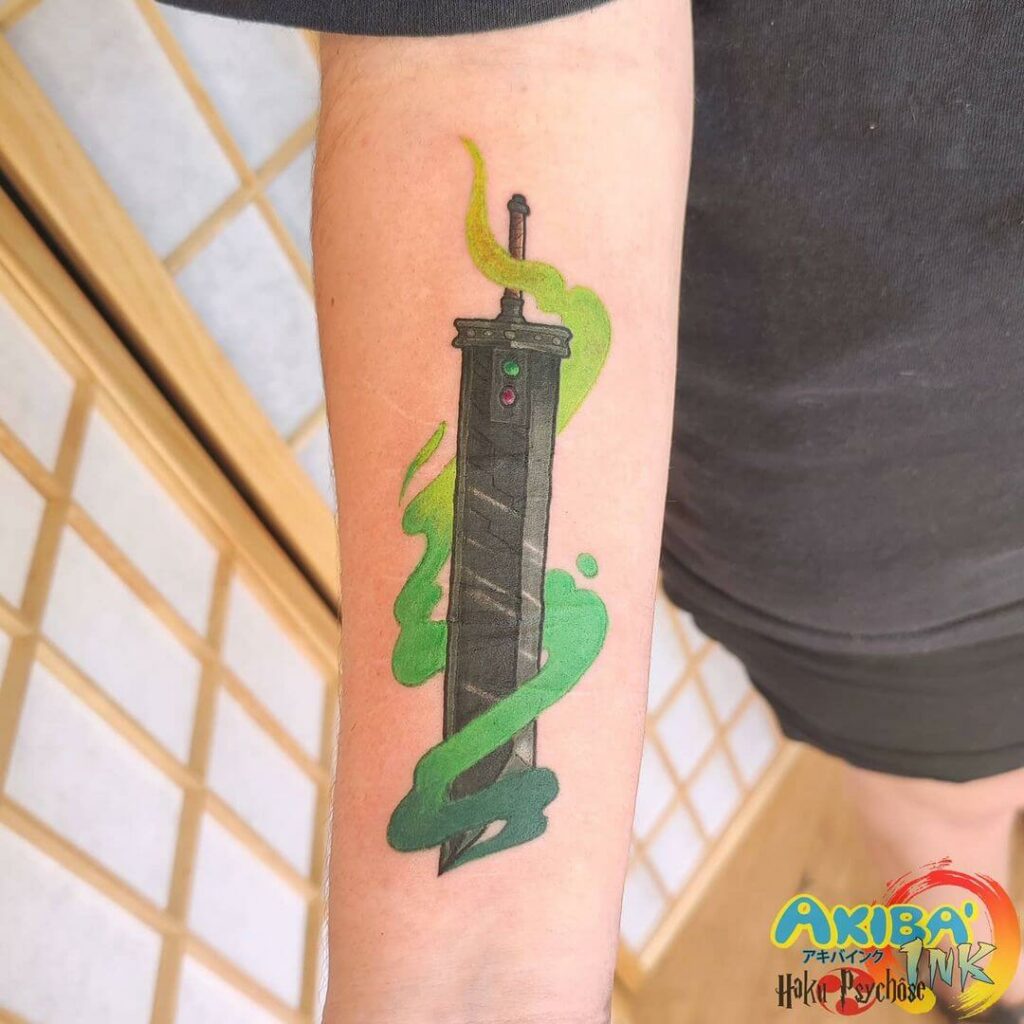 Elevate a simple Buster Sword design with a touch of color. Here, a wispy green effect lends an ethereal quality to the tattoo. The photorealistic interpretation of the Buster Blade, enhanced with a well-blended gradient of color, is an attention-grabbing addition to any tattoo repertoire.
Kingdom Hearts X Final Fantasy Tattoo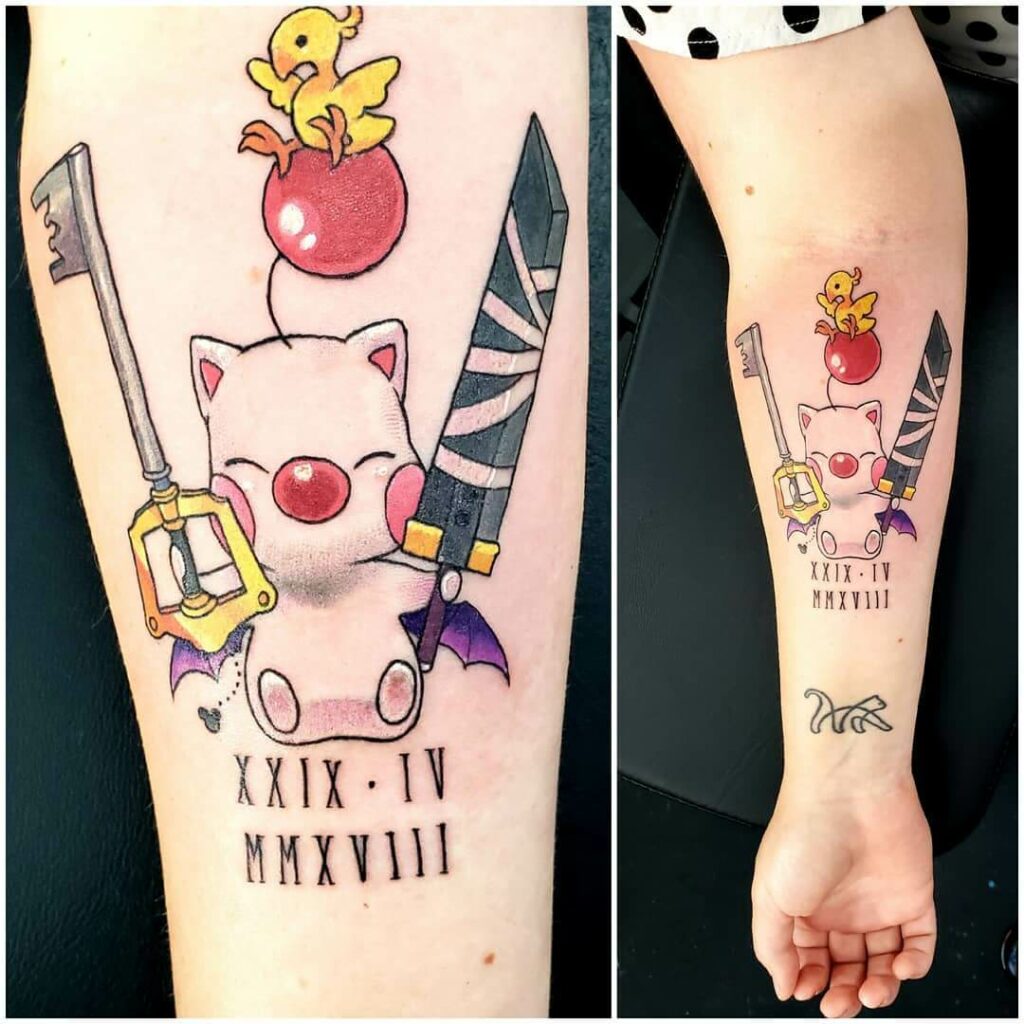 Finally, celebrate a unique crossover of two beloved video games – Kingdom Hearts and Final Fantasy – with a charming tattoo featuring Moogle, the character adored in both series. This tattoo, showcasing a deft blend of the Keyblade and Buster Sword, honors the legacy of both games, resulting in a truly remarkable piece of body art.
Conclusion
In conclusion, the art of tattooing offers a wonderful canvas for celebrating our enduring love for games like Final Fantasy. Whether you're inspired by the iconic Buster Sword, the potent Red XIII, or a fanciful blend of color and sketching, there's a design perfect for you. As a personal emblem, the location of your tattoo holds significant importance. Whether on the forearm, the leg, or even at the nape of your neck, these artworks can serve as an ever-present reminder of your affection for this legendary game.
Costs can vary widely, depending largely on the size, complexity, and color scheme of the design. A smaller, black-ink design might set you back a few hundred dollars, while larger, more intricate and colorful designs could run into the thousands. It's a worthwhile investment, though, for a piece of art that you will carry with you forever.
However, bear in mind that any tattoo comes with potential risks. There's the inherent discomfort of the process, and the subsequent healing period requires careful maintenance to prevent infection. In some rare cases, individuals may experience allergic reactions to certain ink pigments, particularly in the red and yellow spectrum. Thus, it's crucial to discuss any concerns with your tattoo artist beforehand and to ensure you're working with a reputable professional who upholds stringent hygiene standards.
The world of Final Fantasy tattoos is a rich landscape teeming with creativity, color, and deep-seated nostalgia. With the right approach, you can carry a piece of that magic with you, immortalized in ink on your skin.
Feature image from Pinterest
Last reviewed and updated on May 23, 2023