Hey there! Are you on the hunt for some delicate and trendy finger tattoo ideas? Look no further because we have got some fabulous butterfly finger tattoos that you'll adore!
In recent years, butterfly tattoos have become all the rage, with many people opting to get them on their fingers. Not only are they aesthetically pleasing, but they also carry a deeper meaning, making them a popular choice for body art.
Different cultures associate various meanings with the butterfly, and you can customize your tattoo to reflect your unique style. With a range of color options, from black to rainbow hues, the possibilities are endless.
While finger tattoos are typically small and elegant, it's crucial to choose an experienced tattoo artist who can create an accurate design on the small canvas. If you're new to finger tattoos, a small and delicate design, like a butterfly tattoo, is an excellent starting point.
To give you some inspiration, we have compiled a list of the latest butterfly finger tattoo trends, showcasing how stunning these designs can look on your finger. Browse through the options and pick your next unique finger tattoo now!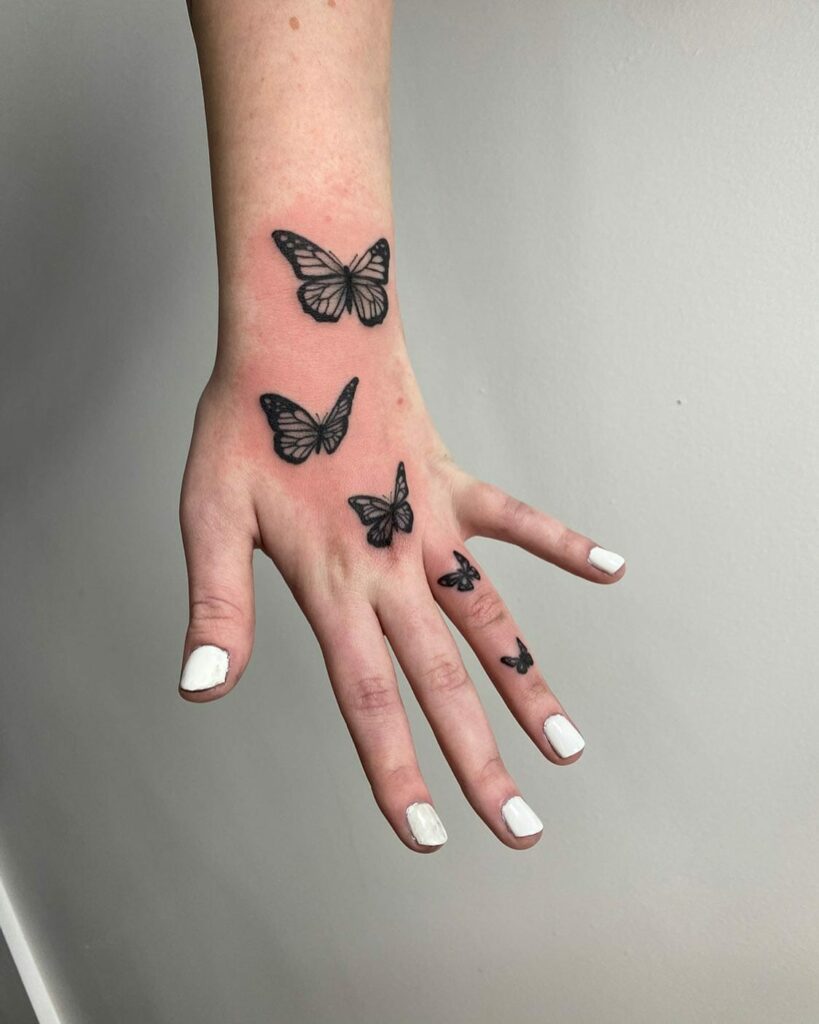 Butterfly Tattoo On Finger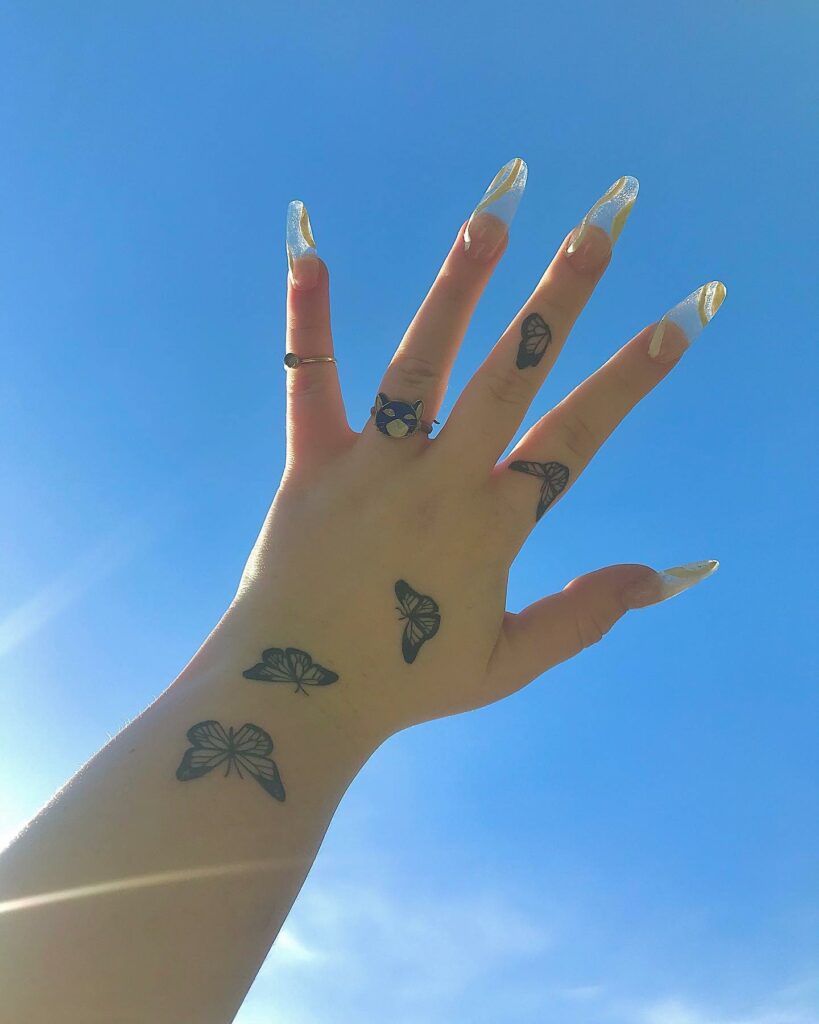 If you're looking for a design that symbolizes freedom, a butterfly tattoo might be perfect for you. This beautiful butterfly design in black ink is timeless and classic. The attention to detail on this tattoo is incredible. The artist has added small butterflies to the index and middle fingers and 3 butterflies on the back of the hand, creating a sense of movement and freedom. All the butterflies are made with black ink, which creates a stark contrast against the skin. This tattoo is perfect for anyone who wants a beautiful piece of body art that represents their desire for freedom in life. So, if you want to get inked with this design, find a reputable tattoo artist and let them create a beautiful masterpiece on your skin.
Finger Butterfly Tattoo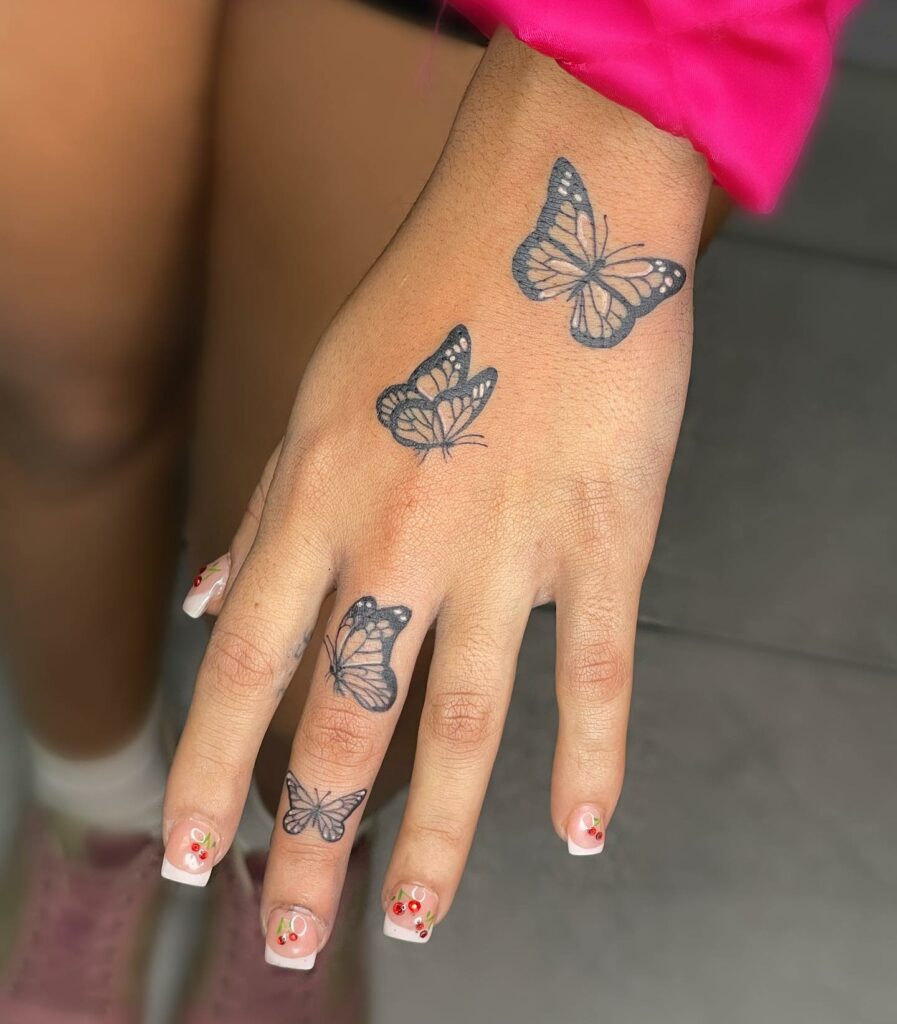 If you're looking for a hand tattoo that's both stylish and classic, this butterfly design is definitely worth considering. Although the artist used only black ink, the design still looks stunning. Each butterfly is unique and features subtle highlights made with white ink, which adds to the overall effect. Two butterflies are placed on the middle finger with a suitable gap, while the other two are on the back of the hand. When it comes to hand tattoos, placement is key to ensure visibility. This design is particularly popular with younger people who want a design that's both simple and elegant. Take a closer look at this design and consider making it your next tattoo!
Red Butterfly Finger Tattoo
Red butterfly tattoos are a popular design choice and can symbolize good luck or be seen as a good omen. Native American tribes commonly used this design because they believed that red butterflies brought good luck. In some cultures, a red butterfly tattoo also represents passion and love.
This particular tattoo features five butterflies placed on different areas of the back of the hand. The tattoo artist has outlined the butterflies in red ink, giving the design a pop of color without filling the entire design in red. The butterflies gradually increase in size, starting with a small one on the middle finger and ending with a larger one on the back of the hand that extends to the wrist. The simplicity of the design makes it a beautiful choice for your next body art.
Magical Butterfly Tattoo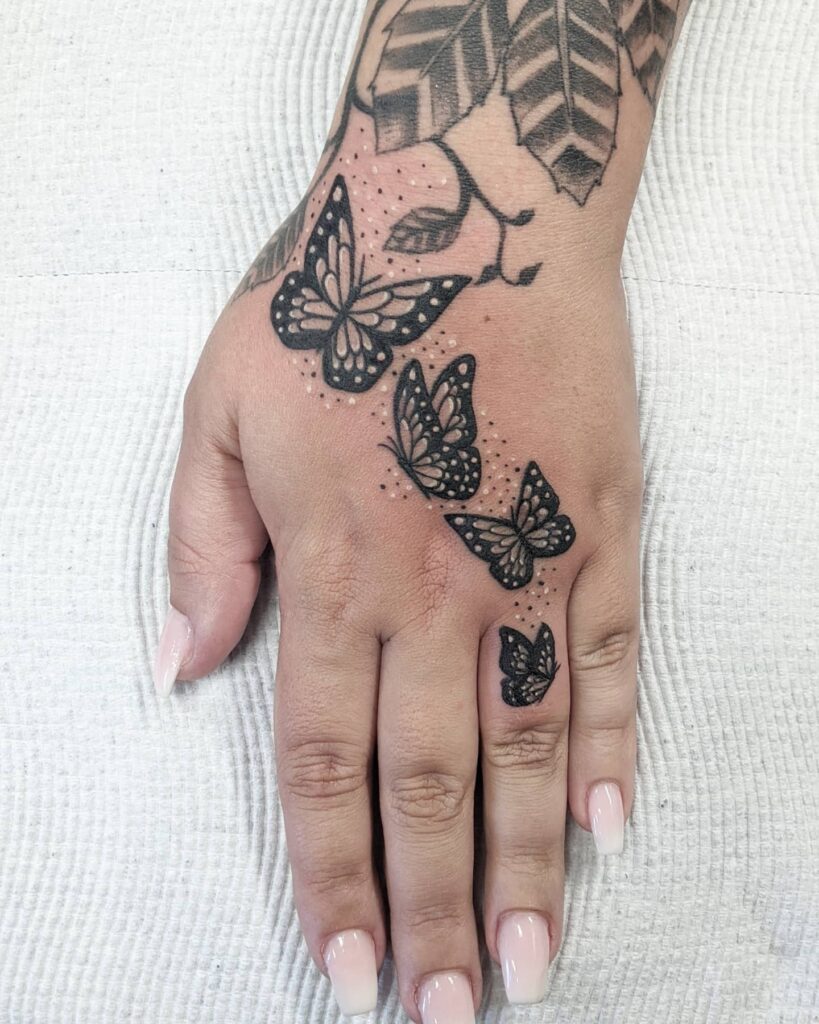 Butterfly tattoos are a popular choice for those looking for a beautiful and delicate design, and this one is no exception. The tattoo artist has used black and grey ink to create a stunning, detailed butterfly design that's sure to turn heads. The use of white ink to highlight certain areas of the tattoo is a nice touch and helps to add depth and dimension. The background of the tattoo also features a pattern of black and white dots, which ties the entire design together. If you're looking to personalize this design, you can add elements like flowers or bright colors to make it even more unique to you. Consider this gorgeous butterfly design for your next tattoo!
Blue Butterfly Tattoos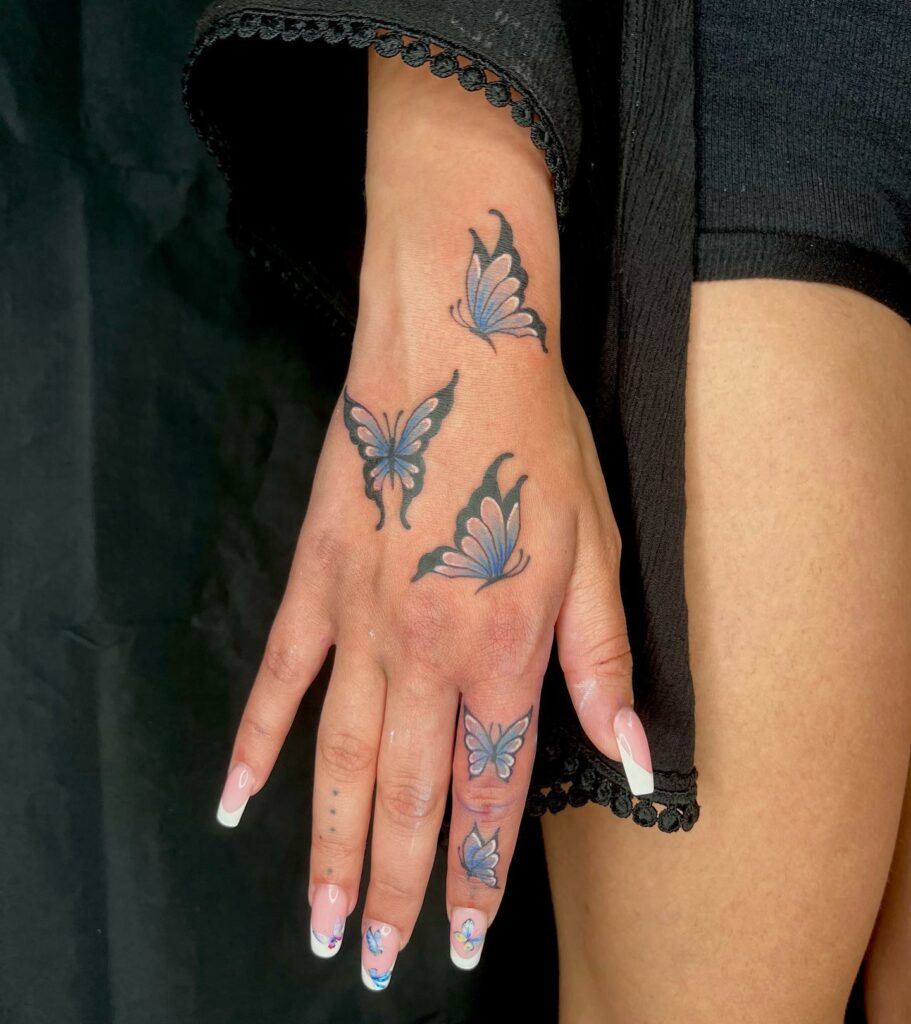 Butterfly tattoos are one of the most popular choices and are often a symbol of freedom. However, the color of the butterfly plays a significant role in the tattoo's meaning. In this design, the blue butterfly is a symbol of good fortune and luck. The butterfly wings are created in various styles to add a unique touch. Starting on the index finger, the tattoo expands towards the wrist and includes five butterflies. The outline of the butterfly is created using black ink, and the wings are decorated with shades of blue and white, giving the design a delicate and intricate appearance. This is an excellent choice for someone who wants a simple and stunning tattoo.
Simple Butterfly On Finger Tattoo
This particular butterfly tattoo starts on the index finger with a small design and extends onto the rest of the back of the palm. Some people may even choose to have the design extend onto their arm. The tattoo artist has kept the strokes simple and elegant, using only black ink to create the butterfly design. What sets this design apart is the shading of black and brown ink near the body of the butterfly on the wings, which adds an extra touch of dimension to the design.
If you're looking for a simple yet cool and unique design, this black ink butterfly tattoo may be the perfect option for your next body art.
Delicate Butterfly Tattoo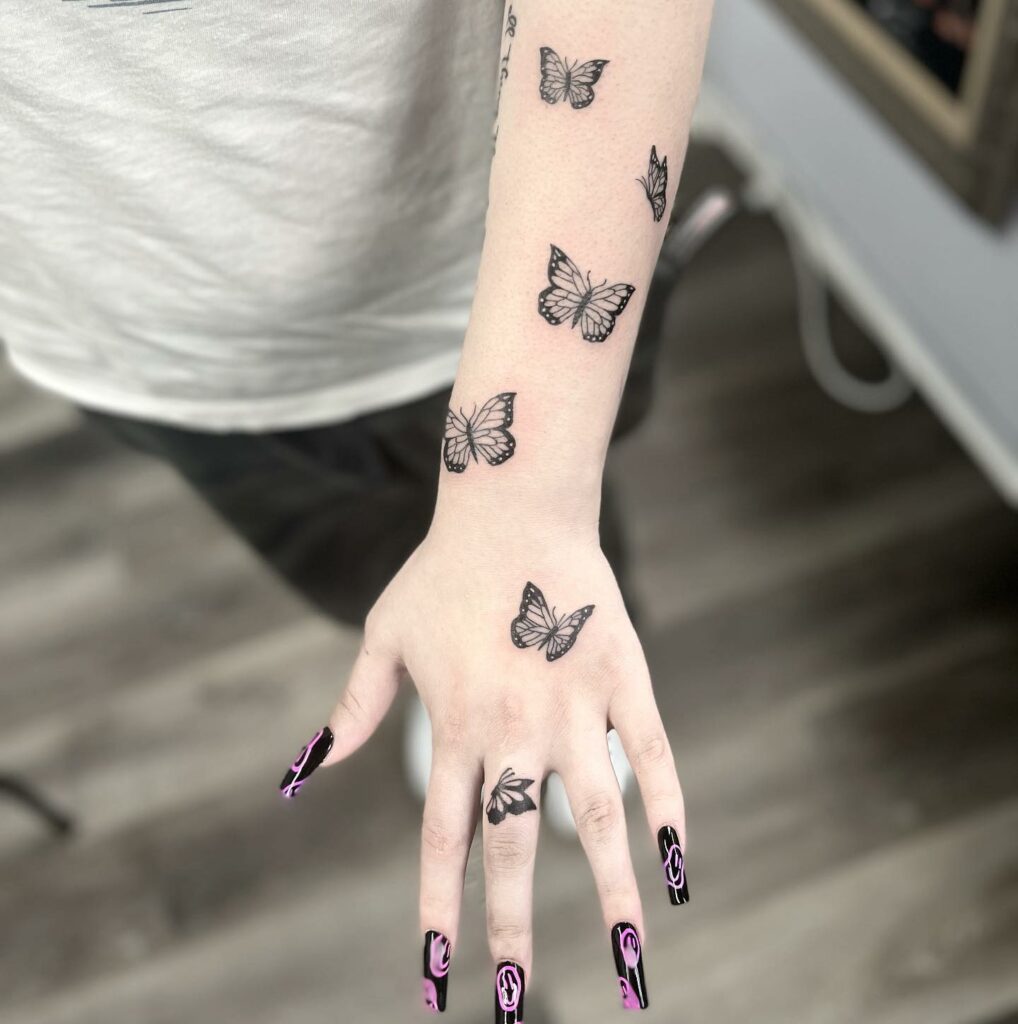 Butterfly tattoos are a popular choice among tattoo enthusiasts, and this design is a classic example of how different butterfly designs can be placed together to create a beautiful composition. The tattoo artist has made sure to leave enough space between the butterflies, so the tattoo requires more room on the arm. Starting from the end of the middle finger, there is a small butterfly that extends onto larger ones on the arm. Mainly solid black ink has been used for this design, with some subtle shading on the inside to add depth to the butterflies. This tattoo is so stunning that it may have taken the artist 2 to 3 sessions to complete. Consider getting this design if you want a timeless and eye-catching tattoo.
Cute Butterfly Finger Tattoo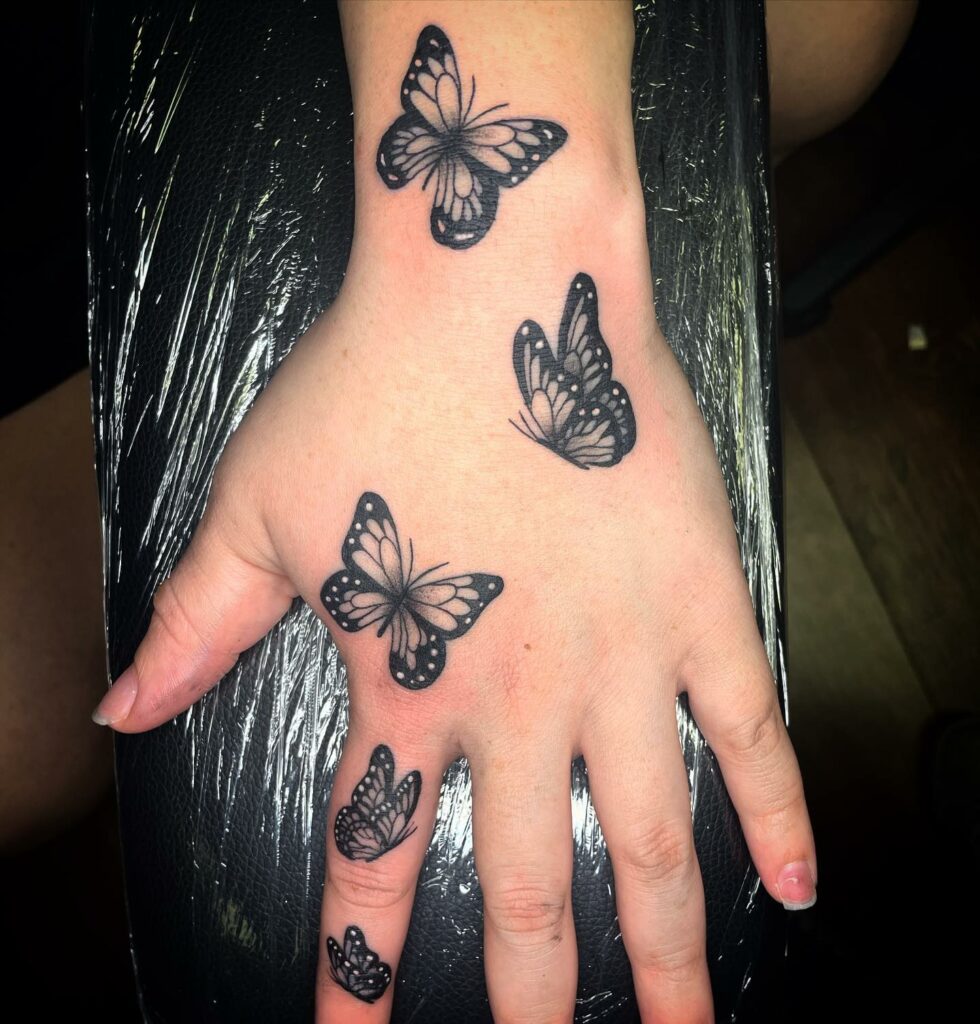 Butterfly tattoos are an incredibly popular and timeless design, and black ink is a classic and stylish choice that never goes out of fashion. This particular design is one of the most sought-after styles, and it's easy to see why! The artist has created five black butterflies of various sizes, with a bold black outline and some subtle shading inside each one to add depth and dimension to the design. Starting at the tip of the index finger and extending to the wrist, this tattoo is both simple and stunning. It's a perfect choice for anyone who wants to make a bold statement with their body art while still keeping it elegant and understated.
Artistic Butterfly Tattoo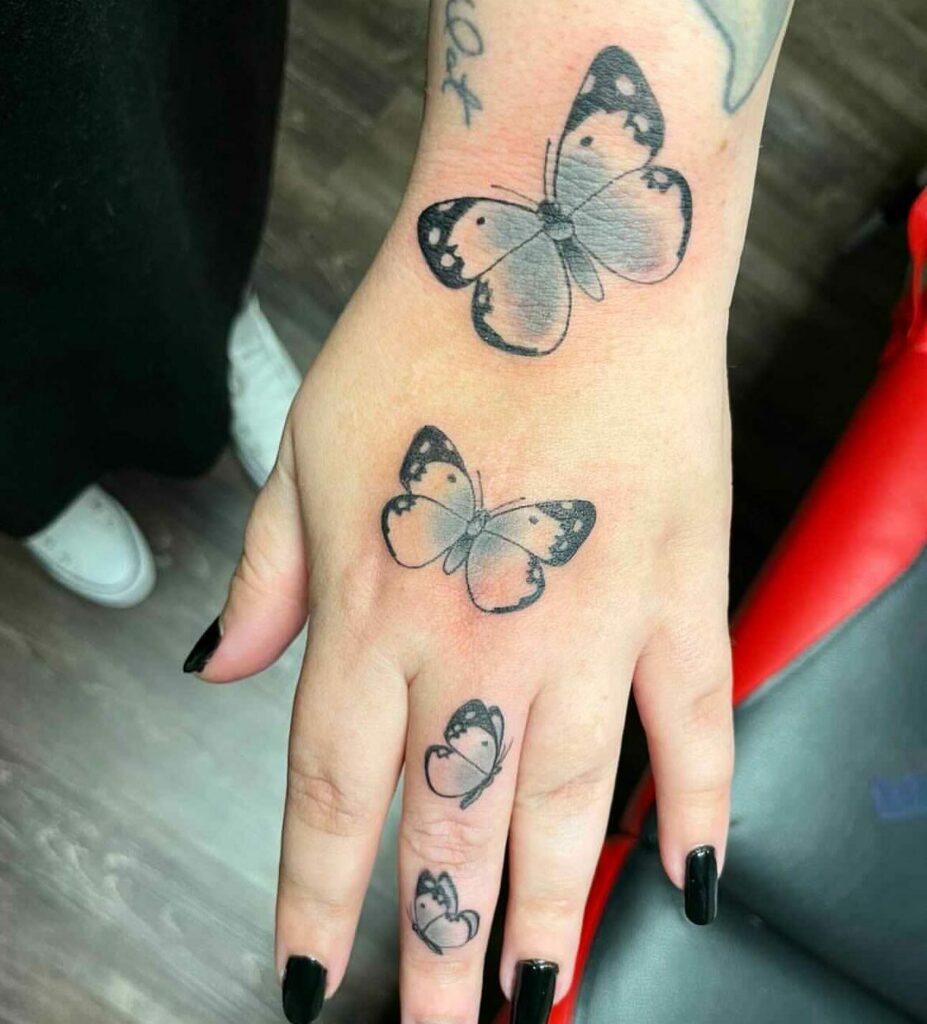 Butterfly tattoos are a popular choice for their beauty and symbolism. This blue butterfly tattoo design is a unique take on the classic butterfly design. The wings of the butterfly are simple yet elegant with the blue color evenly spread to create a stunning effect. The tattoo consists of four butterflies, two on the fingers and two on the back of the hand. If you are looking to get a finger tattoo, the two on the middle finger will give a delicate look with a deep and beautiful meaning. This tattoo is not only pretty but will also leave a lasting impact.
Matching Finger Tattoos
Looking for a cute and simple tattoo design to bond with your friend for life? A small butterfly tattoo might be the perfect option! Even though finger tattoos may not last as long due to our skin being exposed to water and sun, they remain a popular choice for those who want a low profile design. This matching butterfly tattoo is a beautiful and classic option, and is made with black ink for a bold and timeless look. It's a perfect choice for those who appreciate nature and want a design that connects them to their friend. These dainty and pretty looking tattoos are not just a fashion statement, they also make for great conversation starters and a way to express yourself through body art. Consult with a tattoo artist to see if this is the perfect design for you!
feature image from Pinterest -Want your tattoo to look brighter? Try "Tattoo Balm"
Last reviewed and updated on February 19, 2023