A butterfly half sleeve tattoo is unquestionably one of the best tattoo ideas you can get if you want to enhance your beauty in a very delicate and elegant way.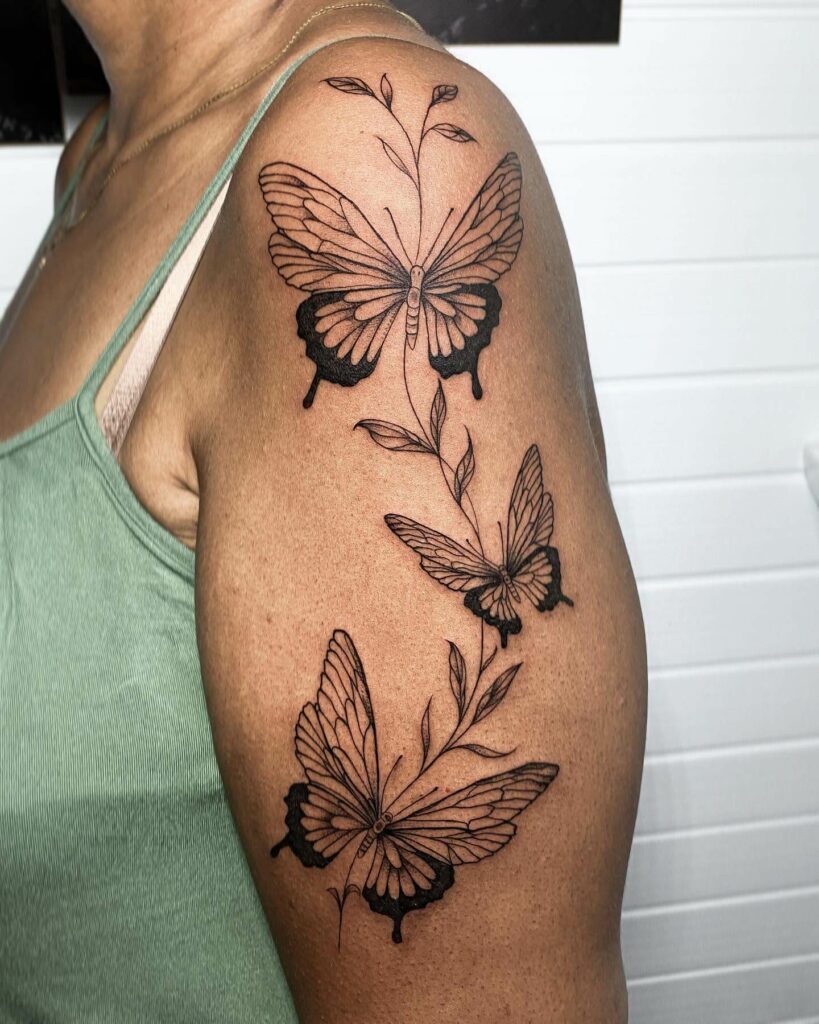 Typically chosen by women, butterfly tattoo designs come in a variety of different sizes and styles.
Butterfly tattoos are often accompanied by other feminine tattoo designs such as flowers, birds, and elegant patterns. Butterfly tattoo designs are, therefore, a beautiful display of feminine solidarity.
Butterfly tattoos represent your free spirit and new beginnings in your life. A butterfly experiences numerous changes over its life, but it always soars with assurance. Additionally, strength, resilience, and hope can also be represented by butterfly tattoos. Why not glorify these creatures by having one tattooed on your body as they are special and different, just like you?
3D Butterfly Half Sleeve Tattoo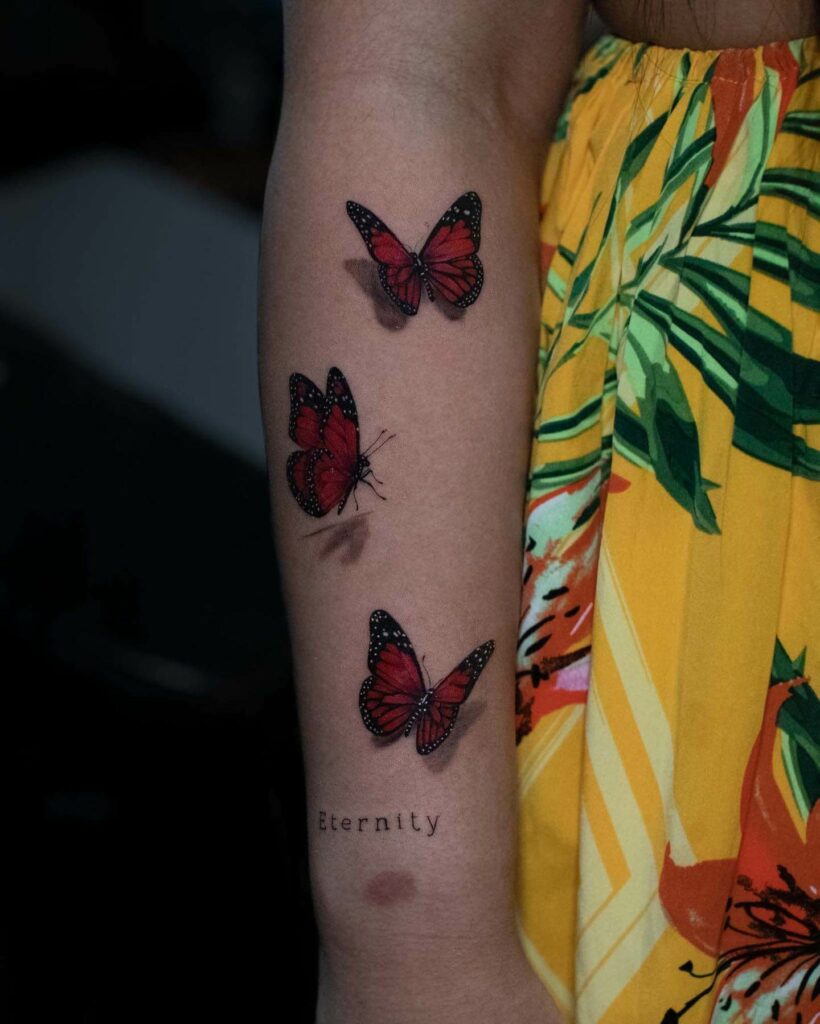 The placement of this butterfly sleeve tattoo is on the inner portion of the forearm. This butterfly tattoo design offers a very surreal and vivid outlook.
This tattoo's butterfly wings have been thoroughly colored in red. For compassionate ink aficionados everywhere, such tattoo designs are starting to gain popularity.
The tattoo artist did a terrific job constructing the butterfly's wings, which makes it appear quite artistic. Hippies are known for their love of colorful 3D tattoos since these tattoo designs stand at the top of modern pop culture. You will look incredibly intriguing and fascinating with this red butterfly tattoo design. If you enjoy colorful body art, you should definitely get this 3D butterfly color tattoo. On the pain scale, this tattoo is a 4/10 owing to its minimalism and monotonous design.
Dagger Butterfly Tattoo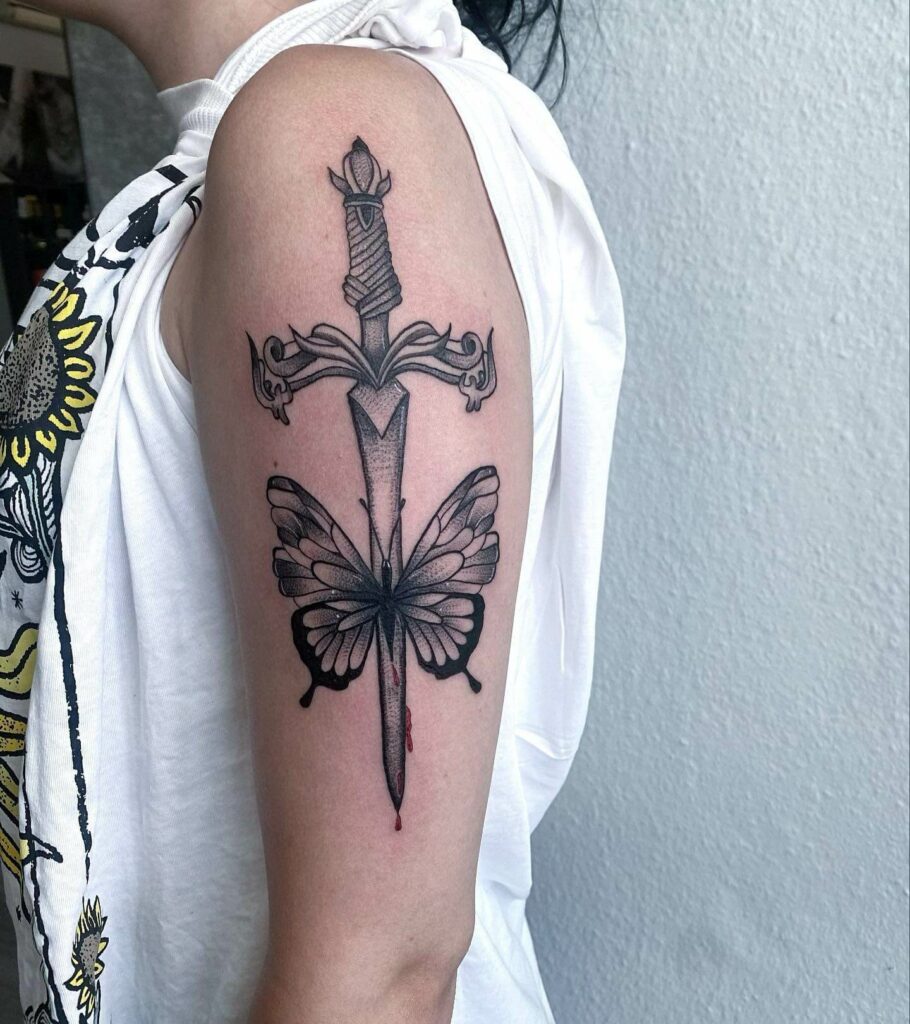 This traditional butterfly tattoo definitely has an ancient body art feel to it. It is situated a little below the shoulder on the left arm's bicep.
This unique sword butterfly sleeve tattoo design uses a sword to represent the butterfly's body. The entire tattoo has been inked in black ink with a hint of white ink for minimal shading.
Given how uncommon traditional butterfly tattoo ideas are, this butterfly design is incredibly uncommon. The butterfly outline gives it an antiquated and alluring appearance. This butterfly tattoo might be categorized as historical artwork. If you are into bold weapon tattoos, this tattoo design is the ideal choice for you.
Butterfly Face Sleeve Tattoo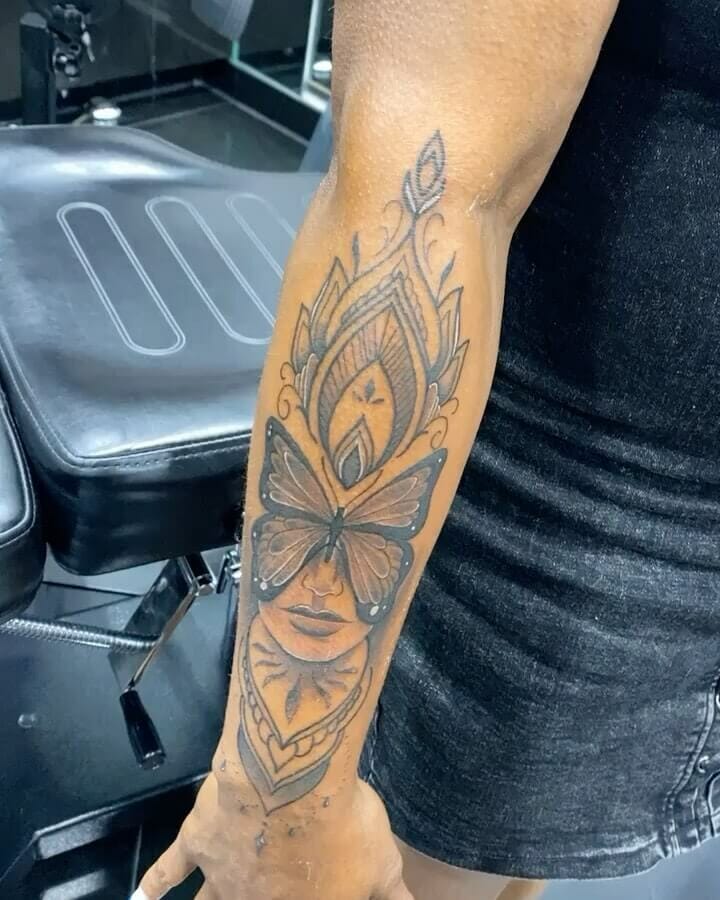 This butterfly face tattoo, which is placed on the bicep, is a striking tattoo idea. One of the most beautiful feminine butterfly half-sleeve tattoo designs for women might be this one, as it combines mortality with nature.
The butterfly tattoo depicts the face of a woman. Since the butterfly wings have taken the place of the woman's eyes, concealing half of her face, it is attempting to convey a dejected tone.
For this butterfly tattoo, only black ink has been used. This style is popularly regarded as mandala artwork where each detail has been drawn exquisitely. The butterfly is resting on the eyes of the woman, which looks quite similar to the geometric designs or patterns that represent the cosmos or deities. People who are honoring their deceased loved ones often tend to get this tattoo.
Butterfly Trio Arm Sleeve Tattoo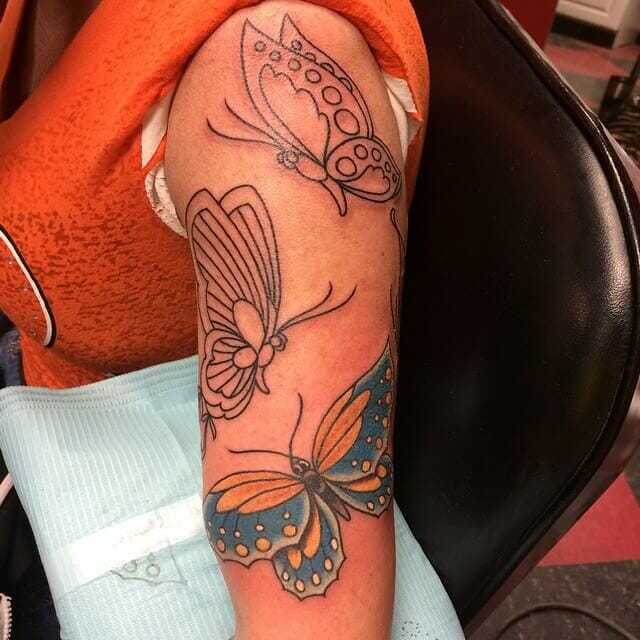 This is an extremely graceful tattoo that displays a trio of butterflies. Two butterflies are not colored, while the other one is colored in yellow and blue.
The wings of the colored butterfly tattoo are expanded, hanging upside down, while the other two butterflies have been rendered quite simply in black ink only. Many women choose these highly popular butterfly flower tattoo ideas for their body art.
The combination of blue and yellow in this butterfly flower tattoo's design just highlights how eye-catching it is. As butterflies represent luck, wealth, and kindness, three butterflies have been inked that represent each one of them respectively. The designs in each of their wings are different from one another. If you enjoy colored tattoos, give this one a try.
Blue Butterfly Tattoo
On the upper portion of the forearm, there are ten pieces of a blue butterfly tattoo. The amazing color scheme is what makes tattoos stand out.
The tattoo artist colored the wings with two distinct tones of blue and a black and white butterfly outline on each one. These small blue butterfly tattoos have covered almost the entire lower arm down to the forefinger.
It looks utterly magical. This tattoo has tiny glitters made up of white ink added on the borders of each blue butterfly, giving it a sparkling appearance. It is a beautifully unique butterfly tattoo design that looks quite artistic. Getting this tattoo will drastically alter the way your arm looks.
Minimalistic Butterfly Tattoo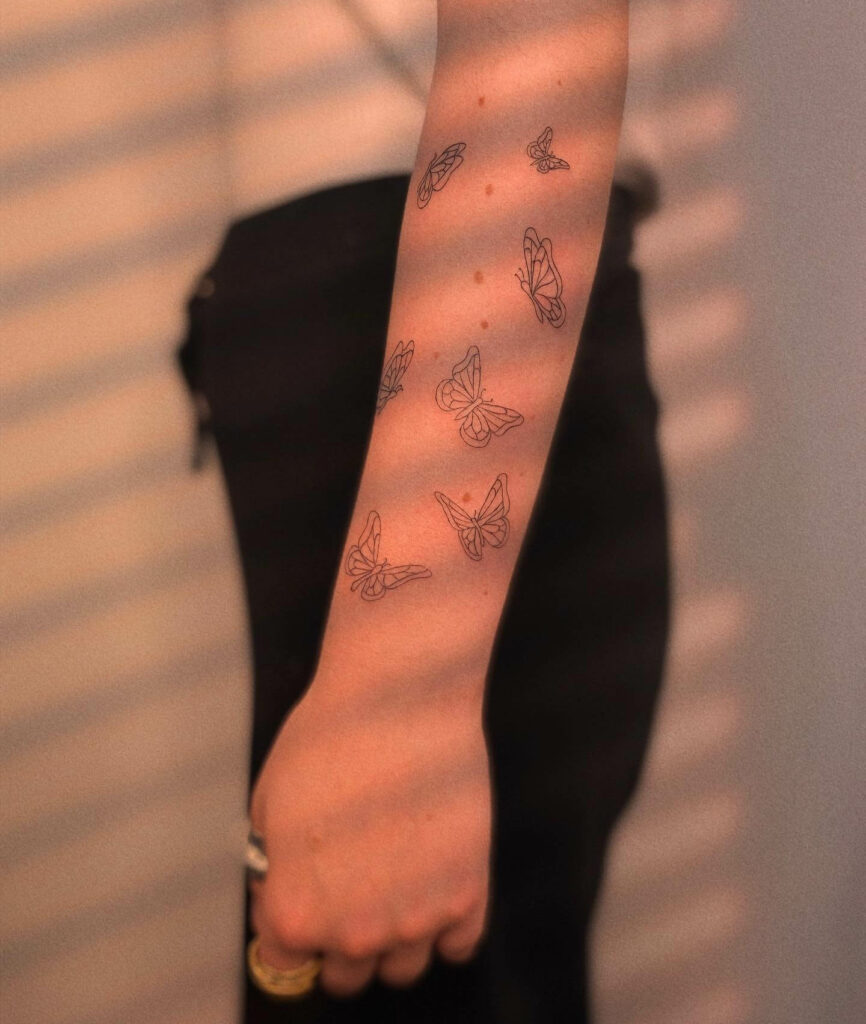 The location of this cute butterfly tattoo is the same as that of the typical women's butterfly half sleeve tattoo designs, which is on the lower portion of the forearm. This fine line small butterfly tattoo has been inked simply in black only with no extra colors or designs.
There is no use of gradations in color or shade, and it is characterized by thin curved, and straight lines making the tattoo look exclusively elegant. This sleeve tattoo looks quite attractive despite its small size.
This cute butterfly tattoo consists of seven mini butterflies. It does not occupy much room on your arm, which is why it appears so tidy and clean. These types of tattoo ideas will undoubtedly draw attention because the tattoo looks so delicate on the arm. The meaning of this small butterfly tattoo is an enduring and hopeful love and beauty.
Dark Shaded Butterfly Tattoos
On the back of the upper arm, a decorative butterfly tattoo that resembles a delicate body art of enchanted butterflies in the charcoal shade has been inked.
These butterfly tattoo designs complement the body well because butterflies are frequently seen as a lovely, delicate aspect of nature. You may make a one-of-a-kind half-sleeve butterfly tattoo with this pattern.
Such enthralling butterfly ideas are regarded as the pinnacle of traditional feminine body art. It serves as a symbol of both potent change and beauty. As butterflies represent youth, metamorphosis, and freedom, butterflies are frequently tattooed on people. It is a symbol of going through a period of inner growth and emerging as a better version of yourself, similar to how a caterpillar transforms into a butterfly. On the pain scale, this tattoo is an 8/10 and is not a very wise choice for a first-timer.
Monarch Butterfly Tattoo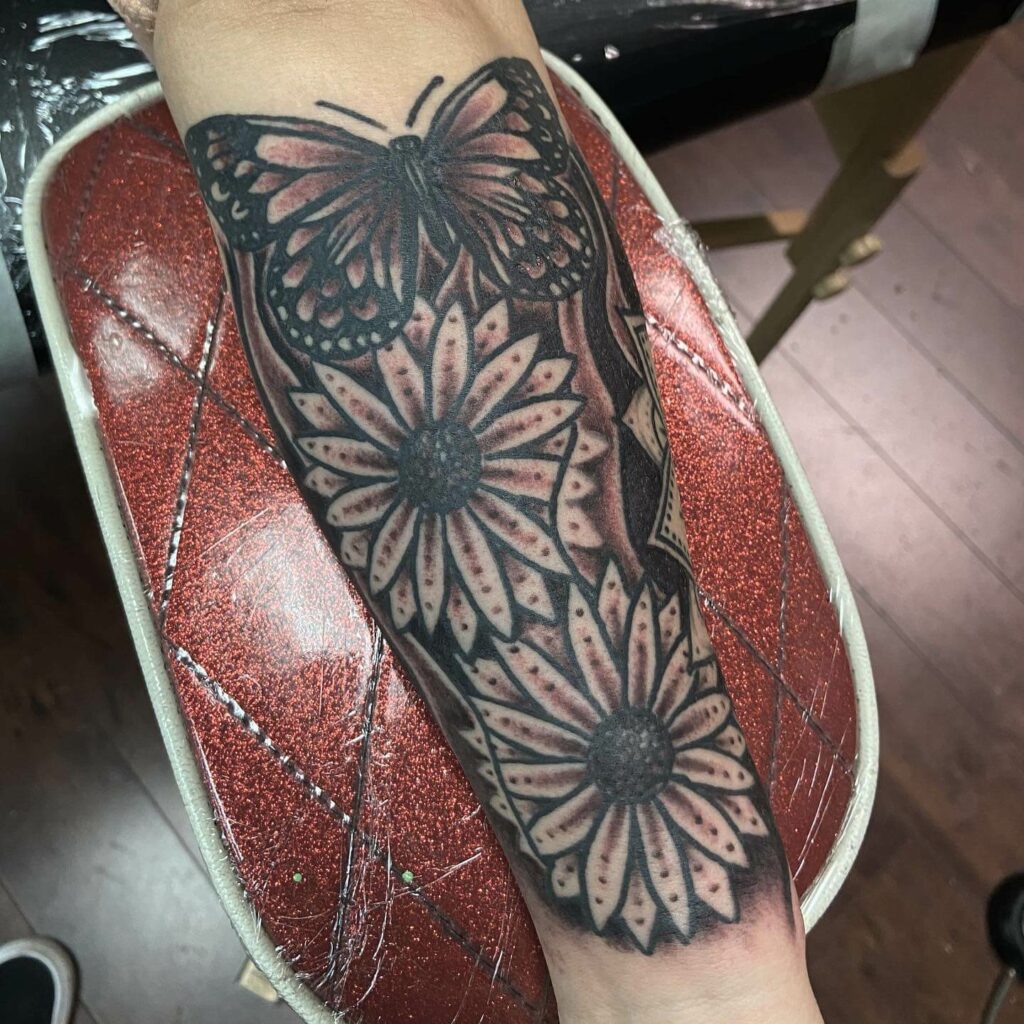 A monarch butterfly tattoo has been displayed in this tattoo style. It is positioned on the inner portion of the lower arm, the same as the typical butterfly tattoos.
Under the butterfly, two substantial blossoms can be seen. On the flower petals, a brownish color has been applied. This is one of the best butterfly tattoos.
The majority of young women get monarch butterfly tattoos. The flowers have been delicately inked. Normally, the meaning of a butterfly tattoo serves as a reminder to live carefreely, but this one is attempting to represent the idea of friendship. This flower and butterfly sleeve tattoo design is perfect for you if you want a matching tattoo with your best friend. It appears to be a simple butterfly tattoo aside from the portion of the flower. On the pain scale, this butterfly tattoo is a strong 9/10 and would look amazing if customized with red roses.
Butterfly Flower Tattoo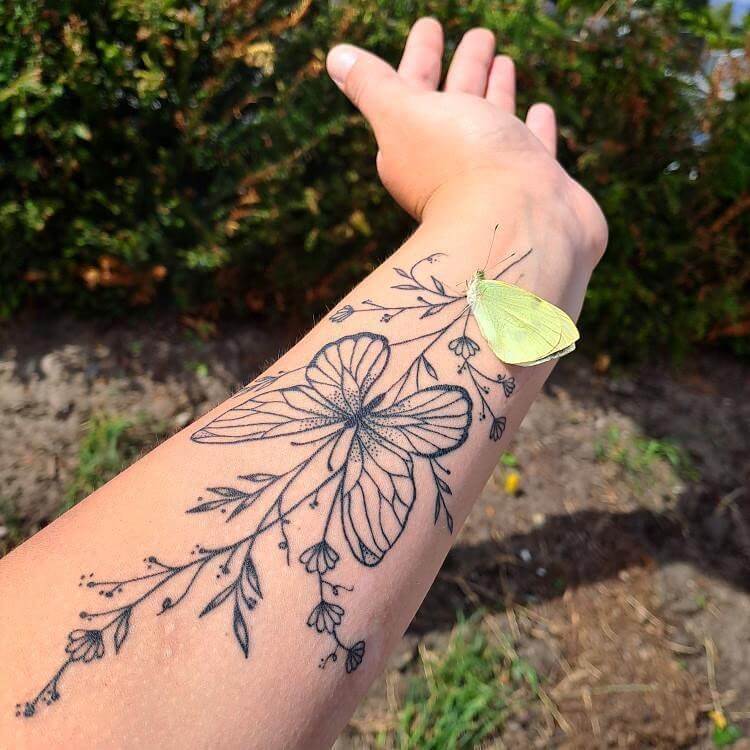 The inner portion of your forearm is the best body part to ink this incredibly distinctive tattoo design. A butterfly is depicted emerging from a stem of flowers.
The tattoo is extremely delicate and appears to have been sketched on paper rather than inked on the skin. This tattoo has been meticulously executed in every single detail.
As is customary, the butterfly tattoo meaning is an attempt to signify spiritual rebirth and change, while the branch on which it is likely to represent a tragic event. Such tattoo ideas are a means always to remind yourself that even if anything horrible occurs, hold out hope that good times will come and that this too shall pass. This women's half-sleeve butterfly sleeve tattoo is highly unique and creative. This half-sleeve butterfly and flower tattoo concept is a great option if you are searching for distinctive tattoo ideas. On the pain scale, this tattoo is an 8/10 owing to its extensive detailing.
Butterfly Neotraditional Tattoo
This is one of the traditional butterfly tattoos. The lower arm down from the elbow to the tip of the fingers are full of butterfly tattoos completely devoid of color.
Such butterfly tattoos represent healing and spiritual independence. This tattoo could be paired with some flowers of the most vibrant colors to give it a stark appearance. Overall, this is a very cool design, and for people wanting to get their first tattoo, this is an ideal one! On the pain scale, this tattoo is just a 5/10 due to its minimalism and thin strokes.
Feature Image from Pinterest – Want your tattoo to look brighter? Try "Tattoo Balm"
Last reviewed and updated on March 15, 2023