As we navigate the fascinating labyrinth of tattoo artistry, we sometimes stumble upon captivating designs that blend the traditional with the unconventional. One such delightful divergence is the butterfly skeleton tattoo – an intriguing fusion of lightness and gravity, of delicate beauty and profound depth.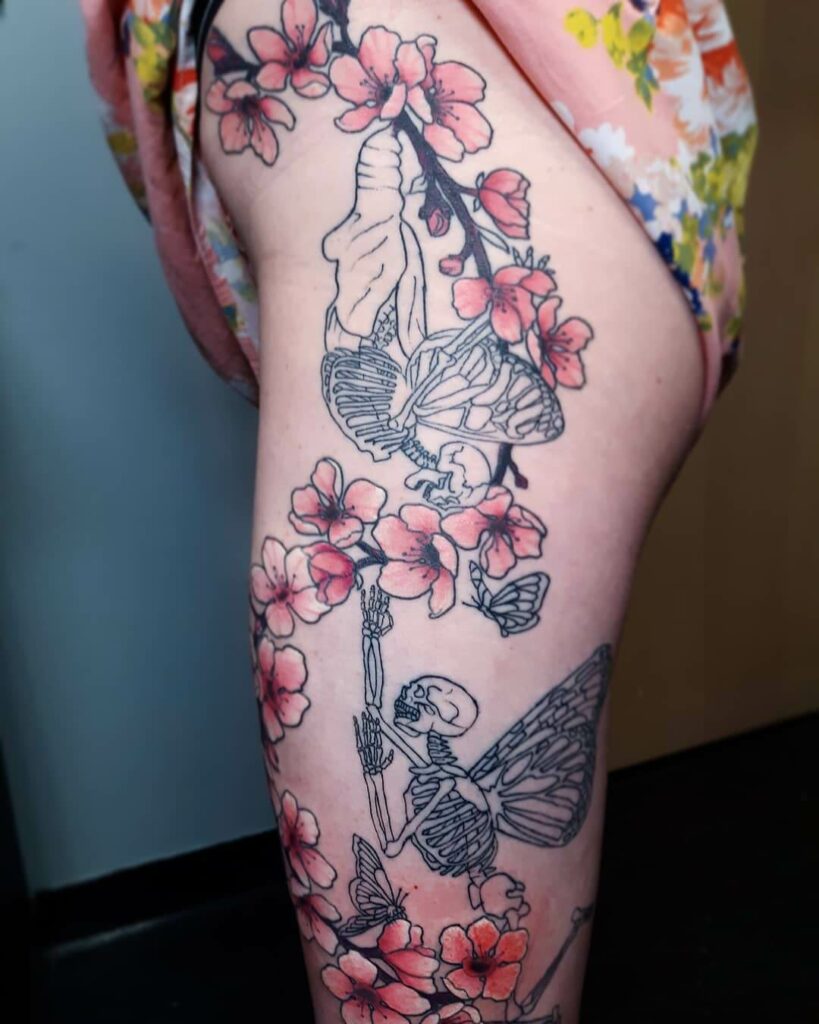 Butterfly tattoos have long fluttered on the skin canvas, commonly associated with femininity, love, and, across cultures, symbolic of change, hope, transformation, and endurance. They capture the ephemeral beauty of these ethereal insects and their metamorphic journey from a humble caterpillar to a vibrant butterfly.
Skeleton tattoos, on the other hand, are a dance on the dichotomous line between life and death, between the positive and the negative. They prompt us to confront our mortality, reminding us of the impermanence of life and yet the enduring essence of our beings.
Merging these disparate elements, the butterfly skeleton tattoo emerges as an emblem of resilient beauty, a testament to one's ability to evolve and flourish amidst the inherent challenges of life. Whether you lean toward the dark or revel in the light, these tattoos are a stunning representation of personal duality, appealing to both men and women and consistently maintaining their stylistic allure. So, let's flutter into this captivating world of butterfly skeleton tattoos and discover some fresh, inspiring ideas for your next ink adventure!
Butterfly Turning Into Skeleton Tattoo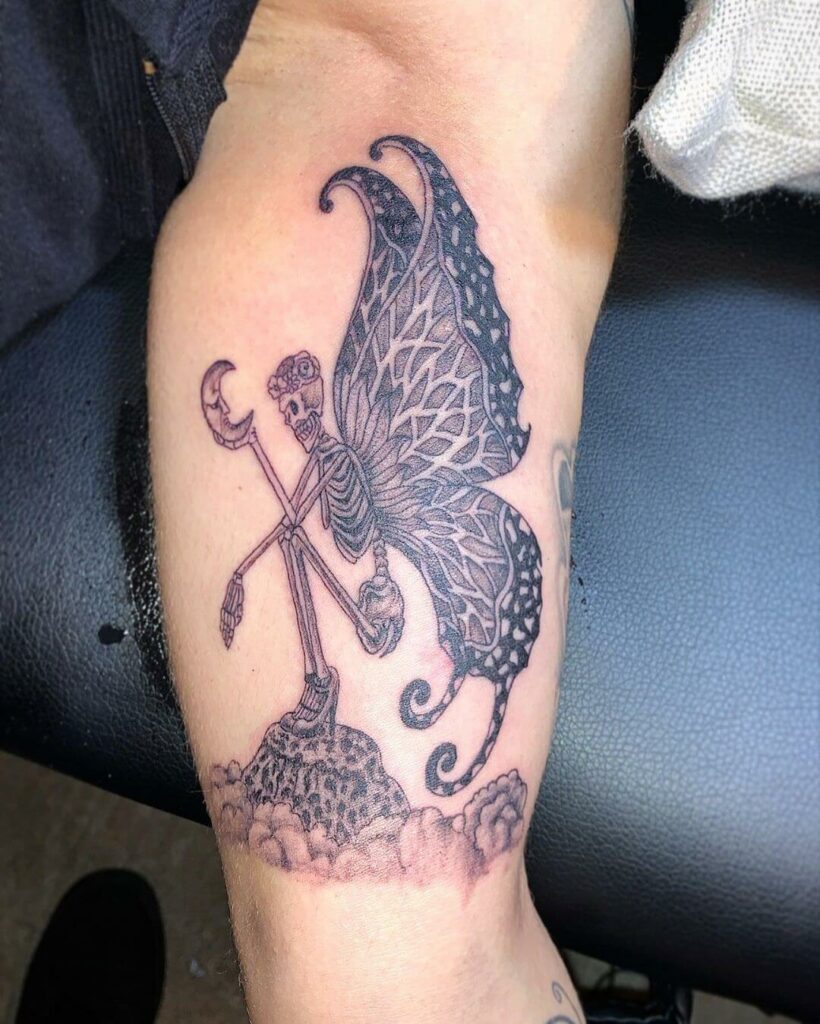 A skeletal figure sprouting beautiful butterfly wings and cradling a moon in its hand. This arresting image represents the dual symbolism of a skeleton and a butterfly tattoo – an acknowledgment of life's hard times, our resilience, and our capacity for transformation. The grayscale details of black ink and grey shading enhance the intricate beauty of this tattoo. This artistic embodiment of life's transience and renewal is indeed a mesmerizing creation.
Skull Butterfly Tattoo
Not your everyday tattoo choice, the butterfly skull tattoo embraces a darkness that may not resonate with everyone. With each wing embodying an eye socket and ending with teeth, this black and grey inked butterfly offers an edgy twist on the typical. A touch of red in the wings lends a striking contrast. While this example finds its home on the forearm above the elbow, feel free to let it land wherever you desire.
Monarch Butterfly With Skeleton Tattoo
The monarch butterfly tattoo, with skeletal hands reaching from its wings, symbolizing an eagerness for freedom and betterment. This exquisite, black and grey ink design is as unique as the person bearing it.
Butterfly Bone Design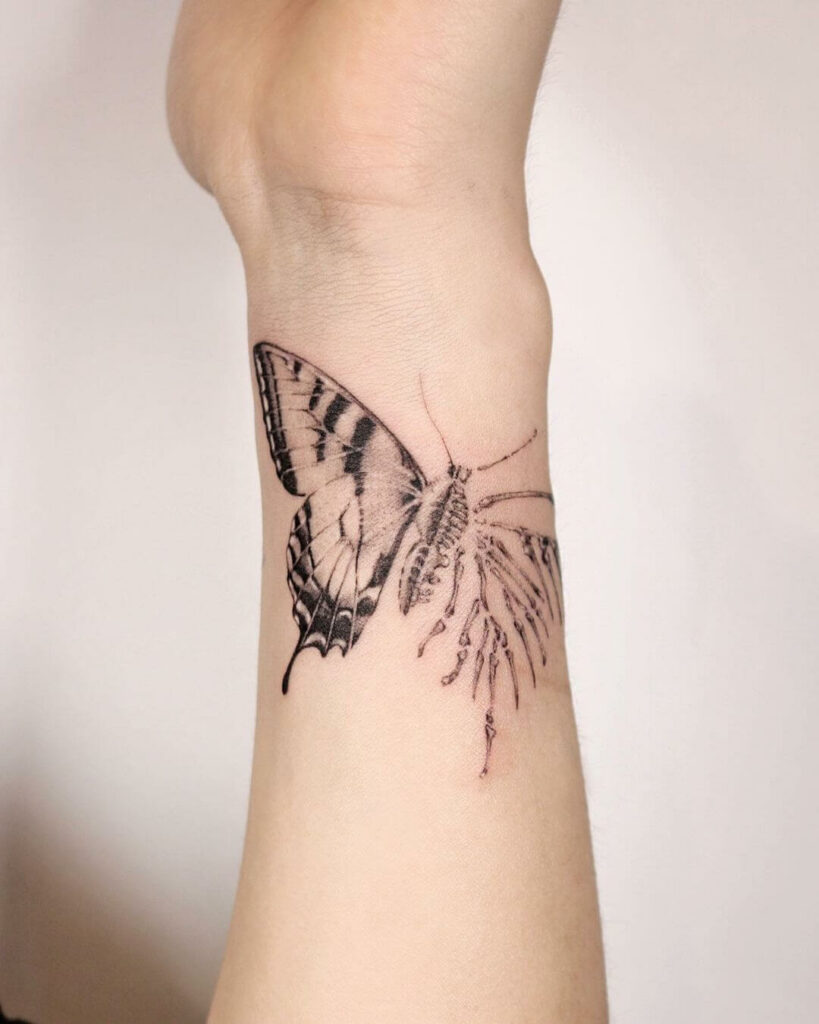 For the bold and visible, a hand tattoo showcasing a broken butterfly in black ink tells the story of life's cycle. Though positioned on the wrist, it's easily adaptable for other body parts. Add a splash of color to suit your personal taste.
Realistic Butterfly Tattoo Illustrations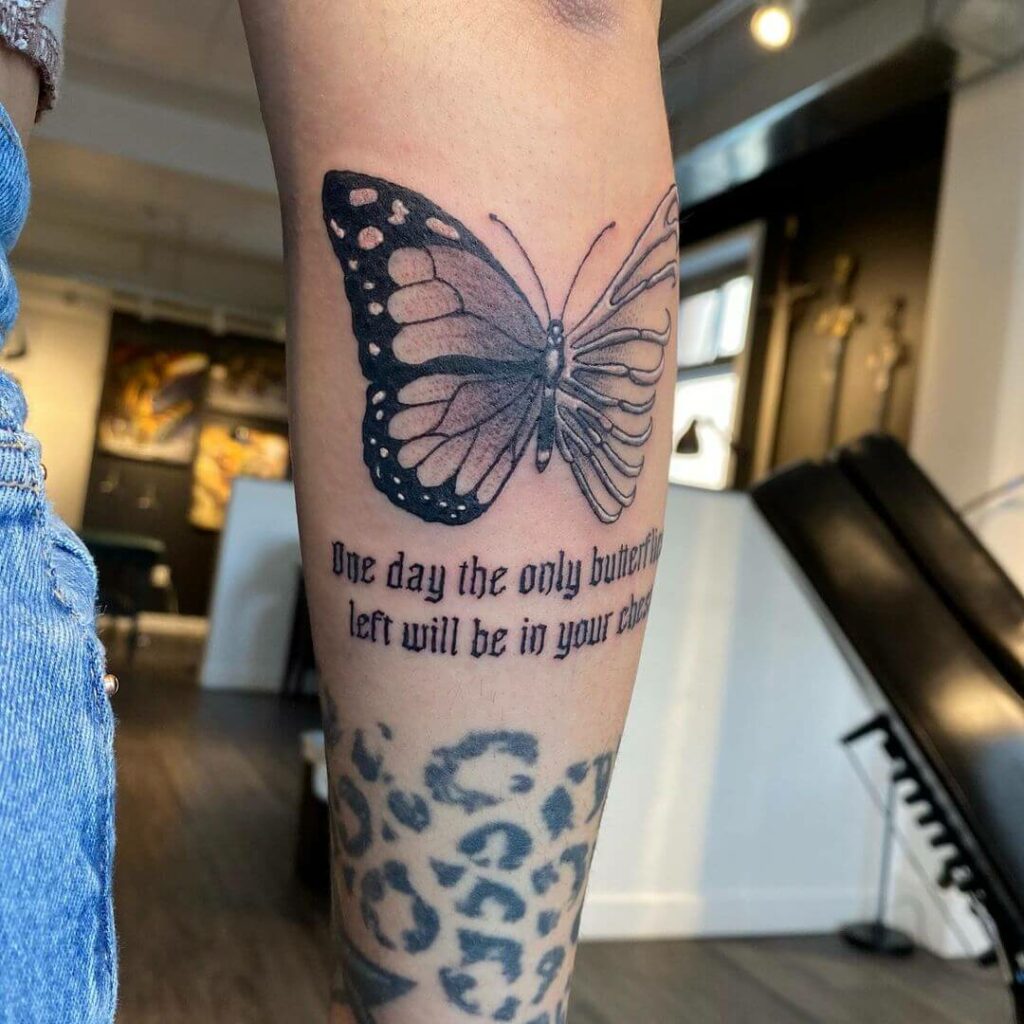 The realistic butterfly with an anatomically correct human rib cage as one of its wings. Accompanied by the poignant phrase, "One day the only butterflies left will be in your chest," it serves as a constant reminder to treasure both nature and ourselves.
Skull Butterfly Tattoos
For a fresh start filled with hope and love, a unique skull butterfly tattoo is the perfect emblem. Situated on the thigh and rendered in black ink, this design can become magical with the addition of vibrant pinks and purples.
Butterfly Rib Cage Tattoo
A butterfly tattoo meticulously detailed with a floral rib cage could easily become your favorite ink addition. This exclusively black-inked representation of love and strength for new beginnings is a testament to the artist's precision.
Skeleton And Butterfly Tattoo
Picture a skeletal rib cage with vibrant blue and purple butterflies perched on it. These colors, symbolizing change, rebirth, and experiences of multiple losses, collaborate with the rib cage's representation of love or personal loss to create a multi-layered narrative. This tattoo, traditionally inked on the forearm, can find its home anywhere on your skin.
Skull and Butterfly Tattoo
If you're yearning for a new beginning, a skull and butterfly tattoo, particularly dramatic with added tones of red and brown, is the perfect choice. Traditionally placed on the thigh, this design is adaptable to your personal tattoo vision.
Skeleton And Butterfly Collection Tattoo
The final variation features a collection of butterflies, with only one revealing a skeleton. This distinct concept, a symbol of a fresh start and overcoming past struggles, could be the perfect representation of shared deep love and personal evolution.
Conclusion
In the endearing world of tattoos, the skeleton butterfly designs stand as artful storytellers, illustrating our life's contrasts and shared human experiences. As each piece can be uniquely tailored to your personal narrative and style preferences, the sky is truly the limit when it comes to placement. Whether you're drawn to the wrist, forearm, thigh, or a more discreet location, consult with your artist to ensure the design's integrity is preserved.
As for cost, intricate tattoos like these can range from a couple of hundred to a few thousand dollars, depending on the size, color, complexity, and your chosen artist's experience. It's essential to remember that tattoos are an investment – quality should never be compromised for price.
While tattoos are generally safe when administered by a licensed professional, potential risks include allergic reactions to tattoo ink, skin infections, or granulomas – small bumps that form around tattoo ink. The most effective way to mitigate these risks is to select a reputable, experienced artist, follow their aftercare instructions meticulously, and be upfront about any pre-existing skin conditions or allergies. Embracing the art of tattooing should be an empowering experience, where beauty, personal meaning, and safety harmoniously coalesce.
Feature image from Pinterest
Last reviewed and updated on August 23, 2023