Hello there! Are you looking for some stunning tattoo ideas? If so, you might want to consider getting a butterfly tattoo on your hand. Butterfly tattoos have been around for a long time and have made a great impact in the tattoo industry. They are especially popular among girls due to their timeless beauty. These tattoos represent young love and freedom, just like how butterflies fly among flowers to find their food. They come with deep meanings and look beautiful on everyone. Check out our list of butterfly tattoo designs below and find the perfect one for you!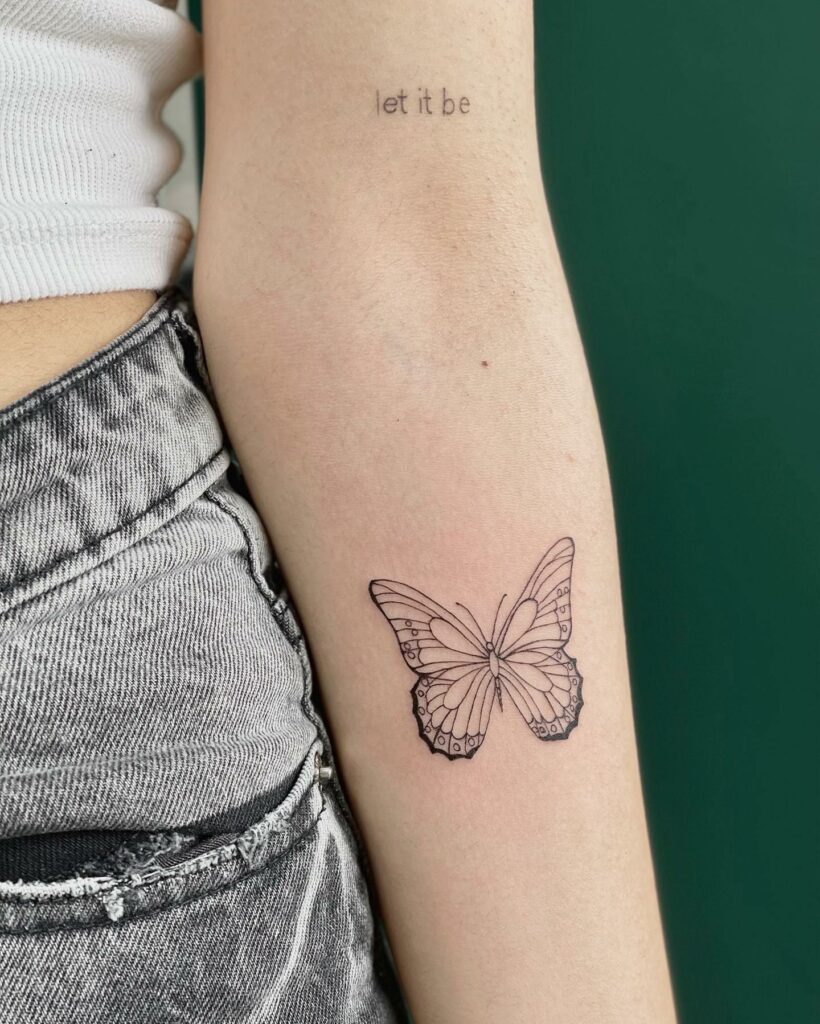 Forearm Butterfly Tattoo For Girls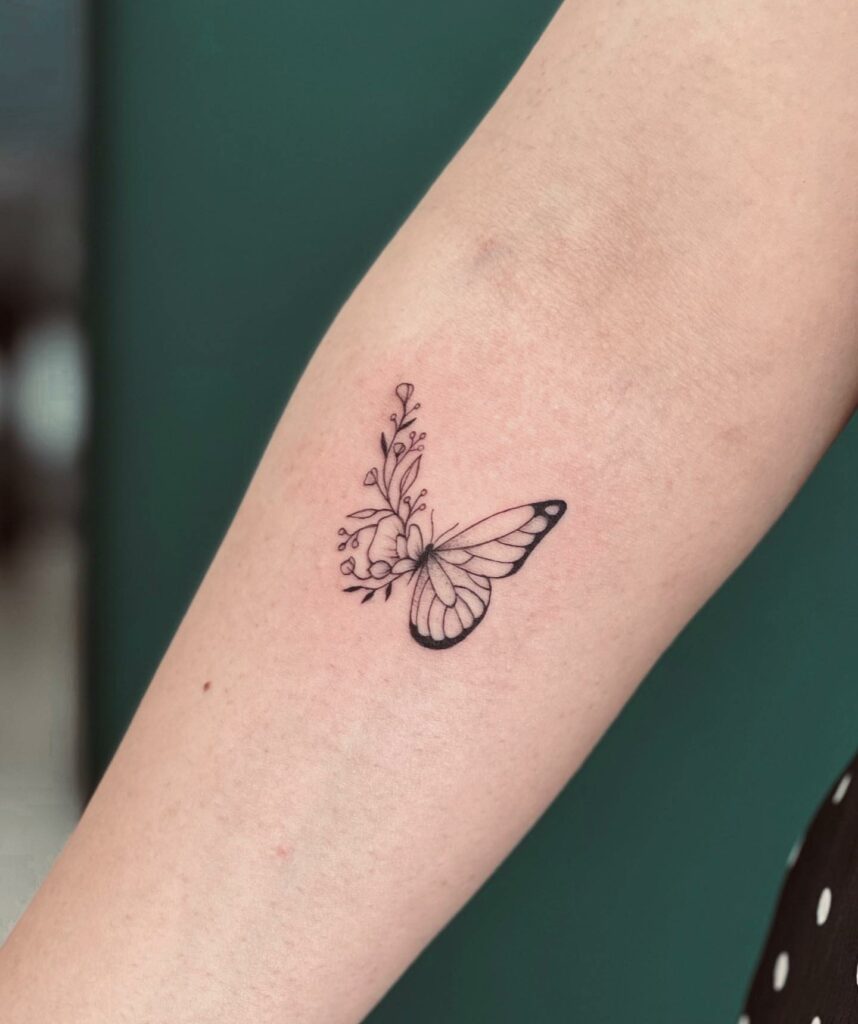 The forearm butterfly tattoo is a captivating design that is sure to catch the eyes of anyone passing by. Adding floral elements to the butterfly tattoo is a great way to enhance its beauty, particularly for women looking for butterfly tattoos with a feminine touch. Combining a butterfly tattoo with floral designs is a unique and artistic concept that results in a stunning and sophisticated piece of art. The tattoo artist uses black ink to ink one side of the butterfly in traditional style while completing the other half using beautiful floral designs. This design is both unique and elegant, making it a perfect choice for those who appreciate artistic style.
Butterfly tattoos are a beautiful way to adorn your skin with a symbol of transformation, freedom, and grace. This forearm tattoo is no exception, featuring a stunningly realistic monarch butterfly that appears to take flight. The 3D design is skillfully executed with precision and attention to detail, making the butterfly look like a living creature. The use of vibrant colors such as yellow, orange, and black creates a vivid and dynamic effect, complemented by the delicate white dots on the wings that add texture and depth. The addition of black and grey floral elements completes the design, creating a sense of movement and harmony that draws the eye in. It's no wonder that butterfly tattoos remain a popular choice among tattoo enthusiasts, especially when executed with such artistry and care.
Watercolor Butterfly Tattoo On Hand
When it comes to tattoo designs, combining sunflowers and butterflies can be a winning combination that never fails to impress. This design truly captures the beauty of both elements, creating a stunning piece of art on the skin. The vibrant colors of the butterflies pop against the rich yellow of the sunflowers and the green of the leaves, making the design even more eye-catching. The artist's attention to detail is evident, with each sunflower petal and butterfly wing carefully crafted to create a lifelike effect. This tattoo is not only aesthetically pleasing but also has a deep symbolic meaning. Sunflowers represent happiness and positivity, while butterflies symbolize growth, transformation, and new beginnings. Combining the two creates a powerful message that is sure to inspire and motivate. If you're looking for a tattoo that is both beautiful and meaningful, a sunflower and butterfly design is an excellent choice.
Garden Butterfly Tattoo On Hand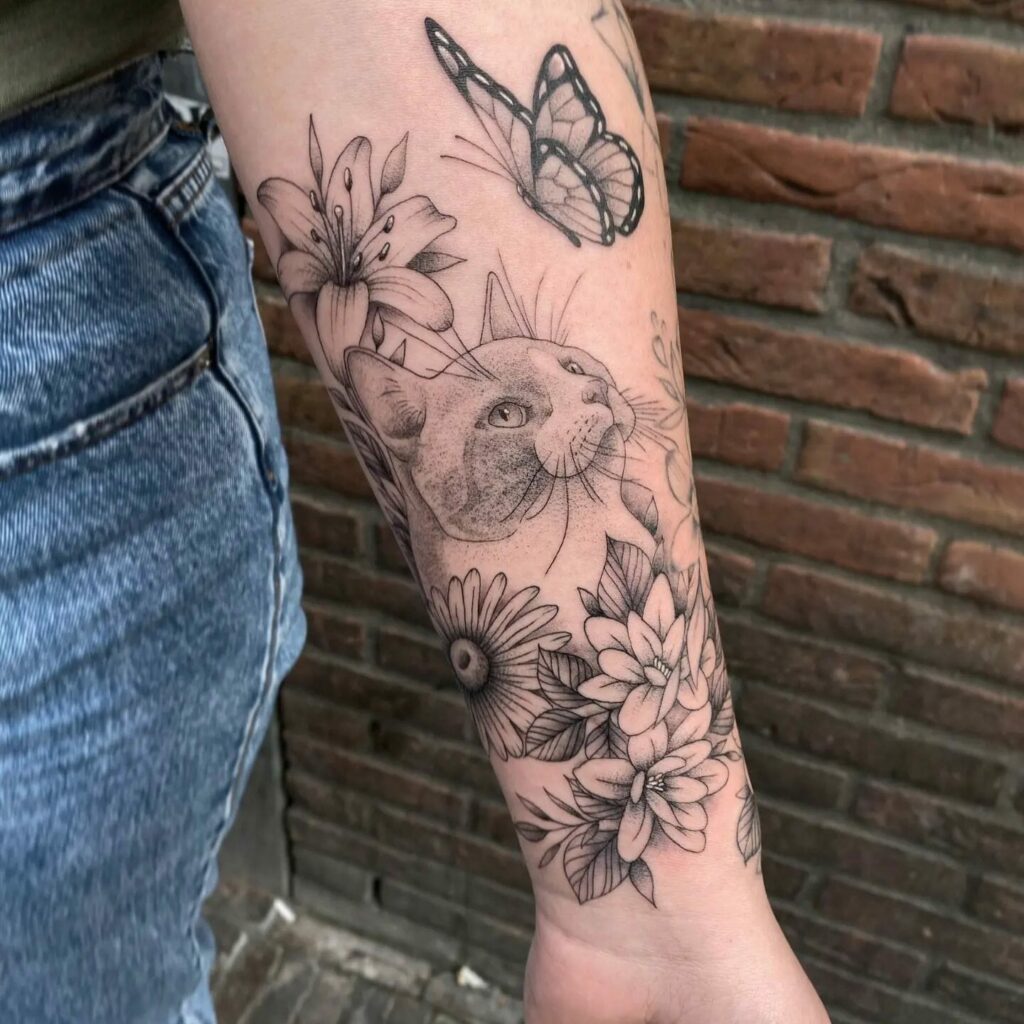 A stunning piece of body art, this forearm tattoo is a great choice for girls who love intricate designs. Despite its complexity, the tattoo still maintains a delicate and feminine appearance. The design features a butterfly, a cat, and an array of beautiful floral elements that evoke the feeling of a blossoming garden. The skilled use of black and grey ink creates a lively and realistic look. The addition of the house cat adds a warm and homely touch to the overall aesthetic. The forearm is the perfect placement for this gorgeous piece, making it an excellent option for those searching for unique and beautiful hand tattoo ideas.
Offbeat Hand Butterfly Tattoo For Girls
Butterfly tattoos are more than just beautiful designs – they have a deeper meaning that speaks to the free spirit of those who wear them. This particular butterfly tattoo is a stunning piece of art, perfect for women who are always on the move and refuse to be tied down. The tattoo features a portrait of a beautiful woman, her face radiating with purity and elegance. One eye of the woman is covered by a colorful butterfly tattoo, which adds a playful and whimsical touch to the overall design. The use of a variety of colors in the butterfly tattoo creates a beautiful contrast against the neutral tones of the woman's face, making it a true standout piece. If you're looking for a tattoo that is both meaningful and visually stunning, this butterfly tattoo is definitely worth considering.
Small Butterfly Tattoo On Hand For Girl
Butterfly tattoos are timeless and their delicate and graceful nature makes them a popular choice for women. Small butterfly tattoos, in particular, are a great option for those looking for a subtle yet beautiful design. The intricate details and vibrant colors of butterfly tattoos make them a symbol of femininity and a great inspiration for tattoo artists. The blue butterfly tattoo, in particular, is a symbol of good luck and new beginnings. The design above features five blue butterflies beautifully inked throughout the forearm, creating a stunning piece of body art that is perfect for those looking for a minimal yet impactful tattoo. If you're considering a butterfly tattoo and want a design that's both meaningful and aesthetically pleasing, a blue butterfly tattoo might just be the perfect choice for you.
Black Butterfly Tattoo For Girls On Hand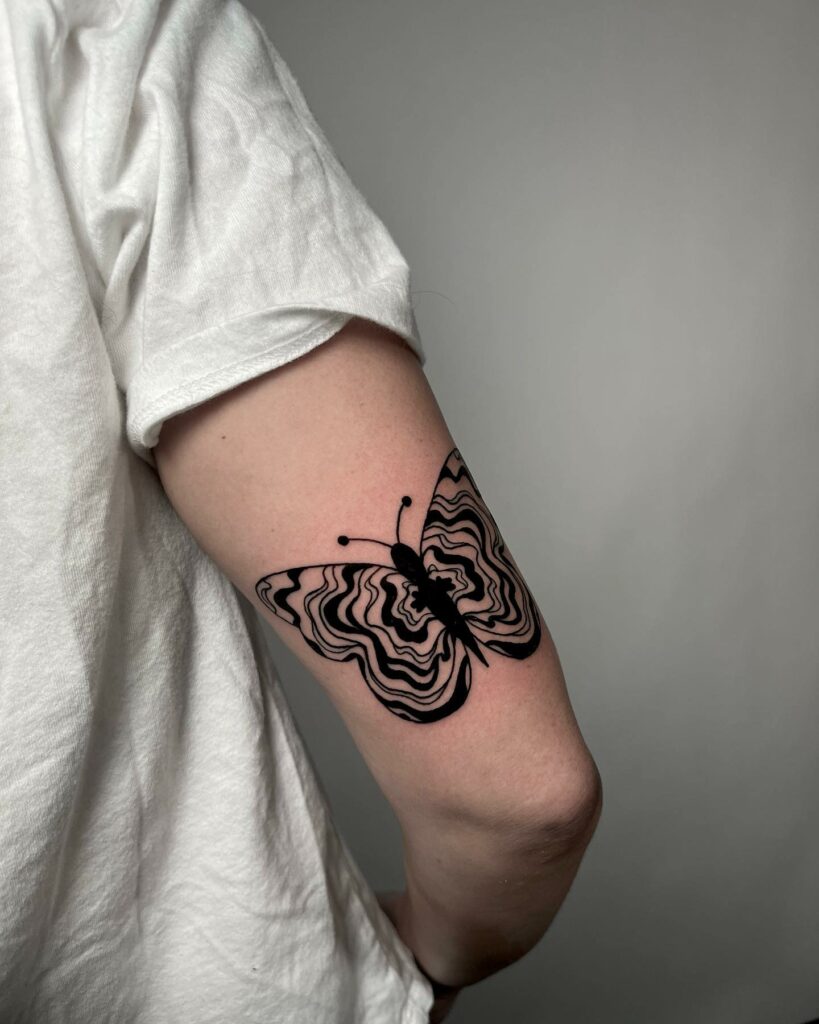 Butterfly tattoos have always been a favorite among tattoo enthusiasts, and a black butterfly tattoo on the arm is a classic design that is here to stay. The butterfly tattoo in the image above is a distinctive design that will make your tattoo stand out from the crowd. The butterfly on the upper arm is unlike any other butterfly tattoo designs, and a closer look reveals the difference. The butterfly's body is created with a unique hallucinating effect that features bold black lines flowing throughout the body. The design is surreal and hypnotic, and the intricate details of the butterfly's wings give the tattoo an edgy and timeless look. The tattoo is a true work of art that will look great on anyone's arm.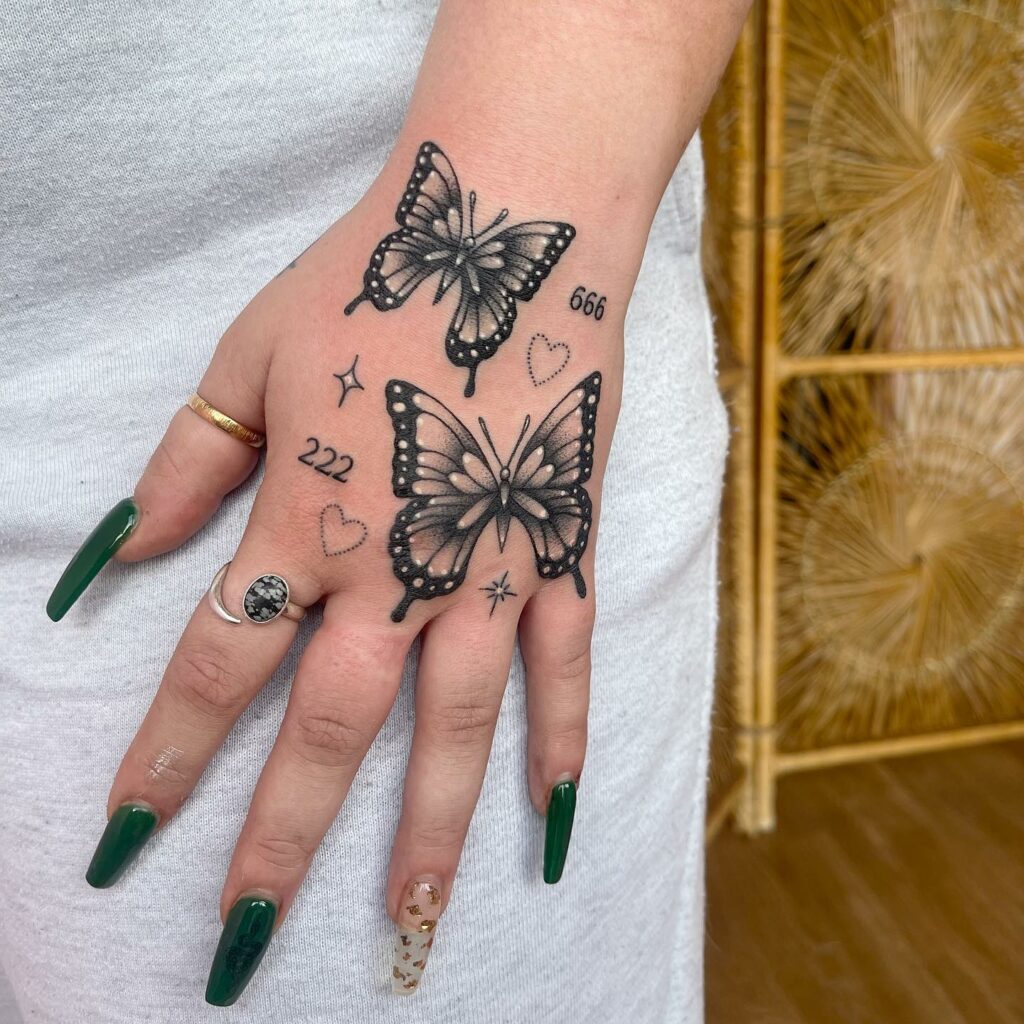 Butterfly tattoos on the wrist and palm can be tricky to execute, but this design is a flawless choice for women looking for something compact and meaningful. Two beautiful butterflies, inked with black and grey ink, grace the hand in this design, symbolizing the beginning of a new love life. The butterflies are crafted expertly with black ink and surrounded by two numerologically significant numbers and two black outlined heart tattoos. The numbers "222" and "666" represent the right track and evil, respectively, and the wearer of the tattoo likely has a connection between these two numbers and her love life. If you're a believer in numerology and seeking a butterfly tattoo, this option is both striking and meaningful.
Semicolon Butterfly Tattoo For Girls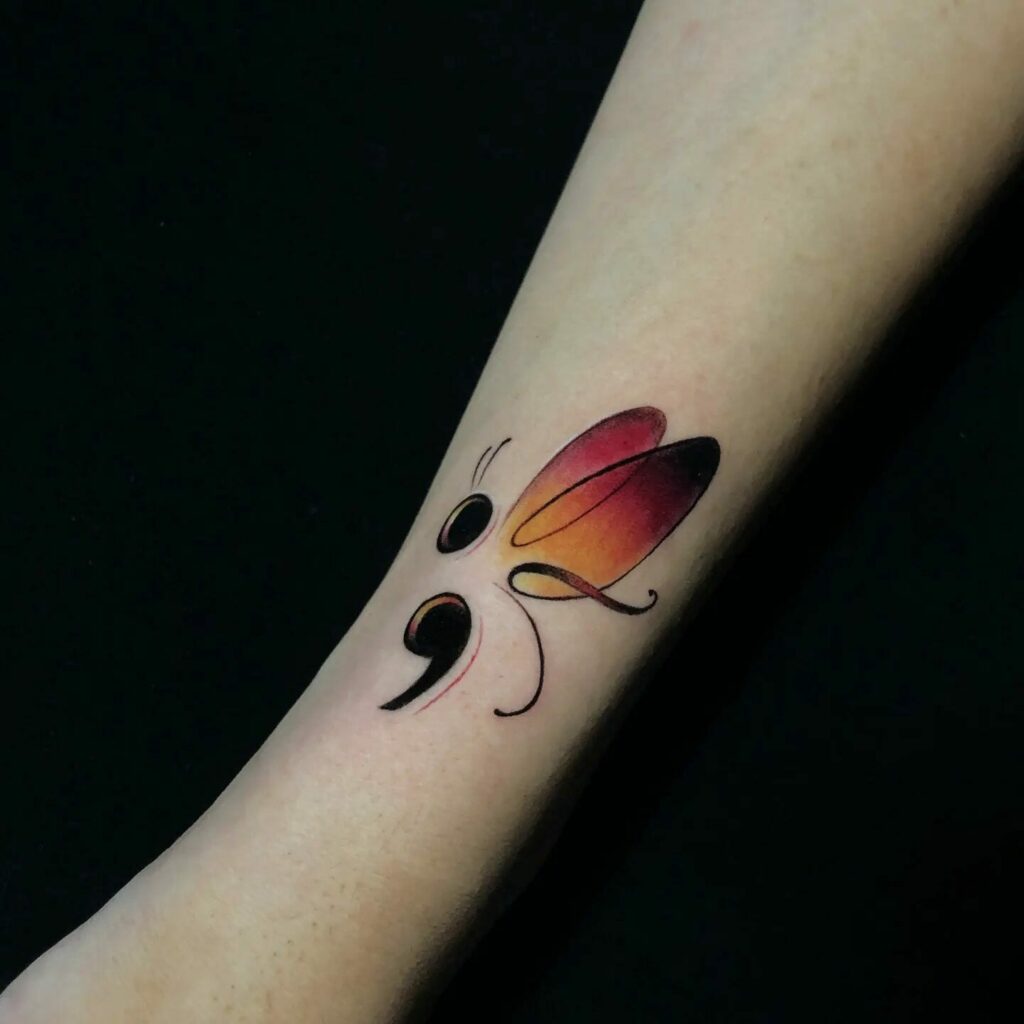 This particular tattoo design is a great choice for anyone looking for something stylish and unique. The tattoo is not only aesthetically pleasing, but it also carries a powerful message. The design features a punctuation mark and wings that are combined to create a breathtaking piece of art. The tattoo is situated on the inner forearm and depicts a solid black semi-colon symbol as the body of the butterfly. The semi-colon has become a popular symbol of hope and perseverance, and this tattoo is a great way to show support for mental health awareness. The butterfly's wings are shaded with a beautiful blend of yellow and red, adding depth and dimension to the design. The tattoo artist responsible for this masterpiece is undoubtedly skilled and has created a stunning piece that is sure to turn heads.
3D Butterfly Tattoo On Hand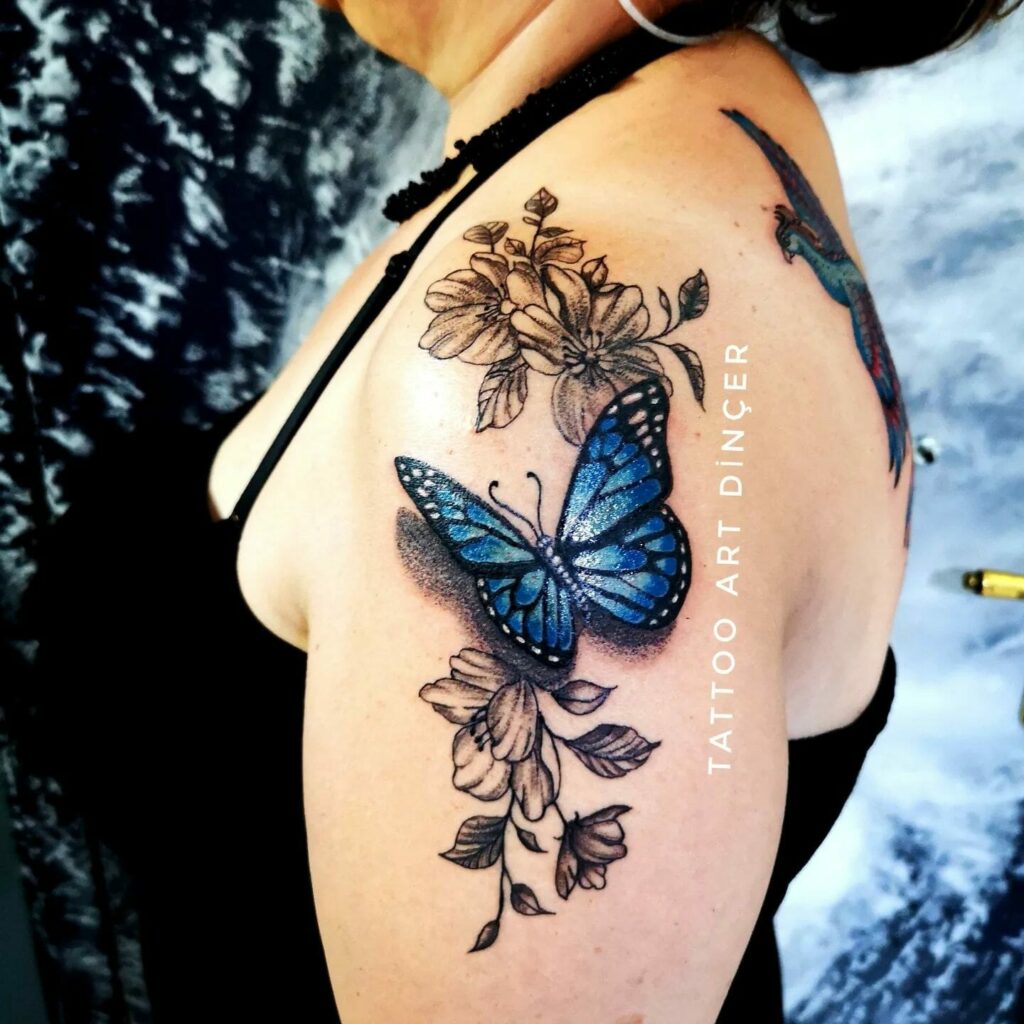 The 3D design creates a lifelike illusion that the butterfly has just landed on the sleeve. The pastel blue color of the butterfly is simply stunning and adds a pop of vibrancy to any skin tone. If you're seeking a striking blue butterfly tattoo, this design is definitely worth considering. The floral elements in the background are drawn using black and grey ink, which adds to the overall artistic appeal of the tattoo. Whether you're a fan of traditional tattoos or simply appreciate a beautifully executed butterfly design, this piece is sure to impress.
Butterfly Sleeve Tattoo For Girls
If you're searching for the perfect girly butterfly tattoo, then this design is definitely worth considering. The colors used in this piece are perfect for feminine tastes, with a mix of pink, magenta, turquoise, and blue ink that creates a stunning effect. This color palette is an excellent choice for butterfly tattoos because it brings out the lively and colorful nature of your personality. Butterfly tattoos are a symbol of new beginnings, and the vibrant colors in this design represent the joy and excitement of starting a new chapter in life. So, if you're looking for a feminine butterfly tattoo that will make you feel confident and beautiful, this design is the perfect choice for you!
Tribal Butterfly Tattoo For Girls
Tribal designs have been a popular inclusion in tattoo art, and the result is always impressive. Tribal butterfly tattoos, in particular, are pure art. The creative possibilities are endless when tattoo artists are asked to incorporate tribal designs into butterfly tattoos. If you're looking for a colorful and expressive design, this tribal butterfly tattoo is an excellent choice for women. The lower wings of the butterfly feature a pair of heart eyes, while the rest of the body is adorned with multiple hearts, which represent new love—the underlying meaning behind butterfly tattoos. With so many options to choose from, now is the perfect time to choose a butterfly tattoo that suits you.
feature image from Pinterest – Want your tattoo to look brighter? Try "Tattoo Balm"