If you're on the hunt for some stunning butterfly tattoos with flower ideas, you've come to the right place! Butterflies are incredibly beautiful creatures, and when you pair them with flowers in a tattoo, the result is simply gorgeous. A butterfly and flower tattoo is a popular choice among girls because it's so elegant and feminine. Not to mention, the symbolism behind these tattoos is very romantic! A butterfly tattoo represents grace, joy, happiness, and young love, while a flower tattoo implies love and connection between two people. Here at our shop, we've compiled a list of some amazing butterfly with flower tattoo ideas to inspire your next tattoo. So, let's get started!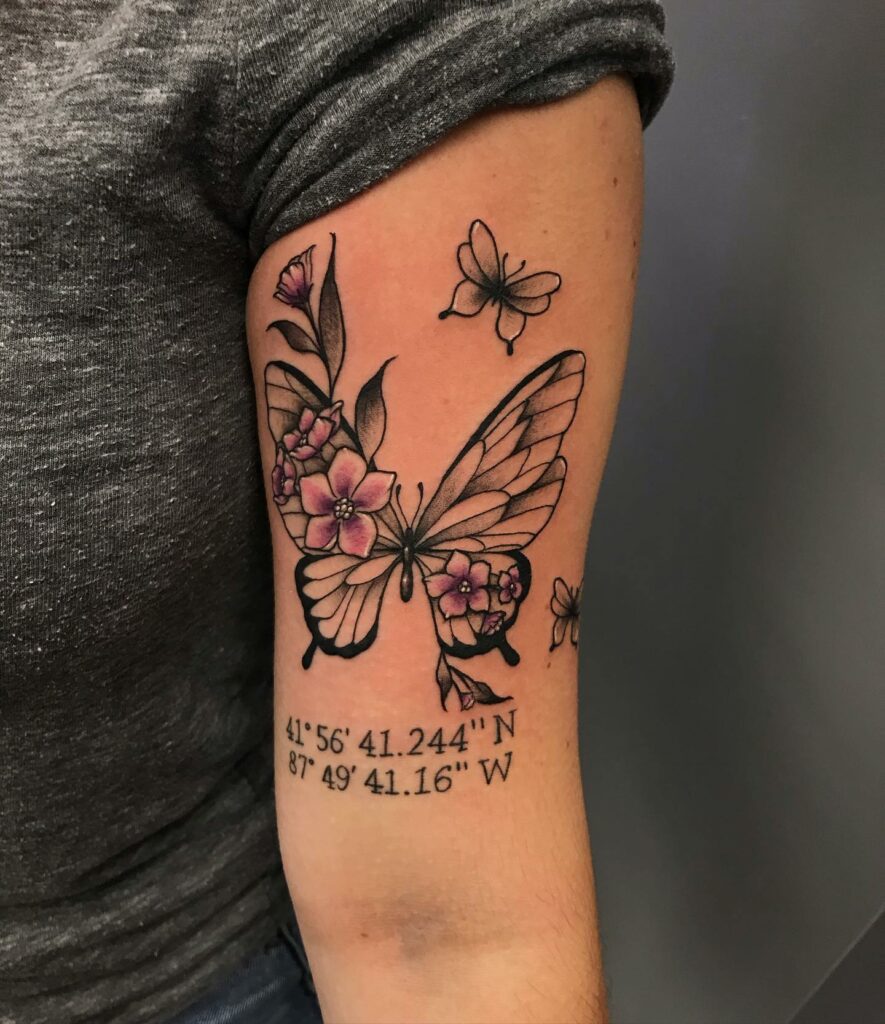 Butterfly Wings X Flowers Tattoo Design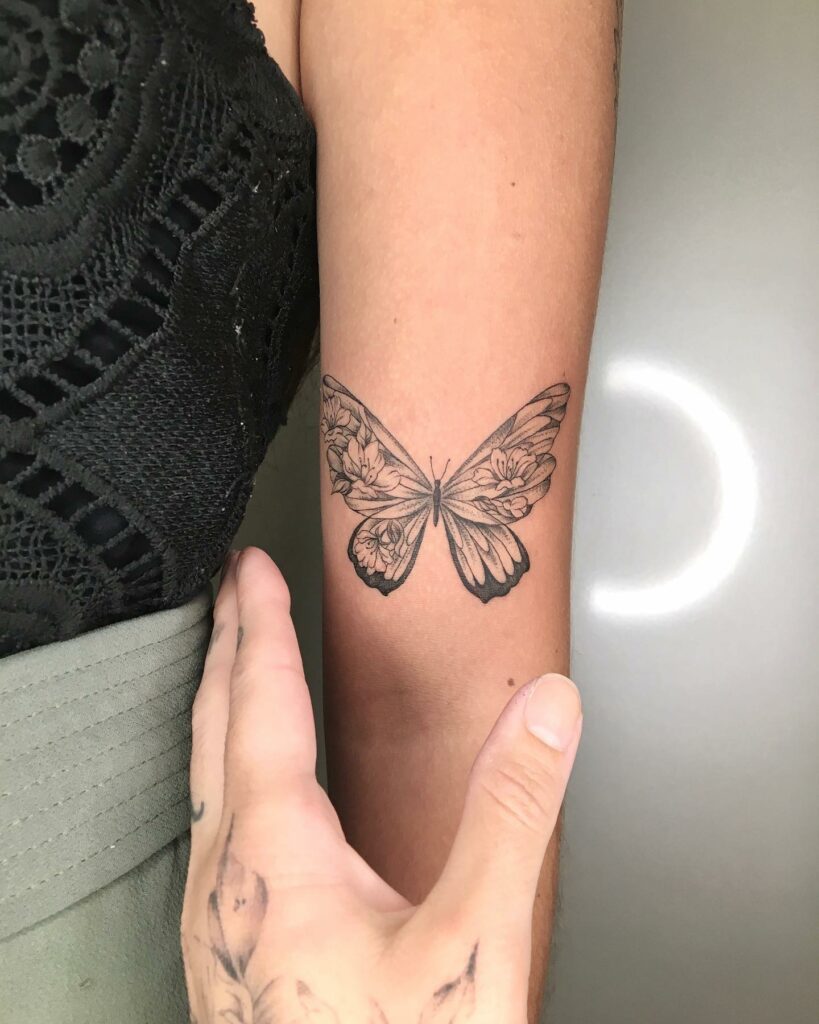 Are you looking for some inspiration for your next ink? Well, look no further, because we have a beautiful butterfly and flowers tattoo idea to share with you! This elegant tattoo is made entirely with black ink, featuring a small butterfly with delicate flowers on its wings. The detail on this tattoo is superb, with each wing carefully crafted to look life-like. The flowers in the middle of the butterfly add a touch of beauty and grace to the tattoo.
One of the best things about this butterfly and flowers tattoo designs is that it can be placed on any part of your body – whether it's your shoulder, leg, or chest! You could even add some color to the tattoo to make it pop even more. The subtle look of the black ink also means that it will look amazing with any outfit you choose. So, if you're looking for a stunning and timeless tattoo that's sure to turn heads, this butterfly and flowers design is a great choice!
Blue Butterfly With Flowers Tattoo Drawing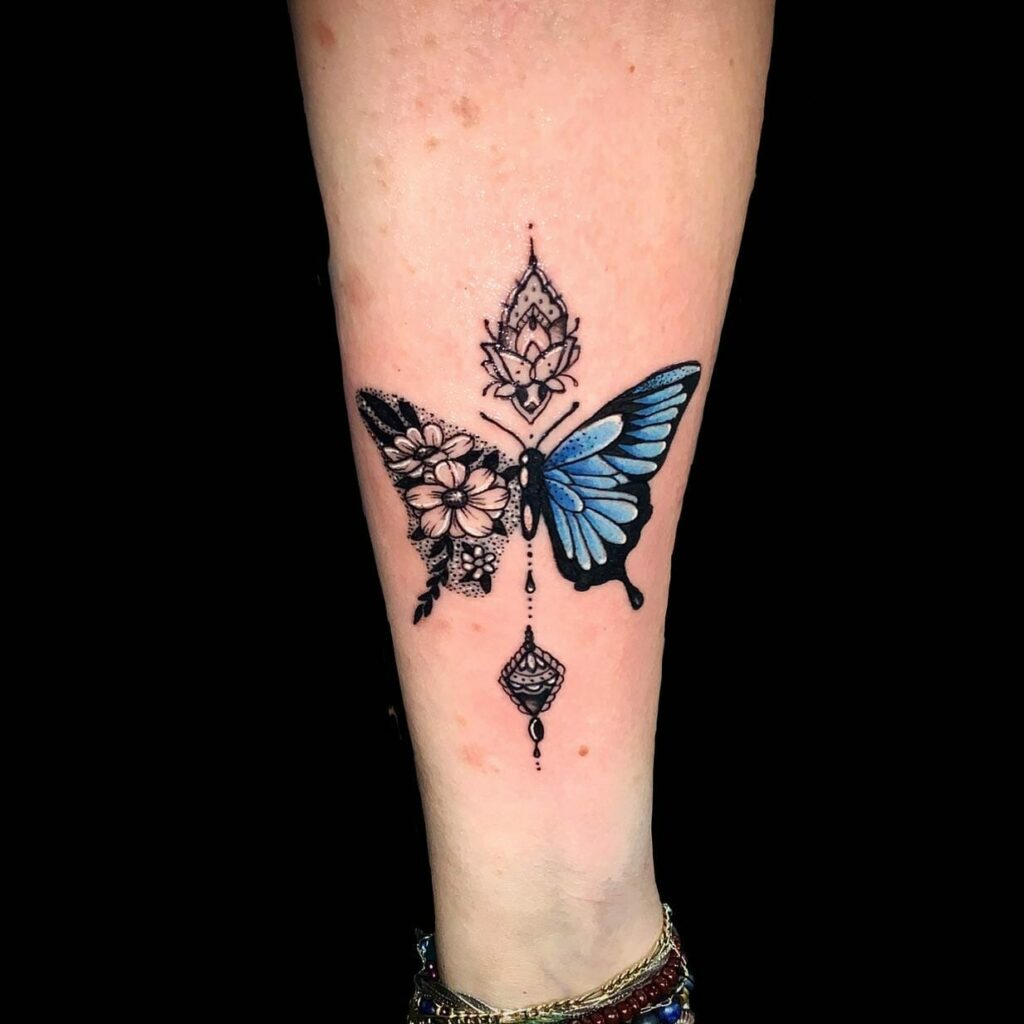 If you're looking for a colorful and eye-catching tattoo, you might want to check out this stunning half butterfly and half flowers design. One of the coolest things about this tattoo is that the butterfly wings have been divided into two halves, with one half featuring a lovely blue hue and the other half adorned with beautiful flowers. The flowers are actually created using a technique called dot work, which gives them a unique and textured look.
What really sets this tattoo apart is the half-and-half design, which is both striking and balanced. The blue wing is delicately shaded, adding depth and dimension to the overall design. Another great feature is the trinket that's been incorporated into the body of the tattoo, which adds even more charm and character.
This tattoo is truly a work of art and a great source of inspiration for your own design ideas. It's versatile and can complement any outfit, making it a perfect choice for anyone who wants a beautiful and unique tattoo. If you're looking for a colorful and eye-catching design, this half butterfly and half flowers tattoo might be just what you're looking for!
Realistic Butterfly With Flower Tattoo Idea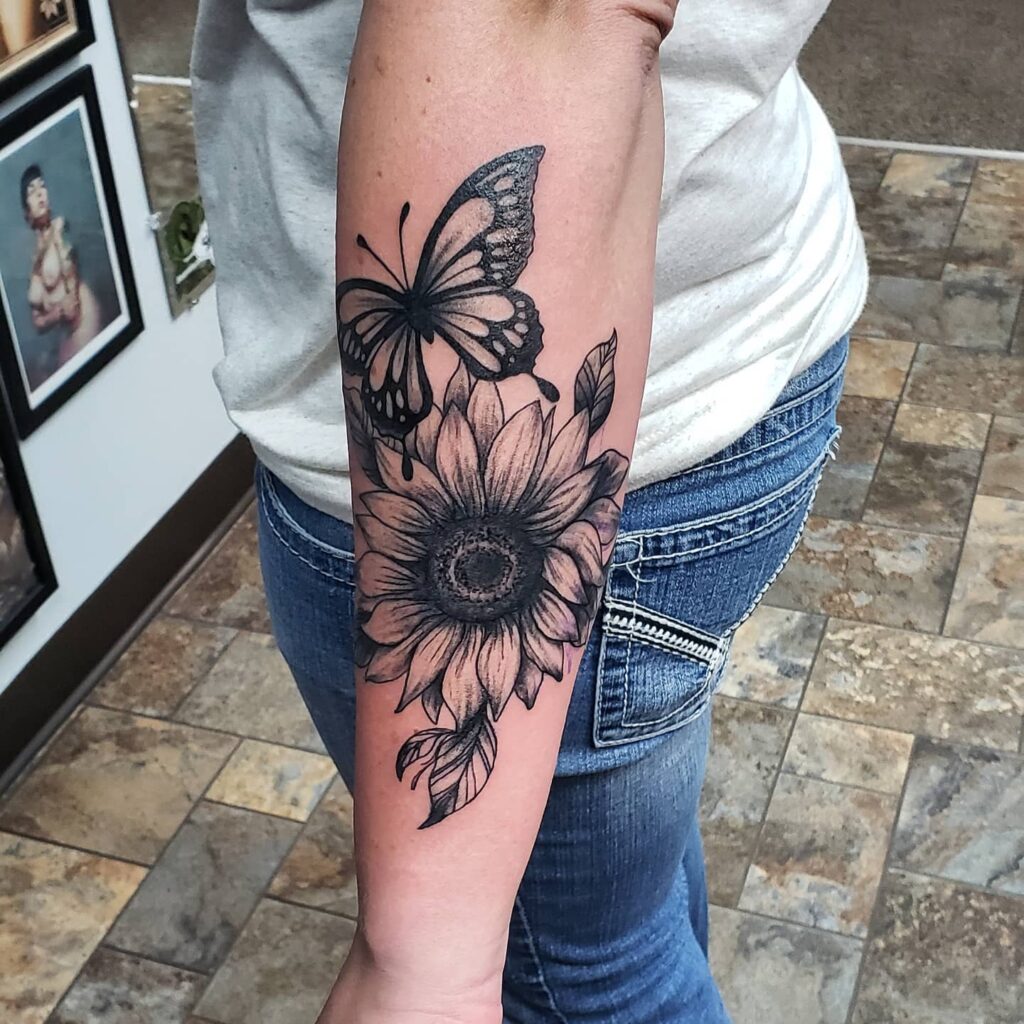 If you're on the lookout for an eye-catching butterfly tattoo, you'll love this one that we have here. This sleeve tattoo features a stunning flower in the center, with a beautiful butterfly perched on top. The level of detail and precision that went into creating this design is truly impressive. The petals and the center of the flower are absolutely gorgeous, and the vines and flowers surrounding the butterfly only add to its majestic beauty.
One of the things that really sets this tattoo apart is the incredibly realistic strokes on the petals. You'll be blown away by how lifelike they look! The tattoo artist used black ink, which gives the design a subtle and elegant appearance. However, if you want to make the tattoo your own, you can always add your own personal touches. For example, you might consider adding some smaller butterflies to the design to enhance its beauty even further.
Overall, this butterfly tattoo with vines and flowers is a true work of art that will look amazing on anyone. It's a versatile design that will complement any outfit or style. If you're looking for a stunning and unique tattoo that's sure to turn heads, this one should definitely be on your list of options.
Delicate Beautiful Butterfly x Flowers Tattoo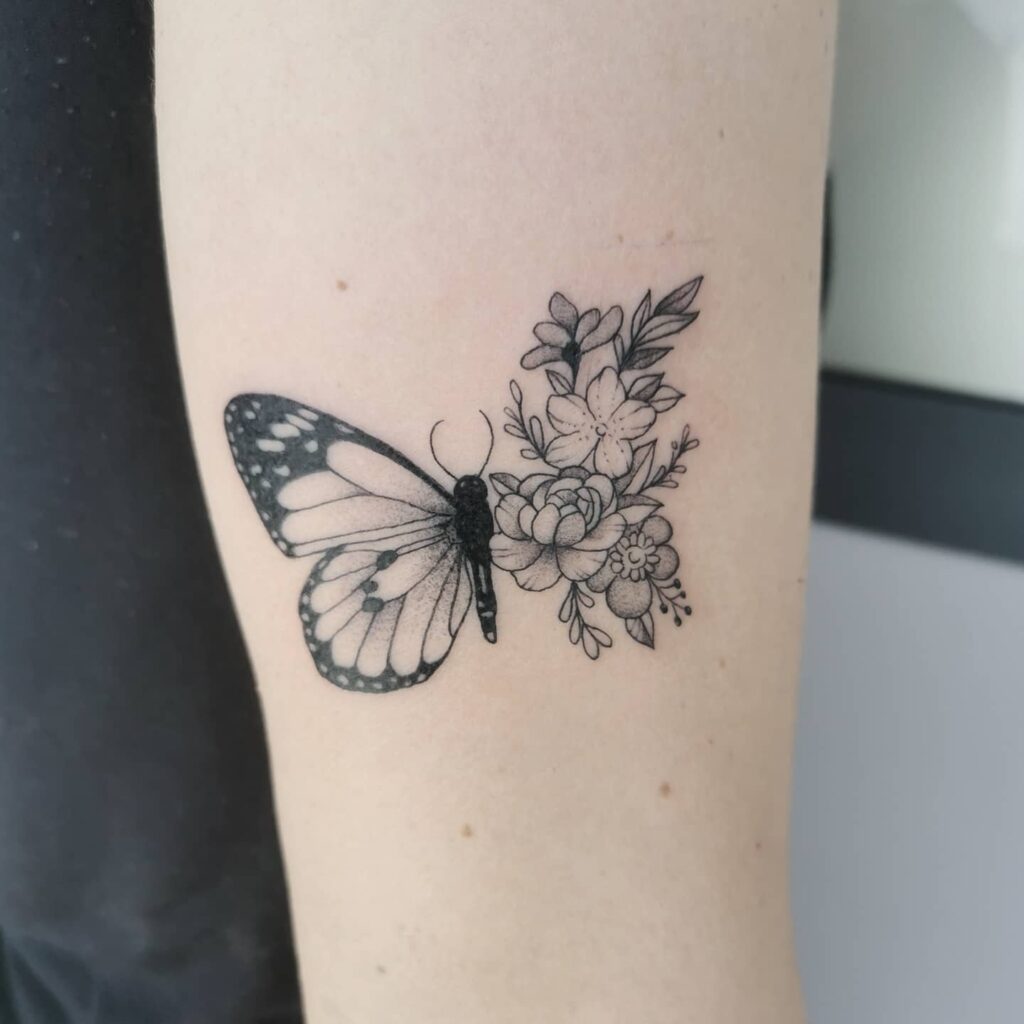 If you're looking to add even more natural elements to your tattoo, consider adding a dandelion tattoo to the design. Dandelions are often associated with wishes and dreams, and they can add a whimsical touch to any tattoo. Incorporating a dandelion into your butterfly and flowers tattoo can create a beautiful and meaningful design that represents growth, change, and transformation. Whether you choose to have the dandelion floating above the butterfly or tucked in among the flowers, the addition of this element can make your tattoo even more special and unique. This half-and-half tattoo is a versatile and stunning choice that can be customized to suit your individual style and preferences. With its intricate detailing and elegant design, this butterfly with flowers and dandelion tattoo is sure to turn heads and inspire admiration wherever you go!
Butterfly With Flowers On Branch Tattoo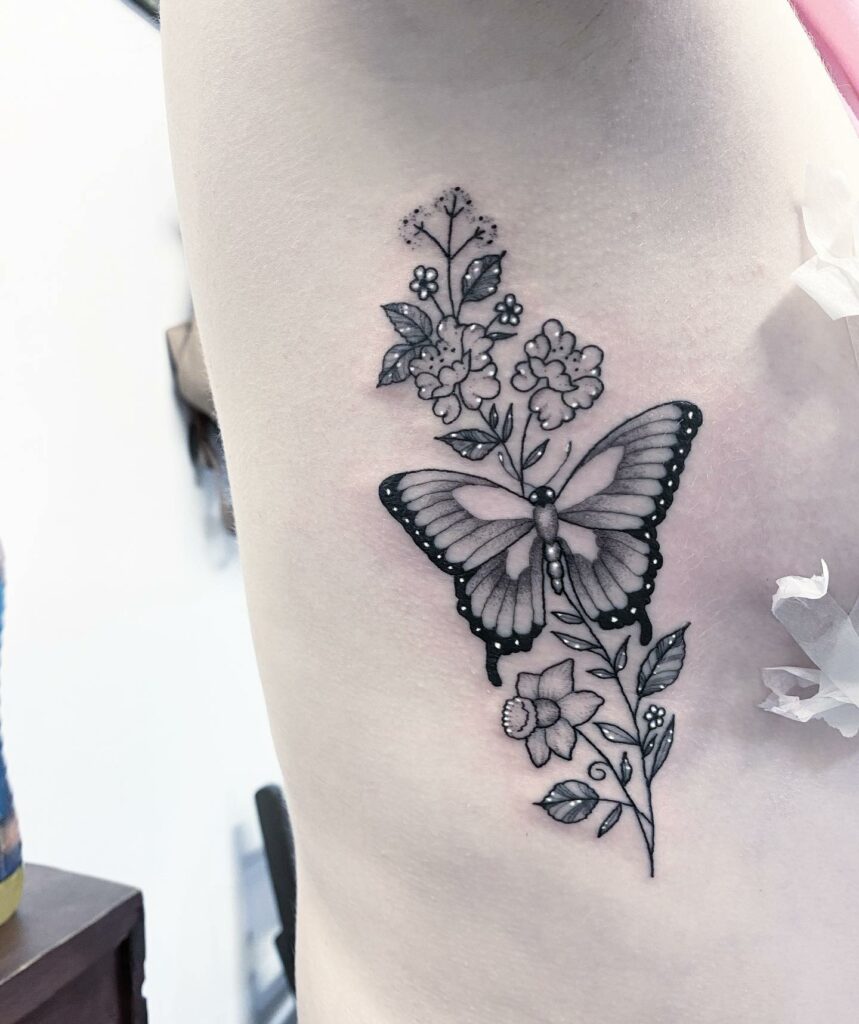 If you're looking for a design that perfectly pairs butterflies and flowers, then these beautiful flowers with butterfly tattoos are just what you need! This stunning tattoo features a classic monarch butterfly perched on the branch of a plant that's adorned with several flowers and leaves made in an outline design. The entire tattoo has been created using black ink, but the addition of some tiny white dots gives it a beautiful and eye-catching look.
To achieve the perfect look of this tattoo, it's essential to get it done by a professional tattoo artist. And the best part? This tattoo is not just limited to women! Men can rock this tattoo too, and they can add their own elements to it if they wish. This tattoo is a beautiful representation of the innocent love we've all felt at some point in our lives. So, if you're looking for a meaningful and gorgeous tattoo that will stand the test of time, this flowers with butterfly design is an excellent choice! However, it's important to keep in mind that getting a tattoo can come with some pain, so be sure to prepare accordingly.
Unique Floral Butterfly Tattoo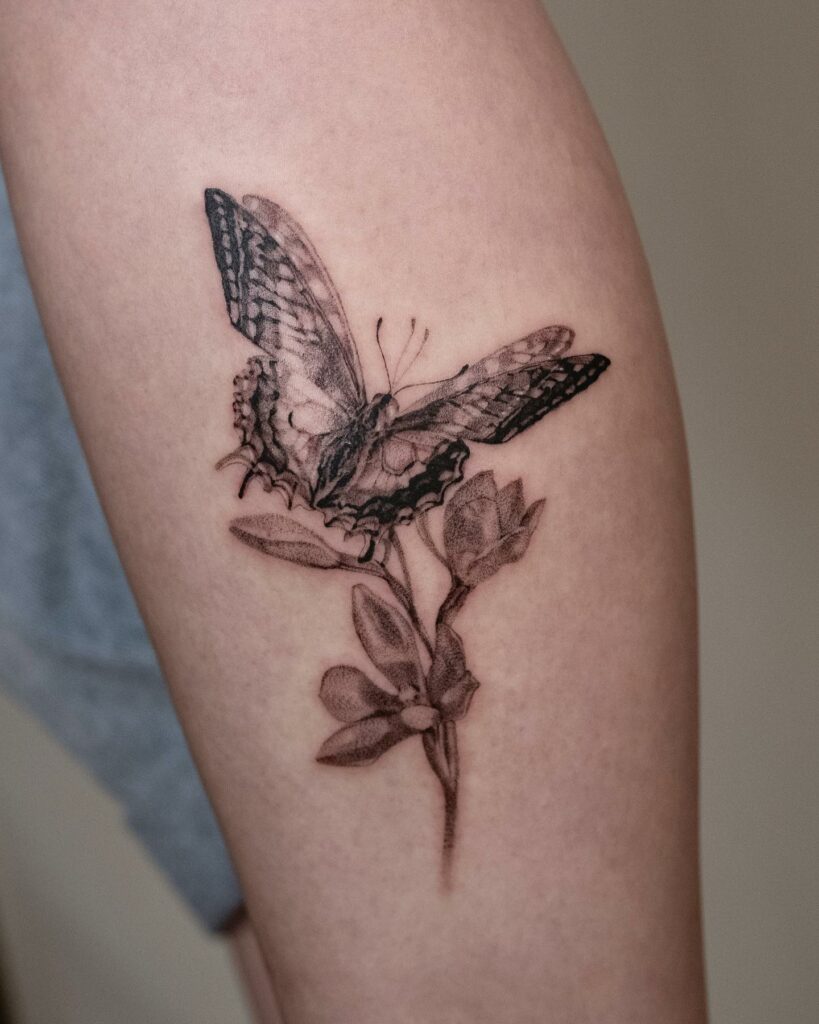 If you're on the hunt for a realistic butterfly tattoo design that will make you stand out, we've got an out-of-the-box idea that you might love! This elegant tattoo has been created using intricate details that make it look like a work of art. The design features a butterfly perched on a flower that has been created using beautiful dot art. The shadows and lights have been expertly showcased in this tattoo, and the shading of the flowers gives it a marvelous look.
What sets this tattoo apart is the way the butterfly has been created. It appears to be flying, and the tattoo artist has perfectly captured the flapping of its wings. The darker and lighter style of the butterfly gives the illusion of movement, making it look like the butterfly is flapping its wings. This cute tattoo is a statement piece that will go well with any outfit. If you want something unique that will make heads turn, this butterfly and flower tattoo is an excellent choice! And if you want to show off your tattoo to your friends, make sure to take a video so they can see how amazing it looks in motion.
Cute Butterfly With Two Flowers Tattoo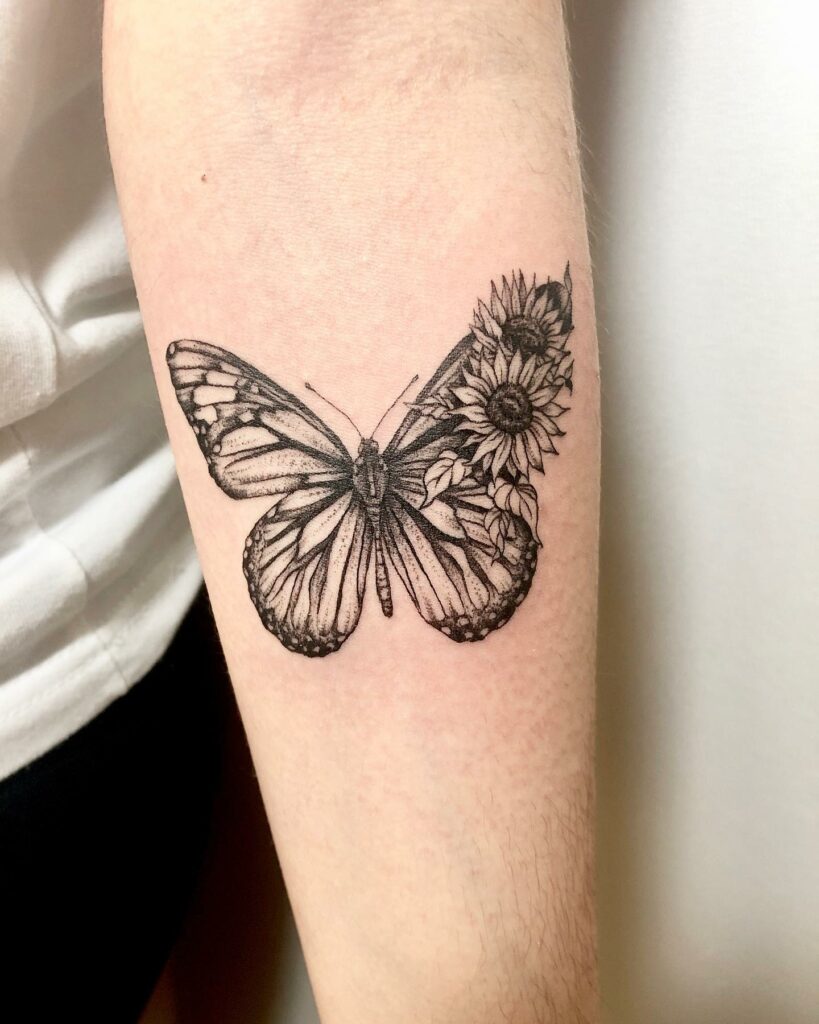 If you're in search of a timeless tattoo design, this butterfly and flowers ink could be the one for you. The detailing on the wings of the butterfly is exquisite and it adds a touch of femininity to the tattoo. On the right-wing, there are beautiful flowers and leaves, which complete the look of the tattoo.
The best thing about this design is that it can be customized to fit your style. You can add any colors of your choice, like a pop of pink or blue, which will make the tattoo stand out. You can get this tattoo inked on any part of your body, whether it's your foot, arm, thigh, or anywhere else. The beauty of this design will look stunning on any skin tone.
If you prefer a more classic look, you might want to consider a traditional rose tattoo. The bold lines and vibrant colors of a traditional rose tattoo make it a timeless choice that will never go out of style. You can opt for a single rose on your wrist or a full sleeve of roses and other traditional designs. Whichever you choose, a traditional rose tattoo is a beautiful way to express your love for classic tattoo art.
Half Butterfly x Half Flowers Tattoo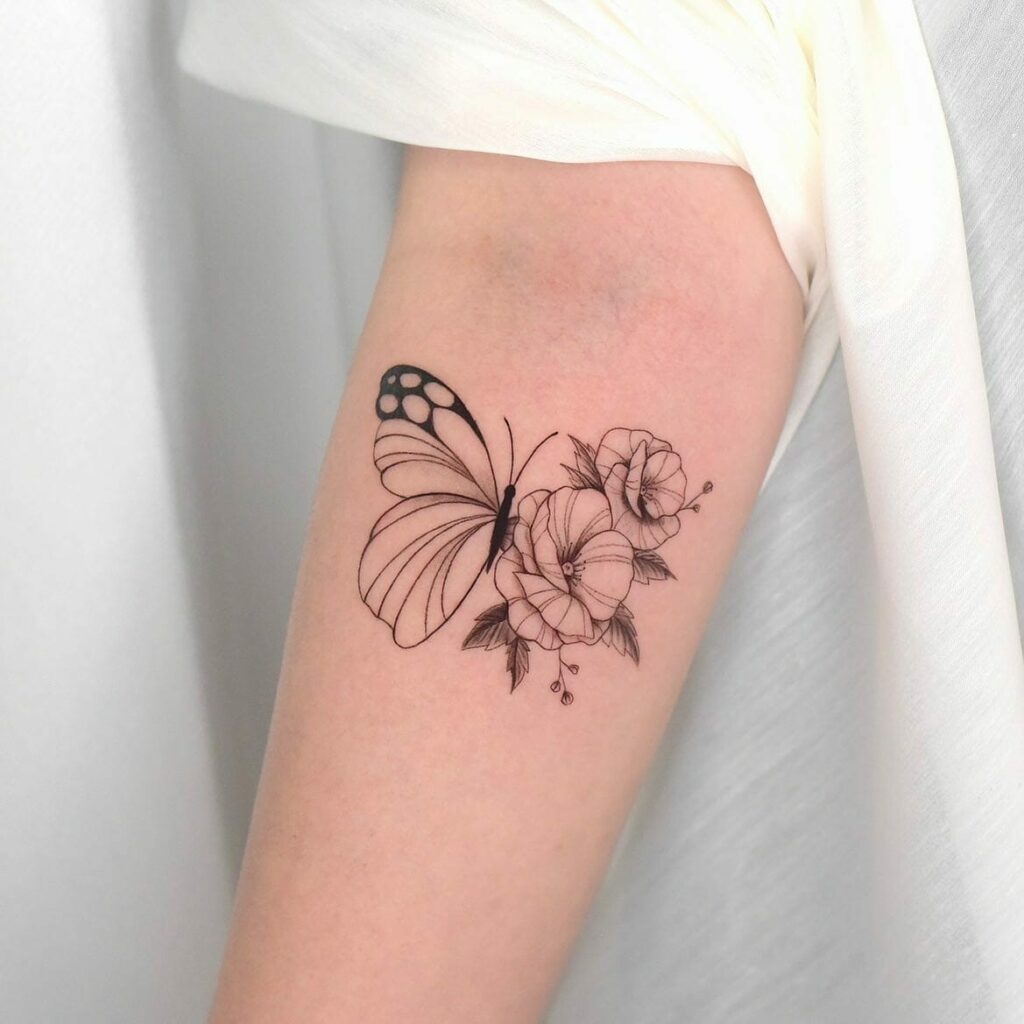 Let me introduce you to this stunning outline butterfly and flowers tattoo idea that is sure to catch your eye. This design is simple yet elegant, with gorgeous lines that create a stunning half-and-half look. The butterfly wing is delicately designed and the other half has a bunch of lovely flowers and leaves that look absolutely marvelous.
This floral butterfly tattoo is perfect for those who love simplicity and elegance. You can always add a pop of color to it by using bright hues such as pink, red, or orange. You can get this inked on your shoulder, foot, arm, or thigh, and it will compliment any outfit that you wear. The beauty of this tattoo is that it looks amazing with any style, whether you're going for a casual or a formal look. And if you want to try out different color combinations before getting the tattoo, you can download a virtual tattoo app that will help you visualize how it will look on your skin.
If you're looking for more floral tattoo ideas, you can also consider getting a full sleeve of flowers and leaves, or a small flower tattoo on your wrist or ankle. You can also incorporate different styles such as watercolor or dotwork into your floral tattoo to add more depth and texture. The possibilities are endless when it comes to floral tattoos, so take your time and find the perfect design that speaks to you.
Sunflowers x Butterflies Tattoo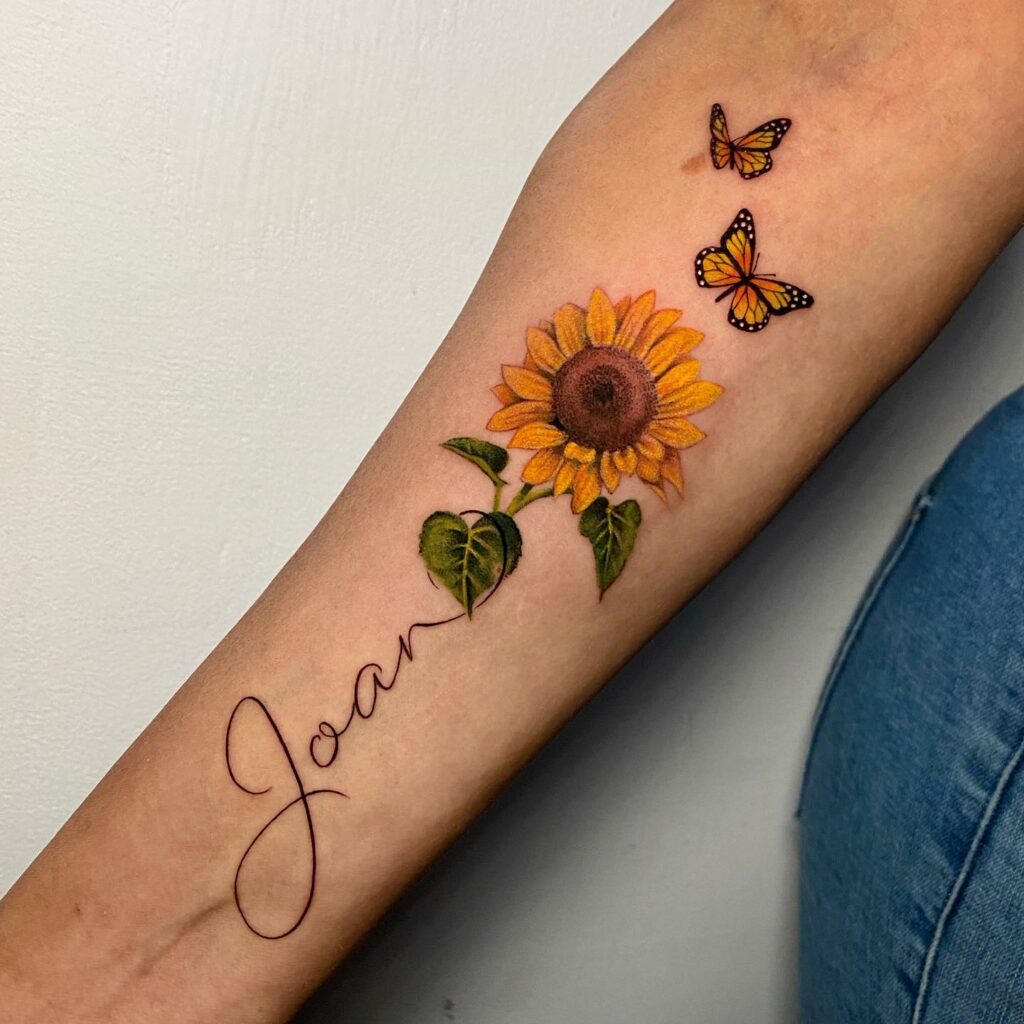 This realistic butterfly and sunflower tattoo designs might be the perfect choice for you. The intricate details of the two butterflies are mesmerizing, with yellow, orange, and black ink perfectly blended to create a lifelike appearance. The sunflower is equally gorgeous, created with varying shades of yellow, orange, and green that bring out its natural beauty.
The combination of colors in this tattoo is simply amazing, making it a true work of art. Sunflowers and butterflies both carry deep symbolic meanings, and this tattoo showcases their beauty and significance in a truly spectacular way. You can place this tattoo on your shoulder, arm, or back, and even opt for an outline design if that suits your style better. This tattoo is sure to make a statement and leave a lasting impression.
If you're looking for more options, you can also consider incorporating other types of flowers with names tattooed on your body. For example, a bouquet of roses with each flower representing a loved one's name can be a touching tribute. Or you can opt for a more minimalist approach and have a single flower with a special name delicately tattooed on your wrist or ankle. The possibilities are endless when it comes to flower and name tattoos, so don't be afraid to get creative and make it your own.
Colorful Flowers With Butterfly Tattoo
If you're looking for a butterfly and flowers tattoo with a bit of an edge, check out this design. The darker shades used in this tattoo give it a more daring look. There are also some gorgeous flowers in shades of yellow and orange that have been shaded to perfection. The watercolor butterfly is another standout feature that's been made using a mix of brown and blues. If you prefer brighter colors, you can always customize it to your liking.
The beauty of butterfly and flowers tattoos is that they never go out of style. They're a timeless classic loved by many due to their significant meanings. This tattoo is perfect if you're looking for a darker take on a classic theme. It will pair well with any outfit you choose to wear. You can also add any details that you like to make it more personal and meaningful.
Still looking for inspiration? Checkout these great ideas below
hummingbird tattoo
flower tattoo designs
orchid color tattoo
peony tattoo
poppy tattoo
sunflower tattoo designs
flower moon tattoo
flower moon tattoos
moon flower tattoos
flower moon
floral moon tattoo
bleeding rose tattoo designs
butterfly and skull drawings
calla lilies tattoo
carnation tattoo
carnation tattoo black and white
daisy and narcissus tattoo
bleeding rose
roses tattoo
perfect tattoo artist
dandelion tattoo
birth flower tattoos
lotus flower tattoo
ankle tattoo
ankle tattoos
ankle tattoo designs
lily of the valley tattoo
bee tattoo
chrysanthemum tattoo
hibiscus tattoo
sweet pea
yellow roses
cherry blossom
violet tattoo
honeysuckle tattoo
marigold tattoo
tulip tattoo
birth month tattoos
bluebonnet tattoo
cancer ribbon with flowers tattoo
feather and butterfly tattoo
feather tattoo ideas
watercolor feather tattoo
shoulder feather tattoos
feather tattoo
feather tattoo designs
feather tattoos
feature image from Pinterest