Hey there, looking for some tattoo inspiration? How about a butterfly with a skull design? This tattoo combo is hugely popular and carries a lot of meaning with it. The butterfly and the skull are two opposing forces in nature that come together to provide balance and symbolize masculine and feminine energies. Did you know that in ancient Aztec culture, butterflies represented the souls of fallen warriors, and in Rome, they were known as messengers of the gods? They have been a symbol of grace, beauty, and womanhood throughout history. When paired with a skull tattoo, they create a unique design that represents the balance between light and darkness, birth and death. Check out these awesome butterfly skull tattoo designs that we've handpicked just for you!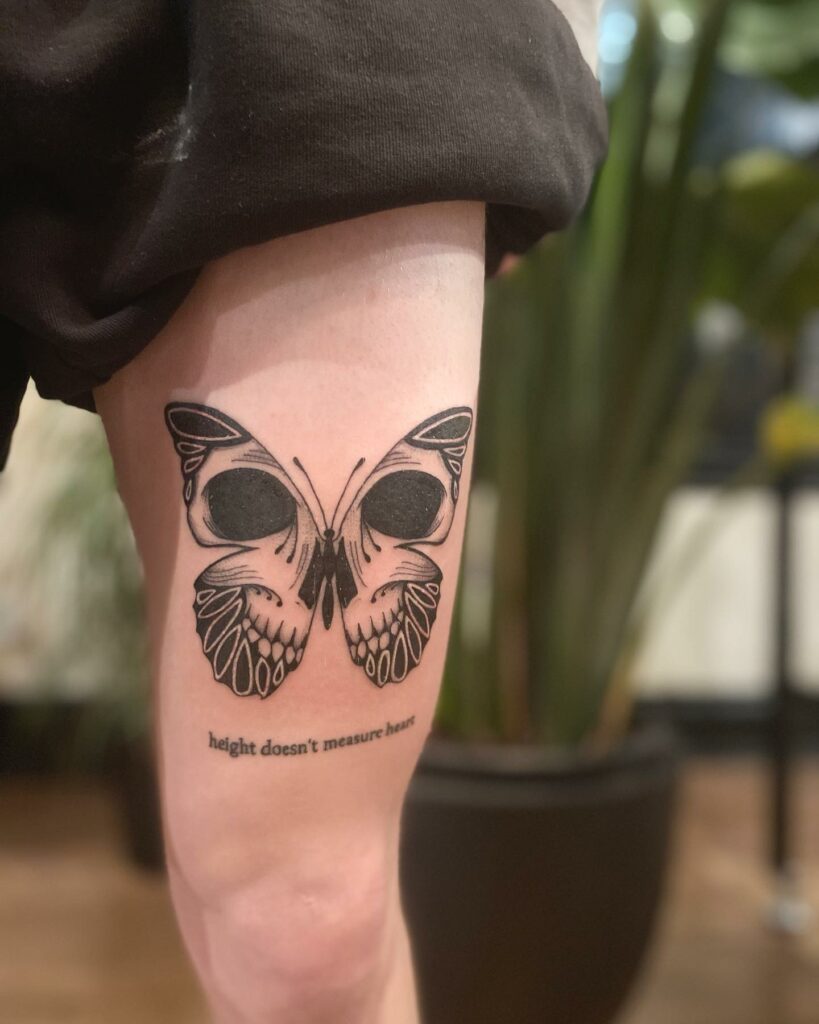 Butterfly With Skull Head Tattoo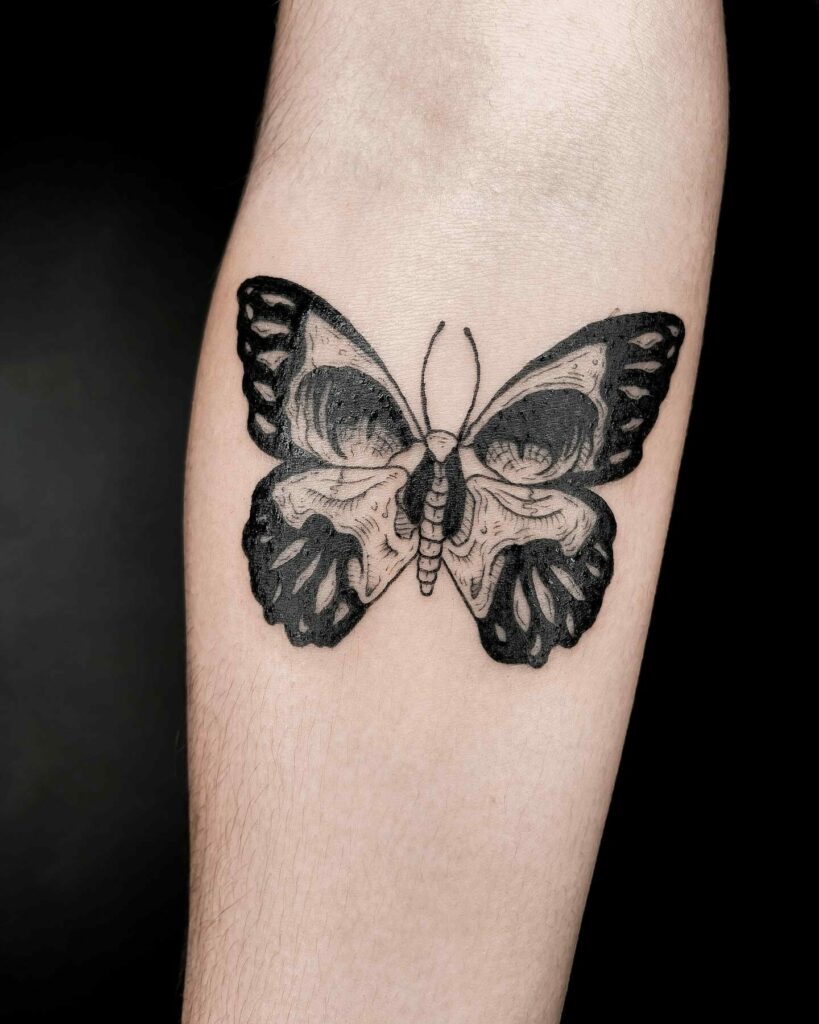 This particular tattoo is etched onto the forearm, and is a perfect example of how two contrasting elements can be incorporated into one design. The wings of the butterfly are typically known for their intricate patterns and vivid colors, but in this design, the wings are made up of skull elements. Not only is this a visually striking design, but it can also serve as a meaningful tribute to a loved one who has passed away. The butterfly skull tattoo embodies the concept that death is a natural part of life, and that even in death, there is the potential for new beginnings. Whether you're looking for a tattoo to honor someone special, or simply drawn to the beauty of this design, the butterfly skull tattoo is a great choice.
Butterfly With Skull And Numerals Tattoo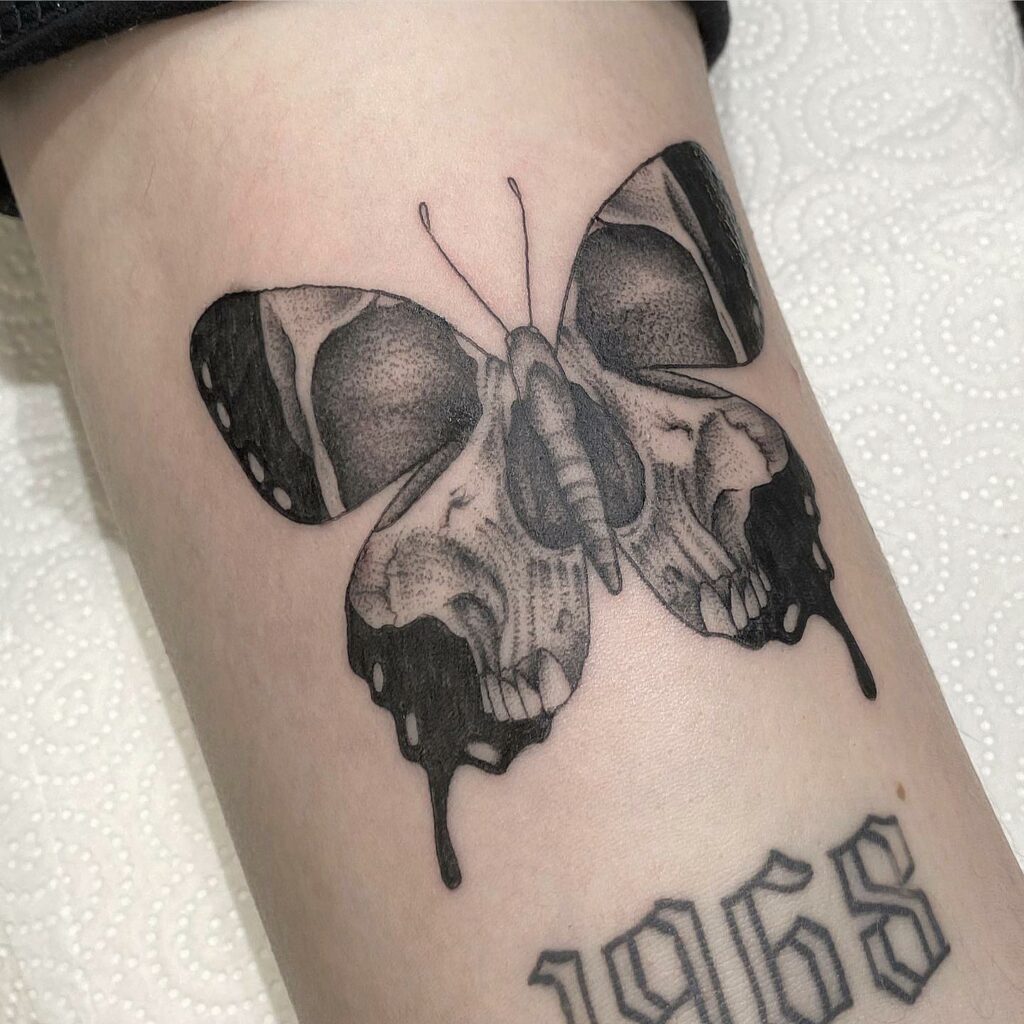 This particular tattoo features a stunning butterfly with intricately detailed wings, that upon closer inspection, reveal a skull motif. The addition of the numbers "1968" under the design indicates that this tattoo was likely created in memory of someone special who passed away that year. The artist has used the popular dotwork technique to create the shading, resulting in a soft and gentle effect that's easy on the skin. If you're looking for a tattoo that's both beautiful and meaningful, a butterfly skull tattoo might just be the perfect choice for you.
Butterfly Skull Back Neck Tattoo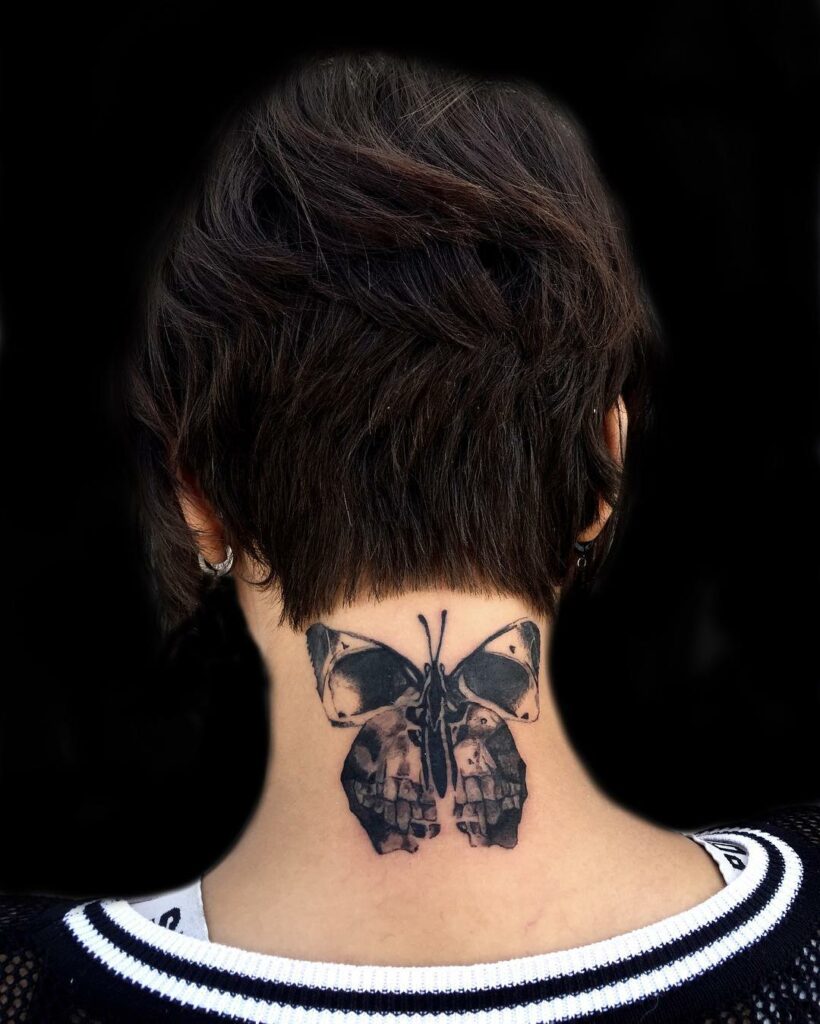 We have here a stunning butterfly skull tattoo design, placed at the back of the neck. This area is known to be quite sensitive, but as they say, no pain, no gain. It's worth mentioning that everyone has a different pain tolerance, so if you can endure the process, go for it! The design is a perfect blend of butterfly and skull, where the skull is beautifully designed in the shape of butterfly wings. What's more interesting is that the skull's teeth are visible on the lower wings of the butterfly. The tattoo artist has used only black ink to create this design, but you can always add colors to make it more eye-catching. With its placement and unique design, this tattoo will surely turn heads.
Half Butterfly And Skull Tattoo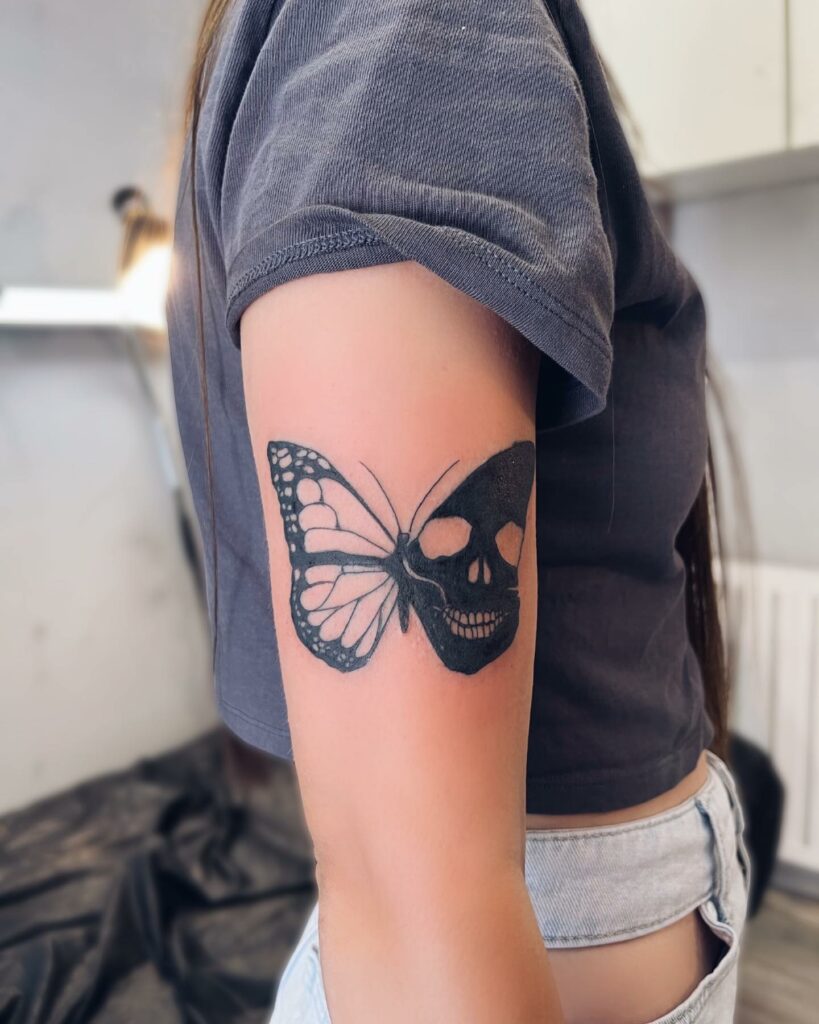 This particular butterfly skull tattoo is a masterpiece, representing the balance between two opposite elements, light and darkness. The skilled artist has managed to incorporate the beauty of a butterfly with the scary aspect of a skull, creating a unique design that's both striking and meaningful. The butterfly wing features intricate patterns, while the other half portrays a skull with impressive detailing. The design can symbolize various ideas, such as the eternal fight between good and evil or the transition from one chapter of life to another. The butterfly skull tattoo is a perfect representation of how life is a cycle of birth and death. Color can be added to this design to enhance its beauty, or it can be kept simple with black ink. Whatever you choose, this tattoo is sure to make a bold statement.
Colourful Butterfly Skull Tattoos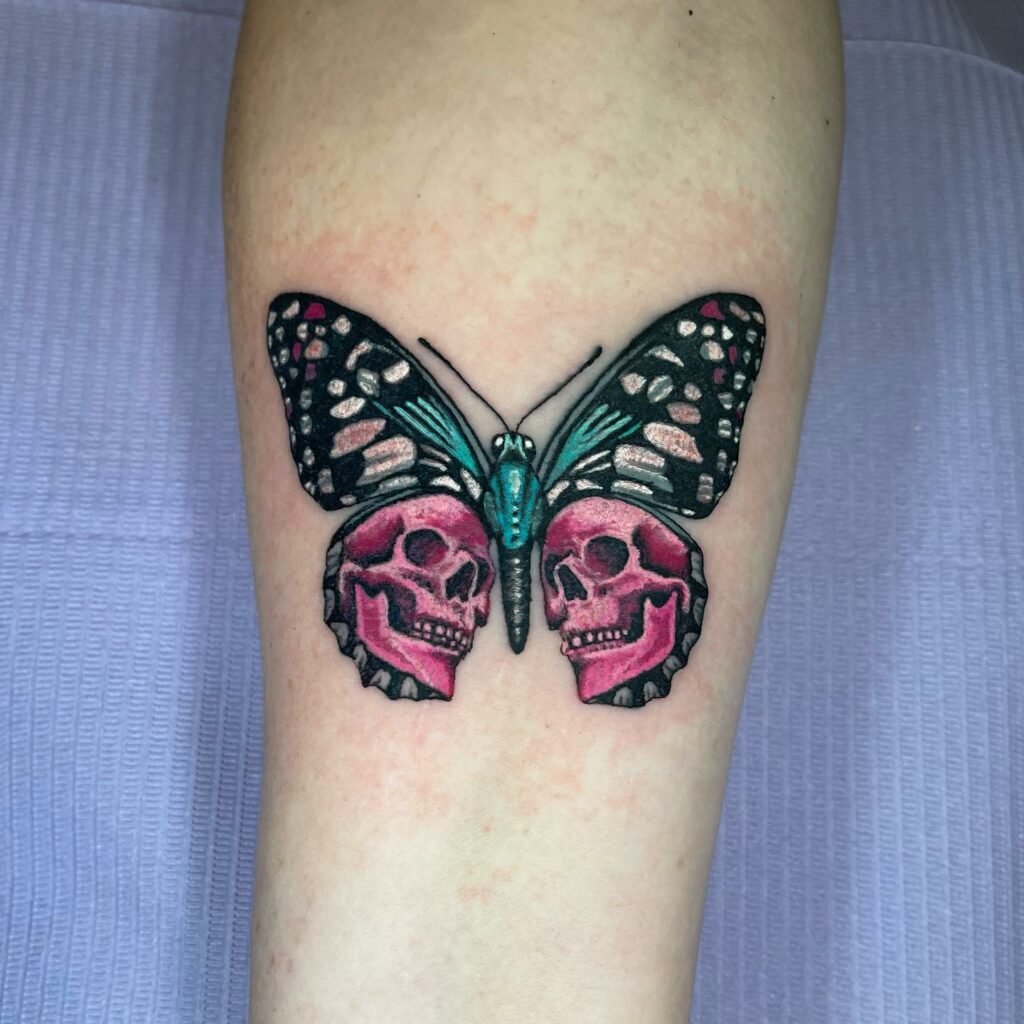 If you are someone who loves colour and wants to add a pop of it to your next tattoo, then this design might be the perfect fit for you. The artist has used a beautiful combination of pink, blue, and black inks to bring out the best in this design. The upper side of the butterfly wings contains intricate patterns that are eye-catching and attractive, while the lower side features two stunning skull designs. This tattoo represents the struggle of overcoming obstacles and coming out victorious, even when the odds were against you. It is a great option for both men and women who want to display their resilience and strength. However, it's important to note that colourful tattoos tend to fade faster than black and white ones. Regular touch-ups will help maintain the tattoo's crisp and fresh appearance. So, if you are willing to put in the effort, this colourful skull butterfly tattoo can be a vibrant addition to your body art collection.
Skull With Butterfly Tattoo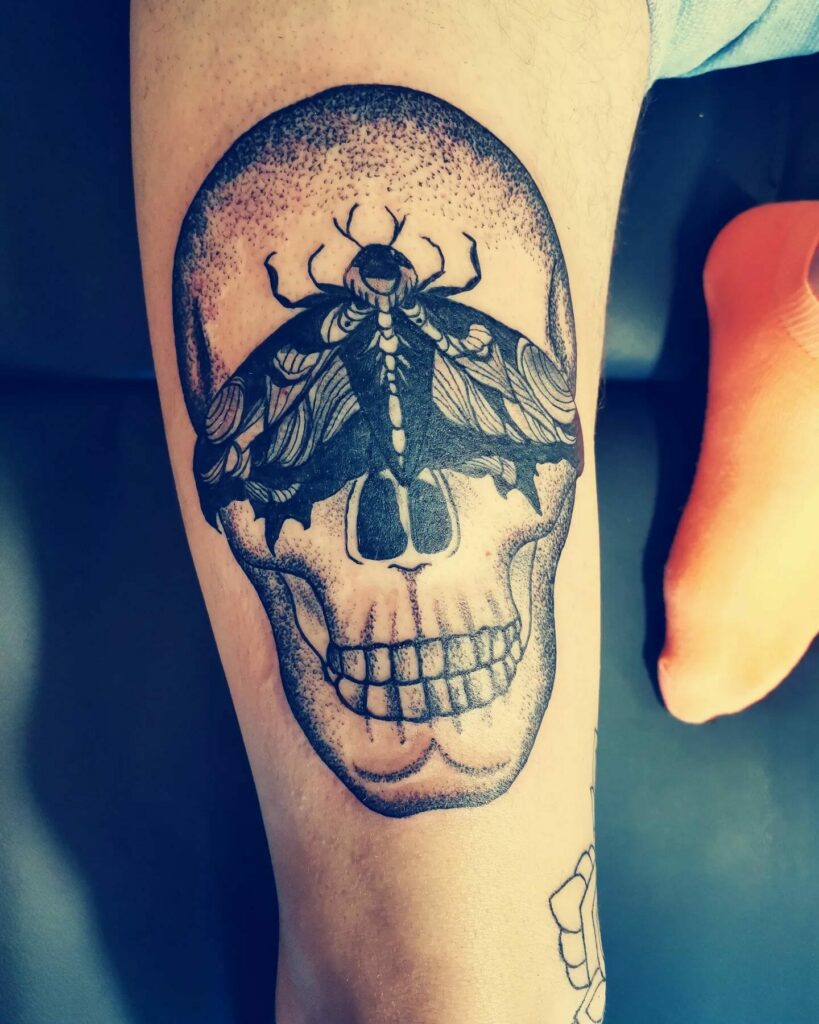 Butterfly skull tattoos have gained popularity among tattoo enthusiasts in recent times, and here is an excellent example of how these designs can be interpreted with a deeper meaning. This particular tattoo is placed on the leg and features a large, eerie skull design with a butterfly tattoo covering its eyes. The combination of these two elements represents the contrast between life and death, grace and darkness. In some cultures, the butterfly is considered a symbol of rebirth and transformation, which makes it a perfect addition to the skull tattoo. The tattoo artist has expertly used dotwork to highlight the skull's shape, while intricate detailing and fine lines have been used for the butterfly. Unlike other butterfly skull tattoos that are colorful, this design has a sober and gloomy vibe. This design can be perfect for individuals who prefer a darker aesthetic for their tattoos.
Skull And Monarch Butterfly Tattoo
Butterfly skull tattoos can convey a lot of different meanings, depending on the culture and the elements used. In Mexico, for instance, monarch butterflies are believed to symbolize the souls of the departed. This striking design captures that idea beautifully. The artist has used a rich palette of orange, red, black, and white ink to create a fiery, vibrant look. The delicate wings of the butterfly are shaded with a stunning blend of red and orange ink, while two side-faced skulls are nestled inside. The artist has also included shades of white at the outer edges of the wings to create a sense of depth and space. Overall, this is a truly stunning work of art that is sure to turn heads. Whether you're looking to celebrate a loved one who has passed or simply love the look of this gorgeous design, this monarch butterfly skull tattoo is an excellent choice.
Mandala Skull Butterfly Tattoo
If you're looking for a butterfly skull tattoo with a feminine touch, look no further! This design incorporates the beauty of mandala art into the classic skull butterfly design. Mandalas are known for their intricate patterns and fine lines, symbolizing balance and perfection. The artist has created a stunning mandala beneath the skull butterfly, adding an extra layer of detail and meaning. What's more, each mandala is unique, ensuring that your tattoo will be one-of-a-kind. If you're looking for a creative and beautiful tattoo design, this one is definitely worth considering!
Floral Skull And Butterfly Tattoos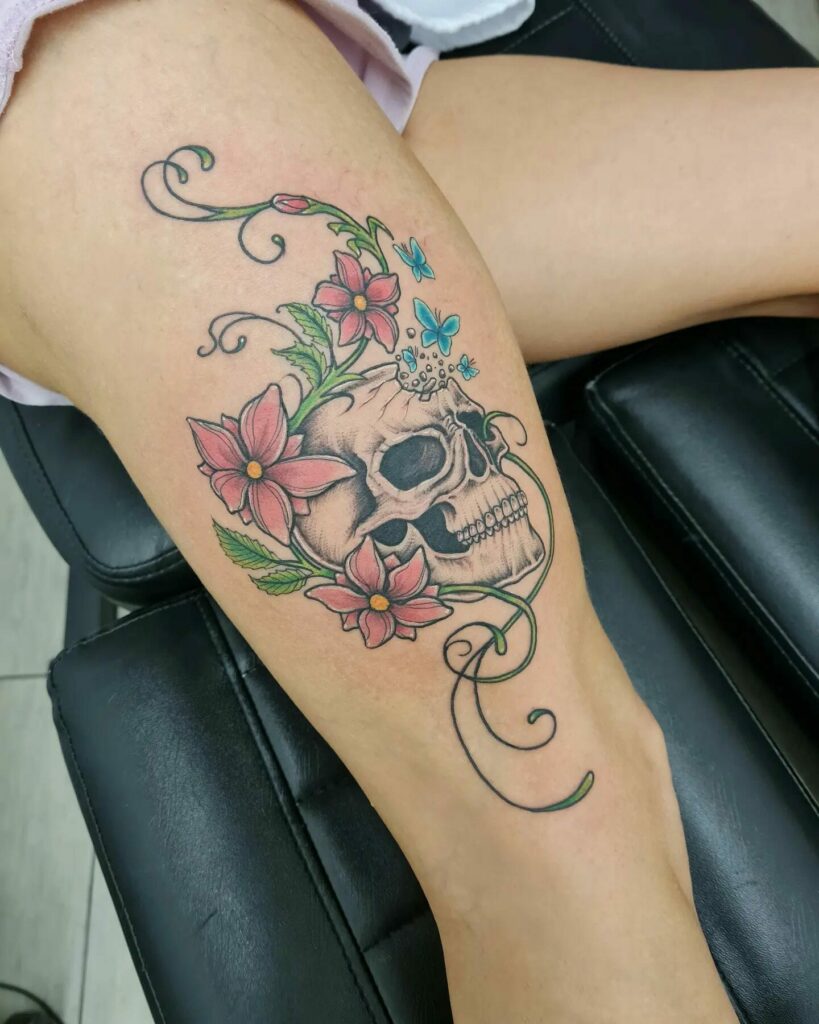 Tattoos can be more than just art; they can hold deep symbolic meanings that can change the whole message of a design. This particular tattoo showcases how adding floral elements to a skull design can transform its meaning. The artist has masterfully blended beautiful flowers with the skull tattoo, creating an aesthetic and vibrant contrast. The design also features small blue butterflies that appear to be flying away from the broken head, adding an element of freedom and hope. This use of contrasting elements is a classic technique in tattoo art that can deliver unique and powerful pieces. If you want to convey a message of rebirth and transformation in your tattoo, incorporating delicate flowers and butterflies is a great way to achieve it.
Red Butterfly And Skull Tattoo
Butterfly and skull tattoos are some of the most enigmatic symbols in the world of tattoo art. These designs often hold contrasting meanings, making them a popular choice for those who love tattoos. For instance, in some cultures, a butterfly represents resurrection and death, while a skull is often associated with mortality and the afterlife. In the image mentioned above, a red butterfly is paired with a skull tattoo that creates the illusion of a horned devil. The horns protruding from the skull give a mystical look to the design, which can serve as an excellent source of inspiration for your next tattoo.
feature image from Pinterest – Want your tattoo to look brighter? Try "Tattoo Balm"