Greetings, aficionados of all things diabolically inked! Are you a stalwart disciple of the Marvel Cinematic Universe's darker fringes, entranced by the sanguine allure of the villainous Carnage? If so, prepare to be tantalized by a curated selection of ten spectacular Carnage tattoos sure to ignite your fanatic fervor.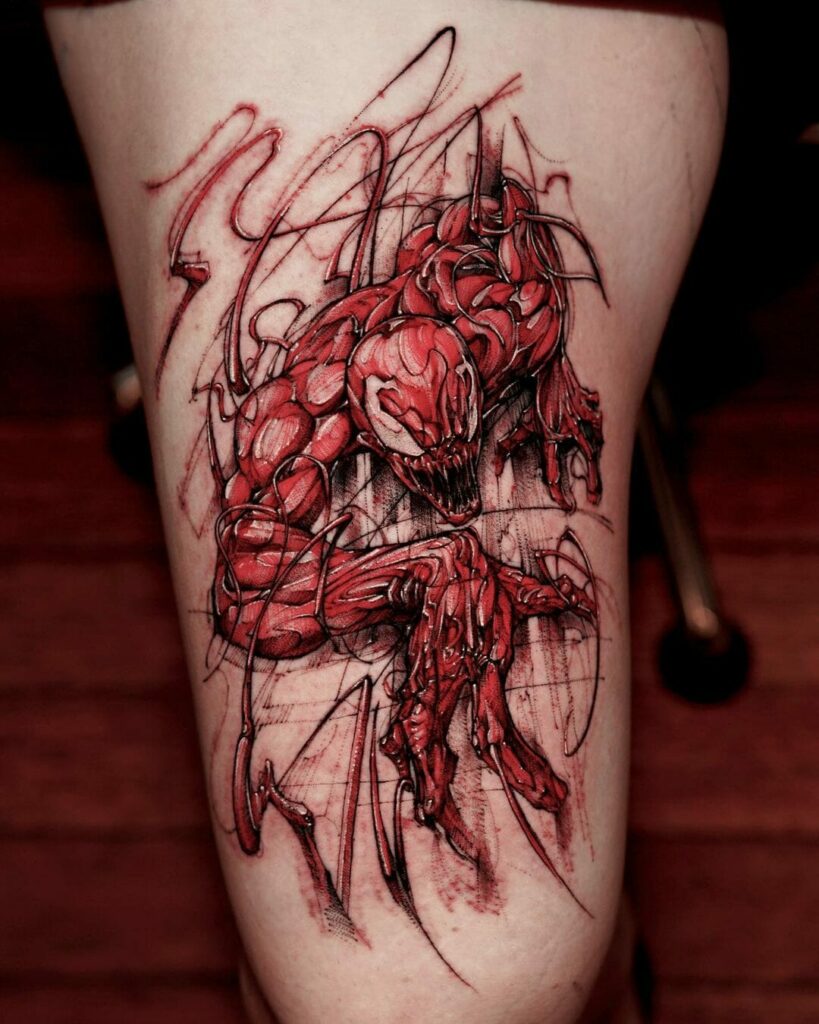 The appeal of supervillain body art is no surprise, often taking center stage over their heroic counterparts. As it turns out, a penchant for chaos can be quite the draw, my friends.
As we immerse ourselves in the ebb and flow of tattoo trends, it is clear that Carnage tattoos have clawed their way to prominence among Marvel enthusiasts. The demand for such designs is currently rivaling the appetite for those featuring the equally fearsome Venom.
If you need a refresher, Cletus Kasady, our infamous serial killer, made his initial comic book debut in 'The Amazing Spider-Man' (1992). However, Kasady truly claimed his notorious status with the character's first live-action cinematic portrayal in 'Venom: Let There Be Carnage'.
Here's where things get wonderfully chaotic, kids. Kasady transforms into Carnage in a fascinating series of events involving an attempted cell-mate murder, a window-traversing extraterrestrial symbiote, and a bonding of villainous proportions. In essence, Venom begot Carnage. Despite their physical similarities, the chief distinction between the two boils down to one thing: Carnage has no moral compass. His sadistic nature, boundless power, and cunning intellect make him a thrilling choice for body art enthusiasts, ushering in a wave of trendy Carnage-inspired tattoos.
So, without further ado, we present ten of the most striking Carnage tattoo designs for your consideration. Whether you're a seasoned inkee or a newbie on the block, there's something here that will spark your imagination.
Carnage Themed Back Tattoo
Ever thought of converting your back into a canvas for a climactic Marvel battle scene? Imagine Carnage and Venom, locked in combat, with Iron Man and Spider-Man, all realized in the quintessential red-black color palette of Carnage. This mural of malevolence brilliantly encapsulates Carnage's destructive prowess, capturing a moment where our superheroes fall. Sure, this grand design could be costly and might sting a bit, but consider it a worthy investment in wearable art.
Carnage Face Tattoo For Bicep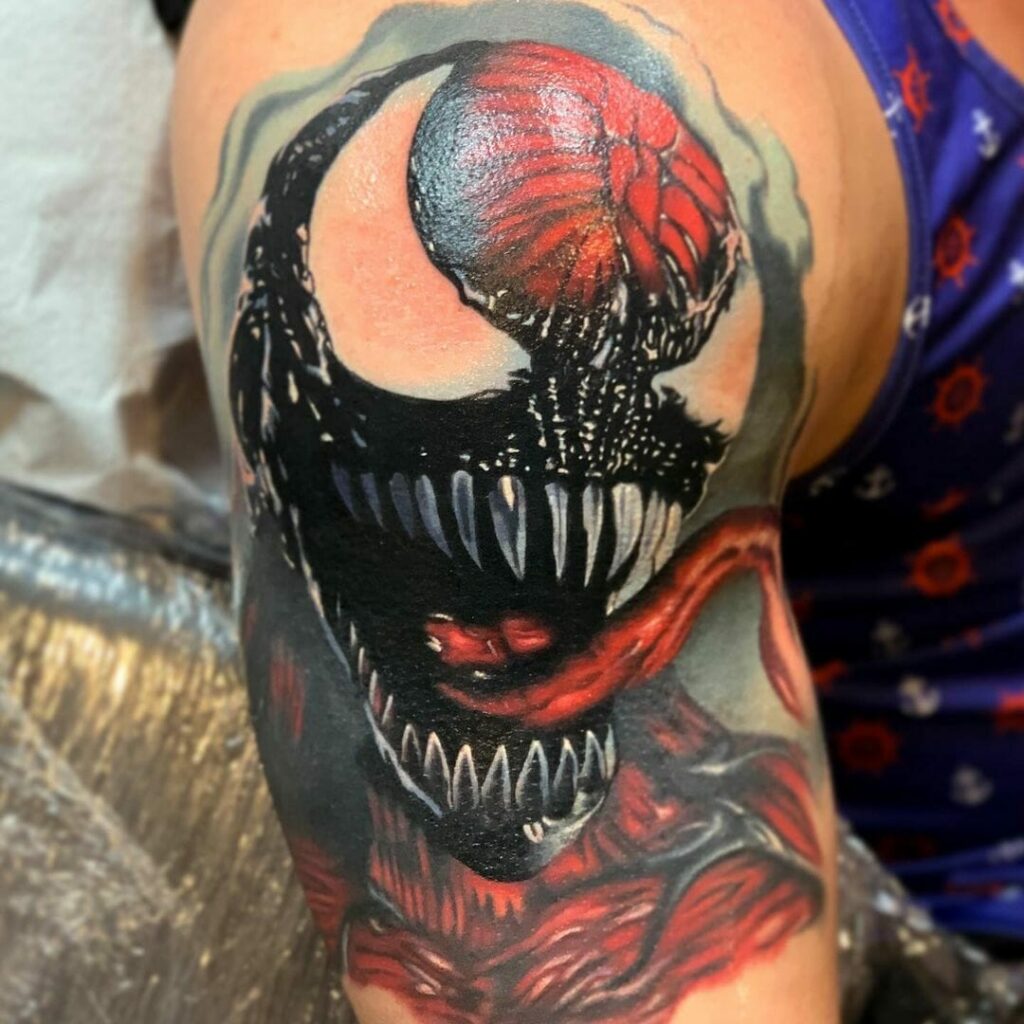 A Carnage visage can indeed be disconcerting, but that hasn't stopped true aficionados from embracing this as an opportunity to pay homage to the epic supervillain. Picture a facial portrait of Carnage so well-crafted that his head seems to be rising from the skin. It's the strategic interplay of red, black, white, and grey ink that breathes life into this design. This calls for the adept hand of an artist well-versed in the Marvel universe.
Inner Bicep Carnage Tattoo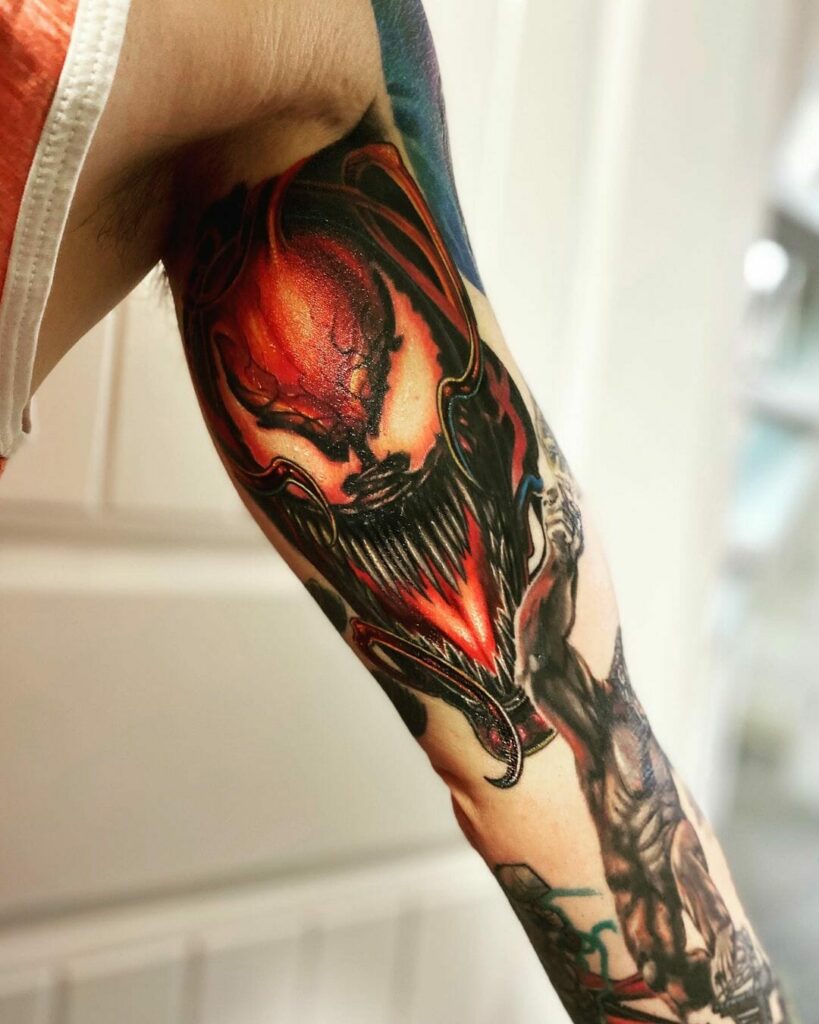 Nothing commands attention quite like a striking inner bicep tattoo, especially when Carnage is the main act. Why opt for subtlety when you can go big, bold, and all-out? The captivating blend of yellow, orange, red, black, and white inks mesmerizes. If you're pondering to begin a sleeve or extend an existing one, this could be your starting point.
Spidey-Venom-Carnage Tattoo For Leg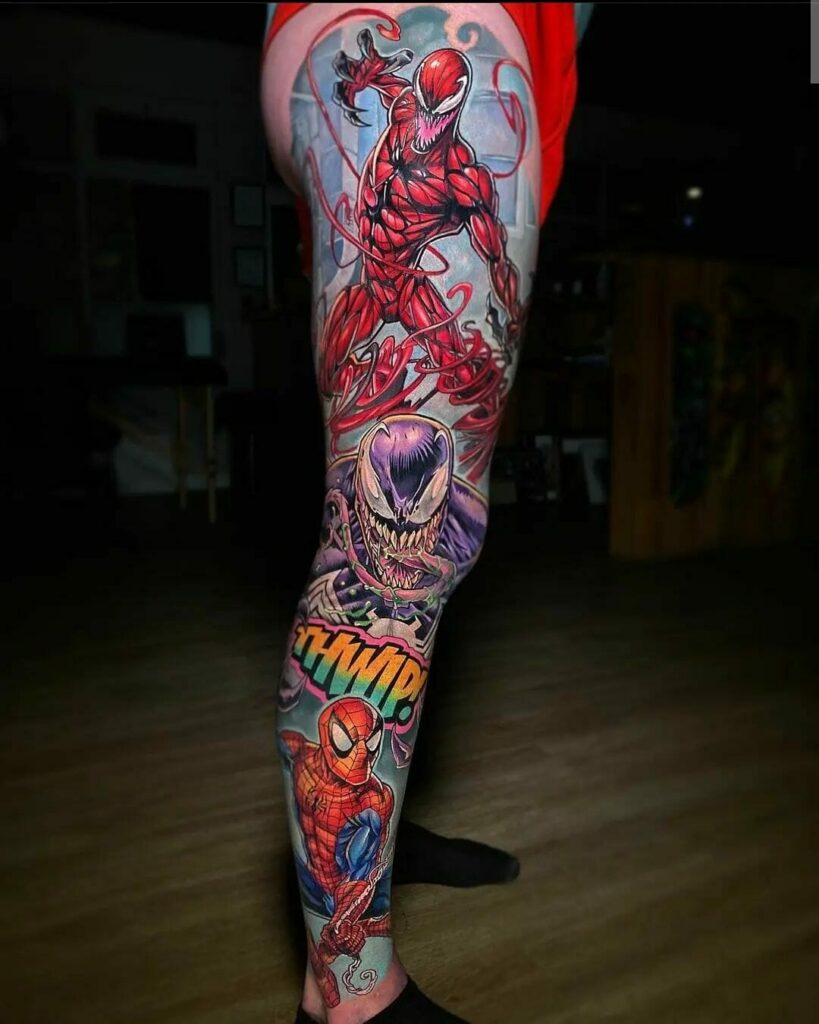 The complicated trinity of Spider-Man and his iconic foes, Venom and Carnage, forms the basis of this riveting leg tattoo. Remember when Carnage, born of Cletus Kasady's union with a symbiote, launched into a city-wide rampage, ultimately bringing Spider-Man to his knees? This vivid scene encapsulates that essence. With a talented artist, this design can seamlessly transition into a sleeve tattoo.
Carnage Symbiote Tattoo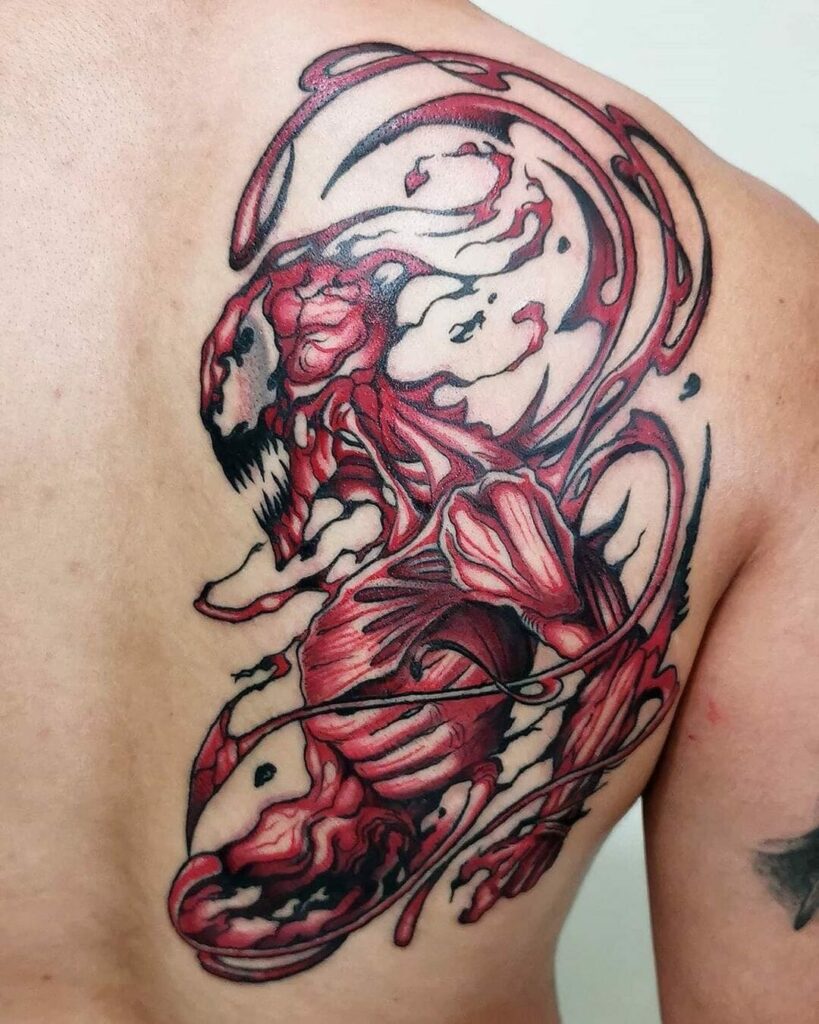 Carnage symbiotes, those alien parasites bonding with hosts and gifting them superhuman abilities, are marvelously portrayed in this tattoo. It's this symbiotic strength that elevates Carnage as a formidable Spider-Man villain, often outclassing Venom. The calculated interplay of red, black, and grey colors illuminates Carnage's formidable muscular structure, making it a top choice for any ink enthusiast.
Simple Carnage Tattoo In Watercolour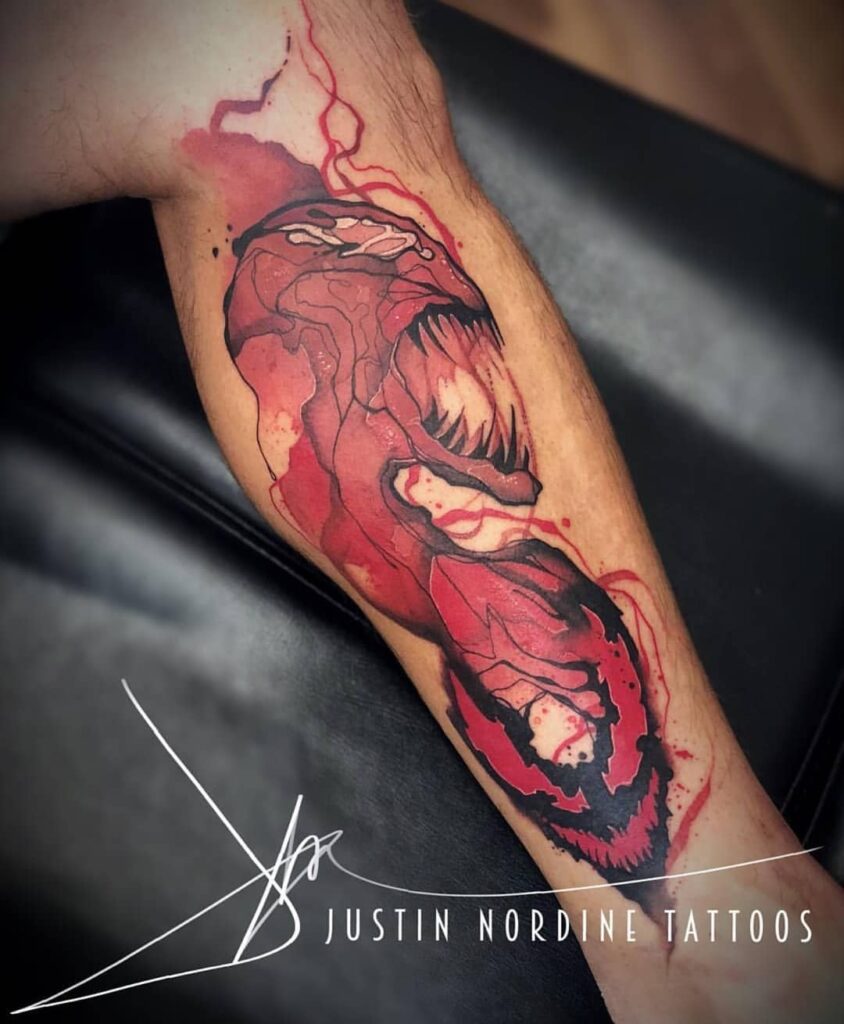 Venture into an unconventional domain with a watercolour Carnage tattoo. The duo of Carnage and Venom artistically portrayed using watercolour technique adds an aesthetic charm. This design requires an artist experienced in watercolour tattoos, but the end result is nothing short of a visual spectacle.
Realistic Carnage Tattoo With Dialogue Box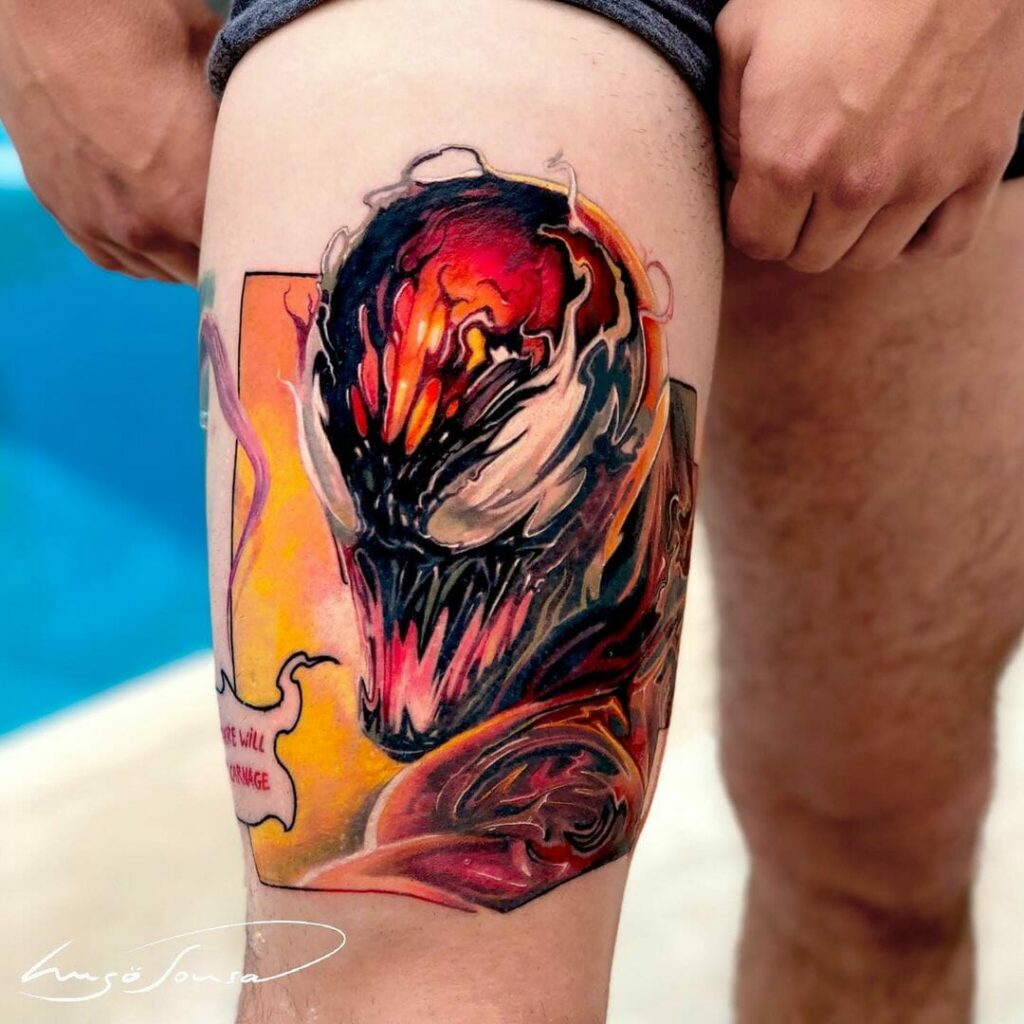 Capture the vibrancy of Marvel Comics with this creative tattoo featuring Carnage in his signature bold colors alongside a comic-style dialogue box. The smart use of red, black, yellow, orange, pink, grey, and white hues achieves an impressive degree of realism. Ideal for comic aficionados, this tattoo can bring your favorite scene to life.
Classic Carnage Tattoo
An exaggerated portrayal of Carnage, reminiscent of animated movies and comics, marks this classic tattoo. Here, Carnage sports yellow teeth, pinkish-red skin, and prominent black outlines, in a departure from conventional depictions. Large in scale, this piece makes a compelling statement on the thigh, back, or chest, transcending boundaries of gender, age, or skin color.
Complementary Venom and Carnage Tattoo
For those bonded by a mutual love for Marvel, particularly the Spider-Man villains, consider immortalizing your camaraderie with complementary Venom and Carnage tattoos. These designs are skillfully crafted to achieve a three-dimensional effect, with Venom appearing as formidable as Carnage.
Venom Vs Carnage Tattoo
The climax of Marvel villainy – a face-off between Venom and Carnage – forms the core of this intricate tattoo. Contrasting backgrounds provide clarity to each character's distinct facial features, adding to the depth of the piece. Given the complexity, opt for an experienced artist and get ready to bring this stunning art to life on your chest.
Conclusion
In the vast, colorful cosmos of body art, bringing a sliver of the Marvel universe onto your skin can be a thrilling exploration. Remember, the decision to wear a Carnage tattoo, like any, is personal and deserves careful thought. Tattoo placements can range from highly visible areas like biceps and legs, to more discreet locations like the back and inner arm. The cost varies significantly depending on the complexity of the design, size, color choices, and your chosen artist's expertise. Be prepared to invest anything from a hundred to a few thousand dollars for these intricate designs.
While the prospect of wearing your favorite supervillain's likeness might be appealing, be aware of potential risks and side effects. These can include allergic reactions, skin infections, or complications with MRI imaging due to certain ink types. Furthermore, removal or alteration of tattoos can be painful, expensive, and may not fully erase the original design. It's also worth noting that societal views on tattoos can still be polarizing, which may impact personal or professional situations.
Ultimately, your body is your canvas, and if Carnage appeals to your aesthetic sensibilities, you can become part of an exciting tribe of supervillain tattoo wearers. Embarking on this adventure with your eyes wide open can ensure a journey that's as rewarding as it is colorful. After all, a little chaos might just be the missing piece in your body art collection!
Feature image from Pinterest
Last reviewed and updated on May 19, 2023