Hey there, tattoo lovers! Are you searching for a tattoo design that's both strong and elegant, with a classic touch? Look no further than the Celtic sword tattoo!
Throughout history, swords have been wielded both for conquest and defense. We've all seen movies where a warrior brandishes a broadsword and slays their enemies. But regardless of the context, swords have always been a symbol of power and force. From Vikings to unknown warriors of the past, the sword has played a pivotal role in countless cultures and societies.
There are many interpretations of what a sword tattoo can represent, but they all relate to its use as a weapon. Symbols associated with the sword tattoo include leadership, defense, bravery, strength, and dominance. As a weapon used to strike down opponents, its meaning is pretty clear. From a philosophical perspective, the sword represents the piercing power of the intellect.
There are many ways to incorporate a sword tattoo into your ink, whether as a standalone piece or in combination with other elements. Whatever your preference, there are dozens if not hundreds of design ideas to choose from. To get a unique look, we recommend working with a professional and knowledgeable tattoo artist who can help you create the perfect design for you. Need some inspiration? Check out the suggestions and images below to get a good idea of the striking impact of the sword tattoo.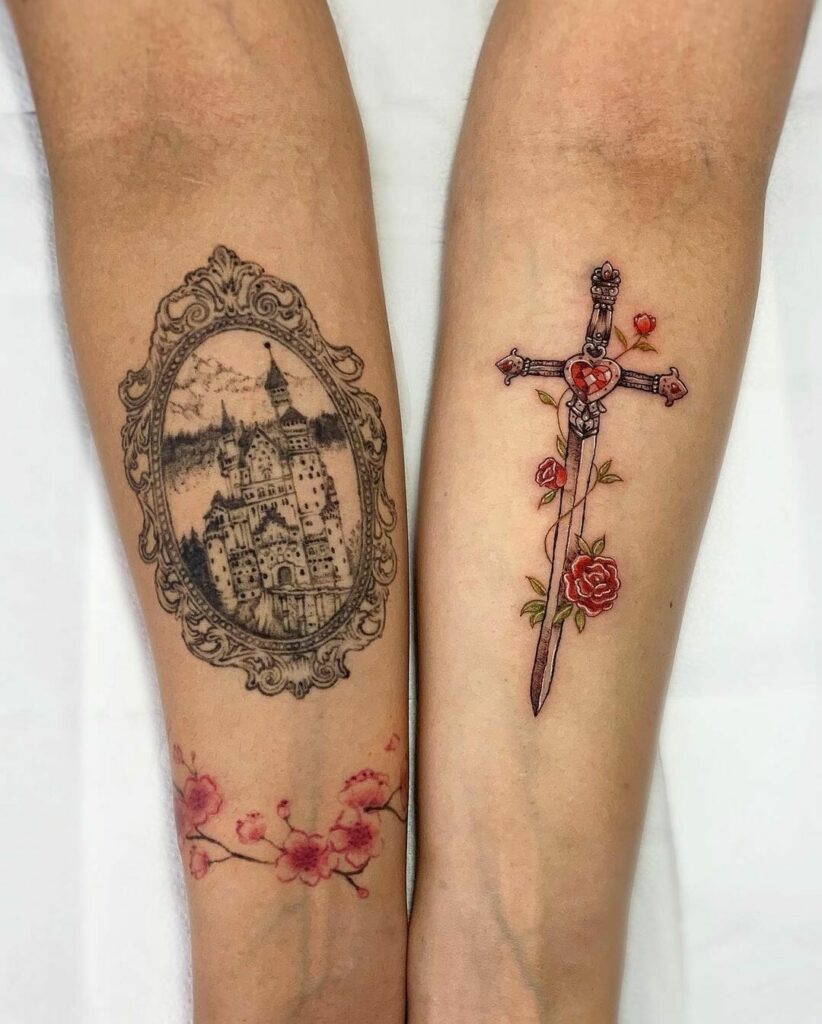 Celtic Sword And Dragon Tattoo Designs
Celtic tattoos are a popular choice among tattoo enthusiasts, and this particular Celtic sword and snake tattoo design is one of the most detailed ones you will ever come across. The red background of the tattoo adds an extra level of intensity to the already impressive artwork. The design features a sword intertwined with a snake's body, which gives off both Celtic and mythological vibes. The snake's long body is wrapped around the sword in circles, and there are intricate patterns on certain parts of the snake's body. The handle of the sword has a unique twist design and is topped with a circular shape.
Dragons are also a popular tattoo choice due to their rich symbolism, which includes power, protection, independence, wisdom, good fortune, stability, and even fear. Depending on the culture or mythology they are derived from, dragon tattoos can carry various meanings. Whether you prefer Japanese, Chinese, or Buddhist dragons, or a mythical or spiritual interpretation, the options are endless.
Celtic Knot Sword Tattoo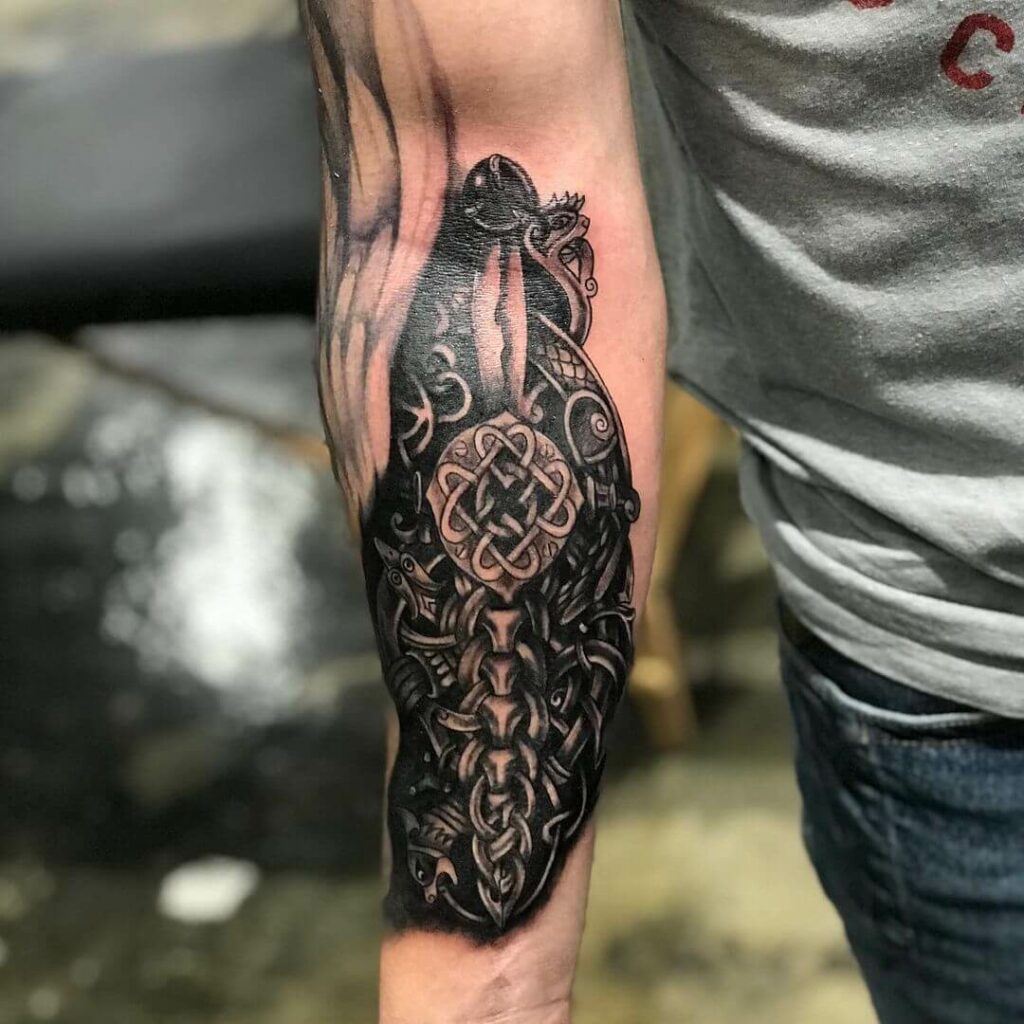 The intricate details of this tattoo are truly stunning. The knotwork design at the centre of the knife is a powerful symbol of heroism. On the upper right side, we can see the skin of the snake, adding an element of danger and intrigue. This variation of the sword, with a twisted and circular blade, is a meaningful choice for men. The entire tattoo is done using black ink, making it a versatile and classic design that can look great on the arms or legs.
The symbolism of swords varies greatly across cultures and time periods, but in Celtic mythology, the sword is a significant symbol of power and strength. This tattoo design is an excellent way to incorporate this meaningful symbol into your body art.
Celtic Sword Tattoo Design Representing Courage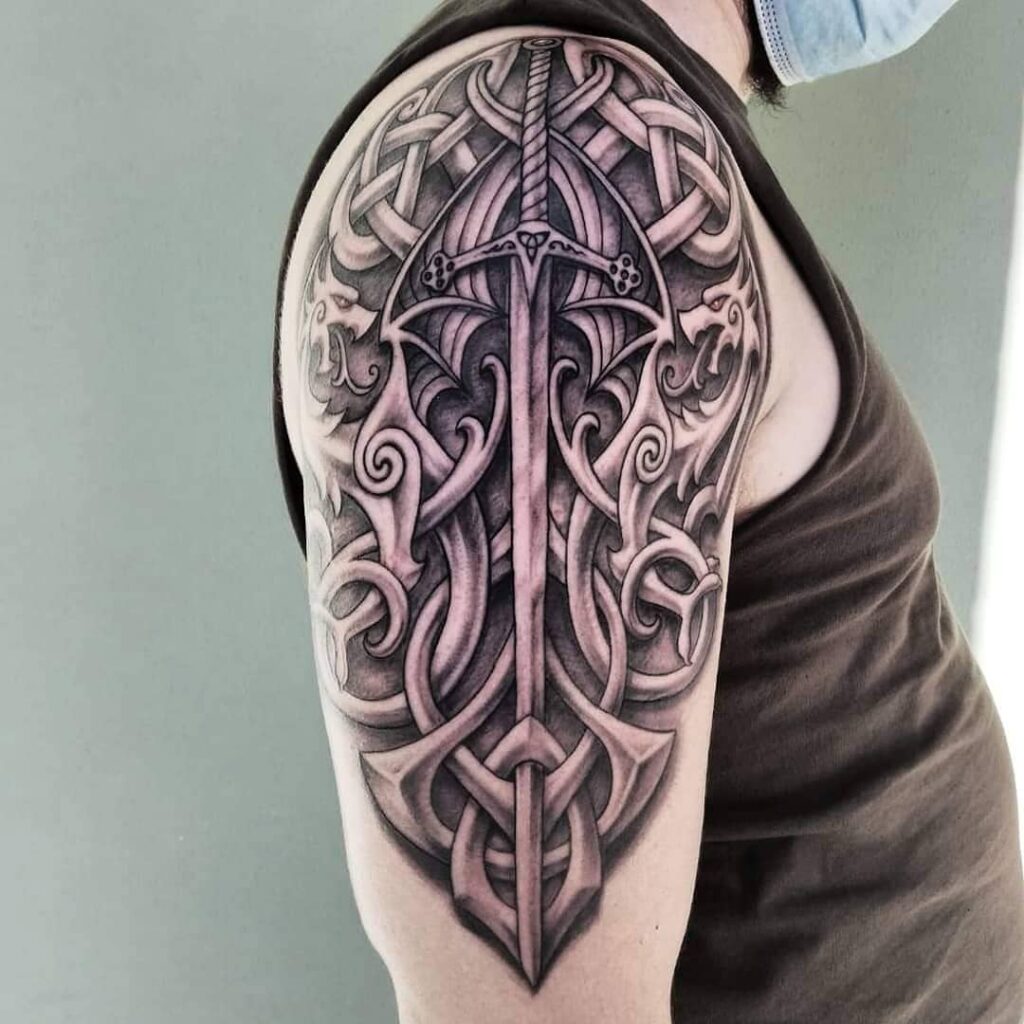 This Celtic sword tattoo is a true masterpiece that will leave you in awe. Tattoo artists consider it to be one of the most stunning sleeve tattoos you can get. The sword is the main focus of the design, placed right in the center. The intricate interlinked patterns that surround it give the tattoo a unique depth and texture. At the top of the design, two dragons with fierce red eyes face each other, adding to the tattoo's intensity. The sword's handle features a trinity knot, a symbol of eternity and the never-ending cycle of life.
To the ancient Celts, the sword was closely associated with Nuada, the first king of the Tuatha De Danann. As a result, Nuada's sword is considered one of the Four Celtic Treasures to this day. Getting a Celtic sword tattoo is a great way to showcase your appreciation for Celtic history and mythology.
Celtic Sword Tattoo Designs For Women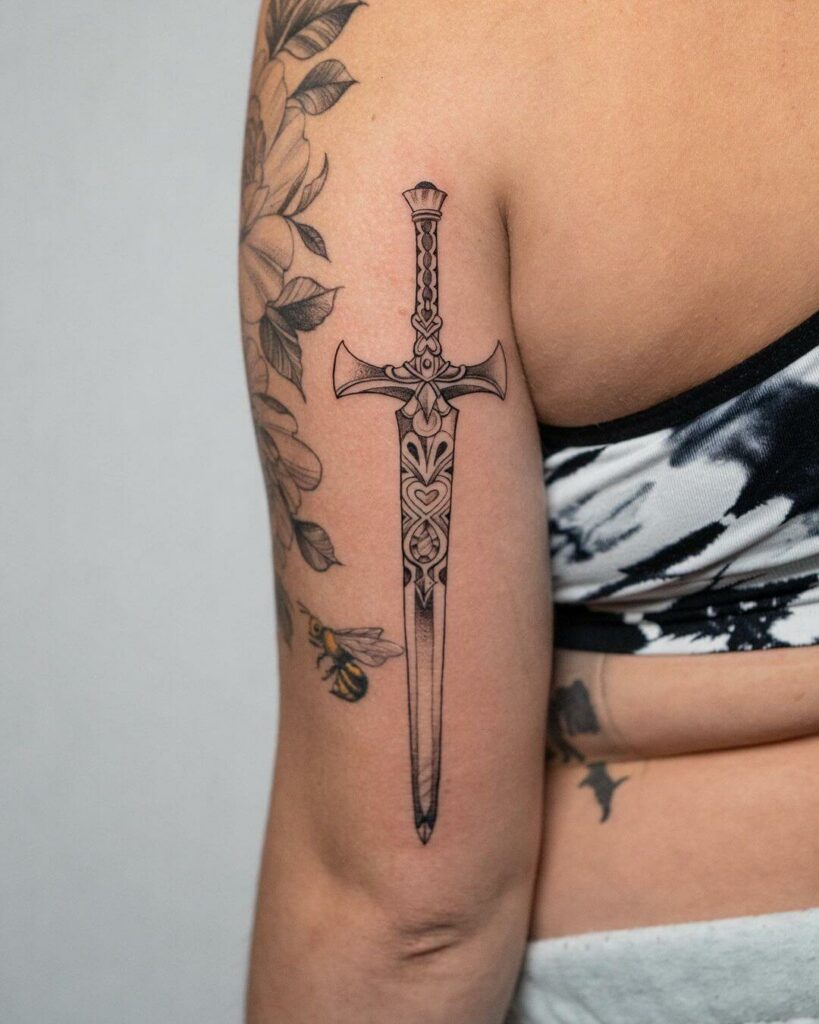 Celtic mythology has always been a great inspiration for tattoo lovers, and this simple and elegant Celtic sword tattoo is no exception. The beauty of this design is in its simplicity. The grip of the sword has been intricately designed with criss-cross patterns, and the guard is slightly longer than usual, adding to the aesthetic appeal. The artist has also given a division on the blade, which gives the sword a more realistic look. Celtic symbols and designs have always been popular in tattoos, and this design is perfect for those who want a meaningful and straightforward tattoo.
Celtic Warrior Sword Symbols Tattoo
This will look very great as a forearm tattoo too.
In this Celtic sword tattoo design, the artist has added a unique touch by giving a textured appearance to the sword's grip, making it look like it is tied with a rope. This design gives the impression of a handmade sword, which was made by skilled warriors in medieval times. The sword is shorter than other designs we've seen, which adds to its rustic appeal. At the centre of the sword, there is a knotwork design, which is a common element in Celtic art and symbolizes interconnectedness and eternity.
Celtic Tattoo Designs That Shows Purity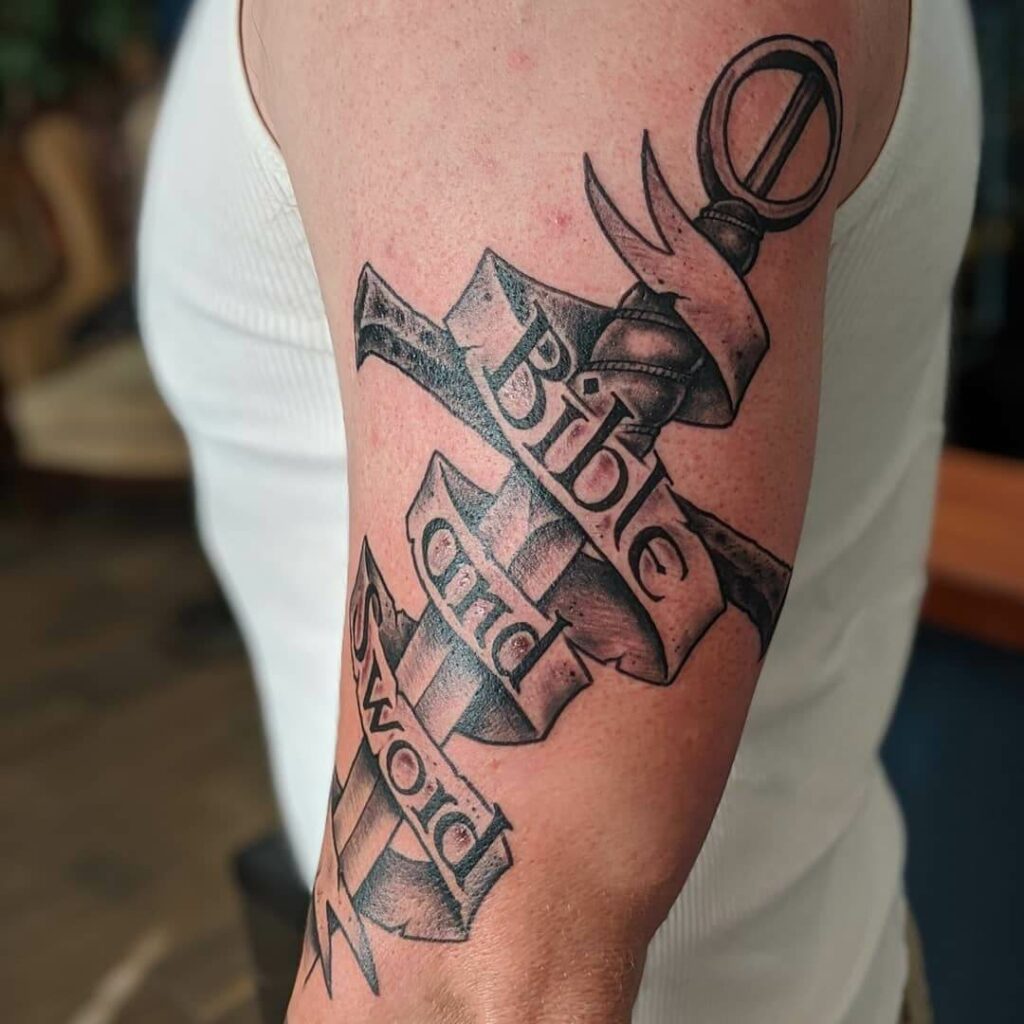 This tattoo design holds deep meaning and significance for those who get it.
In this design, we see a sword wrapped in a ribbon-like material. The ribbon is inscribed with the words "Bible" and "Sword," symbolizing the guidance of a higher power in navigating life's challenges. The edges of the ribbon are cut with precision, and the end is fashioned into a V-shape. The sword's handle, or pommel, features a circular shape with a straight line running through it. This tattoo is a powerful representation of faith and strength.
Celtic Sword Tattoo Meaning Courage And Love
This tattoo design is a perfect way to showcase your love and dedication to your family. The word "Family" is prominently displayed, and it's the first thing that catches your eye. The tattoo artist has beautifully created an image of an angel holding a sword, which adds a sense of protection and safety to your family. The intricate knotwork on the guard of the sword adds a touch of elegance to the design, making it one of the most stunning sword tattoos out there.
Sword of Nuada Celtic Tattoo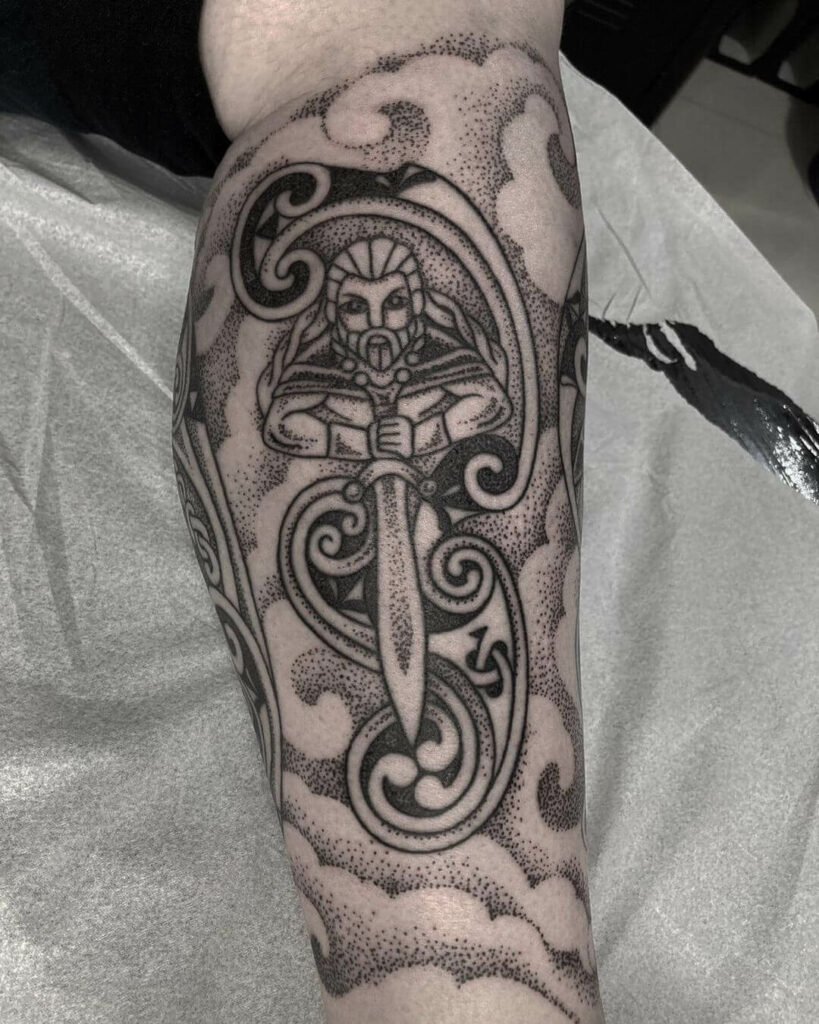 This Celtic Gaelic Sword of Nuada tattoo speaks volumes about your attitude and the energy you carry within you. The sword is not just a symbol of authority, but also represents direction, justice, and courage – all attributes that can assist you in achieving your goals in life. By surrounding yourself with positivity and a beautiful outlook, you can lead a meaningful life. The Celtic Sword of Nuada tattoo is a powerful way to express your inner strength and determination, and serves as a constant reminder of the qualities you embody.
Celtic God Mask Tattoo With Sword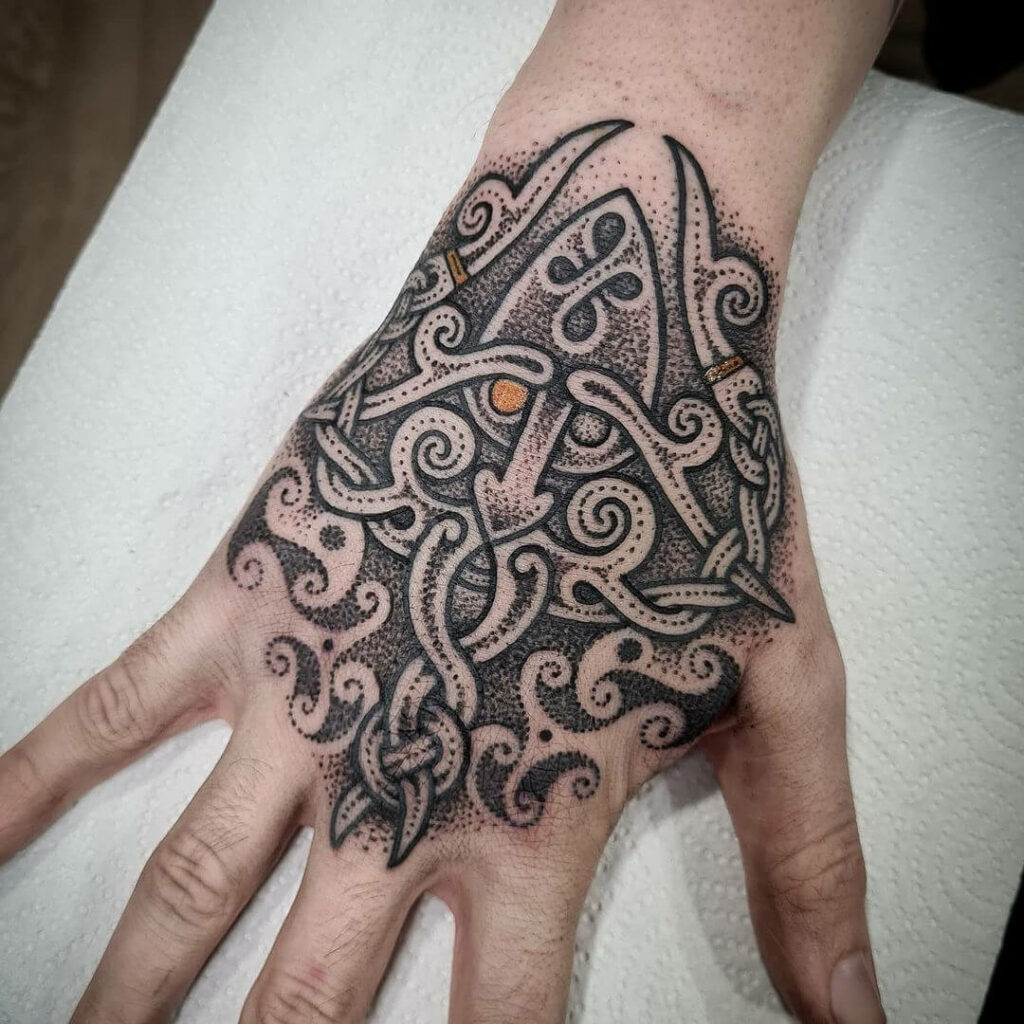 If you're a fan of both Celtic and Norse mythology, consider adding a Celtic sword to your tattoo design. While not strictly Celtic in origin, Norse gods have been worshipped by Celts for centuries, and combining these two traditions can create a beautiful and rich design. Adding a sword can bring in elements of authority, strength, and courage, all of which are associated with the symbolism of swords. So if you're looking for a unique way to pay homage to both Celtic and Norse history, consider incorporating a Celtic sword into your tattoo design.
Celtic Cross Sword Tattoo
If you're looking for a unique and personal tattoo, a Celtic sword and shield design could be an excellent choice. Adding a sword to a Celtic cross tattoo is a fantastic way to incorporate the rich history of Celtic mythology. A sword tattoo can have different styles and designs, ranging from gothic to stunning, making it a versatile and meaningful option.
The meaning of a sword tattoo depends on the type of sword and its design. Sword tattoos are often done in black ink, but you can choose to add colors to make it more vibrant and beautiful. Although swords are no longer used as weapons, their elegance and attractiveness continue to inspire many tattoo enthusiasts.
When deciding on a sword tattoo, it's essential to choose a design that resonates with you and reflects your beliefs and values. Take your time to consider all options and find a design that you genuinely love. With the right design, a sword tattoo can be a bold and meaningful expression of your personality.
feature image from Pinterest – Want your tattoo to look brighter? Try "Tattoo Balm"
Last reviewed and updated on June 7, 2023