Busy wondering what would be the perfect chandelier tattoo? Don't worry as we have carefully curated some unique tattoos that will surely blow your mind!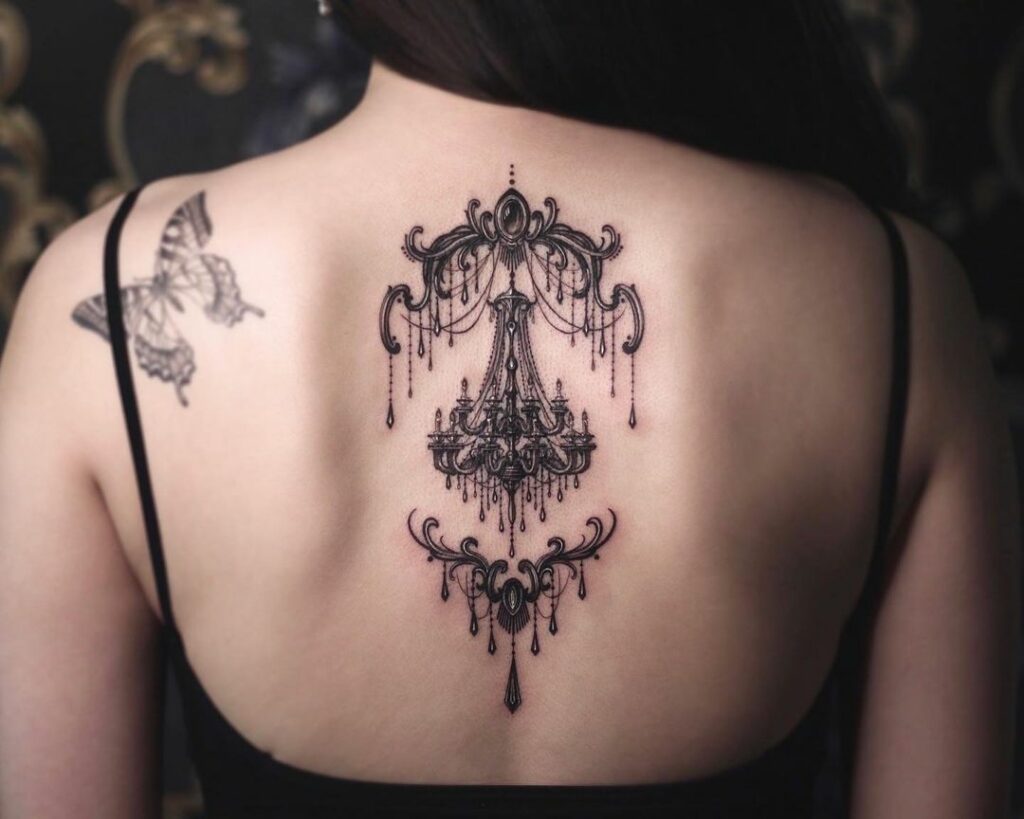 Chandeliers are a composite structure that is used to light up a place.
Having their roots as an aristocratic or a luxurious item, these chandeliers are often found to be embedded with gems like pearls and sapphires. Similarly, the chandelier meaning or a chandelier tattoo meaning refers to something that is expensive, luxurious and one that is aesthetically pleasing.
Accompanied with a chandelier tattoo one can also find a lace tattoo where laces connect one jewel to another. Be it a chandelier tattoo or a lace tattoo, these tattoos are known to describe feminity and along with them, we also have the butterfly tattoo that represents feminity as well as metamorphosis. So ladies what are you waiting for? dive down to find some unique and gorgeous tattoo designs.
If you find out content interesting then do check out:- Yellow rose tattoos and Atlas tattoos
Chandelier Sternum Tattoo
The sternum is the place that is located in the middle of your chest. Of late a lot of people, both male and female all across the globe likes the idea of having a temporary or permanent tattoo placement right in their sternum or more accurately the underboob area.
Chandelier tattoos look gorgeous on the body and bring out a unique style of designs that can be placed on human skin. In the picture above, we can see a lovely piece of chandelier artwork that looks perfect in its placement, i.e right under the breast. If you plan on getting a similar tattoo, then there is no need to rush, take your time to make tweaks on the design that pleases and suits you.
Small Chandelier Tattoo
You can always get to know a lot about a person based on the size, shape and detailed art in a tattoo design. Though many prefer big and large bold tattoos, some people fancy tiny, simple and small tattoos. And thus a small chandelier tattoo could just be what you are looking for to oomph up your style.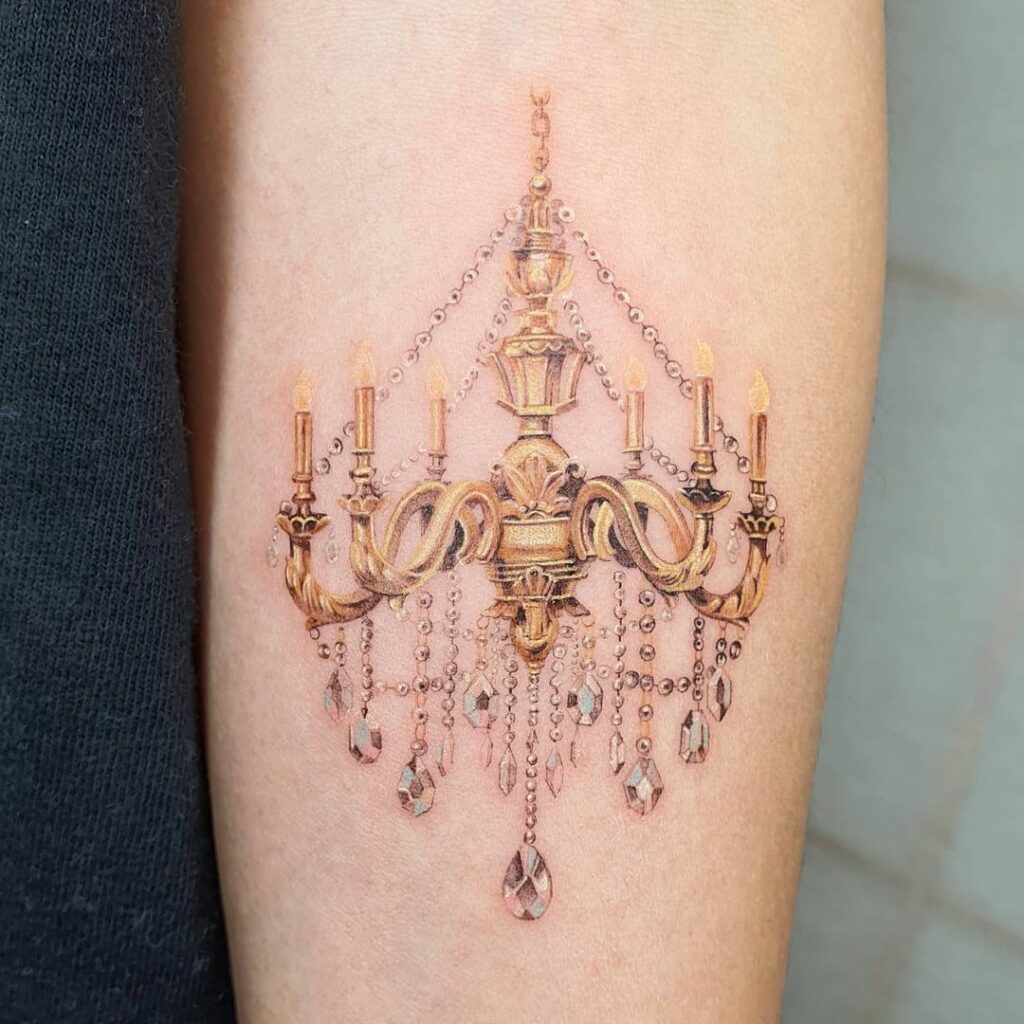 If you consider small tattoos to be your jam, then the picture above could be close to what deems perfect. The picture depicts a colourful vintage chandelier tattoo that is encased with jewels. There are also stands where candles are placed and act as a source of light. If you plan to search for innovative chandelier designs then get in line to check out some of the best designs that you may want to consider getting on the skin.
Moon Chandelier Tattoo
Looking around to find the best tattoo ideas that everyone is going to love? Don't worry but first, check out this lovely piece of art. Astronomical tattoos have been around for quite some time and they work really well in any art form. So if over the years you have a wish to look awesome with a tattoo, try out a moon chandelier tattoo.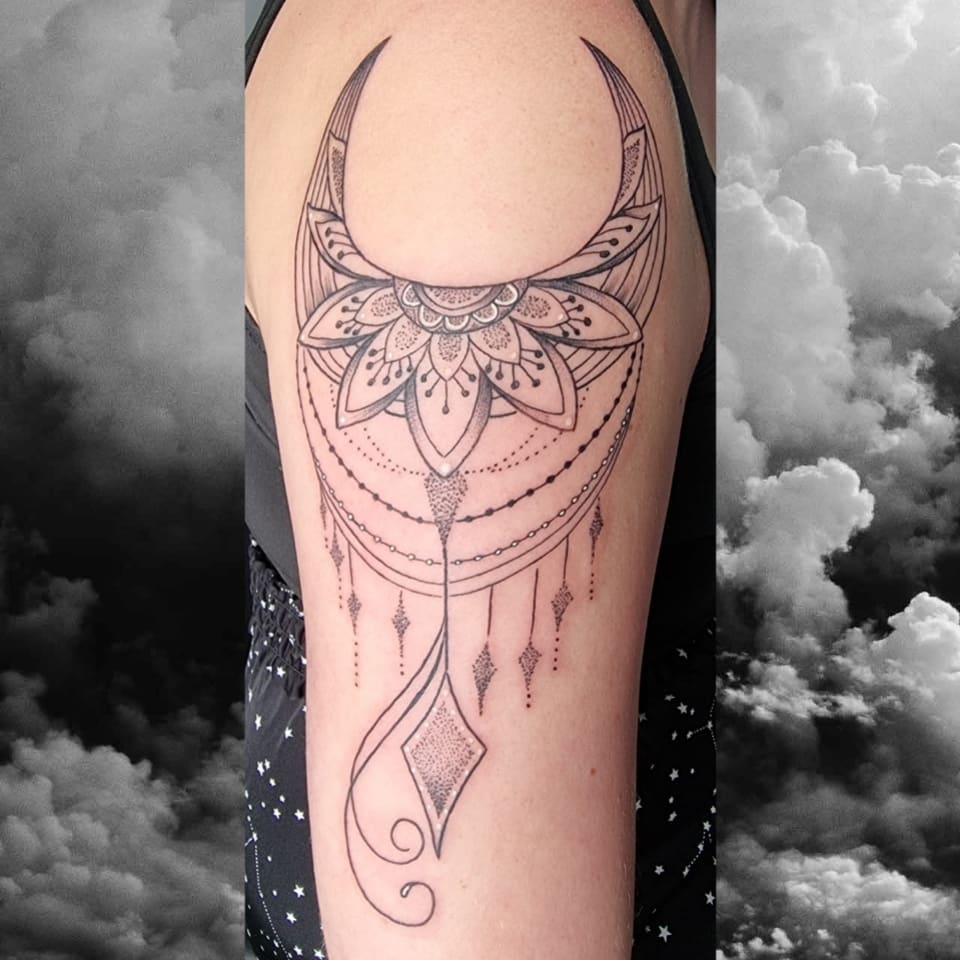 As evident from the picture, we can see a chandelier that has been designed as a crescent moon along with floral petals that look exceptionally gorgeous. The intricate design of the chains and the chandeliers hanging from the moon makes it a unique design that you can want to choose to get at any time.
Mandala Chandelier Tattoo
Be it any design in the world, however, if you choose to place a mandala in it, then it can surely become one of the most beautiful and gorgeous designs in the world. Having its roots in the ancient Vedas, the mandala became extremely famous in recent times and have effectively taken the world by storm. These symbolic and geometric circular symbols can often be merged in any or every design thereby making the latter an exquisite piece of art that you would pay anything to get inked.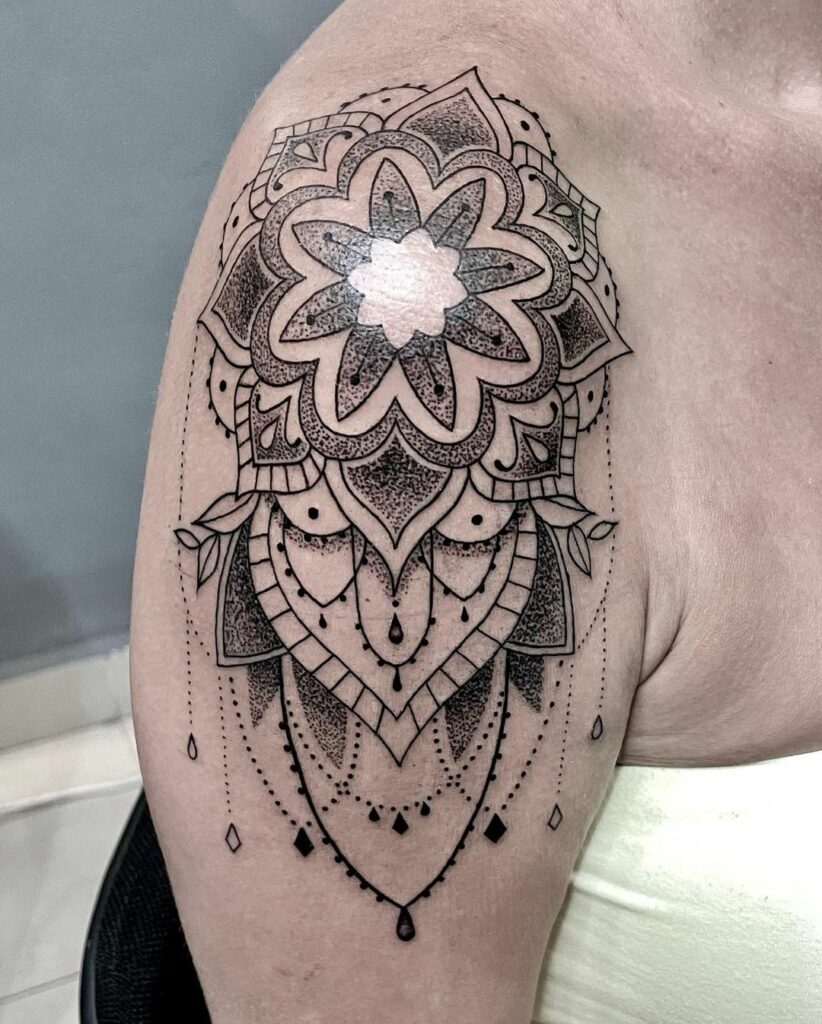 As depicted in the picture above we can see a beautiful floral chandelier tattoo that has been made in the shape of a mandala. These intricate designs might tempt you to think to have or want a similar tattoo at the back of your arm.
Lotus Chandelier Tattoo
Floral tattoos not only looks gorgeous but also are adored by countless female all across the globe. If you think of a tattoo design that can become the first love for you across a wide choice of tattoos then a chandelier tattoo design would surely top that list. Floral tattoos are extremely popular and lotus and rose tattoos are the most sought tattoos that are trending in modern times.
Looking for new and innovative designs and things that will surely give a stare of others out in the street? A lotus tattoo in the shape of a vintage chandelier may just make the work. As evident in the picture, the two elements i.e the lotus and the chandelier merge to create a new lovely artwork that can please many people. So stop worrying and go for these chandelier tattoo designs as they may turn out to be the best artwork that you can get.
Rose Chandelier Tattoo
Referred to as the flower of love, the rose is most definitely one of the most gorgeous flowers on the planet. Rose tattoos are often one of the most popular tattoos of the world and thus to ink rose chandelier tattoos on your body parts like the back of the arm, in the sternum or underboob tattoos can not only be unique but also will add the x-factor in your glamour.
Amazing tattoo ideas can work wonders on your body as is evident from the picture above. The picture shows a wide chandelier tattoo that has three beautiful roses placed in the centre of it. The branches are intertwined among themselves to make an elaborate chandelier that looks best in the sternum or the underboob area of the body.
Skull Chandelier Tattoo
Nowadays, nothing is complete without dark modern artworks and tattoo ideas are no exception to that. Skull tattoos are mostly related to metal music which is a part of an underground movement against mainstream music and thus if you have plans on having a chandelier tattoo, then incorporate those lovely ideas with a blend of modern metal music in the form of skull chandelier tattoos.
Though there can be numerous varieties in the design of these tattoos, they are each different from one another when you ink them in your body. The picture depicts three skulls joined together as a chandelier and lighted candles sit gently on top of each skull.
Sun And Moon Chandelier Tattoo
If you plan to ink something really unique and new then the ideal way would be to go for a sun and moon chandelier tattoo. The sun and moon are two opposite heavenly bodies and thus they are different from one another. However, they can also be considered as two parts of the same coin. One brings the day, warmth and energy while the other brings the night, calmness and sleep.
Just like two sides of the same coin or the yin and yang two halves of the face are shown as that of the sun and the moon in the picture. A star with a halo shines brightly on the top while the chandeliers hang gracefully at the bottom. These tattoos are exquisite and bring out the charm of the design.
Animal Design Chandelier Tattoo
Animals are widely loved all over the world and thus animal lovers and pet owners often like to implement their admiration for the animal kind on their tattoos, thus giving birth to animal tattoos.
In the above picture, we find a gorgeous tattoo artwork of an animal that has been encased in a chandelier. It showcases the face of a cat wearing a crown, designed as a chandelier. So if you planning on what should be your next tattoo, go for an animal tattoo that has been designed in the shape of a chandelier.
Chandelier Tattoo With Message
Each tattoo is special and has its own meaning. However, if a tattoo has a designated message in them, it, in turn, becomes more special. Nowadays, people can be seen to be in favour of tattoos that contain a lovely message in them, and thus we have a suitable option for you to choose the one that appeals the most to you.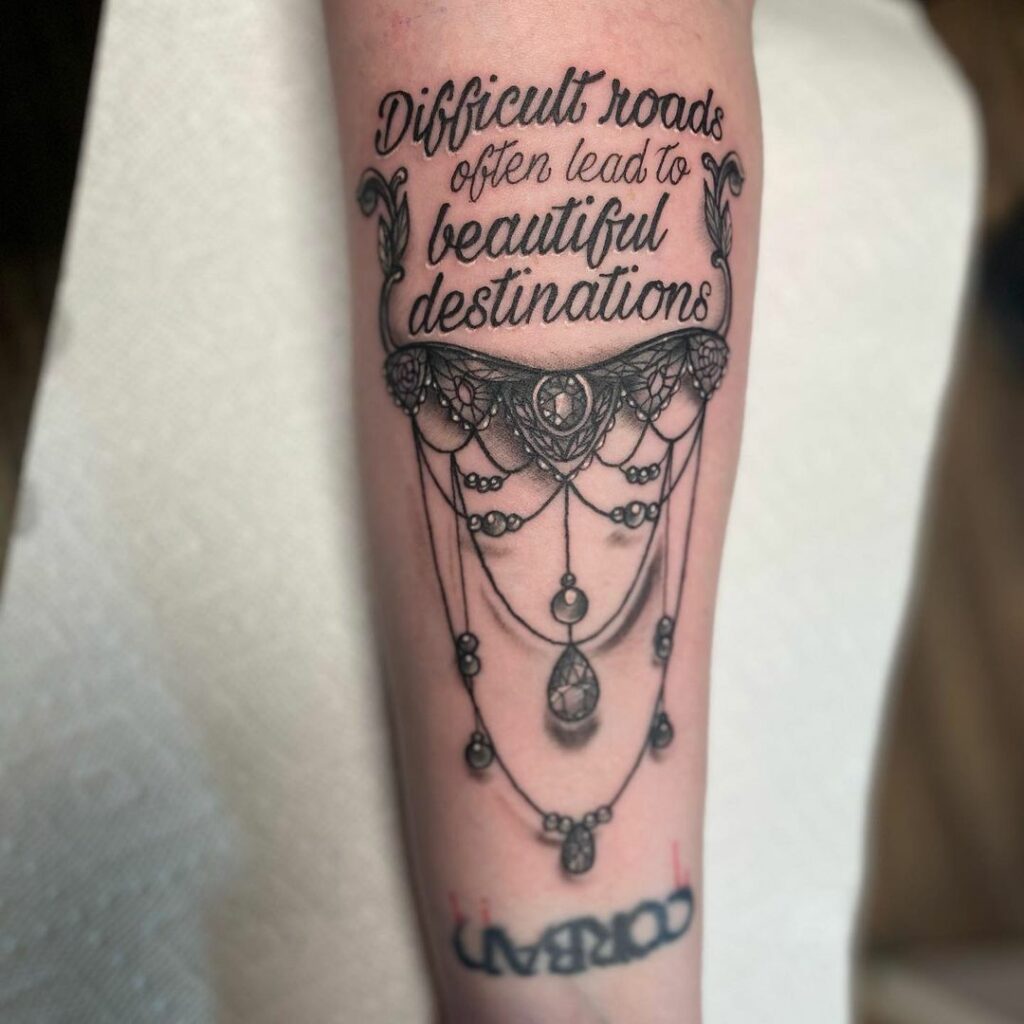 Messages are known to serve many purposes like inspiring someone or just reminding someone that everything will be okay. As evident in the picture above, the tattoo contains an inspirational message, so that the person can strive harder in life. If you plan on having such tattoos, use a chandelier artwork in them which will really bring the tattoo to life. Last but not least a chandelier tattoo with a message will definitely light up someone's world!
With all being said and done, we would highly recommend you get your chandelier tattoos in the sternum or the underboob area. As the area is wide, it not only helps you to bring out the very best of the tattoo but also makes you look attractive and stylish.
Feature image from Pinterest – Want your tattoo to look brighter? Try "Tattoo Balm"