Are you looking for the best chest piece tattoo designs? Keep reading to check out the best chest tattoos you can try at your next tattoo session.
Chest tattoos are definitely a popular choice, and many people are seen with them.
Getting chest tattoos is the advantage that the tattoo is visible, no matter what outfit you choose. The entire chest acts as a canvas, and you can explore any chest tattoo ideas you want.
If you ever want to get a chest tattoo, then just go for it. They look absolutely aesthetic and bold and suit any style that you choose. The best thing about chest tattoos is that you have the freedom to choose any tattoo design that you like. Chest tattoos are worn by people who are very confident, and it is a symbol of being face forward. It also represents power, masculinity, and strength. If you are ruminating about how much does a chest piece tattoo cost, it depends on the design that you are getting. However, it can cost around $100 to $150. If you are looking for the best chest tattoos, we've got you covered. We have compiled a list of cool chest tattoos that you can choose from for your upcoming tattoo session.
Fern And Moon Chest Tattoo
Chest tattoo ideas are always fun. You can go creative and get any tattoo that you like. For example, this fern and moon tattoo. Fern tattoos are a sign of fresh beginnings and a new chapter. Moon tattoos are also a symbol of change and growth. The tattoo has two fern leaves on the two sides of the chest. It also has a moon in the middle. The tattoo has been done entirely using black ink. This tattoo is a great idea if you are looking for something simple that accentuates the collar bone.
Each and every leaf has a beautiful shading that gives the tattoo a realistic look. The moon has been completely filled with black ink. This classic black chest tattoo design looks elegant and is a good chest piece tattoo for women.
Mandala Design Chest Tattoo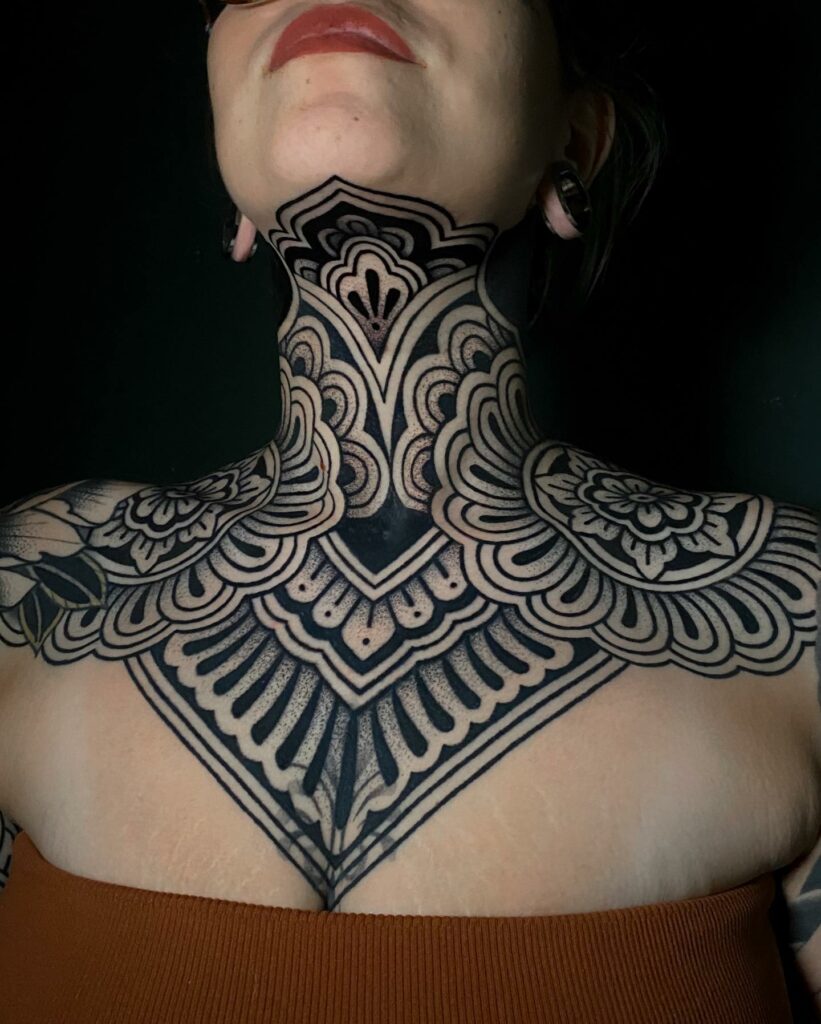 There are many full chest tattoo ideas out there that might stand out to you. However, this mandala tattoo is a perfect chest tattoo. Mandalas are beautifully detailed patterns and geometrical shapes. Mandala tattoo art has become very popular in recent times, and this mandala chest tattoo is a great example. If you are searching for something unique and aesthetically pleasing, then this tattoo is just for you.
The entire tattoo chest piece has been done using black ink. However, you can add different colours to this body art. The tattoo starts from the chin, goes all the way through the neck and finally reaches the chest. If you are wondering how long a chest piece tattoo takes, then a tattoo like this takes almost 6 to 7 hours to complete, and it is worth it. This is a great chest tattoo idea for both men and women.
Macaw Chest Tattoo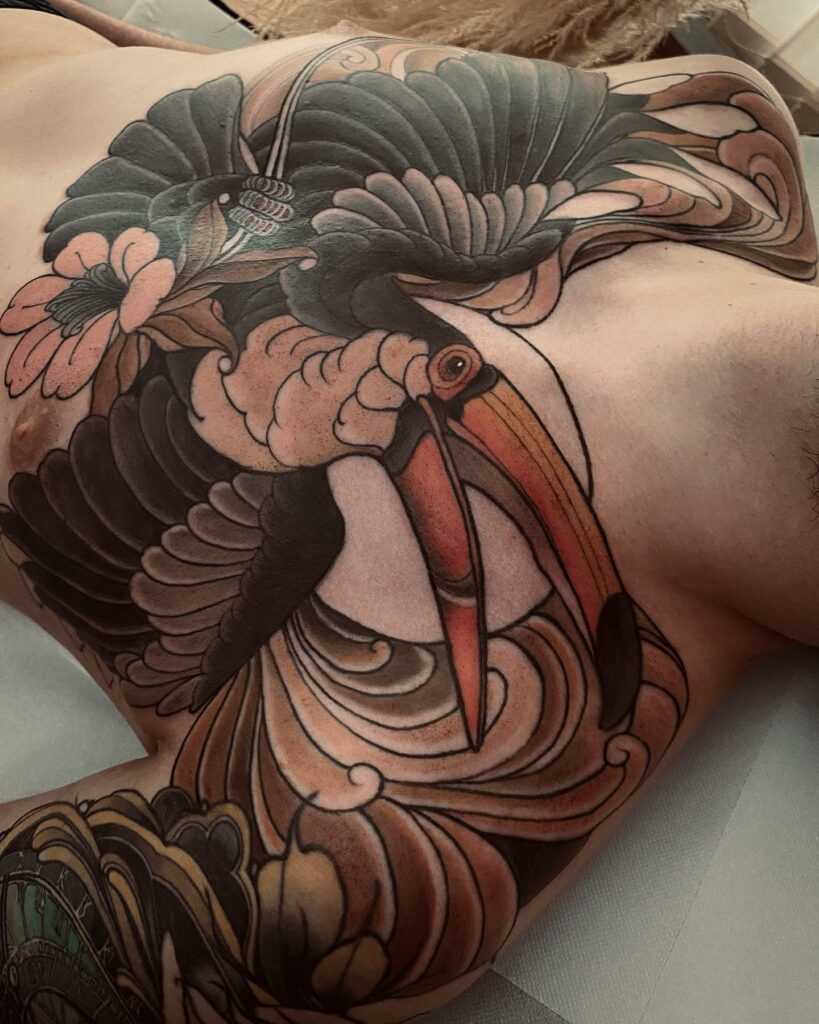 There are many chest tattoos for men, but this has to be something you have never seen before. The macaw bird has to be one of the most exotic birds. This macaw bird tattoo is definitely an eye-catcher. It has the look of a tribal chest tattoo because of all its detailing. A bird tattoo symbolises freedom, happiness and peace, so if you are looking for a tattoo that symbolises the same, then this tribal chest tattoo is just for you!
This chest tattoo has been done using various colours, and the blending of each colour looks absolutely beautiful! The colours look super subtle; the blending gives the tattoo a very hyper-realistic look. This animal chest tattoo looks super cool due to the different concepts that have been included in the tattoo. This tattoo makes the man's chest look magnificent. Make sure you are getting this tattoo done by professional tattoo artists to achieve the perfect tattoo.
Sun And Moon Chest Tattoo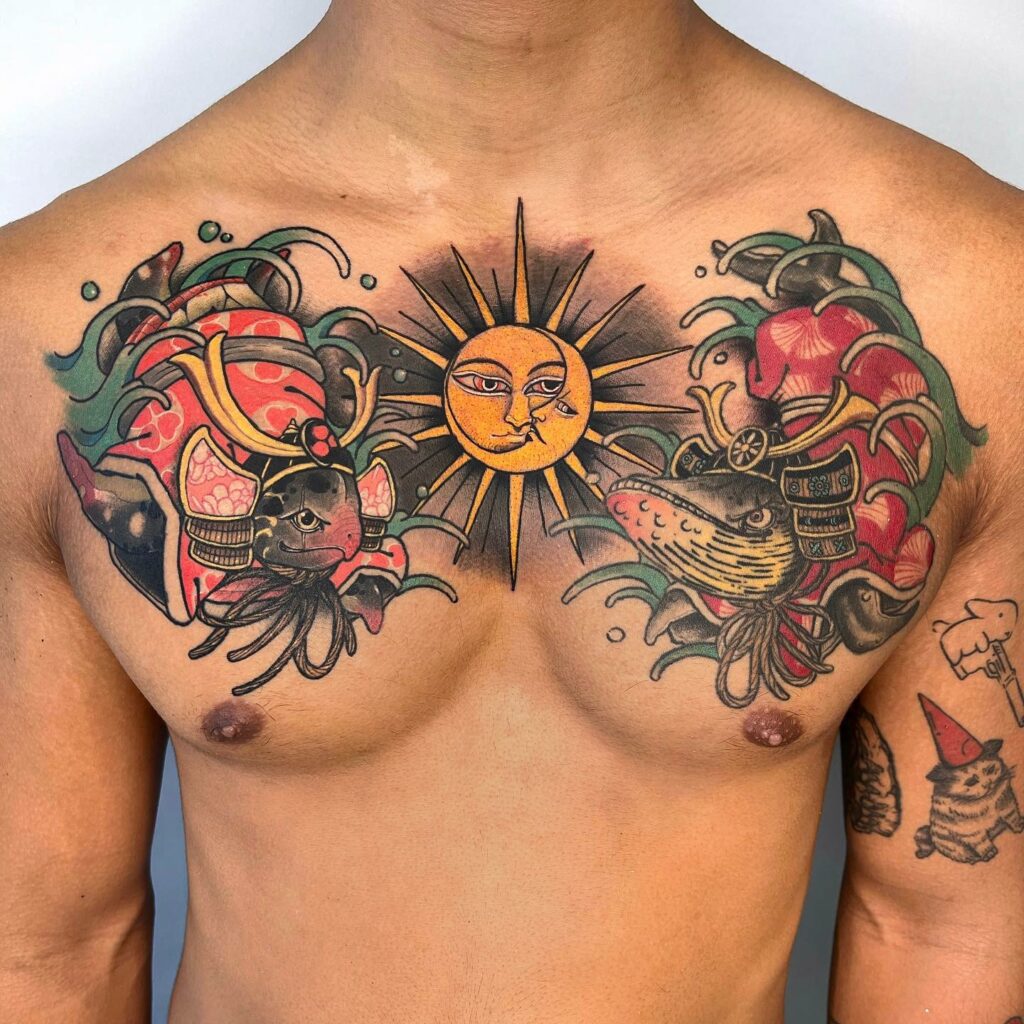 This is one of the traditional chest tattoos with its own twist. This tattoo definitely has a deep meaning associated with it. Sun and moon are extremely powerful symbols, and they both have a significant meaning attached to them. A sun tattoo symbolises rebirth and a moon tattoo symbolizes growth. The entire tattoo has many bright colours, which makes the tattoo very attractive.
The tattoo is a Japanese-style tattoo with a sun and moon in the middle. It is one of the popular styles and looks very subtle. The tattoo also has a whale and a fish on the two sides with traditional Japanese attire. The colours and shadows in this male chest tattoo give an elegant look to the tattoo. If you are scared about whether chest tattoos hurt or not, to be honest, they do. However, you can always use a numbing cream to help with the cream.
Vikings Inspired Chest Tattoo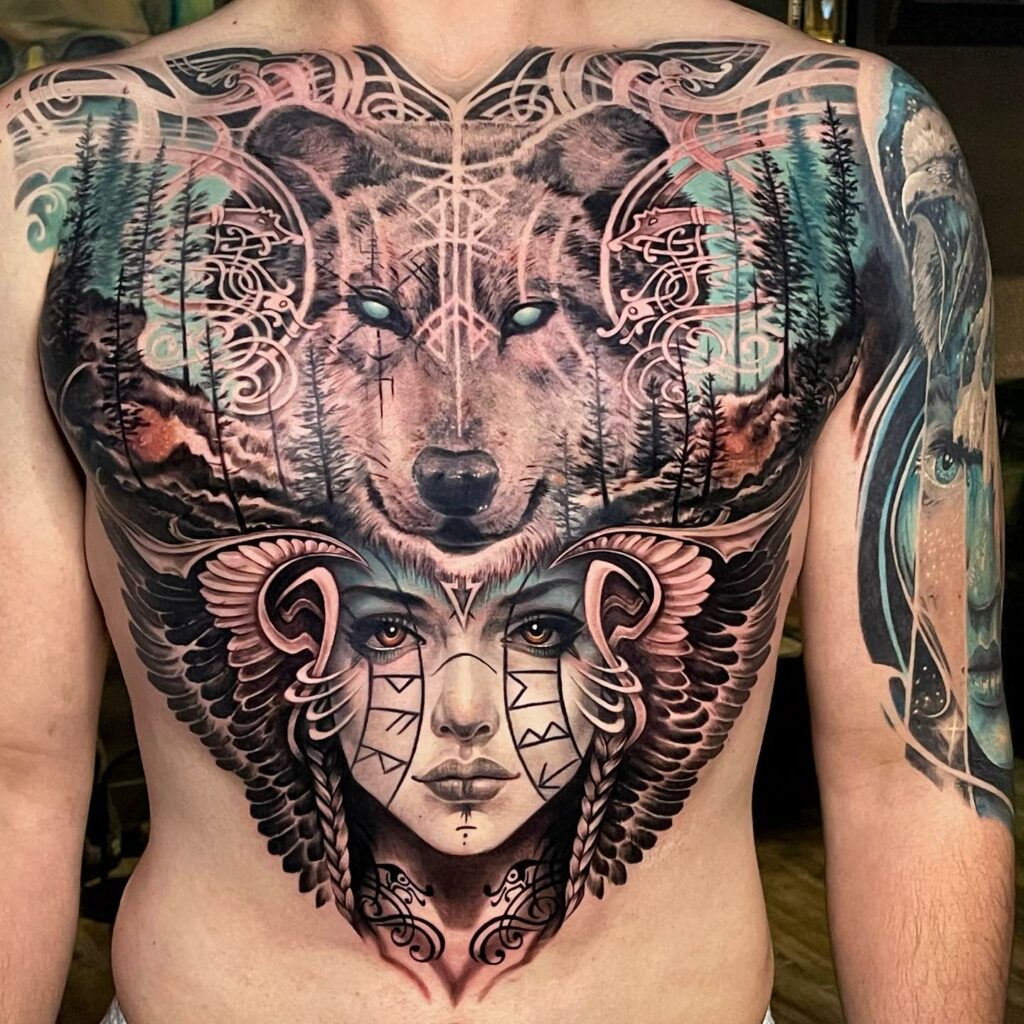 The Viking culture is famous for its strength and brevity. A Viking tattoo is a symbol of superpower and protection. A Viking tattoo is a symbol of power and a visual representation of one's devotion to their family and the Viking lifestyle. There are many chest tattoos for men, and a Viking tattoo is perfect for someone trying to symbolise strength and power.
This full chest tattoo has a wolf tattooed in the middle of the chest and the face of a woman in the lower part of the abdomen. The tattoo has black and blue ink; the pop of blue colour in the tattoo makes the tattoo look very bold. There are also some trees on the sides of the wolve's face showcasing the natural habitat of the animal. The face of the lady has been made in a very hyper-realistic way.
Flower And Bee Chest Tattoo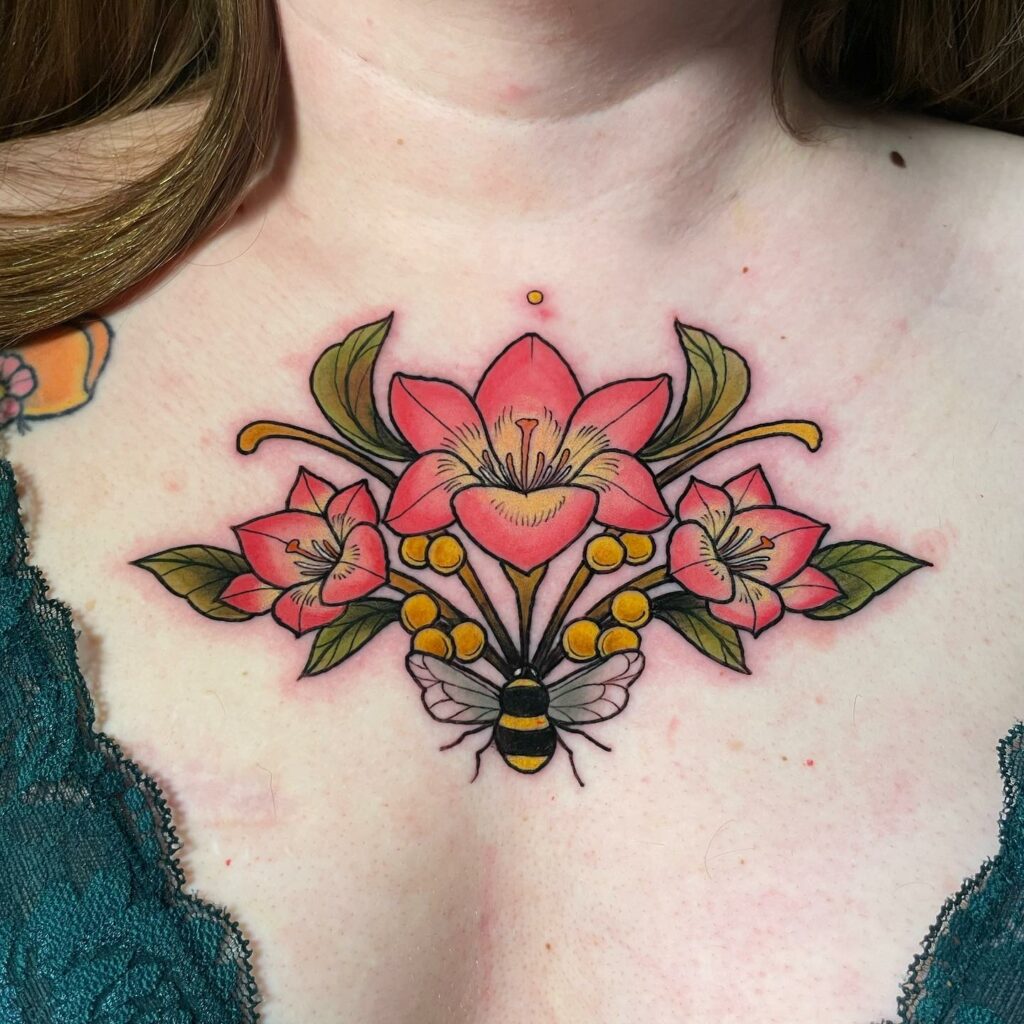 If you are looking for some simple chest tattoos, this chest tattoo is ideal! This flower and bee tattoo looks perfect on the flat surface of the chest. There are many bright colours in the tattoo that makes it look very cool. There are some yellow and pink tattoos on the flower, and the blending is phenomenal. The leaves also have some blending, and the transition of the greens also looks unreal.
The bee has some good old yellow and black ink on them, with the wings of the bee having a perfect design. There are many chest tattoos for women, but this one stands for its intricately precise detailing.
Mammoth And Rhino Chest Tattoo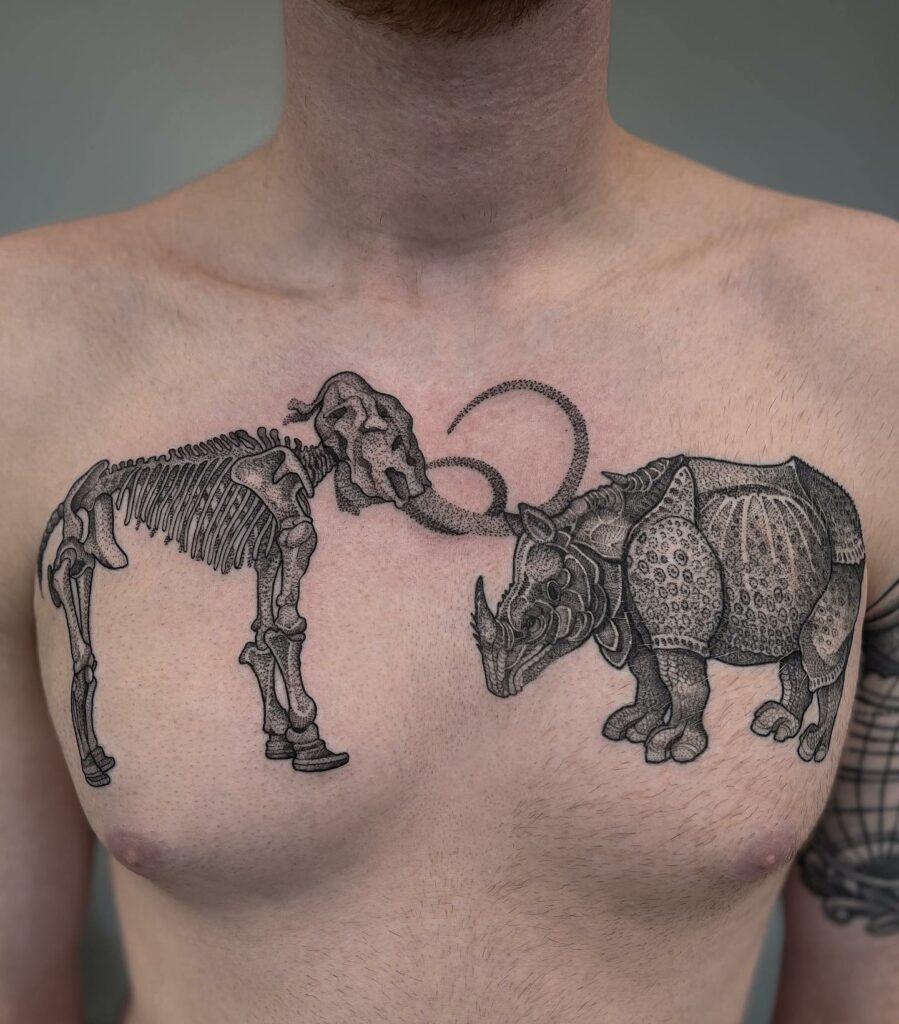 Guys, if you are searching for some chest tattoo ideas that is unique, then check this one out. This mammoth and rhino tattoo has been done entirely using black ink. On one side there is the skeleton of a mammoth and on the other is the entire structure of a rhino. Both the structures have beautiful details in them that make them so magnificent.
The entire body of the rhino has been done using tiny geometric shapes. The precision with which the work has been done is absolutely breathtaking. The skeleton of the mammoth also has proper outlines that make the tattoo look super cool.
Red Phoenix Chest Tattoo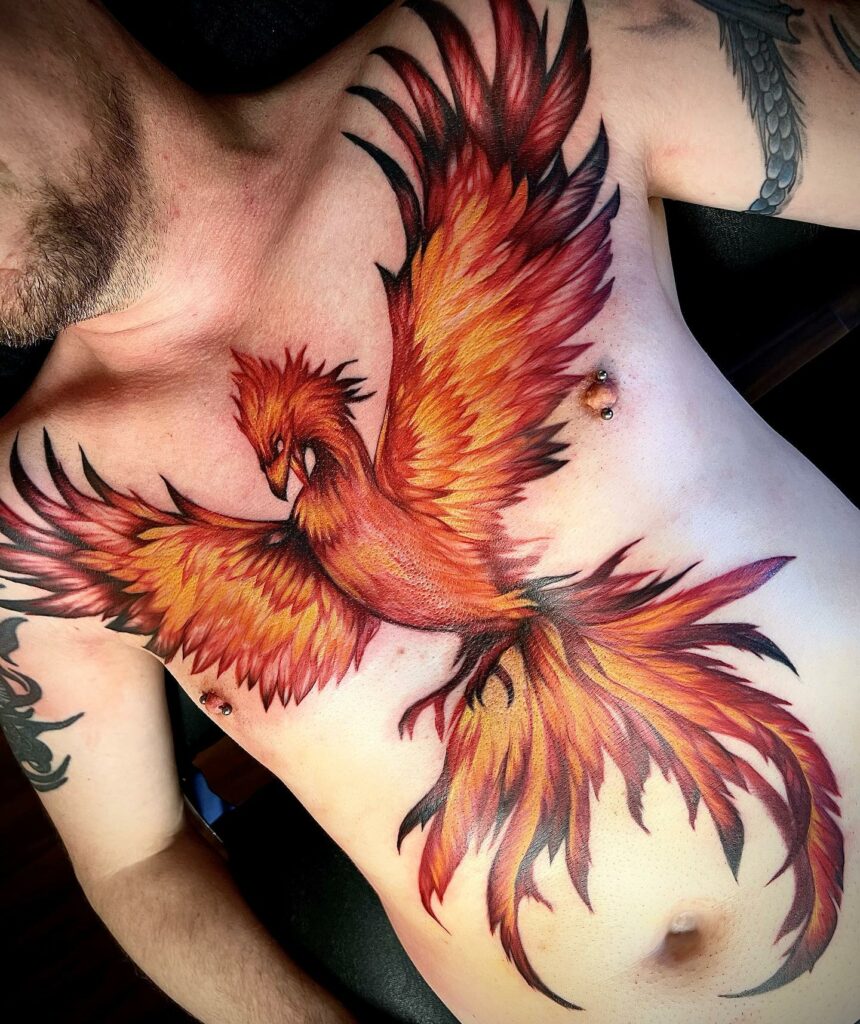 If you are searching for a tattoo idea that covers your entire abdomen, check this tattoo out. The red and orange colours on the tattoo really pop against the skin of the person. The tattoo is of a phoenix. A phoenix tattoo is a symbol of rising from something, and if you are looking for something like that, then this tattoo is just for you.
The wings of the bird have spread up to the shoulder. The entire bird is filled with feathers, and the feathers have a blending of red and yellow and a touch of black to it. The tattoo looks so bold and elegant that the little pain when making it will feel totally worth it.
Pasque Flower Chest Tattoo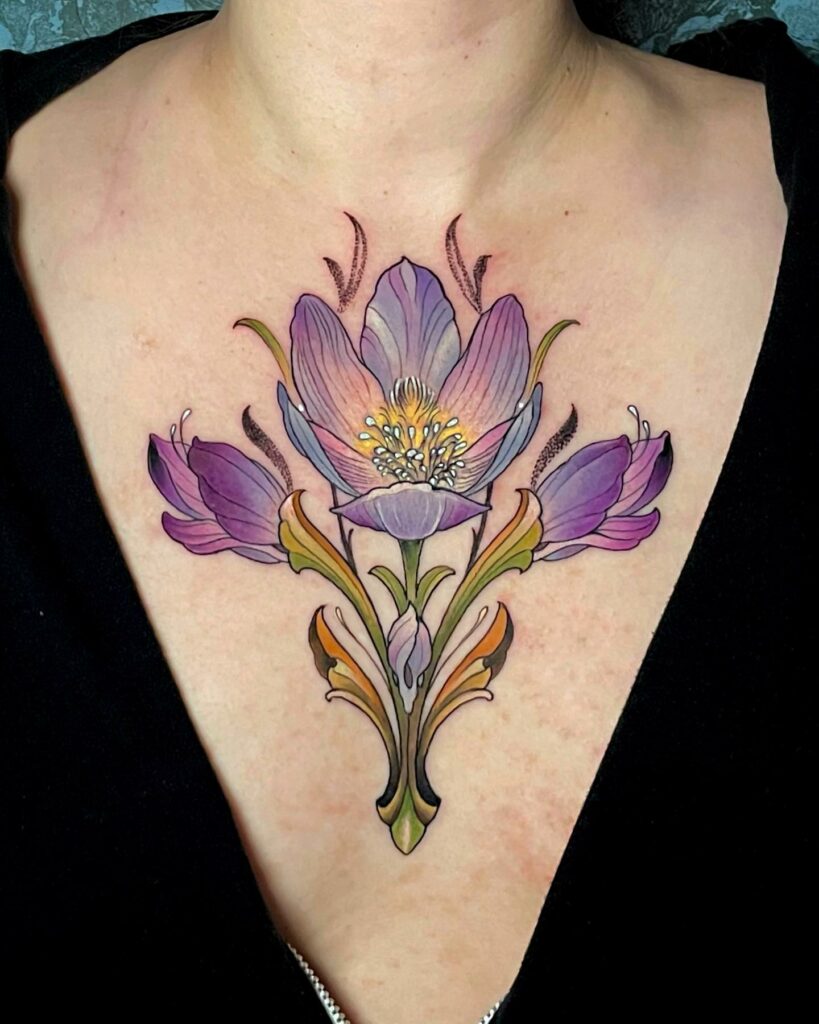 Pasque flowers are absolutely gorgeous, and if you are searching for some chest tattoo ideas, this might be the one for you. This is simple and elegant and will suit any aesthetic no matter what. Chest tattoos are famous for their bold look. However, this one has a completely different look attached to it. This tattoo has a beautiful pasque flower made using purple ink. The tattoo artist has beautifully blended some subtle touches of yellow and white.
The upper chest tattoo also has some beautifully made leaves using various hues of green, complimenting the purple colour of the flowers. If you want, you can get this tattoo done on any part of your body, such as your leg, arms, or shoulder.
Spooky Chest Tattoo
Are you searching for an out of the box chest tattoo idea? This spooky tattoo might just be the perfect one for you. The tattoo has two skeletons on two sides of the chest, and the skeletons appear to be dancing. There is some really good blending done on the skeletons that give a realistic look to them.
Owl Chest Piece Tattoo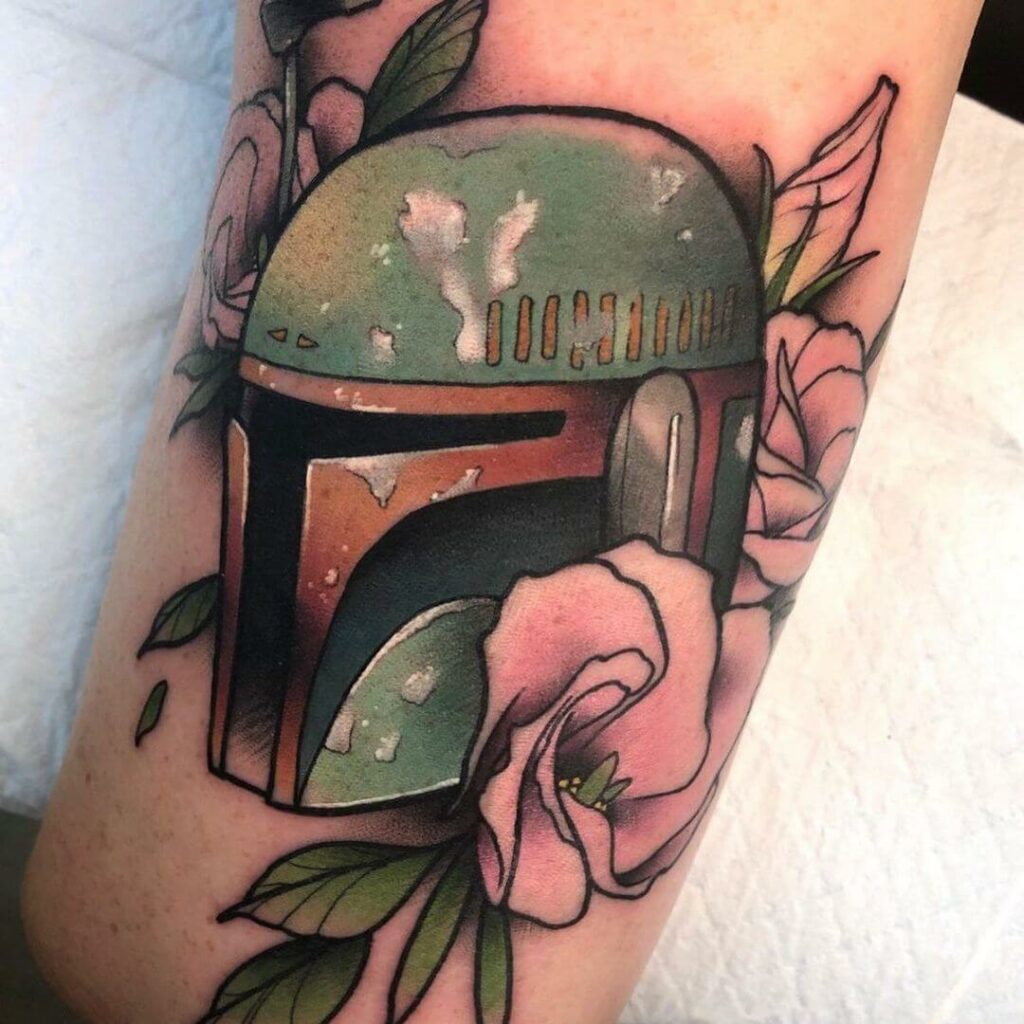 The tattoo also has written from shoulder to shoulder, 'All men are born to die', complimenting the spooky theme of the tattoo. There are many really cool chest tattoos, but this one has to be at the top of the list. It will be ideal to get this tattoo to compliment your costume around Halloween time!
So guys, if you are looking for some chest tattoo designs, you can definitely choose one from the list given above. Chest tattoos look very bold and complement all the outfit ideas you have. The best part of chest tattoos is that the reputable artist you are going to gets a wider canvas to work on the tattoo design. Chest tattoos are so cool we couldn't help ourselves but add a few more to the list.
Chest Piece Tattoo Drawings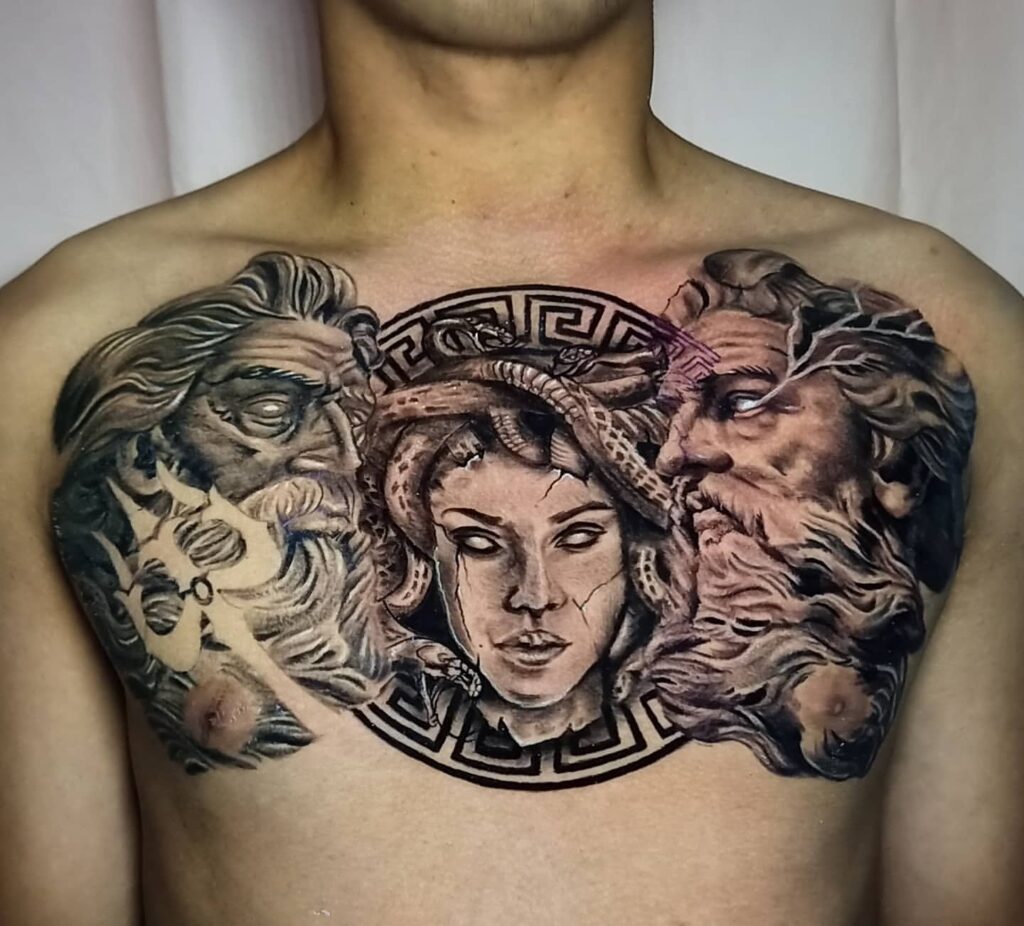 Chest Piece Tattoo Female
Skull Chest Piece Tattoo
Rose Chest Piece Tattoo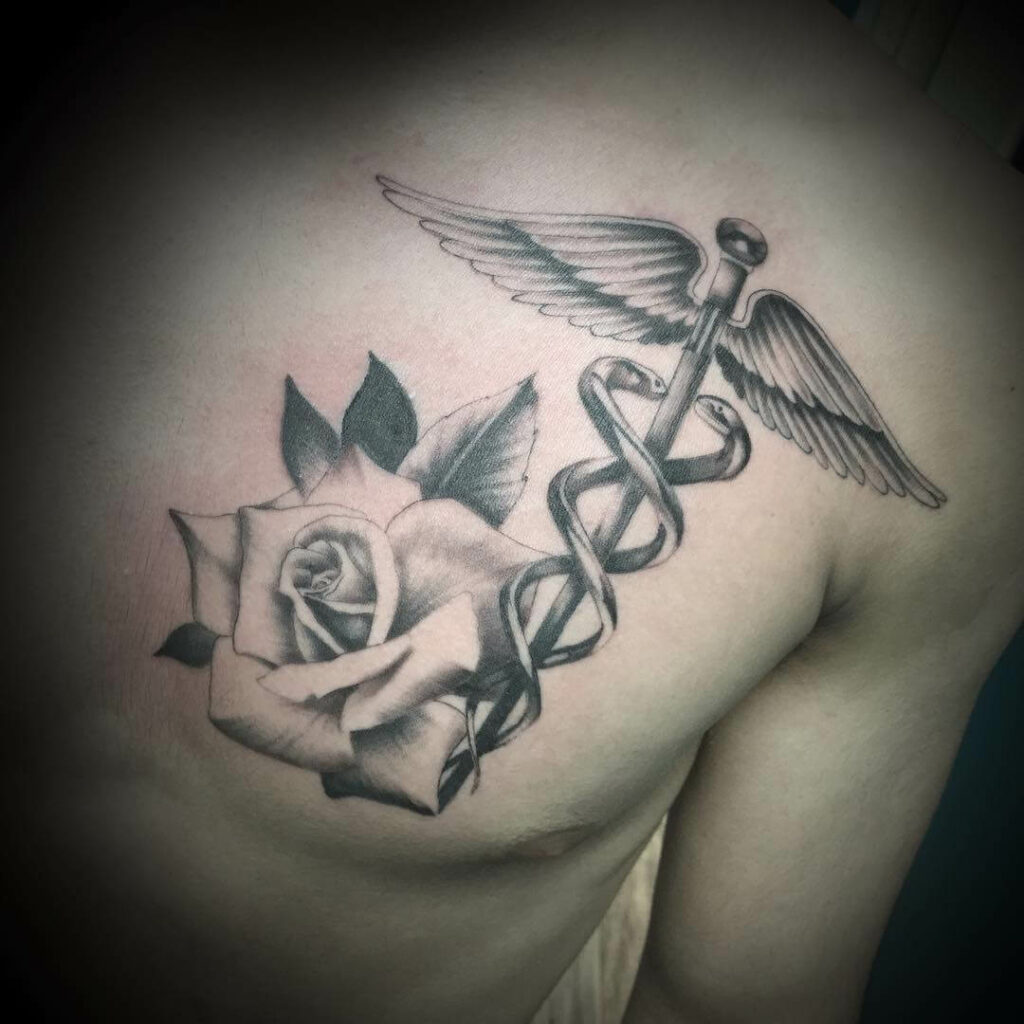 Male Tattoo Chest Piece
feature image from Pinterest – Want your tattoo to look brighter? Try "Tattoo Balm"