Searching for the perfect chest tattoo? Welcome, my friends, to the land where skin meets ink in a sublime dance of creativity and personal expression.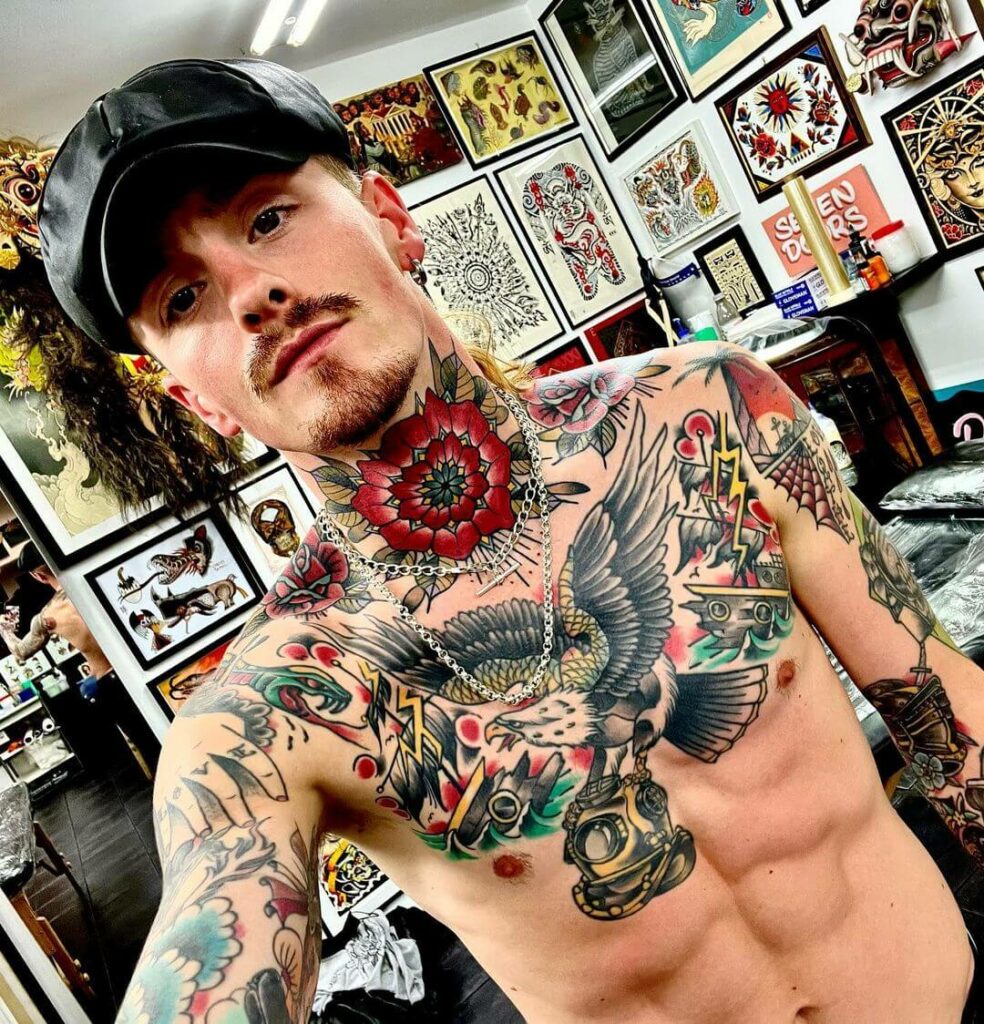 There's something captivating about chest tattoos, isn't there? They're bold, striking, and uniquely suited to those with an adventurous spirit. Chest tattoos are, without question, a choice for the bold and fearless – an art form unto themselves.
Chest tattoos offer a grand stage for our beloved tattoo artists to unleash their creativity. Blessed with a generous canvas, the chest allows artists to stretch their wings and bring your vision to life in stunning detail.
Tattoos are more than just a permanent accessory – they are an intimate method of storytelling. A canvas upon your skin, chest tattoos are as versatile as the individuals who wear them, from the proud gym-goer flaunting their hard-earned physique to the quiet introvert with a love for the extraordinary.
Envisioning a tattoo on your chest is an exploration of self-expression, a bold proclamation of identity. They have a unique flair, an audacious undertone that resonates with the beating of your heart. For the bodybuilders among us, a chest tattoo can be the crowning jewel of your sculpted form, an artistic testament to countless hours of dedicated training.
Chest tattoos offer a spectacular opportunity for personalized symbolism, transforming your torso into a living testament of your experiences, aspirations, or tribulations. As we delve into the realm of chest tattoo ideas, remember this: your body is a magnificent canvas waiting to be adorned. Allow your imagination to roam free, and your tattoo artist will transform those dreams into a captivating reality.
Spartan Chest Tattoo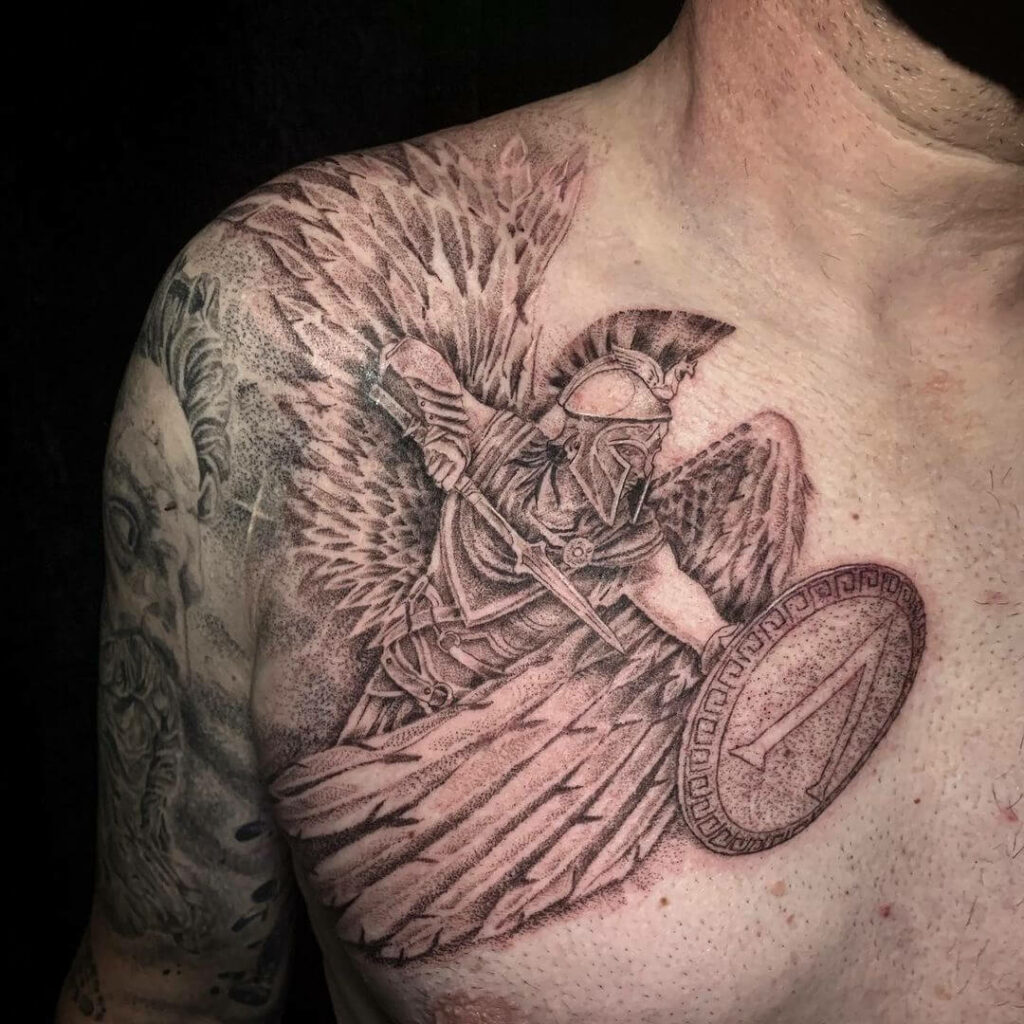 Ready to embody the spirit of a Spartan, fierce and unyielding, captured in a lifelike half-chest tattoo? Inspired by the cinematic spectacle "300," the Spartan chest tattoo encapsulates the raw determination and strength of these legendary warriors. Etched in dramatic black ink, this awe-inspiring design strikes a chord with those drawn to the valor of these ancient soldiers.
Lion Chest Tattoo
Alternatively, if you prefer majesty and courage, the Lion chest tattoo, a stalwart amongst men's chest designs, stands out. This powerful design, sprawled across the breadth of a chest, or neatly adorning just half, is more than just aesthetics. It stands for bravery, pride, and a self-assured confidence. Engraved on a well-chiseled chest, it serves as a reminder of the wearer's inner strength and commanding presence.
Phoenix Star Wings Chest Tattoo
For those seeking an emblem of resilience and immortality, the Phoenix Star Wings Chest Tattoo presents an impressive full-chest design. Highlighting the bird's wide wingspan, a geometric star rests at its center, symbolizing harmony, peace, and good luck. Beyond the imagery of the mythical creature, this tattoo's intricate artwork can echo the bearer's personal narrative.
Crow Chest Tattoo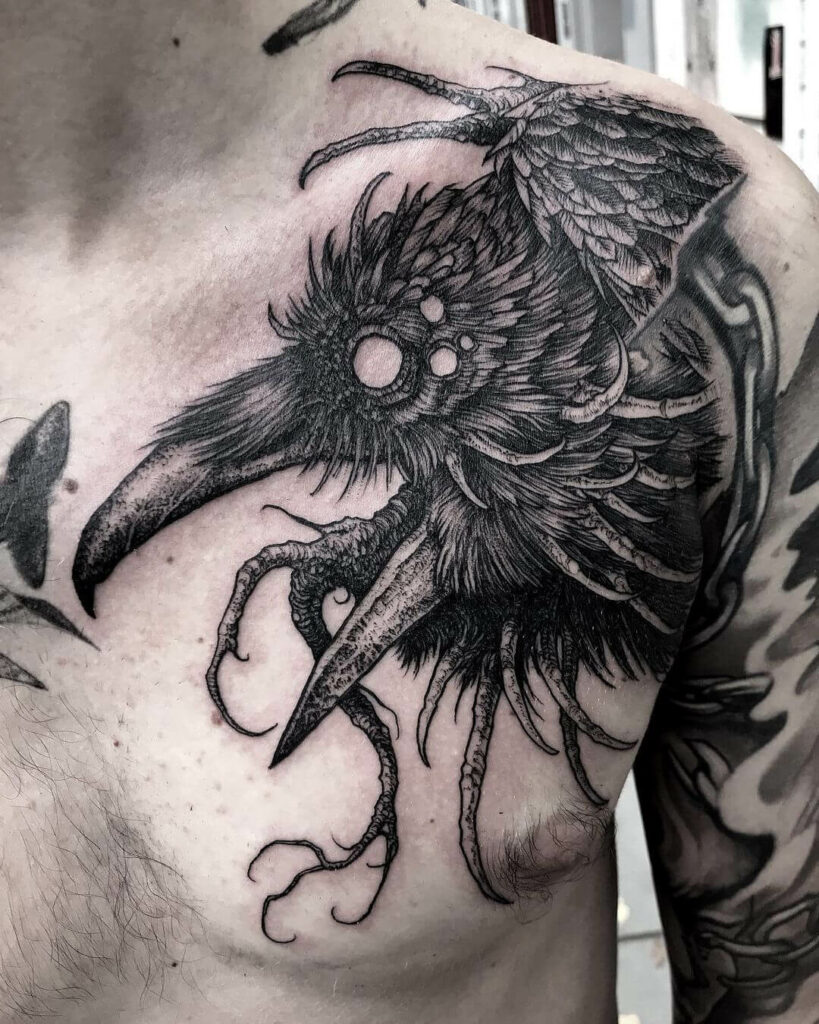 The Crow Chest Tattoo offers a spectacular blend of impeccable detail and the perfect size for a half chest piece. Starting at the upper arm, it sweeps across the chest, displaying its striking features. Bearing similarities to eagle or owl tattoos, the crow is a brilliant design for a half chest tattoo.
Nordic Chest Tattoo
The Nordic Chest Tattoo, a splendid full chest piece, goes beyond the chest, extending into double sleeve tattoos. Intricate yet minimalist, these designs showcase prosperity, power, and luck, combining black and other dark hues. Particularly appealing to Nordic culture enthusiasts, this style offers numerous designs for both full and half chest tattoos.
Peace and War Chest Tattoo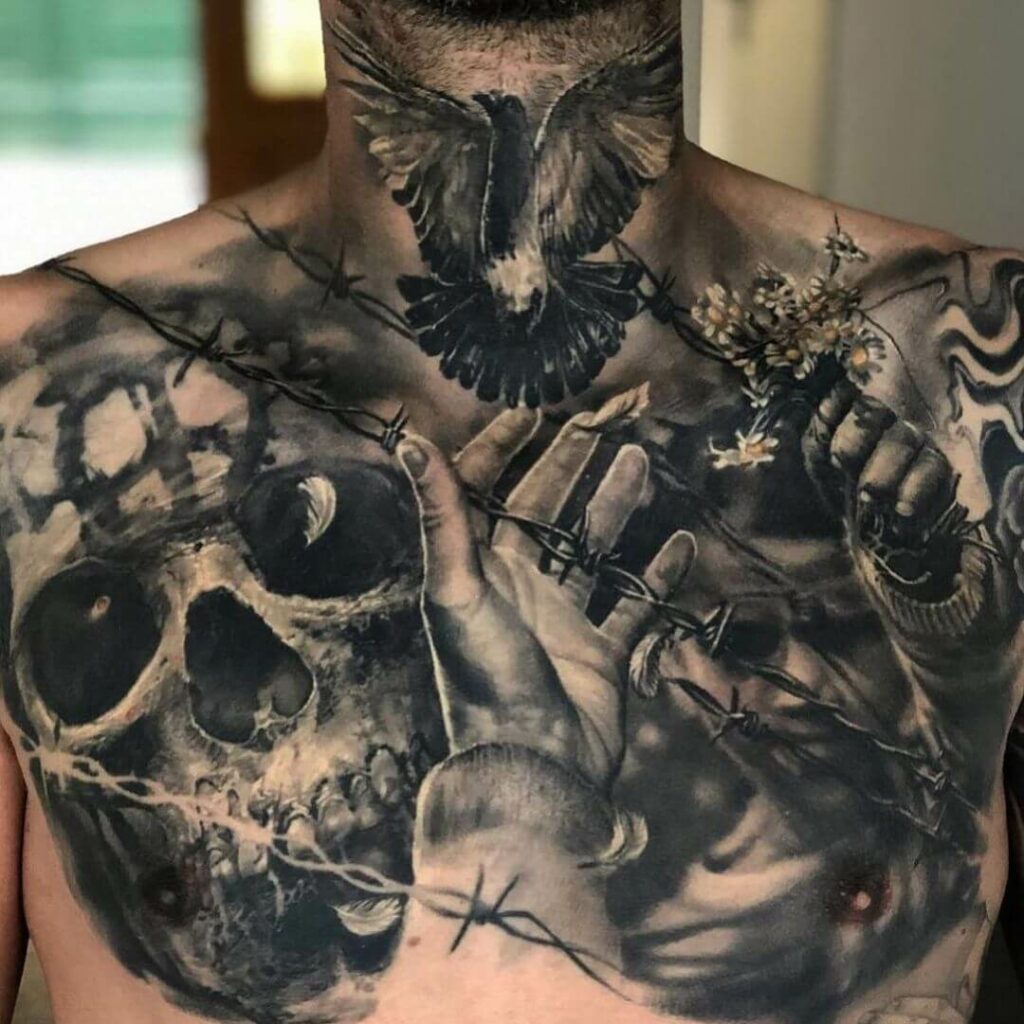 The Peace and War Chest Tattoo combines multiple elements to tell a powerful story. From the skull that honors fallen soldiers to the bird representing freedom and the innocent child symbolizing peace, it's a remarkable chest piece. The poignant imagery of a hand bound in barbed wires signifies the tragic loss of innocent lives in war.
Roaring Tigers Chest Tattoo
The Roaring Tigers Chest Tattoo, an impressive full chest piece, symbolizes loyalty, strength, spirituality, and protection. Imprinted in traditional black ink, this design is reminiscent of tribal chest tattoos, warding off ill fortune and bad luck.
Icarus Chest Tattoo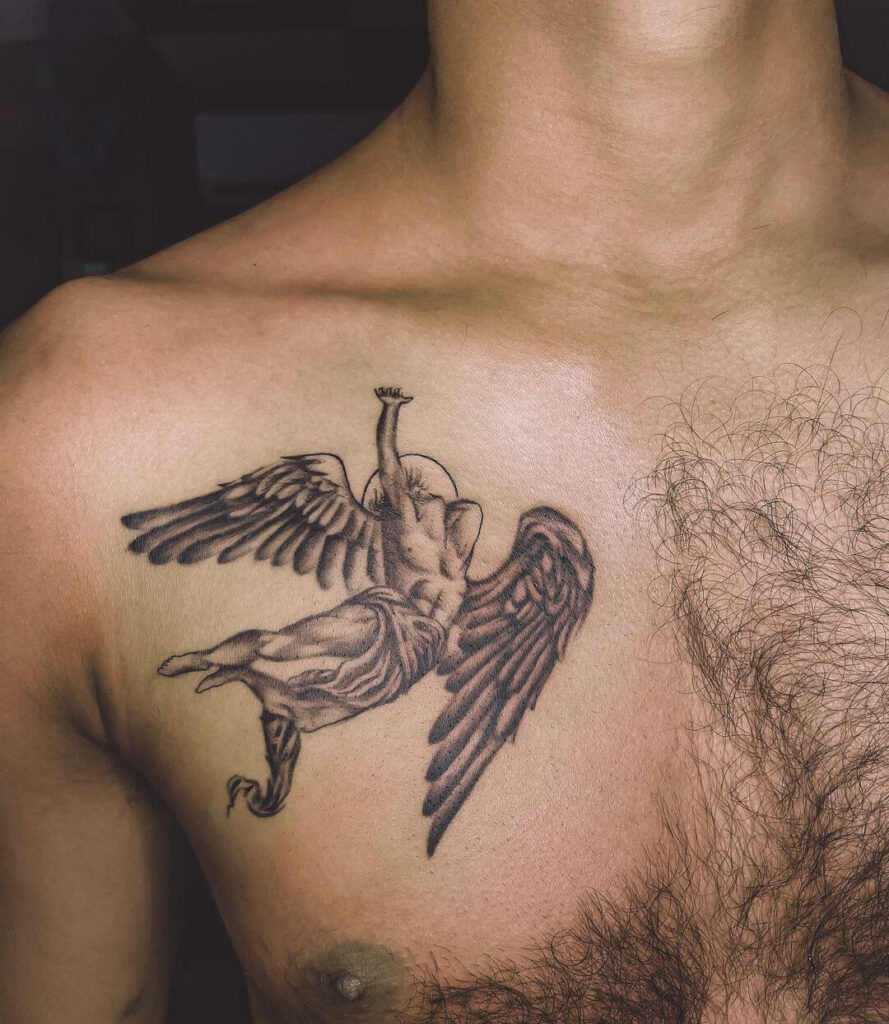 The Icarus Chest Tattoo is a small, unique design that symbolizes the importance of self-control and setting healthy boundaries. It's a simple, yet detailed black ink sketch-style tattoo that looks best when it's not covering the entire chest.
Dragon Chest Tattoo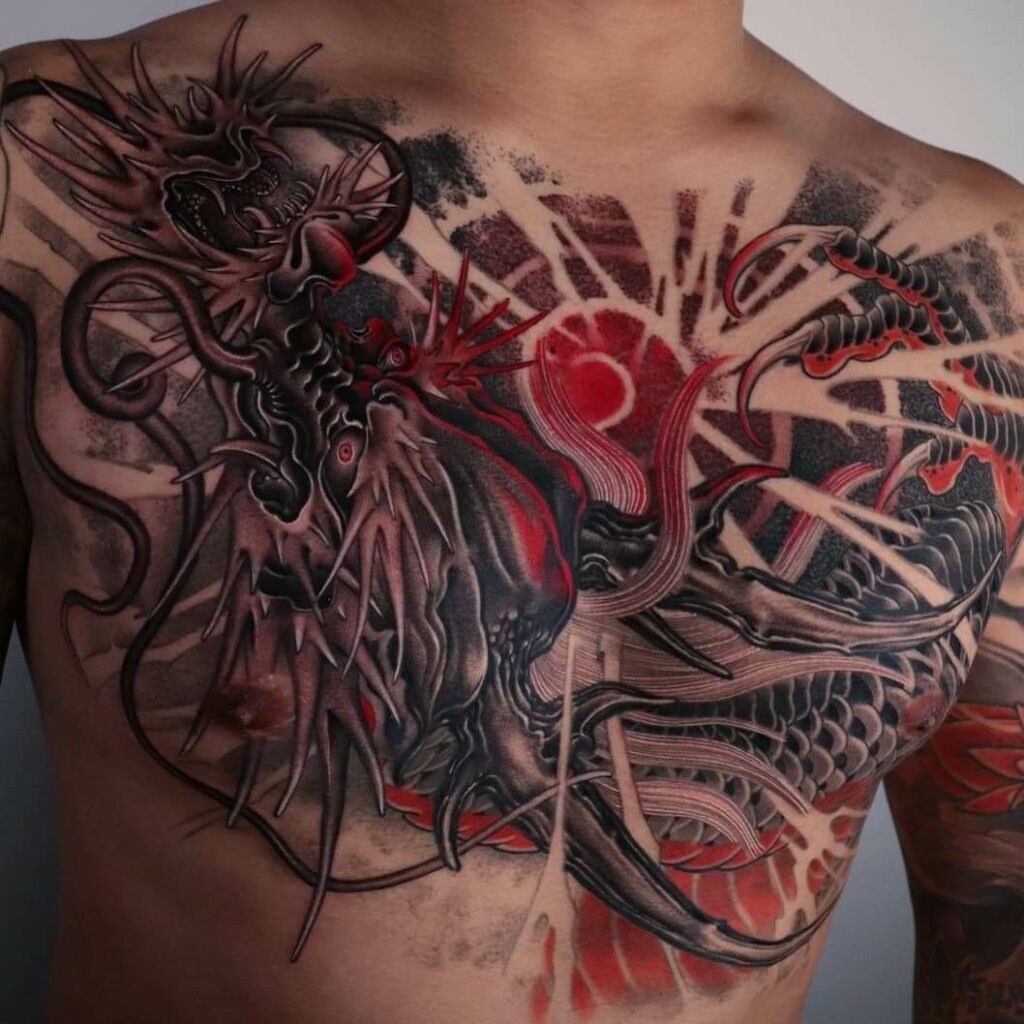 The Dragon Chest Tattoo, popular worldwide, covers the entire chest with an impressive display of vibrant colors. A symbol of strength and wisdom, this design has been revered by various civilizations throughout history.
Skull Chest Tattoos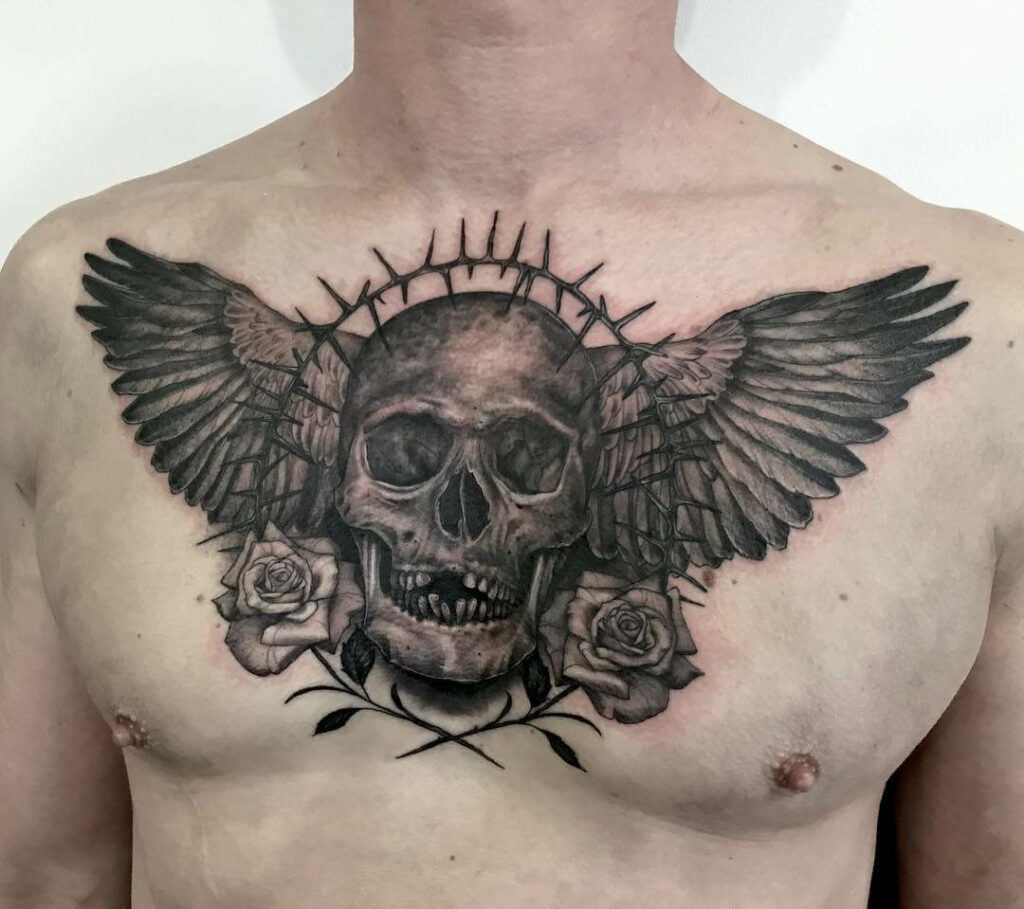 The Skull Chest Tattoos denote overcoming the challenges of life, even death itself. Detailed with wings on both sides, this design transforms your chest into a stunning canvas of resilience and survival.
Chest Tattoo Men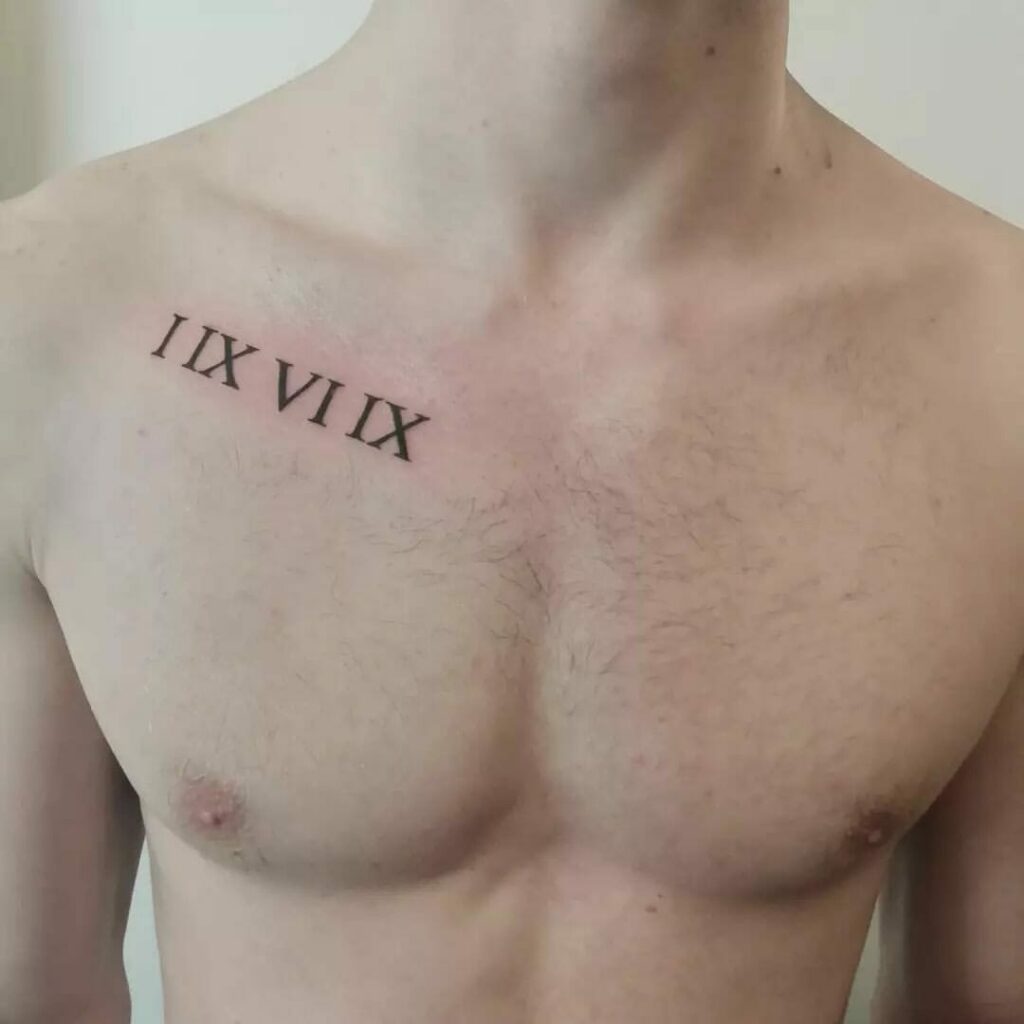 In the realm of chest tattoos, designs are limitless, from tribal to animal, from minimalist to intricate. Whatever your choice, remember that each design embodies not just a trend but a personal belief and a story you wish to tell. As you embark on your tattoo journey, ensure you do so with a reputable artist.
Conclusion
Embarking on a journey of self-expression through tattoos is both exhilarating and deeply personal. Your chest, in its prominence, offers an extensive canvas for a narrative unique to you, whether it is a subtle sketch tucked away on one side or an elaborate full chest display. Choosing the right design is the first step, followed by aligning with an artist who truly resonates with your vision.
The costs associated with tattoos can vary dramatically, dependent on the design's complexity, the artist's expertise, and the time required to complete it. As such, ensure to discuss pricing upfront and remember, a cheap tattoo may not be good and a good tattoo is not often cheap.
The placement of your tattoo, particularly on the chest, can bring about varying degrees of discomfort during the inking process, as this area has a higher concentration of nerve endings. Also, note that the healing process can cause some itchiness and peeling, both normal facets of your skin recovering.
Remember, there are some risks associated with tattoos, such as potential allergic reactions to the ink or a possible infection if the tattoo isn't cared for correctly. Ensure your artist maintains stringent hygiene practices, and follow their aftercare instructions rigorously to ensure a safe healing process.
Choosing to wear art on your skin is a powerful statement of identity, courage, and personal history. So, whether you decide on a Spartan's strength, a lion's courage, or a dragon's wisdom, remember that this journey is as unique as you are. Cherish it, take your time, and be proud of the story you're choosing to tell.
Feature Image from Pinterest