Are you ready to unleash your inner feline with a wild and fearless tiger tattoo? Look no further, because we've handpicked some of the most stunning designs to help you express your unique personality and style!
The tiger is a symbol of power, strength, and courage, making it a popular choice for those seeking a tattoo that embodies these qualities. While tiger tattoos are often associated with men, there are plenty of options for women as well.
From chest tattoos to full-back designs, there's no shortage of ways to incorporate this majestic animal into your body art. In India, the tiger is even considered a national animal, while in China it's revered as a powerful "God" and protector of the mountain. And let's not forget the important role that tigers play in Japanese folklore and mythology, representing natural forces that bring happiness and peace.
Each tiger tattoo design carries its own unique meaning and symbolism, making it a truly personal and meaningful choice. So why not join the ranks of fearless feline enthusiasts and explore some of the amazing tiger tattoo designs out there? Trust us, you won't be disappointed.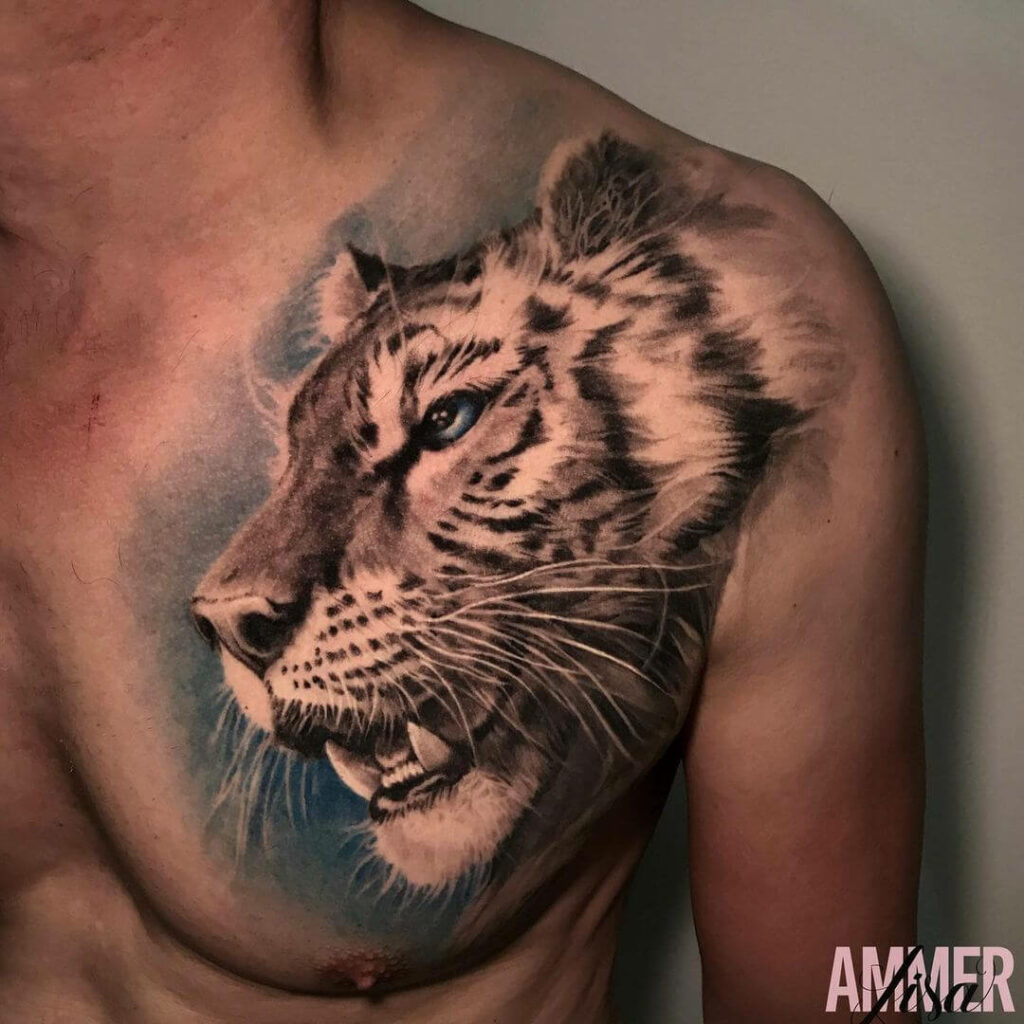 Light Hand Chest Tiger Tattoo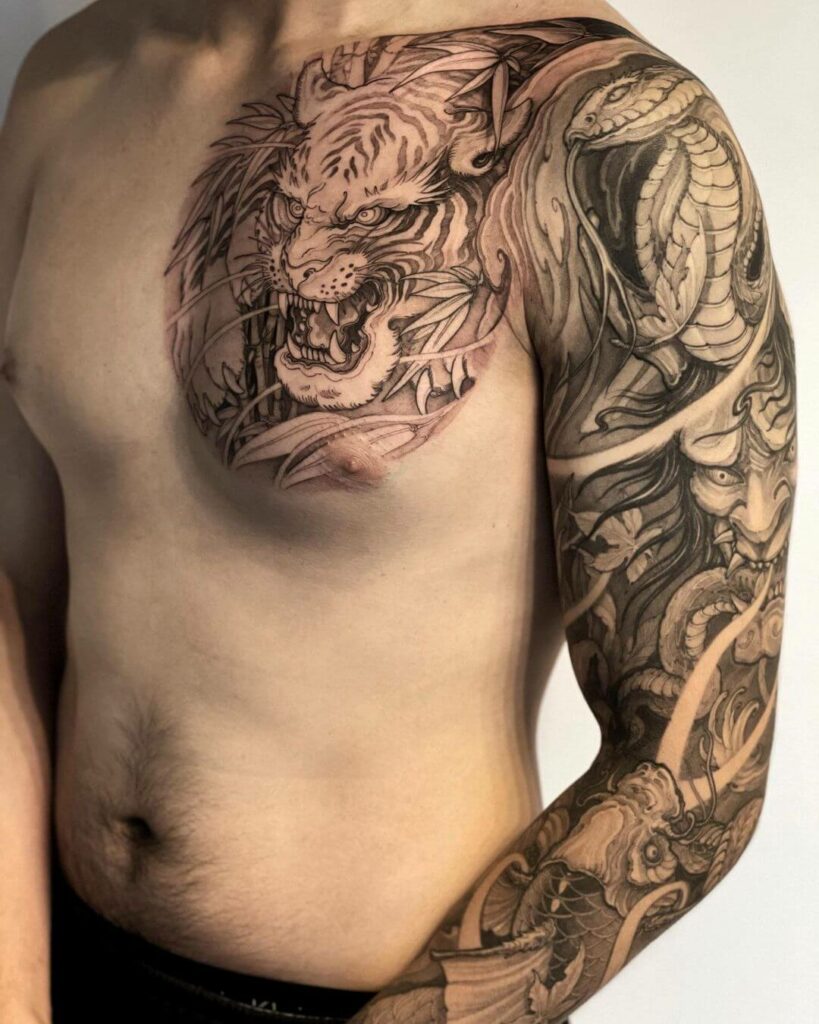 Light hand tattoos are a personal and collaborative artistic expression between a tattoo artist and a client. This stunning tattoo features expert shading techniques, with the darker and lighter shades perfectly separated to create a striking contrast. The careful drawing and attention to detail showcase the tattoo artist's skill and dedication to their craft. The combination of a tiger and dragon in this black and grey chest tattoo creates a subtle yet powerful design, often referred to as a Japanese sleeve tattoo but with its own unique style.
Tiger Chest Tattoo Design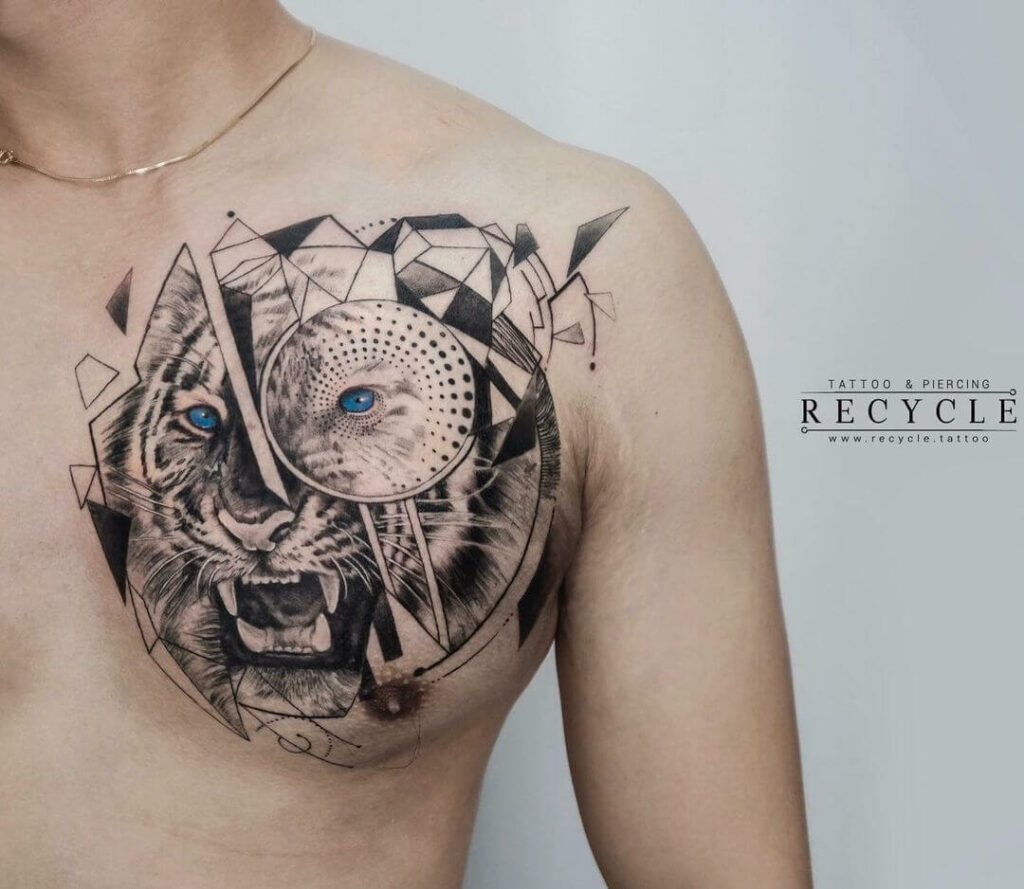 Tiger tattoos are a popular choice among tattoo enthusiasts, and this geometric tiger tattoo is simply stunning. The intricate design showcases the majestic animal's power and courage, which can be inspiring for anyone who chooses to get it inked. The tattoo artists have meticulously crafted the tiger's face to make it look lifelike, and the line-worked technique adds to the beauty of the design. The addition of the rose below the tigers adds a touch of elegance to the tattoo. Tigers are known to represent various things such as strength, royalty, passion, and energy. So, getting this geometric tiger tattoo can be an excellent way to showcase your personality and character.
Exquisite Tiger Tattoo Designs
This tattoo is truly a work of art, and its design is inspired by Japanese tiger tattoos. Although not done in a realistic way, it still captures the essence of the Japanese style. The artist has skillfully used thick and thin lines, shading, and added intricate details to create a stunning tattoo. The use of white ink and the galaxy effect gives it a unique and mesmerizing look. The leafy structure adds to the overall effect of the tattoo, making it a true masterpiece. This type of tattoo would look fantastic on the chest or any other visible part of the body.
Colorful Tiger Ink Design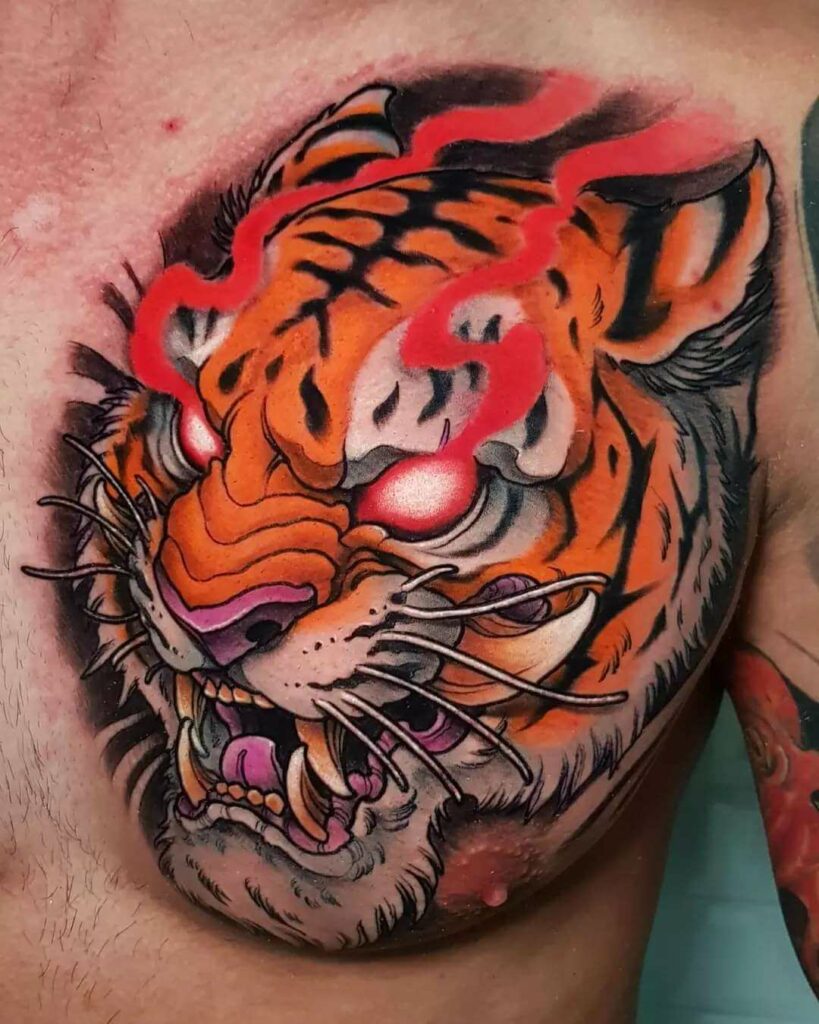 This tattoo is a beautiful display of vibrant colors and creativity. The tattoo artist has skillfully produced a tiger's face that is both striking and captivating. This design may not be considered a tribal tiger chest tattoo, but it is certainly unique. The tiger's eyes are portrayed as fiery, adding to the overall effect of the tattoo. While the stripes are not visible, the overall look of the tattoo is both fun and interesting. This tattoo is a great choice for men who are looking for something colorful and impactful.
Prowling Chest Tiger Tattoo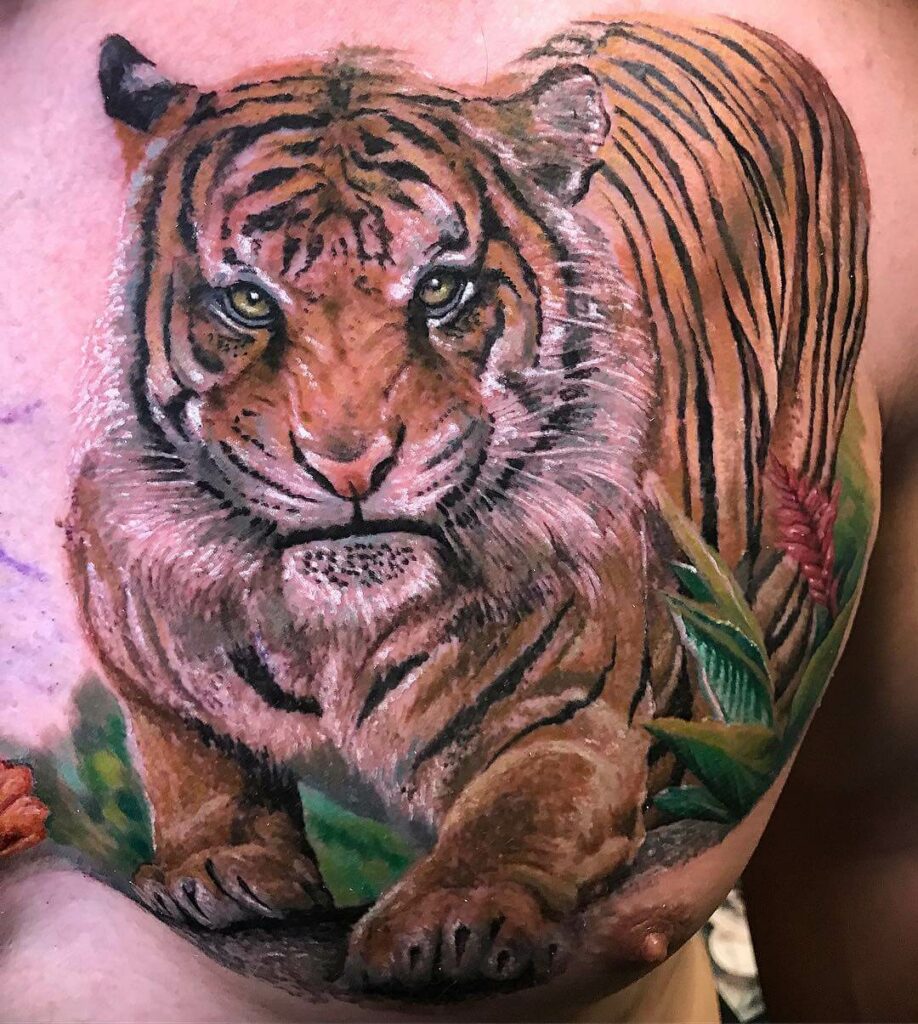 This tiger tattoo is an exceptional work of art that exudes vibrancy and life. The artist has taken great care in placing this medium-sized tattoo on the chest, resulting in a beautifully detailed tiger in the woods. The tattoo is symbolic of strength, freedom, and wealth, which are all powerful traits of a tiger. It's a highly recommended tiger tattoo that showcases the magnificent and majestic nature of the animal. The participant must have had a great deal of patience to get this superb piece of art.
Roaring Tiger Tattoo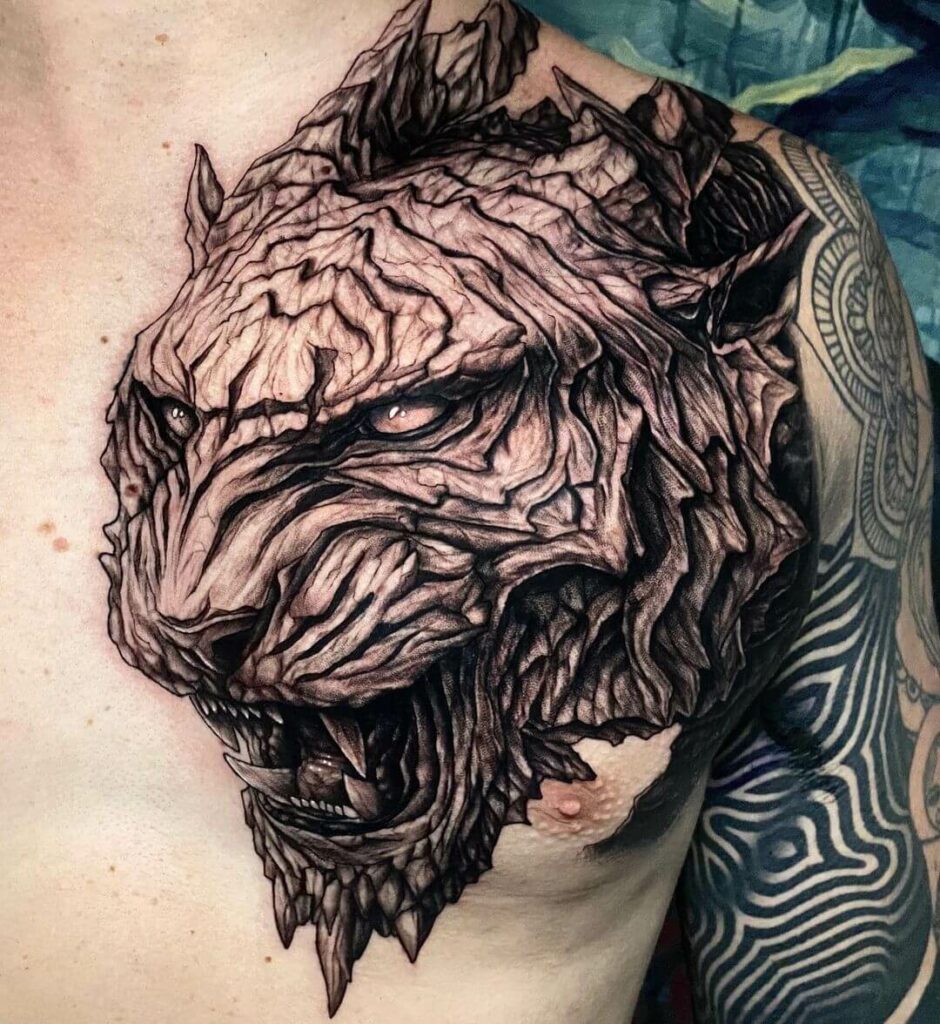 The tiger is a powerful symbol of courage and strength, representing raw instincts and the ability to trust oneself. This tattoo design captures the tiger's essence through a combination of thick and thin ink strokes, giving it a lifelike appearance. The intricate detailing in this tattoo makes it a great choice for those seeking a unique and stunning design. The symbolism behind the tiger makes it an ideal choice for those who value willpower and personal strength. So, if you're looking for a fantastic tattoo concept, consider the tiger as your muse!
Charismatic Tiger Tattoo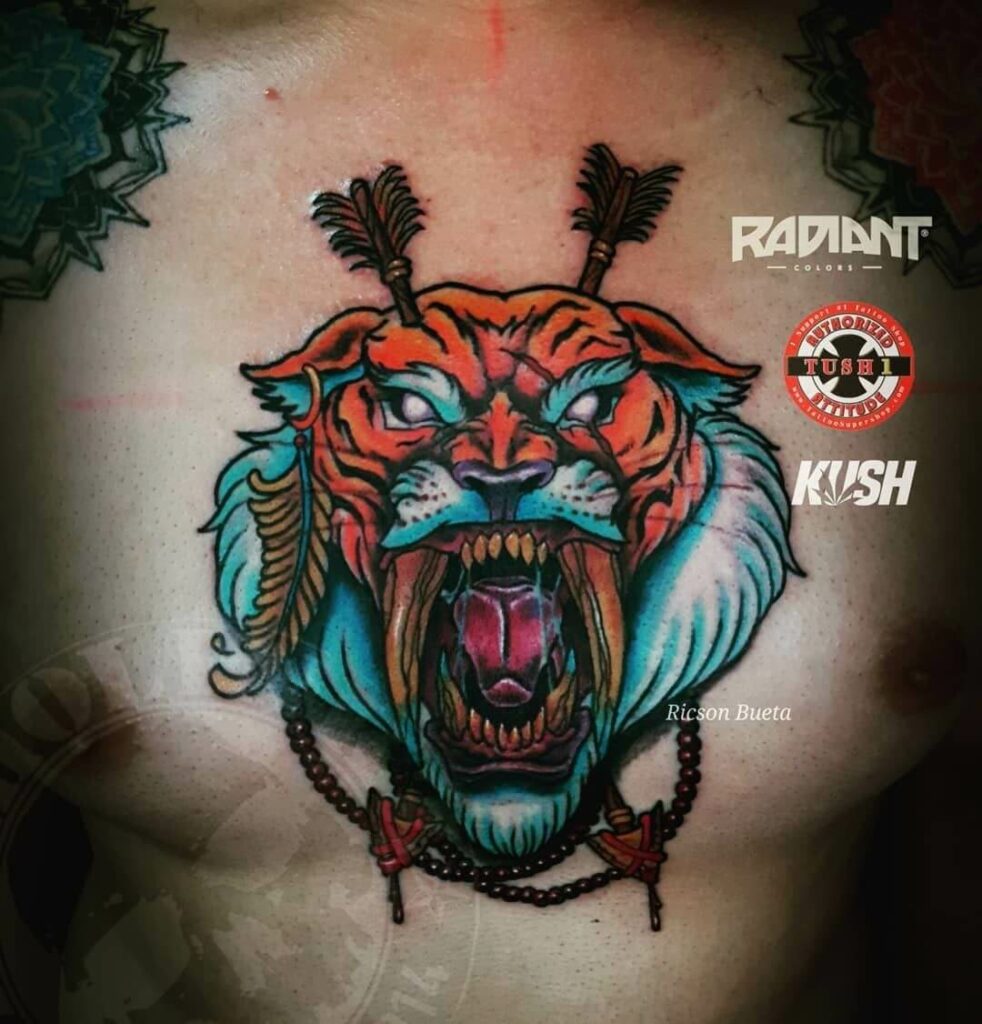 This incredible tattoo, known as the charismatic tiger tattoo, is a beautiful display of radiant colors. Its placement on the chest is perfect for a stunning visual impact. The details and colors of the tiger face are so realistic that it will make you feel as if the tiger is alive. The black outline enhances the tiger's features, giving it a lifelike appearance. This roaring tiger tattoo design is an impressive masterpiece and a must-have for any tattoo enthusiast.
About To Chase Tattoo Design
This tiger tattoo is an outstanding masterpiece created by the artist. It falls under the category of black and white traditional Japanese tiger chest tattoo, but with an elongated form. This medium-sized tattoo is placed on the chest, and it is absolutely eye-catching. The design of the tattoo is simple yet perfect, making it a great option for those who prefer minimalistic tattoo designs.
Black-Grey Chest Tattoo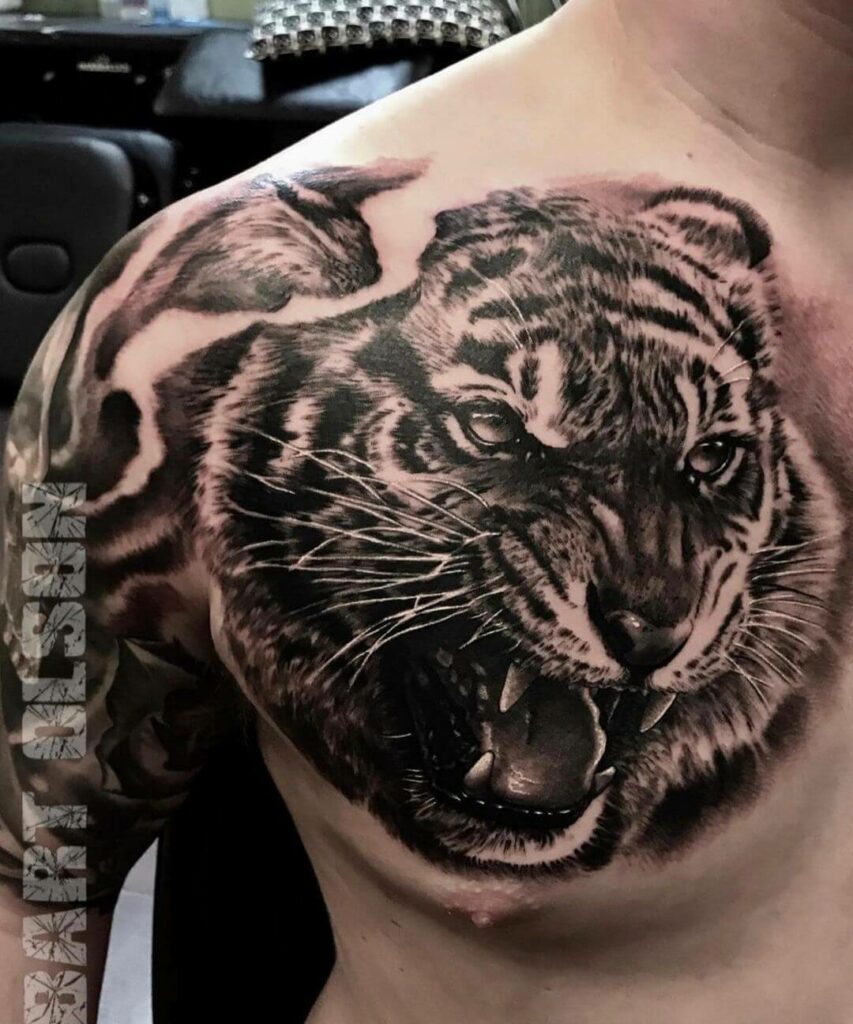 The artistry of this black and grey tiger tattoo is stunning, with realistic shading and attention to detail. The fur on the tiger is brought to life by the expert use of black and grey ink, resulting in a striking effect. Not only is this tattoo a masterpiece on the chest, but it also extends onto the arm for an elongated and dynamic design. The tiger is a symbol of power, courage, and strength, making it a popular choice for those seeking meaningful tattoos. If you're looking for a cool and symbolic tattoo, this black and grey tiger is an excellent option.
Graceful Tiger Tattoo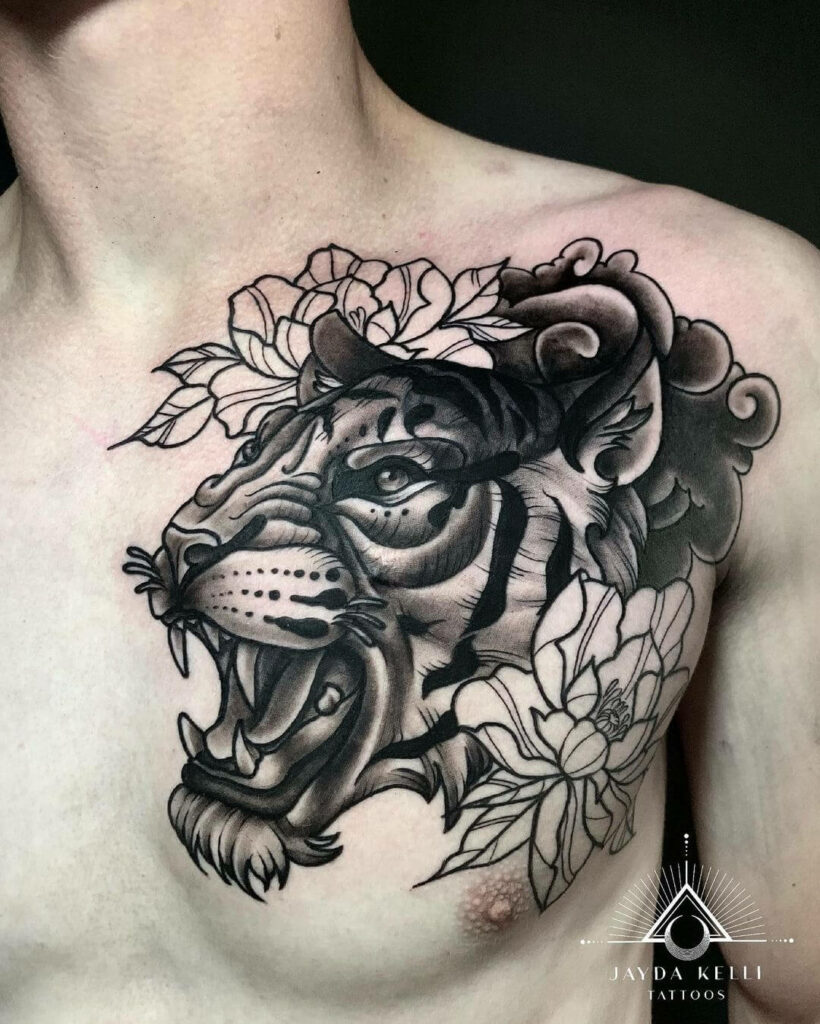 This tiger tattoo is a unique and meaningful artwork that conveys a sense of calmness. The tiger in the jungle represents strength and power, while the delicate use of thin ink enhances the floral elements of the tattoo. If you are someone who embodies quiet strength and can unleash your power when needed, this tiger chest tattoo is a perfect choice. The vibrant colors and expert craftsmanship of the artist create a realistic and stunning effect that will make this tattoo a true masterpiece on your chest.
Feature image from Pinterest
Last reviewed and updated on May 5, 2023