If you are looking for cute, sexy, and aesthetically pleasing feminine or chick tattoo designs, then you have hit the jackpot.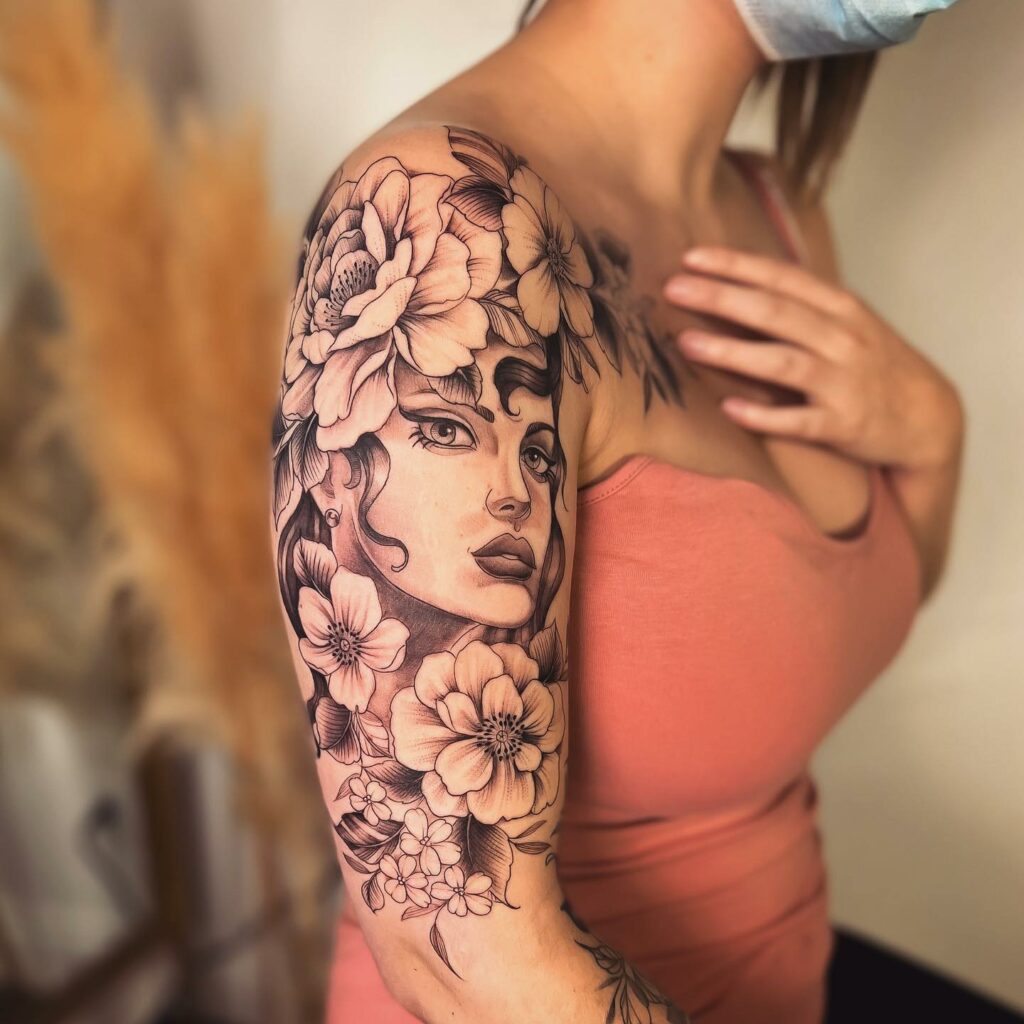 Even though all tattoos are completely gender neutral, some are created to fit the female physique or include characteristically feminine creative elements.
Tattoos continue to carry a lot of emotions, especially for women who are taught that getting one is unladylike. It is quite acceptable for women not to have only feminine tattoos on their bodies because there are a plethora of designs to choose from.
There are works of art and drawings to meet the needs, ranging from basic concepts to expansive imaginative designs. The positioning of the tattoos is just as significant as the style; you may either choose to accentuate the sexiest parts of the body, such as the sternum or thigh, or emphasize a prominent spot, such as the forearm or wrist, where you can witness your artwork every day. Use your body art to decorate or pick pictures with a lot of symbolic meaning to boost your self-assurance with the consultation of skilled artists. Follow these exciting ideas for a new challenge:
Mandala Flower Calf Tattoo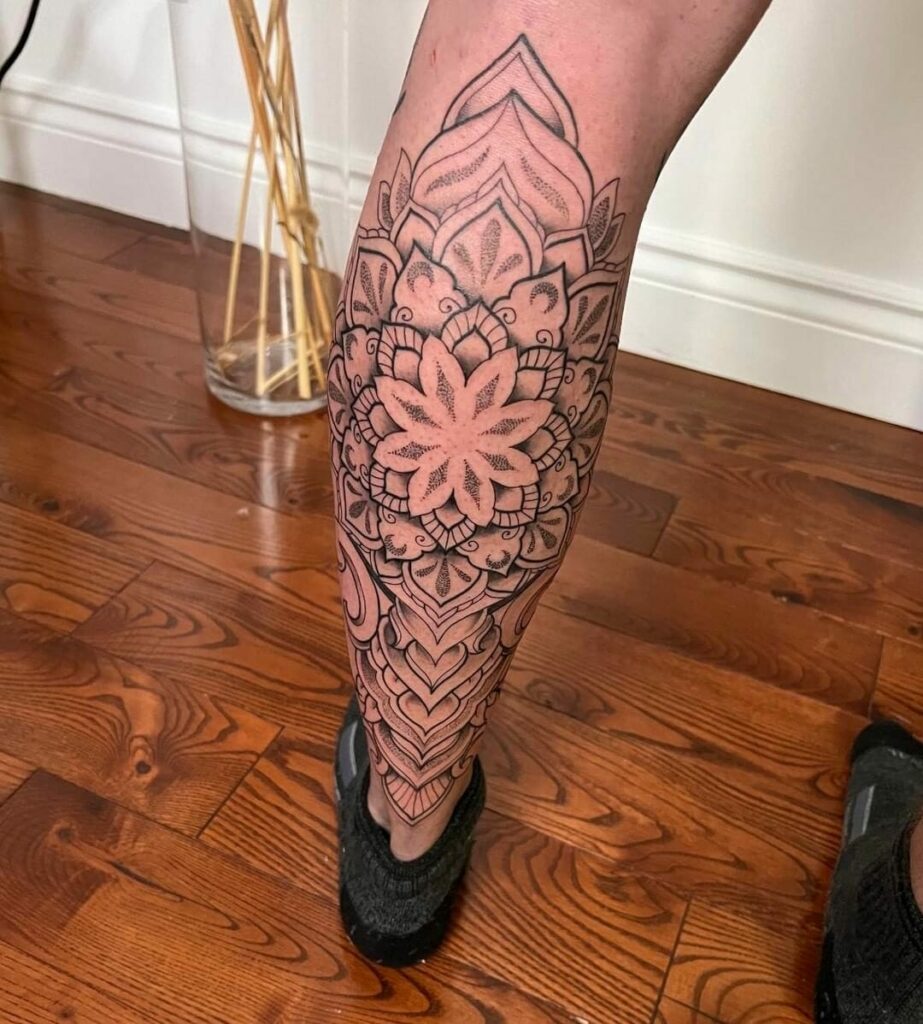 Calf tattoos are more popular among men, but it is clear that women are starting to follow suit. The mandala flower could be made up of several different flower representations in various sizes, colors, and shapes. The petals of a single flower can be shown spreading outward from the center of a mandala flower. Mandalas are excellent choices for calf or sleeve tattoos since they closely resemble the circular nature of the joint.
It is advised to have the central portion of your mandala tattoo on your leg for more intricacy. This calf mandala flower tattoo tells the deepest story of a confident woman having a bold personality. These designs require the utmost skill and patience of the tattoo artist with advanced tattoo machines, and they have been using similar technologies and analytics for the best customer experience. To underscore the mandala's relationship to nature and prosperity, you can include natural features like a sunflower or a lotus.
High Priestess Tarot Card Tattoo
The meaning of your tattoo may be very different from someone else's, even if you both have the same tattoo. The same is true with tarot cards, whose profound and potent meanings vary according to the reader. With an all-seeing eye guarding you on top, this exquisitely detailed, breathtakingly realistic tattoo design is difficult to resist for its beauty.
Since ancient times, women have utilized tarot cards for divination, and many still use them today. Tarot reading has become popular among tattoo enthusiasts all over the world, and many of them have formed unique bonds with certain cards. The High Priestess card represents obscurity, silence, and inactivity. This card as a leg sleeve tattoo indicates that it is time to withdraw, think things over, and rely on your gut feelings to get you through.
Aztec Princess Portrait Tattoo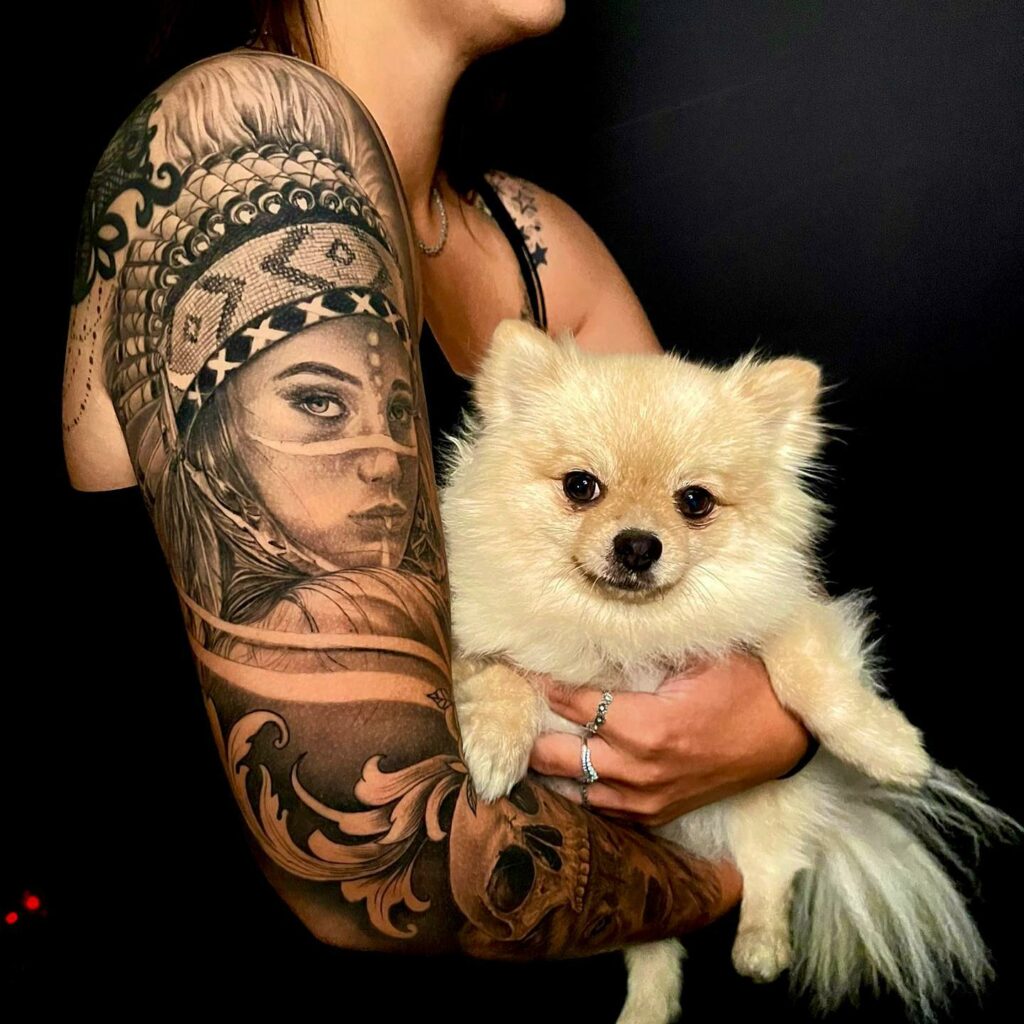 The appeal of tattoos is that you can customize them to best express your tastes, from straightforward, minimalist designs to intricate, realistic pieces. The social standing of a warrior, sorcerer, or other significant members of society is depicted through real Aztec tattoos. Eagles were associated with Aztec warriors because they symbolized integrity, power, and bravery.
This arm full-sleeve tattoo of an Aztec girl with a feathered crown shows the picture of an eagle headdress, which was worn to pay homage to the supreme god of Aztec mythology. Eagle feathers and headdresses were typically worn by the brave warriors. More significantly, the Aztec eagle tattoo is proudly sported by a lot of women who consider themselves fighters against various physical or mental problems today.
Tribal Raven Thigh Tattoo For Women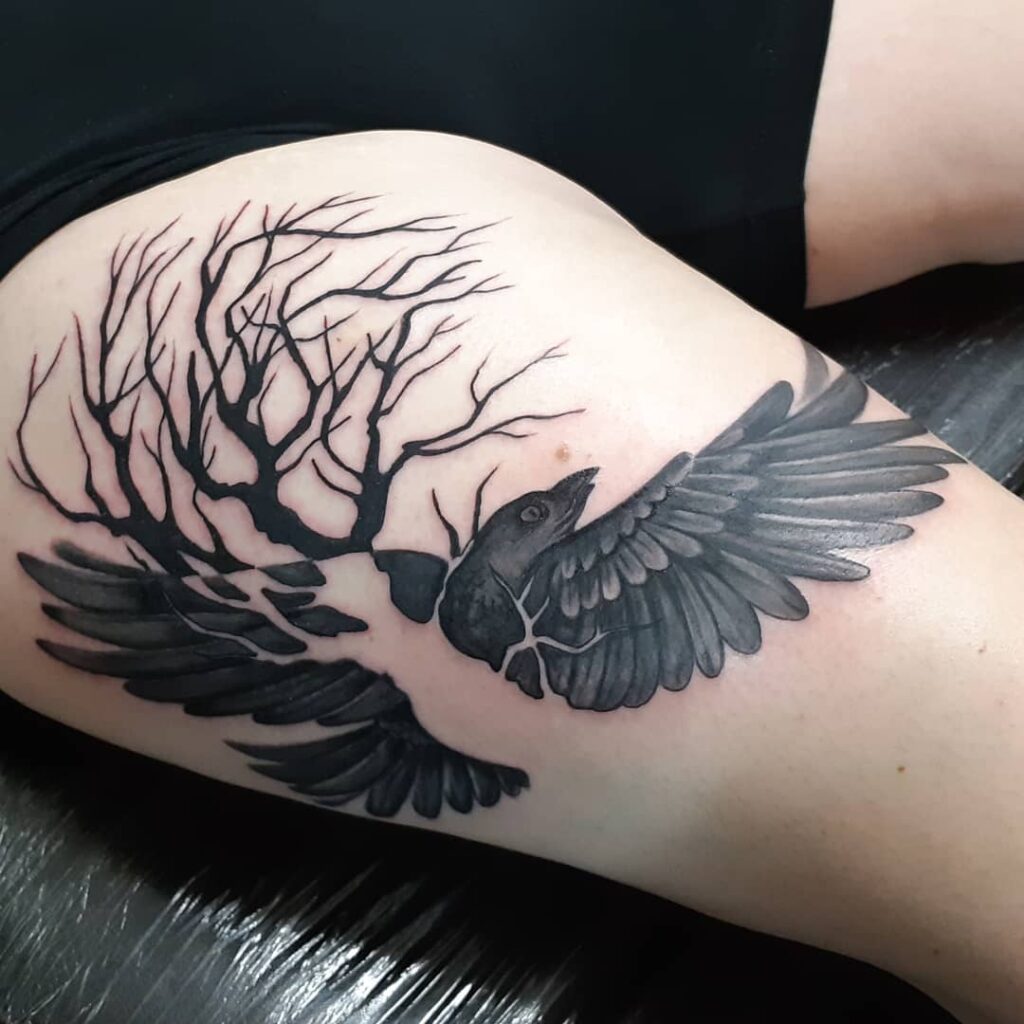 The raven "brings to light" the adventurer's destiny, enabling them to take their insight and put it into action for themselves, as long as they grasp its value and significance. To express your meaning and fit your preferences, raven tattoos may be constructed in a variety of ways, like Celtic, tribal, or Viking styles. Raven tattoos can be depicted in a variety of positions, such as hovering with their wings open or huddled on a ledge.
The back, chest, shoulder, sleeve, or thighs are the typical locations for intricate raven tattoos because of the amount of detail that can be incorporated. This thigh tattoo of a spiritual raven and a worn-out dead tree in dark black ink highlights the symbolism's sagacity and foresight of this mystical bird. The tribal raven is connected to wrath, sorcery, and suffering, and most women would love to create this eerie tattoo for a better experience for themselves and the audience.
Butterfly and Flowers Tattoo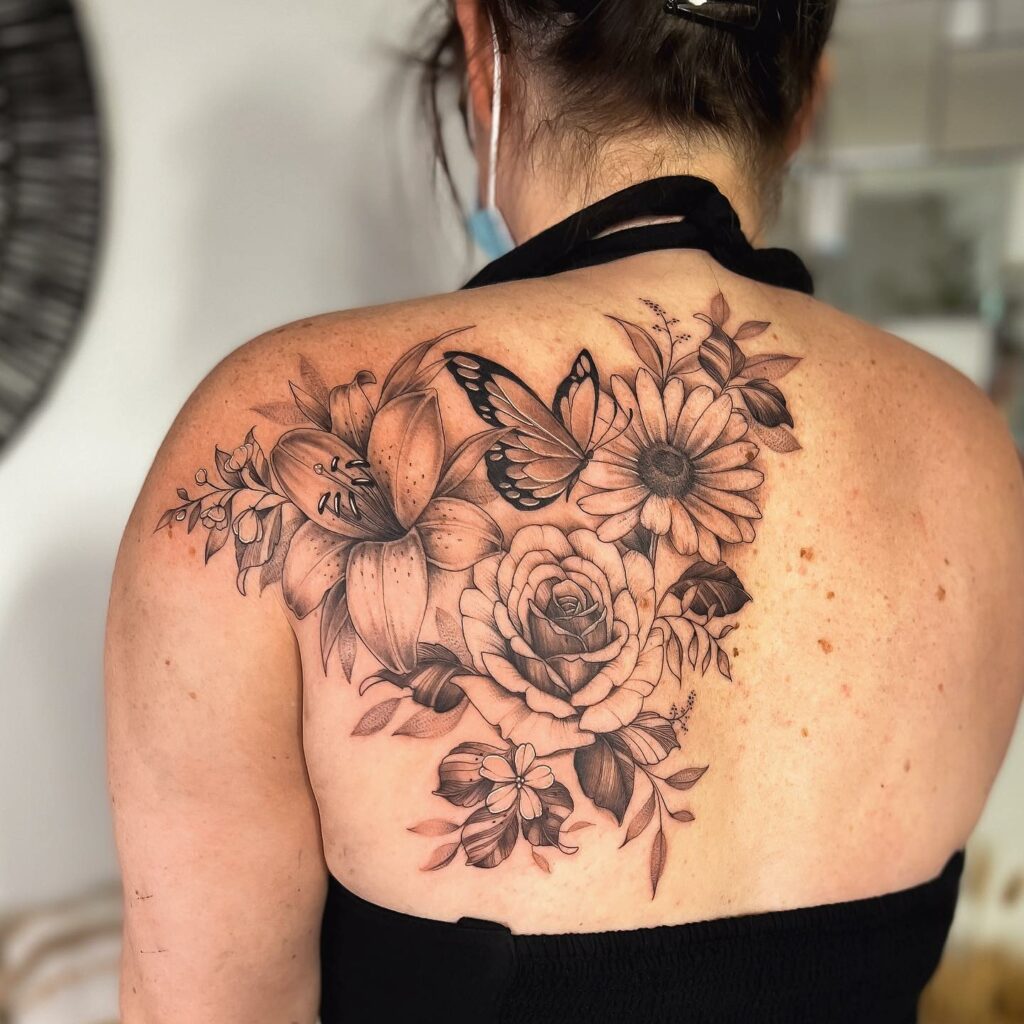 Butterflies can be delicate and lovely, but they can also stand for change, tenacity, hope, and even love. Since there are so many different butterfly tattoo styles, each one remains distinctive to the user. Floral tattoos have been a longtime favorite; they have a timeless quality. The popularity among women can be attributed to the design's use of a feminine touch.
This butterfly and flowers back tattoo is one of the sexy tattoo chick ideas. You have a wide range of options to pick from, in the category of flowers and butterfly tattoos for females of any age group, all of which will make you grin. Butterflies and flowers together create an enthralling tattoo concept and can be fitted anywhere in the body.
Knife And Heart Tattoo
The knife's usage in the victim's death only served to emphasize the idea of ruthless violence, which is why it may be seen in tattoos with a heart and a dagger that are meant to convey treachery. A historic tattoo pattern that dates back more than a century, the heart and the knife are one of the most enduring motifs in the genre.
Classical knife tattoo designs are frequently combined with various subjects to contrast life's positive and negative aspects. This cute forearm tattoo of a black ink outlined heart and a pierced knife through it defines heartbreak, emotional agony, forgiveness, optimism, and ultimate pain relief. The traditional tattooing concept is connected with the timeless heart and dagger tattoo, which has many complex meanings.
Skull Forearm Tattoo For Women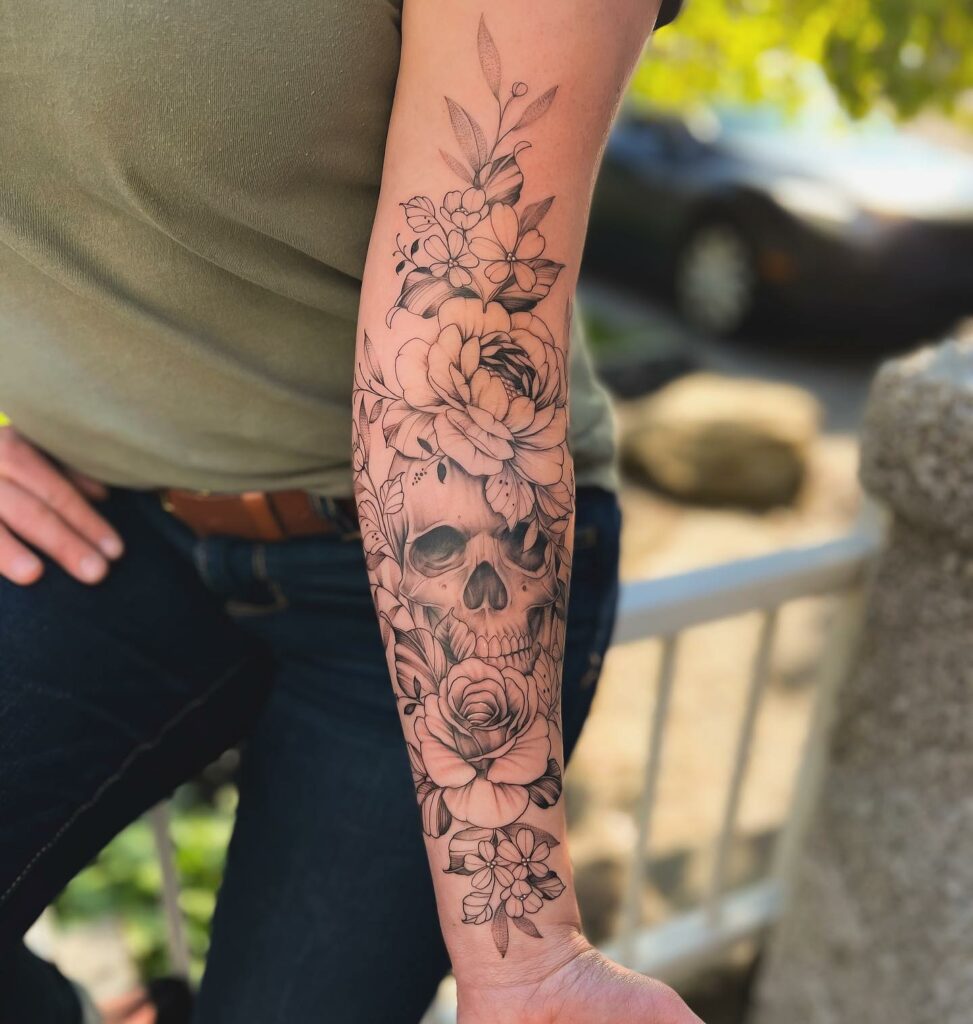 Forearm sleeve tattoos are a terrific method to include a variety of artistic genres. Female forearm tattoos, excluding sleeves, range widely in style. Some of them could even reach your fingertips or coordinate with other tattoos strictly according to your opinion.
The skull forearm tattoo covered with flowers might be an outlandish design for women. A flower with a dark outline blooms fully, its large petals gently caressing a brittle skull. The flower's dazzling liveliness and the development of lush leaves springing around it on the forearm give the impression that it has been well tended to and cherished.
Dreamcatcher Back Tattoo
Originating in Native American culture, the classic dreamcatcher is a handcrafted willow hoop with a net that is braided to resemble a spider's web. They may be changed to reflect various themes while symbolically representing safety from bad nightmares. It is more prominent among women and they get ink inspired to wear them as tribute tattoos for any family member or a close friend or other loved ones.
A dreamcatcher tattoo is a potent amulet that shields its wearer from nightmares and all types of demonic spirits. Dreamcatchers, which were respected totems among the Native American tribes, frequently contain eagle feathers in their designs and this colorful back tattoo design is the same. All of the bodily parts of eagles were revered because they were thought to be closer to Gods, both physically and spiritually.
Numerals And Roman Numerals Tattoo
Roman numerals are any of the symbols used in a system of numerical notation that is based on the traditional Roman system. The letters I, V, X, L, C, D, and M are utilized. Both numerals and Roman numerals can be used to represent significant moments in your life. Passionate women sometimes decide to incorporate additional details into their body art, like a feather, a loved one's name, or a flower, along with the Roman numerals theme, each of which intensifies the meaning of their tattoo.
Roman numerals make for extremely personal and aesthetically pleasing tattoos since they are distinctive to each person. This woman has three numerals tattoos on the hip, lower leg, and side calf, and a Roman numerals tattoo on the side arm. All of them in the bold black font have great chemistry between them and surely account for an exciting chick tattoo idea.
Quotation Collarbone Tattoo For Women
Getting a tattoo anyplace on your body will hurt, as the majority of people are well aware. The collarbone is one of the most difficult places to tattoo, though, as many who have done so can attest. Due to a lack of fatty tissue, the collarbone is extremely sensitive. The fact that the actual bone is situated just below the epidermis adds to the discomfort.
Still, tattoos on the collarbone make a strong statement. Clavicle pieces are not only quite noticeable, but they also draw attention regardless of their design. Because of this, you may choose a delicate cursive writing style or a little image and still have the same effect as if you had a chest piece that reached the collarbones or beyond. This quotation tattoo is an inspiring one urging the wearer and the viewers not to give up on life.
Not every girl connects with the style and taste of another girl, and thus, there are many different chick tattoo designs and concepts to choose from. You just need to search for the ideal design that goes well with your character or the one you have discovered to heal you completely. A few other styles can be followed:
feature image from Pinterest – Want your tattoo to look brighter? Try "Tattoo Balm"
Last reviewed and updated on March 10, 2023