Searching for some inspiring Chinese letter tattoo ideas? You're in luck! We've gathered an amazing selection of Chinese letter tattoos that you're sure to love.
Chinese tattoo symbols have become increasingly popular in the world of body art, appealing to people of all genders with their customizable designs.
Before you commit to a Chinese letter tattoo, it's helpful to understand a bit about the fascinating history of Chinese culture and how tattoos came to be viewed as an art form. Traditionally, tattoos in China were seen as a form of punishment. The Chinese word for "tattoo" is "Ci Shen," which roughly translates to "puncturing the body." Over time, society's perception of tattoos evolved, and they're now celebrated as a unique form of self-expression.
Whether you choose a Chinese symbol or character, these tattoos can make a striking statement. Check out our curated list of Chinese tattoo designs to find the perfect one for you!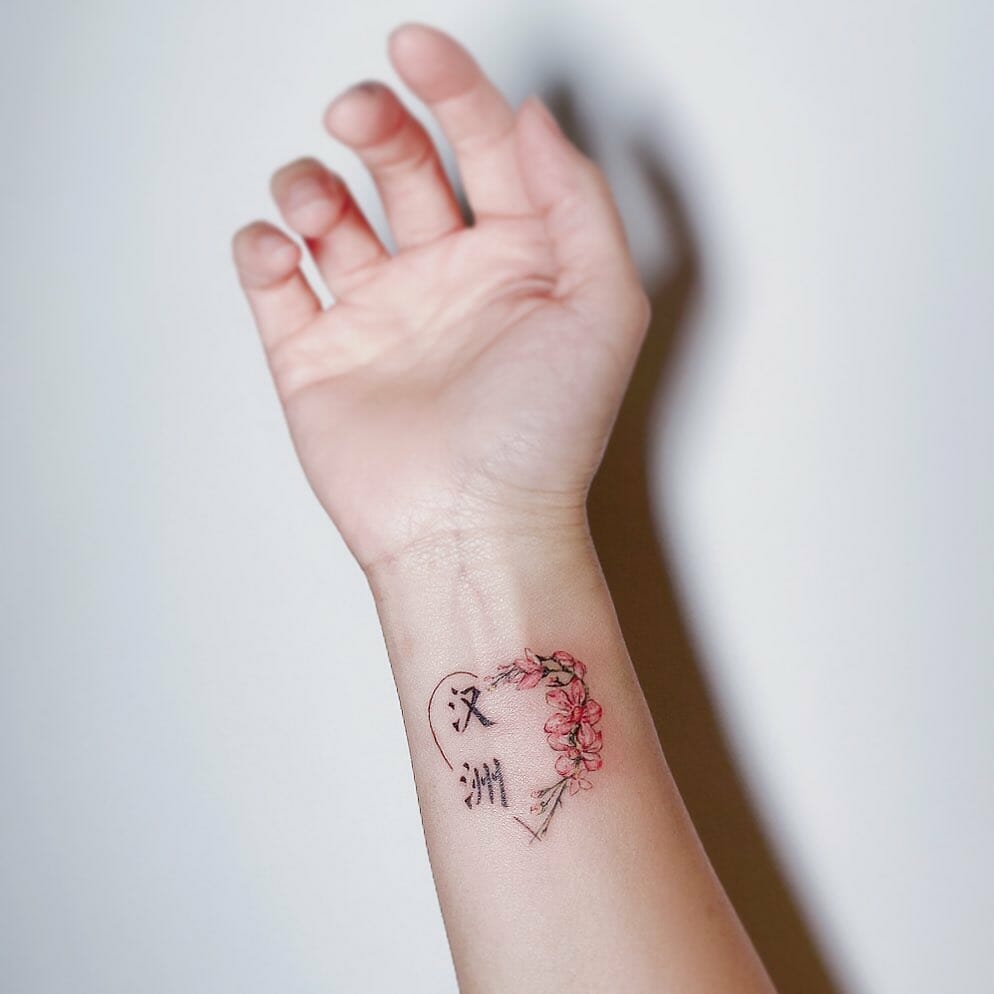 Chinese Calligraphy Design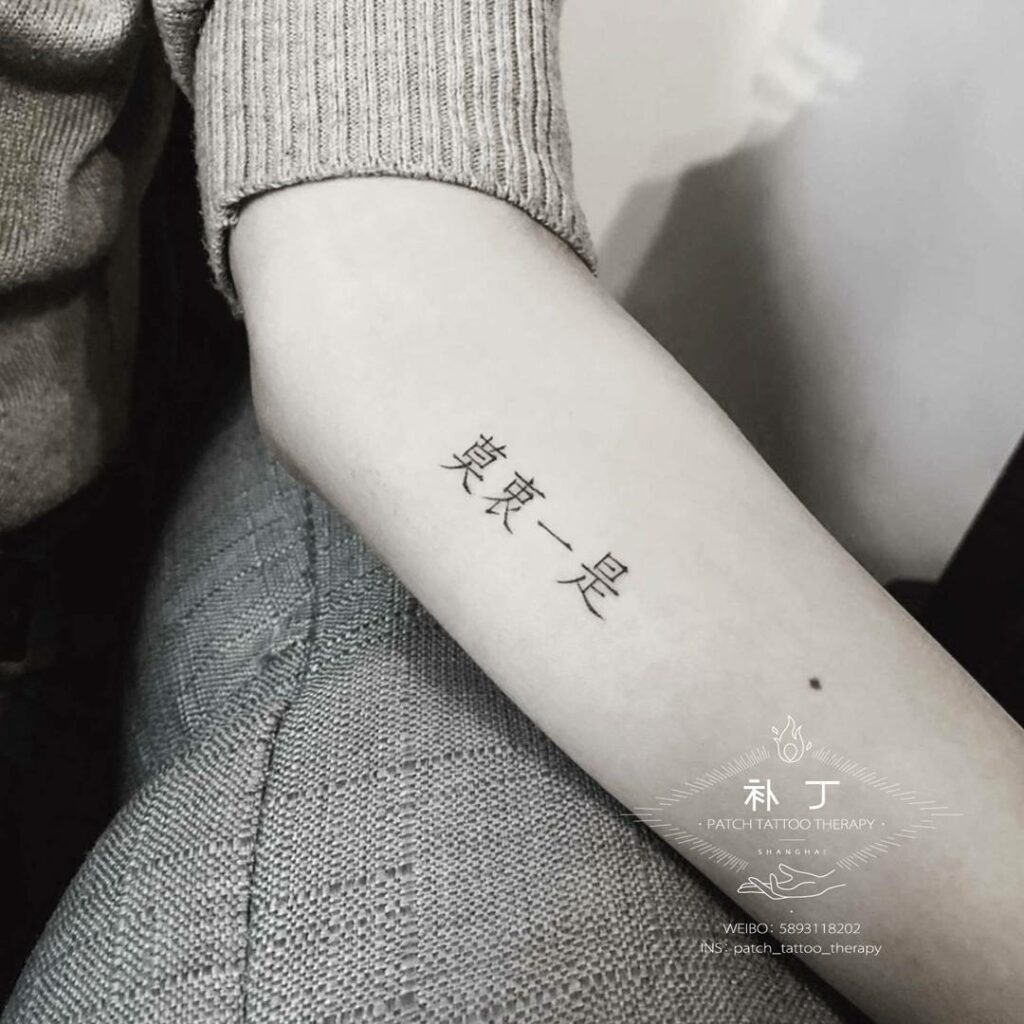 Chinese calligraphy has a timeless elegance and it's a popular choice for those entering the world of tattoos. It consists of simplified Chinese characters and words that can be meaningful, inspiring, and visually stunning. An interesting fact about the Chinese language is that most Chinese words contain many characters compared to simplified Chinese characters. This not only creates beautiful and intricate designs but also promotes literacy among Chinese communities.
In this picture, we can see a charming example of a Chinese calligraphy tattoo design. The artist used black ink to draw the characters, creating a stunning contrast against the skin. Placed on the underside of the arm, this tattoo design is perfect for those looking for a smaller option. However, if you prefer larger tattoos, you can easily customize this design to suit your preferences.
Love In Chinese Letters Tattoo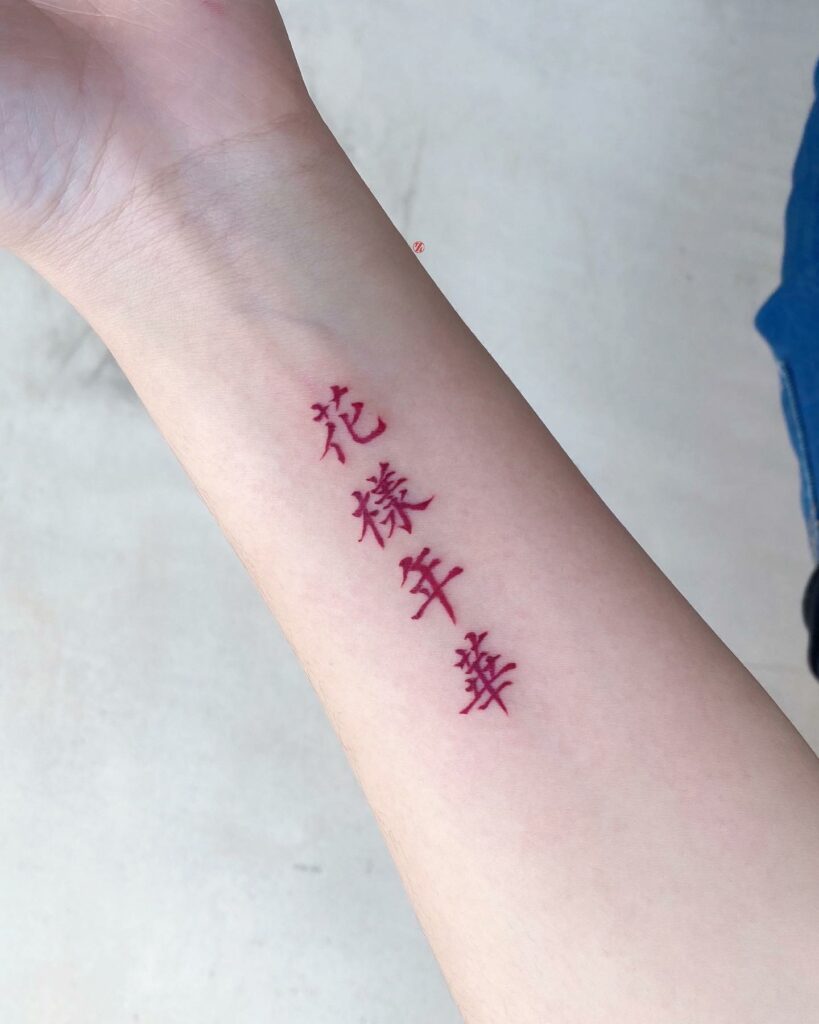 Love is an emotion that is cherished by many. While some may consider it a virtue, others may view it as a weakness. If you belong to the former category, then this Chinese tattoo design is perfect for you. The words inscribed on the arms of this individual read "In The Mood For Love." The artist has beautifully crafted these characters with simplicity and elegance. The ink used for this design is symbolic of love, with the color red often associated with deep affection. This design could be a meaningful way for you and your partner to express your love for each other.
Names In Chinese Characters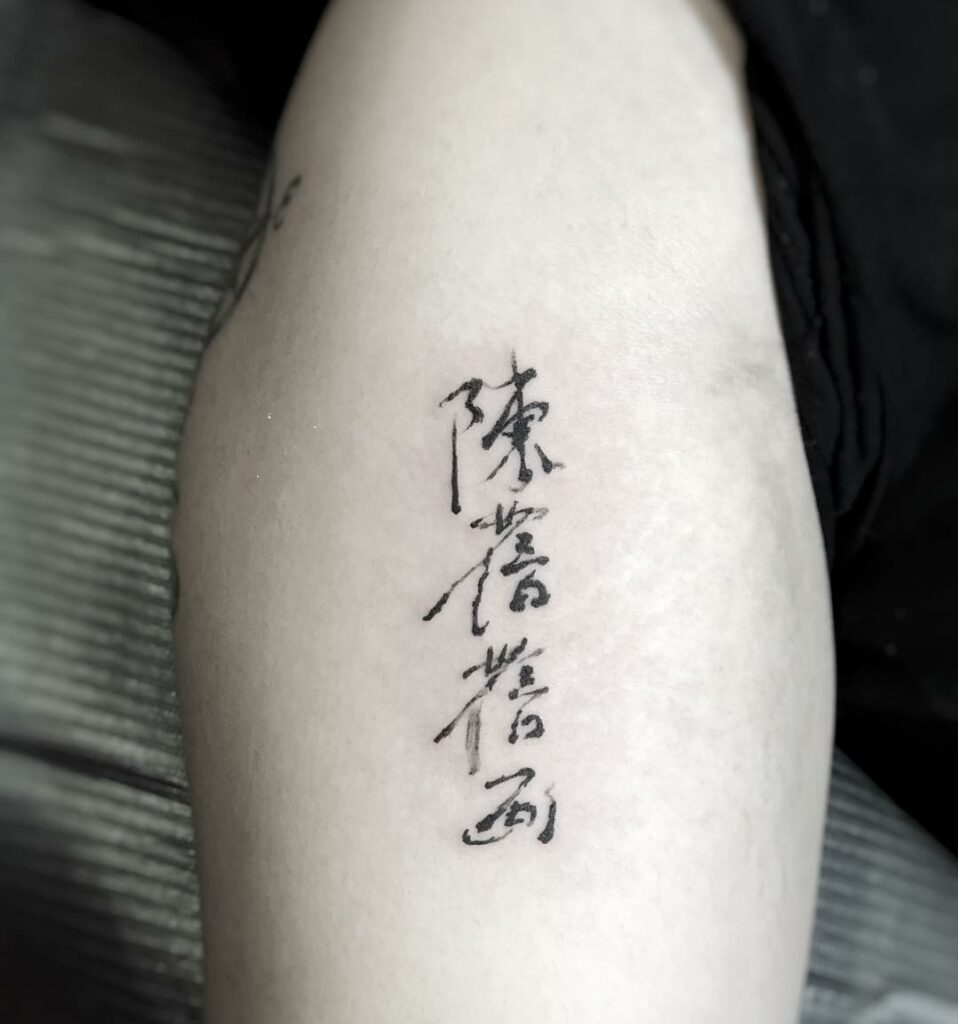 Chinese calligraphy tattoos are becoming increasingly popular among people who want to express their love for their family members, friends or significant others in a unique way. This particular Chinese tattoo design here is a beautiful example of how you can honor your loved ones by getting their name inked in the elegant Chinese script. The name in this design belongs to the person's grandmother, and the artist has done a remarkable job of creating a simple yet striking design. The use of black ink adds to the minimalistic charm of the tattoo. You can personalize your Chinese tattoo according to your preference, be it the name of your siblings, friends or anyone close to your heart. It's a wonderful way to express your love and admiration for the people who matter to you the most.
Short Quotes in Chinese Tattoo Designs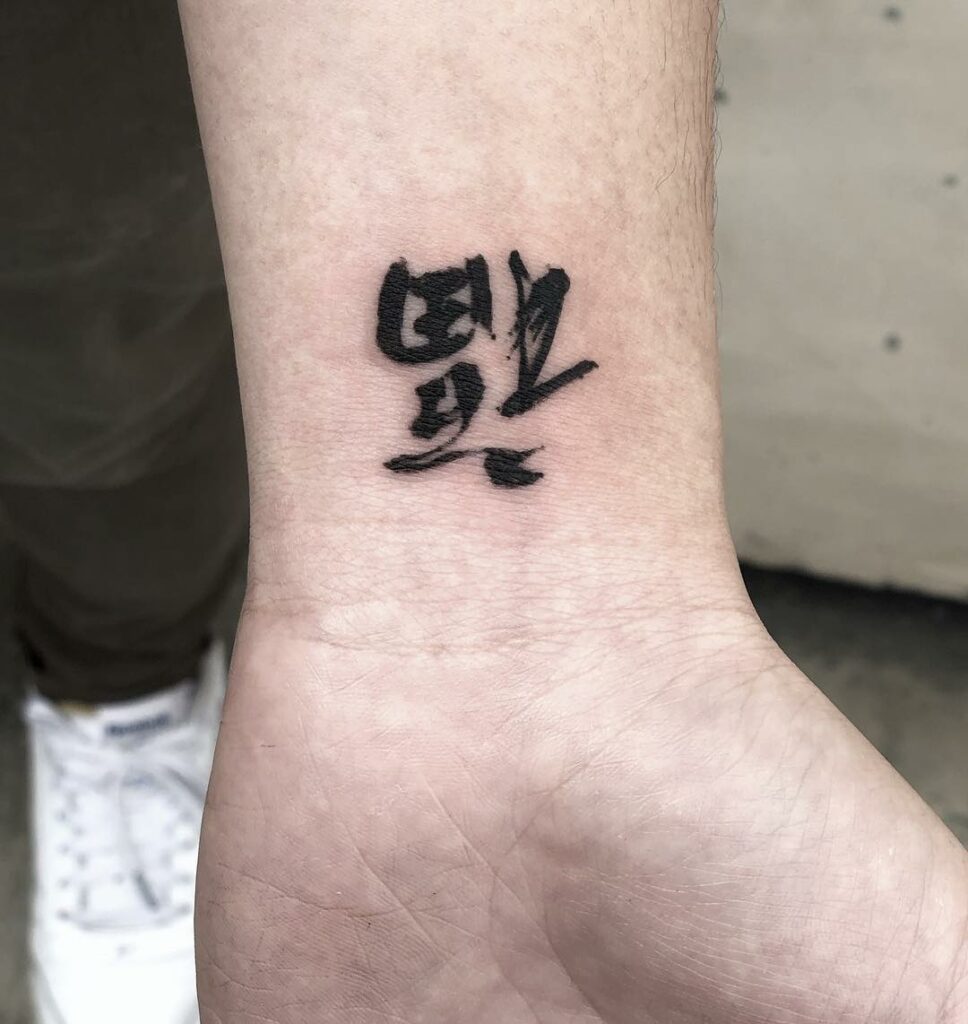 Chinese tattoos can add a unique touch to a positive quote or phrase. Instead of using regular lettering, using Chinese symbols can elevate the design. The Chinese symbol for "good luck" is a popular choice for those seeking a positive message in their body art. This design can be done in a variety of locations, with the wrist being a popular choice. Positive quotes or phrases can serve as a daily reminder of strength and inspiration during difficult times, making them a popular choice for tattoos.
Peace and Happiness in Chinese Symbols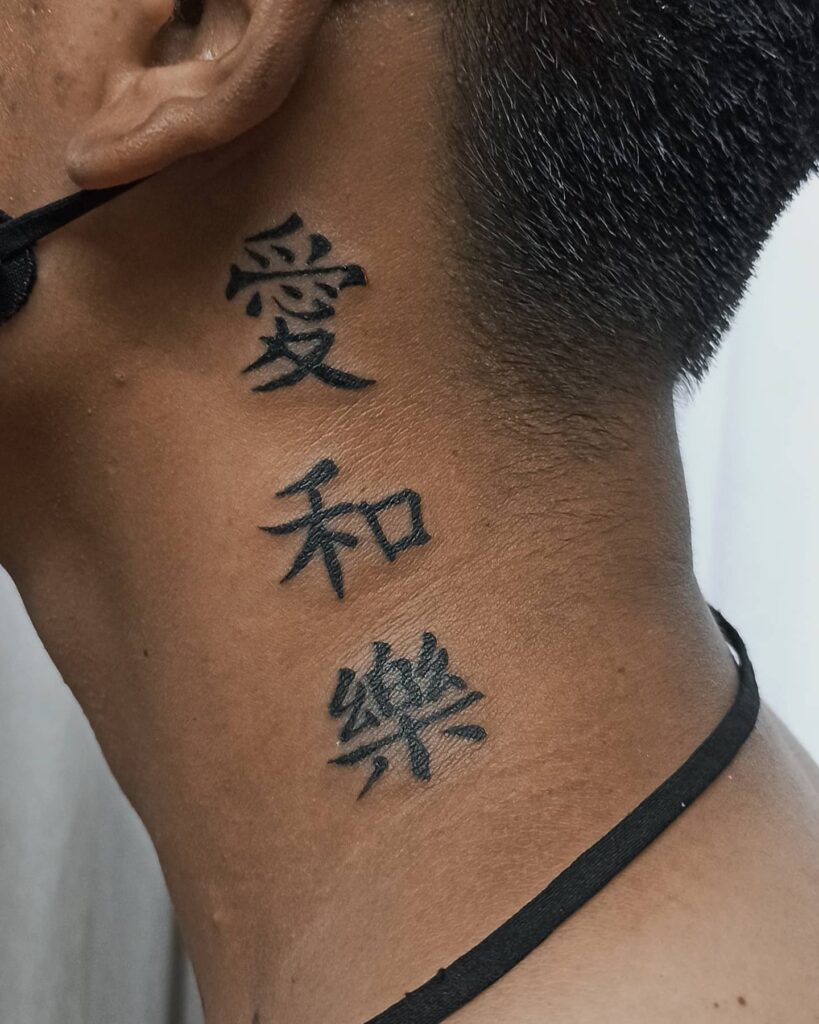 For those who are looking for a tattoo design that exudes positivity, this Chinese lettering tattoo is perfect for you. The tattoo artist used black ink to write the Chinese characters that symbolize peace and happiness. These emotions are universal and something that everyone wishes for in their lives. This design is particularly popular as it provides a constant reminder to stay positive, even in the face of adversity. The location of the tattoo, behind the ear, adds a subtle touch and enhances the overall look of the tattoo. If you're interested in this design, you can customize the Chinese characters according to your preferences and get it done at your trusted tattoo studio.
Chinese Flower Tattoos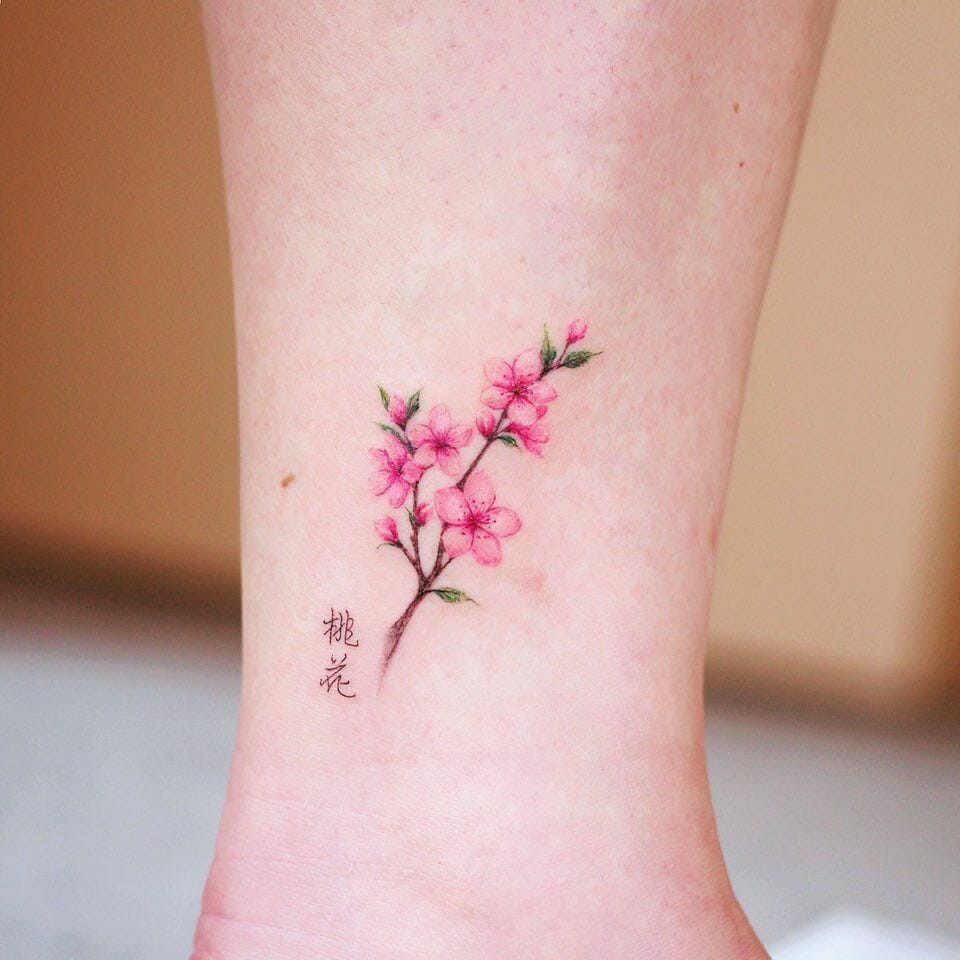 Flower tattoos are timeless and continue to be a popular choice among tattoo enthusiasts, especially women. The flowers chosen can have symbolic meanings associated with them, and when paired with Chinese characters, they can take on even more significance. In this stunning design, the Chinese character for 'love' is paired with a delicate pink flower that beautifully complements the ink. Flower tattoos with Chinese characters are not only aesthetically pleasing but can also convey a deeper meaning. You can personalize the design by selecting your favorite flower and Chinese word that resonates with you.
Chinese Script Tattoo Design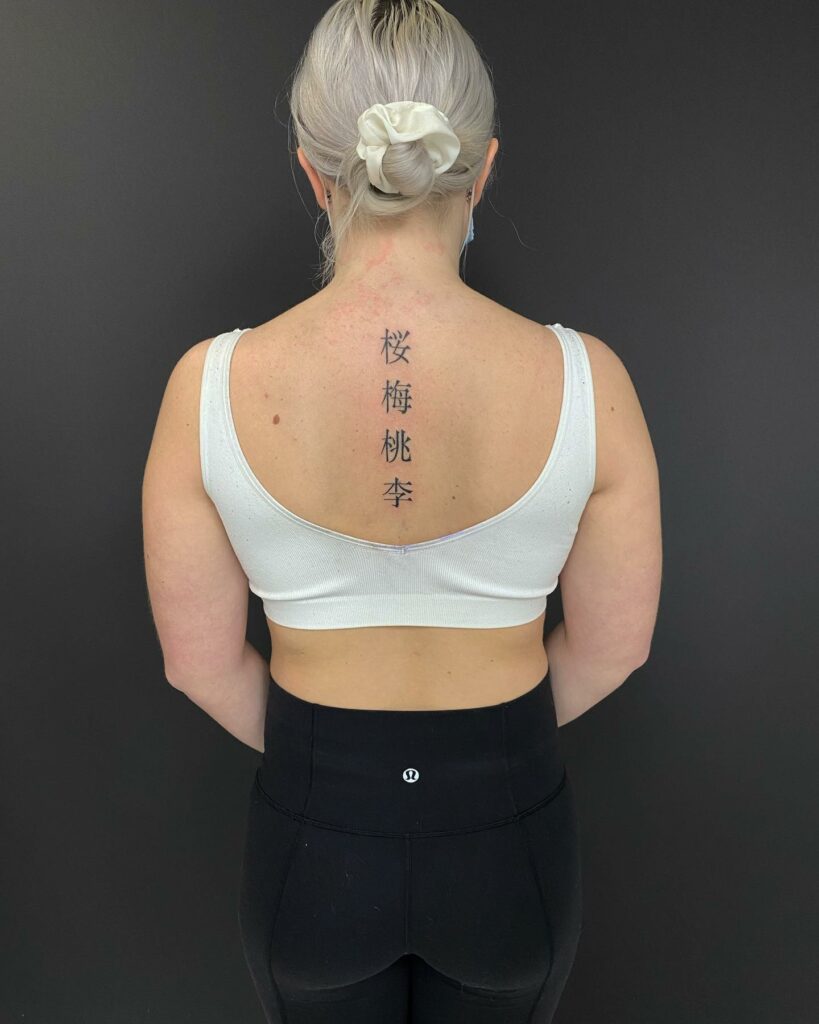 Chinese characters are an excellent option for those who are looking for elegant and unique tattoo designs. These characters are widely used in official written language in places like Macau and Taiwan. However, it's important to ensure that the characters you choose for your Chinese tattoo design are accurately translated to avoid any confusion.
The picture above is a great example of a Chinese script tattoo. The tattoo artist has done an excellent job of placing the tattoo on the individual's spine, and the design looks beautiful. It's clear that the artist has plenty of experience, as the tattoo has not caused any irritation or discomfort to the person's skin. If you're looking for a meaningful and eye-catching tattoo design, a Chinese script tattoo may be the perfect choice for you.
Chinese Zodiac Symbol Tattoo
Chinese zodiac signs are a fascinating topic for people who are interested in astrology. This image is a perfect example of a Sagittarius zodiac tattoo combined with Chinese characters. The blue ink used in the design is magnificent and accentuates the details in a way that is pleasing to the eyes. When considering a similar tattoo design, be sure to select an experienced artist who can handle the complexity of the art. Zodiac tattoos are a great way to express your personality and connect with your birth date. You can customize the design by incorporating your favorite colors or adding other Chinese characters that hold a special meaning to you.
Chinese Dragon Tattoo With Symbols
Chinese culture is rich with symbols that carry deep meaning, and one of the most popular ones is the dragon. It represents strength, good luck, power, confidence, and determination, making it an excellent choice for a tattoo design. In this design, the artist has skillfully drawn a dragon and paired it with Chinese symbols, creating a perfect blend of strength and elegance. If you are considering getting a Chinese tattoo, a dragon design like this can be a great inspiration for you. However, if dragons are not your thing, you can choose any other animal that has a special meaning to you.
Chinese Letter Tattoos with Numerics
Expressing love for loved ones is always a special moment, and getting a Chinese letter tattoo is one of the best ways to do so. This particular tattoo design is a great example of how you can combine the birthdate and the name of your loved one in a very elegant and stylish manner. The design is engraved in black ink and is done so perfectly that it is sure to turn heads. You can customize the design according to your preference and can place it on any body part of your choice. Chinese letter tattoos are very popular among tattoo enthusiasts, as they offer a wide range of symbols and characters to choose from. However, it is essential to do proper research before getting a Chinese letter tattoo, as choosing the wrong symbol can result in an unintended or inappropriate meaning.
Still looking for inspiration, then checkout this blog post about letters tattoo ideas
feature image from Pinterest – Want your tattoo to look brighter? Try "Tattoo Balm"
Last reviewed and updated on August 23, 2023