Hey there, tattoo enthusiasts! Are you on the hunt for a truly unique and captivating design for your next ink? Look no further, because Chinese tattoo symbols might be just what you're after.
For fans of simple yet intriguing, exotic and mysterious body art, Chinese calligraphy tattoos offer the perfect blend of elegance and depth. Rooted in ancient Chinese culture and tradition, these designs encompass everything from dragons and yin-yang symbols to zodiac signs, laughing buddhas, and majestic tigers. And trust us, these Chinese-inspired tattoos will undoubtedly level up your body art game.
But there's more to Chinese tattoo designs than just their striking appearance. Each character carries a tale from Chinese history or folklore, representing an entire world of meaning and cultural significance. The beauty of Chinese calligraphy lies in its flowing lines, curves, and corners, making it a stunning choice for tattoos.
With an array of Chinese symbols representing various meanings like loyalty, love, and peace, the possibilities are endless. However, it's essential to choose a tattoo artist who's well-versed in the Chinese language and symbols to avoid any potential mishaps or unintended interpretations. So, without further ado, dive into our curated collection of ten jaw-dropping, meaningful Chinese character tattoos, and let the inspiration flow!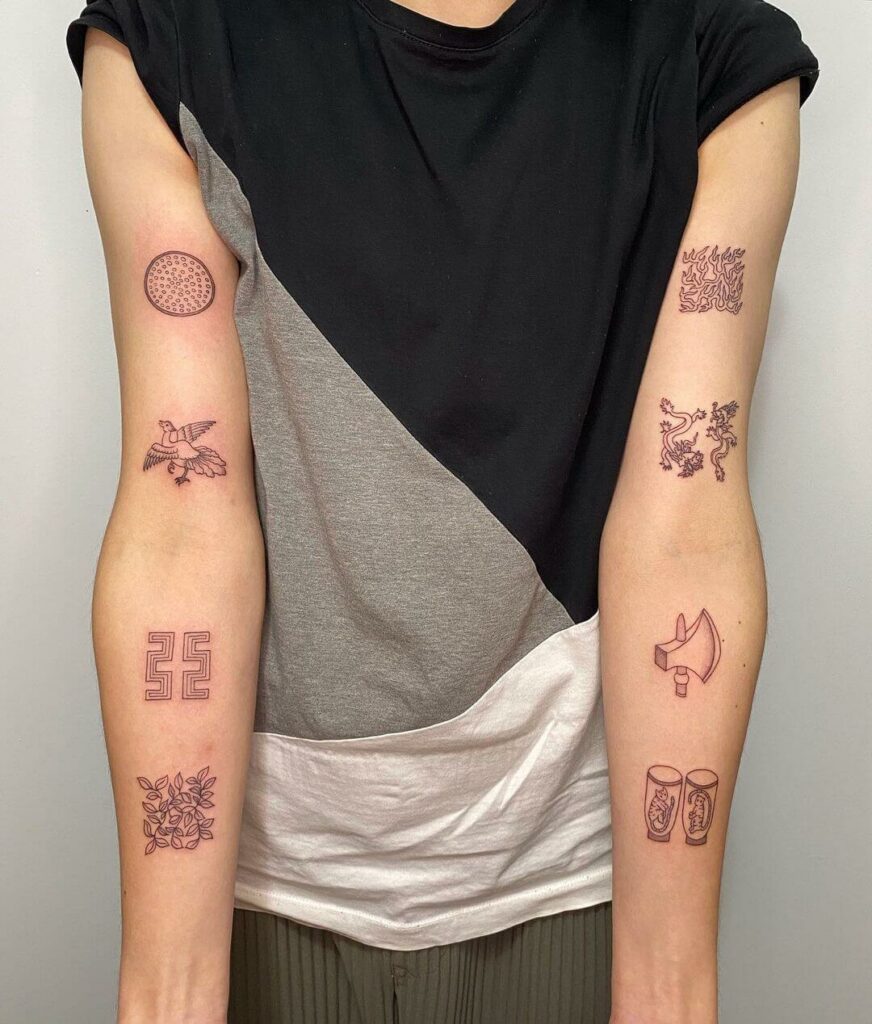 Amazing Flowers Chinese Symbols Tattoo: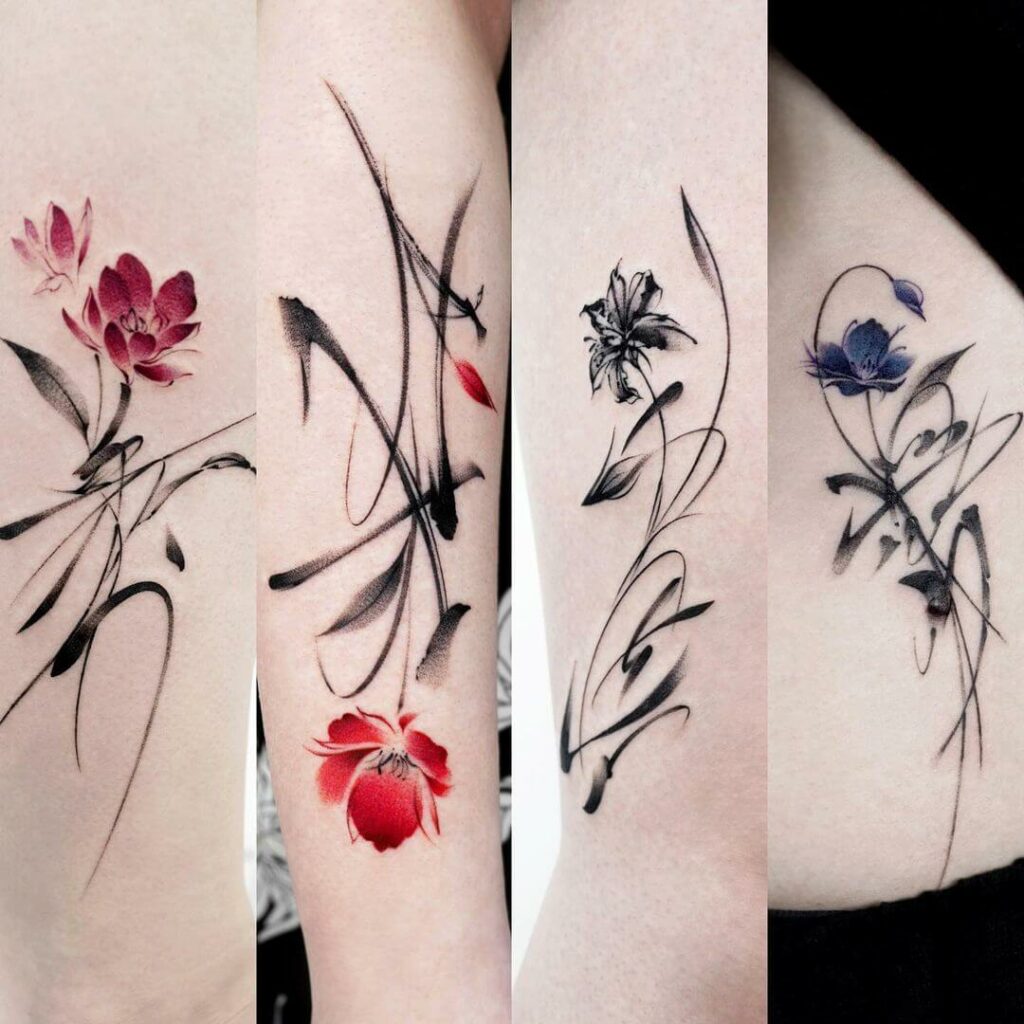 This Chinese tattoo design is a masterpiece that has captured the attention of many tattoo enthusiasts. It is a stunning and charming artwork that beautifully depicts the beauty of Chinese culture. The vibrant colors of the flowers make this tattoo a true work of art that complements the skin tone of the wearer. The flowers in this design are not just aesthetically pleasing but also hold deep symbolic meanings like love, peace, elegance, affection and art. If you're looking for a meaningful yet beautiful tattoo, this Chinese tattoo design is definitely worth considering! Don't wait any longer and give yourself the gift of this incredible tattoo.
Bracelet With Chinese Symbols Tattoo: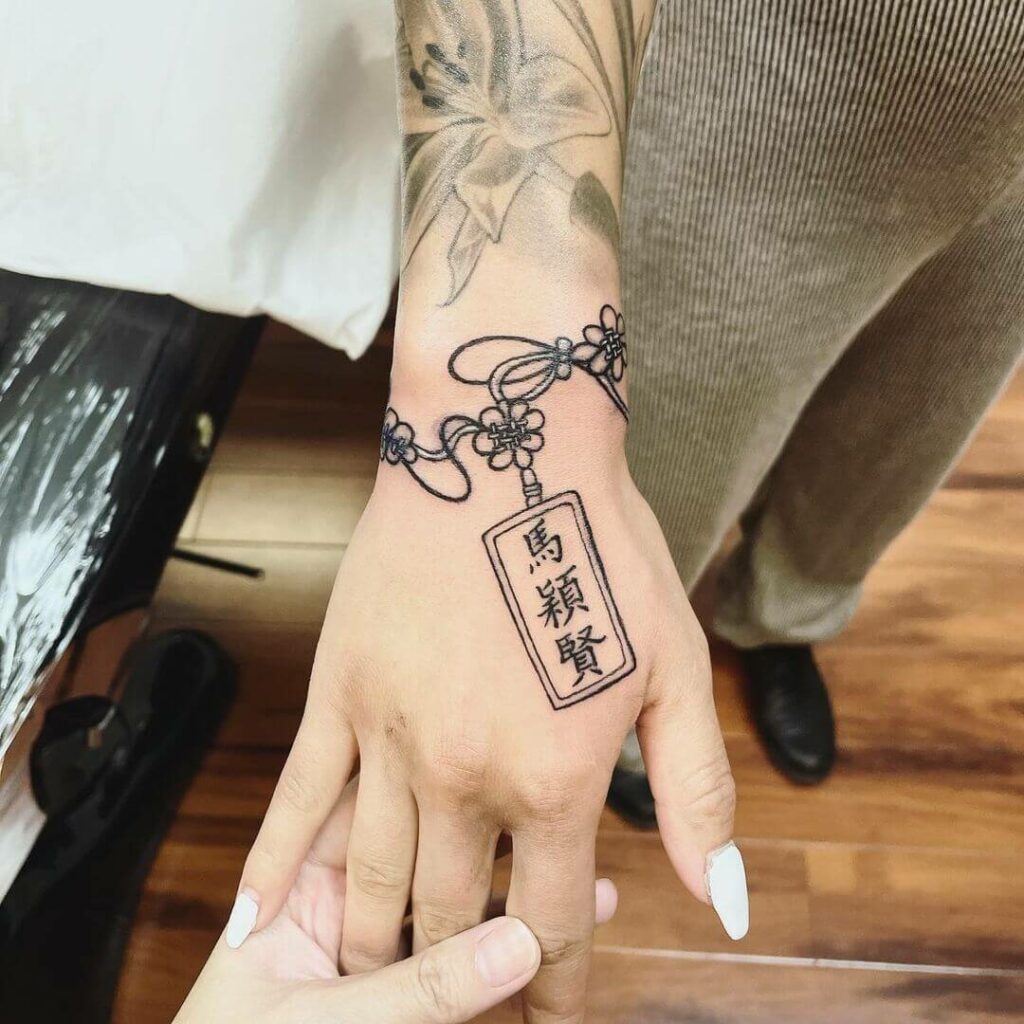 Chinese writing tattoos are a great way to express your personality and style. This unique Chinese wrist tattoo is sure to catch your eye with its simple yet striking design. The tattoo can be customized into a bracelet or even a watch, allowing for endless possibilities. The minimalist design and clean lines make it suitable for both men and women. You can even add some vibrant colors to make it stand out even more. The tattoo is symbolic of punctuality and faithfulness, making it a meaningful and personal choice for anyone. Don't wait any longer, head to your local tattoo shop and get this amazing Chinese wrist tattoo today!
Quoted Text Chinese Symbol Tattoo: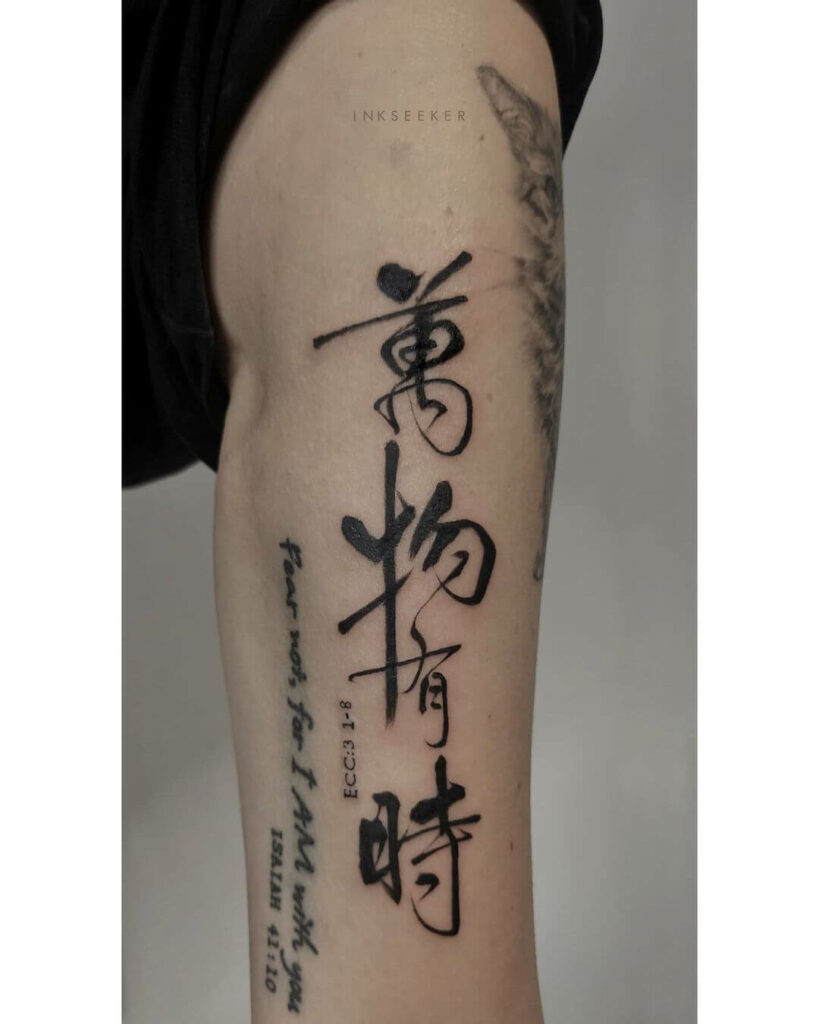 If you're looking for a tattoo that combines the beauty of both Chinese and English script, then this is the perfect design for you. The combination of these two scripts forms a powerful message that reads, "see all things don't take fear, for I am with you." The tattoo also reflects beliefs, making it even more meaningful. The design is very customizable, and you can add more lines or change the phrase to suit your preferences. The arrangement of the writings can also be modified, giving you the freedom to create your unique look. This tattoo design is a great way to express yourself and showcase your individuality. Get creative and try it out!
Full Hand Chinese Symbols Tattoo:
Imagine having traditional Chinese tattoos on your fingers that extend to the back of your palm – it's possible! This unique design covers each finger with meaningful Chinese characters, and the back of your hand with traditional tattoo art. While this particular design is done in black ink, feel free to experiment with different colors to make it truly your own. Each finger in this design represents something significant, making it a personal and meaningful statement on your body. This is also a great tattoo idea for couples who want matching tattoos. With a design this special, your hand will definitely turn heads!
Signature Design Chinese Symbols Tattoo: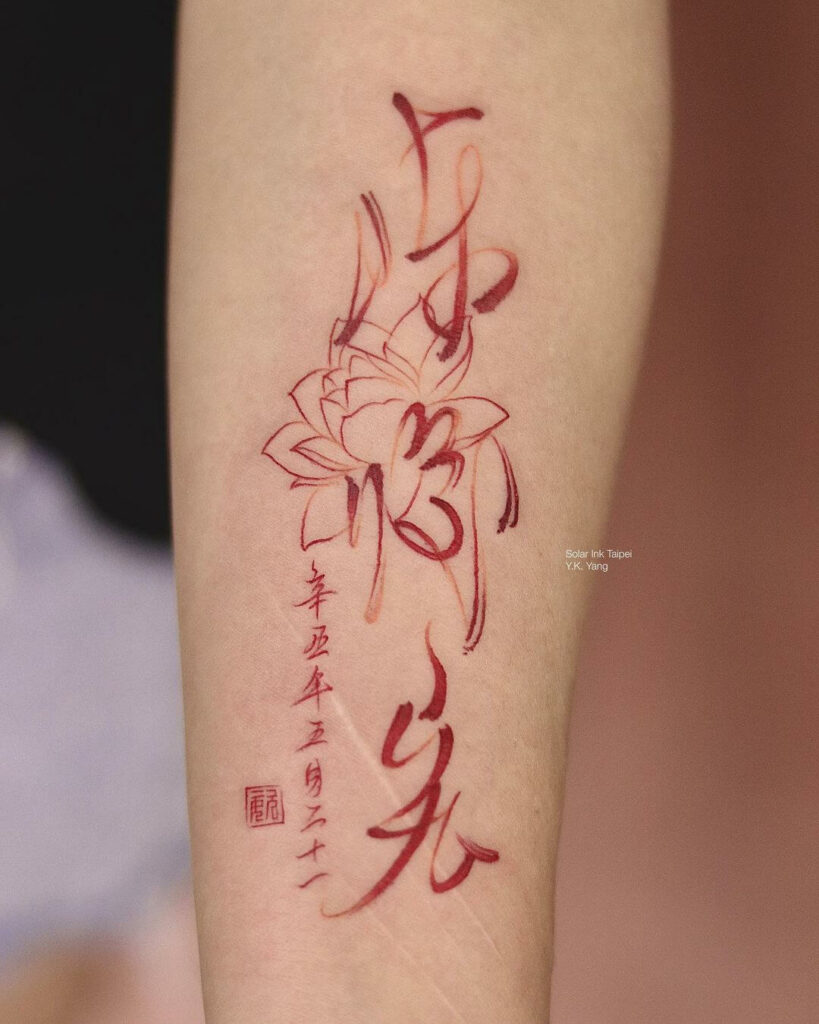 Introducing an eye-catching and magnificent tattoo design that will certainly catch your eye! The design is actually a signature of a girl's father that was given a stunning makeover by a talented tattoo artist. The resulting design is simply breathtaking, with vibrant and rich colors that form a beautiful flower shape. The artist's mastery of curves and angles is simply remarkable, producing an unforgettable piece of art that exudes warmth and love. A Chinese script on one side adds to the beauty and mystique of the tattoo. This is a perfect choice for the younger generation, who prefer colorful and unique tattoos that are both beautiful and meaningful. Don't wait any longer, go see a talented tattoo artist and get this amazing tattoo today!
Religious Chinese Symbols Tattoo: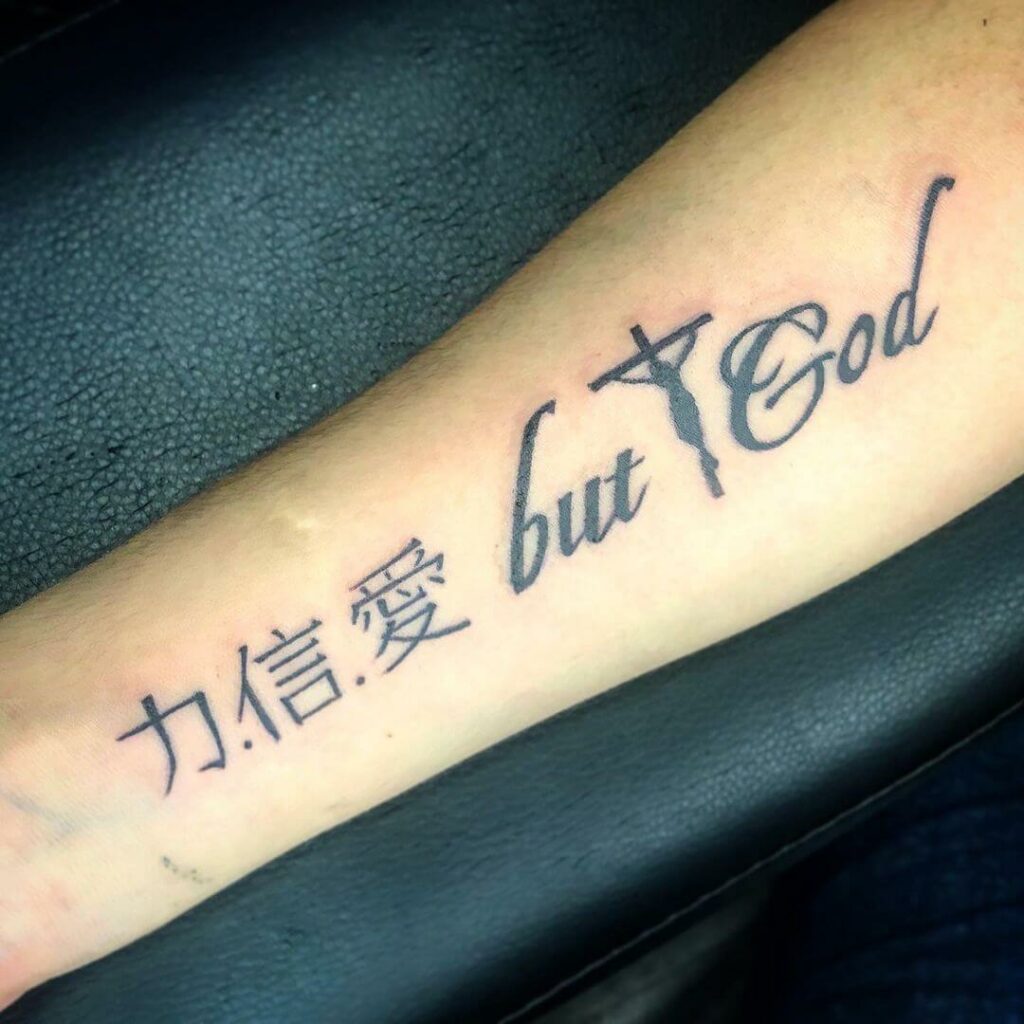 The characters on the arm read "Lix loves nothing but God," combining both English and simplified Chinese characters. "Lix" refers to the center of force, making this a powerful tattoo that showcases your devotion to God and your faith. This tattoo is perfect for anyone who wants to show their religious side, and it's one of the most beautiful tribal tattoos you can get. You could even customize it by adding your name or the name of someone you love. Chinese tattoos often have deep meanings, making this a great option for anyone looking for a meaningful tattoo. Don't hesitate – get this amazing tattoo today!
Forearm Chinese Symbols Tattoo: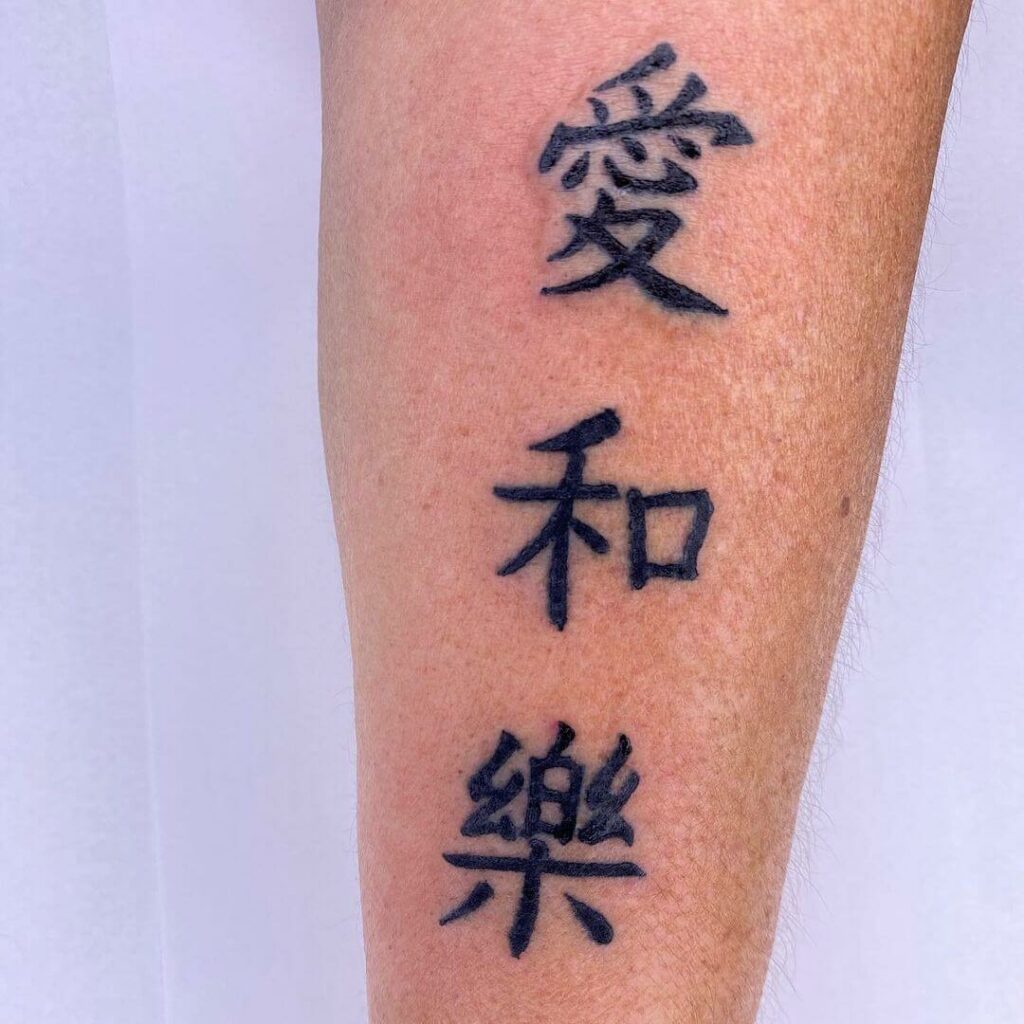 Forearm tattoos have been a popular trend for a while, and Chinese tattoos with deep meanings are no exception. Take a look at this stunning black tattoo that you'll surely adore! This design features the Chinese characters for "love," "peace," and "happiness," which not only make for a beautiful tattoo but also represent a peaceful and loving personality. You can try similar word tattoos on your forearm or any part of your body to express your beliefs and values. This Chinese tattoo design is sure to turn heads and might even inspire a trend in your community. So don't hesitate, give it a try now!
Small Letter Chinese Symbol Tattoo:
Chinese tattoos are often small and elegant, and they look particularly stunning on the wrist. This simple yet powerful tattoo design features the Chinese word for "to become," written in black ink. It's perfect for creative people who are looking to make an impact in the world. You can customize this tattoo to fit your own preferences by choosing a different Chinese word or adding colors to it. Chinese animal names and personal names are also popular choices. This is a beautiful and meaningful tattoo design that has been developed by the Chinese community. Give it a try and see how it fits your unique style!
Solar Inked Chinese character Tattoo: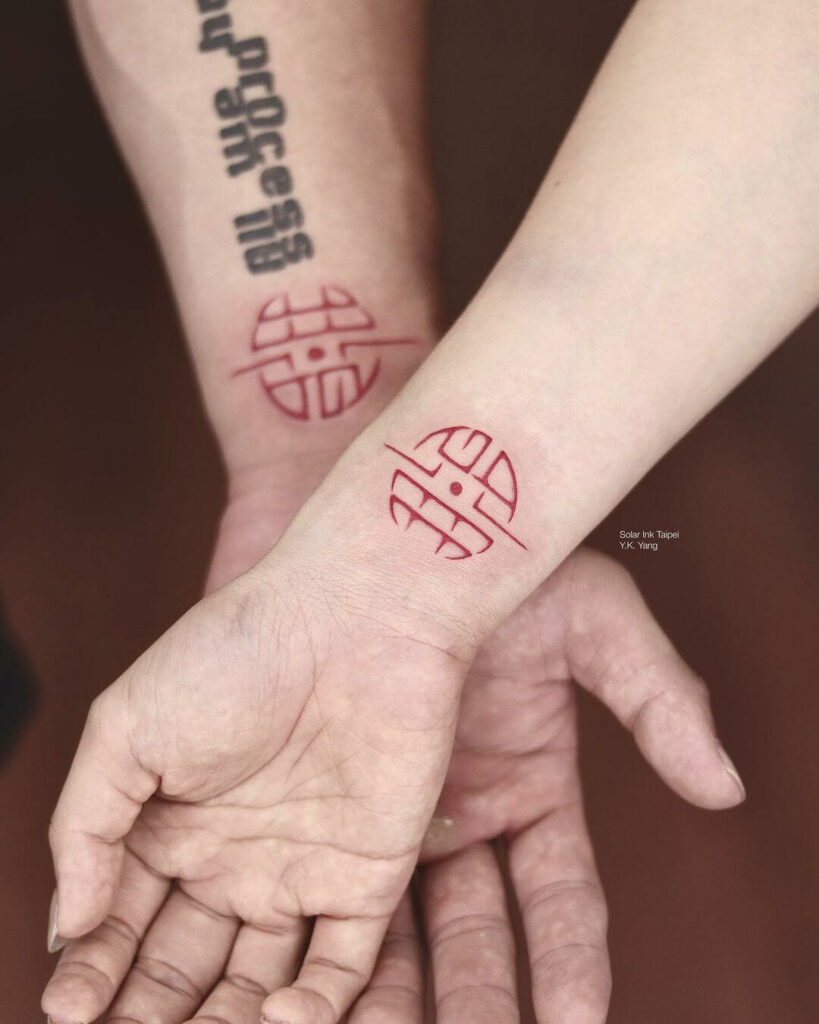 Are you ready for an amazing Chinese tattoo design that is both beautiful and meaningful? Look no further than this stunning character tattoo that will leave you feeling inspired. While it is not an official written language in China, its significance and beauty cannot be overlooked. This design will transport you to the heart of China with its rich colors and intricate patterns, making it the perfect addition to your wrist. In fact, why not get matching tattoos with your partner as a symbol of your love? Don't wait any longer, try this incredible tattoo design today and let it bring a touch of Chinese culture and meaning to your life!
Cross-Design Chinese Symbol Tattoo: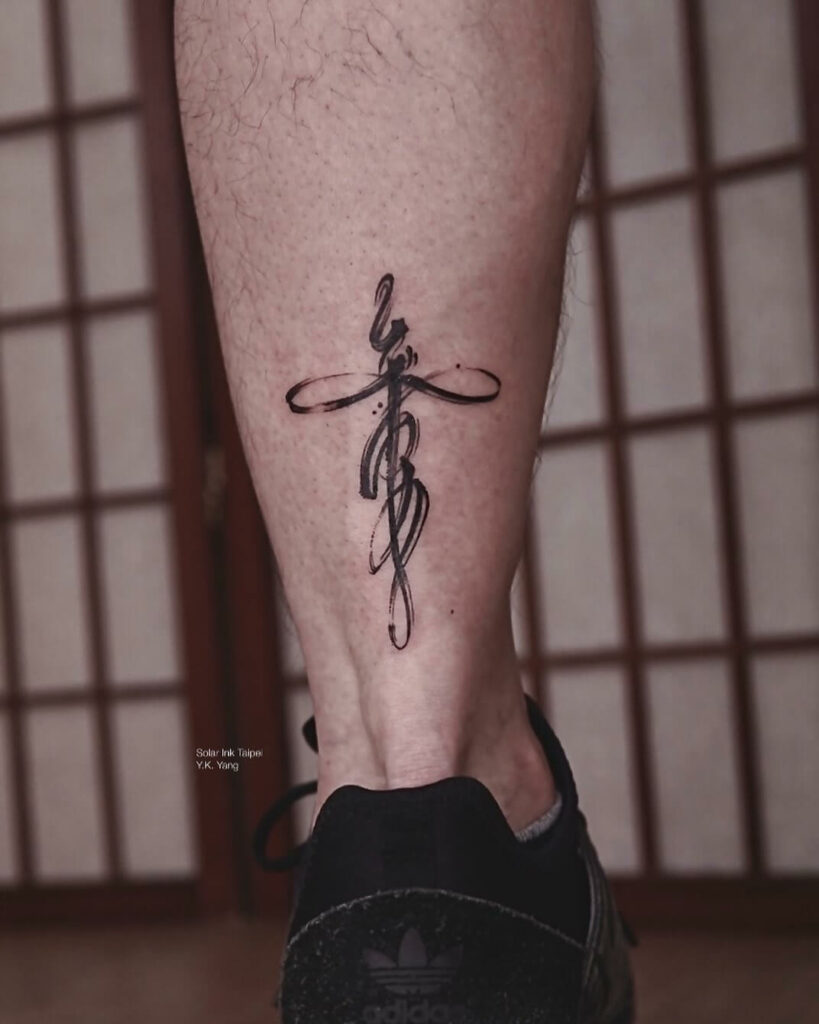 This intricate tattoo features delicate lines and the Chinese character "Ping," which means "peaceful." The choice of color is not limited to black, as you can choose from a variety of hues that will complement your skin tone. This tattoo would look great on your bicep or leg, and it would be perfect for matching tattoos with your siblings or loved ones.
We hope you have enjoyed exploring these stunning Chinese tattoo designs. Remember, these are just samples, and you can always customize them according to your preferences. You can experiment with different color schemes, sizes, and even combine Chinese characters with English script for a unique tattoo design. The possibilities are endless, so go ahead and let your imagination run wild!
Feature image from Pinterest