Greetings to all you seekers of meaningful body art out there! If you've been itching to adorn your arm with a divine half-sleeve tattoo that carries Christian motifs, then my friends, you've landed in the right corner of the internet. From the profound simplicity of the cross to the rustic charm of native Christian symbols, we've done the groundwork and gathered a wealth of Christian tattoo ideas tailored for you.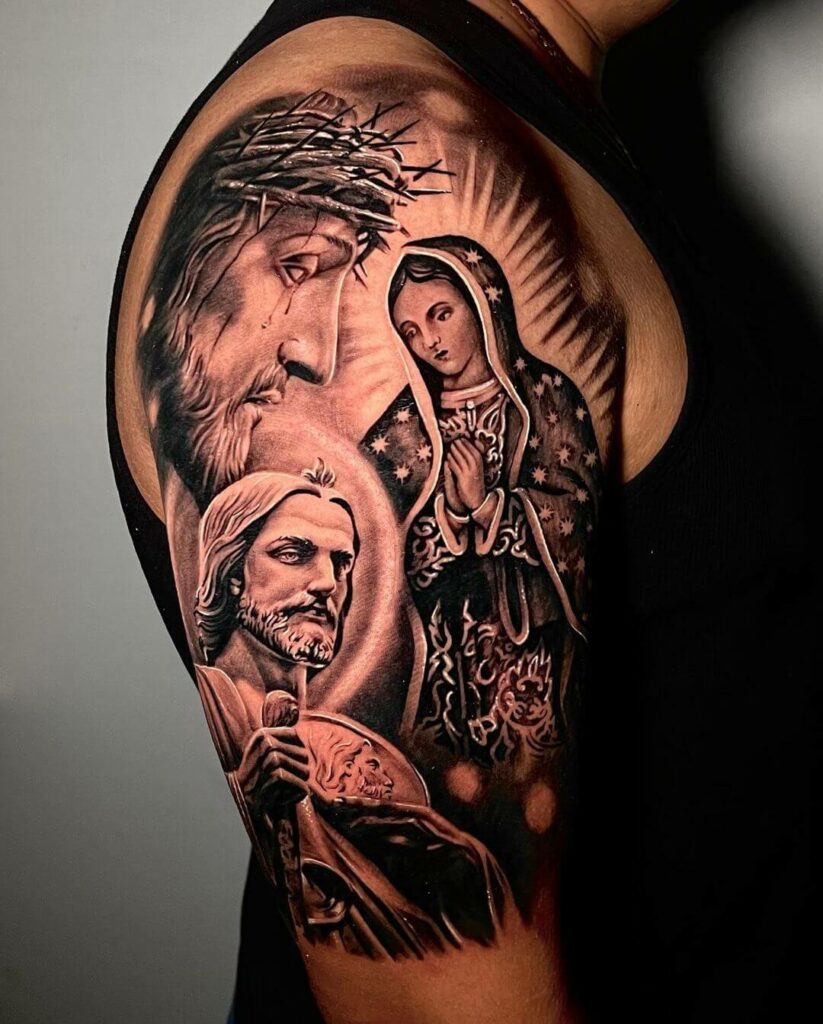 Wearing your love for Jesus Christ on your sleeve (quite literally) through a Christian-themed tattoo is an increasingly popular way to express personal devotion. Despite not being a traditional part of Christian culture, more and more believers are finding in tattoos a beautiful medium to celebrate their faith. After all, tattoos have long been seen as a unique way to appreciate our bodies as the perfect canvas for self-expression.
As for half-sleeve tattoos, they hold their ground impressively against their full-sleeve cousins. What they offer is an effortless complement to the natural contours of your arm, making them a popular choice among tattoo enthusiasts. There's also the added advantage that half-sleeve tattoos tend to be lighter on the wallet and provide an opportunity for gradual expansion to a full sleeve if you choose to do so down the line. These attributes make them especially fitting for tattoo first-timers.
From praying hands to depictions of the Holy Bible, the diversity in Christian tattoo designs is as wide as the sea. And trust me, we've curated the cream of the crop, including the most sought-after and highly rated designs that are currently gracing the bodies of ink aficionados around the globe. If your aim is to enhance your personal charisma while resonating with your spiritual core, there's little standing in your way. We believe these design ideas will spark your imagination and, while they might not literally blow your mind, they'll undoubtedly leave you eagerly planning your next visit to the tattoo parlor. So, are you ready to explore the divine world of Christian half-sleeve tattoos?
Nun Tattoo
Starting off, we have the intriguing Nun Tattoo. Available in a multitude of shapes and sizes, this tattoo can range from having a haunting, demonic twist to carrying an endearing, reverent aura. Revered by Christian tattoo enthusiasts for its religious symbolism, this upper half-sleeve design looks crisp, sophisticated, and carries powerful connotations of holy visages. Nuns, these tireless educators of holy traditions, are significant figures in Christianity. So, if you share a past enriched by the teachings of a nun, this tattoo could be the perfect tribute.
Virgin Mary Tattoo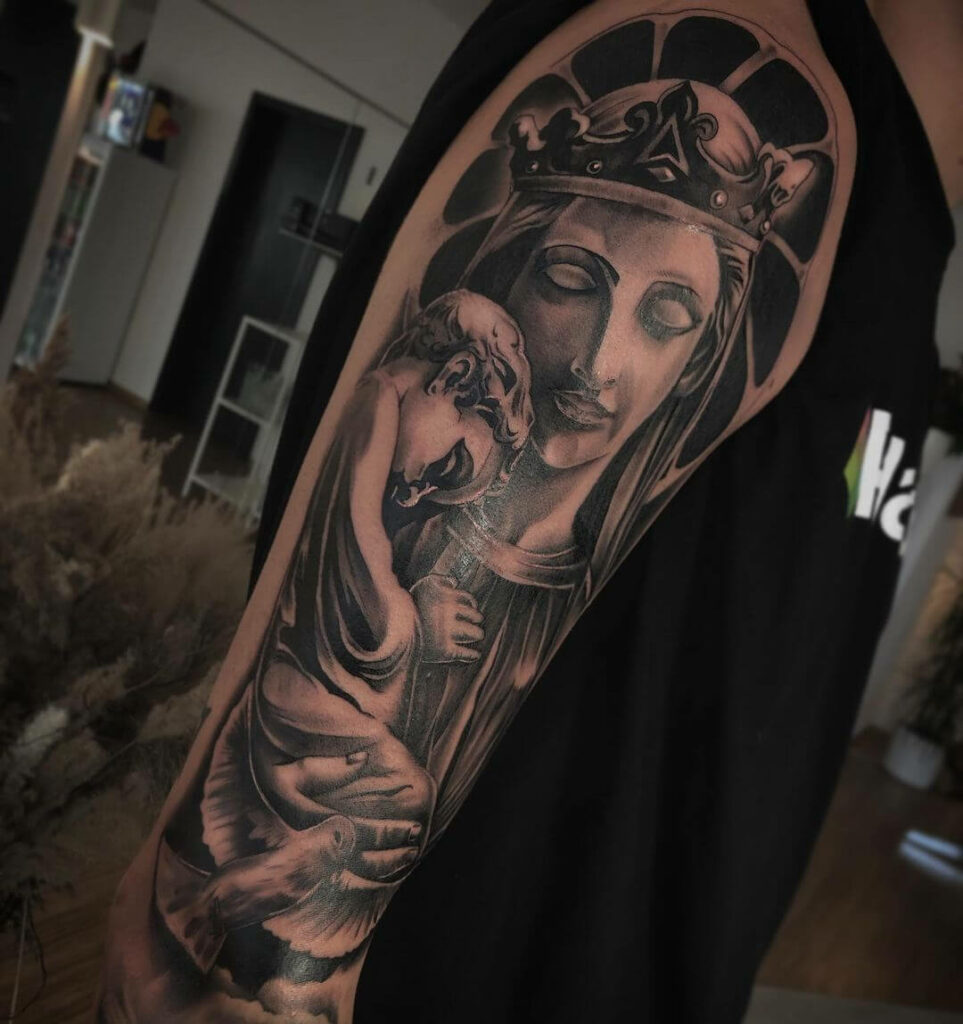 Following up, we delve into the divine realm of Virgin Mary Tattoos. Mother Mary holds a prominent place in Orthodox Christian traditions, revered as the 'God's bearer'. This tattoo pays homage to her, blending religious belief with contemporary artistic expression. The black ink employed in the tattoo exudes a profound aura and gracefully complements the overall design. As versatile as it is significant, this tattoo can be placed on various parts of your body.
Jesus With The Crown Of Thorns Tattoo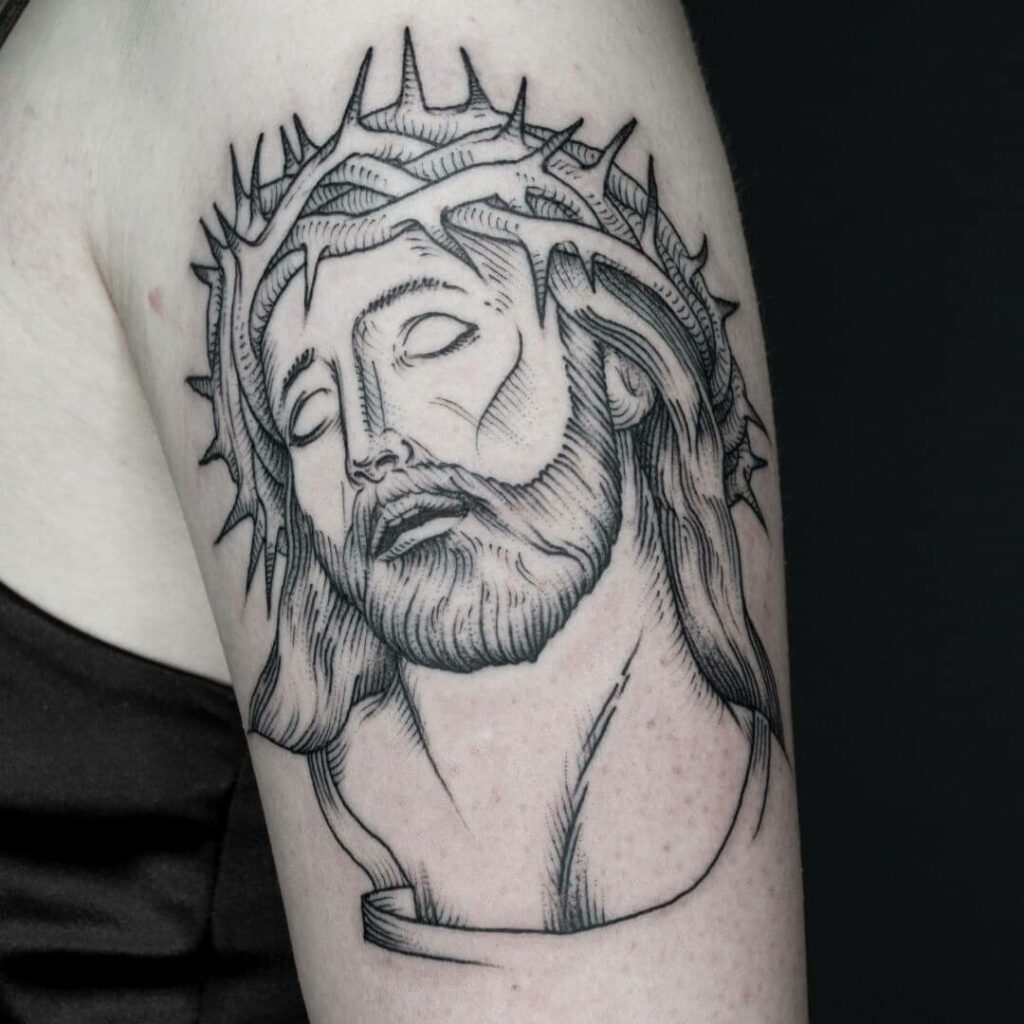 Next up, the poignant Jesus With The Crown Of Thorns Tattoo. This design encapsulates the ultimate sacrifice that Jesus made for humanity. This popular Christian sleeve tattoo, which fits perfectly as a half sleeve, is a powerful visual reminder of this great sacrifice, arguably the cornerstone of Christianity.
Cross with Lion Tattoo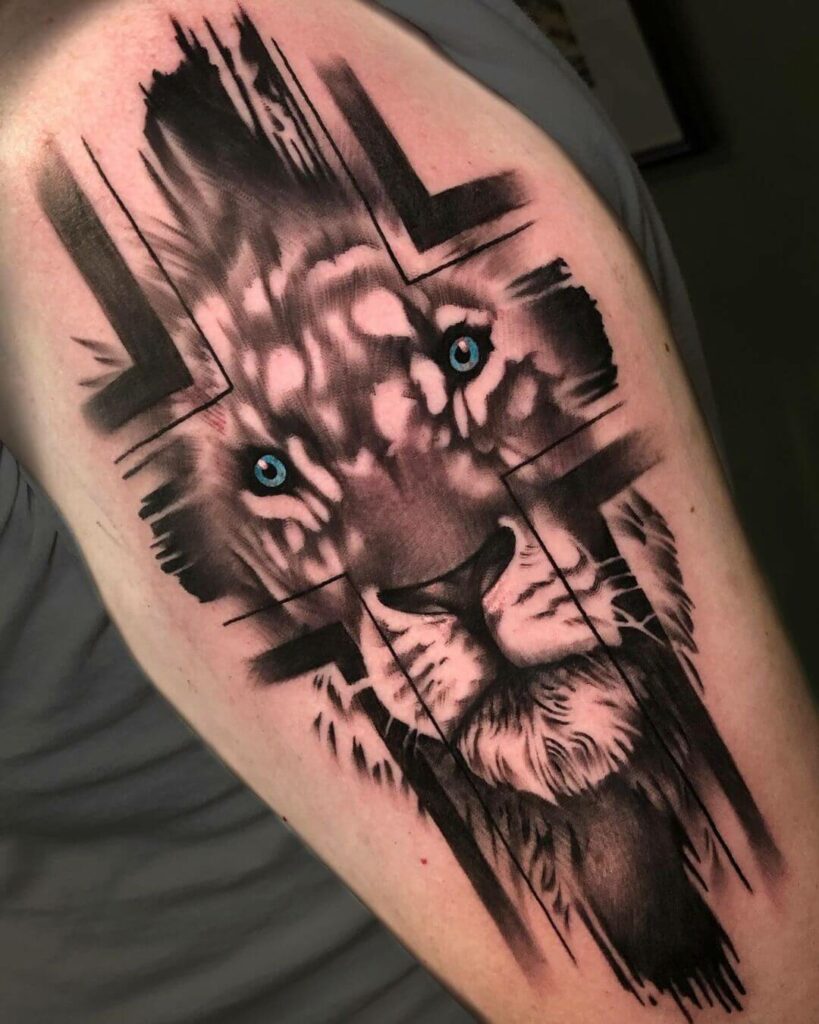 On a more assertive note, we have the Cross with Lion Tattoo. This design personifies boldness, with a large cross and a lion at its center, creating an almost rebellious look. Despite this, it's one of the most prominent Christian art pieces, each carrying its own unique meaning.
Floral Christian Tattoo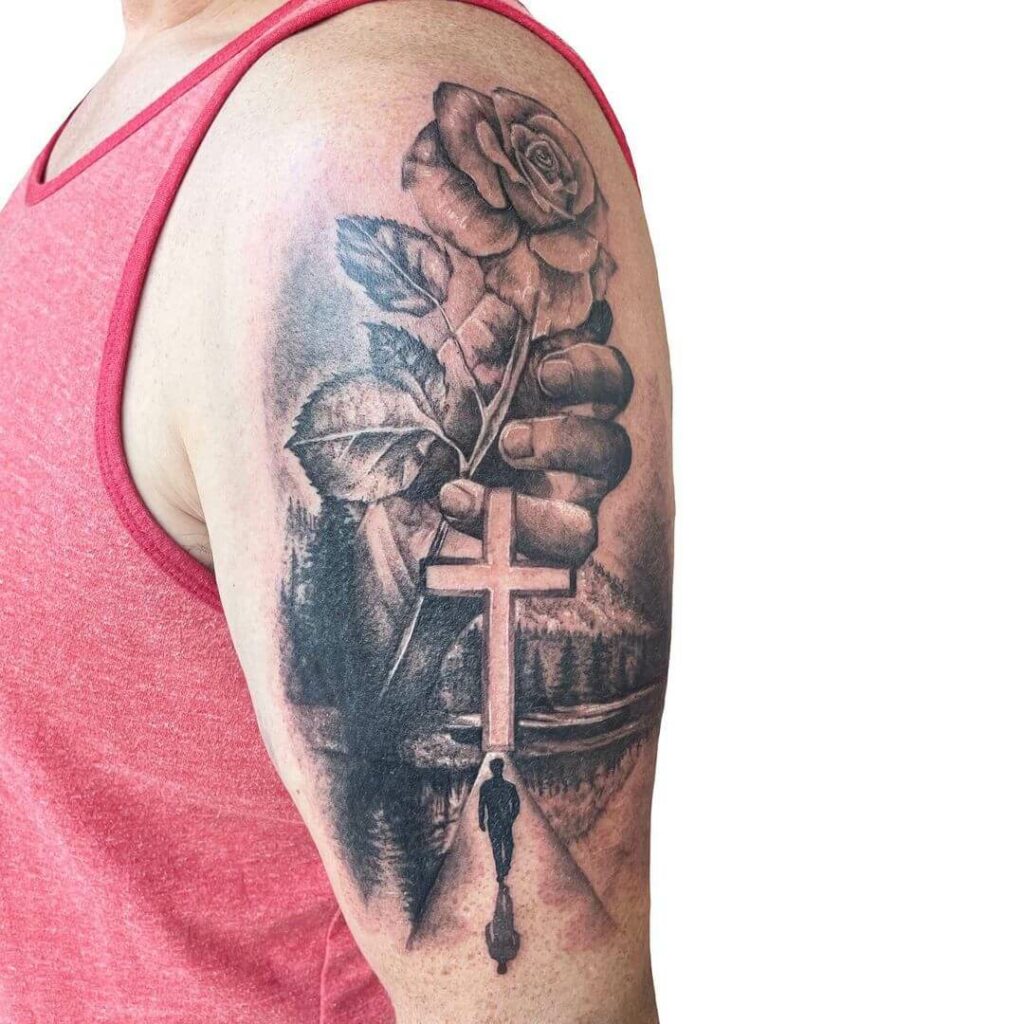 Our Floral Christian Tattoo is for those seeking a subtler, softer expression of faith. The clear pathway at the tattoo's base symbolizes the journey to eternal heaven, culminating in the flower above the cross, reminding us of Jesus' sacrifice. Designed in black and grey ink, it's like a master artist's sketch on your skin.
Jesus Christ Lion Tattoo Design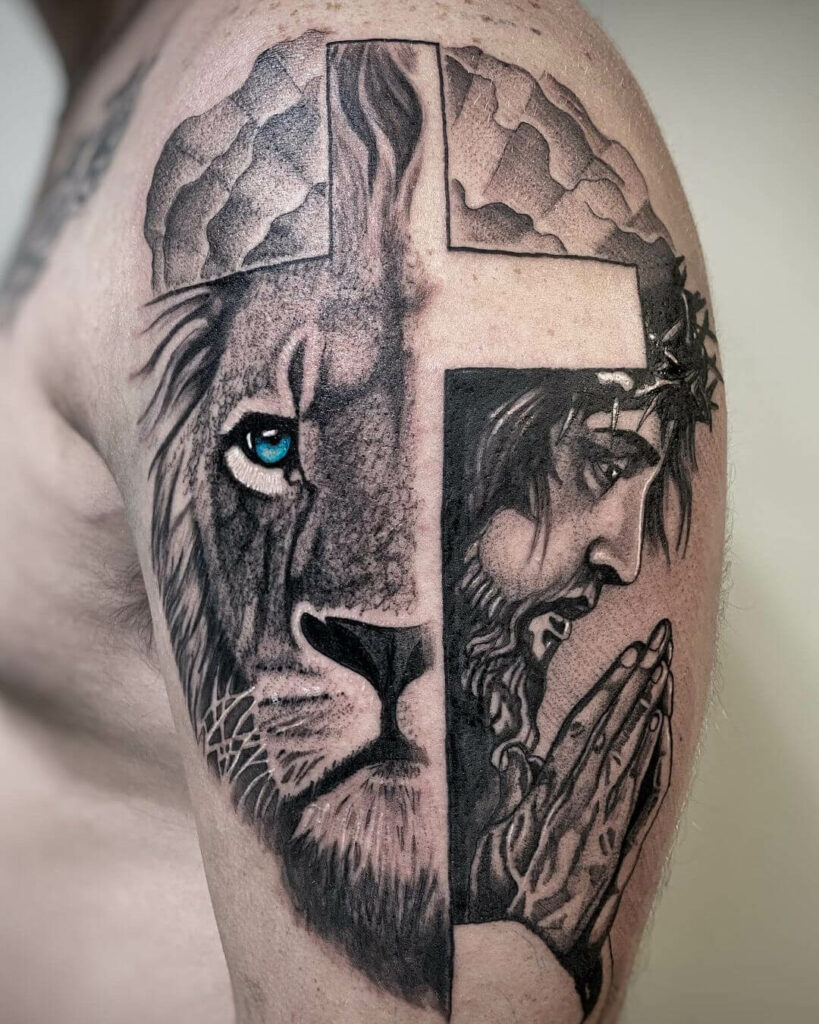 The Jesus Christ Lion Tattoo Design offers an interesting blend of two major Christian symbols: Jesus on the cross and a regal lion. The praying hand is an emblem of faith and inspiration, tying in neatly with the importance of Christian tattoos as body art.
Lion with Three Cross Tattoos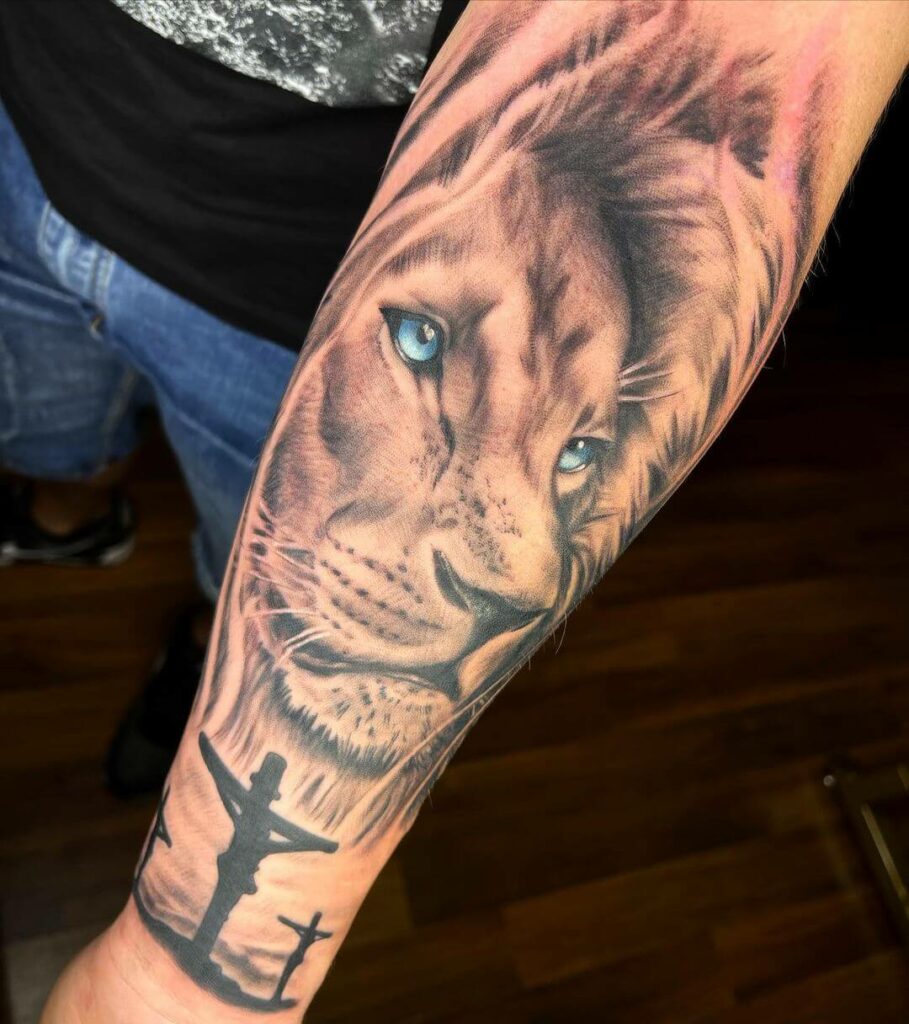 The Lion with Three Cross Tattoos showcases a lion and Christian elements – a common pairing in Christian tattoos. In this design, the lion takes center stage, meticulously detailed with distinct ink for the eyes. The three crosses at the bottom signify Jesus Christ and the two thieves crucified at Golgotha or Calvary Hill, a site revered among Christians worldwide.
Christian Sword Tattoo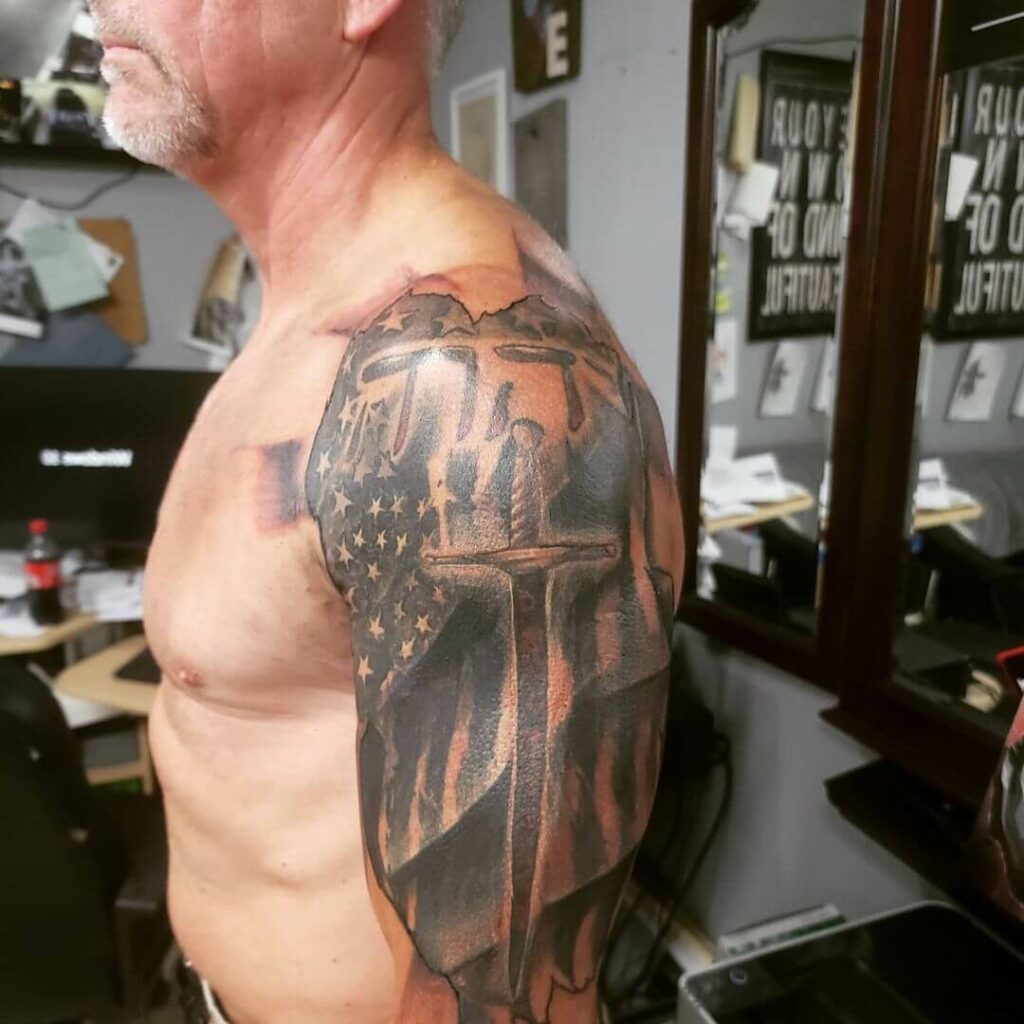 Our Christian Sword Tattoo incorporates a sword, representing a cross in this creative design. This tattoo symbolizes the power and strength of Christianity and is a popular choice among devout individuals.
Mother Mary Tattoo
The Mother Mary Tattoo, a nod to the Bible's teachings about the importance of the Mother of God, is for those who hold firm faith in the divine. This simple yet profound design is for those who prefer low-key yet significant tattoo designs.
Native Christian Tattoo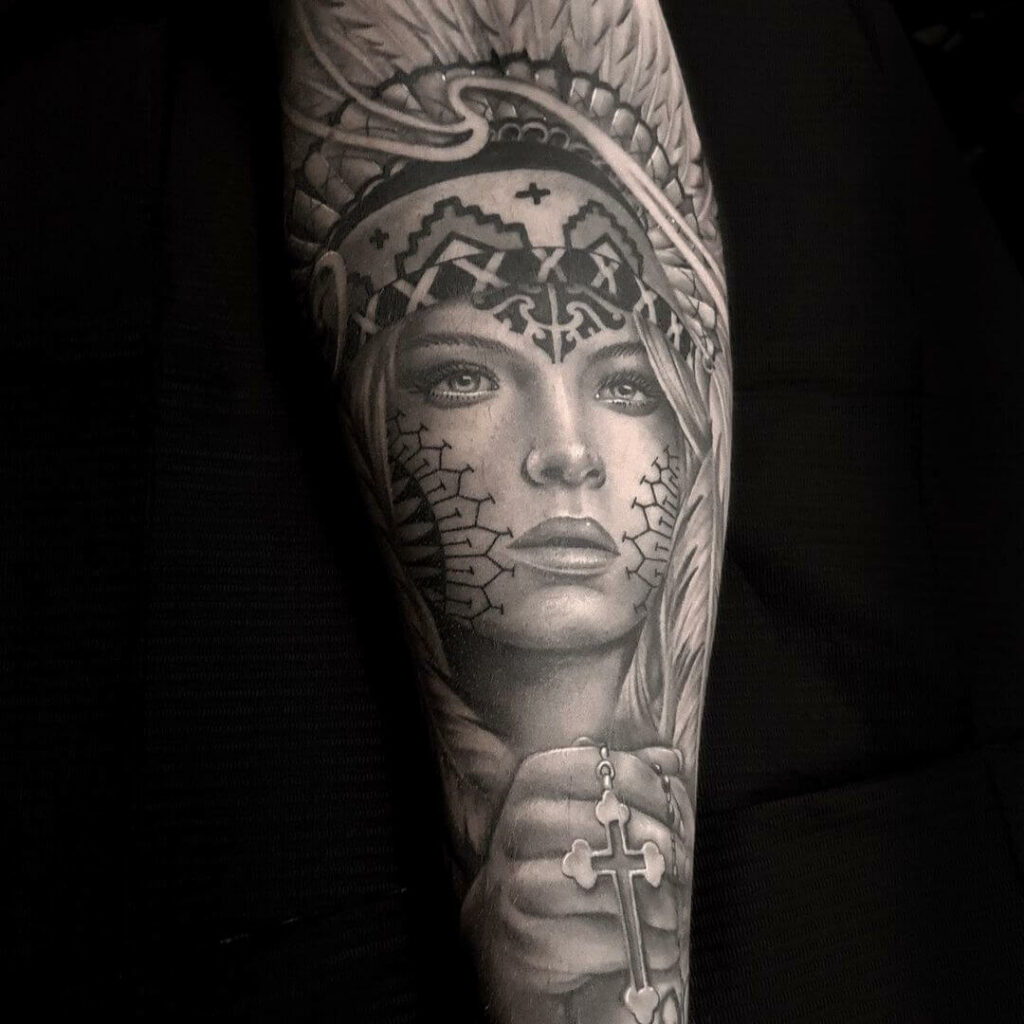 Finally, the Native Christian Tattoo, probably the most distinct design among religious tattoos. Its native aspects combined with Christian symbols create a compelling image, suitable for a leg sleeve or a full arm design. The woman holding the cross symbolizes faith, and some say she bears a resemblance to an angel, making this design particularly powerful and appealing to individuals worldwide, regardless of their faith.
Conclusion
As we ink our journey to an end, it's clear that the canvas of Christian tattoo designs is as diverse and expressive as the faith it represents. Choosing the right tattoo design is deeply personal and often spiritual, with each piece holding a unique story or meaning. Placement is also key. Whether it's the strength of an upper arm piece or the subtlety of a lower arm design, your tattoo should reside where you feel it speaks the loudest and compliments your body the best.
Price-wise, these spiritual emblems can vary greatly, largely depending on the size, detail, and location of the studio. It's important to keep in mind that while half-sleeve tattoos are generally more economical than their full-sleeve counterparts, your first priority should always be quality. Tattoo art is a form of investment on your body, and as the saying goes, good tattoos aren't cheap and cheap tattoos aren't good.
Like any significant decision, getting a tattoo comes with its own set of potential risks. There's always a small chance of infection, allergic reactions, or skin complications. To mitigate these risks, make sure you choose a reputable tattoo artist who maintains high standards of hygiene, and follow the aftercare instructions diligently.
In the end, remember that tattoos are not just about aesthetic appeal. They're about the story they tell, the beliefs they represent, and the personal journey they signify. So, whether you opt for a bold depiction of Mother Mary, a subtle floral cross, or a mighty lion with three crosses, your Christian tattoo will be an intimate, enduring expression of your faith. Now go forth, carry your story on your sleeve, and wear it with pride!
Feature image from Pinterest