If you're an old-school gamer looking for a cool tattoo idea, we got you covered! Chrono Trigger is a fun and story-driven game that won millions of hearts, and so will your tattoo. Get ready to embark on a fantasy adventure with our top 15 picks for Chrono Trigger tattoo ideas. Find an image of something you like and make an appointment at your favorite tattoo artist's place today!
Classic Crono Tattoo
Anyone in love with the game should consider getting a Crono tattoo! This fearless character is a fan favorite among tattoo designs. With his bright hair and flashy outfit, the instantly recognizable hero looks amazing tattooed anywhere and everywhere. Don't worry if people on the street call it a Dragon Ball tattoo, they just don't know any better!
Chrono Trigger Robo Tattoo
Who wouldn't want a cool tattoo of Promotheus or 'Robo'? This amazing and loving character from the game is the perfect geek tattoo. You can go for a sketchy design like the one here or something simpler. Either way, a robot tattoo is never a boring choice for a tattoo.
Realistic Frog/Glenn Tattoo
Maybe you're not a fan of Crono or Robo and just want a badass Frog tattoo. In that case, we've got you covered with three of our favorite designs! Why not go for this realistic rendition of Glenn in his enchanted frog form ready for battle? The shading style of this design looks like something straight out of the game!
Frog Chrono Trigger Tattoo
Not satisfied with our previous pick for a Frog tattoo? Then you must be in love with this one! Anime-style Frog with his iconic sword descending presumably on his enemies? An absolute yes for any gamer and fan of Chrono Trigger! Choose a background effect like some blue flames to make the design even more epic.
Chrono Trigger Frog Character Tattoo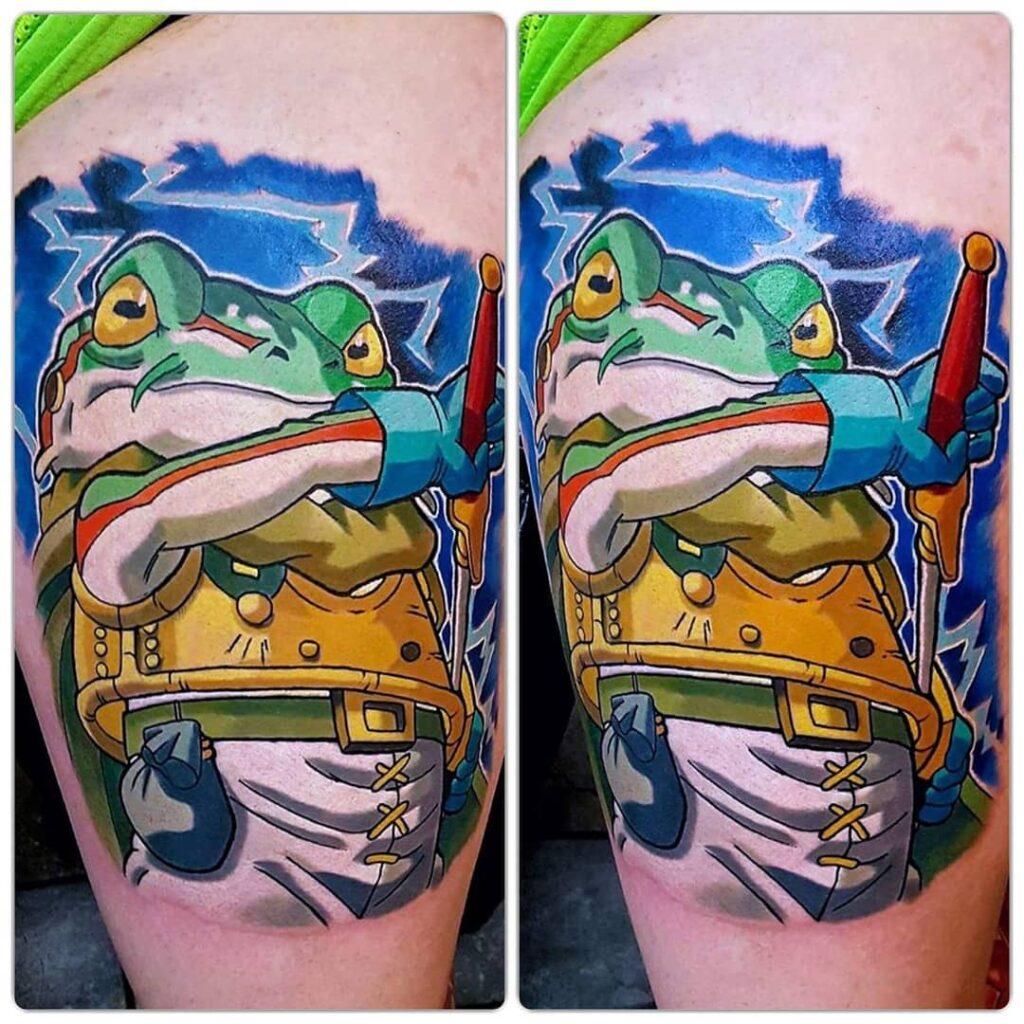 This must be the coolest Frog tattoo of the bunch! Another Frog design done in a cartoony style, this tattoo is great for fans of both Anime and games. Just look at his expression, the resolve to do some damage with that sword. If you feel a connection with this Chrono Trigger character, we suggest getting this tattoo art on a shoulder or calf muscle!
Lucca and Robo Tattoo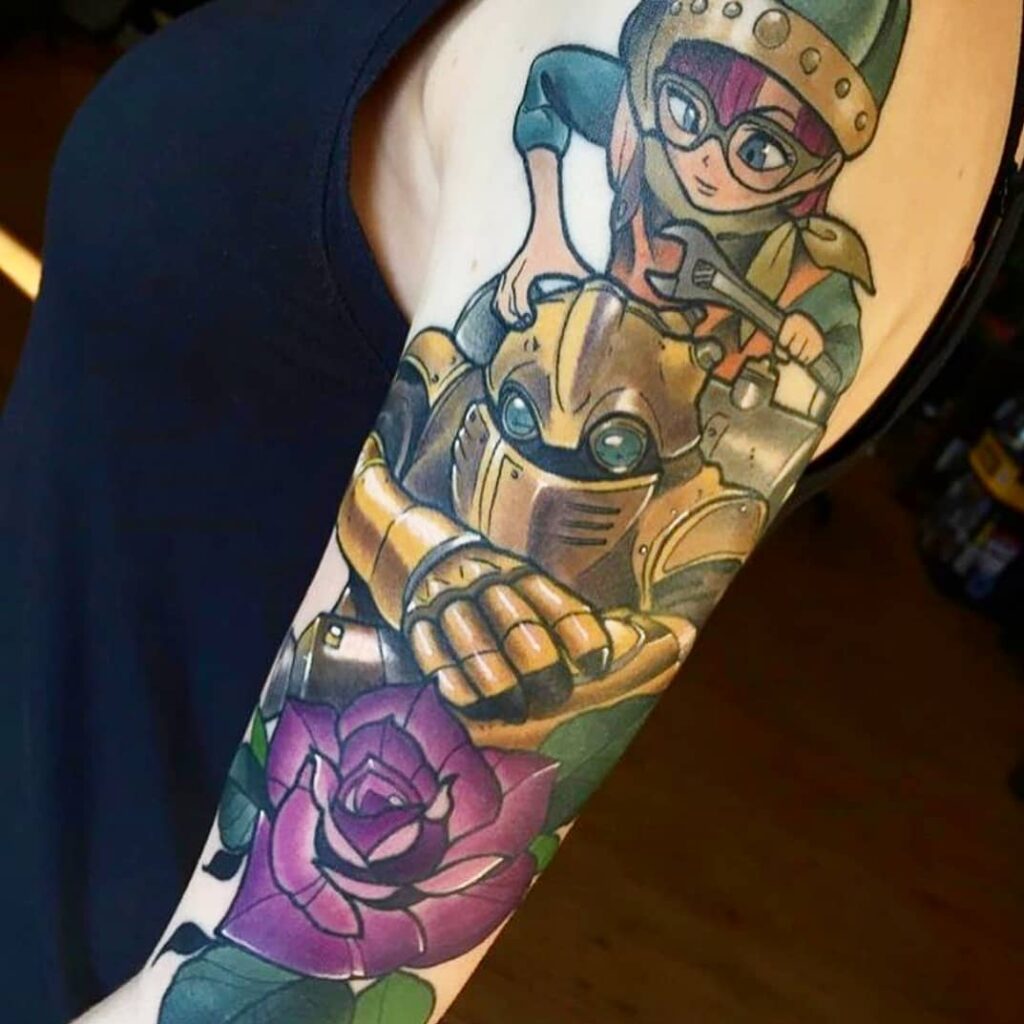 Any fans of Chrono Trigger out there in the mechanical or technical fields? Why not get something like a Lucca and Robo tattoo? This amazingly done tattoo design depicts the selfless act of repairing Robo from the game. If you connected on a personal level with Lucca, the genius inventor and mechanic, get this tattoo!
Black Ink Robo Tattoo
You love robotos and are looking for cool black ink tattoo ideas? We have the perfect design for you! Just look at this sensational tattoo of Robo done just in black ink! All the shading is done with the stippling technique, yet it looks so realistic. We promise it's worth your time to get this Robo tattoo design.
Pixel Art Chrono Trigger Tattoo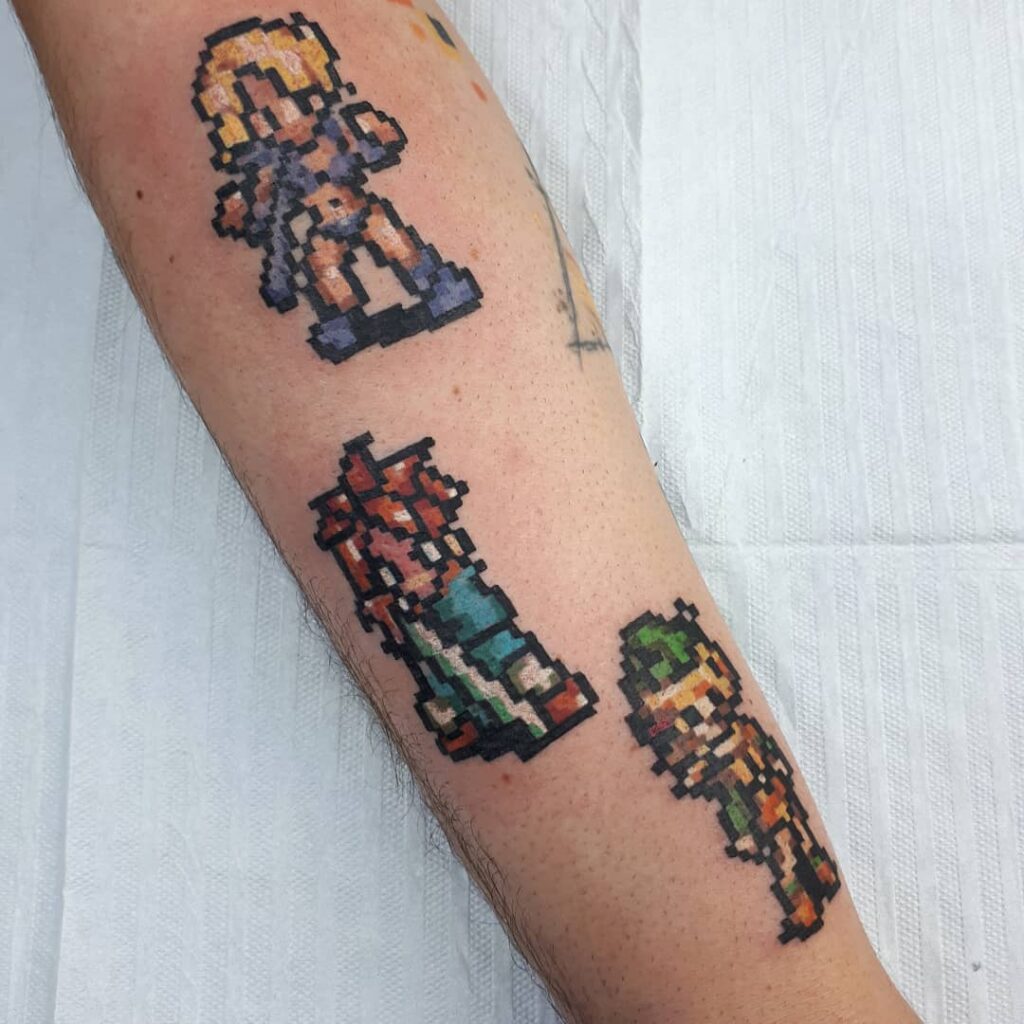 Every old school fan, of any game really, will instantly love this design! A pixel art of the Chrono Trigger characters is one of the most unique tattoo ideas we've ever seen. Choose one, two, or three characters between Crono, Marle, Lucca, Robo, Frog or Ayla. Since they can be small designs, they are ideal for wrist, hand and ankle placement.
Chrono Trigger Sleeve Tattoo Design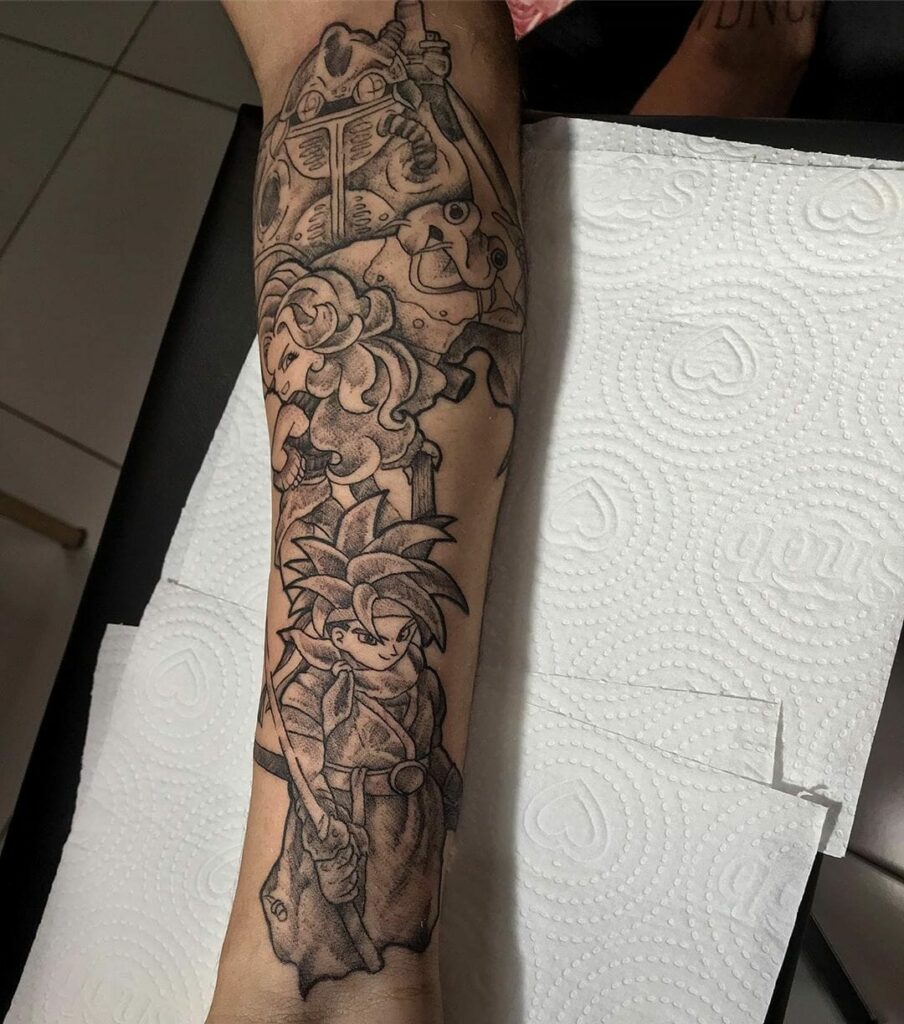 Ready to make the commitment of tattooing your entire arm or leg? Devote it all to Chrono Trigger with these stunning black ink tattoo ideas! Get all of your favorite characters onto a single tattoo design and show off your love for the game. Choosing an only black ink tattoo might save you some money, but a large tattoo does eat away your and the artists time.
Luca and Robo Sleeve Tattoo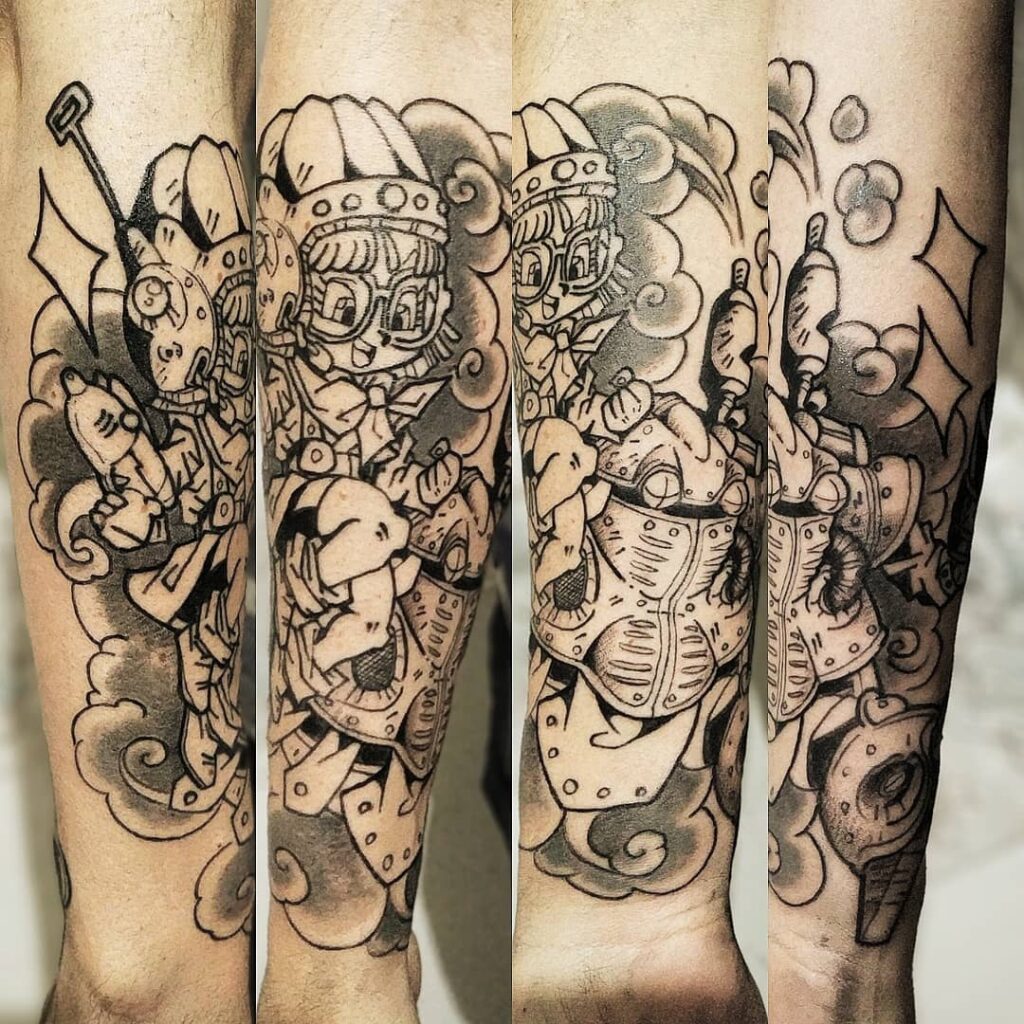 Sleeve tattoos are immensely popular these days. Check out this Chrono Trigger tattoo of the adorable Lucca and her trusty Robo friend! If you like our previous image of the two, but prefer black ink tattoo styles, this one is just for you! Consider getting this tattoo on your forearm or just above the ankle if you can squeeze the image.
Amazing Chrono Trigger Black Ink Tattoo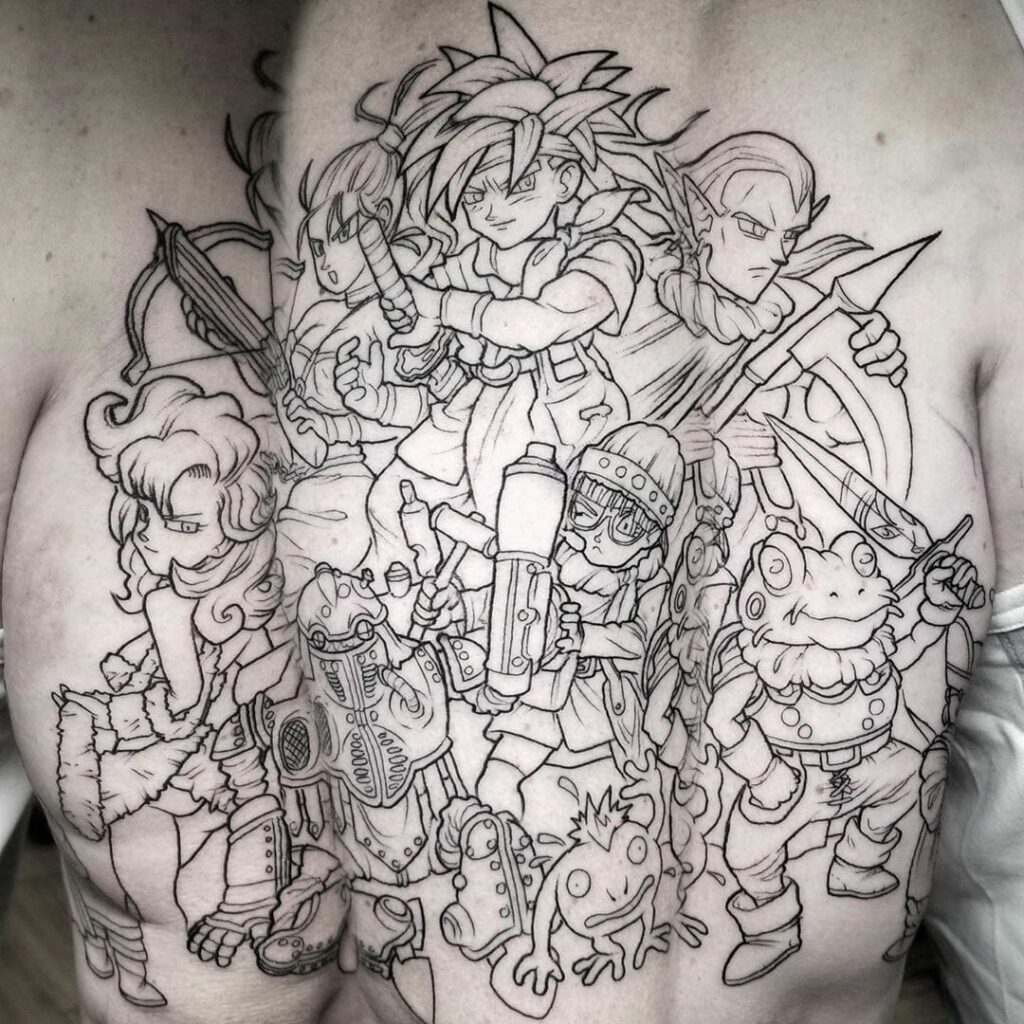 This is the most jaw-dropping Chrono Trigger tattoo done in black ink, possibly ever! All the beloved and iconic characters from the game are here. We recommend giving this tattoo a back or chest placement, afterall, they deserved it! This tattoo needs no color to stand out on your skin. If you've already decided, make that appointment as soon as possible.
Traditional Chrono Trigger Logo Tattoo
Even casual gamers will instantly recognize the Chrono Trigger logo, so why not get it as a tattoo? You would think there is just one boring logo design and that's it, but you would be wrong! While this image is the classical logo, there are so many creative ways to express your love for the game. The gold clockworks are instantly recognizable and look stunning on any skin tone!
Stylistic Chrono Trigger Logo Tattoo
If you like something simpler, maybe this two-toned ink Chrono Trigger tattoo is excellent for you! It is simple, yet recognizable. Ideal for a shoulder tattoo, or anywhere really if you choose to shrink the image. Consult your tattoo artist and try different colored ink combinations!
Cool Concept Chrono Trigger Tattoo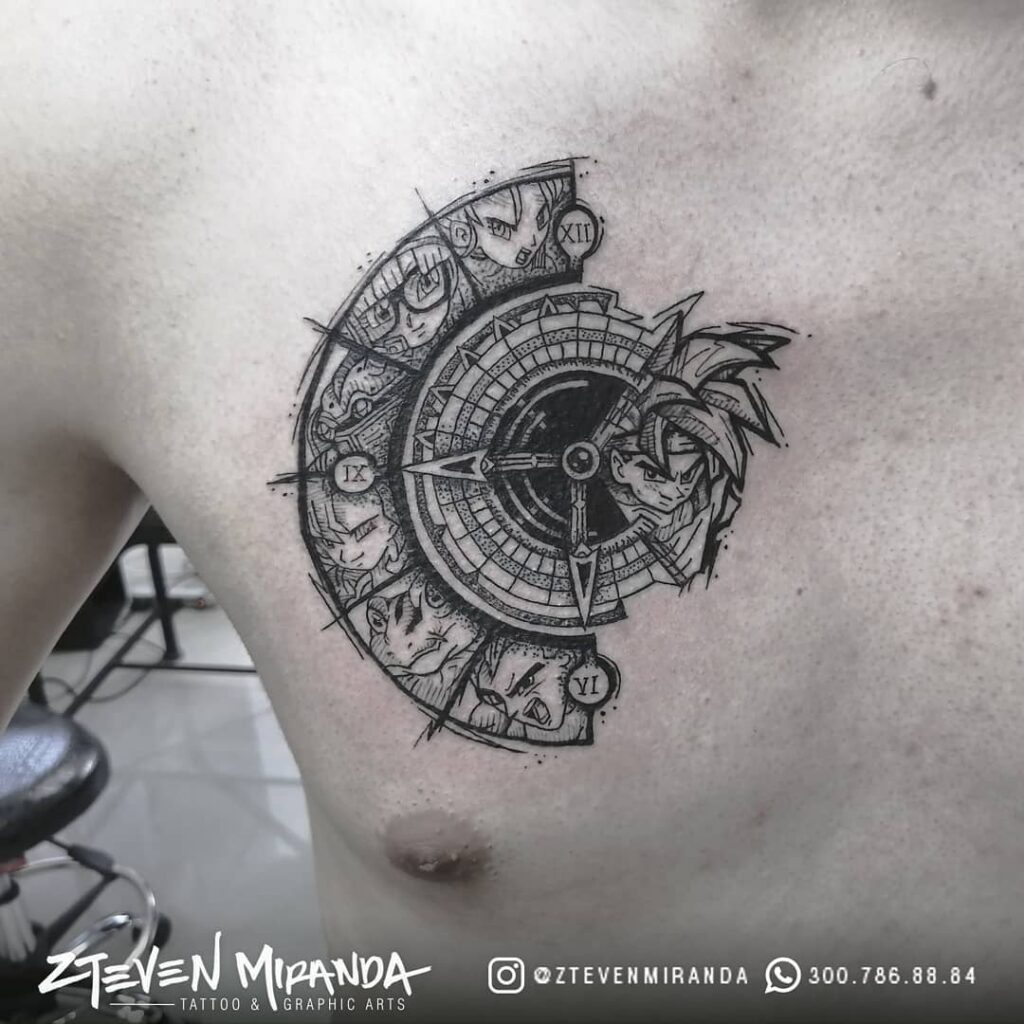 There aren't enough synonyms to describe these Chrono Trigger tattoos. Just look at this amazing take on the traditional Chrono Trigger logo! Even done just in black ink, all the characters and elements are recognizable. The fine details on this tattoo are beyond words, as it looks like official Square art. We think this Chrono Trigger tattoo is great on your chest or shoulder.
Geometric Chrono Trigger Symbol Tattoo
If you would like an abstract geometric rendition of the Chrono Trigger tattoo, this one might be just right for you! The logo draws your eyes to the center of the image, while the shapes and lines in the background frame it in a unique way. Those who understood geometry in highschool will surely fall in love with this Chrono Trigger tattoo!
Having Said All That
Did you like our top 15 picks for Chrono Trigger tattoo ideas as much as we did? Deciding on the right tattoo style and placement is an important step, so take your time! You can always choose one image from our list and take it right away to a tattoo shop!
Still looking for inspiration, then checkout this blog post about small dragon tattoos
Need More Inspiration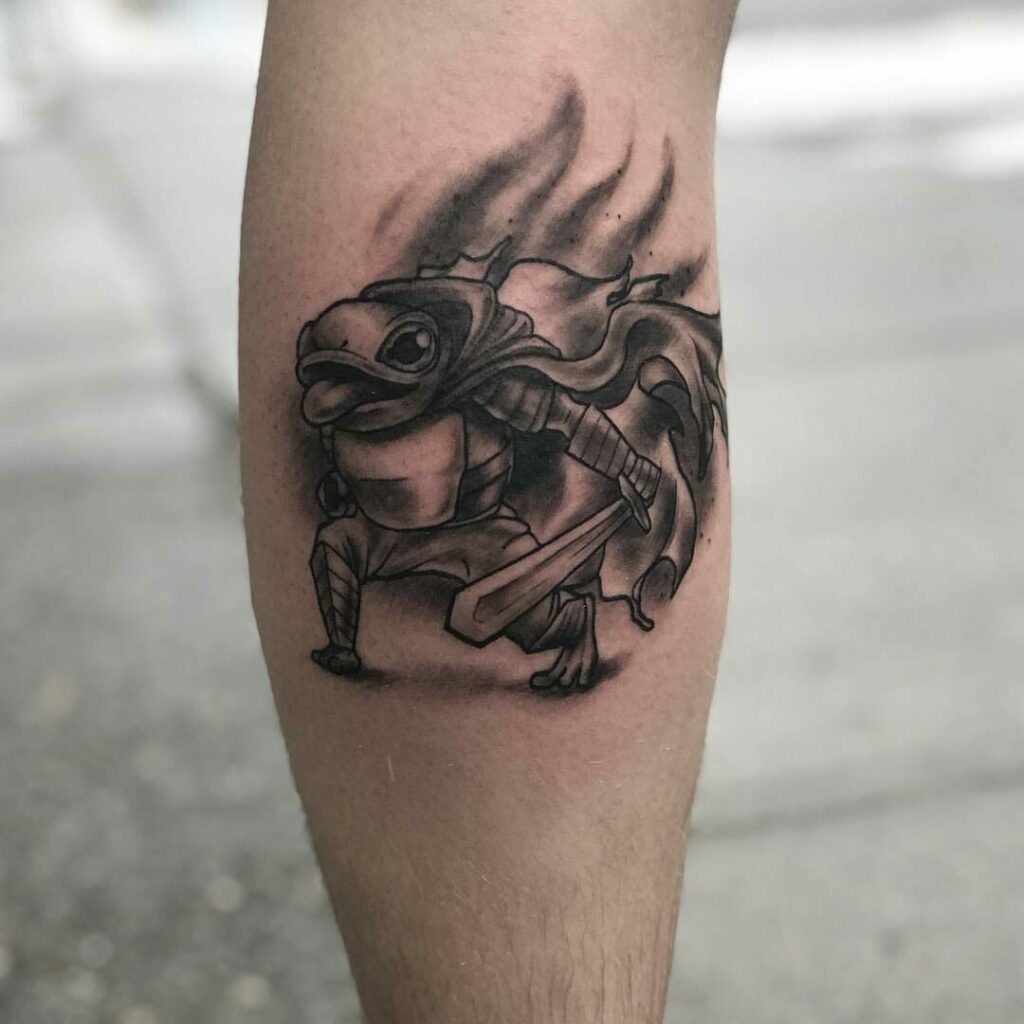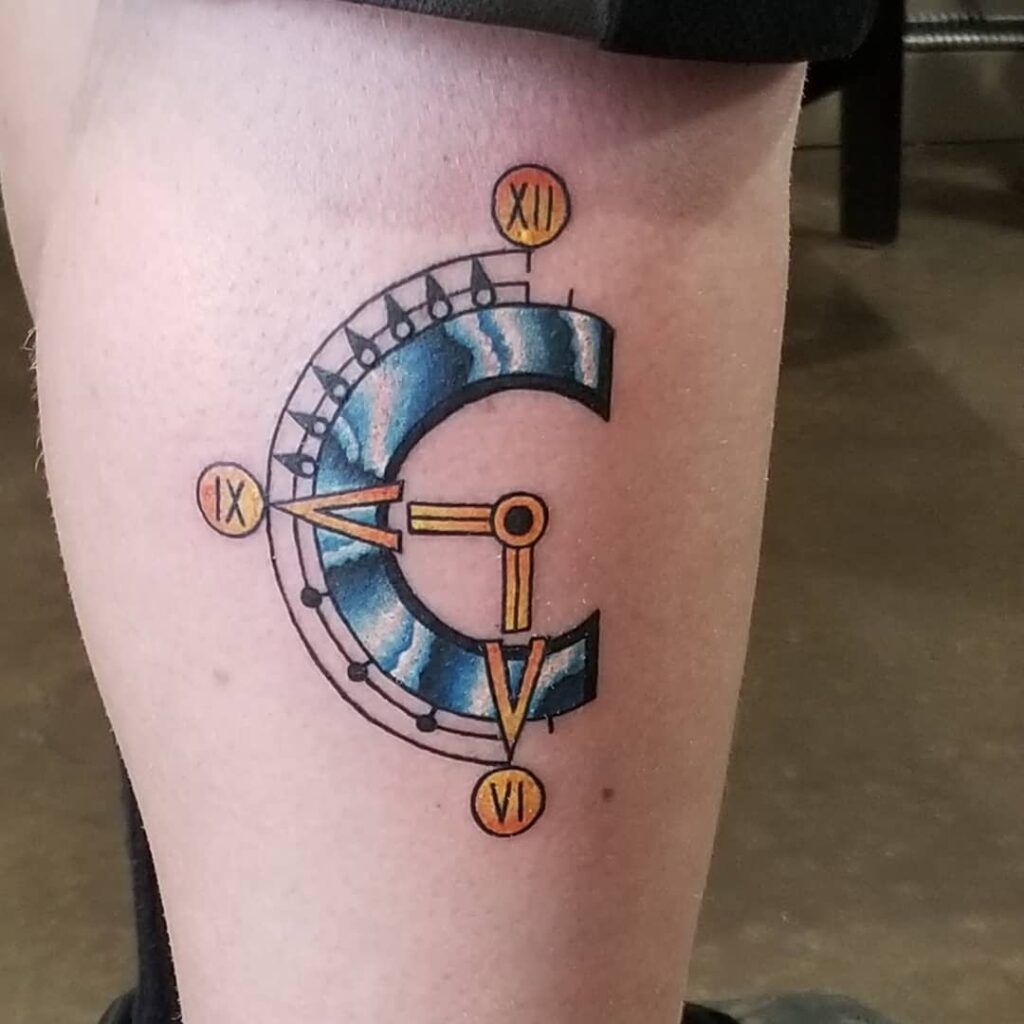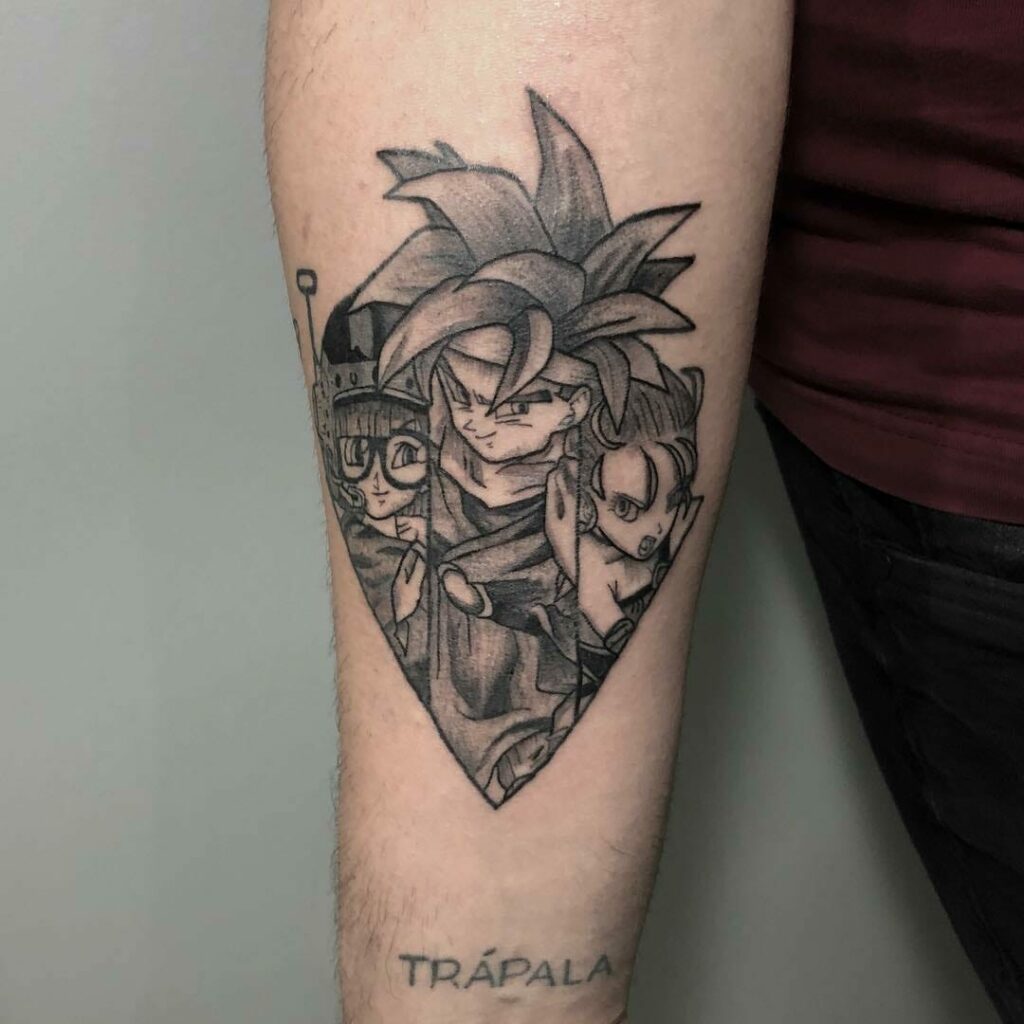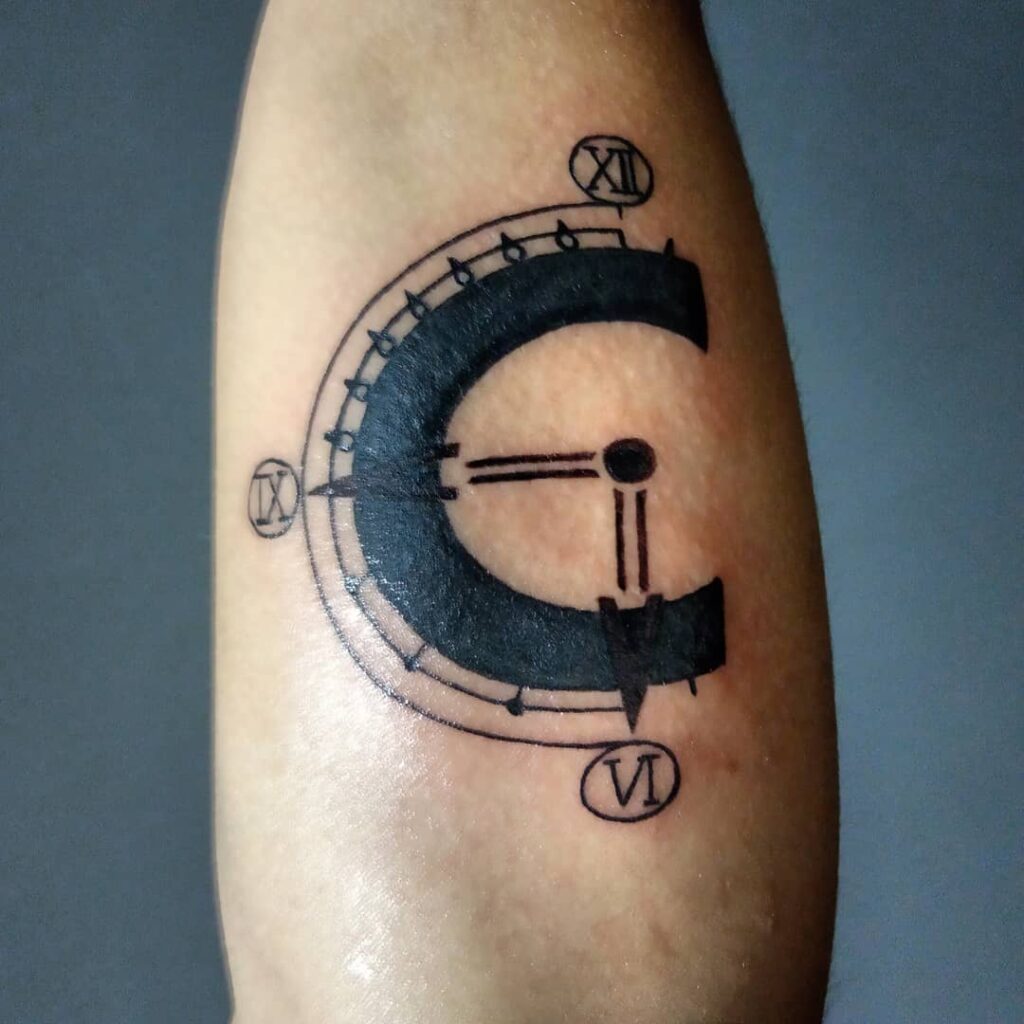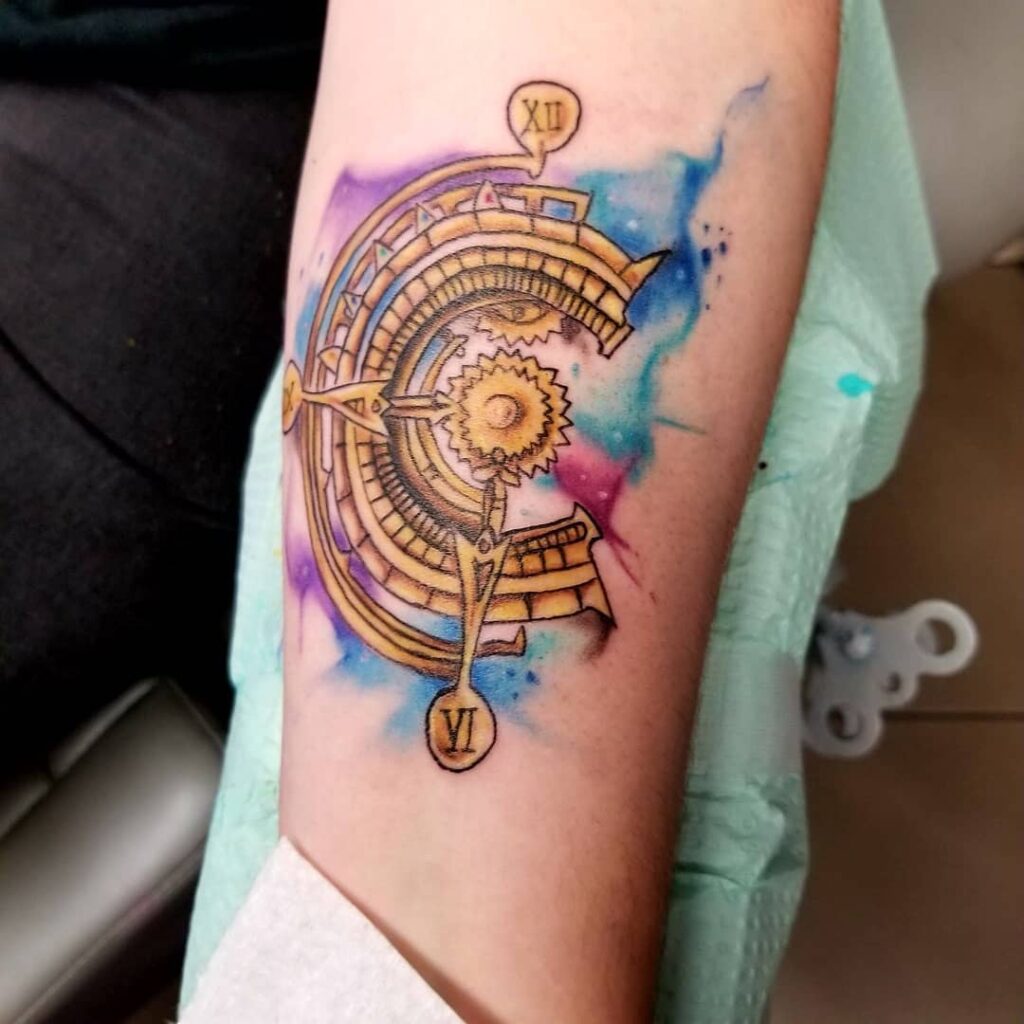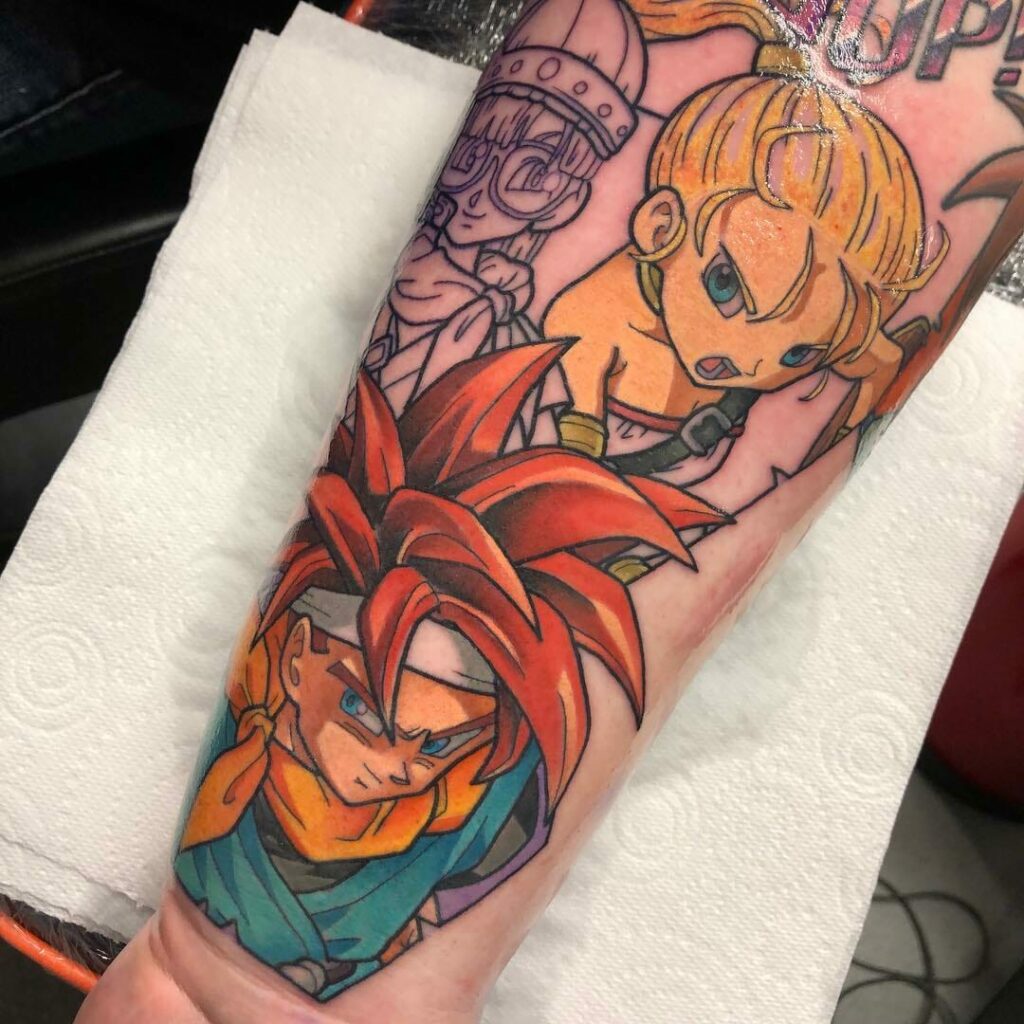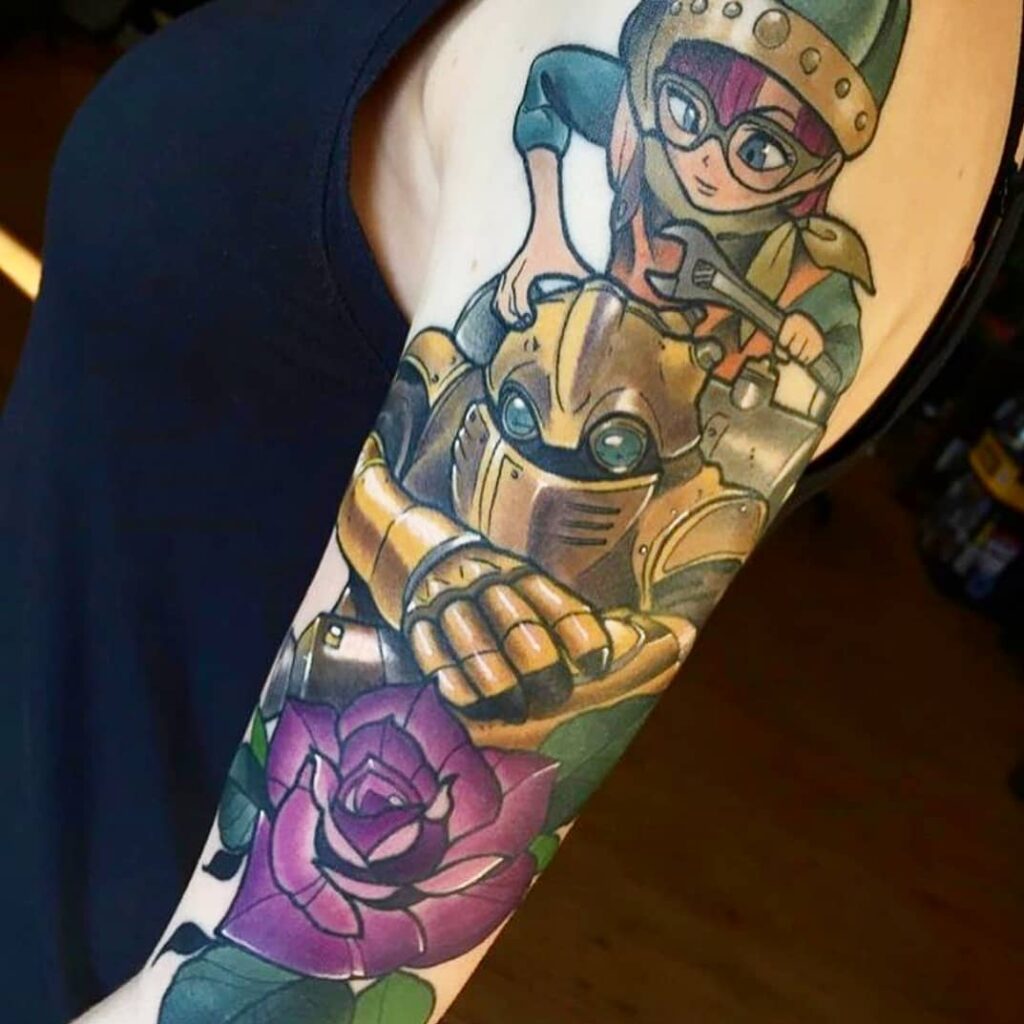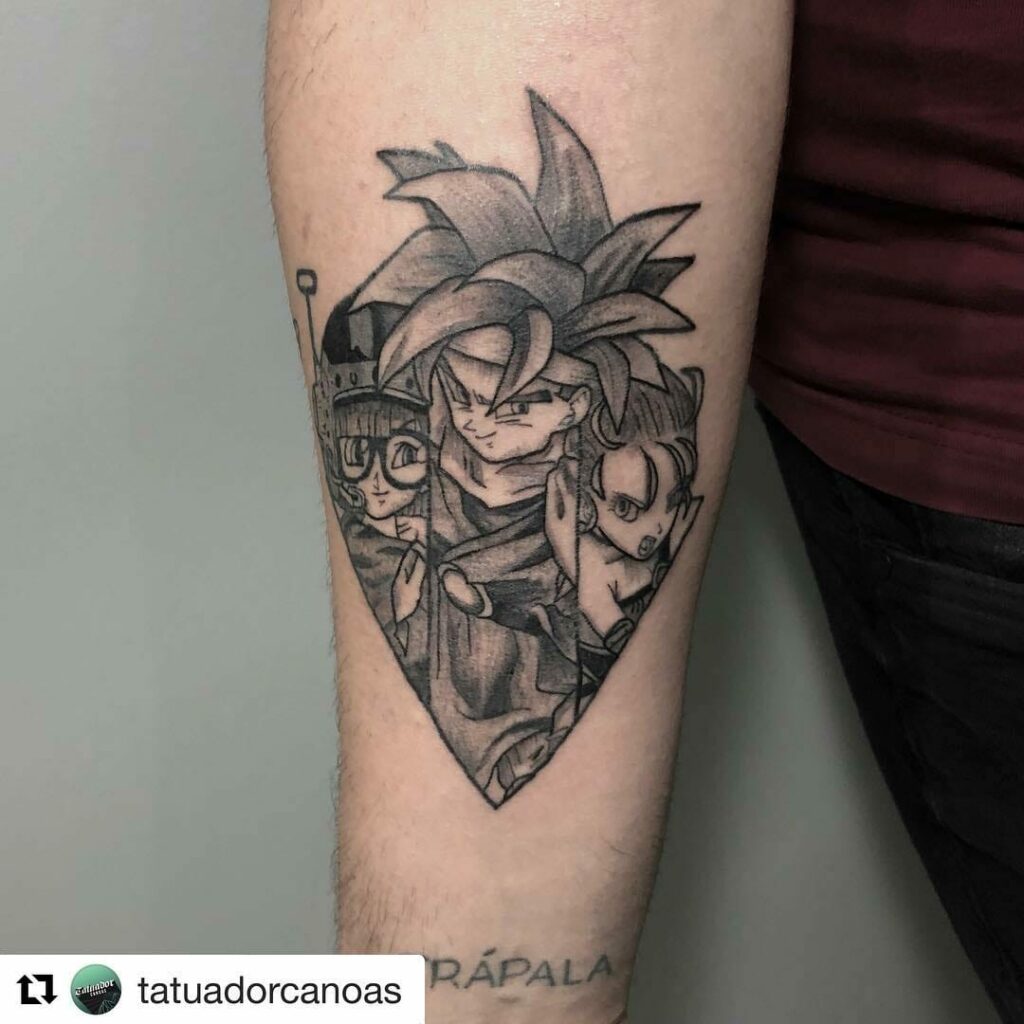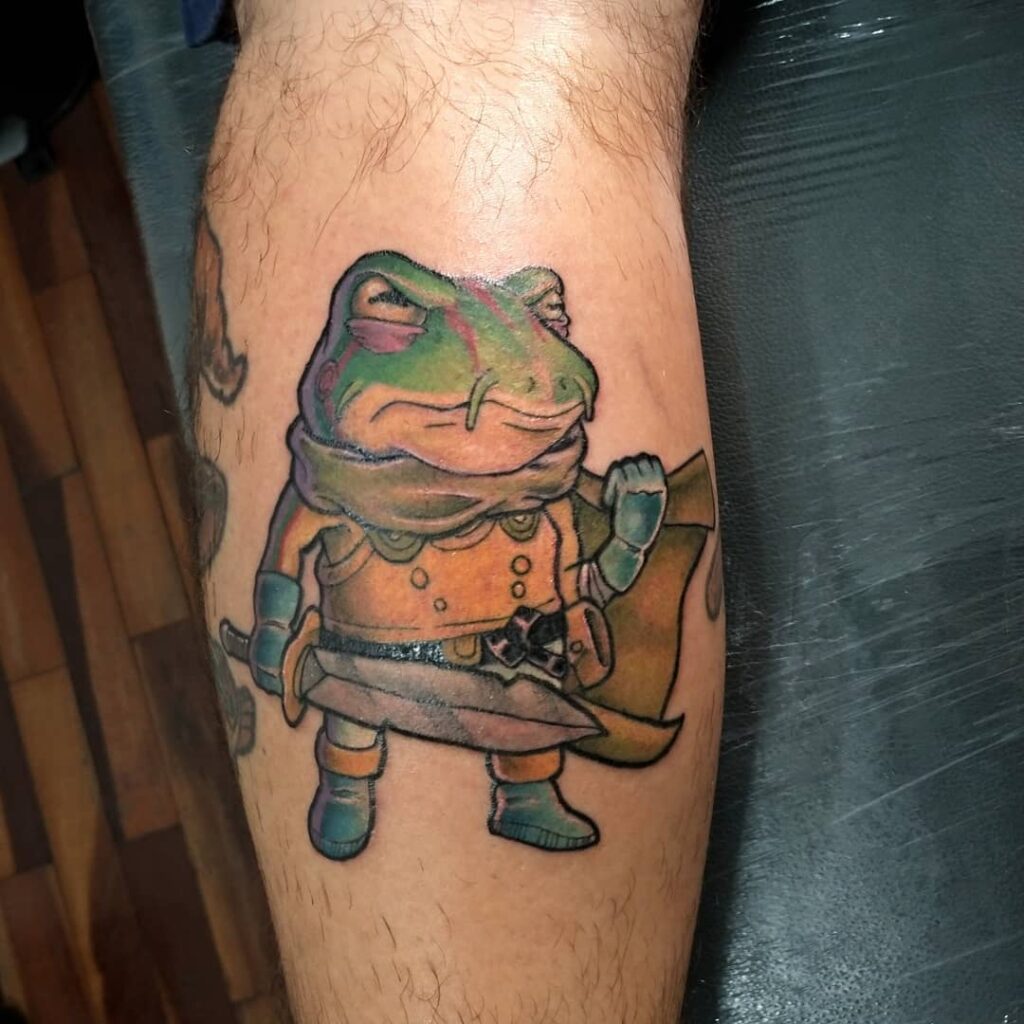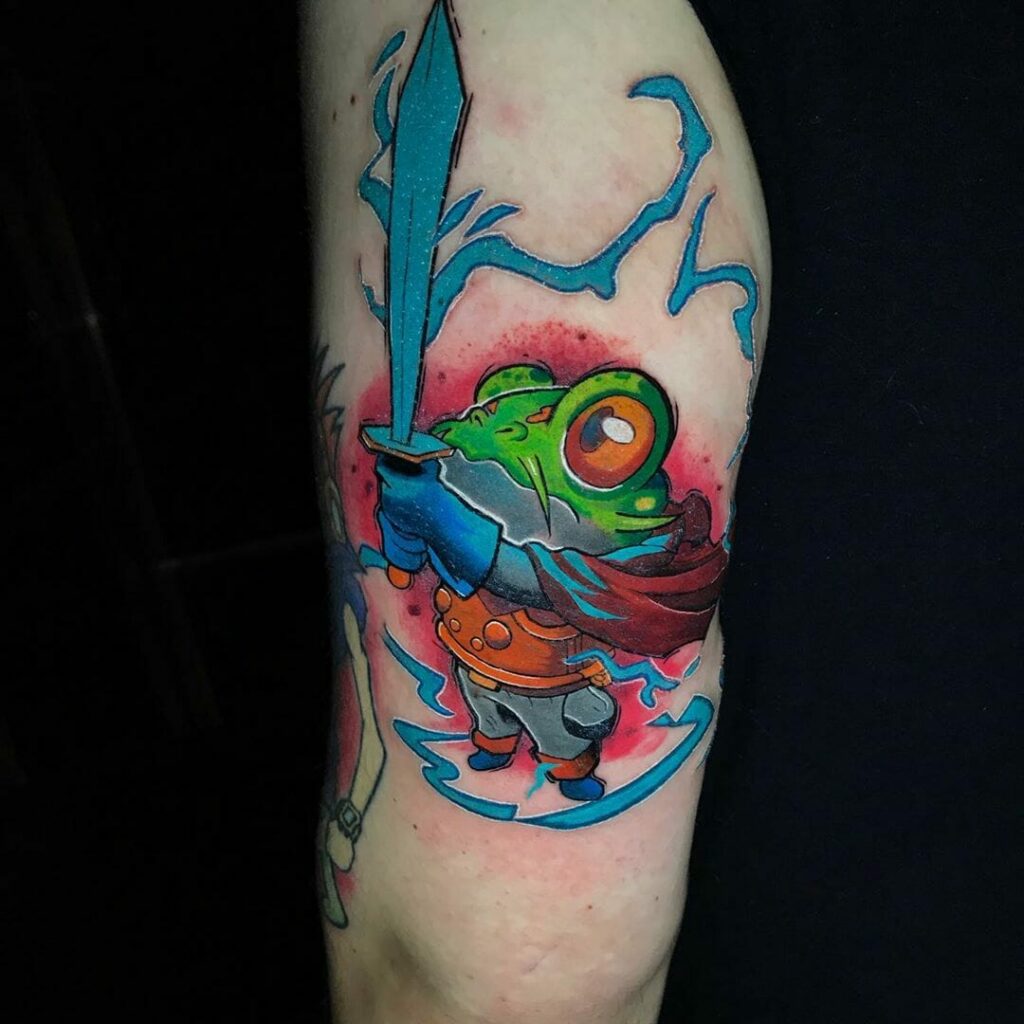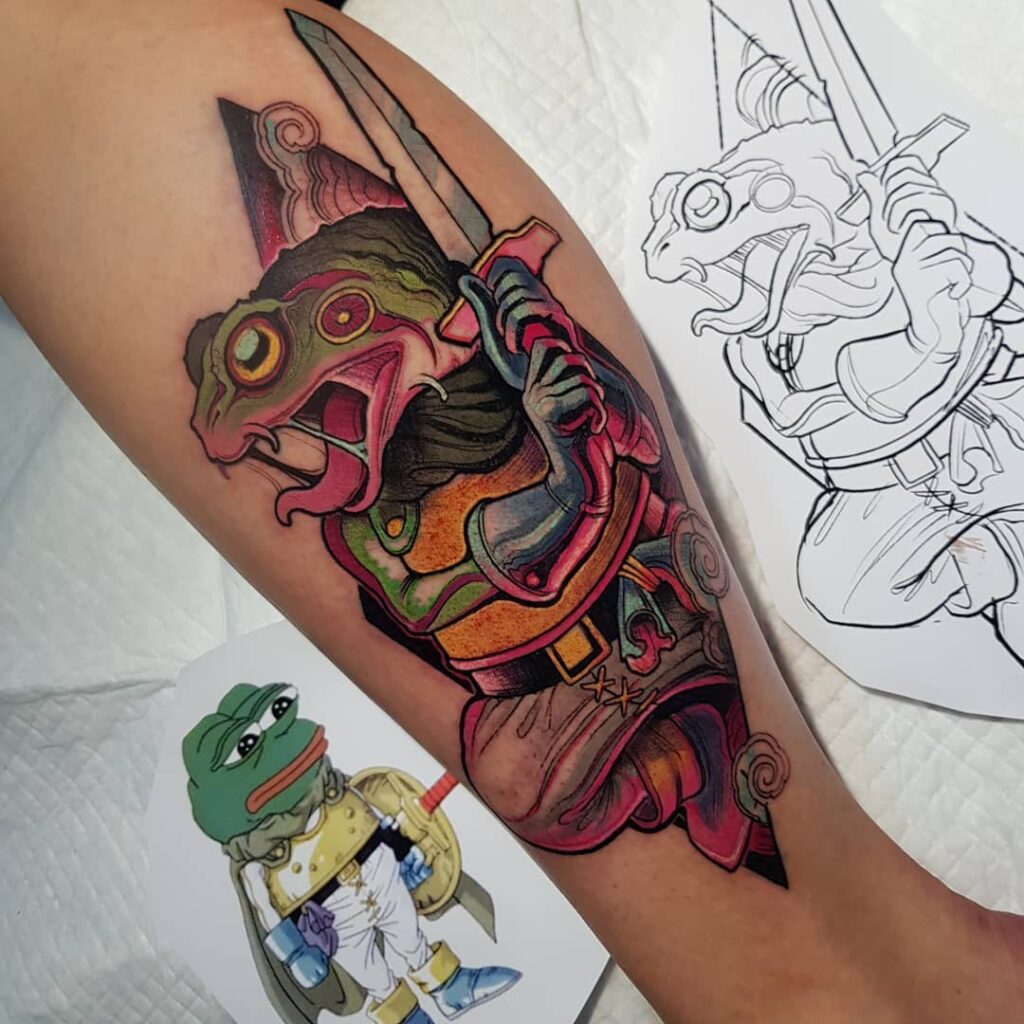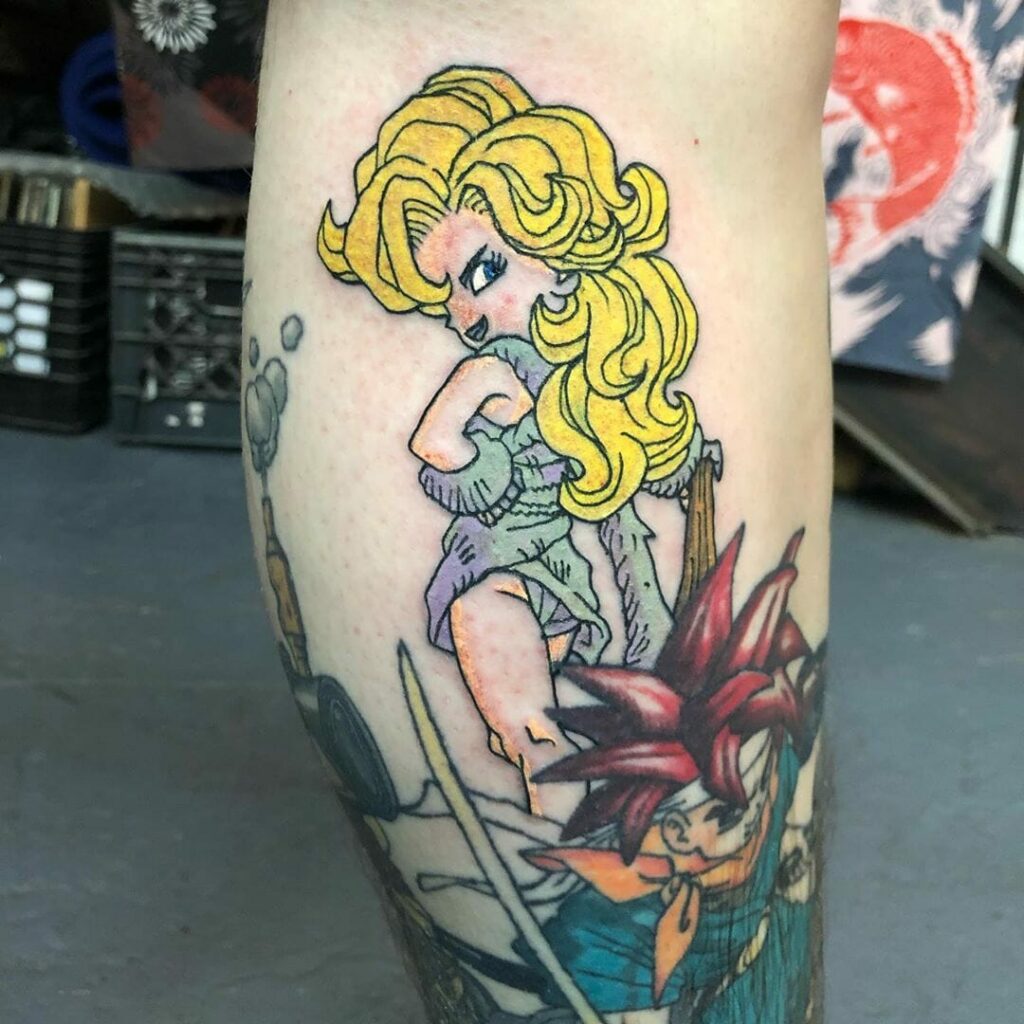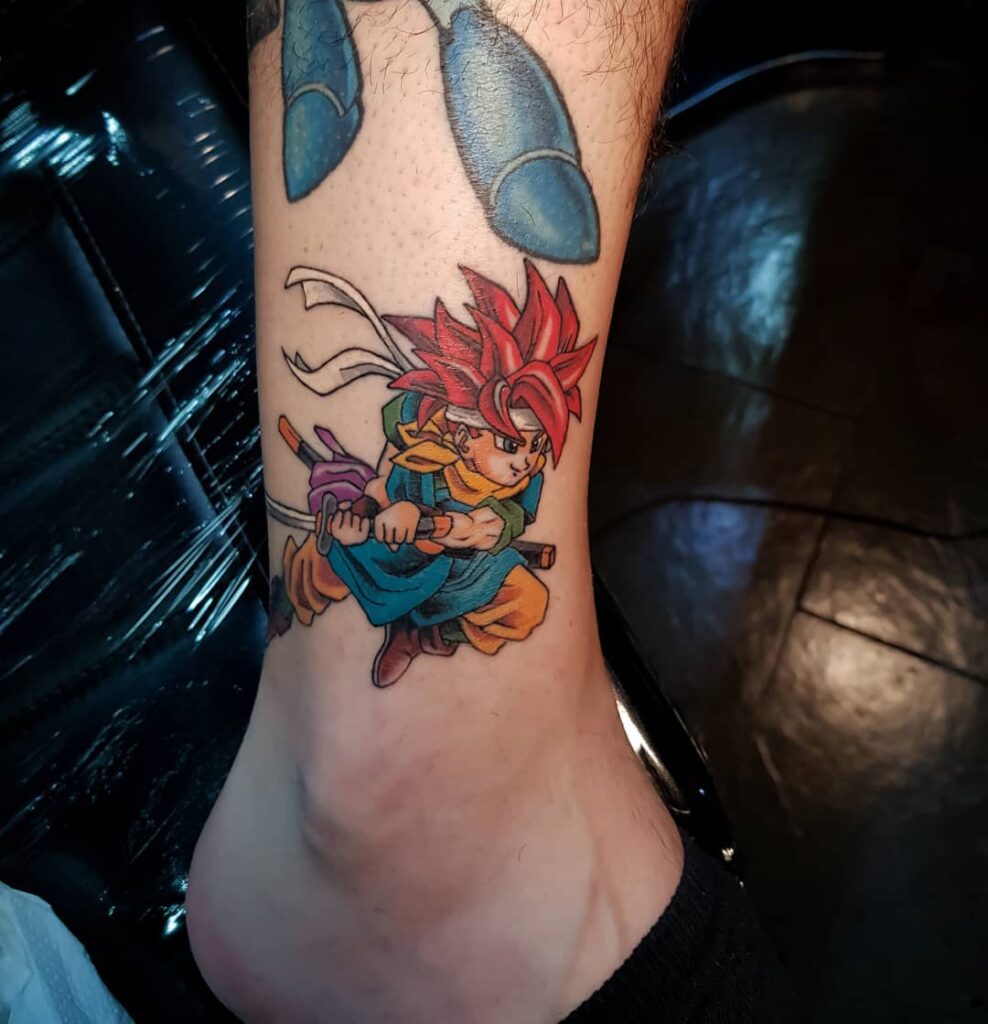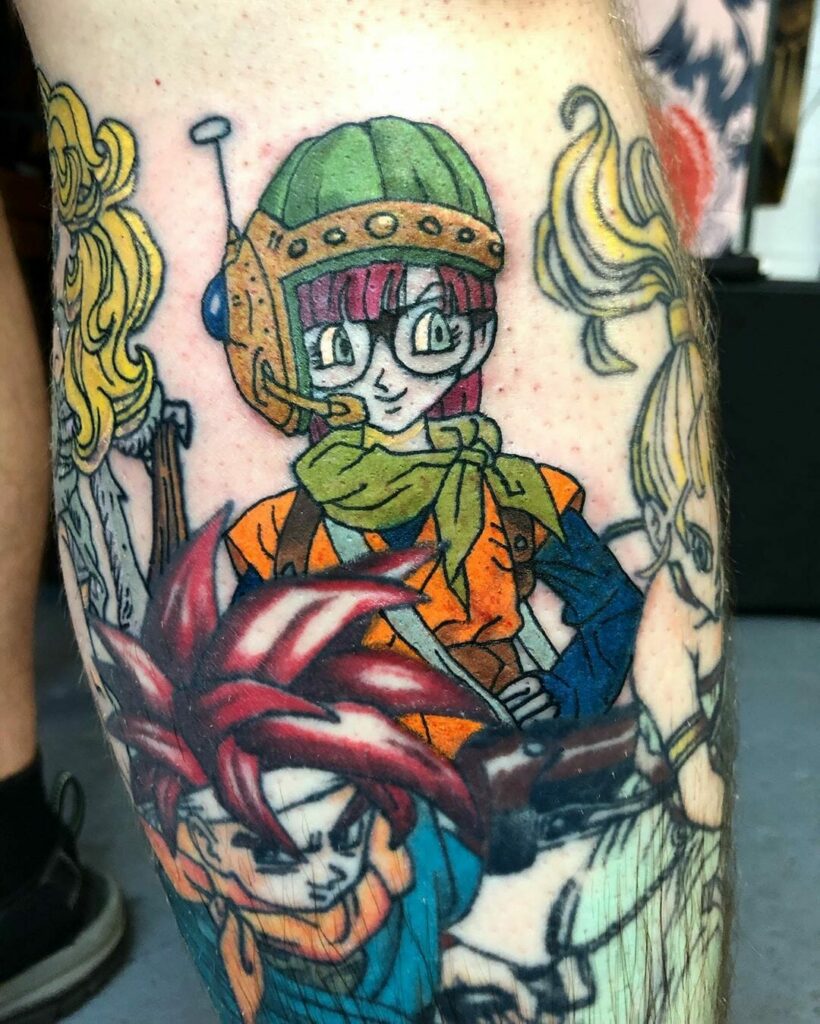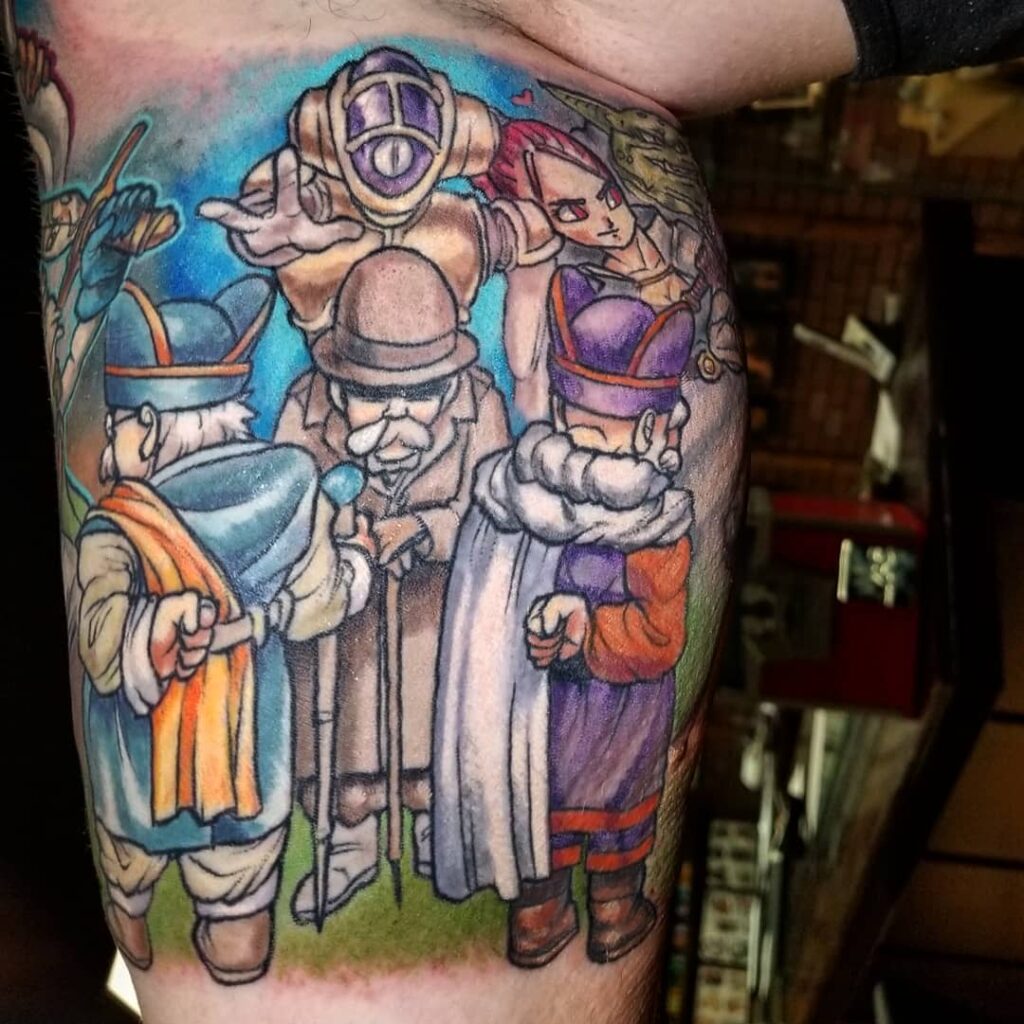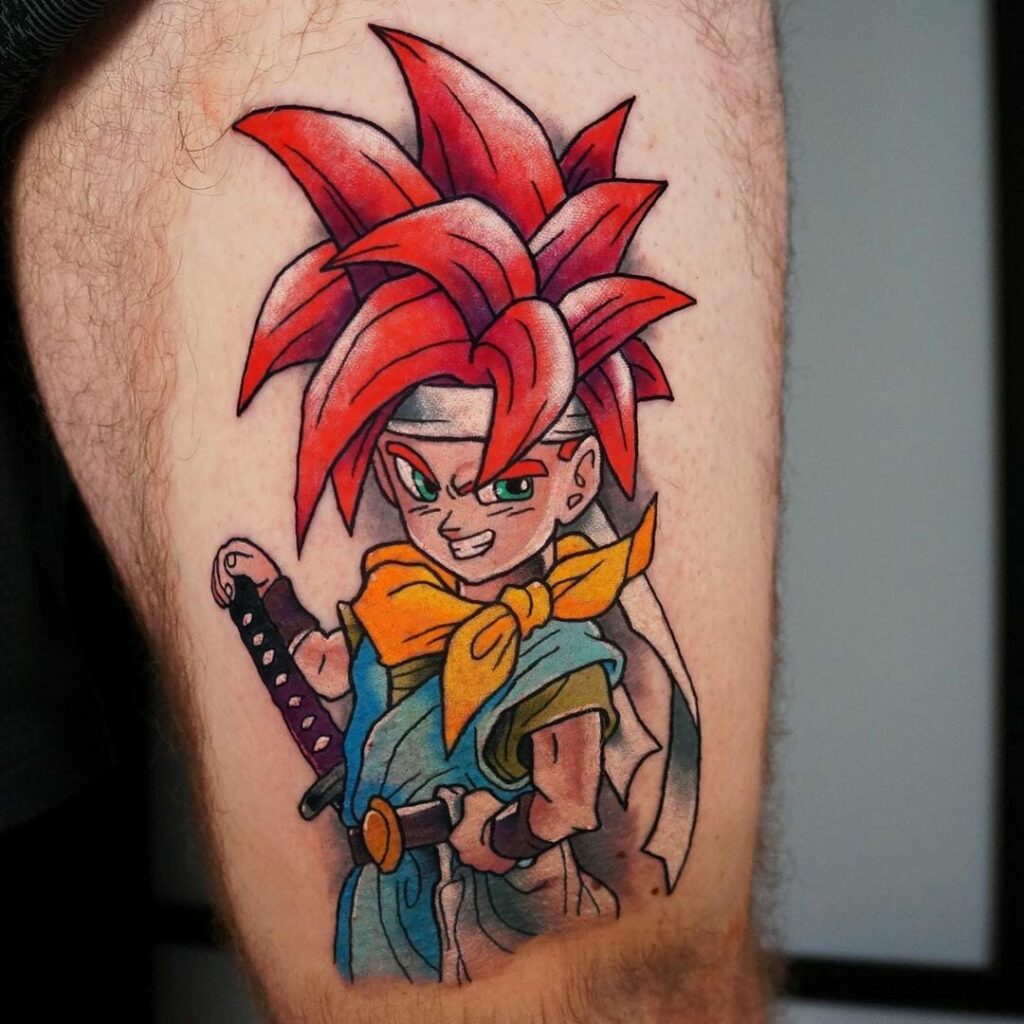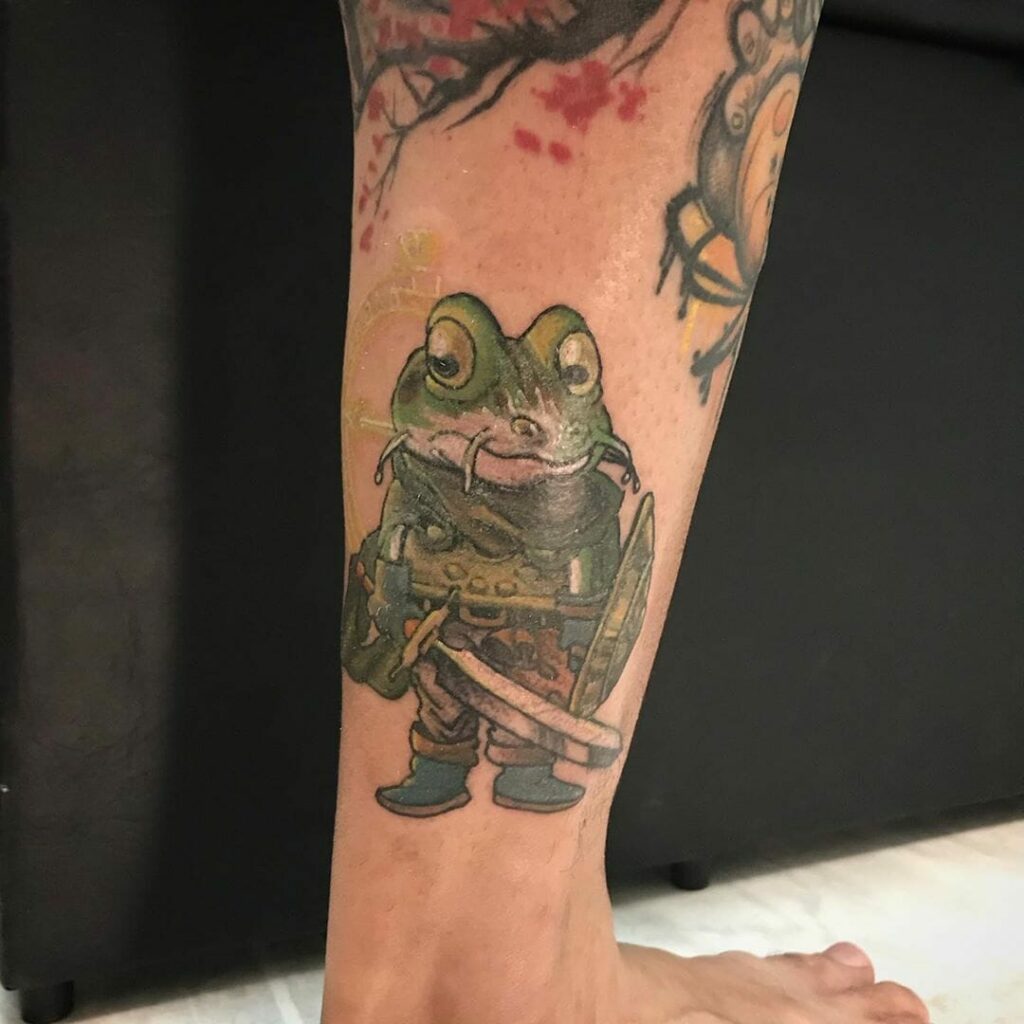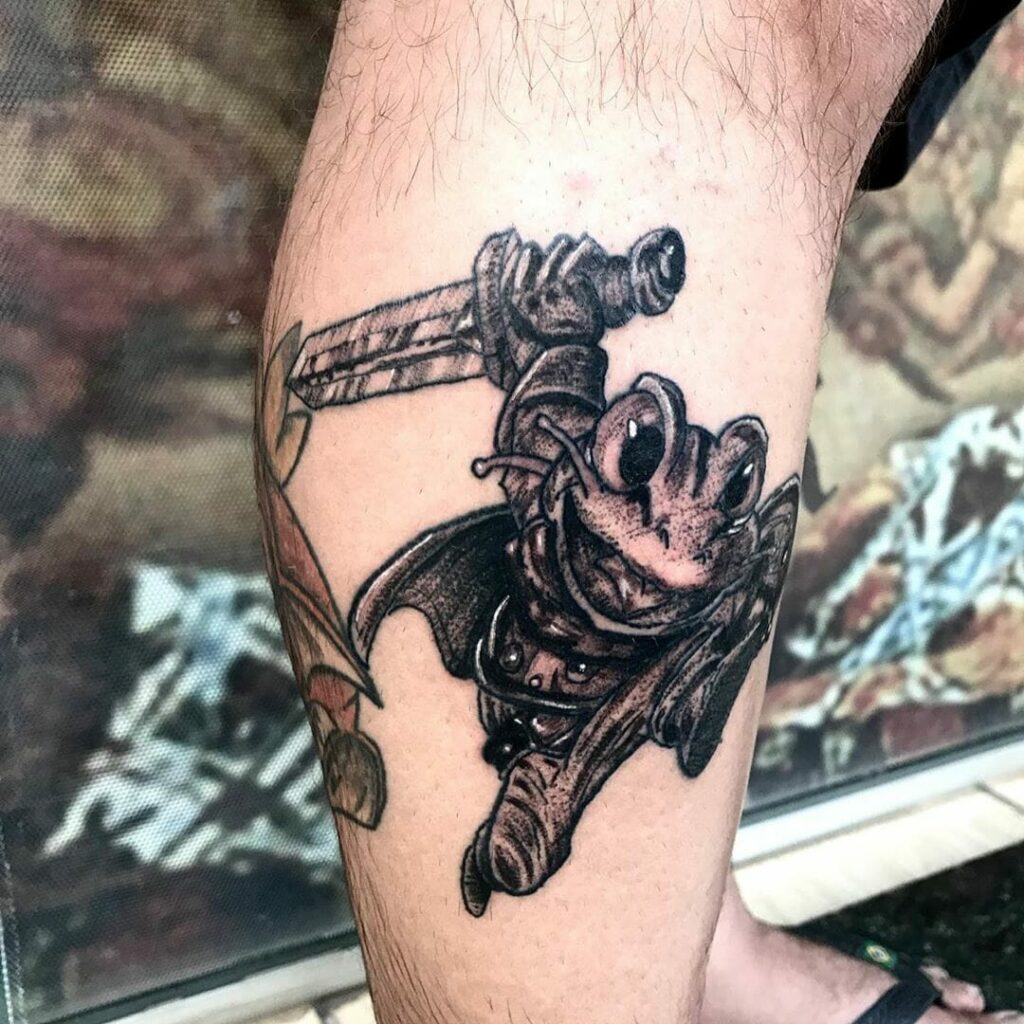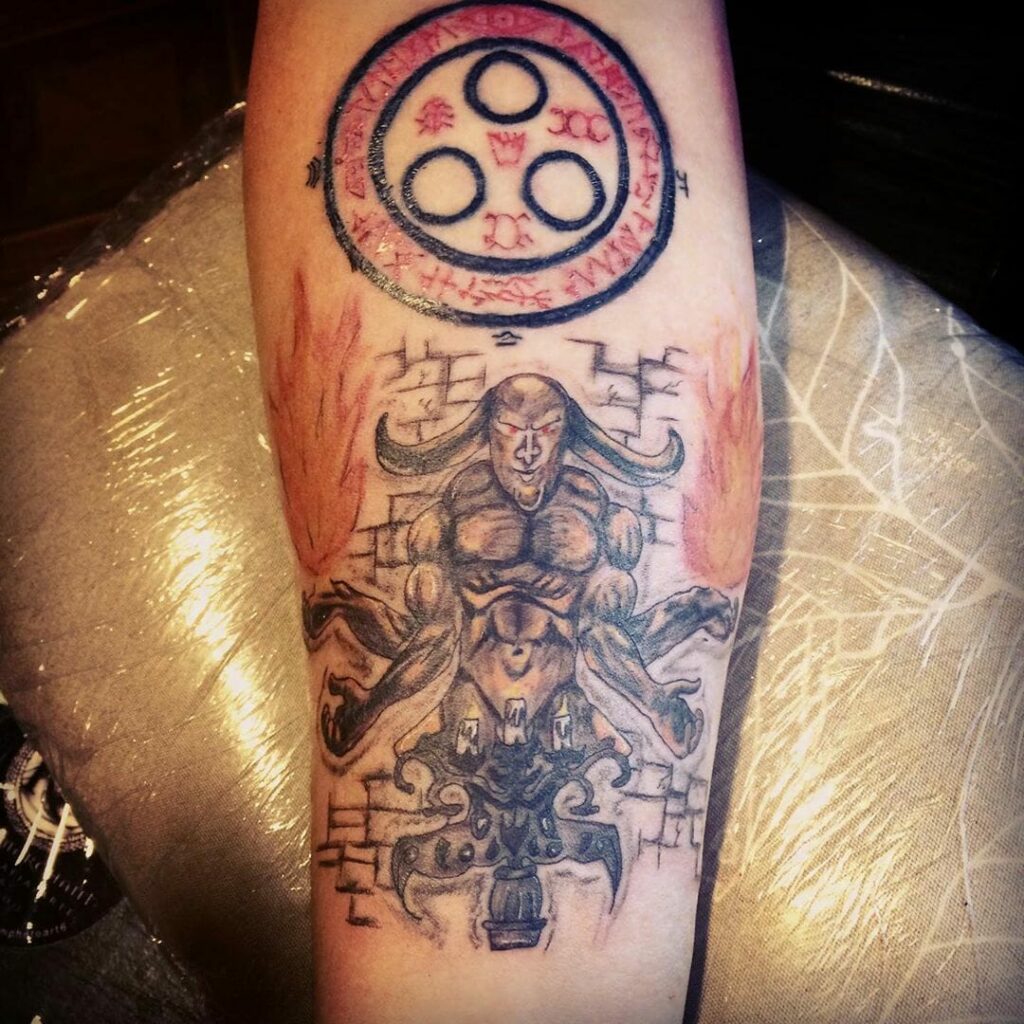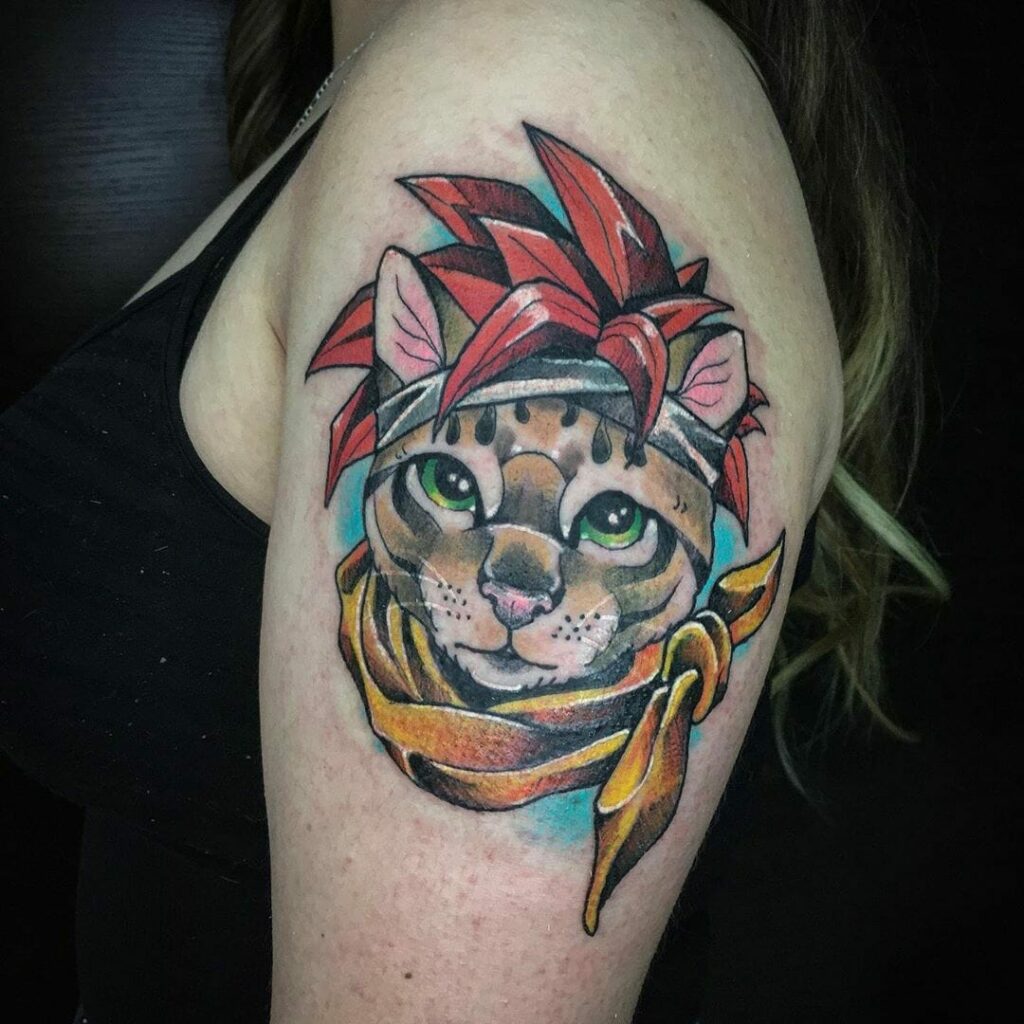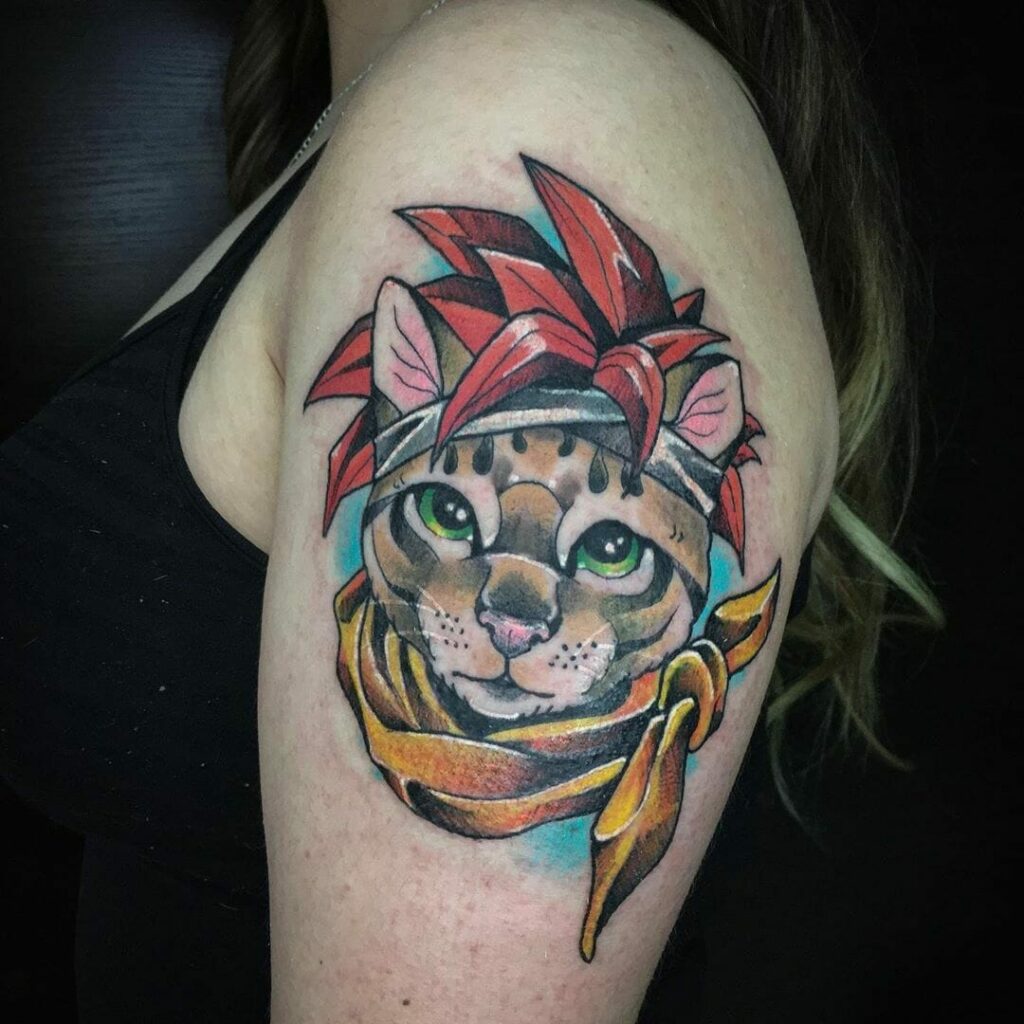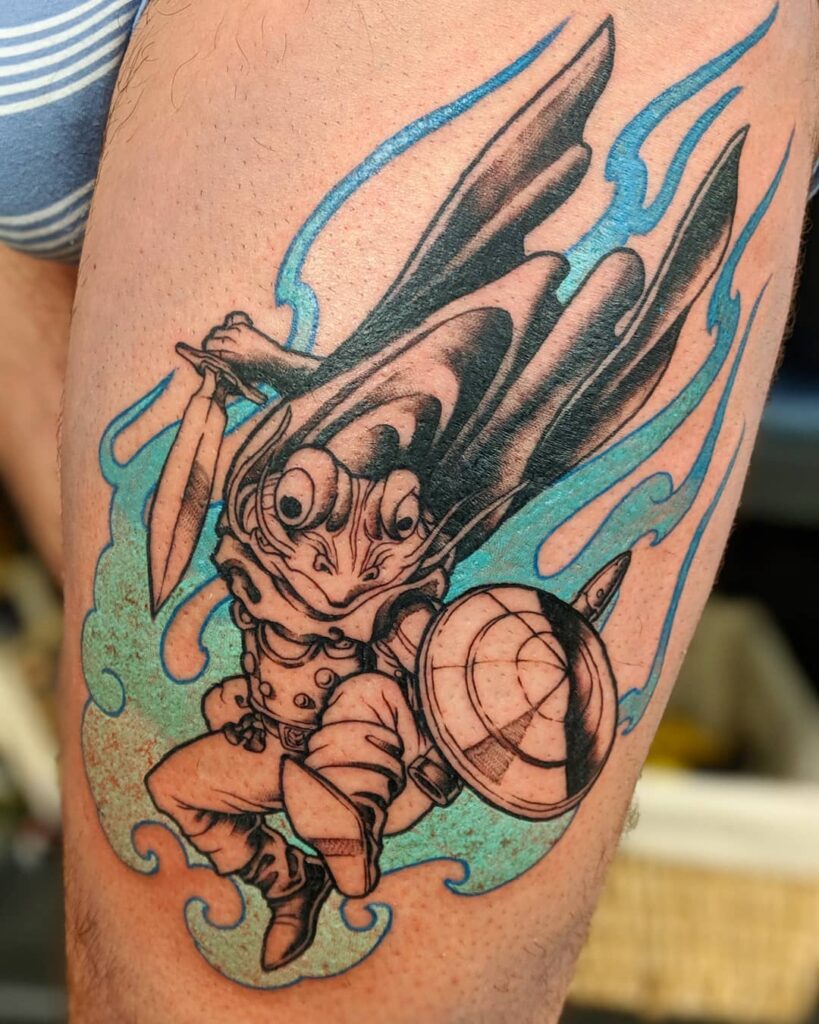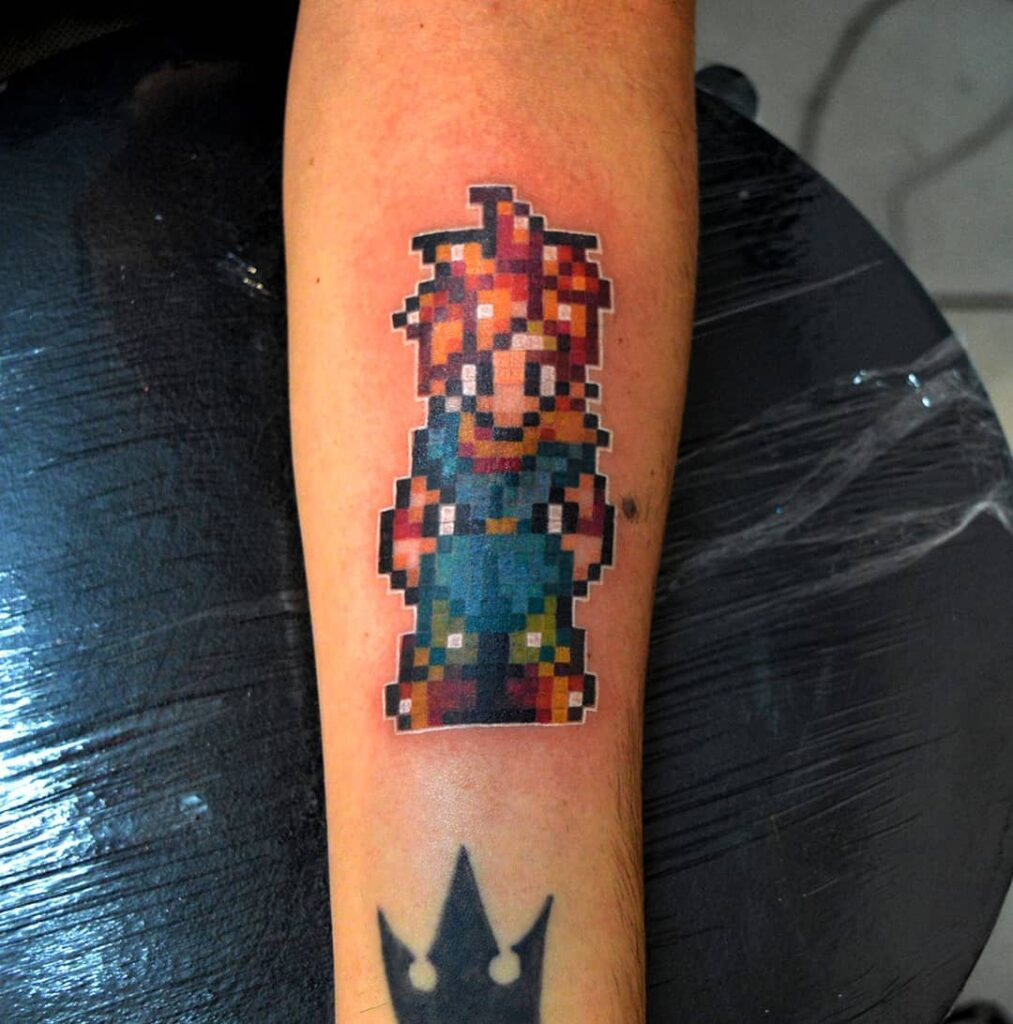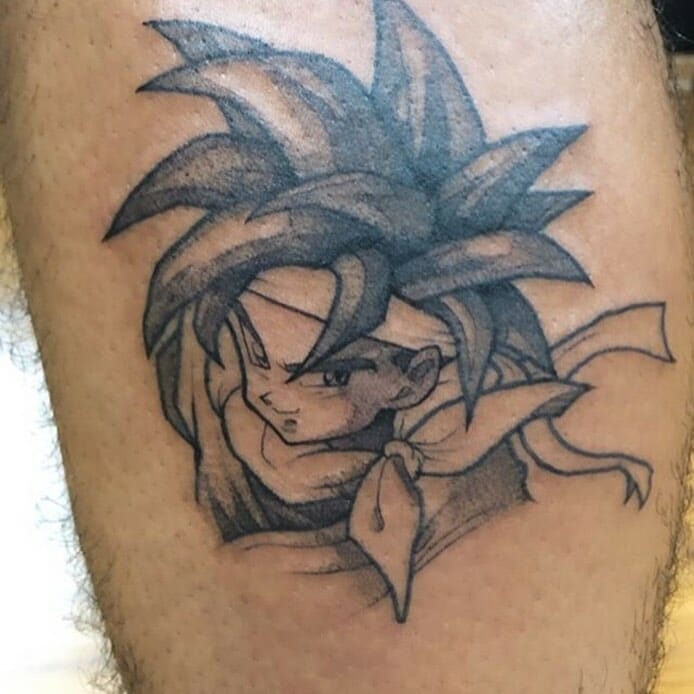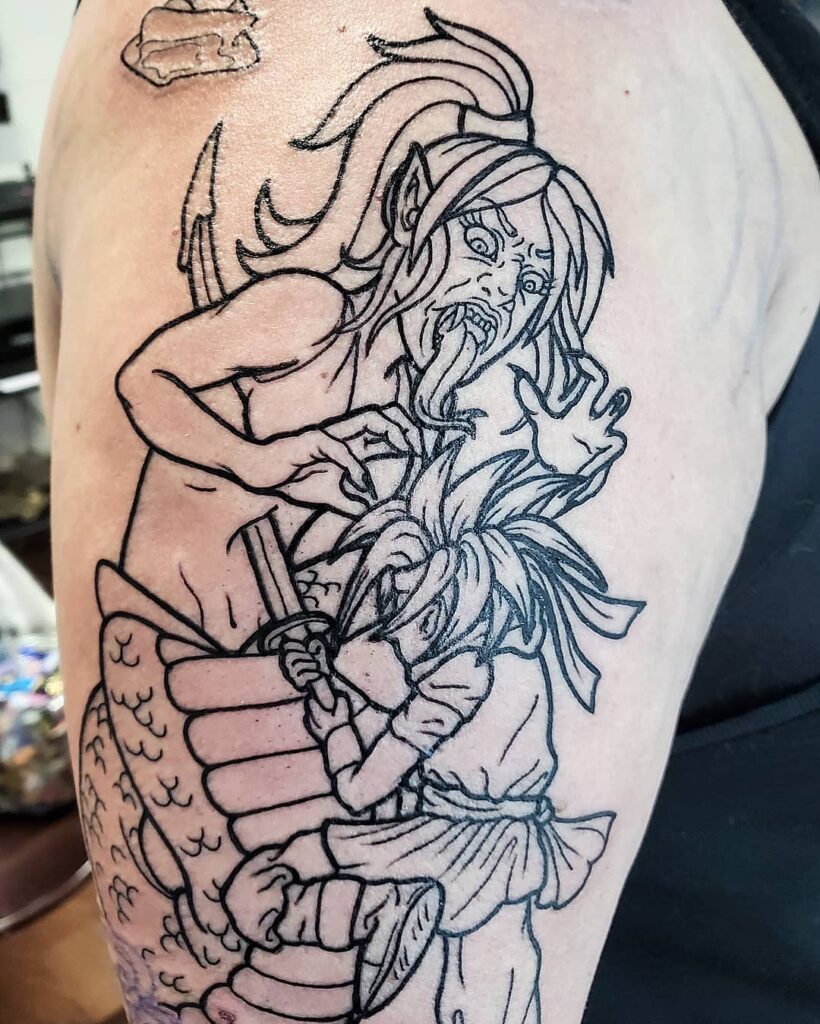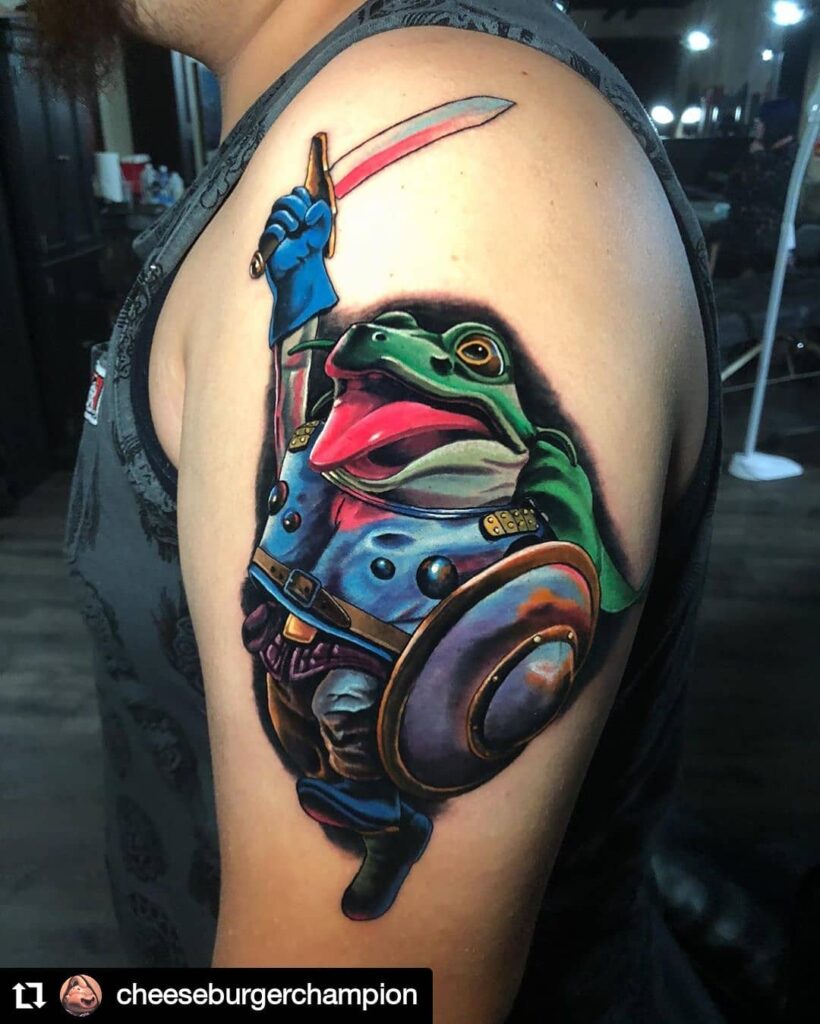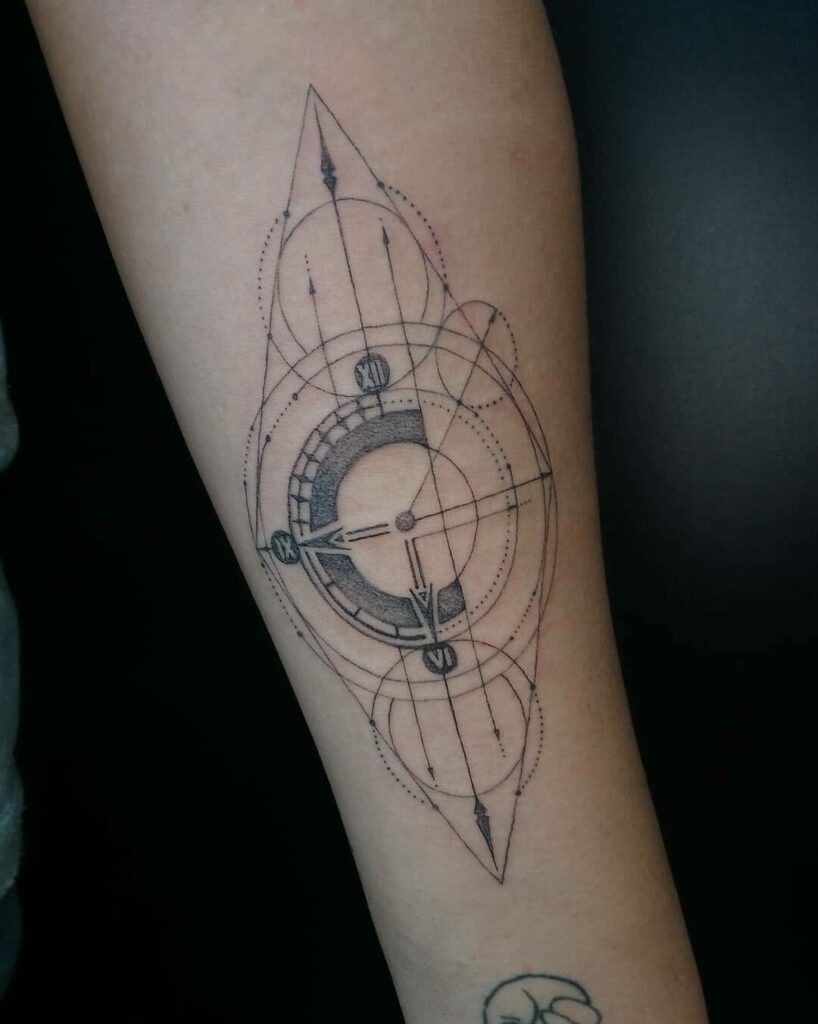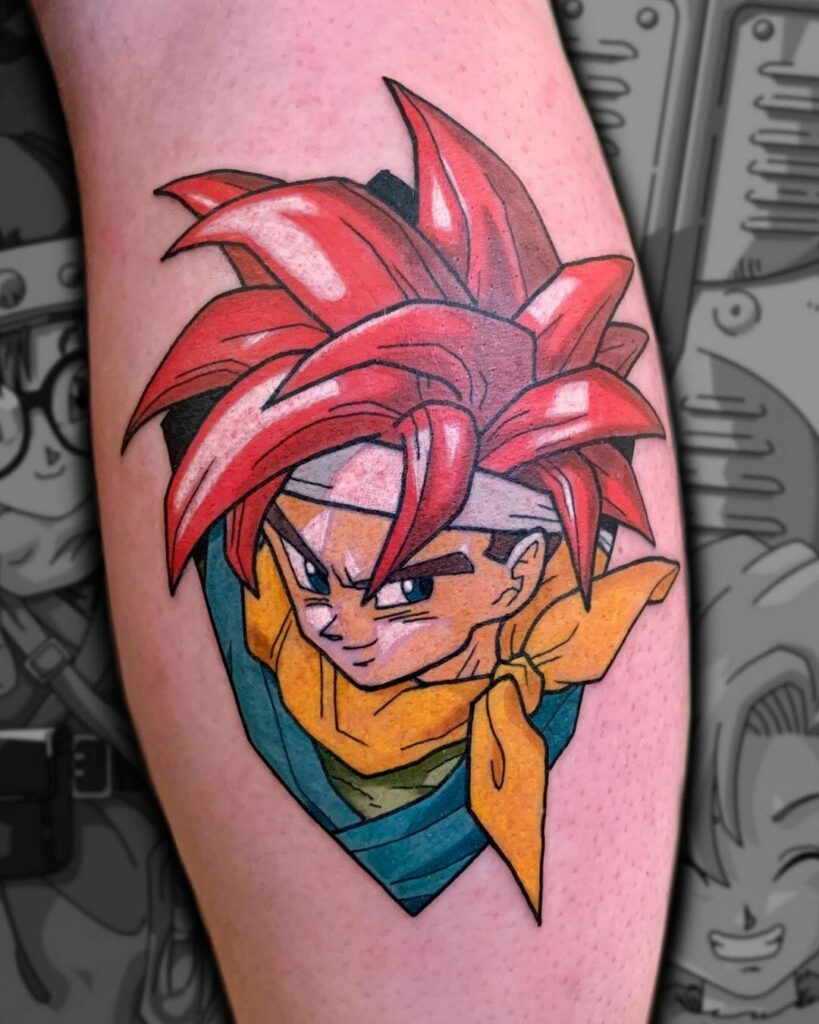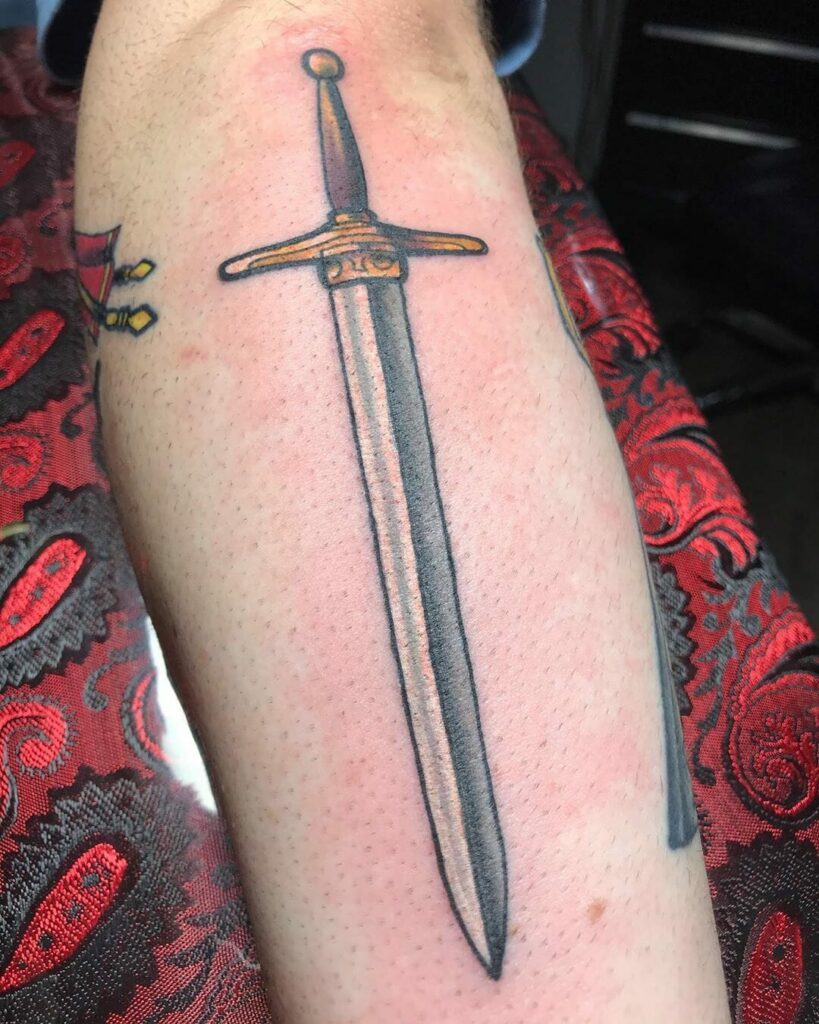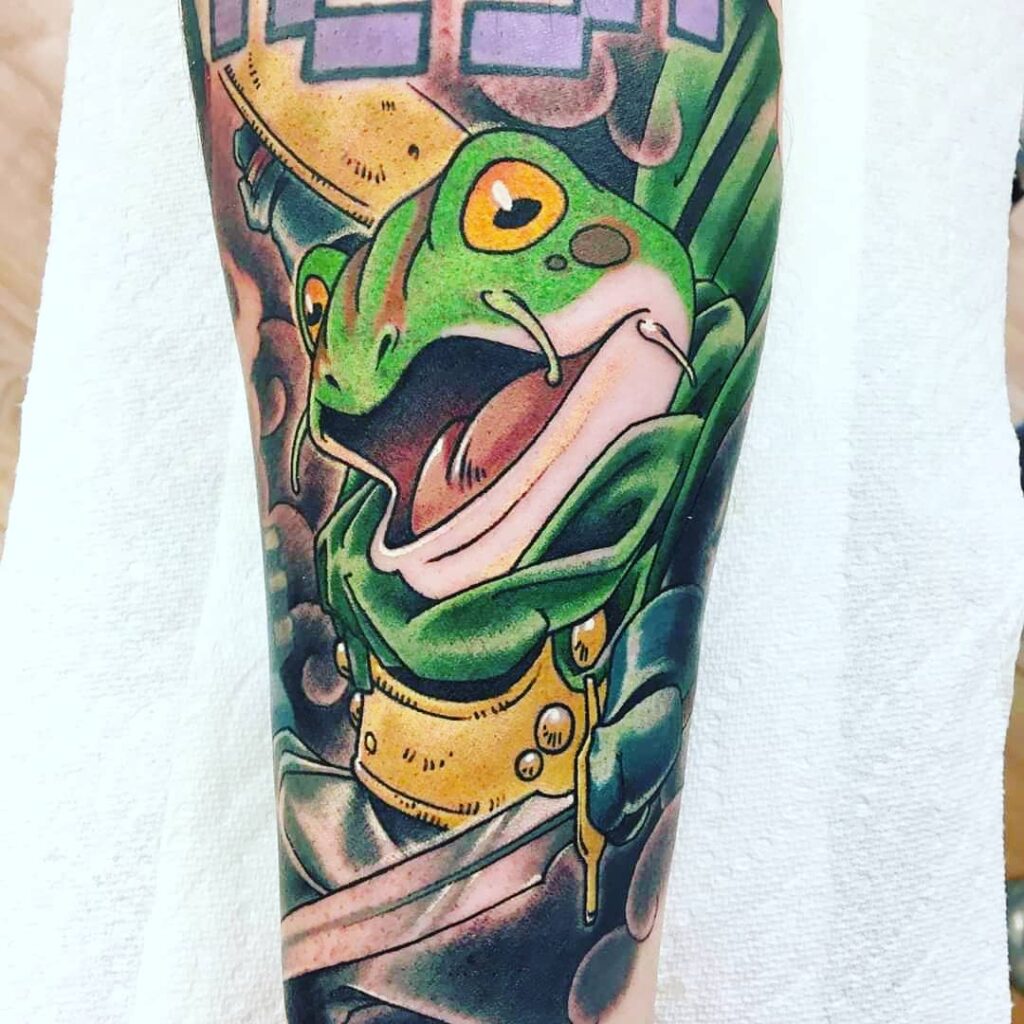 Feature image from Pinterest