Hey there, horror movie lovers! Are you on the hunt for the perfect tattoo to express your love for Chucky and Tiffany? Look no further because we've got you covered with our list of amazing tattoo ideas!
Chucky and Tiffany are two of the most iconic characters from the popular horror film series, Child's Play, specifically the 'Bride of Chucky'. They're known for their creepy appearance and their love for committing heinous murders. But despite their sinister nature, they've captured the hearts of horror-movie buffs and have become popular tattoo designs.
From childhood to adulthood, dolls have always been a significant part of our lives. The Child's Play series played on our fear of demonic dolls and turned it into a classic horror movie that is loved by many. Chucky is a possessed doll who is a vicious killer, and he's joined by his love interest, Tiffany Valentine, in the movie 'Bride of Chucky'. The two of them star in various sequels, sharing their frightening adventures as dolls.
Chucky has gained immense popularity in pop culture, earning praise from both critics and fans. It's not uncommon to see the Chucky-Tiffany duo as Halloween costumes or in fan-made artwork designs and creepy toy accessories. Tattoo lovers who are fond of scary tattoos also appreciate Chucky and Tiffany tattoos and experiment with them. You can find these tattoos in both permanent and temporary forms to showcase your love for horror movies. So, without further ado, let's check out some of these iconic Chucky and Tiffany tattoo designs!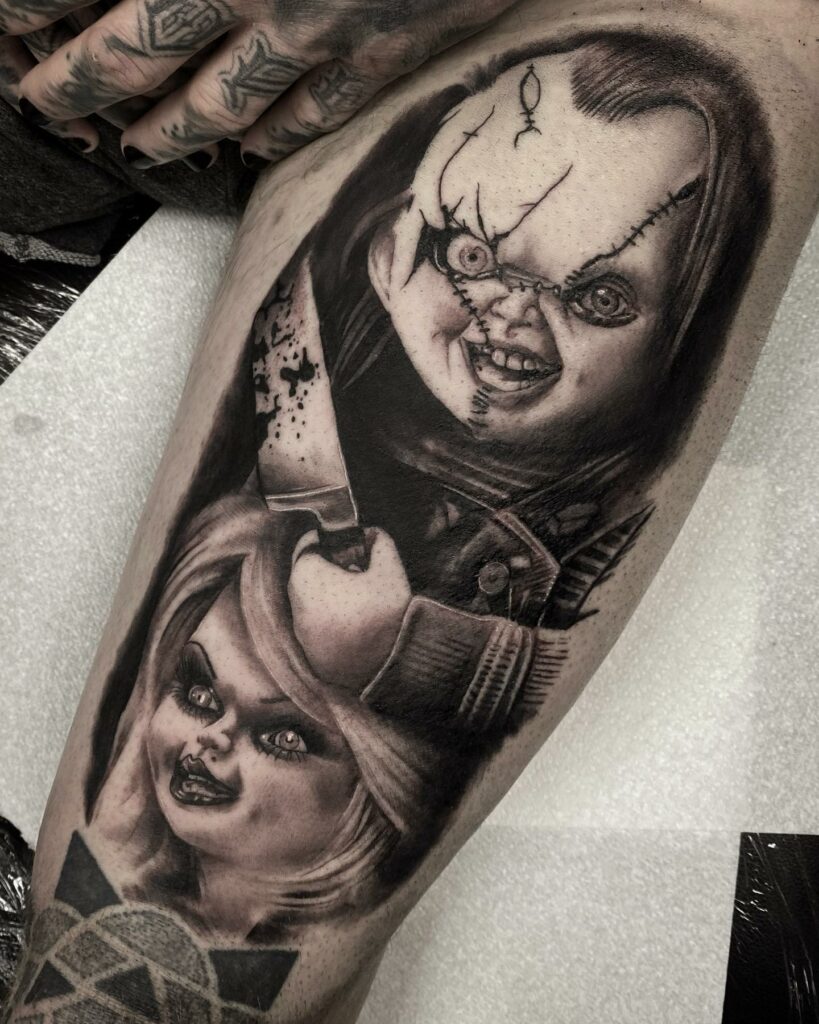 Animated Chucky Tattoo Design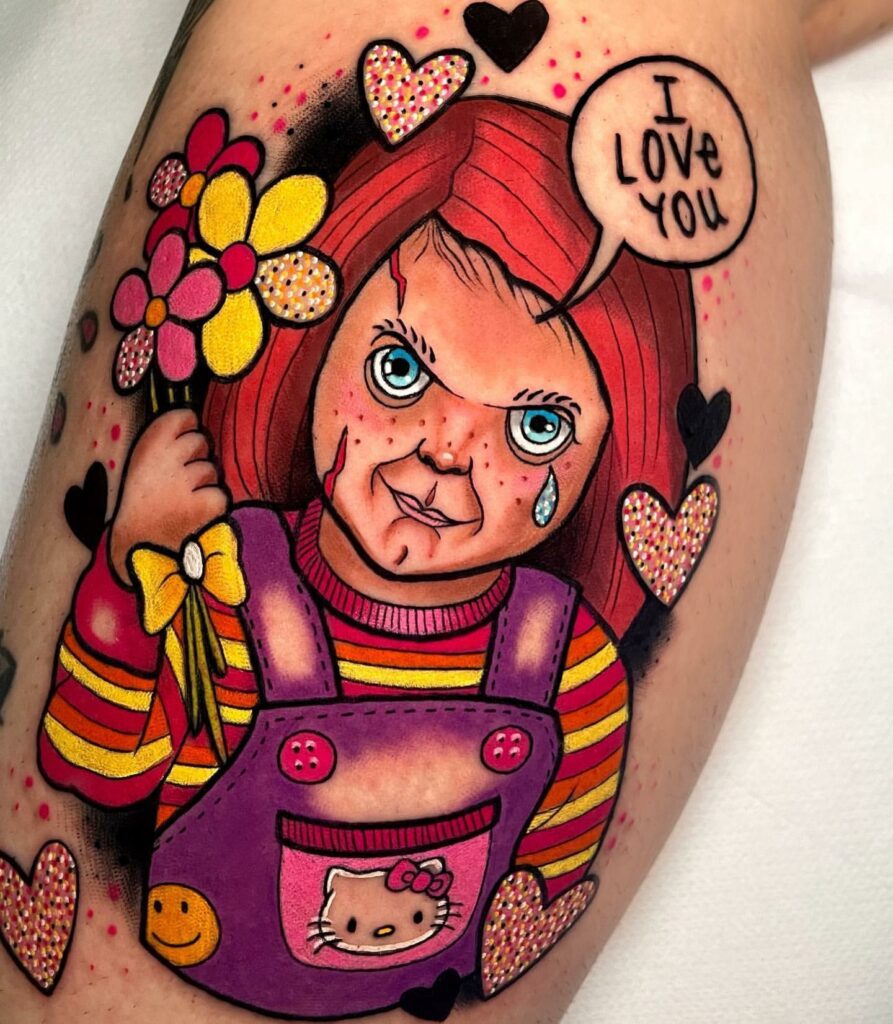 If you're looking for a fun and unique tattoo design, you might want to check out this temporary tattoo featuring Chucky, the infamous horror movie doll, in a completely different light. In this design, Chucky is holding a gorgeous bouquet of flowers and declaring his love with a sweet message in a dialogue box. It's a charming and unexpected twist that adds a playful touch to the usually sinister character.
The tattoo is created in a comic book style, with eye-catching colors, bold outlines, and shiny blue eyes that give it a classic American comic strip feel. It's the perfect choice for anyone who loves the Chucky movies and wants to show their appreciation for the character in a more lighthearted way. Plus, because it's a temporary tattoo, you can easily switch up your look whenever you want!
Smiling Chucky Realistic Tattoo Design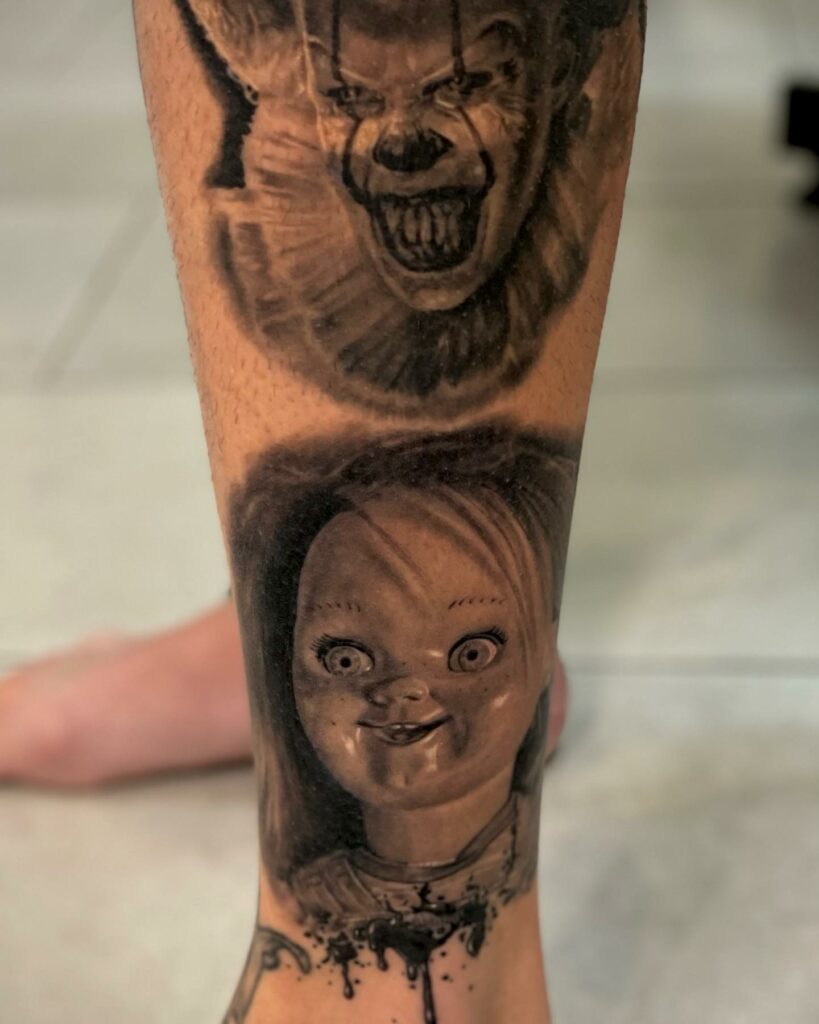 If you're looking for a tattoo that pays homage to the iconic Chucky doll in a realistic and authentic way, look no further. This sleeve tattoo features not only Chucky but also another horror icon, Pennywise, for a spine-chilling design that will make your skin crawl. The intricate shading work in black and white creates a stunningly lifelike effect, capturing the essence of these characters in vivid detail.
The tattoo artist has truly outdone themselves with the replication of the doll's skin texture, adding highlights in all the right places to bring out the unique features of the character. From the doll's rosy cheeks to the haunting, plastic eyes, every detail is carefully crafted to create a creepy yet fascinating piece that will leave an impression.
If you're considering getting this tattoo, it's important to find a skilled and experienced tattoo artist who can do justice to this intricate design. Take the time to do your research and find the best artist in town to ensure that you get the most realistic Chucky tattoo possible. With a design this complex and striking, it's worth taking the extra steps to make sure it turns out perfectly.
Full Chucky Tattoos in Black Color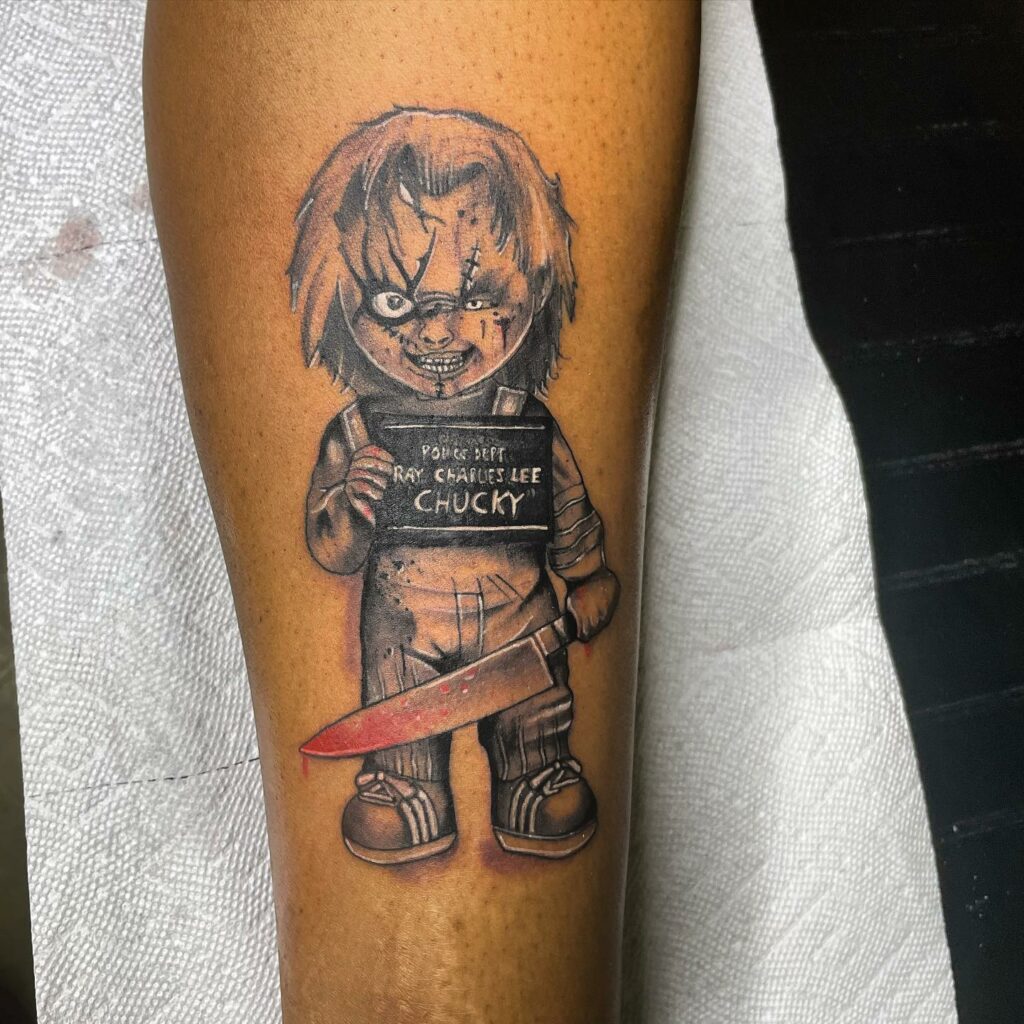 If you're a fan of the iconic horror movie character, Chucky, you might want to check out this tattoo design that features the creepy doll in all his gory glory. This tattoo shows off Chucky's name alongside a blood-soaked knife held tightly in his hand. But don't worry, the artist has opted for a cartoon-like style to make the artwork a bit less scary, while still capturing the essence of the character.
The artist has used different shades of black and white to add depth to the design, creating a bold and striking image that's sure to turn heads. Despite the cartoonish style, Chucky's menacing vibe still shines through, making this tattoo a perfect choice for anyone who wants a bit of horror-inspired ink.
One great thing about this design is that it's ideal for use as a temporary tattoo. With skin-safe ink and a bit of baby oil, you can easily apply it to your skin without the need for a lengthy tattoo session or enduring any pain. If you're someone who loves experimenting with different looks, this Chucky tattoo design might just be the perfect choice for you.
Scary And Realistic Chucky Tattoo Design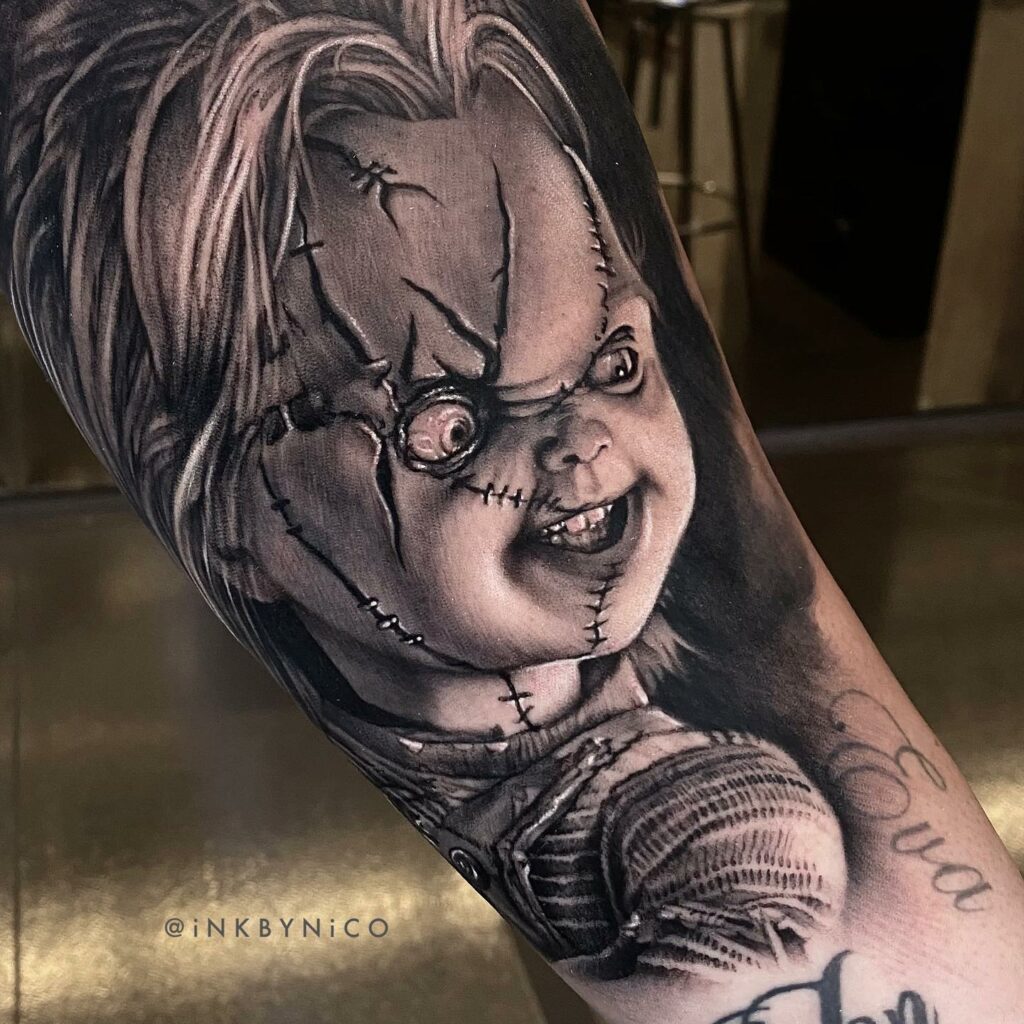 If you're a fan of the horror movie character Chucky and want to show off his frightening aura, this tattoo design might just be the perfect fit for you. The artist has opted for a realistic style, using black and white ink to create an intricate and detailed design that captures all of Chucky's defining features.
From the scars on his face to the highlights in his hair, the tattoo perfectly captures the menacing expression on his face, with a threatening smile and a frightening stare that will send shivers down your spine. This enormous design easily covers the wearer's sleeve, making a bold and unforgettable statement that's sure to turn heads.
It's important to note that this intricate tattoo design requires actual ink to fill in all the details, so it cannot be replicated with temporary tattoos. But if you're up for the challenge and want to show off your love for Chucky in a big way, this tattoo is definitely worth it.
The great thing about this design is that it's perfect for pairing with your Halloween costume or any spooky event, as it's sure to attract tons of compliments and admiration from fellow fans. So, if you're ready to embrace the frightful fun of Chucky, this tattoo design might just be the perfect fit for you.
Chucky And Tiffany Doll Temporary Tattoos With Flowers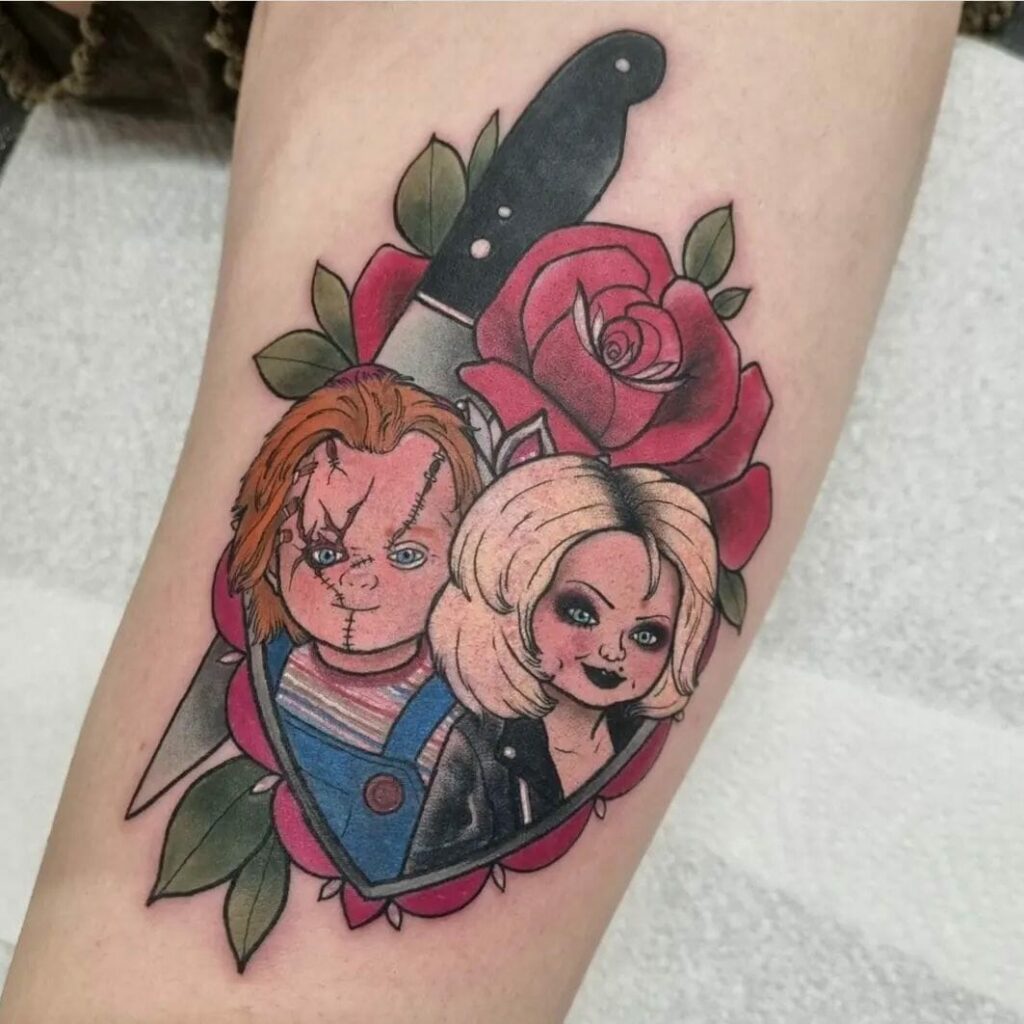 This tattoo design takes inspiration from their beautiful yet twisted relationship, featuring a lovely illustration of the couple with a floral frame and knife. The flowers symbolize the love they share, while the knife reflects their shared murderous tendencies. The artist has expertly used colors to create an adorable rendition of the dolls, which is a refreshing change from the usually gruesome images we associate with Chucky.
The design is perfect for couples who are looking for matching tattoo ideas that reflect their shared interests and love for the horror genre. It's a great way to show off your bond with your significant other and your love for the Child's Play series at the same time.
So, if you're looking for a fun and unique tattoo design that captures the unexpected romance of Chucky and Tiffany, then this is definitely the design for you!
Heart Chucky And Tiffany Tattoo Design For Halloween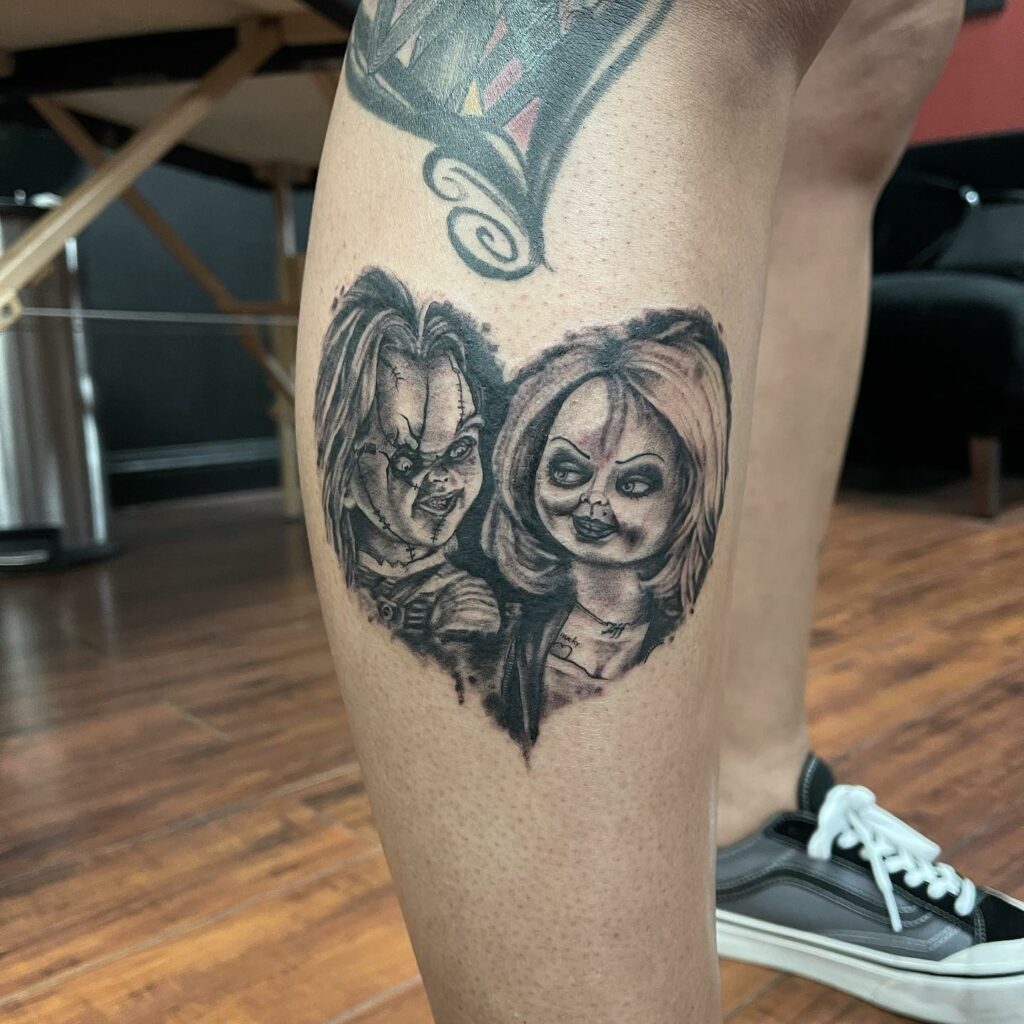 This Chucky tattoo design showcases the romantic side of the evil duo, featuring Chucky and Tiffany looking at each other with a mix of love and creepiness. The sepia-toned, black ink tattoo design gives it a vintage feel, reminiscent of classic horror movies. The famous pair, who starred in 'Bride of Chucky,' makes for an excellent couple tattoo, perfect for lovers who enjoy a dark sense of humor. The best part is, you can recreate this tattoo design as a temporary tattoo using skin-safe tracing paper, baby oil, and a few other simple supplies. It's a fun and easy way to rock a Chucky tattoo without the commitment of permanent ink!
Bride Of Chucky Tiffany Temporary Tattoo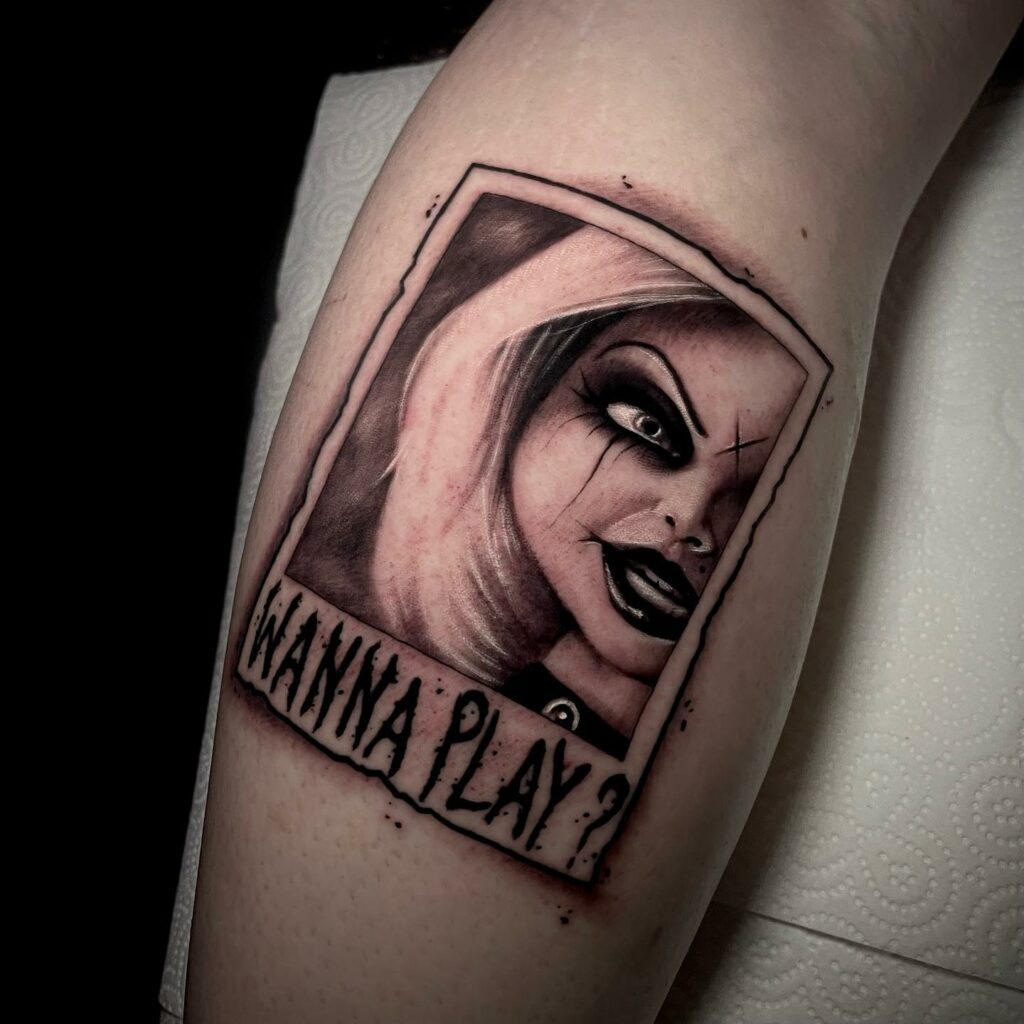 Looking for a gothic and sassy temporary tattoo to add to your collection? Check out this beautiful Tiffany Valentine design! The tattoo features a polaroid-style picture of Tiffany, with her hair and makeup done smoothly over her skin. The tattoo artist has used different shades of black to create depth while cleverly using the skin color to highlight Tiffany's blonde hair. This design is perfect for women who want to show off their edgy personality or complement their Halloween costume. Tiffany has many charming characteristics that make her a great choice for a permanent tattoo as well, so why not get a sassy Tiffany tattoo on your arm, legs, or back and receive tons of compliments?
Tiffany And Chucky Tattoo For Back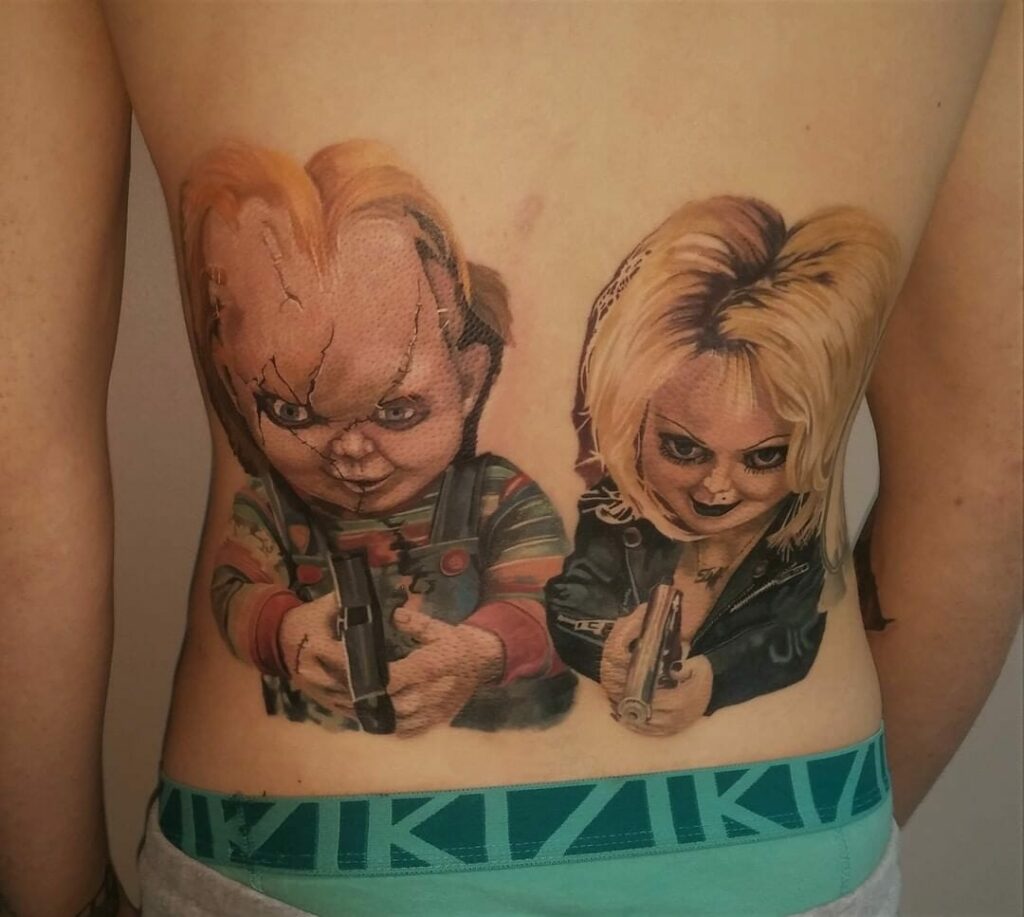 Are you a fan of the Chucky and Tiffany couple and looking for the perfect tattoo to show your love for them? This tattoo design featuring the killer doll couple straight out of the movie is just what you need! In this design, Chucky and Tiffany are shown wearing their iconic costumes, holding a gun and pointing it straight ahead. Unlike traditional tattoos, this one uses vibrant colors to bring out the characters' clothing, hair, and facial expressions. The tattoos are designed in a semi-realistic style, close to how the dolls appear in the movie, giving it an extra scary vibe. The details and colors used in the tattoo make it a great choice for those who want a tattoo that stands out and looks like a piece of art. This design is perfect for fans of horror movies and those who want a tattoo that represents their love for the killer couple.
Line Work Tattoo Chucky And Tiffany For Halloween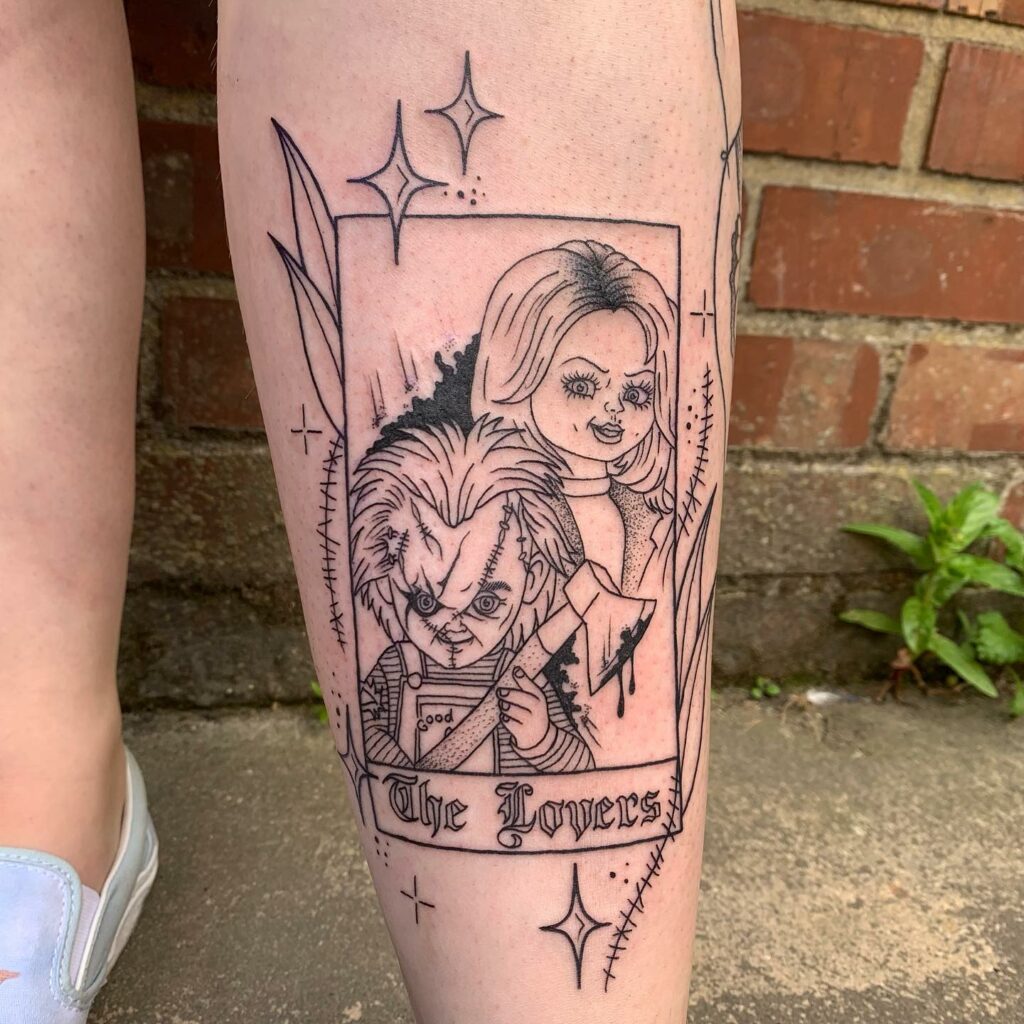 If you're a fan of horror and want to add a unique and beautifully designed tattoo to your collection, then you'll love the Tiffany and Chucky tattoo that we have in store for you! This stunning design features a Tarot card-like structure that provides an amazing frame for the Chucky line work tattoo. The artwork features black outlines without any solid colors or black and white shades, but it still captures the vicious essence of the iconic horror couple. The Tarot card structure is adorned with leaves and stars, giving the design an elevated and sophisticated look. This is a must-have tattoo for all horror fans who appreciate excellent tattoo design!
Dark Themed Blue-Eyed Chucky Temporary Tattoos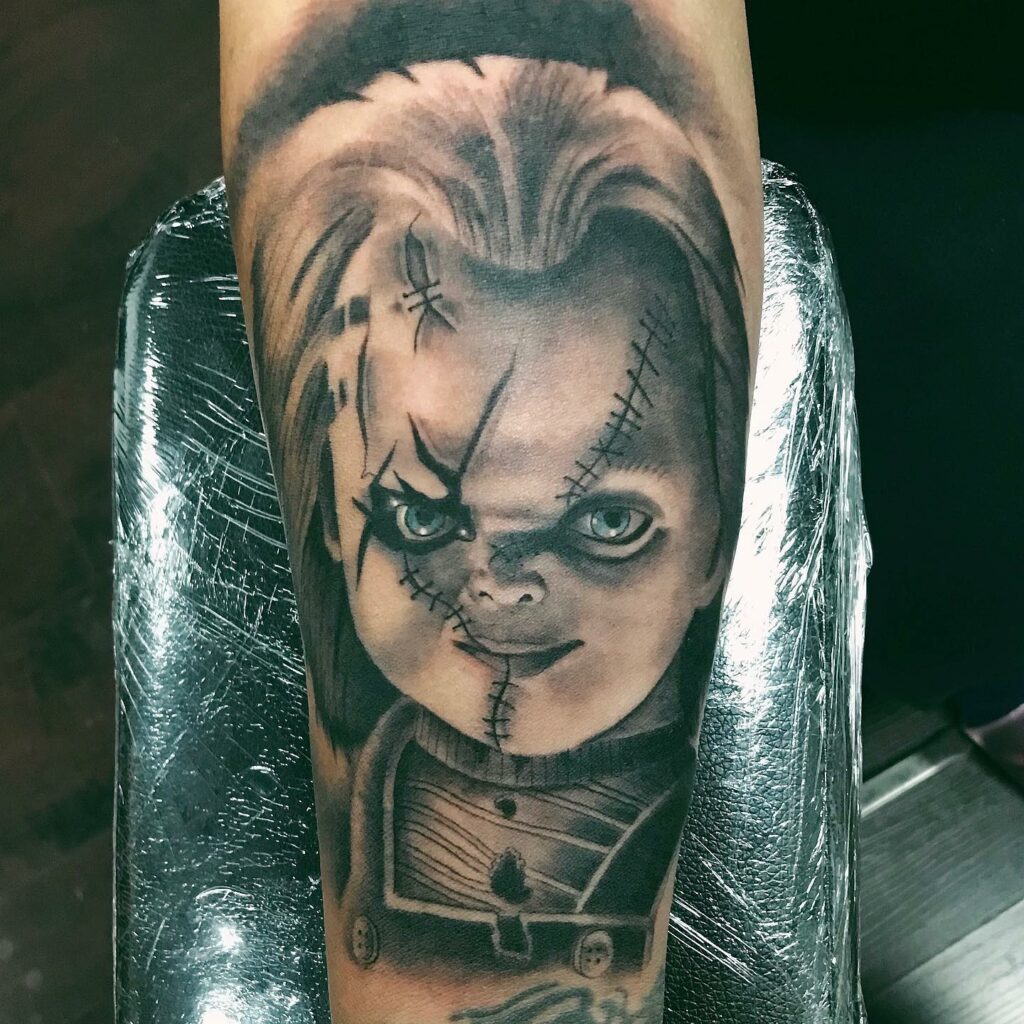 When it comes to Chucky tattoos, nothing is more essential than highlighting the doll's sinister facial expressions. This particular tattoo design does an exceptional job of accentuating Chucky's lifeless eyes, which are a common feature in most Chucky tattoos. The tattoo artist has used blue ink to make the eyes stand out against the black and white tones of the portrait. The result is a realistic and human-like facial texture that will give horror fans chills.
If you're looking for a Chucky or Tiffany tattoo, we have an extensive collection of styles to choose from. Whether you want to go with a pre-existing design or mix and match different elements to create something entirely unique, we've got you covered. Check out our portfolio of horror-inspired tattoos to find the perfect design for you.
feature image from Pinterest